Follow Hard Rock Info on Facebook!
REVIEWS 2021 - Page 9
Page 8
Index
THREE FOURTHS FRANCIS: Electric Telegraph
Self released - CD, Digital
This is the debut album from these rockers, who blend the sound of legends like CHEAP TRICK, ROLLING STONES, The WHO and ENUFF Z'NUFF to their own rock n roll brew. 6 original songs and a cover of "Dead Flowers" by ROLLING STONES is what we get, and this sounds great. It's done with passion and enthusiasm. Very catchy and something that makes you happy. You should absolutely give these guys a chance.
facebook.com/people/Three-Fourths-Francis
Published: Oct. 23
SNAFU: Exile//Banishment
Housecore Records/Nuclear Blast - CD, LP, Digital
SNAFU is short for Situation Normal All Fucked Up, and it's a hardcore/thrash/punk band from Detroit, formed in 2006. Their debut album, "Fear The Future", was released in 2013. "Exile//Banishment" is their third full length.
SNAFU play a raw and aggressive kind of hardcore/punk, with elements of both thrash and grind. Like a fusion of MUNICIPAL WASTE, TOXIC HOLOCAUST, NEGATIVE APPROACH and CRO-MAGS. This album is said to be their heaviest, darkest, and angriest affair yet, focusing on personal frustrations and the hopeless future of humanity.
Well, this is absolutely not bad at all. I think that both crust punks and thrashers could like this. And fans of metallic hardcore should definitely check this out.
snafudetroit.com thehousecorerecords.com nuclearblast.de
Published: Oct. 23
LA LUZ: La Luz
Hardly Art Records
They start with a soft psych/pop song, or what ever I should call it. And it continues like that. I expected some cool surf/psych rock. And sure, psychedelic it is, but almost more pop than rock as it's so laidback. Pretty o.k. anyway, even though it wasn't what I expected.
This self titled album is the 4th album from this American trio. The music is intimate and personal.
Published: Oct. 23
Jim Lindberg: You're Not Alone
Epitaph Records - Digital single
PENNYWISE frontman Jim Lindberg are going on a solo trip. The album, "Songs From The Elkhorn Trail", will be released digitally on November 19. But those of you who want a physical copy have to wait until May 6, 2022.
This is a more relaxed and softer side of him, as this album is acoustic. Some kind of friendly and catchy rock is my best description to this. Not bad at all though. It's the kind of song that makes you happy.
epitaph.com
Published: Oct. 23
INNER CORE: Dark Chronicles
Metalapolis Records on Oct. 29 - CD
Symphonic, melodic metal and nothing new under the sun. But if that's what you like, then you will probably like this band too. Because they are just as good as any other band in this genre. But to me, nothing is extra good here. And of course that horrible "opera" vocals here and there as well. No, I think there's much better bands in this genre. But that's just my opinion of course.
INNER CORE is a group from Lörrach, Germany. Their music is said to be a mixture of classic rock and metal, with epic melodies, catchy guitar solos and thrilling rythms. "Dark Chronicles" is their second album, which is moving more into the symphonic metal genre than the debut.
inner-core.de metalapolis.eu
Published: Oct. 23
BLACK DIAMONDS: Out In The Fields
Metalapolis Records - Digital single
A cover of the old Gary Moore/Phil Lynott duet "Out In The Fields", which is a true classic of course (at least if you grew up in the 80s). This version is pretty true to the original version, so I think that they are doing it very good. In other words definitely worth checking out.
This song is taken from their new album, "Floor 13".
blackdiamondsrock.com metalapolis.eu
Published: Oct. 23
St. JIMI SEBASTIAN CRICKET CLUB: Until We Meet Again
Beluga Records - 7" single
Some kind of very British rock with a touch of ska is what I would call this band's music. But if they are British or not is unknown to me, as I could not find any information about them. It would surprise me if they're not though. So I guess that we have to let the music do the talking instead. And the music that they deliver is not bad at all. I'm not really sure how I should describe it though, or in what genre I should put them.
2 tracks is what we get here anyway. And the first one is a bit softer, but yet catchy. While the other is more uptempo, and even catchier.
belugarecords.com
Published: Oct. 22
The REFLECTORS: Faster Action
Beluga Records - LP
Very catchy and melodic power pop, but absolutely not bad because of that. I really like what I hear!
This Chicago band deliver 11 songs of teenage frustration. The songs are just around 2 and a half minutes, but it doesn't always have to be longer than that. Their music is traditional American power pop mixed with melodic punk rock, like The UNDERTONES, The ZEROS, The NERVES and 20/20.
belugarecords.com
Published: Oct. 22
LA DECOUPE: Inadapté
Beluga Records - 7" EP
Old school garage/punk rock with French attitude. Why they waste time on an instrumental song when there's just 3 songs is a good question though. But otherwise it's really good stuff that we get on this little EP.
This seems to be a lockdown project, with members from bands like LES LULLIES, LES GRY GRYS, SCANERS and SILLY WALKS. I have never even heard of any of those bands, but I really like what they can do when they get together in LA DECOUPE.
belugarecords.com
Published: Oct. 22
The ERRATIX: You Don't Care
Beluga Records - 7" Single
More power pop. This time with a band from Minneapolis, USA. And this band sounds like something from the 80s with all that keyboard. They say that it's a mix of old school Elvis Costello and EXPLODING HEARTS, and then some. Not something that I have been listening to. But if it's anywhere near this at all, then it might be worth to lend them an ear, because The ERRATIX is damn good.
This is just their first 2-track single, so it will be very interesting to hear what they can come up with in the future.
belugarecords.com
Published: Oct. 22
DALAPLAN: En Fot I Dyngan
Beluga Records - 10" EP, Digital
DALAPLAN is a rock band from southern Sweden, singing in that dialect that they speak down there (skånska). These 5 tracks was recorded between 2017-2020. I'm not really sure how to describe their sound, but it's a very catchy rock that they play, with elements of both power pop and punk rock, even though it's a bit more melodic. I really like this band! And I think that you will like this too if you're into good rock, punk rock and power pop.
dalaplan.nu belugarecords.com
Published: Oct. 22
Brad Marino: Looking For Trouble
Beluga Records - LP
This is the second album from Brad Marino (The CONNECTION, NEW TROCADEROS, RYDELLS). He is doing most of the things himself, but get some help here and there from some other people. And this is best described as pop punk/power pop. It sounds really good to me, and the line "It's a local show, which means nobody will go" is very funny. Probably written out of frustration though.
You should absoulutely give this man a try or 33.
belugarecords.com
Published: Oct. 22
ANC4: Strange Tide
Beluga Records - LP
ANC4 stand for Arvidson and Nilsson Combo Four, and is a power pop band from Göteborg, Sweden. They released their first album in October 2019, and is now back with another album, "Strange Tide".
It's a pretty kind power pop that this band is playing, when they try to bring new life into the golden era of the 60s. There's melodies and harmonies, 12-string guitar etc. Influences comes from everything from The BEATLES to The BYRDS.
Well, I like what I hear. But will you?
belugarecords.com
Published: Oct. 22
LASTKAJ 14: Plan B
Second Class Kids Records on Oct. 22 - 12" EP, CD, Digital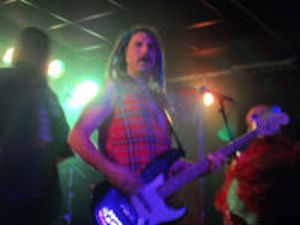 The veterans LASTKAJ 14 have also made their own 6-track EP. This is more like they use to sound, and thanks for that. Because this band is a favorite band when it comes to trallpunk. They really do this very good. And they succeed to make it sound like the classic bands from the 90s, when this genre was very popular here in Sweden (some bands sold thousands of records, and even made it to the charts).
Some other things that they are very good at is to combine darkness with hope and variate the songs. Many trall bands sounds more or less the same all the way, but not LASTKAJ 14. And I must also mention that there's not just 1 vocalist here, which is part of that variation. But even though their sound is mainly traditional, they are not afraid to add their own twist.
So if you want to know why this is one of the best bands in this genre, then try this EP.
secondclasskids.com lastkaj14.com
Published: Oct. 21
LASTKAJ 14/FRUKTANSVÄRLD: Pengarna Eller Livet
Second Class Kids Records - LP, CD, Digital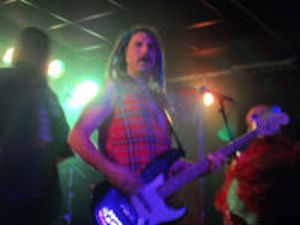 Each band participate with 7 songs each on this split album. LASTKAJ 14 are more or less veterans in the Swedish genre trallpunk, and use to play it in the good old traditional way - catchy, melodic and very energetic. Sometimes they add their own twist though, like instruments that might not be what you expect in a punk rock song. Some of these songs are a bit.. odd somehow, even though you can hear that it's LASTKAJ 14. I don't really know what it is, which makes it interesting somehow. The first song is some kind of dark pop song. But after that it's full speed ahead. It's not bad, but they have done better.
FRUKTANSVÄRLD was a new band to me. Their music is not new though, as it's more of that classic Swedish trallpunk. So no, this is hardly anything unique at all. But they do it really good, so you should absolutely check them out. There could be some more variation between each song though, but that's just a small problem.
secondclasskids.com lastkaj14.com
Published: Oct. 21
The MICKERZ: Spelar det nån roll om jag är ful?
Second Class Kids Records - CD, Digital


Swedish trallpunk legend Mart Hällgren (DLK, TOTAL EGON etc etc) have teamed up with 2 other guys - Mikael Janatuinen (lead vocals and rythm guitar) and David Persson (solo guitar and background vocals). Mart take care of bass, drums and vocals, and has also mixed and produced the album. This is not a solo thing from him though.
What this trio have produced is a catchy and energetic punk rock album, which many Scandinavians probably will put in the trallpunk label. And that's not wrong at all to do as this sounds a lot like that. It's melodic but pretty straight. Pretty o.k. stuff, even though they might not be the most interesting Swedish punk rock band at the moment. Their material is not really strong enough for a full length, so I think they should concentrate on EPs instead ..or make stronger songs.
secondclasskids.com
Published: Oct. 21
WAYWARD SONS: Even Up The Score
Frontiers Music Srl - CD, LP, Digital
"Even Up The Score" is the third album from UK hard rockers WAYWARD SONS. The songs are full of passion and energy, and they simply rock hard. Yet it's melodic. It sometimes makes me think of bands like DANKO JONES and THIN LIZZY for example. But I would say that this band is standing on the side and watching those bands, and then they go home and do their own thing out of it. Damn good anyaway!
waywardsonsband.com frontiers.it
Published: Oct. 21
Jeff Scott Soto: The Duets Collection - Volume 1
Frontiers Music Srl - CD, LP, Digital
What American singer Jeff Scott Soto (SONS OF APOLLO, TALISMAN, Yngwie Malmsteen etc) have done here is to invite other singers to make duets with of old songs from Jeff's whole career. I know some of these songs, like "Livin' The Life" from the Rock Star movie, "Don't Let It End" by Yngwie Malmsteen's RISING FORCE and "I'll Be Waiting" by TALISMAN.
Among the singers are Erik Mårtensson (ECLIPSE, W.E.T), Dino Jelusick (ANIMAL DRIVE, DIRTY SHIRLEY), Eric Martin (Mr. BIG), Deen Castronovo (REVOLUTION SAINTS), Russell Allen (SYMPHONY X) and Mats Levén (PRINS SVART, ex-CANDLEMASS, Yngwie Malmsteen, TRANS-SIBERIAN ORCHESTRA etc) among others. All top singers who are doing a really good job here. And the songs are really good too, so this is a fairly simple choice, because this is a brilliant album.
sotoworld.net frontiers.it
Published: Oct. 21
HOUSTON: IV
Frontiers Music Srl - CD, Digital
Swedish band HOUSTON have signed with Italian label Frontiers Music Srl. And on this new album they wanted to go back to their roots and make a classic AOR album again. It's said to be more like their 2 first albums, but with a few more years of experience. They have even used former member Ricky Delin as producer, who has also co-written some of the material with the band.
Well, this is really good stuff. Many great songs among these 11 songs. You should absolutely try this band if you're into melodic rock, AOR and everything that they call it.
facebook.com/houstonsweden frontiers.it
Published: Oct. 21
ECLIPSE: Wired
Frontiers Music Srl - CD, LP, Cassette, Digital
Well, this was just as good as I expected it to be. So no surprises there. ECLIPSE are still one of the best Swedish melodic hard rock bands, which they absolutely prove with the new album, "Wired".
They are hardly here to reinvent the genre, but just want to make great songs. And with that they really succeed over and over again. So no fan should be dissapointed when they hear this album. I'm satisfied anyway.
eclipsemania.com frontiers.it
Published: Oct. 21
TWIN PIGS: Dead Sick Of America
Luftslott Records - Digital single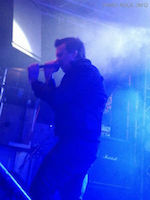 Swedish punk rockers TWIN PIGS will soon release their third album, "Godspeed, Little Shit-Eater". But before that we get a taste of what to come in form of this single, "Dead Sick Of America". It's a raw rocker with lots of synthesisers and snotty vocals. Really good stuff! It's done with both attitude and energy, yet it's catchy and powerful.
luftslottrecords.com twinpigs.bandcamp.com
Published: Oct. 20
STEP BY STEP PROJECT feat. Seraina Telli: Listen
Team H Entertainment - Digital single
I don't know much about this band/project, but this song seems to be their third, and features guest vocals from Seraina Telli (DEAD VENUS, ex-BURNING WITCHES). The music sounds like HELLZ ABYSS somehow, which probably doesn't say much to you. Pretty modern hard rock anyway. O.k. but not much else than that.
They did not even include a link..
Published: Oct. 20
SKARLETT RIOT: Black Cloud
Despotz Records - Digital Single
This British band has taken the modern metal scene by storm with their powerful, riff based and catchy melodies, which they top with a very good vocalist. If you have not discovered them yet, then it's time for you to do it now.
"Black Cloud" is yet another single taken from their latest album, "Invicta". The album was released in May, and is full of great songs, and this is just one of them. Check out!
skarlettriot.bandcamp.com despotz.se
Published: Oct. 20
SAVE FACE: Sharpen Your Teeth
Epitaph Records - Digital single
New Jersey rock band SAVE FACE will release their new album, "Another Kill For The Highlight Reel", on October 29. "Sharpen Your Teeth" is a taste of that album. And this wasn't really my thing, even though it's not totally useless. Some kind of ambitious rock is my best description to this.
epitaph.com
Published: Oct. 20
OVERKILL: The Atlantic Years 1986-1994 (reissues)
BMG on Oct. 29 - LP Box Set, CD Box Set
Even though they have never been as famous as thrashers like METALLICA, SLAYER, MEGADETH and ANTHRAX, New Jersey's OVERKILL is one of the legendary thrash metal bands from the early 80s. After a demo they signed with Megaforce Records, who released their debut album, "Feel The Fire", in 1985. After that the band inked a major-label deal with Atlantic Records, who released the albums in this box set: "Taking Over" (1987), "Under The Influence" (1988), "The Year Of Decay" (1989), "Horroscope" (1990), "I Hear Black" (1993) and "W.F.O." (1994).
I have to admit that I had not heard that much with OVERKILL before. So I can't look back at these albums and be nostalgic, like most others probably can. This is actually the first time that I have heard these albums, which was interesting. You can hear how they developed their sound through each album and became heavier (almost doom). Most of it is good stuff. But I would say that after a few albums it gets weaker, with just a few good songs here and there. But when we comes to "W.F.O." they're back on track again.
OVERKILL are still around after all these years, play live and make new records once in a while.
overkill.lnk.to/atlanticyearsPR wreckingcrew.com
Published: Oct. 19
NON RESIDENTS: Against Police Brutality
Self released - Digital
The album title makes me think of crust punk, but this is something completely different than that.
NON RESIDENTS formed in 2019 in New York City when the Fenoutt brothers disbanded their previous project. The brothers moved from Chile to the States in 2015, so their sound is a variety of influences, from thrash to Andean rock, and Mapuche rhythms (don't ask me what those 2 last are). I would describe their music as some kind of peculiar groove/thrash metal, even though there's elements of other stuff too. A familar sound somehow, but at the same time their own sound, if you get that?
They might not be in the top league yet, but these 10 tracks sounds o.k. to me. Nothing is extra good though, but on the other hand nothing is extra bad either.
facebook.com/nonresidentsband
Published: Oct. 19
CONCEPTION: Roll The Fire 2.0
Conception Sound Factory - Digital single
Norwegian hard rockers CONCEPTION has released a new single. It's a newly recorded version of a classic from their 1993 album "Parallel Minds". It's the latest release in a series of new recordings, live performances and previously unreleased material.
To me this sounds like a heavier and modern metal song, but it's absolutely not bad. I don't really know how to describe it better than that though, so maybe you should just check it out for yourself?
conceptionmusic.com
Published: Oct. 19
GHOUL: Live In The Flesh
Tankcrimes Records on Oct. 22 - CD, 2LP, Digital
This band would probably have been much more fun to also watch, and not just hear. Because it sounds like they are a very entertaining band.
GHOUL consist of some masked mutants, and this album was recorded at the Oakland Metro Operahouse in 2018, where they delivered 18 of their songs. The music that they play is thrash metal. It's hard, fast and heavy. Then they add some horror and sick humour to that. Some of their song titles are "Off With Their Heads", "As Your Casket Closes" and "Wall Of Death" for example.
creepsylvania.com tankcrimes.com
Published: Oct. 19
PREMIATA FORNERIA MARCONI: I Dreamed Of Electric Sheep
InsideOut Music on Oct. 22 - 2CD, 2LP/2CD, Digital
Not really sure why they had to include both an Italian and English version of this album. But maybe they want you to make your own decision in life - like "Do you want it in Italian or English?".
When it comes to the music it's pretty soft progressive rock. What I call a Sunday album or rainy day album. So in this case I had to try 1 version first, and the other later. Because I don't feel like hearing the album twice in a row.
The music that these Italians create is old school progressive rock, so I don't think that I have to explain the sound for you. It sounds pretty o.k. to me anyway.
Among the guest musicians on this album are prog legends like Ian Anderson (JETHRO TULL) and Steve Hackett (GENESIS).
PREMIATA FORNERIA MARCONI released their first studio albums back in 1972 already.
pfmworld.com
Published: Oct. 19
WAX MEKANIX/TROLL TEETH: Blunt
Electric Talon Records on Oct. 22 - Digital split EP
WAX MEKANIX play some kind of acoustic pop/rock that is pretty uninteresting to me. But TROLL TEETH though play some kind of heavy/psych rock that was much more interesting. Especially their second track, "Barbs On A Wire". I would like to hear some more of them than just these 2 songs.
Not much else to add there..
talonrecordsusa.bandcamp.com
Published: Oct. 19
SKANNERS: Greatest Hits
Music for the Masses on Oct. 22 - CD, Digital
With this collection SKANNERS celebrate that it's 35 years since their first release and soon (next year) 40 years since the band was formed. We get 16 tracks from their whole career, and 1 of them is actually a brand new song. Their music is a wild mixture of good old 80s hard rock and heavy metal. No modern and trendy stuff here. The material is mainly very strong, so if you like me have completely missed this Italian band, then I suggest that you give this album a listen.
skanners.it
Published: Oct. 18
EVIL SPELL: Padre Vostro
Blasphemous Records/Music for the Masses Records on Oct. 22 - CD, Digital
"Padre Vostro" is the third record from EVIL SPELL. And this is their first new album since their split record with GEMINI in 2014.
The music is raw speed/black metal for fans of NIFELHEIM, HELLHAMMER, SODOM and early KREATOR. Their songs are delivered with high speed, but not ultra fast like grindcore. But there's also heavier parts here and there, so it's not just pedal to the metal all the way. Very good stuff!
EVIL SPELL is an Italian band, and have been active since 2006. After 2 demos (in 2006 and 2007) they released their first album, "Antisocial Satan", in 2010.
facebook.com/EvilSpell666 musicforthemassesrecords.com
Published: Oct. 18
FLIPTOP BOX: Final Scene
Self released - Digital
From Athens, Greece comes this heavy rock band, who reminds me a little of the alternative rock from the 90s. They are influenced by bands like DANZIG, ALICE IN CHAINS, VOLBEAT and THERAPY?, and blend elements of alternative, grunge and metal with subtle undertones of the post punk scene of the 80s.
This is not a new band. They formed in 2003, and has released a few demos and 2 albums before.
These 8 songs are not bad at all. Pretty good actually. So if you are into alternative rock/grunge, then you should give them a chance by visiting their Bandcamp page and listen to them.
fliptopbox.bandcamp.com
Published: Oct. 17
The EROTICS: Ride It To Death!
Self released - CD, Digital
I have received this band's e-mails for some years now, but I don't think I have got anything for review before (my memory isn't always that good though). And I don't have a clue how I end up on their e-mail list. But anyway.. Here's a new EP, released in late September. And what we get is some really cool rock that makes me think of GUNS N' ROSES and AEROSMITH for example, even though it's not the exact same thing. It's raw and dirty anyway, and AC/DC is obviously also among their influences as they end the EP with a cover of "Can I sit Next To You Girl?".
The EROTICS comes from Alabany, New York, and they kick ass. All 5 tracks here are great.
theerotics1.bandcamp.com
Published: Oct. 17
DEADSPEAK: Dissolve The Dreams
Raw Skull Recordz/Into it Records - Digital, Cassette
More death metal in the old school way. Does anybody have a number of have many of these bands there are around the world? That would be interesting to know. Luckily most of them are really good though, and this Dutch band is no exception from that. Classic death influenced by classic acts like DEATH, MALEVOLENT CREATION, BENEDICTION and MORBID ANGEL. This should definitely make you bang your head with the fist in the air.
They end this 5-track debut EP with a cover of DEATH's "Evil Dead". An album will be out next year.
rawskullrecordz.bandcamp.com
Published: Oct. 16
DEAD SUN: Collection Of Past Remains
MDD Records - CD
DEAD SUN was started in the late 90s by PAGANIZER members Rogga Johansson and Andreas Carlsson. They recorded several demos and EPs through the years, and "Collection Of Past Remains" is a collection of recordings that they have done between their regular albums since 2013. Some of these songs are previously unreleased.
If you're looking for Swedish meat and potato death metal in the old school, then this is a collection for you. If you're looking for the same thing but with it's own twist, well then this is also something for you.
DEAD SUN released a new studio album, "Night Terrors", in March this year. Today's lineup is Rogga on vocals, bass and guitar, and Jon Rudin has replaced Andreas on drums.
Published: Oct. 16
AGGRESSION: Field Of Nightmares
Xtreem Music on October 26 - CD, Digital
This Canadian band was born on a Halloween night in 1984 as ASYLUM. They released some demos and participated on a couple of compilation records. Their debut album, "Forgotten Skeleton", was recorded in 1986, but wasn't released until 2005. In 1987 they released the album "The Full Treatment" though. AGGRESSION were on track to become one of the forefathers of the 80s thrash metal movement. However, due to their destructive substance abuse problems, legal and criminal matters combined with reckless abandon, the band was declared disbanded by 1989.
After a brief reunion in 2005, AGGRESSION resurrected for good in 2014 with a new lineup. They have released some more records since then, and the latest to be released is this EP, "Fields Of Nightmares". Even though there's 6 tracks, there's actually just 4 songs, as they have included both a useless intro and a useless outtro.
If you want old school and safe thrash metal, then this is something for you, because it's very good stuff that we get here. And I don't have much else to add about that..
AGGRESSION are currently working on their fifth full length album, to be released sometime in 2022.
aggressionofficial.com
Published: Oct. 16
ABOMINATION: Abomination (reissue)
MDD Records - CD
This band was founded in Chicago in 1987, and features Paul Speckmann (MASTER) among others. But since 2011 the band has only been playing sporadically as Paul is busy with MASTER.
Anyway, this self titled album is their debut from 1990. And what can I say? I guess that it doesn't come as such a big surprise that it's classic old school death metal the American way. But as the singer doesn't growl, which became popular later, you could almost call this intense thrash metal instead. This is a really good album my friend. So if you don't have it already, then you better get it at once.
I don't think I have to say much more than that..
mdd-records.de
Published: Oct. 16
The HAUNTED at Pumphuset in Borås, Sweden on Oct. 15, 2021
Last time I was to a concert was KSMB at Valand in Göteborg, Sweden on February 28, 2020. The HAUNTED was supposed to play here in Borås on April 12. But we all know why that did not happen. It got postponed 4 times before it actually happened.
Now you can always think that it's a bit weird to book a pretty well-known band as The HAUNTED to a small pub that can only take 200 people. It got sold out very fast of course. So why they didn't book a larger place is a mystery to me.
Another mystery is why there was just 1 band. Usually it's 2 or 3 bands when Klubb Undergrunden arrange gigs at Pumphuset (on the other hand there's 3 more bands playing at the same pub tonight (Oct. 16): BOMBUS, LEACH and SARCATOR).
Anyway.. People have obviously been hungry for a metal concert, becuase when the band started to play people went nuts. Almost everybody was "dancing" and banging head. The floor was drenched with beer and glass. Totally crazy, but in a good way. I happened to stand too close when the people infront of the stage went nuts to a song towards the end of the show, and got beer all over me. Well, that's the kind of shit that can happen at a concert.
The HAUNTED was really good this night, and was just as on fire as the audience. I haven't seen them since December 2015, so it was really nice to see them again.
Not the best photos I have taken..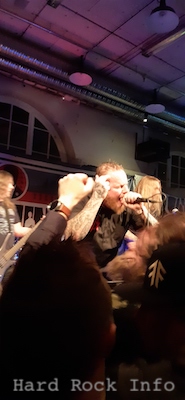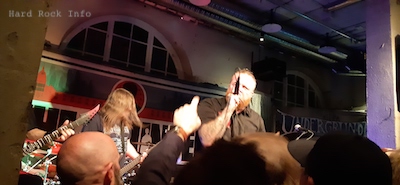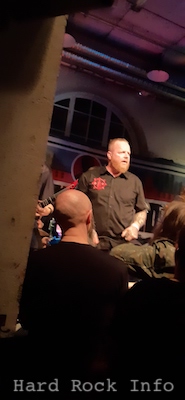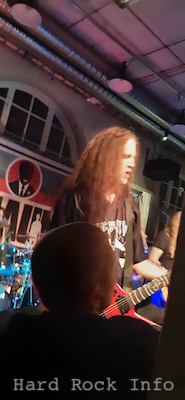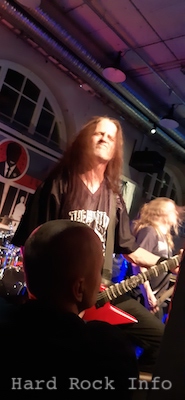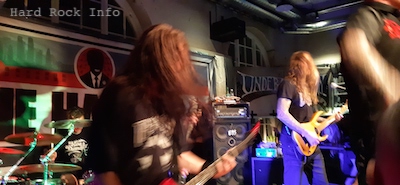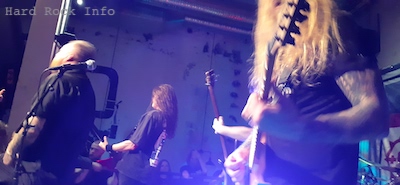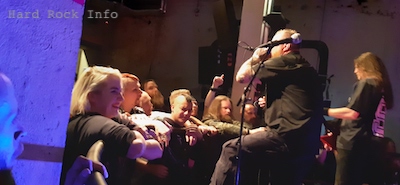 facebook.com/officialthehaunted facebook.com/klubbundergrunden
Published: Oct. 16
Donnie Vie: Party Time
Self released? - Digital single
Donnie Vie is the frontman of American glam rock veterans ENUFF Z'NUFF. But he has also a solo career, which he will celebrate with a career spanning box set, simply titled "The Donnie Vie Collection", which will be released next Friday (Oct. 22). The box will include all 5 solo albums and a 6th record with new, unreleased songs from his demo collection.
"Party Time" is a true party anthem that makes you happy. It should be a hit song! But I guess we are living in the wrong century for that. You should absolutely give it a try though if you want some good old party rock.
donnievie.com
Published: Oct. 15
BANNED IN GBG: What The Hell
WormHoleDeath - Digital single
"What The Hell" is the second single taken from Swedish heavy rock band BANNED IN GBG's upcoming album, "What The Hell Is Going On?!", due for release on November 19. The band features members from Gothenburg bands like TORNADO BABIES, ON PAROLE, The NUTS, STILLBORN etc. So you could almost call this a local all-star band.
Their music sounds like heavier hard rock, with a pinch of both metal and punk. It's a good song anyway. And I think that most rockers could like this.
facebook.com/Banned-in-GBG-band-2120436884921780 wormholedeath.com
Published: Oct. 15
The SONIC OVERLORDS: Last Days Of Babylon
M-Theory Audio on Oct. 22 - LP, CD, Digital
The SONIC OVERLORDS was formed by Swedish guitarist Morgan Zocek in 2017, when he began jamming with various musicians. They wrote songs inspired by classic hard rock of the late 70s/early 80s, but with a modern approach to the production. After a few years they finally had a stable lineup, and released their first single, "In My Darkest Room", in October 2020.
Now their debut album is here, which gives us a combination of powerful doom riffs and epic/melodic vocals. Influences comes from Ronnie James Dio (rip)/Tony Martin-era BLACK SABBATH, RAINBOW, early CANDLEMASS, Yngwie J. Malmsteen's RISING FORCE, SCORPIONS and MSG.
"Last Days Of Babylon" is an excellent album that all fans of doom and heavy metal should check out as soon as possible. Simple as that!
thesonicoverlords.bandcamp.com m-theoryaudio.com
Published: Oct. 14
HEX A.D.: Funeral Tango For Gods & Men
Fresh Tea on Oct. 22 - LP, CD
"Funeral Tango For Gods & Men" is the fifth album from HEX A.D. It's said to be a darker and deeper ride than the other records in the band's catalogue. But it's also their most varied work to date. I would describe thier musical style as progressive doom metal inspired by the legends of the 70s. It can be epic and atmopheric, as well as riff-based and catchy. These songs are very strong!
The band's unofficial fifth member, Rowan Robertson (ex-DIO), play on 2 of the tracks here. Another guest is Ronni Le Tekrø (TNT), who play on the last song.
facebook.com/hex.a.d freshtea.no
Published: Oct. 14
INDIGO RAVEN: Looking For Transcendence
Argonauta Records on Oct. 22 - LP, CD, Digital
INDIGO RAVEN are based in Toulouse, France, and formed in 2019. They released their first EP in 2020, and now their first full length is here.
They have definitely found their own unique sound, which is atmospheric and coloured by a shamanic sound and occult, haunting vocals/chants. This is backed up by heavy and repeating doom metal.
The problem with this is that there's not that much variation. It's more or less same thing over and over again. And I get tired of that pretty quickly.
The vinyl gives you 6 tracks, while the CD has a bonus track - a MAZZY STAR cover. The songs are between 5-7 minutes.
indigoraven.bandcamp.com argonautarecords.com
Published: Oct. 14
BURNING POINT: Arsonist Of The Soul
AFM Records on Oct. 22 - CD, LP, Digital
Finnish power metal band BURNING POINT have been around for more than 2 decades already. So why have I never heard of them before? Anyway, this album sounds extremely good. It's a little heavier, but yet melodic and very catchy. This is how power metal should sound like if you want me to like it. Excellent songs all the way.
New vocalist is Luca Sturniolo, which was born in Italy but lives in Finland. And man, they have really found a damn good singer! Where have this man been hiding? And well, the other guys are also extremely good at what they're doing.
burning-point.com afm-records.de
Published: Oct. 14
VILDHJARTA: måsstaden under vatten
Century Media on Oct. 15 - 2CD, 2LP, Digital
Why as much as 17 tracks? That's just insane! And the music then.. Some kind of dark, heavy and experimental metal without much variation. It's like they play the same thing in every song here, and that becomes very boring after a while. No boys, this wasn's so good.
Swedish band VILDHJARTA has been compared with bands like TOOL and MESHUGGAH. It's hard and heavy, with a dark atmosphere, but yet full of progressive adventures. And even though I don't like it, I'm sure there's lots of people who actually do.
It's 10 years since they released their debut album, "Måsstaden", and 8 years since their 2013 EP, "Thousands Of Evils". Maybe that's why this album last for as long as 80 minutes?
facebook.com/vildhjartaofficial centurymedia.com
Published: Oct. 13
RENEGADE ANGEL: Damnation
Inverse Records - Digital EP
RENEGADE ANGEL is a Finnish melodic heavy metal band. The title track of this EP features vocals from Tim "Ripper" Owens (KK'S PRIEST, ex-JUDAS PRIEST, ICED EARTH, Yngwie Malmsteen). We also get 2 versions of the song "Journey Into Madness", in English and Spanish.
This is powerful, epic and all that, and very good. So you should absolutely give this band a try if you want some good heavy metal. It's just as simple as that.
renegadeangel.fi inverse.fi
Published: Oct. 13
GEMINI SYNDROME: 3rd Degree - The Raising
Century Media on Oct. 15 - Digital
Modern teenage rock with heavy guitars and melodic, emotional vocals. It sounds like I have heard this a few times before. To me this sounds more or less the same all the time, and for some reason there's 13 tracks, which makes it last for almost an eternity for me.
"3rd Degree - The Raising" is the third album from GEMINI SYNDROME. It's 5 years since their last album came out. The new album offers the closing chapter in a trilogy of song and narrative.
I guess that we can label this as progressive rock/metal, but I'm honestly not really sure what this is.
geminisyndrome.com centurymedia.com
Published: Oct. 13
SUPERNOVA PLASMAJETS: Now Or Never
Pride & Joy Music on Oct. 22 - CD, LP
This sounds a bit like a combination of melodic hard rock from the 80s and pop from the 90s, but made by kids growing up in the 2000s. And this is absolutely not bad at all. More or less every song on this album is great, and the singer, Jennifer Crush, is a very good vocalist.
Even though they have a strong 80s sound, it's at the same time modern. The songs are melodic with hit friendly choruses. I think that this band could go far if they get the right chance.
They end the album with a cover of the 1988 pop hit "Tell It To My Heart" by Taylor Dayne.
SUPERNOVA PLASMAJETS has existed since 2013, and comes from Mannheim, Germany. They have released 2 records before "Now Or Never".
supernovaplasmajets.de prideandjoy.de
Published: Oct. 12
SIX SILVER SUNS: As Archons Fall
AOR Heaven on Oct. 22 - CD
This might be a new band, but the members have many years of experience from other Finnish bands. And the reason why they formed SIX SILVER SUNS was a desire to go back to the golden age of rock and pop, the 70s and the 80s. Their inspiration comes from progressive rock and BLUE ÖYSTER CULT, which they combine with catchy tunes and melodies from AOR and hard rock. Timeless classic rock.
This is a fantastic album with lots of great songs. You have to give it a chance! Try something like "Sweet Promethean", "The Stranger" or "Edge Of Tomorrow" for example.
facebook.com/sixsilversuns aorheaven.com
Published: Oct. 12
OSUKARU: Starbound
AOR Heaven on Oct. 22 - CD
"Starbound" is the 6th album from Swedish hard rockers OSUKARU, which gives us a blend of melodic rock n roll and classic heavy metal, but with the roots in classic stadium rock. So even though they label this as melodic glam metal, I prefer to call it melodic hard rock. Because that's what I hear when I listen to this album anyway. And it reminds me of the sound of the 80s, with catchy and strong songs. This is really good stuff.
osukaruonline.com aorheaven.com
Published: Oct. 12
Dan Lucas: The Long Road
Pride & Joy Music on Oct. 22 - CD
Well, you can give this to your parents, they might like it. It's nice and melodic pop/rock all the way, but fans of softer melodic rock might find something that they like here.
Dan Lucas was the frontman of different successful German rock groups in the 80s, like the hard rock band KARO for example. He also released 3 solo albums in 1992, 1995 and 1996. The hit single "Heart Of America", which featured musicians from LOVERBOY and Manny Charlton (NAZARETH), was used for a McDonald's commercial later on.
This new solo album show his more personal and intimate side.
danlucas.de prideandjoy.de
Published: Oct. 12