REVIEWS 2021 - Page 10
Page 9
Index
Page 11
Dec. 2, 2021
CUSTARD: Imperium Repax
Pure Steel Records on Dec. 3 - CD
This is the 7th full length from German power metal band CUSTARD. And it's nothing unusual that it takes 4-5 years between each album. But the one who wait might get something good. ..or in the worst case be dissapointed.
The sound of CUSTARD is pretty traditional, while the lyrics circuits around the Roman Empire. We could call it battle hymns. And my opinion is that they do this very good, but 14 tracks makes it last for an eternity. So those of you who think that too much of the good stuff is better will get what you want. On the other hand I should add that 4 of those tracks are just short pieces/intros, so that makes it 10 real songs.
puresteel-records.com
Dec. 1, 2021
The DRIPPERS: Scandinavian Thunder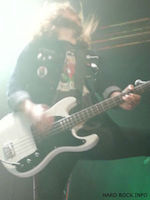 The Sign Records on Dec. 10 - LP, CD, Digital
Swedish action rockers The DRIPPERS continue to kick ass on their second album. If you're looking for a kick of energy, then this is absolutely what you need. Because this band is really on fire. This really set you in a party mood, and I want to sink beer like it was a competition. Fans of the first albums with The HELLACOPTERS will love this band! This is raw high octane rock on highest volume.
This power trio comes from Göteborg, Sweden. Their debut album, "Action Rock", was released in 2019, and I have been waiting ever since for something new from them.
thedrippersgbg.bandcamp.com thesignrecords.com
DEVIL CROSS: This Mortal Coil
Fighter Records on Dec. 7 - CD, LP, Cassette, Digital
DEVIL CROSS features APHRODITE members Jo Steel (ICE WAR) and Brennan Whitworth (CANNIBAL), as well as Trevor William Church (HAUNT). And this heavy metal trio deliver fantasy and occult lyrics dealing with deep personal issues of depression, anger, frustration, abandonment, sadness and alienation. So pretty deep stuff for being classic heavy metal. But nothing wrong with that.
This band doesn't just sound like they would be from the 80s, they even look like they would be from the 80s. So if you like that, then this is a pretty obvious choice.
facebook.com/devilcrossmetal
DISHELL: Teutonic Beat
Selfmadegod Records - CD
Crust punk mixed with a pinch of death metal is what we get from DISHELL. The band hailing from Krakow, Poland, and this is their second full-length album. 9 tracks in a little over 20 minutes. It's simple and straight. No nice melodies, just pure anger.
I think that fans of ANTI CIMEX and other Swedish crust punk from the 90s could like this, as well as fans of South American hardcore/punk. I like what I hear anyway.
dishell.bandcamp.com selfmadegod.com
KADAVAR/ELDER: ELDOVAR - A Story Of Darkness & Light
Robotor Records on Dec. 3 - CD, Digital
Berlin rockers KADAVAR have teamed up with their American friends ELDER to create an album together. This is not a split release with a few songs by each band, but a collaboration between the 2 bands. And what they have done here is a wild mixture of rock - mainly heavy, prog and alternative. 7 tracks is what we get, and the first one is 9 and a half minutes. After that the songs are shorter, 3-6:42 minutes, except for the second last track, which is as long as 11 minutes.
This album is a progressive rock adventure, that I would guess could please fans of such bands from the 70s. Very atmospheric and laidback stuff.
facebook.com/KadavarOfficial facebook.com/elderofficial
UNANIMATED: Victory In Blood
Century Media on Dec. 3 - CD, 2LP, Digital
This is the first full-length with Swedish band UNANIMATED since 2009, even though they released a EP in 2018. New members since the last album are Anders Schultz on drums and Jonas Deroueche on guitar. But the music is still powerful death/black metal with an occult theme. This is a very aggressive album, but there is also short atmospheric pieces to catch the breath before the next attack.
This is not an album for everyone. But those who like it will probably really like it.
The album was produced, mixed and mastered by Fredrik Folkare (UNLEASHED, NECROPHOBIC).
facebook.com/unanimatedofficial centurymedia.com
Nov. 30, 2021
MÄHÄLIUM: Avd. C4
C33 Tapes/DISTAT Records - Cassette (out now), Digital (Dec. 3)
This band have a few things in common with PASTORATET, but most of all both play a similar kind of melodic punk rock in Swedish. Both bands are also really good. MÄHÄLIUM might be a bit more into 90s trallpunk though, but this is the more raw kind of trallpunk with harsh vocals and less melodies (even though there's some of that too).
Most of these 12 tracks are good stuff. And titles like "Statistiktourettes" (Statistics Tourettes), "Gaffa mig på en napalmbomb" (Duct Tape Me On A Napalm Bomb) and "När dumheten rövknullar förståndet" (When Stupidity Ass Fuck The Mind) are both funny and good. They are not afraid to tell you what they think about things in society of today.
MÄHÄLIUM first exited between 1998-2001. During that time they released 3 demo tapes, 1 EP and 1 CD single, plus participated on several compilations. After 15 years of silence they were back again, and released their first full-length album digitally in 2017. "Avd. C4" is their second full-length album.
facebook.com/Mahalium cramada.se
DEEP PURPLE: Turning To Crime
earMUSIC - LP, CD, Digital
As there was nothing else to do during the pandemic, the rock veterans in DEEP PURPLE thought that they could finally do that covers album that they had been thinking about for a while. And what they have recorded here could be described as old man songs. It's the kind of stuff that your grandparents, or if you're as old as me your parents, used to listen to when they were young. But then some members of this band is over 70 years old now.
There's not that many songs that I had heard before, just "Shapes Of Things" and "Jenny Take A Ride!", which seems to be a mix of "C.C. Rider" and "Jenny, Jenny". The last track seems to be a medley of several songs, and I have heard some of that too. But the rest was unheard for my ears. Most of it sounds good anyway.
Among the artists that they do covers of here are FLEETWOOD MAC, Bob Dylan, YARDBIRDS, CREAM etc. And a little surprise is that bassist Roger Glover sing lead vocals in one of the songs.
deep-purple.com ear-music.net
FIELDS OF MILDEW: The Complete Woes
Nordvis on Dec. 3 - CD, Digital
This is a slow, atmospheric and acoustic experiance. In other words a very soft album, and hardly any party anthems. There's a big chance that you will get tired. Pretty o.k. though, but not much else.
FIELDS OF MILDEW are said to play a dark kind of folk music, and is a solo project with an established German musician (simply called R). Half of the material here is from a long since sold-out EP, but the rest is previously unreleased songs.
facebook.com/fieldsofmildew nordvis.com
Nov. 29, 2021
ENUFF Z'NUFF: Enuff Z'nuff's Hardrock Nite
Frontiers Music Srl - CD, LP (on Dec. 10), Digital
So American glam rock veterans ENUFF Z'NUFF are going all in on their big idols The BEATLES with a covers album, where they also covers solo songs by the Liverpool legends. Now I would not call myself a fan of The BEATLES, but I have of course heard many of their songs, so I know most of these 10 songs.
Well, ENUFF Z'NUFF is doing a good job with these songs, and gives them the extra balls that turns them into hard rock songs instead of nice pop songs. I like it, except for the last song, "With A Little Help From My Friends", which I did not even like from the beginning (it's silly somehow).
enuffznuff.com frontiers.it
GROUNDBREAKER: Soul To Soul
Frontiers Music Srl - CD, Digital
Except for vocalist Steve Overland (FM), the line-up on this album also includes Sven Larsson (ex-STREET TALK) on guitars, Nalle Påhlsson (ex-VINDICTIV, THERION) on bass, Herman Furin (WORK OF ART) on drums, and Alessandro Del Vecchio (HARDLINE, SUNSTORM, JORN, LEVEL 10, SILENT FORCE, VOODOO CIRCLE, REVOLUTION SAINTS etc etc) on keyboards. And just if that wasn't enough Stefano Lionetti (LIONVILLE), Pete Alpenborg (ARCTIC RAIN), Jan Åkesson (INFINITE & DIVINE), and Kristian Fyhr (SEVENTH CRYSTAL) has helped them with the songwriting.
And what all these people has created is a melodic rock album of the typical kind. In other words a very kind and melodic album in the European 80s tradition. So if you like that, then you should check this out at once, because they are doing this really good of course.
facebook.com/Groundbreakerband frontiers.it
INSANIA: V - Praeparatus Supervivet
Frontiers Music Srl - CD, Digital
After a 14-year hiatus, Swedish power metal band INSANIA felt like they wanted to come out and play again. This is their fifth album, and maybe they were away for a little too long, because this album last for over an hour. That might have worked 14 years ago, but it's not so popular today (not to me anyway). But luckily this is a very good album, so in the end that's a very small problem. You should absolutely check this out! Especially if you're a fan of HELLOWEEN and similar European power metal. Because this band has all the right ingredients. It's fast and melodic, you probably know the sound already.
The first version of INSANIA was formed back in 1992 as a covers band. But as the band grew they soon started to write their own material. It wasn't until 1999 that their debut album, "World Of Ice", was released by House Of Kicks (anybody who remember them?). 3 more albums was released before they went on hiatus in 2007.
insania.nu frontiers.it
L.A. GUNS: Checkered Past
Frontiers Music Srl - CD, LP (on Dec. 10), Digital
Holy shit! L.A. GUNS are more energetic than ever before. And I like that energy, because they have also succeeded to create some really good hard rock songs. This band is absolutely not done yet. That's for sure. And if you don't believe me, just listen to this album.
Not that I have noticed it, but it's said that the track listing is divided into "sets" or "suites", where a sonic style is explored across multiple songs before moving on to the next. Well, there's variation here at least.
This band should be well-known enough, so I don't think I have to tell you their story. But if you like their past, then you should like this too.
lagunsmusic.com frontiers.it
Nov. 28, 2021
SKID ROW: The Atlantic Years (1989-1996)
BMG on Dec. 3 - LP Box Set, CD Box Set
What we have here is a box set with 5 records that was released while American hard rockers SKID ROW was signed to Atlantic Records between 1989-1996. And those of you who see SKID ROW as a sleaze rock or hair metal band have probably just heard their hits from the first self titled album (1989). Sure, there might be some of that there. But I would say that most of the material on the debut is more like GUNS N' ROSES and MÖTLEY CRÜE instead of something like POISON. A damn good hard rock album anyway, and probably the one that have sold best of all their albums. With this record they gave us hits like "18 And Life" and "I Remember You", as well as the anthem "Youth Gone Wild". I really liked it when it came out, but have not heard it for years, so it was nice to hear it again. This is still their best album without a doubt.
If you are still not convinced that SKID ROW is not a sleaze rock or hair metal band, then you should listen to their second album, "Slave To The Grind" (1991), which is both harder and heavier. Now we can start calling their music street metal instead. The first times I heard this album I thought that it did not have the same hit potential as the debut had. But the more I listened to it, the better it got. So now I can hear lots of good songs on this album. Absolutely worth checking out.
After that we comes to stuff that I had not heard before. Like a 7-track EP called "B-Side Ourselves" (1992) for example. All these songs are covers from single b-sides. And the bands that they cover are RAMONES, JIMI HENDRIX EXPERIENCE, KISS, JUDAS PRIEST (with Rob Halford) and 1 that is unknown to me. Really good stuff and fun to listen to.
The 4th disc is their third album, "Subhuman Race" (1995). Now the hit potential was completely gone, and it sounds more like 1 of those alternative rock bands at the time. And honestly they are not doing it so good, as they sounds more or less like most other bands at the time, even though there's a few exceptions. Like "Bonehead" for example, which is an energetic little bastard, almost punk. There might be 3 or 4 more that are good, but not 1 single masterpiece. And as this was during the golden age of the CD, they had to fill it with 13 tracks. Not the best idea. This was the last album with Sebastian Bach on vocals and Rob Affuso on drums.
Last but not least is the 7-track live EP "Subhuman Beings on Tour!!" (1995), which was previously only available on CD in Japan. Not 1 single song from the first album is included! Instead we get songs from album 2 and 3, as well as a couple of covers and some stupid useless talking in the last track. A pretty o.k. EP though.
Although the lineup has shifted over time, SKID ROW remain active touring the world, and are currently in the studio recording a new full-length record to be released in 2022.
skidrow.com
GATANS LAG, BASTARDES, VÄRLDEN BRINNER at Pumphuset in Borås, Sweden on November 27, 2021
250 Swedish kronor for a small gig at Pumphuset. That's absolutely not punk! Now this is not Klubb Undergrunden's fault (who arranged the concert). I have heard that it's the venues here in Sweden that want more money, so everything is their fault. And high ticket prices gives us the result that poor people like me can't go to as many shows as I would like to, as it's too fucking expensive nowadays.
Another problem is that Pumphuset can only take in 200 people. Yes, it's probably very fun that every show is sold out, but I'm sure that much more people want to see the artists, so that they could find a bigger venue is a wish from me. It would also be nice if the bands didn't have to play in the middle of the night, but that is probably a way too big wish.
But sometimes there's a band that you just have to see live, and if you're lucky even the support bands (for some reason there have to be 2 or 3 nowadays) are also good. Like this night, when almost everything was perfect after a shit day.
A few years ago I got a record for review with VÄRLDEN BRINNER, and I really liked what I heard. Have never got anything with them after that for some reason, so I had not heard any of their other material. They did a really good show though, and there was already lots of people there, which is unusual as people usually doesn't seems to care about the first band. Their songs was also really good. I guess we can describe their music as catchy and melodic punk rock. Would not be bad to hear something new with them.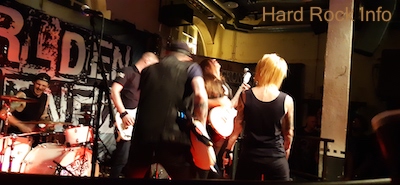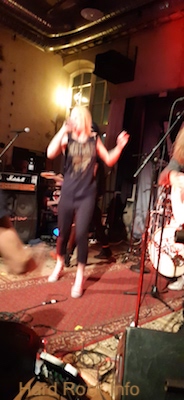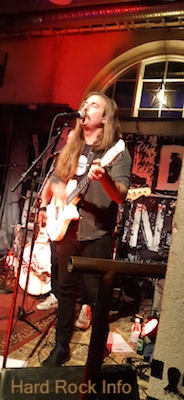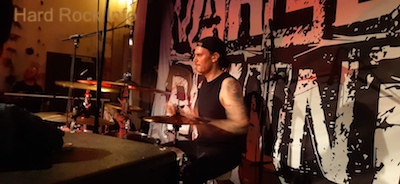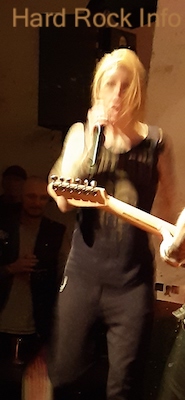 CITY SAINTS was supposed to play too, but their drummer had unfortunately hurt his shoulder and need to rest. So we got BASTARDERS instead, which is a side project of a other member of CITY SAINTS and Arild from TROUBLEMAKERS. After their debut album they were also joined by Daniel of The LIPTONES and former PSYCHOTIC YOUTH member Tommy.
This band was really good too. Like a combination of MOTÖRHEAD and Oi! you could say. They played both their own songs and some covers. I would absolutely like to hear more of them in the future!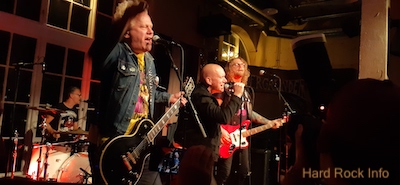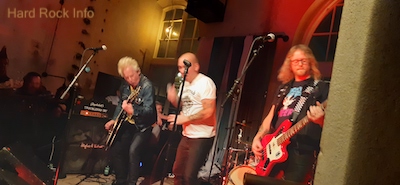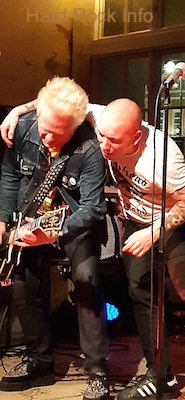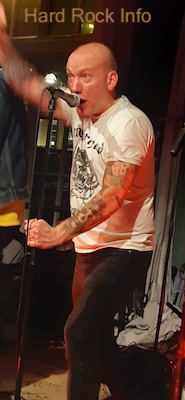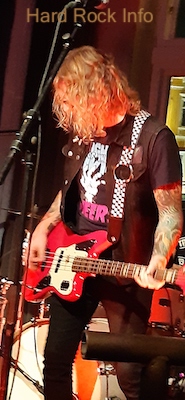 First time I heard the local Oi! punk band GATANS LAG was at a local punk show in something like the mid-2000s or earlier I guess (they did not play though). Anyway, at that punk show I also got a copy of their demo (which they played at that show), and a guy who did the fanzine Korsakoff was spreading it on a CD-R without telling the band. Suddenly they got very popular here in Borås, and when they started to release records and play live, they became very popular in the Swedish punk and Oi! scene.
It has been much silence from the band during the last years, but once in a while they have been playing live at least. It was an eternity since they played in their hometown though, so that was really about time (that last show in Borås has by the way gone to history as the one where the singer, Jonas, was so drunk that he just left the stage and went home, total chaos).
Well, anything can happen when this band play live. Sometimes the singer seems to spend more time in the audience than on the stage for example. This time it was not so wild though, but they did a really good show and played many of my favorites. I had not seen them live since 2012, but then I saw them twice in something like 1 week. It was really nice to see them again, so I'm really glad that I went to this show, even though the ticket was expensive.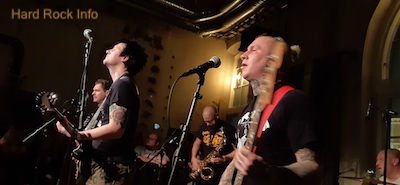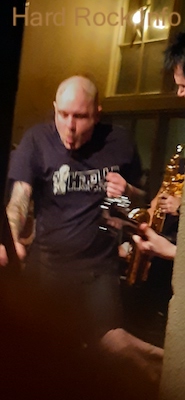 (Much people, not so easy to take photos, therfor just 3).
facebook.com/GatansLag facebook.com/gbgpunx facebook.com/varldenbrinner
Nov. 27, 2021
WILD FREEDOM: Polarize
WormHoleDeath - CD
They promised me "great hard rock and heavy metal themes, with influences from classic bands such as MÖTLEY CRÜE, STRYPER or RATT, as well as contemporary bands such as HARDCORE SUPERSTAR and SKULL FIST". Doesn't that sound exiting? You bet it does! But what did I really get?
Well, here's the truth.. Forget all about the alleged influences! To me this sounds more modern and very melodic, with heavy guitars and pop melodies. It's o.k., but honestly not much else. They try so hard, but fact is that they simply don't have any hit song here. And why, oh why, do they suddenly have to play some silly modern pop in the last track? I really hate that shit!
WILD FREEDOM was formed in Barcelona, Spain in 2010. Their debut album was released in 2017, and this is their second album.
facebook.com/WildFreedomBand wormholedeath.com
SIGNS OF TRUTH: Signs Of A Future
Boersma-Records - CD
SIGNS OF TRUTH is a Swedish hard rock band from Uppsala, Sweden. The idea was created back in 2006 already, but it wasn't until 2015 that it actually started to become a band (if I get it right). And then it took a few more years before the final members joined the band, and all the right pieces fell into place.
They have now after many years finally recorded their debut album, which was released earlier this month. And the music that we get here is a melodic kind of hard rock, sometimes possibly on the border to heavy metal. The members has very different backgrounds and influences, from thrash to doom, via progressive, to glam and hard rock. And these different influences is what makes SIGNS OF TRUTH sound like they do.
signsoftruth.band boersma-records.com
PHOENIX TITAN: Ripper
Inverse Records - Digital single
Finnish heavy metal band PHOENIX TITAN formed in 2014, and released their debut album, "Avatar Of Fire", in 2019. Now the time has come for something new, in form of this single, with a lyrical theme inspired by a classic horror story.
And it's a melodic kind of heavy metal that we get from this band. But this song sounds really good, so I would not say no to some more. Check out!
phoenixtitan.fi inverse.fi
MIKE BELL CARTEL: Wait!
Beluga Records - 7" single
The first track, which is the title track, sounds like The BEATLES or something similar from the same era. Melodic pop/rock. But the b-side, "There Comes The Pain", is a more action-filled garage rocker that sounds like something from the 60s. That song should have been the a-side instead according to me. But both songs have their own charm, and they are both good.
You could easily think that this would be a British or American band, but they are from Helsinki, Finland. And these 2 songs are taken from their upcoming album, "The Cartel & I", which will be released in early 2022.
belugarecords.com
MAD MARGRITT: Best Of 1999-2021
Perris Records - CD, Digital
MAD MARGRITT is an explosive, high energy hard rock band based out of Atlanta, Georgia. And they have many great songs on this 15-track best of album. There's lots of hit potential here, but if I'm just going to mention 1 favorite of them all, then it must be "Lonely". You should absolutely check out this collection.
As a bonus we also get 3 previously unreleased songs.
I actually don't know much about this band, so I don't have much else to add..
perrisrecords.com
FUCKED UP: Do All Words Can Do
Matador Records - Digital single
Yeah! Pure aggressive punk rock on the border to hardcore is what we get from FUCKED UP. It's mainly the vocals that is aggressive, while there's a guitar melody that's melodic. Very American somehow, but really good. A EP with this band would be interesting.
Next month, Matador Records will honor the 10th anniversary of the band's early 10s album "David Comes to Life" with a limited-edition lightbulb-yellow double LP reissue. But that's not all, as there will also be a new compilation, "Do All Words Can Do", on March 25, with b-sides and rarities from the same era as "David Comes to Life".
FUCKED UP is a Canadian band, formed in 2001. They have released 5 studio albums as well as several EPs and singles.
fuckedup.cc
Nov. 26, 2021
The DARKNESS: Motorheart
Cooking Vinyl - CD, LP, Digital
The first piece is a bit strange, but after that it's the same old glam rock party as I'm used to hear from The DARKNESS. It's most of all the single songs - "It's Love, Jim", "Jussy's Girl" and "Nobody Can See Me Cry" - that I have heard before that I like. But there's absolutely some other good candy to discover here. They have simply made another really good album. So if you're into glam rock, you should defintely give them a chance.
The DARKNESS comes from England, and existed between 2000-2006 the first time, then they reunited in 2011. They are currently on a UK tour, and will continue the tour through Europe next year.
thedarknesslive.com
TERSIVEL: Weeping Iron Tears
UPRISING! Records - Digital single
TERSIVEL is an Argentine/Swedish band based in Malmö, Sweden, which was officially founded in 2004 in Argentina. They have so far released 2 albums and a handful of smaller releases (EPs and singles). Their sound is a blend of doom/death metal and post-metal, which makes them sound special. It's dark and... I don't really know how to describe them, so give them a listen. I think that many different kinds of metal fans will like this.
"Weeping Iron Tears" is a first taste of their upcoming third album, which will be released next year.
tersivel-music.com uprisingrecords.de
Nov. 25, 2021
The TEA PARTY: Blood Moon Rising
InsideOut Music on Nov. 26 - CD, LP/CD, Digital
There's some cool stuff here, that's for sure. But unfortunately there's some less interesting stuff too, which destroy the experience. When it's as best it's bluesy old rock that reminds me of something like RIVAL SONS for example. When it's not so good it's more like some kind of alternative pop in a rock costume. But this is a band with lots of variation, so just about anything can happen when this power trio pick up their instruments.
The TEA PARTY have been around for over 30 years, and released 9 major-label releases. They have never been afraid to blend various styles - like industrial rock, blues, progressive rock and Middle Eastern influences. The media have called it "Maroccan Roll". "Blood Moon Rising" is their first European release since 2014.
This album includes both a cover of LED ZEPPELIN as well as JOY DIVISION. And if you buy the CD or digital version, you also get a Morrissey cover and a live version of "Way Way Down".
teaparty.com
Nov. 24, 2021
HION MARTELL: Famous For Being Famous
Viskningar och Vrål - Digital single
I have not heard anything from this Swedish rock n roll band in a long time, but now they are back with a new single, which is the first taste of a new album that will be released in 2022. And it sounds just like I remember them. So in other words pretty catchy and not bad at all.
If you like good old rock n roll, then this is something that you should try. And there's not much else to add there..
viskningarochvral.se
Í MYRKRI: Bag Skyggernes Slør
Wolfspell Records on Nov. 30 - CD, Cassette, Digital (LP in Feb. 2022)
These Danish black metallers are not joking. 1 song can be 4 minutes, while another can be as long as 12 and a half minutes. It's fast and intense, but yet atmospheric. This is absolutely not any modern stuff, but the true Scandinavian old school sound.
Unfotunately they have the same problem as many other bands in this genre, it's very difficult to discern any major variation in the songs. It's like the right mood is more important. But on the other hand, black metal is much about the right mood, so why not?
In the end I can only state that black metallers will probably worship this band.
This project is based in Aalborg, Denmark, and was formed in 2019 by dark artist and illustrator Simon Garðarsson (ILDSKÆR). This is their third release, and the first full length to feature Skóggangr (ILDSKÆR, GENFÆRD, TUGT) on vocals and lyrics, which are all in Danish.
imyrkri.bandcamp.com
Nov. 23, 2021
VULCANO: Ship Of Dead
Emanzipation Productions - Digital single
"Ship Of Dead" is the first single from VULCANO's upcoming album, and it's a vicious speed/black metal attack that these Brazilian veterans gives us. They have been around for over 40 years, but with this song they show us that they have no thoughts about slowing down. This is raw and dirty old school metal.
The new album will be released in early 2022, and the title is "Stone Orange". It will be their 19th release (live records and EPs included).
vulcanometal.com emanzipation.dk
Tony Mitchell: Hot Endless Summer Night
AOR Heaven on Nov. 26 - CD
This album is released in the wrong time of the year, because it's autumn/fall now here in Scandinavia. But o.k., it might be summer in Australia for example. Where Tony is living is unknown to me (but probably somewhere in the States). Maybe somewhere where there actually is a endless summer?
Anyway, enough of my bullshit about the title of the album. Let's talk about the music instead. Which is not that much to talk about actually. Not because it's bad, but because it's simply more of that melodic rock from the 80s, with lots of variation though. Most of the songs are good, so you will probably like this.
Tony Mitchell was the singer for the 90s classic rock band KISS OF THE GYPSY, but has also worked with Rick Wakeman, Alice Cooper, Jon Anderson, ALAN PARSON PROJECT, Tony Hadley, IT BITES, STEALERS WHEEL and KINGDOM OF DEADMEN. This is his third solo album, and it's also said to be his most ambitious record to date. Tony himself take care of vocals, guitar and keyboards, while Miles Meakin (MIDNITE CITY, LIFE OF A HERO) play lead guitars, Nigel Bailey (3 LIONS, DIRTY WHITE BOYZ) play bass/backing vocals, Eddie Antony (KINGDOM OF DEADMEN) beat on drums and percussion, Daniel Sings (NO HARD FEELINGS, WHYTE LIES) blow in the saxophone, and The ROGUES GALLERY ROCK CHOIR sing backing vocals.
aorheaven.com
NIGHTRAGE: Nauseating Oblivion
Despotz Records - Digital single
Greek/Swedish melodic death metal veterans NIGHTRAGE deliver the third and final single from their upcoming album, "Abyss Rising", which will be released on February 18, 2022. Let's just say that if you're a fan of this band, then you should not be dissapointed when you hear this song. What else is there to say?
nightrage.bandcamp.com despotz.se
ETERNAL EVIL: The Warriors Awakening Brings The Unholy Slaughter
Redefining Darkness Records on Nov. 26 - CD, Digital (LP in 2022)
This is fast and intense speed/thrash metal that sounds like it could have been made in Germany or Canada in the 80s. But this is actually some young boys (17-19) from Sweden. So this is not nostalgica but a tribute to the past.
ETERNAL EVIL sounds vicious. It's raw and dirty and straight in your face without any excuse. Also extremely energetic. I like it! You check this out of course.
redefiningdarkness.com
EDGE OF THE BLADE: Distant Shores
AOR Heaven on Nov. 26 - CD
This little group features former AFTER HOURS vocalist John Francis, and former SHY drummer and multi instrumentalist of 7HY, Alan Kelly. On guitar is a guy named Miguel Angel Lopez. They have previously released 2 albums, in 2015 and 2017.
This trio create a pretty typical/classic kind of AOR/melodic rock, with influences from stuff like JOURNEY and FOREIGNER for example. And there's nothing wrong with that, they do this very good. But even though they have good material and are good at what they are doing, I'm still not so sure that they are among the better in this genre. You should absolutely check them out though, just to hear what you think about them.
facebook.com/Edgeoftheblade aorheaven.com
ALIEN FORCE: We Meet Again
From The Vaults on Nov. 26 - LP, CD, Digital
This Danish band started as ZEYKING back in 1982, and released 1 single under that name before they changed it to ALIEN FORCE in 1985, and released their debut album, "Hell And High Water". The band was still around until the 90s. In 2008 they did a reunion concert, and decided to continue. They started to work on some new songs, but unfortuantely guitarist Michael Wenzel lost his life to cancer, and it all ran out in the sand.
But in 2018 they were invited to the Keep It True festival in Germany, and the hunger was back again. So in 2020 they entered the studio to record this album, "We Meet Again", which is their first studio album in 35 years.
ALIEN FORCE play classic heavy metal that is a bit melodic. The guitars are heavy, while the vocals is melodic, but in the end it's powerful enough to be metal. Their songs are really good, so this could absolutely be worth a try.
facebook.com/AlienforceDK fromthevaults.dk
Nov. 22, 2021
PREHISTORIC PIGS: The Fourth Moon
Go Down Records on Nov. 26 - LP, Digital
Seems like they forgot to mention that this is an all-instrumental orchestra. Because if I would have known that, then I would not have downloaded this album (I'm not such a big fan of instrumental artists).
But now that I have done that, I guess I have to write something. I don't have anything positive to say though, as they just play and play without much variation. So yes, another one of those bands that repeat the same shit over and over again. To me they sounds the same as a hundred other bands who play the same kind of thing.
The music that these Italian pigs play is psychedelic stoner rock. And this is their 4th album.
prehistoricpigs.bandcamp.com facebook.com/GoDownRecords
The PAST: You Are Fucked In The Head
Grönpeppar Records - 10" vinyl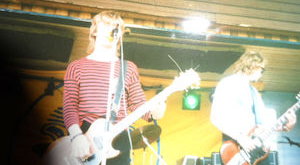 It was a long time since I heard this "classic" Swedish punk band, who has existed since 1980 (not active all the time though). And as you can see on the photo above, I actually saw them live once at the Raj Raj festival in Köping, Sweden (their hometown), something like 1994 I think. Since then the members has changed a bit, and today's line-up features Roger Andersson (drums/vocals, ex-FINKEL ROKKERS), Mikael Linder (guitar/vocals) and Johnny Smedberg (bass/vocals, ex-CHARTA 77).
Anyway, now they have released a new record. And this sounds a bit different from the old 12" record that I have. It's more variation in the material, and not just 2-beat punk all the way. But at the same time it also sounds very familiar. It's catchy and melodic, yet raw and dirty. Pure punk.
Their lyrics is a combination of political and funny stuff. These 12 tracks sounds really good to me, so I think you should check this out before the vinyl is sold out (not sure if it will be available digitally for those of you who like that).
gronpeppar-records.myshopify.com facebook.com/pages/category/Local-Business/The-Past-Munktorp-385043351588096
INVASION: Barbarian Invasion
Fighter Records - CD, Digital
INVASION was an old school heavy/thrash metal band from Spain, formed in the late 90s by former FUCK OFF guitarist Pep Casas. He contacted former FUCK OFF singer Joe, as well as brothers Javi and Rafa Garrigós (bassist and drummer respectively) from ASPID. They recorded a demo in 2000 and did some local shows before they became a trio, with Pep on vocals, and changed the name to BARBARIAN INVASION. But in 2003 they shortned the name to just BARBARIAN, and Pep went on to bass and Alberto Martorell on guitar and Luciano Rocca on drums. This line-up recorded a 6-track demo, which was followed by a EP and 2 albums between 2006-2009. In 2010 Pep reactivated FUCK OFF together with Joe, and BARBARIAN have been in a coma since then.
What we get here is both those demos. And this is absolutely not bad at all. These guys could really play. And as an extra spice all songs are in Spanish. You should definitely check this out!
fighter-records.com
Nov. 21, 2021
MEMORIA AVENUE: Memoria Avenue
Frontiers Music Srl - CD, Digital
MEMORIA AVENUE is a new melodic rock/AOR band from Norway, showcasing an artistic union between guitarist Tor Talle (NORTHERN LIGHT) and the new singer Jan Le' Brandt. The style of their music is of the 80s oriented kind, think of WORK OF ART and PERFECT PLAN for example. If that's what you like, then this band might be something for you.
It's very catchy and melodic, but also pretty kind. Which is nothing unusual in this genre.
facebook.com/memoriaavenue frontiers.it
Jim Peterik & WORLD STAGE: Tigress: Women Who Rock The World
Frontiers Music Srl - CD, 2LP (on Dec. 10), Digital
This is yet another idea planted by Serafino Perugino (President and Head of A&R for Frontiers Music), who wanted a new WORLD STAGE album from Jim Peterik. Then Jim suggested that it should be an album with just women on vocals. Both loved the idea, and here's the result then.
Some of all the women who said yes to participate on this album was Janet Gardner (ex-VIXEN), Cathy Richardson (JEFFERSON STARSHIP), Jenniffer Batten, Mindi Abair, Kate French, Kimi Hayes, Chez Kane, Rosa Laricchiuta (BLACK ROSE MAZE, TRANS-SIBERIAN ORCHESTRA) etc. etc.
If you like melodic rock and female song birds, then this is an obvious choice, because this is very good. Everybody is doing a really good job here, and deliver with lots of passion. What else can you ask for?
But even though this is good, I get a feeling that it's too much of the good stuff at once. And after a while it's like I have already heard that song. So was it really necessary with as much as 16 tracks?
jimpeterik.com frontiers.it
FANS OF THE DARK: Fans Of The Dark
Frontiers Music Srl - CD, Digital
FANS OF THE DARK have some stuff to work on. Both the first and the last song is 8 minutes, and that's way too long in this case. Especially as that first track is a bit boring (not such a good start of the album). And unfortunately there's a few more of those boring songs here. But I like a more energetic song like "Escape From Hell", and the uptempo song "Life Kills". The last song is not so bad either, but as I already said, it's too long.
In their defense I can tell you that this is a pretty fresh band, started in the summer of 2020, so this is just their first album. And the music that this Swedish band play is melodic rock.
facebook.com/fansofthedark frontiers.it
CRAZY LIXX: Street Lethal
Frontiers Music Srl - CD, LP (on Dec. 10), Digital
You could say that the Swedish band CRAZY LIXX are somewhere between what is called street metal and hair metal. But in the end I would say that it's melodic hard rock, with melodies and sing-along friendly choruses that will infect you for a long time.
CRAZY LIXX has made another great album, so this should not dissapoint the old fans. And they might actually get some new fans as well. So if you're a fan of 80s hard rock, this is a must to check out.
The LP will only be available from Frontiers' web shop, and it's yellow. You have to wait until December for it though.
crazylixx.com frontiers.com
Alan Parsons: The Neverending Show: Live In The Netherlands
Frontiers Music Srl - 2CD/DVD, 3LP (on Dec. 10), Blu-ray, Digital
Oh, this wasn't really my thing. And especially not when everything seems to irritate me. Then some old man playing nice rock isn't exactly what I need to hear. But I guess that I can admit that on a better day he might actually have a few good songs at least (hardly 20 though).
This show was recorded on May 5, 2019 at the Tivoli in Utrecht, Netherlands. And for those who know this man and his band better than me, it's said that they did an amazing performance. So if you're a fan of Alan Parsons, then you should check this out of course and don't care so much about what I think.
As a extra bonus you also get a brand new studio song, "The Neverending Show", which is said to offer a hint of the new studio album that Alan is currently working on for release in 2022.
alanparsons.com frontiers.it
Nov. 20, 2021
HIGH FIGHTER: Live At WDR Rockpalast
Argonauta Records on Nov. 26 - LP, Digital
Hamburg-based sludge metal act HIGH FIGHTER will release their first-ever live album, "Live At WDR Rockpalast". These 8 tracks was recorded in August 2020 at an industrial setting of the Landschaftspark Duisburg-Nord, Germany without any audience. It was broadcast on TV, and can also be streamed in case you want to see it as well and not just hear it.
This is hard, heavy and intense. But I would say that it's catchy and melodic too. So it's a good mixture of extreme and melodic parts in these songs.
HIGH FIGHTER have released 3 albums and a EP, and they play material from their whole career on this live album.
highfighter.bandcamp.com argonautarecords.com
RHAPSODY OF FIRE: Glory For Salvation
AFM Records on Nov. 26 - CD, 2LP, Digital
Majestic and over ambitious is things that I think when I hear this. They blend in so many ingredients in their symphonic power metal stew that it's almost like a opera. But it would not surprise me if that is the whole idea. They are doing this very good of course, and even though I might not like every part, it's not bad.
"Glory For Salvation" is the second chapter of The Nephilim's Empire Saga, which began on their last album, "The Eighth Mountain".
RHAPSODY OF FIRE have been around for 24 years now, and this is their 13th studio album. They have also released 3 EPs and 2 live albums.
rhapsodyoffire.com afm-records.de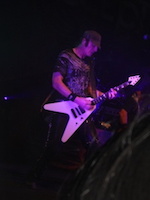 VICTORY: Gods Of Tomorrow
AFM Records on Nov. 26 - LP, CD, Digital
It's 10 years since their last album, "Don't Talk Science", was released. But now they return with a new album, "Gods Of Tomorrow".
VICTORY formed in 1984 already, and are ranked as one of the most successful German hard rock bands. There have been several lineup changes through the years, and years of hiatus. But guitarist Herman Frank (ex-ACCEPT) never gave up. Except for Herman, the latest lineup features vocalist Gianni Pontillo, guitarist Mike Pesin, Malte Frederik Burkert on bass and drummer Michael Stein (Dr. Stein as in the HELLOWEEN song?).
"Gods Of Tomorrow" is a strong and heavy hard rock album with top musicians. Absolutely not bad at all! 13 tracks (14 if you get it on CD) is a few too many though.
victory-band.com afm-records.de
WHEN THE DEADBOLT BREAKS: As Hope Valley Burns
Argonauta Records on Nov. 26 - LP, CD, Digital
This is a really heavy group. There's just 5 tracks, but it seems to last for an eternity because most of the songs are pretty long compositions. It's a dark and psychedelic kind of sludge that they play. But suddenly it can be some kind of space rock instead. It works very good together though. And this is much more interesting than all those boring bands who just seems to repeat the same thing over and over again.
WHEN THE DEADBOLT BREAKS has existed for 15 years, and comes from New England. They have released 5 albums, a split and a remix album.
If you like it heavy, then you have to give these guys a try.
whenthedeadboltbreaks.bandcamp.com argonautarecords.com
Nov. 19, 2021
IMPERIALIST: Zenith
Transcending Obscurity Records on Nov. 26 - LP, CD, Digital
They call this sci-fi black metal for some reason. But to me it sounds like black metal use to, so I guess it's their lyrics that are sci-fi then?
Anyway, this time they are taking it to the next level with longer songs and sharper structures. But don't let that scare you away, because the music is just as it should be - dark, cold and intense. But there's also room for some melodies (or whatever I should call it) here and there. Pretty good stuff actually.
This is a black metal album worth checking out.
imperialistus.bandcamp.com tometal.com
BLODTÅR: Blodtår
Nordvis on Nov. 26 - CD, Digital
Primitive, raw and furious black metal with elements of Swedish folk melodies. The sound quality is best described as an scrubby old demo tape. But it's probably supposed to be that way, and it sounds good anyway, so don't let that stop you from giving this Swedish duo a chance.
BLODTÅR started as a solo project in 2019, with session drummers when he needed. But since the recording of the debut EP it's a duo.
4 tracks, all in Swedish, is what we get on this EP.
blodtar.bandcamp.com nordvis.com
Nov. 18, 2021
Lee Aaron: Almost Christmas
Metalville Records on Nov. 26 - CD
Well, Christmas began a little too early for me this year, as I got this record already in the end of September. Luckily Lee and her band have not just picked a bunch of standard songs that everybody else seems to do, and thanks for that, because I can't really see the point in covering the same songs over and over again. More than half of these songs was stuff that I don't think that I have ever heard before, which makes it more interesting to me at least.
Christmas began much earlier for Lee and the guys though, as they started to work on this project in mid-September last year. So this album was actually available already last Christmas, but only in Lee Aaron's own shop. Now it gets a more official release with 2 brand new songs as a extra Christmas gift.
When it comes to the music, I would say that most of these songs are kind rock. But there's also some other surprises here and there. Among the song are covers of songs by PET SHOP BOYS, Louis Armstrong, Joni Mitchell, as well as Christmas classics like "Baby Please Come Home". But we also get some of her own songs, like a new version of her 1991 hit "Peace On Earth".
metalville.de leeaaron.com
R#XMAS
Metalville Records on Nov. 26 - CD
It seems like German label Metalville didn't think it was enough with just a Christmas album from Lee Aaron, but had to deliver another package - A compilation with holiday songs by artists like The HEADLINES, The O'REILLYS AND THE PADDYHATS, The 69 EYES, DORO, SONATA ARCTICA, MAJESTICA, Lee Aaron, LIONHEART, FOGHAT etc. And it's a wild mixture of genres here - punk rock, goth, celtic punk, metal, rock, typical Christmas music, ballads, Southern rock, pop - so you can't complain about too little variation at least.
Something intresting is that most of these 13 songs are original songs (as far as I know anyway). And that's how a professional do it - Write your own Christmas songs! Everything might not be of interest, but I would say that most of it is good anyway. The worst crap here is Mambo Kurt's cover of the pathetic WHAM classic "Last Christmas" - What a joke! This version succeed to be even more pathetic than the original.
These songs are all rare and partly no longer available songs, as well as 3 brand new and previously unreleased.
metalville.de
WALTARI: 3rd Decade - Anniversary Edition
Metalville Records on Nov. 26 - CD, LP
Finnish rock band WALTARI celebrate their 30th anniversary this year. But just to show us how odd they are (or whatever the reason could be), they don't just give us a best of album. No, instead they invite some musical friends to the party, and not the kind of persons that you would expect. Fact is that I think there's way too much electronic crap here. For me who have not heard that much with this band before, it would have been much more fun to hear the original versions instead of this shit. This is not even rock!
On this album they revisit material from their whole career. But with the help of odd guests like Marko Hietala, BOMFUNK MC's, Angelit, Niki etc they have created something totally different here. Probably very funny for the involved, but not so funny for us who are going to listen to this and want to hear some rock music. This is just stupid!
metalville.de waltariband.com
Nov. 17, 2021
TwentyDarkSeven: Catch A Fire
Metalapolis Records on Nov. 19 - CD, LP
This band have former members of BRAINSTORM, PUMP, NAZTY BULLETS and PUSSY SISSTER in the lineup. They have previously released 2 albums. This third album was recorded in several different studios in Germany.
The vocals is melodic but powerful, and the music is hard rock and heavy metal. I don't really know what I should compare them with, but I guess there's several different influences, both old and new. The album is very good anyway, so it could be worth a try.
20dark7.de metalapolis.eu
ROVESCIO DELLA MEDAGLIA: La Bibbia - 50th Anniversary
Jolly Roger Records on Nov. 19 - LP, CD, Digital
What made me interested in this album, was that it was seen as Italy's answer to BLACK SABBATH or something like that, and that it can be considered the first Italian hard rock album. Now this doesn't sound exactly like the Brits though, as the Italians are more progressive and all lyrics are in Italian. Let's call it progressive heavy rock.
This band was born in Rome in 1970, and already in 1971 they signed with RCA (Italian major label at the time) and recorded "La Bibbia" in only 1 day. As far as I can understand 2 more albums was released before they finally gave up. But that was not the end of the story. They came back again, and released a new album, "Tribal Domestic", in 2016.
Now this is not a re-release of their first album, but actually a re-recording of the album, with a few of the songs in English versions as a little bonus. And this my friend sounds really good to me. This is a really cool album. You should absolutely give it a try.
jollyrogerstore.com
Nov. 16, 2021
KNIGHTS OF THE REALM: Knights Of The Realm
Playground Music - CD, LP, Digital
I had big hope for this album, but then they start with some acoustic plink-plonk, which last for too long. And the first real song would have fit better in the second half of the album instead. It's not until the third track that the real heavy metal party start. They should have opened the album with that song instead. That would have been a more normal thing to do - No bullshit, just attack. They lose a few points on that, but I can at least not find any more mistakes on this album, which is very positive.
As I have said earlier, when I reviewed the singles, this is a new Swedish trio with Lars Sköld (TIAMAT), Magnus Henriksson (ECLIPSE) och Marcus Von Boisman (STORMEN). And those of you who want powerful 80s heavy metal, but have nothing against a modern production, should absolutely check out this band.
knightsoftherealm.se playgroundmusic.se
E-FORCE: Mindbender
Mighty Music on Nov. 19 - LP, CD, Digital
As you might know already, this is the band that Eric Forrest (vocals/bass) formed after he left cult sci-fi thrashers VOIVOD. That was a long time ago though, as E-FORCE has been around for 20 years already.
The new album, "Mindbender", is mainly a heavy and powerful thrash album, even though this is not a typical old school album. But we also get catchy elements, as well as slower parts. Most of it is good stuff, so there's nothing to complain about. I think you should check this out.
facebook.com/eforceofficial mightymusic.dk
DAYGLO ABORTIONS: Hate Speech
(Label and release date to be announced)
I really like what I hear here. Simple straight in the face punk on the border to early hardcore/punk. This was a really nice surprise, as I have not heard these Canadian veterans before. I would really recomend you to check out this album (whenever it will be avialable), because this kicks ass.
DAYGLO ABORTIONS comes from Victoria, British Columbia, and formed back in 1979. According to Wikipedia they are anything but politically correct. In 1988 the band was accused of "spreading of obscene material", but was acquitted by a jury. There have been several changes in the lineup through the years, and they might not have been active all the time.
Currently I'm not sure when this album will be released, but a few songs has already been released as singles, and more will come. My advice is that you keep an eye on their Facebook page and/or the news section of this page if you want to know when it will be released.
facebook.com/Dayglo-abortions-home-109396324635204
Nov. 15, 2021
SINAYA feat. CJ McMahon: Afterlife
Self released - Digital single
All this Brazilian band can brag about is that they are the world's first all-female deathcore band, and that this song features a guest apperance from CJ McMahon (THY ART IS MURDER). Because seriously, how interesting is deathcore really? Maybe I thought that it could be better just because they were women? But that would just be stupid. No, this is simply not good according to me. But if you like this genre, then give it a try.
It seems like this band has already been around for more than a decade, but they have just released 1 album so far. This song is the first single from their upcoming second album, which they plan to release in 2022.
sinayaofficial.com
SHAKE THE TEMPLE: Shake The Temple
Sliptrick Records on Nov. 16 - CD, Digital
Australian hard rock/heavy metal trio SHAKE THE TEMPLE release their debut album, which consist of 7 tracks inspired by classic hard rock and heavy metal anthems, as well as some classic rock. This is absolutely not bad at all. I think you have to give these guys a try at least, because they have many good songs here.
The album includes new tracks, as well as previously unreleased songs that lead singer John Joseph wrote and toured with in previous bands, including The WILD HIGHS and TANK.
shakethetemple.com sliptrickrecords.com
Nov. 14, 2021
DISASTER: Secrets From The Past
Iron Shield Records on Nov. 19 - CD
Thrash metallers DISASTER was formed in Medellin, Colombia around 1997-98 sometime. They released their first demo in 2002, and have had several lineup changes through the years. I don't know how long (or short) it last the first time, but in 2013 they were back with new members, and recorded their debut album in 2014.
The material for "Secrets From The Past" was written between 2017-18, and what we get is 10 tracks of old school thrash metal in the South American way. It's fast and unpolished. A true underground band. But that doesn't mean that they can't play. I think that they are very good at what they are doing here, and they have no problem to burn off a flashing solo for example or be more epic (like in the last song).
facebook.com/DisasterThrashMedellin ironshieldrecords.de
The LURKING FEAR: Death, Madness, Horror, Decay
Century Media on Nov. 19 - CD, LP, Digital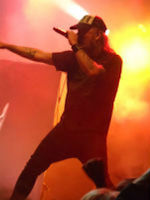 The LURKING FEAR was formed in 2016 by some veterans from the Swedish death metal scene: vocalist Tomas Lindberg Redant, guitarists Fredrik Wallenberg and Jonas Stålhammar, bassist Andreas Axelson and drummer Adrian Erlandsson. Their debut album, "Out Of The Voiceless Grave", was released in 2017. And since then it has been quiet. Probably because they have been busy with their other bands (3 of them play with AT THE GATES for example). But now they have finally found the time to make a new album together again.
The music is true old school death metal. Many of the songs are short, just around 1-3 minutes, but there's a few longer (4-5 min.) as well. It's just full speed ahead and no progressive or technical adventures. Perfect according to me.
AUTOPSY legend Chris Reifert makes a vocal guest apperance on one of the songs.
facebook.com/thelurkingfearofficial centurymedia.com
MINDLESS SINNER: Missin' Pieces (reissue)
Pure Steel Records on Nov. 19 - CD, LP
This is the second album from MINDLESS SINNER, which was originally released back in 1989. On this album they seems to have followed the trend of the time by becoming more melodic. It's more EUROPE than IRON MAIDEN. And I actually think of early EUROPE when I hear this, but also the demo recordings that they played on Rockbox (Swedish radio show in the 80s).
"Missin' Pieces" is seen as the less popular follow up to their debut album., "Turn On The Power" (1986). At the time they had shortened the name to MINDLESS. The album will now get a new chance to prove that it's not so bad after all. If their heavy metal fans will buy that is unknown though. But it should attract some fans of melodic hard rock anyway.
This is absolutely not bad at all. Just listen to something like "Rockin' In The Heat Of The Night" for example, or "Hold On". Really good stuff!
As a bonus we get some demo recordings, which to me sounds just the same.
facebook.com/mindlesssinnerofficial puresteel-records.com
SWALLOW THE SUN: Moonflowers
Century Media on Nov. 19 - 3LP/2CD, 2CD Mediabook, 2LP/CD, Digital
Finnish band SWALLOW THE SUN have been around for over 20 years now and released 8 albums. Their music is heavy and melancholy. I guess we can call it doom metal? It's a good soundtrack to the dark times we are in now (fall/winter), and I would guess that fans of a band like PARADISE LOST could like this.
We get 8 tracks here, and some of them goes over 7 minutes. But in this case it's not a problem, as they keep the songs alive all the way.
swallowthesun.net centurymedia.com
Nov. 13, 2021
The 450s: The 450s
Louder Than Loud Records on Nov. 19 - CD
The ROLLING STONES make out with The QUIREBOYS at an American party. This is simply a rock n roll album with 1 foot in the past and 1 in the present.
The 450s seems to consist of American rock veterans. The RODS drummer Carl Canedy (who is a member of this band too, and a few more), produced this debut album. And then they let producer Jack Douglas (AEROSMITH, CHEAP TRICK, Patti Smith) mix the whole thing. Chris Coller (KORN, PRONG) also helped with mixing and production.
This album gives us raw power as well as dramatic moments. So if you want a true rock n roll album by a modern band, then The 450s is what you need.
Possible hit song: "Lucy Walk Away".
facebook.com/The450sBand louderthanloudrecords.com
KAASIN: Fired Up
Pride & Joy Music on Nov. 19 - CD
If you wish for a new album with RAINBOW, then stop dreaming and check out KAASIN instead. There's more than just that here though. Like "Smoking Gun" for example, which reminds me a bit of Jon Bon Jovi's solo album "Blaze Of Glory". Really good stuff anyway. No doubt about that. So I guess you know what to do next?
KAASIN was founded by guitarist Jo Henning Kaasin (Joe Lynn Turner, Glenn Hughes, Doogie White, Bernie Marsden) when his band COME TASTE THE BAND was put on ice in January 2020. He recruited his cousin, Staale Kaasin (SPIDER, 2020VISION), on bass, Jan Thore Grefstad (SAINTDEAMON, HIGHLAND GLORY, TNT) on vocals, Benjamin Dehli on hammond organ/analog synth and Chris Brush on drums. After 3 singles their debut album will now finally be released.
I would also recomend you to check out the album with COME TASTE THE BAND, titled "Reignition" (2019), which features guest vocals from both Joe Lynn Turner and Doogie White. Absolutely something for fans of good old DEEP PURPLE, RAINBOW, WHITESNAKE and similar.
facebook.com/kaasinmusic prideandjoy.de
HEART LINE: Back In The Game
Pride & Joy Music on Nov. 19 - CD
This band reminds me a lot of some other band, probably a young DOKKEN. But I can also hear a young BON JOVI, among others. Their music is very catchy and melodic hard rock/AOR, with the usual 80s sound. Absolutely not bad at all.
HEART LINE is a new project started in 2020 by French guitarist and producer Yvan Guillevic (YGAS, PYG, UNITED GUITARS). The other members are vocalist Emmanuel Creis (SHADYON, EQUINOX), keyboard player Jorris Guilbaud (DEVOID, SHADYON), drummer Walter Français (SHADYON) and bassist Dominique Braud (YGAS, EBH). Among Yvan's strongest influences are WHITESNAKE, FOREIGNER, JOURNEY, WINGER, BAD ENGLISH, GIANT and many more in the same league.
This is a very strong album, so I do not doubt that you will like this if you are a fan of melodic hard rock from the 80s.
facebook.com/Heartlinebandofficial prideandjoy.de
EAST TEMPLE AVENUE: Wonderful
Self released - Digital single
Did they have to choose a half-ballad (or whatever I should call this) as a single? It's not 1988 you know. But people who like that will probably like this.
Anyway.. International AOR/melodic rock band EAST TEMPLE AVENUE released their debut album a year ago, and now they have released a new single, "Wonderful", which I suppose will end up on their second album.
The funny thing with this band is that the members are spread all over the world, so they have still never met each other in real life. These guys also play in other bands, like FIND ME, WORK OF ART and CRUZH for example.
facebook.com/easttempleavenue
BARNABAS SKY: Inspirations
Pride & Joy Music on Nov. 19 - CD
This is a new project led by German composer and multi-instrumentalist Markus Pfeffer (LAZARUS DREAM, WINTERLAND, ex-SCARLETT). And on this debut he has hired some internationally known singers who has inspired him as extra cream on the cake: Jesse Damon (SILENT RAGE), Steve Grimmett (GRIM REAPER, LIONSHEART), Danny Martinez Jr. (GUILD OF AGES), Rob Rock (IMPELLITTERI, Axel Rudi Pell), Zak Stevens (SAVATAGE) and Danny Vaughn (TYKETTO). And we can also hear guests like keyboardist Thomas Nitschke and pianist Michael Weickenmeyer, drummer/percussionist Thomas Rieder and bassist Bernd Schreiber.
So what about the music then? Absolutely not bad my friend. Melodic hard rock is the most easy way to describe this, because that's exactly what it is. Excellent singers all the way of course, but the musicians are doing a good job too. Definitely worth checking out.
facebook.com/barnabasskyband prideandjoy.de
Nov. 12, 2021
JÄRNCELL: Är Du Nöjd Nu?
Gaphals Records on Nov. 19 - LP, Digital
This band's style is probably the reason why so many don't like the Swedish genre trallpunk. It's almost too melodic and catchy. Simply too "happy". But I guess it works somehow anyway, beacuse they are absolutely not bad. A whole album is too much though. And a cover of Swedish pop artist Ted Gärdestad isn't exactly what I need to hear. Too much of the material is more or less the same thing, and that's a small problem. But I guess it's not so easy to variate the songs.
"Är Du Nöjd Nu?" is this Linköping, Sweden band's second full length album, which consist of 9 tracks. The single "Greta" is their tribute to Greta Thunberg.
jarncell.bandcamp.com gaphals.se
EARTH CRISIS/SNAPCASE/STRIFE: The Return Of The California Takeover
WAR Records on Nov. 19 - LP, CD, Digital
In February of 2020, EARTH CRISIS, SNAPCASE, and STRIFE joined forces in Los Angeles for "The Return Of The California Takeover"; 2 shows paying homage to "The California Takeover... Live", the classic live album featuring all 3 bands, which was released on Victory Records in 1996. "The California Takeover... Live" is considered by many fans of the genre as one of the all-time best live hardcore records.
"The Return Of The California Takeover" was recorded live at the Teragram Ballroom on February 23, 2020, and will now be released as an album with 4 songs by each band. This is simply a must for every fan of 90s hardcore.
war-rec.com
ABSCESSION: Rot Of Ages
Transcending Obscurity Records on Nov. 19 - LP, CD, Digital
This is the way I like my death metal! Fast and aggressive, yet catchy as hell. True HM2/Rogga Johansson death, even though this has nothing to do with him. No, this is 3 other guys from Sweden and Germany. Sometimes I hear some crust punk in their old school death, and I don't say no to that. There's also some melodic parts here and there, and that's also welcome.
This is almost a perfect album, because the last track is not death metal. It sounds more like the soundtrack to a porno movie or something like that. A other unexpected thing is that short, silent pop element in the title track.
abscessiondeath.bandcamp.com tometal.com
Nov. 11, 2021
PUTERAEON: Bitter Loss
Emanzipation Productions on Nov. 12 - Digital single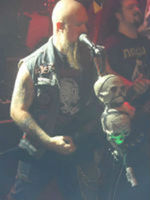 Well, here's another band who wants to make a tribute to Swedish death metal legends ENTOMBED and their late vocalist L-G Petrov (who passed away in March). And PUTERAEON (also from Sweden) is a perfect band for the job, as they already play something similar to ENTOMBED (and has also been support act for them), even though they usually add their own groove (or however I should explain it). They are simply a damn good death metal band anyway, so that they are doing a good job with this song is not such a big surprise for me.
The song was produced by the legendary Dan Swanö, and also features former ENTOMBED bassist Jörgen Sandström on guest vocals in the chorus. Can it be more cool than that?
puteraeon.com emanzipation.dk
NERVOCHAOS: Dug Up.... Diabolical Reincarnations
XENOKORP on Nov. 19 - CD, Digital
Brazilian death metallers NERVOCHAOS celebrate their 25th anniversary with an album that consist of material from their early days, but completely rewritten and re-recorded. So if you're an old fan, this can be very interesting I suppose. But new fans should also be interested of course.
NERVOCHAOS play a pretty brutal and intense kind of death metal, but yet with some kind of melody. They never lose control and becomes chaotic. So if you like your death hard and fast, then this band could be something for you.
These guys have obviously kept themselves busy lately, because they will also release a brand new studio album, "All Colors Of Darkness", early next year via Emanzipation Productions.
nervochaos.net xenokorp.com
MENTOR: Wolves, Wraiths And Witches
Pagan Records on Nov. 17
MENTOR's third album is fast, heavy and hard. They call it a mixture of hardcore and metal, but I would like to call this death n roll actually. That's what I hear anyway (I have not checked my hearing for years though). The lyrics tell stories from the intersection of occultism and B-horror movies. They call it satanic hardcore for some reason, which sounds really silly to me.
The 9 songs that we get on this album sounds good to me, so maybe you should give it a try?
mentor666.com pagan-records.com
MALOTA: The Uninvited Guest
Go Down Records on Nov. 12 - Digital
"The Uninvited Guest" is a 5-track EP dealing with the personal stories of suffering, death, sickness and isolation. The soundtrack to that is a wild mix of various genres. Not all at once though.
The first track could be described as stoner rock, while the second is some kind of heavy hard rock/punk. The third and the 4th is some kind of alternative hard rock, or however I should describe it. And how do I describe the last track then? More experimental or grunge maybe?
MALOTA is an Italian band, formed in 2014. They have previously released a EP and an album.
malota.bandcamp.com
Nov. 10, 2021
MAD ANTHONY: Party Heaven Hell Whatever!
Eonian Records - CD
MAD ANTHONY hailing from San Francisco, California, and are said to have been the hottest unsigned rock band of the mid-80s. And after hearing this album a few times, I'm ready to believe that. Because the songs that they have here are great! But they were also a really good live act, and their shows was always a big party.
MAD ANTHONY formed in 1984, and were initially inspired by bands like AEROSMITH, VAN HALEN and similar. But when the Los Angeles scene exploded, those bands inspired them too. Members came and left before they finally had a stable line-up. They played live everywhere, and draw lots of people to their shows. And with such great songs that we have on this CD, it's a big mystery why they never got signed. They recorded a cassette EP though, and those songs are included here of course, as well as some other stuff that they recorded.
The end of the band came when a thing called grunge exploded and declared that the party was over. The band have done 4 reunion shows between 2008-2016 though.
eonianrecords.com
LASTWORLD: Time
Perris Records - Digital
The first album, "Time", never got released digitally. But now it's available on hundreds of different download and streaming services.
LASTWORLD is guitarist/multi-instrumentalist/songwriter Jim Shephard and vocalist David Cagle. This duo play 80s AOR/melodic rock, and if you like that then this can be something for you. Because they are pretty o.k. Well, once in a while it's even more than just o.k.
This digital version also gives us a bonus track, "I Don't Wanna Lose", which was recorded at the same time, but never used. This was actually the first song they ever recorded, and it also features Ron Hanchar on saxophone.
Jim has also released several solo albums and is also a member of TAXI. David is an award-winning international singer, who has recorded more than 1000 songs over the past 10 years.
perrisrecords.com
Nov. 9, 2021
Frank Gilchriest: Rise Again
Self released - Digital single
RIOT V drummer Frank Gilchriest have teamed up with some friends: Todd Michael Hall (RIOT V and star of the TV show The Voice), Nick Lee (RIOT V, MOON TOOTH) and Mike LePond (SYMPHONY X). Frank wrote this song during the lockdown to "honor and pay tribute to the world's heroic battle against Covid-19".
Majestic like MEAT LOAF, but yet heavy metal is how I describe this song. And this is very good! No doubt about that.
RIOT V are by the way scheduled to release a new record in 2022.
frankgilchriest.com
DEEP PURPLE: Oh Well (Radio Edit)
earMUSIC - Digital single
As you probably have heard or read already, DEEP PURPLE has recorded a covers album, "Turning To Crime", which will be released on November 26. And here's another single from that album, "Oh Well", originally done by FLEETWOOD MAC.
The last single, "7 And 7 Is", was really good, and this song is not so bad either. But is it really a single song?
I think that the old men might have done an interesting album anyway, so I look forward to hear the whole album.
deeppurple.com
CONVERGE feat. Chelsea Wolfe: Coil
Epitaph Records - Digital single
"Coil" is the second single from CONVERGE's new album "Bloodmoon: 1", which features guests like Chelsea Wolfe, Ben Chisholm and Stephen Brodsky, and will be released on November 19.
I called the first single, "Blood Moon", a special experience. And this is another special experience actually. They continue the dark and slow journey through the post-apocalyptic landscape, and then build up to an almost theatrical outbreak towards the end of the song.
Doesn't CONVERGE usually play some kind of hardcore? Because then they might have made their own little "The Elder", something totally different from what they use to do. But what do I really know about this band? And I'm sure that they can get away with this without a problem, as there's lots of people who like this stuff.
epitaph.com
BULLETPROÖF: Dynamite
Ossuary Records - CD, Digital
This band sounds like something melodic but yet heavy with JUDAS PRIEST. Absolutely not bad at all! All 5 tracks are great, but "Dynamite" and "Fist Pounding" are extra good. You have to check this out!
With titles like "Banners High!" and "Flag of Freedom" you could think that they would be silly patriots from the States. But BULLETPROÖF hailing from Argentina, and I would guess that these songs are a tribute to heavy metal, and nothing else. This is just their debut EP, so it will be very interesting to see (or hear) if they can make more fantastic songs like this.
facebook.com/bulletproofok ossuaryrecords.com
BORKNAGAR: Borknagar (25th Anniversary Reissue 2021)
Century Media on Nov. 12 - 2CD, 2LP, Digital
This is something for true collectors and hardcore fans that has nothing against hearing the same songs 3-4 times in different versions. A 25th anniversary edition of their debut album from 1996, with lots of bonus tracks.
I'm satisfied with the original album though. Because instrumental versions are definitely not of interest to me. Yes, all bonus tracks are instrumental except the last song. And that makes me think that there probably were no lyrics to these songs when they started to work on them. It's nothing unusual that bands write the lyrics just before they are going to record the vocals (which you usually record last). I could be wrong though..
BORKNAGAR was formed as a solo project by Norwegian guitarist Øystein G. Brun (who previously released 2 albums with the death metal band MOLESTED) in 1994. The self titled debut album was recorded at Bergen's legendary Grieghallen Studios, and released by German underground label Malicious Records. For the recording of the album he was joined by people who had played or was playing with bands like ULVER, ENSLAVED, GORGOROTH and IMMORTAL. Since then BORKNAGAR has released 10 more studio albums with various constellations.
borknagar.com centurymedia.com
BONDED: Into Blackness
Century Media on Nov. 12 - CD, LP, Digital
BONDED is mainly pure thrash metal by some former members of SODOM (Bernemann and Makka). But on this second album the Germans have also added some melodic elements. And what makes them get away with that, is that it's more like an extra spice. They are hardly getting weaker because of that, but are rather more explosive than last time.
This is a very good album, so you should absolutely check it out.
bondedofficial.com centurymedia.com
BANNED IN G.B.G: What The Hell Is Going On?
WormholeDeath on Nov. 19
I think of bands like TURBONEGRO, BACKYARD BABIES and SATOR when I listen to BANNED IN G.B.G. Heavy adrenaline rock with punk attitude you could say. And this sounds really good to me, so I think that you should check them out if you want a dose of high energy rock.
It all started as a studio project in the fall of 2018, but after a while it became a band. The members comes from various backgrounds, and play or have played with Göteborg, Sweden undergound acts like TORNADO BABIES, NOT ENOUGH HATE, ON PAROLE, SMASH IT UP, The NUTS, CHEROKEE DEATH CATS, LADIDA, NISSES NÖTTER and STILLBORN. And it's the members different pasts that has created their sound, which is a mixture of punk rock, pop rock and metal.
facebook.com/Banned-in-GBG-band-2120436884921780 wormholedeath.com
BANGKOK: Madness
WormholeDeath on Nov. 12
BANGKOK is a hard rock band from Argentina, which was started in 2014 as a 1-man project. After writing songs for a few months, guitarist/singer Pablo Vitantonio began to recruit members. In January 2015 they entered the studio to record their debut album, which was released in October 2015 via Icarus Music Records.
Now they have signed a worldwide deal with WormholeDeath, and are ready to release another album. We get 9 tracks here, and it's very melodic and 80s. The songs are good, so this could be worth a try.
facebook.com/bangkokhardrock wormholedeath.com
Nov. 8, 2021
CRYPTOBIOSIS: Chainsaw Cruficixion
Art Gates Records on Nov. 12 - CD
CRYPTOBIOSIS was formed in Hamburg, Germany in 2014. Their songs are a blend of old school death metal and thrash metal, along with some classic NWOBHM elements and shred-infused solos. And this seems to be their third release, or attack if you prefer that description.
This is mainly a death metal album according to me, even though there's some of those other ingredients too once in a while. And it sounds pretty o.k., but not much else. I have heard better in my life.
cryptobiosis-metal.com artgatesrecords.com
PLUSH: Plush
Pavement Entertainment on Nov. 12
PLUSH features 4 young women, and this is their debut album. Their songs are pretty modern, both when it comes to sound and production. The songs are full of female emotions and actually pretty kind, and not so energetic. The guitars can be heavy though.
It sounds like I have heard something similar a few times before. The first half of the album is a little better than the second half. Simply because I think that there's more good rock songs in the first half, while the second half is too much pop for me.
Scrap Metal: Excavated Heavy Metal From The Era Of Excess
RidingEasy Records on Nov. 12 - CD, LP, Digital
When RidingEasy searched for treasures for the Brown Acid compilations, they also found lots of good heavy metal that deserved to be released on its own compilation. So then the idea for Scrap Metal was born, and here's the result.
We get 10 North American bands from the late 70s to the late 80s: RAPID TEARS, AIR RAID, HADES, RESLESS, DON CAPPA, The BEAST, DEAD SILENCE, HAZARDOUS WASTE, CZAR and REAL STEEL - All forgotten diamonds that most of us never have heard of before, but just as good as the more well-known acts. Many of these singles was self released, and limited to a small run of copies.
I must say that the quality is really high here. Every band on this compilation is great.
ridingeasyrecs.com
VATICINAL RITES: Vaticinal Rites
Redefining Darkness Records/Caligari Records/Dry Cough Records on Nov. 12 - CD, Cassette
This is a pretty new UK band, who formed during the pandemic in 2020. They play death metal inspired by the classic Floridian and European underground (most notably Greek) scenes of the early to mid-90s. Pretty brutal stuff and very old school.
Why they waste time on a useless intro when it's just a 4-track EP is a very good question though. But otherwise it's not so bad. I have heard better though.
redefiningdarkness.com
Nov. 7, 2021
SHOW-YA: Showdown
Metalville Records on Nov. 12 - CD, LP
If I say female Japanese metal, then you probably think about something like BABYMETAL. But fact is that SHOW-YA seems to be Japan's biggest female heavy metal band, and they have been active for 35 years already. They might not be so well-known outside of Japan though, but that might change after the release of this album.
Their music is a more melodic kind of heavy metal, that is both catchy and powerful. The sound is more old school than modern, and there's many good songs among these 11 tracks. You should absolutely check them out.
The album was produced by Nozomu Wakai (ALCATRAZZ, Ronnie Romero, Tommy Aldridge, DESTINIA) and mastered by Jacob Hansen (PRETTY MAIDS, VOLBEAT, The DARK ELEMENT etc). Legendary German singer Doro Pesch (DORO, WARLOCK) is doing a guest apperance on one of the songs.
metalville.de
SCATTERED HAMLET: Stereo Overthrow
Buck Moon Productions on Nov. 12 - Digital
SCATTERED HAMLET was formed in 2010. They throw in Americana, MOTÖRHEAD and a punk rock attitude into their blender. And out comes something that I would describe as some rednecks playing alternative hard rock, which might not say that much. It's riff-based and full of energy, but also very dynamic. They simply rock hard, but with style. I think of some American bands from the 90s when I hear this.
The variation between each song is very good. From aggressive numbers to more catchy tunes. Sometimes it's more funky or bluesy. And there's even a slow one as well.
scatteredhamlet.com
Nov. 6, 2021
ELECTRIC GUITARS: Freewheeler
Mighty Music on Nov. 12 - LP, CD, Digital
This is an excellent album! This is just what a rocker need to become a little bit happier at least. The songs are full of adrenaline and passion, but are also very catchy and melodic. Simply the finest kind of hard rock. You have to check this out!
This is the 4th album from Danish guitar rockers ELECTRIC GUITARS. The band is the brainchild of producer Soren Andersen (Glenn Hughes) and Mika Vandborg (who has worked with many artists, like Justin Hawkins of The DARKNESS for example). They have a cult following in their home country, but with this album they are ready for the rest of the world.
facebook.com/ElectricGuitarsDK mightymusic.dk
SCREAMING SHADOWS: Legacy Of Stone
From The Vaults on Nov. 12 - LP, CD, Digital
If it's European heavy/power metal with the roots in legends like IRON MAIDEN, RAINBOW and JUDAS PRIEST that you want, then this is what you want. SCREAMING SHADOWS deliver strong melodies, big choruses, fat riffs and just about anything that you can expect from a band like this. They do this really good, and "Legacy Of Stone" is a very good album.
The band is led by TYGERS OF PAN TANG guitarist Francesco Marras, and have previously released 4 albums. It seems to be 10 years since the last album, but now they are finally here with a new strong record.
screamingshadows.com fromthevaults.dk
STEW: Taste
UPRISING! Records on Nov. 12 - LP, Digital
"Taste" is the second album from Swedish retro hard rockers STEW. And what an excellent album it is! All 9 songs are great, and nothing seems to be there without a reason for it. Fans of old blues-based bands from the 70s (like WHITESNAKE, LED ZEPPELIN, DEEP PURPLE, RAINBOW etc) should be happy to hear this. This is exactly how it's supposed to be done!
This album should give them some more attention, because they sure deserves it.
stew1.bandcamp.com uprisingrecords.de
TIMECHILD: And Yet It Moves
Mighty Music on Nov. 12 - LP, CD, Digital
TIMECHILD is a pretty new band, formed in Copenhagen, Denmark in 2020 by 4 seasoned musicians. And this debut album is like the love child of some blues-based hard rock legends from the 70s. It's a catchy and melodic kind of heavy rock/hard rock with the roots in the 70s, yet with a modern production. And these 9 songs are full of energy and just fantastic. So this is another old school hard rock band that you have to check out.
facebook.com/timechildofficial mightymusic.dk
TORMENTOR: Crown Of Shame
Iron Shield Records on Nov. 12 - MCD
This EP is the 4th release from this Germans, who formed the band in August 2006. They give us 5 songs of pure thrash metal, and it's hardly polished and friendly, but rather rough and raw.
Their sound mainly reminds me of something like KREATOR or SLAYER. In other words very old school, and very good. I really like this band's music! But even though it's old school, they put their own twist on the material, and it's also a modern production.
The last song is a long 9:36-adventure. And this is a heavier piece than the other songs, but still really good.
facebook.com/tormentor.guben ironshieldrecods.de
ÜLTRA RAPTÖR: Tyrants
Fighter Records on Nov. 9 - CD, LP, Cassette, Digital
Absolutely not bad at all!
This is a heavy/speed metal band from Québec, Canada, who formed in late 2015. They have a theme based around over the top fantasy/sci-fi and old school American comic books. Their first show was as support for ex-ACCEPT vocalist Udo Dirkschneider on February 27, 2018. And in July the same year they released their first EP. Now it's finally time for their full length debut, "Tyrants".
The band play pretty fast, but not extremely fast, and the vocals is often melodic. Think of German speed metal from the 80s, and you get a pretty good idea about what ÜLTRA RAPTÖR sounds like.
As I said in the beginning, this is absolutely not bad at all. This is very good!
facebook.com/UltraRaptor fighter-records.com
Nov. 5, 2021
5ive YEARS GONE: Rock 'N' Roll Rebirth
Sneakout Records/Burning Minds Music Group on Nov. 5 - CD
This album was originally self released digitally last year, but will now also be released on CD. Last year I wrote that they play melodic and catchy guitar-driven rock, and that they had a few good songs, but a EP would have been enough. So what do I think about them now then?
Well, it might possibly be a little bit better this time. But that's probably because I have heard these songs a few times before, even though it was over a year ago. Their music is pretty melodic and not so hard.
5ive YEARS GONE is an Italian band, and this is their debut album.
facebook.com/5iveYearsGone burningmindsgroup.com/sneakout
SENSE OF NOISE: Sense Of Noise
Self released on Nov. 5 - Digital, Physical?
This band was born in Mexico during the pandemic in 2020. They have released 3 singles this year, and will now release their debut album, which features guest vocals from Björn "Speed" Strid (SOILWORK etc) and Antony Hämäläinen (MERIDIAN DAWN, ANCIENT SETTLERS, ex-NIGHTRAGE). But even though the band is young, the members have experience from previous bands and projects, so this is not any kids taking their first steps.
Their music is melodic death metal rooted in the Gothenburg sound. They blend brutality with melody, and they do it really good I must say. This is absolutely a band worth checking out if you like that kind of stuff.
senseofnoise.com
Nov. 4, 2021
STRIKER: Deathwish
Self released - Digital single
Wasn't there a hardcore/punk band called STRIKER once upon a time? Anyway, this is something completely different.
A Facebook post like "RIP Striker 2007-2021" was enough to make the band's fans thinking that the band was dead and gone. That's not the case though. In fact they were just prepearing for some new music. And tnis single is a first taste of that.
"Deathwish" is a very melodic heavy metal song inspired by 80s AOR. It sounds like 80s hair metal or melodic hard rock to me. But it doesn't really matter what we call it, because this is a really good song that you should check out right now.
STRIKER has released 6 studio albums so far.
striker-metal.com
FEAR IS DEAD: Disciples Of Death
Self released - Digital single
FEAR IS DEAD hailing from New York City, and play a cross of metal and hardcore that will appeal to fans of BIOHAZARD, SICK OF IT ALL and similar macho acts. They have released 5 EPs so far, and the guys are currently working on their first full length LP, to be released in 2022.
This song doesn't make me interested in hearing more of them. It goes in and out, and dissapear until the next time I hear it. So I simply don't have that much to say about it..
fearisdead.bandcamp.com
OLD MAN WIZARD: Kill Your Servants Quietly
Self released? on Nov. 5 - LP, CD, Cassette, Digital
I guess that many would like to bundle OLD MAN WIZARD together with GHOST. And sure, they have a similar sound. It's often very laidback, and sometimes I'm not even sure if it's rock at all. Some songs could go as atmospheric doom rock or possibly progressive heavy rock.
This album consist of soaring vocals and harmonies. It's a very melodic album, and the songs are just brilliant! I really like this album! So if you like me think that GHOST seems to have done their best stuff already, then try this instead.
This is not just their third album, but unfortunately also their last.
oldmanwizard.com
THOLA: Somewhere
Art Gates Records on Nov. 5
Don't let those first 39 seconds fool you to believe that this is some soft stuff, because it's not.
THOLA formed in 2016, and they combine all sorts of metal sub-genres, from heavy to power, going through thrash and speed metal. It's powerful and heavy, with melodic vocals and driving riffs. I guess that we can put them in the melodic metal genre.
This is really good stuff, so you should absolutely check them out if you like good metal.
artgatesrecords.com