REVIEWS 2018 (Page 5)
Back to page 4


Quarter Hour Of Power - 7" Compilation EP
Even though this is just a EP, there's as much as 14 bands with 1 short song each. Most of these songs are just around a minute. And in some cases that is almost too short actually. On the other hand, it makes you hungry for more from some of the better bands.
As usual with compilations, there's both good and bad stuff. But I must say that it's pretty much good stuff here. The music is a wild mixture of punk rock, pop punk, lo-fi (whatever that is?), hardcore, thrash, doom and everything else in between that. All bands comes from St. Louis, MO, U.S.A., and all songs are new and previously unreleased.
..and the bands are: BRUISER QUEEN, HORROR SECTION, BREAKMOUTH ANNIE, The HADDONFIELDS, SINK THE BISMARK, SUICIDE DIVE, CHALKED UP, HELL NIGHT, BRADDOCK, SWEAT SHOPPE, BETTER DAYS, NOT WAVING BUT DROWNING, FISTER and ANTITHOUGHT.
This EP is also availble digitally.
(Encapsulated Records)
JULY 19, 2018 ROUGH GRIND: Trouble Or Nothing - EP
ROUGH GRIND is a Finnish rock/metal band, and they have released a few singles and EPs since 2014. This seems to be their third EP. Their music is a combination of rock and hard rock, with a pinch of heavy metal here and there. It's melodic but yet heavy. Not slow though. 4 songs is what we get here, and it's not so bad. If this will take them to the next level is a good question though. But as long as it's good, it's enough for me.
(Inverse Records)
roughgrind.net
JULY 19, 2018 The LEAGUE OF ONE: Dispatch - Album
The LEAGUE OF ONE is not just 1 person but 3 workers from Regina, SK, Canada that happens to have a band. And they have been rocking together since 2003. This trio seems to have their own sound, but it's mainly some kind of hard rock, sometimes with influences from heavy metal or classic rock. They have some good songs here, but it's not like I can hear any hit or future classic on this record. They are still worth a try though, so don't be afraid my friend.
(Lil Eve Records)
theleagueofone.com
JULY 18, 2018 BARROS: More Humanity Please... - Album
Portugese hard rockers for fans of classic acts like WHITESNAKE, VAN HALEN and HAREM SCAREM. 10 tracks of melodic hard rock that has been mixed and mastered by no other than HAREM SCAREM singer Harry Hess.
Well, they seems to have some good songs here. There's no doubt about that. But I don't really know what else I should say. So just give them a try. You will probably like it a lot.
(Rockshots Records)
facebook.com/barrosofficial
JULY 18, 2018 HELL NIGHT / SWEAT SHOPPE - Split 7" EP
HELL NIGHT formed in 2014, and SWEAT SHOPPE in late 2015. They are both from St. Louis, MO, U.S.A.
HELL NIGHT was formed by 2 members from SHAME CLUB, and their singer Brian Fair, who joined the band in 2016, have been singing with the metal band SHADOWS FALL and the hardcore band OVERCAST. They have released a handful of EPs each year. Their music is said to be "somewhere between proto-metal rock and thrash with elements of new wave".
SWEAT SHOPPE set out to write short, fast, to the point punk rock songs. The members have been playing in bands for years, including ULTRAMAN, The DISAPPEARED, HORROR SECTION and The TIMER. They have not released much more than a few songs before this split.
HELL NIGHT participate with 2 songs, while SWEAT SHOPPE gives us 3. Both bands are pretty o.k.
This EP is also availble digitally.
(Encapsulated Records)
facebook.com/hellnightus facebook.com/sweatshoppemusic
JULY 17, 2018 GRIND ZERO: Concealed In The Shadow - Album
A fast and brutal attack from the other side. No intro or any other kind of bullshit. Just bang on. And just the way I like it.
GRIND ZERO is a death metal band from northern Italy, who formed in 2011. Their first show was as support act for the legendary ENTOMBED in 2012, and in 2013 they released a 3-track demo, "Forceful Displacement", which was followed by their first album, "Mass Distraction", in 2014. "Concealed In The Shadow" is their second full length.
This is something for those of you who like it the good old way, with BOSS HM-2 pedals and downtuned guitars. The classic Scandinavian sound from the 90s.
It looks like there will be a new EP in the end of this year..
(Punishment 18)
grindzero.com
JULY 17, 2018 GRIM COMET: Metropol Sessions - EP
"GRIM COMET define themselves as a different band", is the first thing you can read about this trio. But what is so different about another band that play a combination of stoner rock, heavy metal and doom? That's been done so many times before. But these dudes are also said to throw in some 70s influences, American thrash metal and New Wave Of British Heavy Metal into their brew. 70s influences, yes. Thrash and heavy metal? I can't say that I hear much of that.
They might not have created a masterpiece, but it can definitely be worth a try for all of you who are into the heavy rock trend. Because that's what this mainly are.
(Art Gates Records)
facebook.com/grimcomet
JULY 17, 2018
WÖLFSBLOOD: Nightriders - EP
"Motorpunk Rock & Roll" is what they call this. And that means a violent combination of MOTÖRHEAD, punk, metal and rock n roll. In other words, a winning concept that just can't go wrong. Or can it? Not in this case anyway.
This Danish band is said to fit perfect for fans of MIDNIGHT, SPEEDWOLF and BAT. I don't think that I have heard any of them before. But if you like MOTÖRHEAD, then it's not impossible that you will like these dirty bastards too. And why not add the Swedish band LOUDPIPES to that, if anybody have heard them?
Release date: July 20, 2018 (Reaper Metal Productions/Seeing Red Records)
JULY 16, 2018
Take Me To The Top FREE FROM SIN: II - Album
Swedish band who are influenced by legends like DEEP PURPLE, JUDAS PRIEST, RAINBOW, IRON MAIDEN etc. Their self-titled debut album was released in 2015, but this album is said to be much darker and heavier than the debut.
I can definitely hear some Ronnie James Dio-era RAINBOW, as well as DEEP PURPLE around the 2 first albums after their come back. But once in a while there's also some neo-classical hard rock or heavy metal.
They have lots of good songs among these 11 tracks (including a bonus track), so there's no reason why you should not check this out, if you like what I just described.
Release date: July 20, 2018 (Pride & Joy Music)
freefromsin.net
JULY 14, 2018 SOUTHERN EMPIRE: Civilisation - Album
4 really, really long songs is what we get from this band. We talk 9-29 minutes, man! And I guess it's not so hard to figure out that the music is progressive rock then. And people who like that will probably scream of joy when they hear this. To me it's like jazz - Hard to melt.
I can hear lots of different influences. Some songs have more keyboard, while others have some jazz in it. All songs are mainly soft, so they don't really rock that often.
Well, this is as many others of these bands an adventure to listen to. So if you're looking for a musical journey, then this could be your next trip to neverever land.
SOUTHERN EMPIRE comes from Australia, and this is their second album. They are influenced by DREAM THEATER, IQ, TRANSATLANTIC, KARNIVOOL and Steven Wilson.
Release date: July 20, 2018 (Giant Electric Pea)
JULY 13, 2018 OXYGEN DESTROYER: Bestial Manifestations Of Malevolence And Death - Album
After a too long intro (1 and a half minute) they finally start their little war for real. And those of you who like their death metal raw and in the good old way should be happy when you hear this. Because this is hardly any love ballads. Just fast and brutal death metal straight in your face without any excuse. No modern or technical stuff here.
VADER, SODOM, KREATOR and CANCER are some of the bands that OXYGEN DESTROYER has been compared with.
Release date: July 20, 2018 (Redefining Darkness Records)
JULY 13, 2018 CHROMEDUST at Stora Torget in Borås, Sweden on July 12, 2018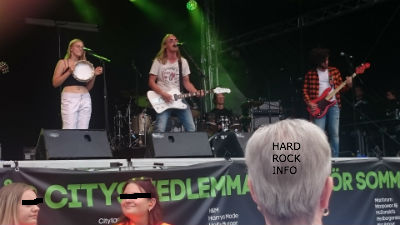 CHROMEDUST is a local rock band who formed in November 2015. And I'm actually a little surprised that they got the chance to play as support act on Stora Torget again (Swedish artist Brolle was the headliner), as it wasn't more than a year since they played on the same stage last time. That just doesn't happen here! But I guess these young guys know the right people, and/or got the enrgy to beg for a gig and maybe even play for free. It could also be that people actually like this band very much.
And I can now understand why. Because this was much more interesting than last year's gig, when I just saw something like the 3 last songs or something like that. Now they were really rocking!
Most songs was true swinging rock n roll, with a touch of Southern rock. And that stuff really kicked arse! But they say that they are mainly influenced by classic rock from the 80s, and there was 1 song that reminded me of THIN LIZZY. They also played a slow blues number that reminded me of Gary Moore (R.I.P), and a cover of the KISS classic "Rock n Roll All Night". So they seems to have some inspiration from the 70s as well.
Good stuff that I recomend you to check out.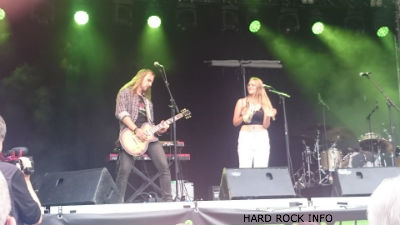 chromedustofficial.com
JULY 13, 2018 ONCE: The Hour Of Eden's Fall - Single
German band formed in late 2012 who call their music "dramatic metal". Their music is "inspired by neo-romantic soundtrack music, and includes typical elements of a classical Aristotelian drama, combined with heavy guitars and drums." And if I got it right, this song comes from their upcoming debut album, "After Earth", which will be released on October 19.
Well, dramatic is in this case just a other word for symphonic. In other words, nothing new under the sun. ..or was it much drama for nothing?
(Pride & Joy Music)
once-official.de
JULY 12, 2018 STORTREGN: Emptiness Fills The Void - Album
Swiss black/death metal band that delivers a blend of dark melodies and crushing riffs. It can sometimes be a little technical, as well as dramatic. And it's a good mixture of fast and slow parts. I also like the combination of brutal and melodic elements. This is really good stuff, and I think it will fit both fans of melodic black metal as well as melodic death metal.
This is their 4th album. Check it out!
(Non Serviam Records)
stortregn.com
JULY 12, 2018 The FLESH: Dweller - EP
Much noise here. But some kind of controlled chaos somehow. And I like what I hear.
This Dutch band serves a buffet of hardcore, crust and blackened metal. It's hard and heavy, as well as angry, but very well done. People who doesn't have anything against some metal in their hardcore and crust, should definitely check this out.
The FLESH are currently open for label offers and shows, and have already started the writing process for their next album. If I had a record label, I would have signed them at once. So what are you waiting for?
(Self released? Distributed via Anubi Press)
thefleshband.bandcamp.com
JULY 11, 2018 ELEINE: Echoes - Single
New single with the Swedish band ELAINE. A song that comes from their second album, "Until The End". And it's just like it use to be with me and female-fronted symphonic metal bands - They all sounds the same. But this is hardly a bad song. Oh no. This is actually very good. A whole album with more or less the same thing is still a little too much for me though.
(Black Lodge Records)
JULY 11, 2018 CHARLOTTE IN CAGE: Times Of Anger - Album
"All girl Italian riot metal" is what they label this as. This band take their influences from female bands like KITTIE, HOLE and even PUSSY RIOT, as well as male artists like MOONSPELL and Marilyn Manson. Then they put their own voices to it and say exactly what they have to say about things. One of the main concepts of the album is the social denouncing of oppression and injustice, particularly involving women, and found in different environments and social structures.
They have some good stuff here, even though nothing is a masterpiece. Among the best tracks are "I Hate Myself", which is a little softer.
This album doesn't leave you with something to remember.
(Sliptrick Records)
facebook.com/CharlotteInCage
JULY 10, 2018 Take Me To The Top Back to page 4
---
This site has been online since 2001.
All reviews and photos/images by Jimmy Blom.