REVIEWS 2019 - Page 4
Page 3
Index
LIFES: Treading Water - Album
(Triple Eye Industries/Middle Man Records/Knochen Tapes/Here and Now! Records - Release date: June 28)
A violent noise massacre or just angry and extreme music? Most of all it's just grindcore, even though these guys are doing it with style. Which means that they can actually play and don't just make a lot of noise because they think it's funny. And as I got it their lyrics are about the political climate and life, and not any bullshit lyrics.
LIFES are a duo from Milwaukee with just bass, drums and vocals (both sing). No guitar! But fact is that I don't think much about that when I listen to this.
"Treading Water" is their debut album, but these 2 men have been playing in various bands during the last 2 decades, so they are hardly new in the music scene.
tripleeye.bandcamp.com middlemanrecords.storenvy.com hereandnowrecords.bandcamp.com knochentapes.bandcamp.com
Published: June 25, 2019
LEATHER: Shock Waves, 30 Years Heavy - LP reissue
(Pure Steel Records - Release date: June 28)
American vocalist Leather Leone began her career in the early 80s. With Sandy Sledge she founded the all-female band RUDE GIRL, which unfortunately broke up despite having a lucrative record deal. But Shrapnel Records owner Mike Varney absolutely wanted to find a band for Leather, so he brought her together with guitarist David. T. Chastain, and the band CHASTAIN was born. They released 5 albums in 6 years.
In 1989 Leather Leone released her first solo album under the name LEATHER. And to celebrate the 30-year anniversary, the album will now be re-released on vinyl. On this album she got help from the male trio David Harbor on bass (CHASTAIN, KING DIAMOND, MANTA RAY), Michael Harris on guitar (DARKOLOGY, THOUGHT CHAMBER, ARCH RIVAL, ZANISTER) and drummer John Luke Hebert (MANTA RAY, CHASTAIN, KING DIAMOND).
"Shock Waves" is a very strong and powerful US metal album that every fan of heavy metal should give a try.
As a bonus we get a demo version of "Diamonds Are For Real" and a live recording of "Catastrophic Heaven", where David T. Chastain is doing a guest apperance on guitar.
facebook.com/leatherleoneband puresteel-records.com
Published: June 25, 2019
Alex Carole: Carole Cinema Radio Ad - Single
(Changes Music)
O.k., this is not a radio ad but a real song and nothing else.
An album, titled "Carole Cinema", will be released on August 16. And this album is a rock opera in 10 acts. But this song is NOT taken from the album. It was only written and recorded because the whole album was already finished. But it's also a tribute to his own work, and is said to work just fine as a taste of what to come, even though that will probably end up somewhere else.
Now I could not find any description of the music that Alex have composed, so I have to give it a try myself instead. And I would say that this sounds like a classic rock opera - Epic, majestic etc. And it's not a bad song, so give it a try.
Published: June 24, 2019
OF FIRE: Dräparen - Album
(Art Gates Records - Release date: June 28)
OF FIRE is a Swedish death metal band in the old school, who formed in 2011. They have previously released 2 full length albums: "Carnage Fever" (2012) and "Death Do Us All" (2016). Their music is raw and powerful, relatively simple and without any kind of crap. In other words good stuff in all its simplicity. So fans of old school death metal will worship OF FIRE.
5 songs are in English, while 3 are in Swedish.
facebook.com/Offireofficial artgatesrecords.com
Published: June 24, 2019
Zachary Lucky: The Ballad Of Losing You - Album
(Nordvis Produktion - Release date: June 28)
O.k., this is a little different from what I use to review here. This is actually country ballads. This is mainly just 1 man and his acoustic guitar, even though there's other instruments too here and there, like pedal steel, bass, banjo, fiddle and piano. In other words not much action here.
I guess I would have liked this much more if it would have been country rock at least, but this is just getting boring after a few songs. And to me all songs sound more or less the same.
I use to think that soft music like this is for the day after and not for the party, but this album doesn't even work when I have a hangover.
Zachary is a Canadian singer/songwriter, and this seems to be his 6th album.
Published: June 24, 2019
BARBE-Q-BARBIES: Borrowed Time - Album
(Dissonance Productions)
Here's another album that have been waiting a while for a review. And that was stupid of course as this is very good stuff. Just listen to songs like "Made Of Scars&quot and "On And On" for example - Really good!
BARBE-Q-BARBIES is an all-female hard rocking band from Finland, and "Borrowed Time" is their 4th album. Their music is raw and dirty, and the songs are pretty simple with sing-a-long friendly choruses. I think it can be something for fans of BACKYARD BABIES and DANKO JONES.
You check this out!
barbeqbarbies.com dissonanceproductions.co.uk
Published: June 20, 2019
Marco Mendoza: Leah - Single
(Mighty Music)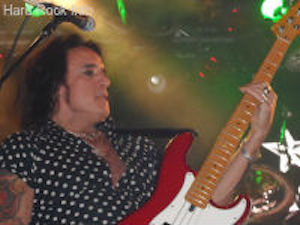 HaHa. This wasn't cool at all. Some kind of half-ballad or whatever I should call it. Not so rock n roll anyway, which I expected that it would be. And well, it could had been good anyway, but it's not. I guess it's a bit too pathetic for me or something. Sorry about that. But you can't like everything, can you?
As you might know already, Marco Mendoza have been playing bass with everything from WHITESNAKE to THIN LIZZY and Ted Nugent, as well as BLACK STAR RIDERS, The DEAD DASIES and then some.. So that's the reason why I expected to hear rock and not a ballad.
"Leah" is written to his wife, but is also about missing his home and his kids. Sometimes it's hard to be a rocker..
facebook.com/marcomendozaofficial mightymusic.dk
Published: June 19, 2019
JD MILLER: The Desire - Single
(Mighty Music)


We have many different kinds of bands here in Borås, Sweden, but JD MILLER must be the only melodic hard rock act (as far as I know anyway). It wasn't until 2 summers ago that I heard them for the first time, when they were playing on the big square in the middle of the city on a Thursday evening. And I really liked what I heard. I remember that I thought they sounded like the bands on the Italian label Frontiers Music Srl, which might give some of you an idea about their sound.
This song is just great! I really like it. If there was any justice in this world (which there isn't) this should be a hit. Simple as that!
"The Desire" is the first single from the upcoming album "Afterglow", that will be released late 2019.
facebook.com/jdmillerband mightymusic.dk
Published: June 19, 2019
ANOXIA: To The Lions - Single
(Mighty Music)
Danish heavy metal band ANOXIA presents the first single from their upcoming album, with the same title, which will be released later this year. And this song is a little like a tribute to the Copenhagen-based festival Copenhell they say. The music is mainly old school heavy metal, but yet with a modern production. It's hard and heavy, catchy and melodic, at the same time. Simply a damned good song that you should check out at once!
anoxia.dk mightymusic.dk
Published: June 19, 2019
HALLS OF OBLIVION: Endtime Poetry - Album
(Metalapolis Records - Release date: June 21)
HALLS OF OBLIVION is a mixture of melodic and brutal riffs, and on top of that aggressive death metal vocals. We call it melodic death metal, but there's also small influences of black and doom metal, as well as synthesizers to create the right atmosphere. Every song on this album is like the beauty and the beast. Sometimes it's softer, sometimes harder. But no matter if it's a fast or slow part, they always keep the atmosphere.
This is obviously really good musicians, but this album might not be something for everyone. Not that it's an extremely complicated record, but I think it can still be too much for some people. I like it anyway, even though it's not like I have found a new favourite band.
facebook.com/hallsofoblivion metalapolis.eu
Published: June 18, 2019
NITRATE: Open Wide - Album
(AOR Heaven - Release date: June 21)
The debut album from NITRATE was released last year, and now a new album is here. Seems like they are a very productive band.
The members comes from bands like MIDNITE CITY, TIGERTAILZ, VEGA, FIND ME etc. And the music that they play is melodic hard rock from the 80s, inspired by stars like DEF LEPPARD, EUROPE, MÖTLEY CRÜE and BON JOVI. So fans of those bands should definitely lend an ear to this album, because there's plenty of good material here, and these guys know how to deliver it.
I don't think that I have to say much more than that..
facebook.com/Nitrate-100323740377514 aorheaven.com
Published: June 18, 2019
Rob Moratti: Renaissance - Album
(AOR Heaven - Release date: June 21)
Another one of these really melodic rock albums that are on the border to pop. But if you like that, then I won't stop you from checking this out. Some stuff is o.k., but then we have silly stuff like "Best Of Me" (definitely not the best of you, haha).
I guess that this could be something for fans of a band like CHICAGO. And isn't there a touch of Phil Collins as well? But that's just a wild guess. I hear something similar here at least.
Rob Moratti started his career in the early 90s as lead singer and songwriter of the band MORATTI. He has also been a member of FINAL FRONTIER and SAGA, but is now having a solo career.
robmoratti.net aorheaven.com
Published: June 18, 2019
LO-PAN: Subtle - Album
(Aqualamb Records)
LO-PAN was formed in 2005, and "Subtle" is the band's 4th album. What we get here is some kind of heavy rock, but not of the retro kind. This is more like the alternative rock bands from the 90s, with melodic vocals and heavy riffs. Very good stuff anyway, so you should really check this out of course.
The album was produced by James Brown (NINE INCH NAILS, FOO FIGHTERS, GHOST) and mastered by Ted Jensen (MASTODON, DEFTONES, BAD COMPANY, GUNS N' ROSES).
lopandemic.com
Published: June 17, 2019
The BRINK: Nowhere To Run - Album
(Frontiers Music Srl)
Some kind of modern melodic rock that sometimes reminds me of BLINK 182 and a bunch of other modern bands that I can't even remember the name of right now. Not that bad though. But for some reason they had to include as much as 15 tracks on this album, which is way too much at once for me.
I guess that The BRINK is trying to revitalize the British rock scene with this debut album. And maybe they will succeed, because it would not surprise me if the kids love this. Their songs are full of emotional vocal harmonies and melodic rock riffs. So it's like this is made for the young.
facebook.com/thebrinkband frontiers.it
Published: June 16, 2019
LOUD 'N' NASTY: Stand Strong - Single
(Perris Records)
I think of RATT when I hear this song. And good old sleaze/hard rock is exactly what we get here.
"Stand Strong" is LOUD 'N' NASTY's first new song in over a decade. The current lineup is Rob Nasty (bass/lead vocals), Chris Loud (lead guitar) and Mackey Gee (drums).
The band was founded on the Swedish west coast in 1998, and did their last show in 2007. But with this song they prove that they are definitely back again. Because this is a very good song, which you should check out at once.
facebook.com/loudnnastyOfficial perrisrecords.com
Published: June 15, 2019
PIGMAN: White Line Fever - Single
(Self released)
This is really good. But I can tell you right now that there is a even better single coming later this summer.
But now it's "White Line Fever" that I was going to write about. And it's a little heavier rock song with punk attitude. A little hard to put in a specific genre actually. But as I said earlier, it's a really good song, so just check this out and get your own opinion about it.
We also get "C'mon Baby", which is a catchy punk n roll song, or however I should describe it. Also a very good song.
This seems to be an interesting band, and a new album will be released in the fall.
facebook.com/pigmangbg
Published: June 14, 2019
HALM: Second Skin - Album
(Ditto Music/Icon Creating Evil Art)
So, some country rock/Americana here then. But I think it actually reminds a little of all these blues-based retro rock bands that we have nowadays. Think the softer stuff with GRAVEYARD for example. But hardly any worse because of that. Oh no. This is good stuff my friend. And they end the whole thing with a soft and laidback cover of the Elvis classic "Burning Love". Not bad either.
HALM consist of 3 women and 1 man from Umeå in northern Sweden. They have been touring around Sweden for 10 years, and this is their 4th album. It's said that they break new ground against a heavier sound image with this record. Maybe that's why I like it so much?
halmcountry.se dittomusic.com icea.se
Published: June 14, 2019
BROWSING COLLECTION: Oh No - Single
(Ditto Music/Icons Creating Evil Art) It feels like it wasn't so long ago that this Swedish band released their latest EP, "Don't Want To Dance", but here's already a new song. Seems to be very productive women. But this song doesn't seems to have the same hit potential as some of the songs on the mentioned EP had. It's not a bad song though. Oh no (hehe). So you simply check this out anyway.
BROWSING COLLECTION play rock with a pinch of both punk and metal. It's catchy and often melodic, but yet hard and heavy enough to be rock and not pop. "Oh No" is the first single from an upcoming full length album.
browsingcollection.com dittomusic.com icea.se
Published: June 14, 2019
BLACK MOUNTAIN: Destroyer - Album
(Jagjaguwar Records)
Here's another album that has been lying around for way too long. Sorry for that.
The album is named after the discontinued single-run 1985 Dodge Destroyer muscle car, and is structured around the feeling of driving a hot rod. And the soundtrack to that is some kind of space/psych rock that fans of old heavy rock should like.
8 tracks in 43 minutes is what we get here. My favorite is the single "Future Shade", but there's some other good stuff here too. Worth checking out.
blackmountainarmy.com
Published: June 13, 2019
Jorden Jones: Rumors Girls - Single
(Beluga Records)
A catchy power pop song that comes from an upcoming album, which will be released on Beluga Records (Europe) and Spaghetty Town Records (US) late summer. It's just 2 and a half minutes, but it's enough to make me thirsty for some more.
Jordan Jones is a up and coming artist from Los Angeles. His sound has been described as a young Matthew Sweet (who ever that might be?).
Well, there isn't that much more to say. So you check this out and then you get the album when it's out. Do we have a deal there?
facebook.com/jjonesgc belugarecords.com
Published: June 13, 2019
Janet Gardner: Your Place In The Sun - Album
(Pavement Music)
Former lead singer of VIXEN, Janet Gardner, have once again teamed up with guitarist/songwriter/producer Justin James, and created a pretty hard and heavy record for being melodic hard rock. But I like the sound on this second album. It gives the music a modern twist somehow.
The debut was well received by both fans and critics, and I think this album will be that too. Because the songs are really good, and have strong choruses. There's no doubt about that. So don't miss this album!
janetgardnermusic.com
Published: June 13, 2019
WARM RAIN: Here Comes The Rain Again - EP
(Rain Recordings)
They start with the title track, which is a EURYTHMICS cover. And the original version is actually very good and soft, but this version is even more soft and honestly not so good.
The 3 other tracks are new songs, and they are something similar to the first track, so this is definitely not rock n roll. It's said that this EP will fit fans of PINK FLOYD though.
WARM RAIN is a progressive rock band from UK. Now I have not heard anything else with them (as far as I can remember is always good to add), so I don't really know if they always sound like these 4 tracks. This was actually very boring to listen to.
Published: June 13, 2019
RESTLESS SPIRITS: Restless Spirits - Album
(Frontiers Music Srl)
Solo album from LORDS OF BLACK guitarist Tony Hernando. The music here is melodic hard rock. The album features different singers on different songs. And these singers are no other than Johnny Gioeli (HARDLINE, Axel Rudi Pell), Deen Castronovo (REVOLUTION SAINTS, ex-JOURNEY), Dino Jelusic (ANIMAL DRIVE), Kent Hilli (PERFECT PLAN), Alessandro Del Vecchio (HARDLINE), and Diego Valdez (DREAM CHILD). Deen Castronovo also play drums on the entirety of the album. So I guess that this is a must for fans of melodic hard rock.
Definitely not a bad record. There's many good songs here. The musicians are obviously professionals, and so are the singers. Everybody seems to deliver the best they can, and it works for me.
facebook.com/RestlessSpiritsBand frontiers.it
Published: June 13, 2019
FIRST SIGNAL: Line Of Fire - Album
(Frontiers Music Srl)
Many of these songs are actually pop songs and not necessarily rock, even though they call it "AOR/melodic rock for the 21st century". But they take it very easy with the guitars, and it's so catchy and so melodic that it can't be anything else than pop according to me. But that's just my opinion of course. I can possibly call it melodic pop/rock then. It's listenable anyhow.
FIRST SIGNAL was born in 2010, when Canadian vocalist Harry Hess (HAREM SCAREM) teamed up with German producer Dennis Ward (PINK CREAM 69, KHYMERA). On the second album, Harry took help from Swedish producer Daniel Flores (FIND ME, The MURDER OF MY SWEET etc) instead, and Hess have chosen him once again on the third album, "Line Of Fire".
frontiers.it
Published: June 13, 2019
CRAZY LIXX: Forever Wild - Album
(Frontiers Music Srl)
Swedish sleaze/hard rockers CRAZY LIXX gives us a great album. Most of these 10 tracks are really good, but the song that gets stuck in the head most of them all is "Eagle". A bit more.. What should I say' Laidback or melancholy or softer? Damned good anyway! You have to check it out! And after that you can check out the rest of the songs too, because nothing is really bad here.
I call it sleaze/hard rock, but fact is that this is an album that go through several different styles of hard rock and sleaze rock. We even have some AOR here.
crazylixx.com frontiers.it
Published: June 13, 2019
STARGAZERY: Eye On The Sky - Vinyl reissue
(Pure Steel Records - Release date: June 14)
With amazing songs like "Puppet On A String" and "Everytime I Dream Of You", this Finnish melodic metal band delivered an fantastic album on CD in 2011. And now it will finally be released on LP in a limited edition of 300 copies, including the bonus track "Rescue Me".
Their music is traditional and catchy melodic metal with keyboards. Fans of legendary acts like Tony Martin-era BLACK SABBATH (they do a cover of "Headless Cross"), RAINBOW and WHITESNAKE should check this out. But there's also influences from more modern bands like ETERNAL REIGN and ASTRAL DOORS.
STARGAZERY is fronted by former MSG vocalist Jari Tiura.
stargazery.com puresteel-records.com
Published: June 12, 2019
MAYFAIR: Frevel - Album
(Pure Steel Records - Release date: June 14)
O.k., this wasn't really what I expected. Didn't they play heavy metal last time I heard them? This is actually pretty soft and not hard at all. It's labeled as "avantgarde rock", whatever that means? I don't really like the sound of the guitar in most of these songs (not all), and the songs are hardly the strongest material that I have heard, and all of them are in German as well. No, this is a pretty boring album actually. The only song that is any good is "Hinter dem Leben". I can easily survive without the 10 other tracks though.
MAYFAIR comes from Austria, and have existed for 30 years. This is their 6th album.
mayfairbrigade.com puresteel-records.com
Published: June 12, 2019
KAT: Without Looking Back - Album
(Pure Steel Records - Release date: June 14)
It seems like this Polish band has existed since 1981. And it also seems like they have been pretty active all the time. That's probably what impress me most with this band.
Now I'm hardly an expert when it comes to their history, but it's said that KAT have always been an unpredictable metal monster that thrived in speed, heavy metal, black metal and later thrash metal. And on this album they are said to be heavier than ever. They have left the past, and are now taking inspiration from bands like ACCEPT and RAGE instead. Which means heavy metal in the harder and heavier league.
This record last for over an hour, which can easily get boring. But luckily they have some good stuff to offer here. Everything might not be great, but most of the songs are good anyway.
puresteel-records.com
Published: June 12, 2019
KARO: Heavy Birthday II & III - Double Album
(Pride & Joy Music - Release date: June 14)
This Berlin-based hard rockers released their only album "Heavy Birthday" in 1988. But they actually recorded more than 30 songs between 1987 and 1989, which of 10 ended up on the album. And now we get the chance to hear the rest of the tracks that they recorded - A total of as much as 25 tracks. Most of these songs sounds really good, so I like what I hear. It's often melodic, but yet a little rough somehow.
I think you should give this a try. And especially if you're a fan of German hard rock like BONFIRE and similar stuff.
karo-berlin.com prideandjoy.de
Published: June 11, 2019
Soren Andersen: City Of Angels - Single
(Mighty Music)
Soren Andersen is a Danish guitarist. He is most well-known for playing with Glenn Hughes, Marco Mendoza, Mike Tramp, The DEAD DAISIES and D.A.D. But that seems to be just a few of all the artists he has played with.
"City Of Angels" is said to be his tribute to the 80s movie soundtracks, and the song comes from his upcoming album "Guilty Pleasures", which will be released in the fall. The album will feature guest apperances from guys like Chad Smith (RED HOT CHILI PEPPERS), Glenn Hughes, Marco Mendoza and fellow Dane Ida Nielsen (Prince). The whole record will be instrumental.
Well, if you like guitar-driven instrumental hard rock that sounds like a very long guitar solo, then this can be something for you. I would expect that this is something from a guitarist for other guitarists, and not something for simple rock fans like me. It's not so bad though. I have heard worse than this.
sorenandersen.net mightymusic.dk
Published: June 11, 2019
TANK: Re-Ignition - Album
(Cleopatra Records/Rubicon Music)
Now I can't really remember if I have heard any of their earlier material, so I can't compare this with that. But what I hear here is something that I would describe as the drive of MOTÖRHEAD and SAXON, but with less rock n roll. They bring the legacy of New Wave Of British Heavy Metal into the future. And they do it really good. This is a damned good album that you just have to check out!
"Re-Ignition" is a tribute to the early days of TANK, and features 11 classic TANK songs chosen from the first 4 albums, which were originally released in the early 80s - "Filth Hounds of Hades", "Power of the Hunter", "This Means War" and "Honour and Blood". The album also features special guest apperances from CRADLE OF FILTH frontman Dani Filth and the legendary Tom Angelripper of SODOM.
tankofficial.com cleorecs.com
Published: June 11, 2019
SOTO: Origami - Album
(InsideOutMusic)
SOTO is what they call a modern heavy metal/hard rock group, even though I think heavier progressive hard rock is a more correct description of this. The band features vocalist Jeff Scott Soto (SONS OF APOLLO, TRANS-SIBERIAN ORCHESTRA, W.E.T., ex-Yngwie Malmsteen, TALISMAN, JOURNEY), and "Origami" is their third album.
SOTO was originally started in 2015, when Jeff wanted to return to his heavier roots. The debut album, "Inside The Vertigo", was released the same year, and the second full length, "DIVAK", in 2016. But the band had to take a short break after that, when Jeff was working with the supergroup SONS OF APOLLO (with Mike Portnoy, Derek Sherinian, Billy Sheehan and Bumblefoot).
The music on "Origami" is powerful and heavy, but yet progressive and melodic, as well as catchy and modern. And there's lots of great stuff among these 10 tracks, so it could absolutely be worth a try.
sototheband.com insideoutmusic.com
Published: June 11, 2019
ACID BLOOD: Acid Blood - LP
(JanML Records/Maja von Lobeck - Release date: June 14)
It looks like we have 2 sides of the coin here (or should it be 2 sides of the vinyl maybe?). One side is some kind of noisey hardcore/punk with punky rock n roll riffs. A little like a mixture of ZEKE and MOTÖRHEAD. On the other side we get punk rock with a touch of garage rock. And I like the punk rock better than the faster and more blatant tracks.
I liked their EP, "Dagger Eyes", but on their full length debut it's as much as 14 tracks. This is probably better as an EP with just 4-6 tracks instead. It's not bad though.
ACID BLOOD comes from Umeå in northern Sweden. Their guitarist, Karl Beckman, have played with bands like AC4, VECTORS and T-55s, while their bassist, Emil Fjällstrom have played with RAGING STEEL. Among the band's influences are MOTÖRHEAD, The STOOGES, The EXPLOITED, DOA and GIRLSCHOOL.
This album is available on standard black vinyl and very limited pink marbled vinyl. Both comes with full colour insert, a postcard and individual digital download code.
facebook.com/acidbloodumea janml-records.de
Published: June 10, 2019
BUZZCOCKS: A Different Kind Of Tension - Album reissue
(Domino Recording Co - Release date: June 14)
"A Different Kind Of Tension" is the third album from these English pop punk masters. Not many songs that I have heard before from this album, but still a very good album. It's a good mixture of their typical pop punk and punk rock here. And some of my favorites must be "You Say You Don't Love Me" and "Raison D'Etre".
The album was recorded in West London in the summer of 1979, and was released in September 1979. This was their last studio album to feature the classic line-up of Pete Shelley (vocals/guitar), Steve Diggle (guitar/vocals), Steve Garvey (bass) and John Maher (drums).
After recording demos for a 4th album the band finally disbanded in 1981, with Shelley going on to a successful solo career, while Diggle and Maher formed FLAG OF CONVENIENCE and Garvey formed MOTIVATION, and would later join The BLUE ORCHIDS.
The band reformed to play a series of shows in 1989, and eventually released their 4th album, "Trade Test Transmissions", in 1993, and subsequently continued to tour and record albums featuring original members Pete Shelley and Steve Diggle until Shelley's untimely death in December 2018.
Having previously announced a concert at the Royal Albert Hall in London on June 21, 2019, the band recently confirmed they would continue and play the show by way of a celebration of Shelley's life and musical genius.
buzzcocks.com
Published: June 10, 2019
BUZZCOCKS: Singles Going Steady - Album reissue
(Domino Recording Co - Release date: June 14)
This is a album that I actually have on CD. A very good best of collection, and a good introduction to those who have not heard these British pop punk legends before. When you listen to this collection of singles, you get the chance to hear all sides of BUZZCOCKS - from punk rock to their well-known pop punk and almost pop/rock. But no matter what song you play from this record, it's a hit (more or less). BUZZCOCKS prove that 3 energetic chords and a catchy pop melody is enough to get you out of Manchester and into people's hearts.
"Singles Going Steady" was initially released in the U.S. only on September 25, 1979 through I.R.S. Records as an introduction to the band for the American public. Side 1 featured their 8 United Artists U.K. singles releases to date in chronological order, while Side 2 featured the corresponding B-sides. Healthy import sales following its U.S. release eventually led to United Artists issuing the album in the U.K. in November 1981.
If you get "Time's Up" and this collection, then you have more or less everything that you need with BUZZCOCKS according to me. Because then you will have all the best songs and then some.
buzzcocks.com
Published: June 10, 2019
WORMWOOD: The Isolationist - Single
(Black Lodge Records)
Odd to release the last song of the album as a single. Especially when that song also happens to be as long as 11,50 minutes. If it's the best song on the album is hard to know though, but it's at least the most different song on the album. It start slow before it gets faster, and it takes about 2 minutes before there's any vocals at all. And then we have a long slow instrumental part, with a guitar solo as well.
I guess we can describe this song as melancholy black metal. And the song somes from their latest album, "Nattarvet", which will be released on July 26. It's a song about solitude. About a man who refuses to leave his home deep in the forest. His old wife dies, yet there he remains and withers away into obscurity. Deep stuff..
wormwood-official.com
Published June 9, 2019
X-ROMANCE: Voices From The Past - Album
(AOR Heaven)
Typical melodic hard rock, even though a song like "Temporary Love" could have been a hit with Tina Turner back in the 80s. They are absolutely not doing anything unique at all here, but it's still damned good. So I have no reason at all to complain, as I really enjoy what I hear.
X-ROMANCE was initially a project started in 2015 as an offspring to ROMANCE (who was founded back in 1988). 1 of the members had found a box of tapes with old ROMANCE recordings, and this material was just too good to collect dust in a closet. So founding members Anders "LA" Rönnblom and Thomas Widmark started to re-record these songs, and they also started to look for new musicians.
The new lineup consist of members from bands like HOUSE OF SHAKIRA, KILLER BEE and GOATESS. These guys are hardly any amateurs, but experienced musicians.
aorheaven.com
Published: June 9, 2019
99 CRIMES: 99 Crimes - Album
(Perris Records)
If you're a fan of bands like L.A. GUNS, GUNS N' ROSES, MÖTLEY CRÜE and similar, then 99 CRIMES can be something for you. They have several good songs among the 11 tracks here. All of them have strong choruses, and many of them have hit potential, so this is of course something that you definitely should check out.
99 CRIMES is a powerful rock band based in Austin, Texas. The members comes from bands like DANGEROUS TOYS, BROKEN TEETH and MISS CRAZY. So fans of those bands can probably find interest in this record.
facebook.com/99crimes perrisrecords.com
Published: June 9, 2019
BONFIRE: Live On Holy Ground, Wacken 2018 - Album, DVD
(Pride & Joy Music - Release date: June 14)
Feels like it was extremely many years since I heard this German band last time. I used to listen to them in the 80s, and some of those old songs are included here of course. Still good stuff after all these years. There's no doubt about that.
On August 4, 2018 BONFIRE entered the stage at the world's biggest metal festival, Wacken Open Air in Wacken, Germany. And that's where this recording comes from. But we also get 4 bonus tracks: "Praying 4 A Miracle", a cover of "Locomotive Breath" (originally by JETHRO TULL), as well as 2019 versions of "American Nights" and "Sweet Obsession".
Now I have just heard the audio version, but it sounds like the band is doing a really good show. This is a perfect best of collection from the band's entire career, and a must for any fan of melodic hard rock from Germany.
bonfire.de prideandjoy.de
Published: June 8, 2019
CHEMICAL BREATH: Beyond Reality/Brutal Violation - Album
(Vic Records)
When it comes to death metal, rotten is suddenly a good word. So prepare yourself for a permanent vacation in a coffin deep under the ground. Because among rotten corpses and the stench of death is where you will get the right atmosphere for CHEMICAL BREATH.
But enough of my bullshit.. This is actually 1 of the first extreme metal bands from Belgium. They formed in 1990, and released 2 demos and 2 albums during their 8 years of existence. And what we have here is the 2 demo recordings: "Brutal Violation" from 1990 and "Beyond Reality" from 1991. These demos gained the band a cult following in the death metal underground at the time.
This is a pretty good band, so this album could actually be worth checking out. Especially if you like it the good old way, when the sound was more raw and brutal.
facebook.com/Chemical-Breath-733189026691916 vicrecords.com
Published: June 7, 2019
Per Wiberg: Head Without Eyes - Album
(Despotz Records)
This is dark and slow. It's a little like a crossing between Swedish artists Thåström and Louise Lemón, but with the touch from a man who have bands like OPETH, KAMCHATKA, CANDLEMASS, SPIRITUAL BEGGARS, SWITCHBLADE etc. on his CV. So not exactly like any of them anyway. This is something totally different from what he has done before (as far as I know I might add). The music moves freely between the more harmonic and the bombastic.
Hm.. This was not an easy album to write something clever about. The first times I heard it, I sat there and wondered what I just had been listening to. But now that I have heard the album a few times, I reconize some of the songs. Well, while I listen at least. After that it's all gone from my head.
Like I have told you before (when I reviewed his singles) Per Wiberg is a Swedish multi-instrumentalist who have played keyboard, bass and guitar with some of the bands I mentioned earlier, and then some. This is his solo debut, and they put it in the category rock/industrial/doom. Maybe..
facebook.com/perwibergmusic despotz.se
Publish: June 6, 2019
HALM: Hard To Love - Single
(Icons Creating Evil Art/Ditto Music)
O.k., once again I'm not really sure if this is something for a site called Hard Rock Info. Not because the music is bad, but because what this Swedish band play is actually country/Americana and not really rock. But they seems to be good at what they're doing, and this song is not bad at all, so why not? This is worth a try.
A new album, "Second Skin", was released on May 31 (review later), and that's where this little song comes from.
halmcountry.se icea.se dittomusic.com
Published: June 6, 2019
AMULET: The Inevitable War - Album
(Dissonance Productions)
AMULET comes from London, UK, and formed in 2010. Founding guitarists Marek Heathen Steven and Nippy Blackford are now back with a new lineup of the band. And the new guys are Sam Mackertich (ex-DECEPTOR) on bass and keys, Neil Ganesha on drums and Federico Mace Mazza (ASGARD) on vocals.
AMULET have many really good songs on this album. Their sound reminds me of the 80s, but with a modern production. This is a record that you absolutely have to check out if you're a fan of good old heavy metal. It's often song-and-riff-oriented, but there's also variation between the songs. We have fast songs, epic songs and more melodic songs. Continuously catchy. I often think of a band like IRON MAIDEN when I hear this, even though it might not be exactly the same.
Published: June 5, 2019
PROPHETS OF ADDICTION: Nothing But The Truth - Album
(HiVolMusic)
PROPHETS OF ADDICTION is a Washington and Hollywood-based glam punk band raised on a diet of DOGS D'AMOUR, CHEAP TRICK, DEAD BOYS and HANOI ROCKS. This third album was supposed to be a knock out ride through the mid-70s. But due to drummer Wayne Stokley's inability to participate in the recordings, however, the stripped down duo of vocalist/bassist Lesli Sanders and lead guitarist G.G. decided to deliver an unplugged, raw and emotional set of songs instead, while waiting for Stokley to be able to return to action.
So, what we have here is an acoustic rock album. And they are doing it very good. This is a very strong and naked album with 10 great songs. If you like the acoustic side of "GN'R Lies", then this is the perfect album for you.
Published: June 5, 2019
NEBULA: Holy Shit - Album
(Heavy Psych Sounds Records - Release date: June 7)
Legendary desert rock trio NEBULA are back with a new album. Their first all new record in 10 years actually. Many of the songs here have a psychedelic touch, and they are heavy as the smoke from 3 people smoking weed. Now I don't really know if they actually were smoking something funny when they made this record, but that doesn't really matter, and is definitely not any of my business. I concentrate on the music instead, and the music on this album is really good stuff. Maybe not so good that you scream "Holy Shit!", but still a very strong album anyway.
Well, I don't think I have to give you any background history about this band, as they are veterans by now, so you should at least have heard of them before.
facebook.com/NebulaBand heavypsychsounds.com
Published: June 4, 2019
SABBATH ASSEMBLY: A Letter Of Red - Album
(Svart Records)
What this band is playing is some kind of occult/dark rock, that is lurking on the border between 70s doom and gothic dark pop. But there's also some hard rock and moments that will remind you of a band like JETHRO TULL or maybe even GHOST. Very good songs anyway. You just have to give them a try. Because this is a magic record.
This is their 7th album, so they are more or less veterans already. I have never heard them before though, as far as I can remember (but on the other hand I can hardly remember everything).
Nothing else to add..
sabbathassembly.com
Published: June 3, 2019
LOWER 13: Restore The Order - Album
(Pure Steel Records - Release date: June 7)
Here comes the third album from this American metal trio. Their music is like a meeting between the old generation and the new generation. Melodic vocals meet harsh vocals and a lot of riffing. In some songs it's actually progressive. They have definitely found their own style.
It's mainly good songs here, but the album last for over an hour, which is a little bit too much at once.
I guess that fans of a band like SYSTEM OF A DOWN could like this, even though it's not exactly the same thing.
Some of my favorites on this album is "Weight Of The World" and "Spotless Mind".
lower13official.com puresteel-records.com
Published: June 2, 2019
ASTA KASK at Liseberg in Göteborg, Sweden on June 1, 2019
If you for some reason are stupid enough to think that punk is dead, then you better think again. New bands and new fans pop up all the time. And then we have these old bands that never seems to surrender. Like the Swedish punk legends ASTA KASK for example, who succeed to get new fans and keep the old fans year after year.
They originally existed between 1978 to 1986, but reunited in 2003. And I have seen them live a few times through the years. They are usually a really good live band with an impressive energy, and this evening was no exception. They delivered old and new songs, and everything was really good. A nice escape from the daily boredom for me. I really needed this!
And to my surprise I got the news today that ASTA KASK are coming to my hometown Borås on September 7. Great! The only problem is that The BABOON SHOW are playing at Liseberg the same day, and I would like to see them again too. Not an easy problem..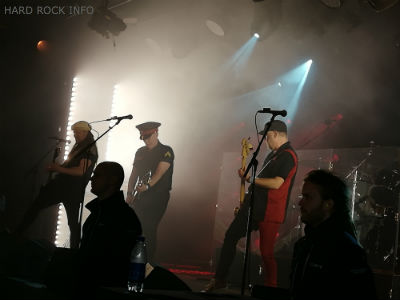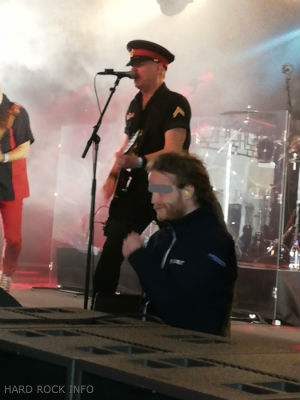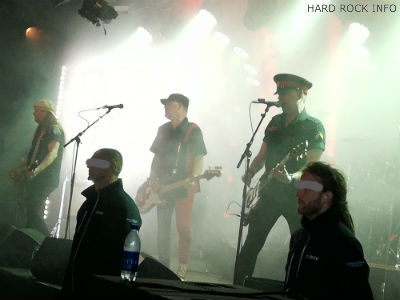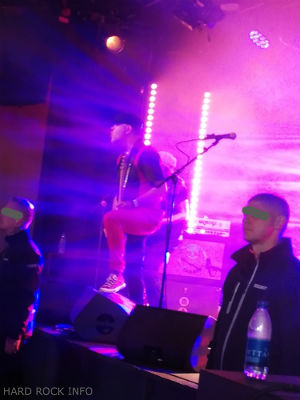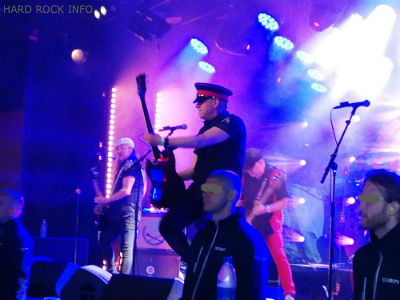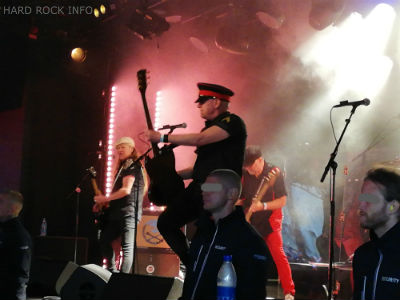 facebook.com/astakaskofficial
Published: June 2, 2019
DEMONS & WIZARDS: Touched By The Crimson King - Double Album reissue
(Century Media - Release date: June 7)
"Touched By The Crimson King" is the second album from DEMONS & WIZARDS. And on this re-release of the album we get a whole extra CD with demo recordings of most of the album tracks (these tracks are not included on the vinyl version), which means a total of 22 tracks. The music is more or less just more of the same thing that we got on the first album. So in other words it's still, or maybe even more, progressive, powerful and epic. And I think that this album is actually a little bit better than the debut. My biggest favorite is "Beneath These Waves". And I might also add that they are doing a cover of the LED ZEPPELIN classic "Immigrant Song".
Schaffer and Kürsch have been very busy with their main bands ICED EARTH and BLIND GUARDIAN, but DEMONS & WIZARDS will return to stages in 2019 and will present a new studio album in 2020.
facebook.com/pg/WizardsDemons centurymedia.com
Published: June 1, 2019
DEMONS & WIZARDS: Demons & Wizards - Album reissue
(Century Media - Release date: June 7)
DEMONS & WIZARDS was originally formed in 1999 by Jon Schaffer from ICED EARTH and Hansi Kürsch from BLIND GUARDIAN. They released 2 albums: "Demons & Wizards" in 1999 and "Touched By The Crimson King" in 2005. These 2 albums are now being re-released as remastered deluxe editions with bonus material.
We start with the first album. Strange US metal of the progressive kind, I guess you could call the music on this debut. It's powerful and epic. But there's as much as 15 tracks on this edition, which is a little too much for me. It's not bad though. I guess that fans of ICED EARTH and BLIND GUARDIAN will like this.
Among the bonus material is a alternate version of "The Whistler" and a demo version of "Heaven Denies".
facebook.com/pg/WizardsDemons centurymedia.com
Published: June 1, 2019
SKALLBANK: Løgnar - Single
(Big Balls Productions)
A chaotic hardcore rocker? Or a more aggressive TURBONEGRO? Some kind of hard and raw rock anyway. The singer is screaming instead of singing clean. A good song anyway. I think fans of TURBONEGRO could like this band.
SKALLBANK is a band from Karlstad, Sweden.
skallbank.se
Published: May 31, 2019
PRETTY WILD: Superman - Single
(Black Lodge Records)
This song is the third single from their brand new album, "Interstate 13", which you definitely should check out if you like 80s hard rock/sleaze rock. You can read more about the album here.
"Superman" is one of the more melodic songs on the album, and not one of the faster songs. It's still a really good song though, so check it out and like it, and then you get the album. O.k.?
youtu.be/uto5fPva85U
Published: May 31, 2019
LiV SiN: Blood Moon Fever - Single
(Despotz Records)
Here's the second single from the upcoming second album, "Burning Sermons", which will be released on September 6. And what can I say that I already have not said? Well, it's another good song anyway. But I have heard stronger songs with LiV SiN. That doesn't mean that this is a bad song though. Oh no. And I'm still pretty sure that when I finally hear the whole album, everything will fall into the right place. I find it hard to believe anything else actually.
How should I describe this song then? A heavier verse, but not slow, and then a melodic chorus on that. Modern heavy metal you could say.
livsinofficial.com despotz.se
Published: May 31, 2019
H.E.A.T: Living On The Run - Single
(earMUSIC)
Swedish poodle rockers H.E.A.T is getting ready for a new live release, "Live At Sweden Rock Festival", and this is a first taste of that. Now I have not heard that much with H.E.A.T through the years, but this song sounds very good to me. So if you like more melodic hard rock, then this could absolutely be interesting for you.
As the title of the live album says, it's a recording from Sweden Rock Festival last summer. This release will also be available on DVD and Blu-ray.
I don't have much else to say, so let the music speak for itself..
heatsweden.com
Published: May 31, 2019
TRANSPORT LEAGUE: 1200 Goddamned - Single
(Mighty Music - Release date: May 31)
Another single with TRANSPORT LEAGUE then. And this is much more interesting than the last single I heard with them. This is how I want them to be - Catchy groove metal/rock with a fuck you attitude.
The song is taken from the upcoming album "A Million Volt Scream", which will be released during the fall. Check out this song while you wait for the new album.
facebook.com/transportleague mightymusic.dk
Published: May 30, 2019
JUSTIFY REBELLION: Act The Fool - Single
(Mighty Music)
This is an odd little song from a Danish heavy rock band. It sounds more like a bunch of drunk pirates than a heavy rock band sometimes. And the story about the song is that in late 2016 people from all over the world disguised themselves as killer clowns for the purpose of intimidating each other in the streets. An episode where society was exposed to a creepy trend. A trend that was equally dangerous for the costumers as well. And "Act The Fool" takes its point of departure in the perspective of the clowns. A perspective that had deadly consequences because of the actions.
The song features Nicklas Sonne, lead singer in the Danish metal band DEFECTO. And Sonne also produced, mixed and mastered the song.
I have been listening to this a few times now, and I guess it's not so bad, even though it's not really a hit either.
mightymusic.dk
Published: May 30, 2019
FRANKLIN ZOO: The Chameleon - Single
(Mighty Music - Release date: May 31)
A heavy song that is a little too long with its 7,42 minutes. I don't really know if I like this or not.
FRANKLIN ZOO is a progressive rock band based in Copenhagen, Denmark. Their last album, "Red Skies", was released in 2016. Their new songs are said to be more dynamic and lighter than their previous material, but at times still aggressive, dark and merciless.
"The Chameleon" is the first single from what is to become a full-length concept album.
franklinzoo.dk mightymusic.dk
Published: May 30, 2019
AMYL AND THE SNIFFERS: Amyl And The Sniffers - Album
(Rough Trade/ATO Records/Flightless Records)
Australian punk rock band AMYL AND THE SNIFFERS have just released their debut album. And it's a vigorous bang on the jaw. Catchy and energetic punk rock with female vocals and a twist of rock n roll. There's so much energy that these 11 songs are over in just 29 minutes. But short is sweet, and this is really good stuff. Maybe the most interesting band from Australia since AC/DC.
They formed in Melbourne in early 2016 and wrote, self-recorded and released their debut EP, "Giddy Up", all in a span of 12 hours. And since then it has rolled on. Their second EP, "Big Attractions", was released in February 2017, and then re-released as a 12" double EP with "Giddy Up", through Homeless Records in Australia and Damaged Goods in the UK. Both PBS FM and Triple R FM in Melbourne made the record "Album of the Week", and the band went on to sell out multiple Australian headline shows. 2018 saw limited edition vinyl copies of "Giddy Up/Big Attractions" fly off the shelves, pushing AMYL AND THE SNIFFERS into the Top 40 on the UK Vinyl Charts.
amylandthesniffers.com
Published: May 29, 2019
ANC4: You're The One - Single
(Beluga Records)
ANC4 stand for "Arvidsoon & Nilsson Combo Four", and it's a newly formed band from Sweden. The members are hardly any new faces though: we have Roger Arvidson (ARVIDSON AND BUTTERFLIES, REMAINS, SONIC WALTHERS) on vocals and guitar, Tomas Nilsson (MOP TOPS, FLYING COW) also on vocals and guitar, Janne Borgh (STRINDBERGS, MODERNS) who play bass, and last but not least Niclas "Tidaholms Ringo" Österberg (The FRONT LINE BAND, MOA BLUCHER BLUES BAND) on drums. Maybe not the most famous people, but still veterans in the Swedish rock scene.
These gentlemen want to breath new life into 60s styled pop/rock, with strong melodies and sweet harmonies. What we call power pop then, more or less. It's a good song anyway, so just check this out.
Their first LP will be released later this year.
facebook.com/ANC4 belugarecords.com
Published: May 29, 2019
MICHAEL THOMPSON BAND: Love And Beyond - Album
(Frontiers Music Srl)
For this album guitarist Michael Thompson wanted to go back to the more polished AOR sound of the band's debut album. Among the other musicians are Larry King and Mark Spiro on lead vocals, Larry Antonio (UNRULY CHILD) on lead vocals and bass, Sergio Gonzalez and Tim Pedersen on drums, and finally Guy Allison (UNRULY CHILD) on keys.
Amongst musician circles, Michael Thompson is considered one of the leading guitar players in the world. He is widely regarded as being among the elite studio session players, and his list of credits includes such names as Michael Jackson, Whitney Houston, Celine Dion, 'N SYNC, Toni Braxton, Phil Collins, Rod Stewart, SCORPIONS, Vince Neil, Christina Aguilera, Michael Bolton, Mariah Carey, Bette Midler, Madonna, Babyface, EN VOGUE, Gloria Estefan, Stanley Clarke and Ricky Martin.
The first album with MICHAEL THOMPSON BAND was released back in 1988, and is still regarded as one of the highest examples of hi-tech AOR/West Coast rock.
And on "Love And Beyond" we get more of that. A lot more. Because of all these "interlude" things here and there, there's as much as 18 tracks on this album. And that's way too much. I can't say that the real songs are bad though, so there's at least something positive here. Fans of AOR should not be dissapointed.
facebook.com/MichaelThompsonBand frontiers.it
Published: May 28, 2019
LEVERAGE: DeterminUs - Album
(Frontiers Music Srl)
This seems to be the first new full length from this Finnish hard rock/heavy metal band in 10 years. And they have many good songs here. But the best track of them all must be "Wind Of Morrigan", which reminds me of SCORPIONS in the 80s.
This is not another 80s band though, because LEVERAGE deliver so much more than just that. They put a modern twist to it and simply do it their own way. But that doesn't mean that their sound is odd or totally different from everybody else. If you like hard rock and heavy metal, then you will reconize their sound, and most likely like it too.
LEVERAGE released 3 albums between 2006-2009. After the third album they became inactive for many years. But now they are back. And thanks for that!
leverageofficial.com frontiers.it
Published: May 28, 2019
FLOATING WORLDS: Battleship Oceania - Album
(Pride & Joy Music)
This band was formed in 1998 when 2 friends, who used to spend their summer vacation together, decided to start a band. After many changes the name of the band became FLOATING WORLDS. It took many years before they finally succeeded to record their first album in the fall of 2007.
"Battleship Oceania" is their third album, but also their first concept album. I have no problem as long as it's heavy metal. But then we have all this other shit that is often just totally useless crap. Maybe you should concentrate your energy on heavy metal instead, and leave the rest alone? The worst crap on the whole album is "Divine Love", which I don't even know how I should describe, but it's definitely not metal anyway.
The music that FLOATING WORLDS create is not really pure heavy metal though. It's more like symphonic/progressive metal. It's said to fit fans of DREAM THEATER, SAVATAGE, SHADOW GALLERY, GUILT MACHINE, STAR ONE and AYREON. So if any of those bands are you biggest idols, then I guess you should give this album a try.
floatingworlds.gr prideandjoy.de
Published: May 28, 2019
DOGFACE: From The End To The Beginning - Album
(Scandirock Records/Pride & Joy Music)
The story about this Swedish hard rock band began in 1998, when Martin Kronlund had a few song ideas with roots in the 70s and 80s. The main influence was THIN LIZZY, but also DEEP PURPLE and RAINBOW. He soon found some members among his friends and they started to record their first album. But none of the singers they tried was good enough, so they contacted Mats Levén (CANDLEMASS, Yngwie Malmsteen, THERION, TREAT, FIREWIND etc etc), and everything was suddenly right.
Their debut album, "Dogface Unleashed", was released in 2000. Later the same year they started to work on their second album, "In Control". But after that a long break followed, and it wasn't until 2013 that "Back On The Streets" came out. And now they have decided that this will be their last album.
"From The End To The Beginning" is actually a compilation with material from their 3 albums. This is the songs that the members feel represents DOGFACE best. And the news that this will be their last record is very sad of course, as this is very good stuff. All fans of melodic hard rock from Sweden should get this album. That's how good this is!
scandirockrecords.com prideandjoy.de
Published: May 28, 2019
MoLD: Horrors - Album
(GMR Music - Release date: May 31)
MoLD is a band from Stockholm, Sweden with influences from the Nordic winters. Their sound is described as "a mix of David Lynch movies combined with Lux Interiors intergalactic stage moves and the thunder from an early version of BLACK SABBATH". "Horrors" is their debut album, and it was mixed by the legendary producer Tomas Skogsberg (The HELLACOPTERS, BACKYARD BABIES, ENTOMBED, TIAMAT etc), while Alan Douches (MOTÖRHEAD, The MISFITS, CLUTCH, Sufjan Stevens etc) mastered the album in New York.
We get 11 tracks in 49 minutes, and to me it sounds like stoner rock. Pretty good stuff actually, so maybe you should give them a chance. I don't really know what else I should say..
youtu.be/RG_BaiSB2RE gmrmusic.se
Published: May 27, 2019
TORCHURE: The Demos - Double Album
(Vic Records)
TORCHURE is a German death metal band who formed in 1985. They released 3 demo tapes before they got signed to 1MF Records and released 2 albums. This demo collection contains all 3 demo recordings: "Traces" (1991), "Hellraiser" (1990) and "Signs of Permonition" (1988), but also the "Live in Essen Zeche" recordings from 1992.
As usual with collections like this, there's both good and less good stuff. TORCHURE is not among the worst bands at least, so this could actually be worth a try.
facebook.com/Torchure-124843611008933 vicrecords.com
Published: May 27, 2019
GREENLEAF, VOKONIS and ELECTRIC HYDRA at Pumphuset in Borås, Sweden on May 25, 2019
It's not often that you go to a concert for the first band. You usually go there to see the headliner. But this time it was the other way around for me.
ELECTRIC HYDRA almost blew me off the chair with their new 7" single, "The Last Of Us". So I had to see them live now that they were coming to my hometown. And they delivered a very good show, and it seems like they have more great songs than just the 2 that I had heard before. This is without a doubt 1 of the more interesting stoner rock bands from Sweden right now.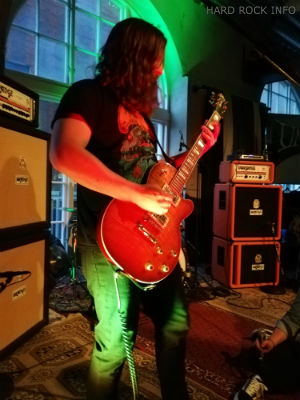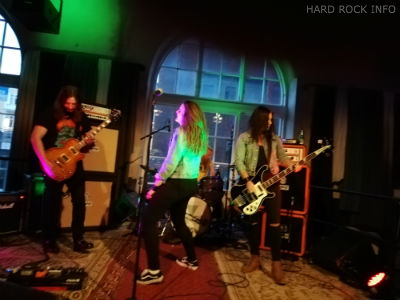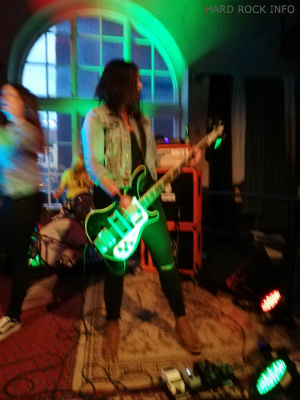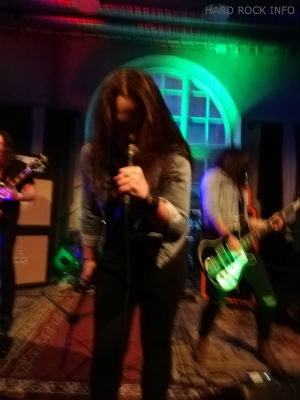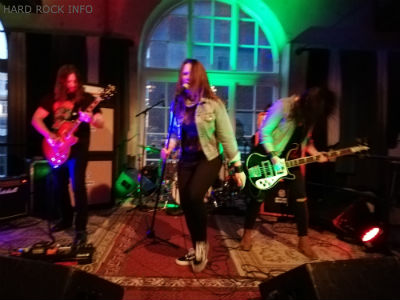 I saw the local band VOKONIS at the same pub 2 years ago and wasn't so impressed. This time they seemed to be a little bit better though. I saw a description of their music that said that it's "heavy prog metal with angry sludge vibes and melodic passages". But to make it easy you could just call it stoner rock or sludge. They did a good show though.
VOKONIS plan to release their third album in the fall.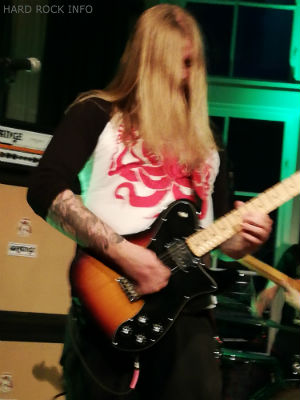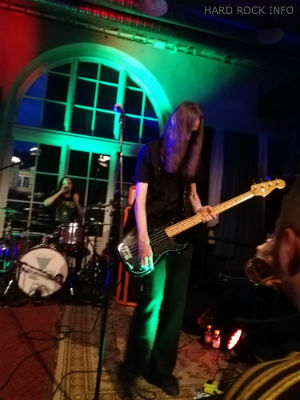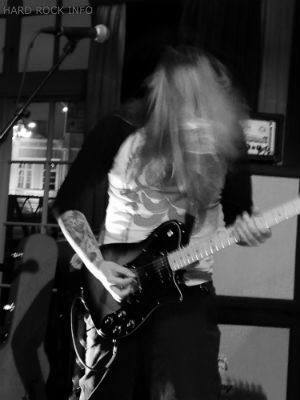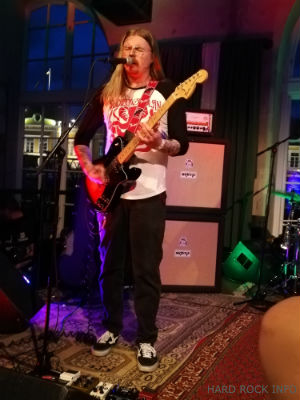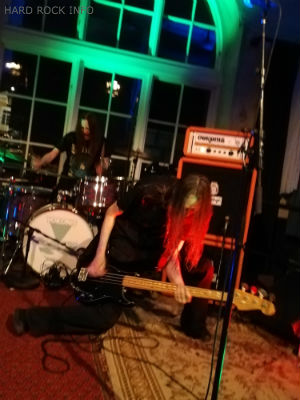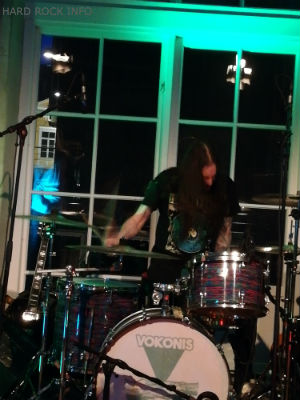 3 bands is often 1 too many, and it was a little like that this time too. You have had a few beers and are getting tired. It has nothing to do with the band, but just me.
Anyway.. GREENLEAF was the last band out. I read somewhere that they was supposed to be 1 of the bigger bands in the Swedish stoner rock scene. Funny, as I have never heard about them before. They formed in 2000, and have released as much as 7 albums. They mix their stoner rock with some blues and other stuff to get their own sound. As far as I can remember they were pretty good.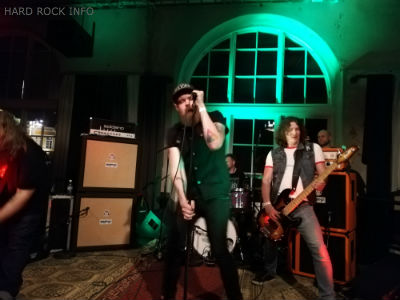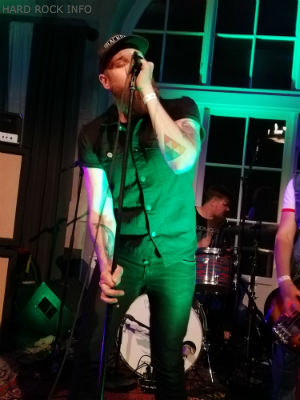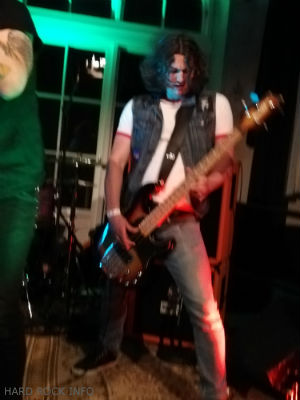 facebook.com/greenleafrocks vokonis.bandcamp.com facebook.com/electrichydra666
Published: May 26, 2019
ELECTRIC HYDRA: The Last Of Us - 7" Single
(Moon dawn Records - Release date: May 31)
This band sure know how to kick serious arse! And that is not so easy to do when you play in the heavier league. But some bands know how to do it, and this is 1 of them. I guess we can call this something like action-filled heavy rock. Or simply stoner rock, if you want to make it easy for yourself. And there's no chance in the whole fucking world that you're not going to check this out. O.k.?
ELECTRIC HYDRA formed in the winter of 2017. The members had a common love for bands like KYUSS, FU MANCHU, ENTOMBED and BLACK SABBATH. "The Last Of Us" seems to be their first official release (they released their first studio session on Spotify though).
By the way, they play live here in Borås, Sweden tonight (May 25).
facebook.com/electrichydra666
Published: May 25, 2019
SLEEPLORD: Levels Of Perception - Album
(Pure Steel Records - Release date: May 31)
Debut album from an Ohio band, who have their roots in classic US metal, but combine it with thrashy elements and doom influences. Sometimes it's almost progressive. But in the end we just call it heavy metal. O.k.?
These 10 tracks last for something like 40 minutes. Many of them are good, but there's actually nothing that is extra good. Luckily there's nothing that is extra bad either. I guess that this is the kind of album that you listen to a few times and probably forget. But if you happens to find it again some day, you will probably like what you hear.
facebook.com/Sleeplord-1495265024067417 puresteel-records.com
Published: May 24, 2019
WHITESNAKE: Flesh & Blood - Album
(Frontiers Music Srl)
Well, it might not be a new "Slide It In" or "1987", but this is definitely not bad anyway. And some of these songs might even remind you of the good old days. 13 songs might be 3 too many though, and there are no hits like in the 80s, but on the other hand nothing is bad either. Not bad for a singer who is getting closer to the age of 70.
"Flesh & Blood" is the first album with new material in 8 years. But I can guarantee that it was worth the wait.
This is by the way WHITESNAKE's 13th studio album. But then the band have been around for 40 years.
whitesnake.com frontiers.it
Published: May 23, 2019
Tarja Turunen: Dead Promises - Single
(earMUSIC)
This song start with a metal guitar, and when the song start for real it's pretty heavy. Then comes her vocals, which is very melodic. She is mainly singing normal instead of using her irritating "opera" voice. Not that bad actually.
"Dead Promises" is taken from Tarja's new album, "In The Raw", which will be released on August 30. And if there's more stuff like this on that album, then it could be interesting.
tarja.lnk.to/DeadPromises ear-music.net
Published: May 23, 2019
RAUBTIER: Ovtjarka - Single
(Faravid Recordings)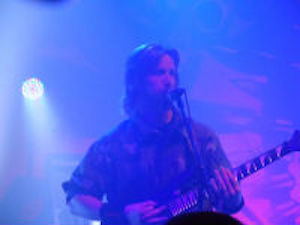 It has been quiet from RAUBTIER for a while, but now they are back again with a new single, which is taken from their new album, "Överlevare", which is their 6th album, and will be released on September 20. This song is made on their good old recipe: industrial metal and anger from northern Sweden. And as usual they sing in Swedish. A pretty o.k. song, but not much else. They have done both stronger and weaker songs than this. I still think the new album can be interesting to hear though.
raubtier.se
Published: May 23, 2019
MYRATH: Shehili - Album
(earMUSIC)
You might know what the Swedish band EVERGREY sound like? And you might be familiar with the sound of the middle-east as well? Now put those 2 together and you will get something similar to what MYRATH is doing - Melodic/progressive metal mixed with Arabic influences. This combination of influences makes their music unique, but should not scare away fans of metal. Because metal it is.
The band comes from Tunisia, and started as a cover band. But when they got tired of that, they started to write their own material instead. "Shehili" is their fifth album.
I like a song like "Dance", the first single from this album, which received more than 1 million views within the first 5 weeks since its release in December 2018. And there's more good stuff here. I also like "Lili Twil" for example. You should absolutely give this band a chance.
MYRATH will be playing both at Wacken Open Air and Sweden Rock Festival this summer.
myrath.com ear-music.net
Published: May 23, 2019
ZIG ZAGS: You'll Never Take Us Alive - Album
(RidingEasy Records)
I think of METALLICA's debut album, "Kill 'em All", and a band like ZEKE when I listen to ZIG ZAGS. But there's also some MOTÖRHEAD and G.B.H. A genre we can name after the first track on this album: "Punk Fucking Metal". But towards the end it's suddenly more like some kind of post punk or sludge instead. Something much more heavy anyway.
This is a raw rock album with both metal and punk attitude. You should absolutely give it a try.
ZIG ZAGS have been around for 8 years, released 7 singles and 3 albums, and have had 3 bass players and 2 drummers through those years.
zigzags.bandcamp.com ridingeasyrecords.com
Published: May 22, 2019
The WELL: Death And Consolation - Album
(RidingEasy Records)
Well, well, well (excuse me for my bad humour). What we have here is yet another one of all these heavy rockers. So nothing new under the grey stone. Think early 70s doom and heavy psych, and you will probably have a pretty good idea about what The WELL sounds like. But I must also add that there's a vibe of post punk, which almost give the album a gothic touch.
This is their third album, and it's said to be even more dark and intense than their previous efforts. They actually tuned down a full step to C-standard tuning for this album, which gives the album that extra heavy sound.
ridingeasyrecords.com
Published: May 22, 2019
JIM PETERIK WORLD STAGE: Winds Of Change - Album
(Frontiers Music Srl)
Except for Jim Peterik himself - who handle guitar, keyboards and vocals - this album is full of "stars" in the melodic rock scene, including Kevin Chalfant (ex-The STORM), Dennis DeYoung (ex-STYX), Matthew and Gunnar Nelson, Kelly Keagy (NIGHT RANGER), Lars Safsund and Robert Sall (WORK OF ART), Toby Hitchcock (PRIDE OF LIONS), Danny Vaughn (TYKETTO), Mike Reno (LOVERBOY), Kevin Cronin (REO SPEEDWAGON), Jason Scheff (ex-CHICAGO), and there's also a very special previously unreleased track by the late Jimi Jamison.
Jim has written or co-written some of rock's most memorable songs. The most well-known of them all must be "Eye Of The Tiger" by SURVIVOR, which was included in a Rocky movie. But he has also written for .38 SPECIAL and Sammy Hagar among many others. He is nowadays a part of PRIDE OF LIONS.
The music on this album is exactly what you can expect from Frontiers Music - Melodic rock/AOR for fans of SURVIVOR, JOURNEY, FOREIGNER and .38 SPECIAL. Pretty good stuff, but not much else.
jimpeterik.com frontiers.it
Published: May 21, 2019
HARDLINE: Life - Album
(Frontiers Music Srl)
It's said that the band went back to 1992s "Double Eclipse" album for influence, but they have also taken inspiration from their last album, "Human Nature". And the result of putting those influences together is this album, "Life". Which is a melodic hard rock album with 12 tracks. And most of these songs are good, even though I have heard the exact same thing many times before.
1 of the bands that I think of when I listen to HARDLINE is BON JOVI in the 80s. But they are also doing a pretty good cover of the QUEEN classic "Who Wants To Live Forever".
hardlinerocks.com frontiers.it
Published: May 21, 2019
FORTUNE: II - Album
(Frontiers Music Srl)
This group is led by the Fortune brothers Richard and Mick. It seems like the band was formed in the late 70s, but didn't release their debut album until 1985. Unfortunately the label, Camel Records, declared bankruptcy for undisclosed reasons and refused to give up the masters of the album, making a re-release of the album impossible until fairly recently. The band remained silent for years, but in 2006 the Fortune brothers started the band again as a trio, until a proper band reunion happened in 2016 when the band performed at the Rockingham Music Festival, which they did again in 2017. And now in 2019 a new album is here.
The music that we get is typical melodic rock/AOR from the 70s/80s with much keyboard. And it's not so bad. Just listen to a song like the opening track "Don't Say You Love Me" or "What A Fool I've Been" for example - Very good stuff! Even though they might not do anything unique, this is of course worth to buy for fans of this genre.
facebook.com/fortunerockers frontiers.it
Published: May 21, 2019
Alan Parsons: The Secret - Album
(Frontiers Music Srl)
The first track sounds like the soundtrack to some kind of Disney adventure. And it drives me crazy! The rest of the songs are more like soft symphonic/progressive pop/rock. I think of Phil Collins for example.
I know a man who like this kind of stuff, and I'm pretty sure that he would like this much more than I do (he like all kinds of stuff that is progressive and symphonic). But I would probably be just as stupid as him if I said that this is bad (why he is stupid is none of your business, it's not because of his taste in music anyway). I understand that some people actually enjoy this. But it just ain't my kind of music, and therefor it feels like this album last for an eternity, even though there's no extremely long songs.
Alan's longtime hobby has been performing magic, and this brand new album showcases his own passion for the craft, therfor it's titled "The Secret".
alanparsons.com frontiers.it
Published: May 21, 2019