REVIEWS 2019 - Page 5
Page 4
Index
HIGH FIGHTER: Champain - Album
(Argonauta Records - Release date: July 26)
HIGH FIGHTER formed in the summer of 2014 in Hamburg, Germany. Their first EP, "The Goat Ritual", was released in the end of the same year. The debut album, "Scars & Crosses", was released in June 2016, and now their second album is ready to be released.
They label this as sludge metal, but this is much more than just that. And the vocals really give this an extra touch of craziness. She is both screaming and singing clean. The music is heavy, but not super heavy, yet hard and angry. Definitely something different from the rest. I hear both old and modern things.
11 tracks is what we get here, and most of the songs are good. But you might have to listen more than once before you know if you like it or not though.
highfighter.bandcamp.com argonautarecords.com
Published: July 21, 2019
HELLSCREAM: Hate Machine - Album
(Pure Steel Records - Release date: July 26)
Here's another band playing what they call US metal, which in this case means heavy/power metal the American way. The band features singer Norman Skinner (IMAGIKA, NIVIANE, SKINNER) and guitarist David "Conan" Garcia (CAGE, The THREE TREMORS) among others, and this is their second album with HELLSCREAM. I would guess that fans of bands like CAGE, ICED EARTH and similar will like this. And they have some good stuff among these 12 tracks, so it could be worth a try.
The only thing that I can complain a little about, is that he's screaming like he would have something stuck up his arse sometimes. Or however I should explain that voice. It's a little irritating to hear anyway. But luckily he doesn't sing like that all the time, but still way too often. He's not a bad singer though. Just listen to a song like "Slaves Of The Sand" for example, where he doesn't scream like that at all - Much better!
normanskinner.net/hellscream puresteel-records.com
Published: July 21, 2019
Louise Lemón at Liseberg in Göteborg, Sweden on July 20, 2019
It start with some atmospheric noise, and in comes a creature who looks like the reaper, but with something that the person is shaking while it comes out smoke. This creature is walking back and forth on the stage 1 time and leave, and then comes the band, and last the singer herself: Louise Lemón.
Not too much action on stage, and not that much talking. The music is very dark pop, that they for some reason call death gospel. But it's still a good performance and nothing to complain about. Not much people though. I guess it was just about 50 people in the audience.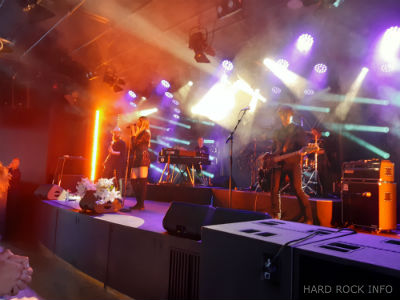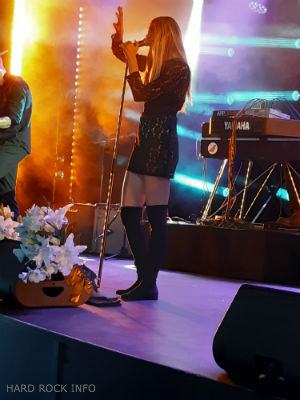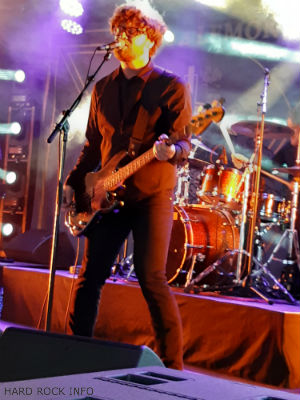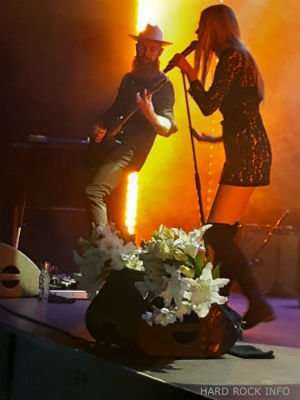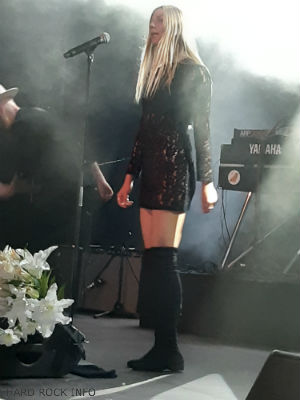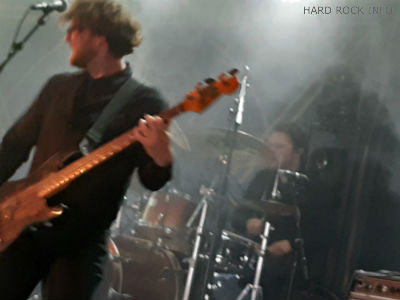 louiselemonmusic.com
Published: July 21, 2019
CHILDREN OF THE SÜN: Flowers - Album
(The Sign Records - Release date: July 26)
This is a fantastic album with lots of great songs! Just listen to the trio "Sunchild", "Flowers" and "Like A Sound", just to name a few of all my favorites. Wonderful!
CHILDREN OF THE SÜN are 8 men and women from Arvika, Sweden, who are inspired by Janis Joplin, Jimi Hendrix and the free loving spirit of 1969s legendary Woodstock Festival. "Flowers" is their debut album, where we get soulful rock from the past. Sometimes it's soft and almost psychedelic, and sometimes more catchy.
Everybody who like retro rock should check this out. I'm pretty sure that you will like this just as much as I do.
facebook.com/Childrenofthesuun facebook.com/thesignrecords
Published: July 20, 2019
NOCTEM: The Black Consecration - Single
(Art Gates Records)
This song is almost 9 minutes long. 9 minutes of brutal black metal. That's what I call extreme. But even though it's stone hard, they succeed to bake in a melody. Which makes it less extreme than I first thought that it would be. But 9 minutes is still a long time, and it's not exactly like they slow down one single time. So the thing that impress me most with this song, is that they have enough strength to play so fast for so long.
"The Black Consecration" is the first single from their upcoming fifth album, with the same title. The album will be released on November 1.
facebook.com/noctemofficial artgatesrecords.com
Published: July 19, 2019
SELF DECEPTION: Endorse The Art - EP
(Ditto Music)
Some kind of modern rock/melodic metalcore. Not bad though. I like the singles, "Smoke You Out" and "Bury Me Alive", best. The other 3 are not so bad either. They mix hard and heavy riffs with melodic vocals and catchy melodies.
SELF DECEPTION is a Swedish band. They have previously released 3 albums. This EP is only available digitally (streaming/download).
selfdeception.se
Published: July 18, 2019
SUBZTAIN featuring Håkan Hemlin: Ångrar Du Någonting - Single
(GMR Music)
Hard rock for people who like the Swedish artist Nordman, which is the artist name that Håkan Hemlin is using, and Nordman is definitely not hard rock. SUBZTAIN is heavy enough to be hard rock though, and this doesn't sound so bad. A whole album with this would be way too much for my nerves though.
It's a pretty melodic, but yet heavy song that we get. And for some reason it's in both English and Swedish. No, not 2 versions, but 2 languages in the same song. Strange.
gmrmusic.se
Published: July 18, 2019
JACK OBLIVIAN AND THE DREAM KILLERS: Lost Weekend - LP
(Beluga Records/Ghost Highway Recordings)
The 3 tracks that I got (out of a total of 16) all sounds different from each other. "Scarla" is a darker rock song, with something that sounds like a slide guitar. "Boy In A Bubble" is a short and little faster and harder, and is the most catchy song. "Sweet Thang" is almost like a combination of garage rock and psych rock.
If I got it right, this is a collection of recordings that Jack have made (by himself or with other people) through the years. So that's probably the reason why these songs are a bit different from each other. But it makes it hard to put this in just 1 specific genre. It's not bad though, and I guess that I'm not totally wrong if I just call this rock (rock have many branches on its tree you know).
facebook.com/jackoblivian belugarecords.com
Published: July 18, 2019
CIRKUS PRÜTZ: White Jazz, Black Magic - Album
(Metalville - Release date: July 26)
You could easily think that a band like CIRKUS PRÜTZ would be from Texas for example, but they are actually from Sweden. Blues rock from the Southern States is what they play, and they do it really good. I can hear lots of good songs among these 10 tracks. So this is absolutely worth checking out.
The instrumental song "Blues For Fallen Brothers" was written for their 2 former guitarists Robert "Strängen" Dahlquist and Mikael "Fässe" Fässberg, who are both dead but far away from forgotten.
facebook.com/cirkusprytz metalville.de
Published: July 17, 2019
BALLS GONE WILD: High Roller - Album
(Metalville - Release date: July 26)
Funny name of the band..
BALLS GONE WILD was founded in Cologne, Germany in 2012, and today's lineup consist of members from PERZONAL WAR, NITROVOLT and ARCHITECTS OF CHAOZ. I have heard 2 of those bands at least, and they play metal. But in this band they want to mix good old hard rock with punk attitude. They call it turbo rock, but I prefer to call it ass-kicking hard rock n roll. Sometimes it's AC/DC, sometimes a pinch of MOTÖRHEAD, and sometimes it's more or less action rock. And I must say that they have really succeeded with that combination. Because there's many good songs on this album.
facebook.com/ballsgonewildband metalville.de
Published: July 17, 2019
WORMWOOD: Nattarvet - Album
(Black Lodge Records - Release date: July 26)
I guess the best way to describe this Swedish band is to say folk/black metal. It's a more melancholy sound, even though they play fast too. And the vocals is hardly melodic. I guess that fans of a band like MÅNEGARM could like this. And fact is that Erik Grawsio from that band is doing some guest vocals on this album, and so is also Mika Kivi (PAARA) and Moa Sjölander. We also get some violin from Martin Björklund.
WORMWOOD have previously released a EP, "The Void: Stories from the Whispering Well", in 2015, and a full length album, "Ghostlands: Wounds from a Bleeding Earth", in 2017.
wormwood-official.com
Published: July 16, 2019
ZEX: Execute - Album
(Zex Records)
Canadian punk band ZEX were formed in 2013, and has since then released 8 singles and 3 albums (with this one included). They are probably most well-known for a little incident that happened in 2017, when the band had their music accidentally pressed onto one side of a Beyonc&eacut; vinyl record (which I thought was very funny).
On this album they burn off 11 tracks, and most of them are around 2 and a half minutes. Often very straight but catchy punk rock that reminds me of the classic bands. MISFITS and RAMONES for example must be a big inspiration for this group, but also some of the early British bands. Throw in some Riot Grrrl into that, and there you have it. That's just a wild guess, but it sounds like that to me anyway. And I really like what I hear!
facebook.com/zexzexzexofficial
Published: July 15, 2019
ANAUGH CONDA: Kick Them - EP
(Self released)
This seems to be the 10th EP since 2007 from this Swedish band. It was meant to be a full length this time, but their studio had to shut down, so they choosed to record another EP instead as a last goodbye. It's just a goodbye to the studio though, because the band will continue to produce new music.
The band consist of 2 women and 2 men, and the music they play is something that I would call power pop. Very catchy and energetic, and very good. Just listen to the title track for example - Brilliant! The other 3 tracks are absolutely not bad either.
facebook.com/anaughconda
Published: July 14, 2019
DESECRESY: Towards Nebulae - Album
(Xtreem Music - Release date: July 23)
DESECRESY was started as a duo in 2009 to create crushingly heavy death metal with a dark and eerie atmosphere, even though they were also influenced by the bands from the early 90s. "Towards Nebulae" is the 6th album, and the second as a 1-man band.
This is definitely not another old school death metal album, but actually something different because of the darker, but yet brutal, sound. And it's not an easy album to listen to. A little extreme sometimes. But if you (for some odd reason) feel that you are tired of all these old school bands, then you could always try this instead.
facebook.com/Desecresy-244902242257521 xtreemmusic.com
Published: July 13, 2019
MAMMOTH STORM: Alruna - Album
(Argonauta Records)
Holy shit. Yet another band who play shit heavy without too much variation between the songs. But if that makes you happy, then I won't stop you from listening to this. You will probably love this. And sure, I have heard much worse than this through the years. This is definitely not the worst that I have heard. And that's always something I suppose?
These 5 songs are between 7-9 minutes long, so it's no short pieces that they give us. But it depends on what you compare with of course.
MAMMOTH STORM is a Swedish doom trio who formed in 2012. 4 years after their full length debut, their second album is here.
facebook.comMammothStorm argonautarecords.com
Published: July 12, 2019
GRAN DUCA: Beneath Thy Roots - Album
(Self released)
4 bearded men playing dirty and mean stoner rock, with a touch of both the 70s and the 90s. They are from Germany and have members from DRONE. This is their debut album, which was recorded live at "Institut für Wohlklangforschung".
11 songs is what we get here. It's heavy (of course), but that was probably not such a big surprise. Not extremely heavy though. There's still room for melodies in these songs. It's also pretty good. Sometimes even really good.
facebook.com/GranDuca.Official
Published: July 12, 2019
GORILLA: Treecreeper - Album
(Heavy Psych Sounds Records)
This sounds familiar somehow. A young and unharmed MOTÖRHEAD playing stoner rock maybe? Especially in a song like "Gorilla Time Rock n Roll" anyway. I guess we can call this heavy stoner rock n roll, even though there's other elemnts too once in a while. Good stuff anyway. And people who like heavy rock (no matter what it's called) should try this record.
This seems to be GORILLA's first full length album since 2007's "Rock Our Souls". And they definitely prove that they are back again.
gorilla-rock-n-roll.bandcamp.com heavypsychsounds.com
Published: July 12, 2019
BACKYARD BABIES at Stora Torget in Borås, Sweden on July 11, 2019
BACKYARD BABIES are celebrating their 30-year anniversary this year, and so is this thing called Sommartorsdagarna (Summer Thursdays), which take place at Stora Torget (the Big Square) in the middle of Borås city every Thursday during the summer. And there's not that many rock or metal bands playing there, even though it happens once in a while. But it has become better during the last years. This year is not 1 of the better though. The only band that was interesting to me this summer was BACKYARD BABIES.
As entrance is free, all kinds of people are coming to these concerts. And I supsect that many of those who showed up at this gig had never even heard the band before. But they seemed to enjoy it anyway, for a while at least. And who knows, maybe they even get better taste in music, haha.
BACKYARD BABIES did a good show, and played songs from their entire catalogue, more or less, because there were no song from the first album (but on the other hand, how many have heard that album? I got it anyway). And they have got themselves a rich variation through the years, so it's not that many of their songs that sounds the same. The main ingredient is hard rock though, often with a punk nerve. But they also have these more melodic and softer songs. No matter what style they play, it's often good according to me (even though I might prefer the stuff that they did before the comeback).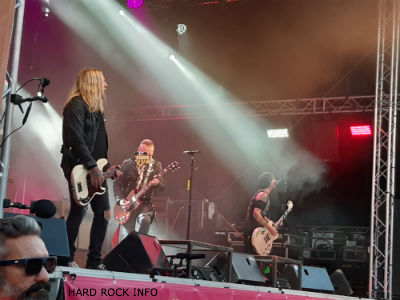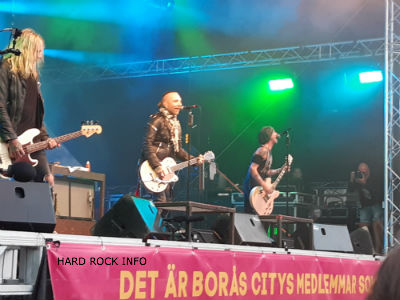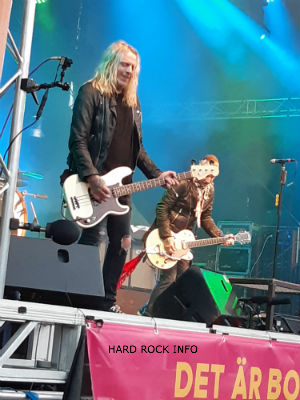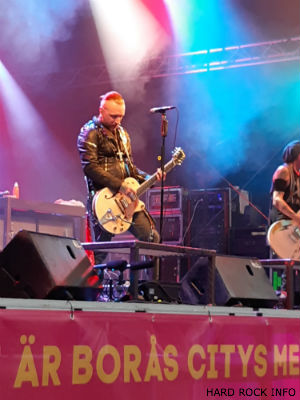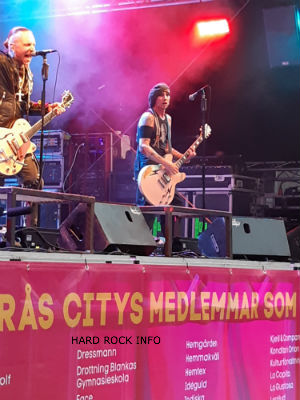 backyardbabies.com
Published: July 12, 2019
NARNIA: You Are The Air That I Breath - Single
(Narnia Songs)
A new album with Swedish hard rockers NARNIA will be released in August, and that's where this song comes from, which is 1 of my favorites from that album. Every true fan of melodic metal/hard rock just must check this out! That's how good this band is.
narniatheband.com
Published: July 11, 2019
HELL'S ADDICTION: V1.0 - EP
(Self released)
Leicester, UK is where this quintet comes from, but they play hard rock that sounds like they would be from America. If you like 80s bands like SKID ROW, GUNS N' ROSES and AC/DC, then this should be very interesting for you, because this band have lots of great songs.
The band has been a going concern for the better part of a decade already, but have just begun to make big moves in the past few years. "V1.0" is not their first release though (if anybody would think that). They have released a few singles and 2 albums through the years.
When this 4-track EP was released in March, it immediately entered various UK charts, including #7 on iTunes UK charts, #2 Amazon UK chart and the top of the heap, #1 at Hot New Release and Digital Download Amazon UK.
hellsaddiction.com
Published: July 11, 2019
Neal Morse: Jesus Christ The Exorcist - 2CD, 3LP
(Frontiers Music Srl)
"Jesus Christ The Exorcist" had its live premiere during 2018, and was performed by an all-star team of prog rock musicians and vocalists. Now it's time for the album. And this is a very ambitious rock musical that Neal have been working on for 10 years. And what we get is approximately 2 hours of progressive rock. There's as much as 25 tracks on this album. But I'm sure that fans of this kind of music will love this.
The story then? Well, it's the old story about Jesus (as far as I can understand). So you could see this as a modern version of the "Jesus Christ Superstar" musical, but with completely new songs.
Everything might not be so great here, but most of these songs are actually good. And I'm hardly the man who use to like ambitious progressive rock, so I guess that says a lot about this. But then I should also add that everything is not pure prog rock. There's also more "normal" rock songs.
nealmorse.com frontiers.it
Published: July 10, 2019
CHAOS MAGIC featuring Caterina Nix: Furyborn - Album
(Frontiers Music Srl)
Caterian Nix is a young vocalist from Chile, who was found by chance by former STRATOVARIUS composer and guitarist Timo Tolkki (TIMO TOLKKI'S AVALON) during one of his tours of South America. Timo was supremely confident about Caterina's singing abilities, and eventually he managed to write and produce for her the first CHAOS MAGIC album, in addition to having her perform on the second AVALON rock opera album. But what many people might not know, is that she had already started her career in the band AGHONYA, who released their first and only album, "Oxygen", in 2008, where she wrote all lyrics and vocal lines.
On this album Caterina is collaborating with a Chilean producer/singer/musician called Nasson. She is also doing duets with people like Tom Englund (EVERGREY), Ailyn Gimenez (ex-SIRENIA) and Ronnie Romero (RAINBOW, CoreLeoni, ex-LORDS OF BLACK). The music is modern melodic/symphonic metal. Good but nothing extra ordinary. I have heard the exact same thing before. She's not a bad singer though, and the rest of the band seems to know what they're doing too. So I guess that fans of this genre will like this much more than me.
frontiers.it
Published: July 10, 2019
Rogga Johansson: Entrance To The Otherwhere - Album
(Transcending Obscurity Records - Release date: July 19)
Rogga Johansson should not be a stranger to those of you who worship Swedish death metal. He is playing or have played with bands like PAGANIZER, REVOLTING, The GROTESQUERY, NECROGOD and many others. And I have reviewed a few of all the recordings he have been involved with, so you might have read about him here earlier.
Rogga have done all kinds of death metal, often what you could call meat and potato-death in the old school. On the first album under his own name, he gives us more melodic guitar melodies, even though it's still raw and dirty. But is it a keyboard that I hear in 1 of the songs? And in the instrumental song, "Berget Vaknar", there's both piano and synthesizer. It works anyway. As a matter of fact, most of these 9 tracks works just fine. So there's no reason to be afraid of this album.
roggadeathmetal.bandcamp.com tometal.com
Published: July 9, 2019
BURIAL REMAINS: Trinity Of Deception - Album
(Transcending Obscurity Records - Release date: July 12)
Debut full length from this old school death metal band. They are mainly inspired by the Scandinavian scene in the 90s, and they do it really good. So if you miss the good old death metal days, BURIAL REMAINS is the band for you. This is fast, raw and brutal, just like it should be. I don't think I have to say much more than that..
BURIAL REMAINS consist of members from both the Netherlands and Germany. They come from bands like BOAL, GRIM FATE, FLESHCRAWL and DISINTEGRATE. They originally started in December 2016 as MIASMA OF GUILT, but it didn't work as planned, so they parted ways with each other in 2017. But in the end of the same year they decided to continue with the band, but now under the new name BURIAL REMAINS.
facebook.com/burialremains tometal.com
Published: July 9, 2019
LEFTOVER BULLETS: Confused - Single
(Self released)
LEFTOVER BULLETS is a hard rock band from Thessaloniki, Greece. They have been kicking arse since 2013, and are mainly inspired by the music and the attitude from 1985-1995. They have so far released several singles and 1 album, and are currently working on their second album (if I got it right), where this song comes from.
"Confused" is a pretty good song, and I think you should give it a try, especially if you like good old hard rock. Not much else to say..
leftoverbullets.com
Published: July 8, 2019
Stevie D feat. Corey Glover: Your Time Has Run Out - Single
(Mighty Music)
This is the second single from the collaboration between Stevie D and Corey Glover (LIVING COLOUR). And the song is taken from their upcoming album, which will be released on September 6. It's a very soulful rock song, that reminds me of Glenn Hughes actually. And this is absolutely not bad at all. I really like this!
This song is said to be a fictitious story about self-preservation and knowing when enough is enough and doing something about it. Sounds wise..
You check this out if you want a good rock song, otherwise you're stupid, o.k.?
mightymusic.dk
Published: July 8, 2019
WORMWOOD: I Bottenlös Ävja - Single
(Black Lodge Records)
This song is much more representative than their last single was. Here we get the sound of WORMWOOD in all its different shapes. It's both black metal and folk music.
This is a song about an old woman who got stuck in a bog and slowly sank to her death. Her ghost remained in the swamp and haunted the people who dared to venture into it.
Guest vocals from the band's Finnish brother, Mika Kivi (PAARA).
The album, "Nattarvet", where this song comes from, will be released on July 26.
wormwood-official.com
Published: July 8, 2019
HOLLYWOOD VAMPIRES: Rise - Album
(earMUSiC)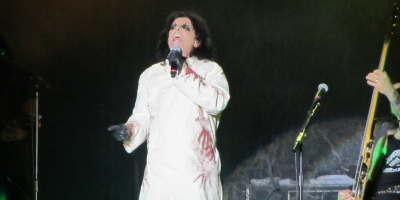 The superstar trio Alice Cooper, Joe Perry (AEROSMITH) and actor Johnny Depp have previously just done covers with their band HOLLYWOOD VAMPIRES. But this time most of the material is new songs written by themselves, except for 3 covers: "Heroes" by David Bowie (with Depp on vocals), JIM CARROLL BAND's "People Who Died" and "You Can't Put Your Arms Around A Memory" (with Perry on vocals). And it's a very variated rock album that we get here, with both ups and downs, but mainly good songs even though 16 tracks is a little too much. I don't really understand the meaning of these short pieces, who are between half a minute to 1 and a half minute. So you could actually say that there's just 12 songs instead.
I wasn't so impressed when I saw this band live last summer, but with this album they prove that they can do better things than old covers of artists who have died.
By the way, I have finally found out who the other members of HOLLYWOOD VAMPIRES are: Tommy Henriksen, Buck Johnson, Chris Wyse and Glen Sobel. So now you know that too.
hollywoodvampires.com ear-music.net
Published: July 7, 2019
EXHUMATION: Seas Of Eternal Silence - Album reissue
(Vic Records)
EXHUMATION was formed in early 1990 in Thessaloniki, Greece. The band recorded 3 demos and 3 full length albums before they split up in late 1999. Guitar player Marios Iliopoulos formed NIGHTRAGE, which you might have heard of.
"Seas Of Eternal Silence" is EXHUMATION's debut album, which was recorded at Unisound in Örebro, Sweden in 1996, with the legendary Dan Swanö as producer. On this reissue we also get their third demo, "Deepest Side of Fear", from 1994.
What can I say about the music then? Well, it's really good death metal performed by good musicians. I have nothing to complain about. What makes them a little special is that keyboard in the background in some of the songs.
facebook.com/exhumation vicrecords.com
Published: July 7, 2019
ATROPHY: Chemical Dependency - Album
(Vic Records)
ATROPHY was originally named HERESY, and formed back in 1986. In 1987 they recorded the 6-track demo "Chemical Dependency", which gave them the chance to release 2 albums - "Socialized Hate" (1988) and "Violent By Nature" (1990) - on Roadrunner Records. The band toured in both North America and Europe.
The demo is now for the first time being re-issued on CD, with 4 bonus tracks recorded live in Toronto, Canada 1989. And this is pretty good stuff. Some kind of thrash metal performed with technical skill, but yet raw and not too complicated. You should absolutely give this band a chance.
facebook.com/atrophyofficial vicrecords.com
Published: July 7, 2019
JORN: Live On Death Road - 2CD/DVD, Blu-ray
(Frontiers Music Srl)
JORN's headlining set at Frontiers Rock Festival in Milan, Italy in late April 2018 was recorded in its full glory, and is now avilable as "Live On Death Road". The band, with the Norwegian frontman Jørn Lande as captain of the ship, were playing songs from the band's whole career, including several covers. And they did it damned good indeed! This is an extremely good live album by a really strong band. So fans of classic hard rock and heavy metal should not miss this for anything in the whole wide world.
jornlande.com frontiers.it
Published: July 6, 2019