REVIEWS JANUARY 2023
«
December 2022
|
Index
|
February
»
CRUACHAN: The Reaper
Despotz Records - Digital Single
Another single with Irish folk/metal pioneers CRUACHAN. This song is the third single from their upcoming album, "The Living And The Dead", which will be released on March 24. It features a guest appearance by Sinead Richards (14-year old daughter of the producer), and is a little harder and heavier. I like this better than "The Crow", which was a little weird somehow. But here they blend their hardest metal riffs with traditional folk instruments, and the result is something very good.
despotz.se | cruachanireland.com
SKINNER: How Many Ways I Can Die
Skinner - Digital Single
Sorry, but I don't really know what I just listened to. It just went in and out without any deeper impression. No feelings at all. If you can't make better songs than this, then maybe you should practise some more or just give up, or possibly let somebody else write your songs instead. But maybe I just need to listen some more? Because the last single, "In Silence", was not bad. And when I reviewed that song I wrote that the upcoming album, where this song is taken from, might be interesting to hear. That has changed now..
So how do I describe the sound then? Well, this is a heavier and darker piece of heavy metal.
The album, "The Dark Design", will be released later this year..
normanskinner.net
LAZY QUEEN: 4th Contact
Icons Creating Evil Art - Digital Single
O.k., this was not really what I expected, because this is way too soft. Not that I expected the worst action in the city, but at least something that sounds like indie rock or power pop. This is just lame pop to me, and I don't like that. They have made better songs before though..
This song is just like their 2 previous singles, "Option To Nothing" (good song) and "243 New, Moon" (o.k. song), taken from their upcoming EP, "Growing Pains", which will be released on April 14.
lazyqueenband.com | icea.se
LEPROUS: Aphelion (Tour Edition)
InsideOutMusic on Feb. 3 - 2CD (LP in May)
Releasing a "Tour Edition" of an album is just a way to sell an album twice. Which is very greedy of course. You could actually release those extra songs seperate as an EP for example. In this case the extra material is some live tracks. And then you could just as well have given them away for free on digital platforms instead. Especially now that everything is so expensive that you hardly can afford to live (not sure when I bought a record last time, and concert is something that I can forget).
We get as much as 18 tracks, and this is yet another talented band that gives me nothing. But as usual, if you like progressive rock, then you will probably enjoy this much more than I do. They call it art-rock though.
What bothers me the most with this album is probably that sometimes it's very silent, and then suddenly very loud. The vocals is not always my friend either. He sounds like somebody have kicked him on the balls, if you get that description?
insideoutmusic.com
SANGUISUGABOGG: Homicidal Ecstasy
Century Media on Feb. 3 - CD, LP, Digital
With a logo that looks like a bush, and music that sounds really heavy and brutal, SANGUISUGABOGG (try to spell that right) might not appear as the most serious band on the planet. But I'm pretty sure that they are way more ambitious then you might think. It probably takes a lot of time to paint that ugly logo for example. And the music is actually not just chaotic noise, but actually technical sometimes. I guess it's supposed to be death metal, but extra down-tuned, with splatter/horror lyrics. There's some really heavy pieces here, but also some really fast parts too. Brutal and heavy sums up this album pretty good.
If I'm not totally wrong, I didn't really like their last album. And even though this album might be just a little bit better, it's hardly a smash hit either. But why care about my opinion? If you like it brutal, then just give this a try.
facebook.com/sanguisugabogg | centurymedia.com
Victor Smolski: Guitar Force
Massacre Records on Feb. 3 - CD, Digital
"Guitar Force" is just as the title says. We get an instrumental heavy metal album, that shows many different styles. It's powerful, melodic, technical, fast, slow etc. Sometimes more metal, sometimes more symphonic. Variation is the key word here.
This album is said to be a kind of best of, where Victor presents many song ideas from RAGE, ALMANAC and even Johann Sebastian Bach, but with his own new vision. Among the guest musicians on this album are Tim Rashid (ALMANAC), Peter "Peavy" Wagner (RAGE), Michael Kolar (HORSEMAN), INSPECTOR SYMPHONY ORCHESTRA, ORQUESTRA BARCELONA FILHARMONIA etc.
Well, there's no doubt that Mr. Smolski can play guitar. But even though it's not bad, this is probably mainly an album for other guitar players.
massacre-records.com | victorsmolski.de
LANSDOWNE: Medicine
AFM Records on Feb. 3 - CD
Oh shit. This is way too modern and too much pop for my taste. Just a lot of whining and no action at all. Melodic yes, but definitely not catchy. It's supposed to be alternative rock, but obviously a modern kind then, and not the good old 90s style (aka grunge).
LANSDOWNE has been active since 2006, and have achieved 2 Billboard charting radio singles, over 100 million streams etc. etc. I guess that says a lot about this band? Just because you have made big succees, doesn't mean that you're good. It can actually mean that most people have bad taste, hehe.
lansdownemusic.com | afm-records.de
REXORIA: Imperial Dawn
Black Lodge Records on Feb. 3 - LP, CD, Digital
REXORIA is a Swedish heavy/power metal band. They have since 2016 released 2 EPs and 2 full-length albums. Now they are ready to release their third album, "Imperial Dawn". And what you can expect from this band is strong melodies, heavy riffs and keyboards. But this album contains a wide spectrum of songs, ranging from new electronic hard rock to emotional folk inspired songs. It's mainly melodic though.
I like what I hear. All 10 tracks are really good stuff, so there's nothing to complain about. So if you like more melodic metal, then you should absolutely check this out. Otherwise you will make a big mistake.
orcd.co/imperial-dawn | blacklodge.se/artists/rexoria
DISINTER: Guerra Eterna
Loud Rage Music/Pest Records on Jan. 31 - CD, Digital
The 4th full-length from Peruvian death metal veterans DISINTER is a brutal experience. They throws up 30 years of hate without asking for permission. They are hardly here to be nice, and then it has to be extreme.
The album is dived in 3 chapters, which means 3 intros and 9 real songs. They prefer to sing in their own language (Spanish), and hell knows if that doesn't make them sound extra raw. Pretty o.k. stuff anyway. No doubt about that.
What else can I say? This is fast and intense, as well as heavy and brutal. Is that what you're looking for?
loudragemusic.com | pestrecords.bandcamp.com
WISHING WELL: Soul Rider
Inverse Records - Digital Single
Finnish hard rockers WISHING WELL deliver a new song. And this sounds more or less as they use to. But it's as usual a good hard rock song, so everything is just as it should be. So, absolutely worth checking out.
This song is taken from their upcoming 4th album, "Sin And Shame", which will be released on March 17. It's a catchy and melodic song, that makes me think that the new album can be really interesting to hear.
youtu.be/FZDiIXscPSk | facebook.com/wishingwell2016 | inverse.fi
POWERIZED: Badly Mad
Yellow Muffin Records - Digital Single
POWERIZED are dancing on the thin line between rock and pop - The dangerous border, or the forbidden zone. Only a few manage to get away with it and become a friend with both sides. Many try though. Especially nowadays.
POWERIZED is the brainchild of Dutch singer Nick Holleman (TRANCE, MAIDEN UNITED, VICIOUS RUMORS, INDUCTION, SINBREED and many more). A new album, "Better Than You", will be in stores on April 21. And as you might have figured out, "Badly Mad" is taken from that album.
So, how do they succeed then? Well, this is actually not so bad. A softer verse (or however I should describe it?), a more uptempo bridge, and then a big chorus on top of that.
youtu.be/G0bciJmLv0E | save-it.cc/metalapolis/better-than-you | yellow-muffin.eu | powerized.net
MUDHONEY: Almost Everything
Sub Pop - Digital Single
2023 is actually the 35th anniversery for both MUDHONEY and Sub Pop. And they celebrate by releasing a new album with MUDHONEY, "Plastic Eternity", on April 7. This single is a first taste of the album, and it sounds a little like something psychedelic from the 60s or early 70s actually, which is cool. Yet it's a little odd somehow, but not bad. I think you have to listen for yourself to figure out what this song sounds like..
The group is going on an Australian tour between April 14 to May 5.
ffm.to/mudhoney_plastic-eternity | mudhoneyonline.com
KÜNTSQUÄD: Xhrist
Wormholedeath Records - Digital Single
This is the second single from KÜNTSQUÄD's upcoming debut album. Another intense attack of crust punk and death metal. Really mean and almost chaotic. If you have had a bad day at work, with idiots listening to modern pop for example, then try this when you come home, and everything should be just fine again.
I recomend this band for both extreme metallers and crust punks.
The album will be released on February 24, and you can pre-order it here: orcd.co/kuntsquadpresave
youtu.be/ZWMQggg7ht0 | facebook.com/kuntsquad666 | wormholedeath.com
KICKHUNTER: Louder & Faster
Metalapolis Records - Digital Single
After a 9-year hiatus, KICKHUNTER from Hamburg, Germany returns. "Louder & Faster" is the first taste of their upcoming fifth album, which will be released in June. And what you get is hard rock with a slight touch of classic and Southern rock.
This is a o.k. song. It's rocking, and it's a little catchy. Good old hard rock you could say.
This band consist of as much as 8 persons, which is unusual.
youtu.be/eioWBCG8HkQ | save-it.cc/metalapolis/now-or-never | metalapolis.eu | facebook.com/kickhuntermusic
VANIR: Steel Meets Steel
Mighty Music on Jan. 27 - Digital Single
Majestic, yet stone hard. It makes me think of something like DIMMU BORGIR for example, even though this is more death metal than black metal. AMON AMARTH is another band that I think of when I hear this. This song have both heavy and fast parts. Not bad. You should give it a try.
VANIR is a melodic Viking death metal band from Denmark. If I get it right, this is a standalone single, and not a taste of a new album or EP.
vanir.lnk.to/steel | targetshop.dk/vanir
TRESPASS: Blackthorn
From The Vaults on Jan. 27 - Digital Single
Roughly 5 years after the release of their last studio album, TRESPASS return with a new single. It's a melodic, yet powerful, heavy metal song. Not bad at all. Could be worth a try.
TRESPASS formed in Sudbury, Suffolk, UK back in 1979, and was part of the NWOBHM movement. They released a few singles and a EP in the early 80s before they went seperate ways. In the early 90s they were back again, and released their first full-length album, "Head", in 1993.
A new album will be released this spring.
bfan.link/blackthorn
CHRONICLE: Terrorform
Mighty Music on Jan. 27 - Digital Single
After a softer beginning, it gets hard and brutal, yet melodic and a little technical, as well as tight, fast and heavy. A modern melodic death metal band that can really show us all how it's supposed to be done. Yes, this was not so bad at all. I think you should check it out.
CHRONICLE hailing from the northern part of Denmark, and will release their third album in May.
bfan.link/terrorform | chroniclemetal.bandcamp.com
MASK OF PROSPERO: Hiraeth
ViciSolum Productions on Jan. 27 - CD, LP, Digital
MASK OF PROSPERO hailing from Greece, and this is their second album. Their music is a blend of metalcore and modern progressive metal, so it's not really my cup of tea. But I would guess that this could be of interest for those who actually like those genres. They seems to know what they are doing anyway, and this is absolutely not the worst I have heard, as I actually can listen to the whole album without complaining to myself.
In "Amal" it suddenly sounds like Björk mixed with metalcore. An interesting combination.
facebook.com/maskofprosperoofficial
LITTLE PIG: Little Pig
Wormholedeath Records on Jan. 27 - CD, Digital
LITTLE PIG formed in 2020 in Milan, Italy. The 3 musicians comes from various projects, but share a passion for grunge and alternative rock. This is their first album.
This band have a tendency to sound like some kind of modern rock band though - Heavy guitars and melodic vocals. Not so exiting to me. But when it sounds more like alternative rock and grunge, it's much more interesting to me. So you could say that there's both good and less good stuff here. Nothing is total garbage though, which is always something.
Now it's hard to be as good as the old bands from Seattle once was, but this band is at least a good try.
wormholedeath.com | facebook.com/LittlePigGrungeBand
DUST PROPHET: One Last Look Upon The Sky
Dust Prophet on Jan. 27 - CD, Digital
It's heavy and riff-based metal that we get from this stoner/doom trio. The songs are from 4 and a half to 8 minutes long. Some stuff is better than others, but mainly not so bad at all (even though it took a while to figure that out). The best track is "Hourglass", which I think has that extra thing that makes it stronger than the rest.
DUST PROPHET hailing from Manchester, New Hampshire. The band formed in 2018, and are musically inspired by BLACK SABBATH, KYUSS, ELECTRIC WIZARD, TOOL and CLUTCH, while the lyrics take inspiration from classic literary works, including the epic poem "Paradise Lost", Gothic writers Flannery O'Connor, Ray Russell, and apocalyptic Biblical legends.
dustprophet.com
DEVIL'S WHISKEY: Historias de Muerte
Wormholedeath Records on Jan. 27 - Digital Album
DEVIL'S WHISKEY is said to be "the reflection of a sterile, sordid, and violent border between México and the United States of America". And the soundtrack to that is a mixture of doom, heavy psych and stoner. Possibly with a pinch of blues. It's heavy music anyway, even though it's full of life as well.
It all started as a solo project in 2010, but soon became a full band. The first 6-track recording, "Rattlesnake Blues", was released in 2011. "Historias de Muerte" is their third album, which gives us 7 tracks that are between 5 to as long as 11:45 minutes.
I can't really hear anything unique here, but it's not bad anyway. Those of you who like it heavy should give this a try. The last track was not so good though.
devilswhiskey.bandcamp.com | wormholedeath.com
ABLAZE MY SORROW: The Loss Of All Hope
Black Lion Records on Jan. 27 - MCD, Digital
"The Loss Of All Hope" gives us 4 new tracks with Swedish melodic death metal veterans ABLAZE MY SORROW, where they combine melodies, heavy riffs and aggression. They also add expressions of despair, dystopian nightmares, and misanthropic hopelessness to the brew. It might not sound so optimistic, but the music that comes out is very good. So this EP is a must for every fan of melodic death metal.
It's a vital discharge that we get here, but without losing soul. So let ABLAZE MY SORROW take over your speakers for a while, and enjoy the ride.
ablazemysorrowblacklion.bandcamp.com | blacklion.nu
LUMEN AD MORTEM: Upon The Edge Of Darkness
Bitter Loss Records on Jan. 27 - LP, CD, Cassette
This is dark, heavy and a lot of screaming, which gives them a painful sound. If that is something positive or negative is up to you. But I would guess that if you have any interest at all in black metal, then this could be something you should try.
LUCEM AD MORTEM means The Dying Light, and the band was formed in 2019 to reawake the early 90s anthemic black metal. "Upon The Edge Of Darkness" is the debut album from this trio. It sounds old school and raw, just like it should.
lumenadmortem.com | bitterlossrecords.com/lumen-ad-mortem
SORROWFUL LAND: Faded Anchors Of The Past
Black Lion Records on Jan. 27 - CD, Digital
This Ukrainian solo artist (Max Molodtsov) play doom metal, and this is the third album. We get both harsh and clean vocals here. And the sound is dark and melancholy. Even though it's heavy, it's also a little epic. The songs are around 6 to almost 11 minutes long, and should fit perfect for a rainy and boring day. It should make you feel a little bit better at least, because even though it's not any happy music that we get here, it's not bad.
sorrowfulland.bandcamp.com | blacklion.nu
VAHRZAW: In The Shallows Of A Starlit Lake
Bitter Loss Records on Jan. 27 - CD, Cassette (LP in March)
VAHRZAW is a vicious assult on all your senses. But they also have the good taste to slow down once in a while, and then they become more melodic instead, almost atmospheric you could say. A very good combination actually.
VAHRZAW is an Australian band, and this is their fifth album, where they return to their black metal roots and the Norwegian bands from the early 90s. And this is absolutely not bad for being so violent and noisey. All fans of good old black metal should give this a chance.
vahrzaw.bandcamp.com | bitterlossrecords.com
DEAD WILL WALK: A New Day Of Dawning
Dawnbreed Records on Jan. 27
Dutch group DEAD WILL WALK gives us a 6-track EP (not sure on what format though) full of old school death metal. None of the songs are longer than 4 minutes, which I think is good. Their songs are just as raw and heavy as you can ask for, but also melodic and almost catchy. Yes man, this is really good stuff. Every fan of the good old sound should like this.
The band have been around for 10 years, and on the same day as this EP will be released, Cavernous Records will release the compilation "As the Bowel Withers", which will also include this EP (but once again, not sure on what format, sounds like a CD release though).
deadwillwalk.bandcamp.com | dawnbreed.com | cavernousrecords.bigcartel.com
DARK SARAH: Attack Of Orym
Riena Productions/Blood Blast Distribution on Jan. 27 - CD, Digital
Finnish band DARK SARAH play cinematic metal, but they also blend in some EBM and dark electronic pop elements in their songs. This is their fifth album, and as usual it',s a concept album with a horror/fantasy theme. So in other words a majestic and ambitious album, that I think will fit perfect for fans of symphonic metal. But as it's also cinematic, it sometimes sounds like a soundtrack to an adventure movie.
Even though this might not be what I use to listen to (unless I get it for review), I can hear that they are doing a good job here. And they are far away from the worst band in this genre.
darksarah.com
BLAKEARTH: Earth Fragments
Pure Steel Records on Jan. 27 - Digital EP
U.S. prog/power metal band BLAKEARTH signed a worldwide digital deal with German label Pure Steel Records last year. And now the band's new 5-track EP will be released.
The band is centered around former THRUST singer Eric Claro. Everybody is doing a really good job here, and their songs are not bad at all. But even though they call it prog/power metal, I think I prefer to describe this as US metal actually, even though there's some progressive elements as well once in a while.
Yes, this is something that you should give a try if you like heavy and power metal the American way.
blakearth.webstarts.com | puresteel-records.com
METHANE: Kill It With Fire
Methane on Jan. 27 - LP, CD, Digital
METHANE is a thrash metal band from Stockholm, Sweden. They take inspiration from both classic thrash bands as well as groove metal. And with these ingredients they create hard and heavy songs with a dark tone of irony.
Well, these guys seems to be good at what they are doing, so they have nothing to be ashamed of. It might not be excellent, but it sure ain't bad anyway. They are definitely worth a try if you like thrash in the harder league.
Now thrash metal might not be a genre with any bigger variation between the songs. So to surprise the listener with something different after a few songs would not have been a bad idea. But unfortunately not many bands seems to do that. And METHANE is no exception. They have the good taste to keep it short though, with just 7 tracks.
methane.bandcamp.com/album/kill-it-with-fire
SMALL TOWN SAVIOURS: Small Town Saviours
Small Town Saviours on Jan. 27 - Digital Album
British rock n roll band SMALL TOWN SAVIOURS release their debut album. I would describe their music as sleazy action rock. It's a wild mixture of rock, punk, hard rock/metal and even some country in 1 song. Lots of energy, but yet really catchy and melodic.
I can imagine that this is a damn hot band when they play live, but this album is also very hot. So if you need more action in your life, then this is a good start.
facebook.com/smalltownsaviours
SLEAFORD MODS: UK Grim
Rough Trade - Digital Single
British alternative electro-rock duo and street poets SLEAFORD MODS return with a new single, which is the title track of their new album, "UK Grim", which will be released on March 10. And it's a dance friendly song that the Nottingham boys have made here. Nothing unusual when it comes to this band though, so I think that their fans won't be dissapointed when they hear this song. And even though it's a dance friendly electro-rocker, it's not so bad. Who would think that I would write something like that?
youtu.be/loiI8M3U7gA | sleafordmods.ffm.to/ukgrim
LORDS OF SALEM: I'm So Goth
Lords Of Salem - Digital Single
German band LORDS OF SALEM play some kind of alternative hard rock/metal. I don't really know how to describe their sound. But I can at least say that the verse is a little harder, while the chorus is more catchy. It sounds good anyway, so I guess it could be worth a try.
Now I don't know anything about this band, because I could not find that much information about them. So I simply don't have much else to say..
youtube.com/watch?v=Recd81H6Qys | lords-of-salem.jimdofree.com
BIS·NTE: Broken
Xtreem Music - CD, Digital
This is another band with GOLGOTHA members Vicente Payá (also UNBOUNDED TERROR) and María J. Lladó. This is the band's second album, where Vicente play guitar and bass, Maria sing clean, and among the guest musicians are Javier Fernández on drums and keyboards, and Daniela Dahlien take care of guttural vocals.
The music is heavy doom metal with a dark atmosphere, yet very tasteful stuff. Yes, I like what I hear on this album. These people really know how to make good music, there's no doubt about that. But no matter how many times I listen to this album, I have nothing else to say about it. So just let the music do the talking instead. I'm pretty sure that you will like it too.
shop.xtreemmusic.com | bisonteofficial.com
IT'S A RIOT: So Far So Good
It's A Riot on Jan. 27 - Digital Album
IT'S A RIOT hailing from punk city Umeå in northern Sweden, and this is their fifth record. The band formed in 2016, and the members also play in other bands, like The SOCIAL BOMBS, KARIKATYR and GRAND DELUSION.
The music that we get here is old punk of the more straight kind. I think of a other Swedish band: The PAST. Not exactly the same, but something similar at least. And they have many good songs among these 12 tracks, so this could absolutely be worth a chance for fans of good old punk.
All the band's music can be found on digital platforms like Bandcamp, Spotify, YouTube etc.
facebook.com/itsariotumea
CANCERVO: II
Electric Valley Records on Jan. 27 - LP, Digital
As you should be clever enough to figure out from the title, this is the second full-length with Italian heavy rockers CANCERVO. And this is a continuation of what they started on the first album. So some kind of stoner/doom with psychedelic elements and occult tales. But while the first album was completely instrumental, this new album have vocals on most of the songs.
This is really heavy and old school. Think of the sound of the 70s. If you like that, then this could be something for you. The variation may not be huge, but they get away with it as they are not as boring as many other heavy bands use to be. And it's not like they play the same song all the time. This is actually o.k.
facebook.com/cancervo | electricvalleyrecords.com
BUTT PLUG: Odd School
WTF Records - CD, Digital
WTF Records gives us a remastered version of "Odd School", which is the second album by Dutch crossover band BUTT PLUG. The album was originally released in 1998, and the band released 2 more CDs and a demo during their existance.
This record is a wild mix of hardcore, punk and metal. Many influences are involved here (and not just those I just mentioned), so it's not just fast and harsh, but can also be heavy. They also shows an twisted sense of contempt for the garbage poured out daily by the media and the like.
I guess that fans of something like the crossover pioneers D.R.I. could like this. It's the kind of album that can unite metal heads, punks and hardcore kids in a wild mosh pit.
wtfrecords.eu | bfan.link/odd-school
TYGERS OF PAN TANG: Edge Of The World
Mighty Music on Jan. 20 - Digital Single
NWOBHM veterans TYGERS OF PAN TANG are getting ready to release a new album in May, and this is the first taste. No big surprise for me, as it's just as good and melodic as I expected it to be. In other words a really good song.
As you might know, these veterans started back in 1978. I'm not sure how many original members that are still in the band, but they seems to have a tight line-up today anyway, so they have definitely not become weaker. It's almost like they seems to be stronger than ever actually.
tygerspantang.lnk.to/edge | targetshop.dk/tygers-of-pan-tang | tygersofpantang.com
THIRD EYE: Vengeance Fulfilled
No Dust Records/Animated Insanity Records on Jan. 27 - CD, Digital (2LP in the summer)
"Vengeance Fulfilled" is the second album from Danish progressive metallers THIRD EYE. But even though they are a progressive band, they succeed to make fantastic music. Because this is actually real songs, and not just a cacophony of sounds.
THIRD EYE formed in 2003. But they doesn't seems to work fast, as their debut album, "Recipe For Disaster", wasn't released until 2010. And now it has taken as much as 13 years before their second album finally is ready to be released. They have probably been working hard though. And since last time they have also recruited a new singer: Tiago Masseti.
I guess it's not a surprise that everybody is doing a good job here. The songs are melodic, but yet very powerful and very strong. I really like this album! And this is not just for fans of progressive metal. I think that fans of heavy and power metal could like this too actually.
nodustrecords.com | animatedinsanityrecords.com
ANUBIS: Decreation Day
Anubis - Digital EP
Los Angeles, California power/thrash metal band ANUBIS has released a new 2-track EP. Their sound is a combination of speed and aggression, as well as twin-guitars and soaring vocals of melodic metal. And this sounds really good my friend. Both tracks are just as great, so you should check this out immediately.
The members have played or play with HATCHET, TOWER GUARD, Timmo Tolkki and HYDERA. They have release 3 EPs between 2019-2021. More singles are in the works, so this is hardly the last you will hear from these guys.
facebook.com/AnubisBandOfficial
MOONLUST: Six Years
Moonlust - Digital Single
A uptempo and catchy heavy hard rock song is what we get here. Influences seems to come from HEART and FLEETWOOD MAC, as well as BLACK SABBATH, COVEN and The DEVIL'S BLOOD. Yes, it has a vintage vibe, and this sounds really good. You should absolutely check out this band.
MOONLUST formed in 2017 in Atlanta, GA. They have since then gone through a number of changes in the line-up to get where they are today.
PANDER: Break The Oath
Argonauta Records on Jan. 20 - CD
PANDER formed in 2011, and comes from The Netherlands. The music they play is a mix of stoner rock and doom metal. The sound is raw, and sometimes almost psychedelic. Sometimes there's even a uptempo song.
This might not be excellent, as they sometimes play the same thing for way too long without any good reason. But some of these songs are actually not so bad. People who like it heavy should enjoy this.
I hate to write so many short reviews! But I guess I'm still an amateur after all these years, so I simply don't have much else to say.
facebook.com/panderrock | argonautarecords.com
FUCKED UP: One Day
Merge Records on Jan. 27 - LP, CD, Digital
Well, FUCKED UP are not so hardcore anymore. Because this sounds more like some kind of edgy rock, but with their own twist. The vocals is often loud though.
This Canadians have as far as I can understand never been a usual hardcore band, but have always experimented with other stuff as well. They have previously been very ambitious with concept albums and 12-hour performances. But this 6th album is actually their shortest long player. It was actually written and recorded in just 1 day (hence the title). The sound is not smaller because of that though. It's big and immediate.
Now it's hard to describe their sound in a good way, so that you actually now exactly what they sound like. But a wild guess is that they are somewhere between SONIC YOUTH and power pop. Most of all they have their own sound though.
fuckedup.cc
ASHEN HORDE: Antimony
Transcending Obscurity Records on Jan. 27 - CD, Digital
ASHEN HORDE started as a 1-man band by ABHORIA guitarist Trevor, but now features a lineup that has the vocalist of INFERI and EQUIPOISE, the drummer of NORSE, and the bassist of ABHORIA. And the music that these 4 men have created is a blend of black and death metal, spiced with both progressive elements and technical bits. This is not the usual old school death metal, but rather on it's own level you could say.
I would not say that this goes over my head though, because it's never too advanced, but mainly hard and dark metal.
ashenhordeband.bandcamp.com | tometal.com
DOKKEN: The Elektra Albums 1983 - 1987
BMG on Jan. 27 - 5LP Box Set, 4CD Box Set
L.A. hard rockers DOKKEN formed in 1978. And now the 4 albums that sent them to the top league of hard rock is being collected together as a box set. All of the albums feature the classic line-up of Don Dokken (vocals), George Lynch (guitar), Jeff Pilson (bass), and "Wild" Mick Brown (drums), and all have been newly remastered by Andy Pearce (BLACK SABBATH, MOTÖRHEAD).
The first album in this box, "Breaking The Chains", is very melodic and a product of its time. The title track is without a doubt a great classic, while the rest is good stuff too, but not on the same level. I like the album more and more for each time I listen though, and it has its own charm somehow.
On "Tooth And Nail", they had already developed. The songs are much stronger here, and the production is a lot better too, even though it's still a typical 80s product. This album is more hard rock than the debut. The song I like best is once again the title track, which is the only song that I have heard before from this album.
"Under Lock And Key" continue in the same style and quality as the last album. My favorite on this album is the last track, "Til' The Livin' End", which I have on an old cassette. But there is some other delicious songs too of course.
I got the "Back For The Attack" album as a Christmas gift in 1987. It was the only album with DOKKEN that I had until a few years ago. This is of course a classic to me, with lots of great melodic hard rock songs. Just listen to something like the opening track, "Kiss Of Death", for example - Excellent! This album was so popular that even one of my cousins got a copy that Christmas. Probably because of the last song, "Dream Warriors", which was on the soundtrack to the "Nightmare On Elm Street 3" movie.
DOKKEN have sold more than 10 million albums worldwide, and their live album, "Beast from the East", was nominated for the inaugural Grammy Award for Best Metal Performance in 1989 (that album is not included here).
dokken.net
The TANGENT: Pyramids, Stars & More - The Tangent's Live Recordings 2004-2017
Inside Out Music on Jan. 27 - 3LP/2CD, 2CD, Digital
O.k., this progressive soup might be a little too much for me. One of the songs is as long as 20 and a half minutes. And songs that are around 8 to 13 minutes is nothing unusual here. Long instrumental parts is also common here. So let me put it this way: It may be talented shit, but it's still just shit. The progressive nerds will probably love this though.
This is a live compilation, with songs from 3 different concerts in 2004, 2011 and 2017. And a funny thing is that there's a different line-up of the band on each concert.
Now I might be a little too hard though when I call this shit, because I have to admit that I have heard a lot worse. The songs that I think are good are few though, as this is mainly a typical progressive adventure. And this album last for an eternity, so it's hard for me to focus. I simply lose interest after a while.
insideoutmusic.com | thetangent.org
RIVERSIDE: ID.Entity
Inside Out Music on Jan. 20 - CD, 2LP, 2CD/Blu-ray Artbook, 2CD Mediabook, Digital
The first song sounds like synth pop from the 80s, and last for 7 and a half minutes. Most of the other songs sounds like progressive rock in the melodic league. And this is yet another one of these adventurous and majestic bands. The first time I heard this album, it gave me nothing at all (not even a headache). But as I continued to listen some more, maybe it wasn't so bad after all. It still goes in and out though, so I can't remember anything afterwards. But while I listen, it's pretty o.k. at least.
RIVERSIDE hailing from Warsaw, Poland, and "ID.Entity" is their 8th album. It's said to be a comeback to the sound of the first decade of their career, and seems to be a concept album about identity.
insideoutmusic.com | riversideband.pl
LiV SiN: KaliYuga
Mighty Music on Jan. 27 - CD, LP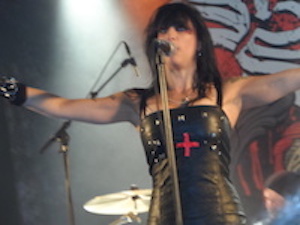 Swedish metal band LiV SiN return with their third album. The guitars are hard and heavy, and Liv's voice is powerful. Yet it's like something is missing here. At least the first times I heard this album. So I do not say that this is a bad album, oh no. Give it a few chances and you should enjoy it much more than the first times you heard it. It was like that for me anyway. But now I enjoy it a lot more.
What they have made here is a pretty modern metal album. But not like in the genre modern metal, if you get that? I guess we talk sound and production instead. And this might actually be the hardest and heaviest album they have made so far. Yet there's also melodies.
livsinofficial.com | mightymusic.dk
KÜNTSQUÄD: Gods Of War
Wormholedeath Records - Digital Single
Melbourne, Australia crust metal/death punks KÜNTSQUÄD have signed to Wormholedeath Records, who will release their self titled debut album on February 24. To give you an idea of what to expect, they warm us up with this short and intense single.
This band take inspiration from acts such as SEPULTURA, DISCHARGE, DAMAGED and CARCASS, while incorporating death, black and doom metal, as well as crusty punk influences. The result is 1:52 minutes of fast and aggressive crust/death.
This will probably fit both death metallers and crust punks.
youtu.be/gPoUIsA8vAY | facebook.com/kuntsquad666 | wormholedeath.com
SKOGSTOKIG: Nån måste få det
Babianelund Records - Cassette, Digital
I don't think that anybody has sent me a physical cassette in something like 20 years. And the layout and song titles on this tape makes me think of the demo tapes I used to get in the 90s (when I did a punk fanzine called Taskigt Drag). Well, the music could possibly make you think of that era too. Some songs are angry punk or hardcore/punk, while some tracks are just punk. The songs are mainly short and intense, but sometimes also melodic. All lyrics are in Swedish, and the vocals sometimes reminds me a little of the Swedish hardcore/punk legends RÖVSVETT (harsh and angry).
They might not be among the best bands that we have here in Sweden, but they are far away from a bad band anyway. This is absolutely worth a try.
SKOGSTOKIG formed in 2013. They have previously participated on some compilations, but this is their first physical release under their own name. Previous recordings are available on Spotify they say..
facebook.com/Skogstokigpunk
SKINNER: In Silence
Skinner - Digital Single
Norman Skinner (NIVIANE, HELLSCREAM, IMAGIKA, DIRE PEIL) is back with a new single, taken from the upcoming album "The Dark Design", which will be released later this year. This is a hard and heavy song, but with melodic parts as well. Not bad at all. So the new album might be interesting to hear if you like heavy metal.
But while you wait for the album, give this a try.
youtu.be/8zhHN0fkGrI | normanskinner.net
OLĒKA: From The Pines
WormholeDeath Records on Jan. 20 - Digital EP
Heavily influenced by Southern groove metal and melodic death metal, Aaron Reurink (guitar/vocals) began creating what would become the EP "Driftwood" in early 2019. He was joined by Byron Shuflita (drums), and the result is 4 tracks of extreme but precise metal.
This is pretty o.k. stuff, topped with skilled riffing and raw vocals. They might not be in the top league, but could still be worth a try anyway.
olekabandofficial.bandcamp.com | wormholedeath.com
EVIL INCARNATE: Great Dragon Of Thunder
Evil Incarnate - Digital Single
Chicago death metallers EVIL INCARNATE has been playing since 1996. This single is a taste of their next full-length album. These guys play old school death metal, which might sound interesting. But honestly this wasn't really what I expected. Not really sure what it is, but it could be something as simple as that this song isn't good enough according to me. But that doesn't mean that you won't like it though.
For some reason I think it sounds like it was recorded in the rehearsal room or something like that.
youtu.be/9JL0HMeT8CE | facebook.com/EvilIncarnateOfficial
The DEVILS: Live At Maximum Festival
Go Down Records on Jan. 20 - LP, CD, Digital
The DEVILS is a duo from Naples, Italy, formed in 2015. They have released 3 studio albums so far. This recording was their first post-pandemic live performance, and it took place at Altroquando in Zero Branco, Italy, on April 18, 2022.
Most of the songs are around 1 and a half to 3 minutes, and their sound is raw, dirty, noisey and primitive. Punky garage rock n roll loaded with sex, sin and bad attitude. It sounds wild and energetic enough to light up a whole city. I'm pretty sure that the audience still have not forgotten the rock n roll explosion that they witnessed that night in April 2022.
thedevilsduo.bandcamp.com | godownrecords.com
"DEMONS": Rock & Roll With The Punches
Savage Magic Records/Alaska Productions - LP, CD
If you want to take a trip 25 years back in time, when action rock became very popular, then try this record.
Swedish underground rockers "DEMONS" celebrated their 25-year anniversary last year with this new album, which is full of action. They blend garage rock, punk and glam rock into a sweaty and alcohol fueled orgy of adrenaline and testosterone. Fans of early The HELLACOPTERS, TURBONEGRO, BACKYARD BABIES, GLUECIFER and similar bands should not be dissapointed, even though "DEMONS" have much more to offer than just that. Which you will hear if you listen to the whole album. And that is something that you really should do, because this is great. I really like this album!
If I understood it all correctly, this is mainly a collection of re-recordings of old songs, plus 1 new song. Among the guests on this album are Mario Escovedo (The DRAGONS), Ken Mochikoshi-Horne (The DRAGONS, The BRONX), Vanja Lo Renberg (The VANJAS), Odd Ahlgren (The ROBOTS, A-BOMBS, MATCHING NUMBERS), The HIP PRIESTS, The BOATSMEN and more..
Why this band have been lurking in the underground all these years is a mystery to me. Because they are just as good as any of the more well-known acts in the action rock genre. Now this album might not change that, but I think that more people should listen to them.
demonssthlm.bandcamp.com
DEATHPATH: Hate Within
Kvlt und Kaos Productions - CD, Cassette, Digital
DEATHPATH comes from Spain. And what they create might not be anything new, but they do it really good. So fans of good old death metal like MASSACRE, MORBID ANGEL and OBITUARY should not be dissapointed when they listen to this. This is more heavy than fast though, but hardly slow. Of course, it happens that they increase the pace, however. The quality of the songs is always high though.
But as everybody already know what this sounds like, there isn't that much else to say about this. You should know if you like it or not.
kvltundkaosproductions.com | facebook.com/profile.php?id=100042369727015
NIGHTHAWK: Running Wild
Mighty Music on Jan. 13 - Digital Single
Swedish band NIGHTHAWK is led by guitarist Rob Majd (CAPTAIN BLACK BEARD, METALITE), which is joined by Björn Strid (The NIGHT FLIGHT ORCHESTRA, SOILWORK, DONNA CANNONE) on lead vocals, Magnus Ulfstedt (GINEVRA) on drums, John Lönnmyr (The NIGHT FLIGHT ORCHESTRA) on keyboards and Christan Ek (CAPTAIN BLACK BEARD) on bass. The group booked nothing else but the world-famous Abbey Road Studios, and began to work. This is the first taste of what they created in that legendary studio.
This reminds me of EUROPE for example. Very good melodic hard rock, that you really should check out. If they have more songs that are as strong as this, then the new album will be damn hot.
nighthawk.lnk.to/wild | mightymusic.dk
WARP: Dirigibles
Nasoni Records - Digital Single
WARP hailing from Tel Aviv. The band was formed by members of the local punk scene, who wanted to play something heavier instead. The result is some kind of riff driven and hard heavy rock - think stoner, doom and proto-metal. The band released their self titled debut album in 2019, and this song is a first taste of their second album, "Bound By Gravity", which will be released in February.
This song is really heavy, without being extremely heavy (if you get that?), but also raw and dirty somehow. Not bad at all. This could be worth a try for those of you who like it heavy.
warptlv.bandcamp.com
AUTUMN'S CHILD: Starflower
Pride & Joy Music on Jan. 20 - CD
AUTUMN'S CHILD have released 3 albums so far, and now their 4th album will be released. And what can I say? It's really simple: If you liked the melodic rock/AOR that they gave you on the first albums, then this should not dissapoint you. Because this is just more of the same thing.
Luckily it's a good thing, so there's really no need to complain. Fans of melodic rock/AOR should absolutely check this out.
facebook.com/mikael.erlandsson1 | prideandjoy.de
BARNABAS SKY: What Comes To Light
Pride & Joy Music on Jan. 20 - CD
This is the sophomore album with the melodic hard rock all-star project BARNABAS SKY, which is led by German guitarist and songwriter Markus Pfeffer (LAZARUS DREAM, WINTERLAND). Once again he is joined by vocalists Danny Vaughn (TYKETTO) and SILENT RAGE's Jesse Damon. And for the first time, Doogie White (RAINBOW, ALCATRAZZ, Yngwie Malmsteen etc) is singing, just as Dan Reed (DAN REED NETWORK). Also featured are Roy Cathey (COLD SWEAT, The FIFTH), Dirk Kennedy (HITTMAN), Carsten "Lizard" Schulz (DOMAIN, EVIDENCE ONE), Lee Small (SWEET, LIONHEART, PHENOMENA) and Alan Tecchio (WATCHTOWER).
Well, this is a very melodic story, but it sure ain't bad. Fans of melodic hard rock should not be dissapointed. There is at least 1 song that is a little heavier though, and that is "A Dying Song". The use of different vocalists gives the album good variation. Yes, this could be worth a try.
prideandjoy.de | facebook.com/barnabasskyband
VELIU NAMAI: Alkai
Nordvis Produktion on Jan. 20 - CD, Digital
They said that this was going to be dark folk music. Instead I get some atmospheric darkwave or something like that. This really sucks! I can't even listen to it! An hour of silence would have been more pleasant than this.
This is the 4th album from this Lithuanian project. Their music is said to fit fans of DEAD CAN DANCE, WARDRUNA, SIGUR ROS, and various electronic music. Well, then you have definitely come to the wrong place. Because I'm not a fan of any of that, and this is actually a rock site in the hard league.
nordvis.com/ve-liu-namai-a-46 | veliunamai.bandcamp.com
Molosser CRUDE: Twin Moons (Live in the Studio)
Evil Ear on Jan. 11 - Digital Single
A new single from MOLOSSER CRUDE then..
This Swedish power duo mix everything that is heavy. I would say that this song is mainly a smoking hot bluesy heavy rocker. It's mean and ugly, but not in a bad way. If you want it raw and dirty, then this could be something for you.
This song might not be as cool as the last single was, but it sure ain't bad at all. It might be a little odd though, and a little too long. But otherwise nothing to complain about.
"Twin Moons" will premiere on The Obelisk on January 10, and will then be oficially released on digital platforms on January 11.
evilear.com | molossercrude.bandcamp.com
PHANTOM: Hellspeed Death
Phantom - Digital Demo
PHANTOM is just about a year old and play some kind of raw and primitive speed/thrash metal. This demo was probably recorded in the rehearsal room. It sounds very cheap anyway, which is nothing wrong when it comes to this kind of music. They simply have a very old school sound, that reminds me of some cool bands from the 80s. Which I think is just what they were aiming at.
There's lots of energy that these Mexicans deliver, no doubt about that. The songs are absolutely not bad, but it's hard to pick a favorite.
phantombandgdl.bandcamp.com/album/hellspeed-death-demo
ITERUM NATA: Losing Connection
Nordvis Produktion - Digital Single
The new album, "Trench Of Loneliness", will be released on February 10. "Losing Connection" is the second single from that album. It's a soft and atmospheric song, that we can call psychedelic folk rock. And this song will give you a good idea about the direction of the new album, because there's simply not much more action than this. But I'm so old and wise now that I have figured out that it doesn't always have to be stone hard and intense to be cool. Even something soft like this can actually be really good once in a while. Try it yourself!
nordvis.com | iterumnata.bandcamp.com
EISREGEN: Grenzgänger
Massacre Records on Jan. 13 - 2CD Media Book, 2LP, Box Set, Digital
This sounds very German. But then all their lyrics are in German, while the music is some kind of metal in the hard league. And even though the vocals is harsh, it all sounds melodic somehow, even though there's some death/grind in the stew too. It sounds pretty good, but 17 tracks at once is much as you know the sound after just a few songs. That's just a small problem though. Or maybe what they call a luxury problem?
This is actually EISREGEN's 16th studio album. They have also released several EPs through the years.
massacre-records.com | facebook.com/eisregen.official
AZKEN AUZI: Azken Auzi
Argonauta Records on Jan. 13 - CD
French trio AZKEN AUZI combines doom and sludge, but also more atmospheric passages once in a while. The result is a heavy and powerful album. You could actually call it a audio drama in 6 acts. Not because it's adventurous, but rather becuase it's like a wall of sound that comes at you. These guys seems to play on 12, and with a lot of distortion. It's unpolished and loud. Long instrumental moments is nothing unusual here, and some songs are more or less instrumental.
Luckily they do it good, even though I would not call this fantastic.
facebook.com/azkenauzi | argonautarecords.com
ASHEN: Ritual Of Ash
Bitter Loss Records on Jan. 13 - LP, CD, Digital
ASHEN consist of 4 guys based in Perth, Australia. This is the follow up to their 2021 5-track mini-LP "Godless Oath". And this new 10-track album is darker, heavier and more sinister than the mini-LP was. But we mainly talk HM2 death metal here, even though they have some really heavy pieces. I really like what I hear! This is absolutely something that you should check out if you have any interest in death metal.
"Ritual of Ash" was mixed and mastered by Marko Tervonen (The CROWN).
ashendeath.bandcamp.com | bitterlossrecords.com
HEADONS: Hatet
AMTY Records - LP on Jan. 6, Digital on Feb. 3
Swedish punk band HEADONS have been around for many years now. And it seems like they became so sad about my review of their song on one of the Ursäkta Röran compilations that they decided to send me their new album, just to prove that they can do better than that. And of course they can! This is much better than that song.
They blend more melodic punk with more aggressive punk, which gives the album a good variation. The influences seems to be from the old school, and not much modern stuff. Not bad at all. 13 songs in something like half an hour - Very punk.
Some of the better songs are the title track and "Vad Vill Du Ha Av Mig", which are both among the more catchy songs that are so easy to like. But if you prefer something fast and aggressive instead, then I can recomend the first track, "Faktaresistent", and "Ebba Brun".
They have also succeeded to get a solo from no other than Michael Amott (ARCH ENEMY, SPIRITUAL BEGGARS, CARCASS) in "Systemkollaps". He is just like HEADONS from Halmstad. And as you might know, ARCH ENEMY did plenty of punk covers on their covers album, that was released a few years ago.
amty.se | facebook.com/profile.php?id=100063533762875
WOTHROSCH: Odium
Hammerheart Records on Jan. 13 - CD, LP
WOTHROSCH makes a lot of noise. They play a heavier kind of black metal, with some fast parts here and there. And this is really raw and extreme. So if you want to scare your neighbours away, this is the perfect soundtrack.
The Greek band WOTHROSCH is said to be inspired by extreme soundscapes, and this debut album is an exploration of the darkest facets of the human condition. Most people will probably avoid this, as they will see this (just like me) as noise. But people who want to have everything that is as extreme as possible should try this.
wothrosch.lnk.to/odium | hammerheart.com
DEFY THE CURSE: Horrors Of Human Sacrifice
Hammerheart Records on Jan. 13 - 2CD, LP, Cassette
Do you want some crusty bone-crushing HM-2 death metal? Then DEFY THE CURSE is the band for you!
DEFY THE CURSE have previously released a self-titled EP, which is included on the second disc if you buy the CD edition. So yes, this is their debut full-length album. And what an album it is! Fantastic old school crust/death metal without mercy. You have to check this out!
It seems like the band was born when some former members of bands like COLLISION, CAUTERIZER, INHUME, The GUILT PARADE, MANGLED and LEGION OF THE DAMNED reunited with each other in 2016. They are from the North Limburg region in the Netherlands.
defythecurse.lnk.to/horrorsofhumansacrifice | hammerheart.com
PERPETUAL FIRE: The Fire Within
Wanikiya Records - Digital Single
PERPETUAL FIRE celebrate their 20-year anniversary with a brand new single, "The Fire Within". But the band was actually born in 1999 already, but as ABYSS, which they changed to FIRESIDE in 2001 (there is by the way a Swedish band with that name as well), and then they changed the name again in 2005, and finally became PERPETUAL FIRE. So 20-year anniversary? I don't know how they count.. But anyway, they have released 4 albums so far and a few singles.
The music that this band play is melodic power metal. And this song is actually not so bad at all. It's almost like I would like to hear some more with them. They seems to be very good musicians. But after so many years it would be pretty tragic if they would have been bad at what they're doing. So yes, give this a try.
youtu.be/4dplIPUwOLs | perpetualfire.net
DeVicious: Madhouse
Metalapolis Records - Digital Single
This is the first song with the band's new singer, Baol Bardot Bulsara, who is best known for his work with Norwegian melodic rock legends TNT. It's also the first single from an upcoming album, "Code Red", which will be released on May 26.
Well, Mr. Bulsara have nothing to worry about, as he is doing a really good job here. Luckily they also gave him a good song. Fans of melodic hard rock from the 80s should really check this out.
The new album should be very interesting to hear..
youtu.be/9KxZp4HKoRk | metalapolis.eu | devicious.band
CROM: The Era Of Darkness
From The Vaults on Jan. 13 - LP, CD, Digital
CROM's mastermind Walter "Crom" Grosse have been both bassist and guitarist for melodic black metallers DARK FORTRESS between 1997-2001. But he wanted to return to his BATHORY inspired roots, so he started CROM, which is nowadays a German heavy/power metal trio.
CROM make anthems that will make your blood boil, and that will make you pump with the fist and bang your head. But they also include epic melodies, which is the influence from BATHORY. This is both powerful and majestic at the same time, and very well done. The vocals is soulful and melodic, and simply fantastic.
This is a must for every fan of heavy and power metal.
facebook.com/cromofficial | fromthevaults.dk
«
December 2022
|
Index
|
February
»