REVIEWS SEPTEMBER 2022
«
AUGUST
|
INDEX
|
OCTOBER
»
DECOY: Without Warning
Perris Records - CD
DECOY is a Danish/Swedish collaboration between songwriter/guitarist Torben Enevoldsen (FATE, ACACIA AVENUE) and singer Peter Sundell (C.O.P., ex-GRAND ILLUSION). "Without Warning" is their second album, which also features Pete Steincke (FATE) on bass and Dennis Hansen (ACACIA AVENUE, SECTION A) on drums.
The first album, "Call Of The Wild", was released back in 2007. So it has taken some time (15 years). They have simply been busy with other projects. But in 2020 they found some time to work together again, and a new album with DECOY was born.
The music that we get from these gentlemen is melodic hard rock, but with a touch of classic rock, AOR and metal. They might not be doing anything unique, but you don't always have to be something special to be good. This album have lots of good songs, and that's one of the most important things to me anyway. I can't hear one single thing to complain about here, and that's strong.
facebook.com/decoyonfacebook | perrisrecords.com
BORGERLIG BEGRAVNING/KONSUMENTERNA
GrönPeppar Records - Split 7" EP, Digital
If it's young and new Swedish punk bands that you're looking for, then GrönPeppar Records is the label for you. Now they have released a split EP with BORGERLIG BEGRAVNING and KONSUMENTERNA.
BORGERLIG BEGRAVNING burn off 2 aggressive punk songs that I really like. It seems that it's 2 old songs that didn't make it to their debut album, which was released earlier this year (a very good album). This is how it's supposed to be done!
KONSUMENTERNA is a band from Trollhättan, they were previously known as TRE. They will release their debut album later in the fall. But while you wait for that you can check out these 3 songs, which are very different from each other. First a 10-second attack, then ska punk, and last a more straight punk song.
BORGERLIG BEGRAVNING is the best band here, but KONSUMENTERNA is interesting too. Simply a good punk EP.
gronpepparrecords.bandcamp.com
STARGAZER: Live My Dream
Mighty Music - Digital Single
Norwegian band STARGAZER presents a catchy and melodic heavy metal song in the good old Scandinavian tradition. And I like what I hear. It has potential, as the intelligent people say. And if you think you're intelligent, then you better listen to this song.
"Live My Dream" is an appetizer for their new album, which will be released in the first quarter of 2023.
stargazerofficial.com | mightymusic.dk
STARCHILD: We've Been Through The Fire
Metalapolis Records - Digital Single
German power metallers STARCHILD will release their third album, "Battle Of Eternity", in the end of October. And that's where this song comes from, which is a uptempo song in good old style, but yet melodic. It actually reminds me of when I heard HELLOWEEN for the first time in the 80s. Not exactly the same sound, but fans of that should like this a lot, because this is excellent. So what are you waiting for?
metalapolis.eu | facebook.com/starchildmetal
SKID ROW: Time Bomb (Radio Edit)
earMUSIC - Digital Single
The latest single from SKID ROW is a little heavier, but with a catchy chorus. I think it's more 90s than their usual street metal. It's not bad, but you might have to listen a few times before you know.
"Time Bomb" is the third single from their upcoming album, "The Gang's All Here", which will be released on October 14. This will be the first album with Swedish singer Erik Grönwall (NEW HORIZON, ex-H.E.A.T).
youtube.com/watch?v=zFNuuFTBI7c | skidrow.com
HOUSE OF LORDS: Saints And Sinners
Frontiers Music Srl - CD, 2LP, Digital
HOUSE OF LORDS released their self-titled debut album back in 1989, and parted ways in 1992. In 2000 the original line-up was back again. They have released some more albums since then, and now they have come to their 11th studio album.
This is hard rock of high quality. Good song after good song is delivered. This is an album that you really should check out. And especially if you like the sound of the 80s.
Not much else to add there..
frontiers.it | facebook.com/HouseOfLordsB
GINEVRA: We Belong To The Stars
Frontiers Music Srl - CD, LP, Digital
This is the debut album from this Swedish "all-star" band, which features vocalist Kristian Fyhr (SEVENTH CRYSTAL), guitarist Magnus Karlsson (The FERRYMEN, PRIMAL FEAR etc), bassist Jimmy Jay (H.E.A.T.), and drummer Magnus Ulfstedt (ex-ECLIPSE, NORDIC UNION). And then I guess it's not so hard to figure out that it's melodic hard rock that we get here. But this band is possibly a little heavier and more riff oriented than other bands in this genre. It sounds really good though. They have lots of strong songs on this album, so you should absolutely check this out.
Chez Kane is doing guest vocals on "Masquerade", and Alessandro Del Vecchio (a thosand bands and projects) play keyboards on the album.
frontiers.it
FANS OF THE DARK: Suburbia
Frontiers Music Srl - CD, Digital
I don't really know what to think about this band.. It's not that it's bad, but it's not excellent either. And there's something about the singer's voice that I find it hard to like. He's not a bad singer, it's just his voice that is the problem for me.
Well, you can't like everything. And I'm pretty sure that many others will like this melodic hard rock band more than me.
FANS OF THE DARK is a Swedish band, and "Suburbia" is a sequel of sorts to the band's self-titled debut from 2021, following similar themes, both musically and lyrically.
frontiers.it | facebook.com/fansofthedark
The ERINYES: The Erinyes
Frontiers Music Srl - CD, Digital
The ERINYES is fronted by 3 vocalists: Justine Daaé (ELYOSE) from France, Mizuho Lin (SEMBLANT) from Brazil and Nicoletta Rosellini (WALK IN DARKNESS, KALIDIA) from Italy. The album was written and produced by Aldo Lonobile (SECRET SPHERE, Timo Tolkki's AVALON, ARCHON ANGEL). I was pretty sure that this would be another project created by Frontiers Music, but it seems like it's not this time. They don't say anything about it anyway.< br> As so often when it's female singers, the music is symphonic metal. The only unique thing with this band is that all 3 sing at once, which gives the music that extra touch. But otherwise it sounds like a thousand other symphonic metal bands to me. They succeed to be good though, which is a good thing.
frontiers.it
SATIN: Angels Come, Angels Go
Art Of Melody Music/Burning Minds Music Group - Digital Single
This is the second single from Norwegian AOR band SATIN's upcoming album, "Appetition", which will see the light on October 14. It's very soft and melodic, just as AOR use to be. But for those who happens to like that, I guess this could be of interest. It has a catchy chorus at least, and that's always something.
This song is on the border to pop though, which is something I don't really like.
youtu.be/hqxM7ILqYMA | burningmindsgroup.com/art-of-melody-music | tomsatin.com
RATBREED: Master Of Deception
Wormholedeath Records - Digital Single
Finnish heavy metal band RATBREED formed in 2015, and released their debut album, "Evoke The Blaze", in 2018. After a short hiatus due to line-up changes and Covid-19 related cancellations, they are now working on their second album. While we wait for that they has given us a first taste of what the new album will sound like, the single "Master Of Deception".
And this sounds really good and interesting. Powerful and pretty traditional. I look forward to hear some more with this band. Fans of good old heavy metal should not be dissapointed when they hear this.
facebook.com/ratbreed | wormholedeath.com
LYCANTHRO: Port Royal
Lycanthro - Digital Single
Canadian power/thrash metal band LYCANTHRO are paying homage to German heavy metal pirates RUNNING WILD and their classic "Port Royal". And they are doing a very good version here, so it could definitely be worth checking out.
The song was originally recorded for a RUNNING WILD tribute album, called "Wild Privateers".
LYCANTHRO was formed in Ottawa in 2016. Their music is a mix of power, thrash and speed metal, with lyrical themes such as classic horror, pop culture and mythology. An EP was released in 2018.
GRADE 2: Doing Time
Epitaph Records - Digital Single
Catchy punk, but full of energy. I like it! It's a short song though, just 1 minute and 13 seconds. But a punk anthem doesn't have to be longer than that. I want more!
This trio hailing from the UK, and the band was formed when they were just 14 years old. "Doing Time" is about the 9 to 5 rat race, so they have obviously become older since then.
GRADE 2 are going on a short UK tour in March 2023. The dates are these:
March 7 - The Lexington, London
March 10 - Louisiana, Bristol
March 18 - Classic Grand, Glasgow
March 19 - Star & Garter, Manchester
youtu.be/tFtjiCBbldM | epitaph.com
THRICE: Open Your Eyes And Dream
Epitaph Records - Digital Single
THRICE is a rock band from California, formed in 1998. They are going on a EU/UK co-headline tour with COHEED AND CAMBRIA in October. But before that they warm us up with this little song. It has a soft verse that almost sounds like indie pop, but a hard and heavy chorus that is almost metal. I guess it's some kind of modern rock that I'm not so familiar with, but this song is o.k. anyway. I have absolutely heard worse.
youtu.be/DrdO_Rv2e4Q | epitaph.com
Monuments To Arson: A Tribute To HIS HERO IS GONE
Satanik Royalty Records - Digital on Sept. 30, LP on March 25, 2023
HIS HERO IS GONE is a cult neo-crust band from Memphis, Tennessee. I honestly don't think that I have ever heard them before (even though I have seen their name through the years), so I can't compare these bands with the original versions of these songs. But the songs that I like here are "Headcount", "Weeds", "Surrender", "Friendly Fire", "And We Burn", and maybe a couple more. So it's not totally hopeless. There should have been more songs like that though, becuse that's much better than the rest. But we all have different taste, and most people are stupid, and so on....
Bands on this tribute compilation are: MANY BLESSINGS, deathCAVE, OPEN VEINS, ISENORDAL, HEIRESS, NIGHTMARE FUEL, OLD IRON, GITHYANKI, HEEL, BLAST CELLS, IMPULSE NOISE, NUCLEAR DUDES, WRETCHED FUCK and PLAGUESTATE. Never heard of them? Well, I have never heard of any of them either, so don't cry because of that.
All proceeds from this compilation will be donated to the Fairbanks Native Association, an indigenous organization that assists with drug and alcohol dependency, mental wellness, and more.
satanikroyaltyrecords.com
HAMMERSTAR: Hammerstar
Pure Steel Records on Sept. 30 - CD
This sounds extremely much like IRON MAIDEN in the mid-80s. And who can say no to that? This band is however from U.S.A. And it's a pretty new band, born during the pandemic. This debut album is more or less a tribute to all the classic heavy metal bands that they grew up with. And they obviously have experience from previous bands, because this sounds very professional. They also have really good songs, so this is absolutely worth a try.
facebook.com/people/Hammerstar-Band/100083970310931 | puresteel-records.com
INFIDEL RISING: A Complex Divinity
Pure Steel Records on Sept. 30 - CD
US/prog metal band INFIDEL RISING formed in 2012, and their debut album, "The Torn Wings Of Illusion", was released in 2015. Since then there have just been an EP in 2021. But now they are ready for another full-length album.
On this record they continue to blend elements of progressive and power metal. And the result is nothing else but fantastic. Good song after good song. This is combined with an outstanding talent. So there's really nothing to complain about here.
infidelrising.com | puresteel-records.com
SEAX: Speed Inferno
Iron Shield Records on Sept. 30 - CD (LP in Oct. via Diabolic Might Rec.)
Suitable title. Because this is a true speed metal attack.
SEAX was formed in Massachusetts in 2009, and have previously released 4 albums. This new album is a fast and aggressive, but yet fresh, experience. 9 songs in 37:15 minutes. And that's actually enough. Not because it's bad, because this is really good stuff, but rather because it's so intense.
As you probably have figured out already, this is something for those of you who like their metal fast.
ironshieldrecords.de | facebook.com/seaxmetal
UNCHAINED HORIZON: Fallen Kingdom
Pure Steel Records on Sept. 30 - CD
4 years has passed since the last long player from this German heavy metal band. And during that time they have added more of everything to their music. The epic is even more epic, the melodic is more melodic etc. The result is an album in the traditional school, with twin-guitars and anthems. It sounds more British than German, and I often think of a band like IRON MAIDEN for example.
This is a great album! No weak parts to be found anywhere.
unchained-horizon.com | puresteel-records.com
ULTIMA GRACE: Ultima Grace
Frontiers Music Srl - CD, Digital
ULTIMA GRACE is a new project formed by keyboardist Yuhki (GALNERYUS, ALHAMBRA), and this debut album features lead vocals by Anette Olzon (The DARK ELEMENT, Allen Olzon, ex-NIGHTWISH). The rest of the band is guitarist Toshihiro Kajihara (ALHAMBRA), drummer Hideki (MAHATMA, ALHAMBRA), and bassist Atsushi Hasegawa (GERARD).
This album was previously released in Japan in March, but have now also been released for the rest of the world. And what we get here is a lesson in how power metal is done in Japan. Anette sing melodic and very good, and the musicians are very good too. For some reason this album last for an hour, which is usually a little too long for my taste. But luckily they have some really good stuff along the way, so why complain?
One of my favorite songs here is "Getting On With Life". But as you might have figured out, there's more candy here.
frontiers.it | facebook.com/YUHKI.OFFICIAL
TABOO: Taboo
Frontiers Music Srl - CD, LP, Digital
I don't get why they have to do songs that sounds more like modern pop music than good old rock. I hate modern pop' It makes me so angry that I almost want to kill (and violence is not intelligent at all). So no, this is absolutely not a band for my taste. But if you want something modern and melodic, and don't have anything against pop, then go ahead.
TABOO is a new band from Denmark, based around the duo Christoffer Stjerne (H.E.R.O.) and Ken Hammer (PRETTY MAIDS). For some reason Frontiers want to label this debut album as hard rock. I don't agree! This has nothing to do with what I call hard rock. I can't even call it melodic hard rock, as there's too much pop in this milk (and milk is another thing I don't like).
frontiers.it | facebook.com/taboobanddenmark
LUNARIAN: Burn The Beauty
Frontiers Music Stl - CD, Digital
LUNARIAN is a new band centered around Spanish vocalist/songwriter Ailyn (SIRENIA, HER CHARIOT AWAITS, HEART HEALER), and this is the debut album. For this project she teamed up with producer Aldo Lonobile (SECRET SPHERE, ARCHON ANGEL, SWEET OBLIVION). And the result is a symphonic metal album without any suprises. But fans of her previous bands will probably be happy to hear this. And sure, I have absolutely heard worse symphonic metal than this in my life, so this is actually something that I can recomend you to check out.
Ailyn is a really good singer, no doubt about that.
frontiers.it | facebook.com/ailyngimenezgarcia
Allen Olzon: Army Of Dreamers
Frontiers Music Srl - CD, 2LP, Digital
The collaboration between Anette Olzon (The DARK ELEMENT, ex-NIGHTWISH), Russell Allen (SYMPHONY X, ADRENALINE MOB) and Magnus Karlsson (PRIMAL FEAR, Magnus Karlsson's FREE FALL) continues on this second album. It's a natural follow up to the debut. So in other words melodic metal, but possibly with a heavier edge. The vocals is melodic, while the guitars are heavy. And sure, they have some good songs here. But a whole album is almost too much at once. But that might just be me who feel that way. Luckily many of the songs are good, so it's hardly painful anyway.
frontiers.it
WHITE LUNG: Date Night/Tomorrow
Domino Recording Co - Digital double single
WHITE LUNG have returned to release their first new album, titled "Premonition", in 6 years. Unfortunately I read somewhere that it will be their last album, which sucks. Anyway, before the album is released you can get a first taste by listening to not just 1 but 2 new songs from the album.
Both songs are catchy, melodic and energetic. Simply 2 really good melodic punk rock songs. Now it sucks even more if it will be their last album, becuase I really like these 2 songs.
youtu.be/7uBFNx3IVMw | youtu.be/MWwCvFrHxYM
MEDUSA TOUCH: Asylum
Devils Clause Records - Digital Single
MEDUSA TOUCH formed in Edingburgh in 1983, and was part of the New Wave Of British Heavy Metal movement. They played live across Scotland and northern England until 1991. In 2019 Gordon "Gogsy" Sinclair (guitars/lead vocals) reformed the band with some new members, and "Terror Eyes: The Anthology" was released by ONR Records. The album contained music from the 80s.
Since then they have recorded as much as 40 new tracks. And 11 of them will be released on their upcoming album "Insaniteyes", which Devils Clause Records will release on November 18.
So, as you might have figured out by now, this single is a taste of what to come on that album. And I would describe this as a good old hard rock/heavy metal song. It's catchy but powerful. You should give it a try.
medusatouchofficial.com
ZANJEER: Parcham Buland Ast
Symphony of Destruction - 7" EP, Digital
ZANJEER formed in 2020, but the members have experience from previous bands. "Parcham Buland Ast" is their debut EP, which consist of 6 tracks in 8 minutes. Fast and short crust punk.
The interesting thing with this band is not the music itself, but the fact that they have members from Colombia, Pakistan, England, and Germany (they are based in Bremen, Germany though) and sing in Urdu, Punjabi and Farsi (languages native to Pakistan, India and Iran).
Othwerwise it sounds just like crust punk should, so this should not dissapoint any fan of that. They have a raw power and energy that I like. This is really good stuff.
symphonyofdestruction.bandcamp.com/album/parcham-buland-ast-7 | zanjeer.bandcamp.com/album/parcham-buland-ast
UMBILICUS: Path Of 1000 Suns
Listenable Insanity Records on Sept. 30 - LP, CD, Cassette, Digital
This is a pretty cool 60s/70s heavy rock band, featuring Paul Mazurkiewicz (CANNIBAL CORPSE), Taylor Nordberg (DEICIDE), Brian Stephenson (FORE), and Vernon Blake (ANARCHUS). They got together in the summer of 2020, and now their debut album is going to be released.
They have really succeeded to catch the sound from that era on this album, and made 10 really good songs. I think of something like Brant Bjork (STÖNER, ex-KYUSS, FU MANCHU, MONDO GENERATOR) when I hear this. Maybe not the exactly same thing, but probably similar influences at least.
Now UMBILICUS might not be doing anything unique here, as there's hundreds of these bands nowadays, but they do it damn good anyway.
umbilicusband.bandcamp.com
TubeFreeks: Preacher Dog
TubeFreeks - Digital Single
Powerful and heavy hard rock/groove metal is what this trio gives us. The vocals is melodic though. The song is taken from their upcoming album, "Unhinged", which will be released on November 5. And this is a pretty o.k. little thing. So if you like power and heaviness, then this could be something for you.
tubefreeks.com
MOSEZ: Ghosttown
Raw Street Noise - Digital EP
From Stockholm comes the Swedish metal band MOSEZ, who has existed since the early 90s. Their influences is said to be a wild mixture of MOTÖRHEAD, AC/DC, PANTERA and KISS, as well as people like Charles Bukowski (good), Lars Norén and Björn Borg (why?). Add movies and TV shows like Wild At Heart, Angelheart, The Young Ones (funny) and the grotesque incest novel Assisted Living to that.
There's a heavy darkness over the first track, "Share My Pain". It reminds me of American alternative rock from the 90s, but with more metal and a modern touch. I don't really know how to explain it better than that.
"Desert Road" is a uptempo song though, which reminds me of something with MOTÖRHEAD instead.
And "Someone To Hurt" is despite the title almost "happy". It's the most catchy song here at least.
So we get 3 very different songs, and all of them have their own charm somehow.
facebook.com/people/Mosez/100034431743604 | facebook.com/rawstreetnoise
BLITZPØP: MDMA
Blitzpøp on Sept. 30 - Digital EP
BLITZPØP was formed by members of MOTHER'S CAKE, GIANT ANTEATER and The VINTAGE CARAVAN. And this band has found there own little recipe: a combination of alternative rock, grunge and garage rock, which they spice with some soul and electronica funk. It's a bit rough, but yet melodic.
"MDMA" is the band's debut EP, which includes 6 tracks. It sounds good, and they have really succeeded to get themselves a unique and pretty cool sound. Yes, this is something that you should try.
facebook.com/blitzpop
DEAD CITY RUINS: Shockwave
AFM Records - CD, LP
In 2015 5 hungry Australians went all-in on rock n roll. They have since then toured all over the planet, and with "Shockwave" included they have released 4 records.
On this album they have a new singer: Steve Welsh. And they also have a new producer: Gene Freeman (LAMB OF GOD, CLUTCH, CROBOT) from the States.
The music that we get is 70s inspired guitar rock, with influences from legends like DEEP PURPLE, LED ZEPPELIN and even a 80s band like GUNS N' ROSES as well. Sometimes it's party, sometimes a little heavier. Most of the songs are good here, so it's not impossible that this will take them to the next level.
deadcityruins.com | afm-records.de
WIZZERD: SPACE? Issue No. 001
Fuzzorama Records on Sept. 30 - CD, LP, Digital
The members of WIZZERD had been friends for years, but it wasn't until October 2014 that they formed this band. "SPACE? Issue No. 001" is their third album.
The music is heavy, but also catchy and energetic. Sometimes a little pyschadelic. So this is obviously something that fans of heavy/psych rock, as well as stoner rock and doom, absolutely should check out.
The first and the last track is totally useless (just a intro and a outtro), but the rest is pretty cool stuff. I really like this album.
fuzzoramarecords.com | facebook.com/wizzerddoom
LIVING WRECKAGE: Living Wreckage
M-Theory Audio on Sept. 23 - CD, LP, Digital
This is the debut album from LIVING WRECKAGE, who features members of ANTHRAX, SHADOWS FALL and LET US PRAY. They have previously released a 3-track EP, which is sold out.
The music that these 5 men make is a heavier kind of metal, yet melodic. It sounds American and modern. And these 9 tracks are not so bad at all. I just don't know what else I should say about this though..
Best track here could be something like "Mark The Days". Give that a try!
livingwreckage.bandcamp.com | m-theoryaudio.com
LASTWORLD: Escape The Eclipse
Perris Records on Sept. 23 - CD, Digital
"Escape The Eclipse" is the 4th album from this Chicago-based AOR/melodic rock duo, which features Jim Shephard on all instruments and David Cagle on vocals. A pretty o.k. album, even though they are not doing anything new here. It simply sounds like some old album from the 80s or something, which is nothing unusual in this genre. And nothing wrong with that. Fans of melodic rock should not be dissapointed anyway.
I like the up-tempo rockers best, and are not such a big fan of the slow songs.
facebook.com/LastWorldMusic | perrisrecords.com
DEADLY VIPERS: Low City Drone
Fuzzorama Records on Sept. 30 - CD, LP, Digital
DEADLY VIPERS is a French band who play stoner rock. It's loud and heavy, but can sometimes also be more calm and almost psychedelic. It's most of all the power of the riffs that fuel their speakers with explosive energy. This is blood, sweat and beer.
This new album, "Low City Drone", is their own vision of the future/past, a dystopian tale about humanity's last breath and an utopian hope about the reconstruction after the end.
Yet another album for those who like it heavy..
fuzzoramarecords.com | linktr.ee/deadlyvipers
HEXED: Pagans Rising
ViciSolum Productions on Sept. 30 - CD, LP, Digital
HEXED is a symphonic/progressive metal band from Sweden, formed in 2015. "Pagans Rising" is their second album, which was written with inspiration and history of Sweden's witch-hunting hysteria in the late 17th century. And the music to that is a blend of guitar melodies, chugging riffs, dark symphonic orchestrations and progressive elements. But it's also said to be a much darker and heavier version of HEXED that we get here.
Most of all it sounds like a good metal album performed by good musicians. So this is of course worth a try or 5.
hexed.se
BANCO DEL MUTUO SOCCORSO: Orlando: Le Forme dell'Amore
InsideOut Music on Sept. 23 - CD, 2LP/CD, Digital
This Italian band released their debut album 50 years ago, which they now celebrate with their most ambitious concept album since that album from 1972. It's a wild and strange experience, but with a sound like nobody else. There's not just rock music, but lots of other influences as well. Fans of soft progressive rock will probably love this album.
All lyrics are in Italian, but English translations are included. And in addition to that, the band will post a detailed explanation of the whole concept on their website.
insideoutmusic.com | bancodelmutuosoccorso.it
Virgil & Steve Howe: Lunar Mist
InsideOut Music on Sept. 23 - CD, LP/CD, Digital
Steve Howe have been a musician since the 60s. Some of the bands he has been a member of are TOMORROW, YES, ASIA, GTR. But he also have a solo career, and been a producer. "Lunar Mist" is his second collaboration with his son Virgil.
How am I going to describe this then? It's a very soft album, and I'm actually not really sure what genre I should put this into. But that doesn't really matter to me, as it's not really my cup of tea. Same boring thing over and over again, and just piano or keyboard and guitar. And just if that wasn't painful enough, none of them is man enough to open the mouth - It's all instrumental! Goodnight.
stevehowe.com | insideoutmusic.com
DRENALIZE: Edge Of Tomorrow
Drenalize on Sept. 23 - CD, LP, Digital
DRENALIZE is a French hard rock band, formed in 2013. "Edge Of Tomorrow" is their second album. Their debut album, "Destination Everywhere", was released in November 2015, so it has taken some time, but now a new album is here.
I think of stuff like DOKKEN and SCORPIONS when I hear this. So we talk about melodic 80s hard rock here. And if you like the bands I mentioned and similar acts from the 80s, then you should give these guys a try, because they have some really good songs on this album.
Not much else to add there..
facebook.com/drenalizeofficial
DEMORPHED: Denial Of Death
Darkstorm Records on Sept. 23 - CD, LP, Digital
DEMORPHED is a German death metal band, founded in 2011. They have since the beginning been dedicated to the rough and unpolished kind of death metal, and have nothing left for trends. So this is of course something for fans of the old school. But any fan of good death metal should like this, because DEMORPHED have made a really good album.
And that's all I have to say about that..
darkstorm-records.eu | demorphed.de
TERRAPHOBIA: Rise
Darkstorm Records on Sept. 23 - LP, CD, Digital
TERRAPHOBIA hailing from the state of Victoria, Australia, and was formed as LETHAL DOSE in 1985. They released several demos before they changed the name to TERRAPHOBIA in 1993. Soon after that they released their first EP, "Product Of Your Mind", which was followed by a few more EPs. Their first full-length album, "Enemy Within", wasn't released until 2001. But in 2002 the band was put on hold as guitarist Mick Jelinic joined death metallers MORTIFICATION, where he stayed until 2011. And then TERRAPHOBIA was back again.
The music on this new album is probably best described as thrash/death metal, or hard and aggressive thrash metal meets death metal maybe? Sometimes there's guitar melodies that might make you want to call it melodic as well, but this is mainly a hard and heavy album.
Some songs are more explosive than others, but overall a successful album.
darkstorm-records.eu | facebook.com/Terraphobia
MERIDIAN: The 4th Dimension
From The Vaults on Sept. 23 - LP, CD, Digital
Danish band MERIDIAN has released 3 albums and 1 covers EP since 2013, and now they are getting ready to release their 4th full-length. The music is best described as melodic hard rock, even though there's a heavy number here and a fast one there as well.
MERIDIAN have many great songs here, but the best of them all is without a doubt "Dreamers", which is excellent! This is an album that you absolutely should check out.
meridianband.dk | fromthevault.dk
SCHELETRO: Un Feto Schiacciato Senza Tre Falangi
Time To Kill Records/Hellnation Music on Sept. 22 - LP, Digital
Italian crust/metal/punk outfit SCHELETRO are based in Rome, and this is their second album.
This is a fast drama in 8 acts, which musically spans from traditional Italian old school hardcore, via d-beat to thrash metal. It's most of all hardcore/punk in the good old tradition though, and mainly just a pinch of metal. The only song here that could be called melodic is the 4th track, "Se Respirare Servisse a Qualcosa", which has a melodic anthem like chorus. Otherwise it's full speed ahead and powerful guitars. Well, except for the last track then, which is heavier and 5:20 minutes long.
scheletro.bandcamp.com | timetokill-records.com
LIVE BURIAL: Curse Of The Forlorn
Transcending Obscurity on Sept. 23 - LP, CD, Cassette, Digital
If you like your death metal a little desperate and almost chaotic at times, then this noise might be your thing. But they can of course be heavier too once in a while, so it's absolutely not pedal to the metal all the time. Not totally useless actually, even though I think there's too much reverb on the vocals.
It's 2 years since this UK band released their last full-length, "Unending Futility". The new album is said to be "a staggering improvement", and the songwriting is "far more intricate and multi-faceted". All I can say is that it could be worth a try anyway.
tometal.com | liveburialdeath.bandcamp.com
LAZY QUEEN: 243 New, Moon
Icons Creating Evil Art - Digital Single
Norwegian band LAZY QUEEN play some kind of hybrid of bubble punk and indie rock, and it sounds alternative. This new song may be soft and melodic for a hard rocker, but is at the same time full of emotions and expressions. It sounds more like indie rock than punk rock, but it's a pretty good song anyway. Very catchy.
icea.se | lazyqueenband.com
VANTE: Vante
Dark Star Records/Sony/Universal - CD, Digital
VANTE brings together the 5 musicians Brian Troch (vocals), Scott McClellan (guitar), Rev Jones (bass), Chris Moore (percussion) and Jeff Tortora (drums), who have toured and recorded with acts such as HAMMERON, CYCLONE TEMPLE, MICHAEL SCHENKER GROUP, STEELHEART, Tony Martin etc. A lot of experience at one place, you could say. Many of these songs are pretty long, around 10 to 11 and a half minutes, and yet there's as much as 14 of them, which I think is totally crazy.
But even though the songs are too many and a little too long sometimes, most of them are actually really good. The music is some kind of alternative hard rock/metal hybrid. It's heavy and melodic, as well as powerful. I'm not really sure what I should compare them with, but it's not impossible that those of you who like alternative rock from the 90s could like this.
This self-titled record is the debut album from this American band.
A funny thing is that VANTE means glove in Swedish. Not such a cool name over here..
vanteband.com | darkstarrecords.com
STELLAN WAHLSTRÖM DRIFT BAND: As Real As In A Dream
Belpid Records on Sept. 16 - LP
O.k., this is definitely not what I use to listen to. Some kind of soft and laidback Americana or something like that? They talk about glam rock piano ballads and psychedelic folk rock, but I can't hear any of that on this album. No, this works best as lullabies, or possibly when you want to relax.
To me the difference between the songs is not that big though. And it gets boring after a while because of that.
This is the fifth album from STELLAN WAHLSTRÖM DRIFT BAND. It was recorded as a band to analogue tape, and have been spiced with various instruments. The lyrics are poetic and cinematic, and takes the listener to places like Tanger, Venedig, Stockholm and New York.
Stellan Wahlström have played with garage rockers WYLDE MAMMOTHS. He should have continued with that..
belpid.se
NORDIC HARD ROCK FOR PEACE: Hellbound Train
Art Of Melody Music/Burning Minds Music Group - Digital Single
The Nordic Hard Rock For Peace initiative was instigated by Peter Hermansson (220 VOLT, John Norum, TALISMAN) and Martin Jepsen Andersen (BLINDSTONE, MERIDIAN, CHALICE OF SIN), during writing sessions for the follow-up to Hermansson's solo album, "Second Glance", which was co-produced by Andersen. Just when they were writing "Hellbound Train", the Russian invasion of Ukraine began. So Hermansson came up with the idea of turning it into an all-star thing in support of Ukraine. He took contact with some colleagues, mainly in the Swedish hard rock scene, and the result is now available.
Among the involved in this project are people like Göran Edman (John Norum, Yngwie Malmsteen, HEADLESS etc etc), Matti Alfonzetti (SKINTRADE, JAGGED EDGE, Alfonzetti), Pontus Snibb (BONAFIDE), Göran Nyström (220 VOLT), Janne Stark (OVERDRIVE, Merryweather/Stark etc etc), Mats Karlsson (220 VOLT), Johan Niemann (EVERGREY), and a few more..
This is actually a pretty long hard rock song for being a single, as it's 7 minutes. But it's a very good song. Catchy and melodic, yet powerful, and an obvious single. You should absolutely check this out if you like hard rock.
youtu.be/rPPl7i1jqsM | facebook.com/NordicHardrockForPeace | burningmindsgroup.com/art-of-melody-music
PARKWAY DRIVE: Darker Still
Epitaph Records - CD, LP, CD Box Set, Digital
Most of this album sounds like metalcore and nu metal to me. Or possibly a hybrid of hardcore and metal with sing-along choruses (which is probably the same). So it's not the kind of music that I use to listen to. But I have to admit that I have heard a lot worse in my life. And even though I would hardly call this a masterpiece, there's definitely some highlights here and there. And I like it more and more for each time I listen to this album.
It's a hard and heavy album, but also catchy and melodic. The kind of stuff that I think that the kids could like nowadays (or was that 15-20 years ago?). The title track is a different story though, as it's what we could call a epic power ballad with a symphony orchestra. But I even like that song too now. Powerful stuff.
This Australian band started as an obscure hardcore band, but is nowadays a big name in the rock and metal scene. They have now come to their 7th album, and are currently on a European/UK tour.
epitaph.com | parkwaydriverock.com
TYRANT: Pray For The Night
Tyrant - Digital Single
TYRANT hailing from Lansing, Michigan, and was formed by the Winters brothers Philip and Andrew in 2012 while they were still in high school. A new album, "The Lowest Level", will be released on September 30. "Pray For The Night" is a taste of that album. And it's a riff-based heavy metal song with a pinch of thrash. This is not in the classic metal tradition, but rather their own little sound. Pretty good though.
youtu.be/2SnwvPBSldI | tyrantband.com
ELDPROV: Rift
Grind to Death Records on Sept. 16 - CD, Digital
"Rift" is the debut album from this Swedish band. And even though they play melodic death metal, they are not afraid to infuse elements from other genres, like thrash and black metal for example. That makes their music more intense than many other bands in this genre. Some songs are almost melodic black metal actually. But there's always melody and strong songs.
Among the guest artists on this album are Heljarmadr (DARK FUNERAL, GRÁ), Jacob Björnfot (KVAEN) and Johannes Axeman (ex-WOLF, DECAMERON).
facebook.com/eldprovofficial | grindtodeathrecords.bandcamp.com
AMORIELLO: Phantom Sounds
H42 Records/Shredguy Records on Sept. 16 - LP, CD, Digital
This is the third release from AMORIELLO, which is led by New Jersey-based guitarist Thomas Amoriello. The music is best described as neo-classical heavy metal. So what you can expect is passionate vocals, skillful guitar playing, and pumping drums and bass. And yes, everything is very professionally done. Most songs are melodic and strong. Sometimes there's also progressive elements.
Fans of classic heavy metal and Yngwie Malmsteen should like this, because it's a very good album that they have made.
thomasamoriello.com | h42records-shop.de | shredguyrecords.storenvy.com
PURPENDICULAR: Human Mechanic
Metalville Records on Sept. 23 - CD, LP
PURPENDICULAR was founded in October 2007. During the first 2 years they did shows in Austria and Germany, focusing mainly on the Steve Morse-era of DEEP PURPLE. They have even been touring with DEEP PURPLE drummer Ian Paice behind the drums a few times, and became the most booked DEEP PURPLE tribute band in 2012. Ian also play on this album. And some other musicians that they have been working with are Roger Glover (DEEP PURPLE), Tony Carey (RAINBOW), Paul Morris (TRANS-SIBERIAN ORCHESTRA, Joe Lynn Turner, RAINBOW, DORO) and Neil Murray (WHITESNAKE, BLACK SABBATH, Gary Moore, PHENOMENA).
PURPENDICULAR's first album, "tHis is the tHing#1", was released in August 2015, and their second, "Venus To Volcanus", in May 2017. Now they are getting ready to release their third album.
To say that this sounds a lot like their idols is hardly wrong. But I would not say that it's a complete copy, but rather influenced by DEEP PURPLE. So no, this is not a covers albums, but their own original material. It's a little bluesy and funky sometimes, and they are doing a good job, but they don't have something that is extra good here.
metalville.de
VLAD IN TEARS: Porpora
Metalville Records on Sept. 16 - CD, LP
Sure, the guitars are heavy. But otherwise it's mainly some kind of pop/rock that we get from this band. And as you might have figured out already, it sounds very modern. I guess we can call this pop metal? The record label call it gothic metal though.
For some strange reason it seems to be very popular nowadays to mix metal and rock with pop. I'm not really sure why they want to do that, because to an old-school rocker like me it's hardly ever any good songs that they have. And especially not when you like this band have elements of modern pop in some of the songs, which is the worst kind of crap since I don't know when (and that was the kind version).
The only good songs here (yes, everything doesn't suck) are "Wasted Lives", "Sorry" and possibly "One Last Chance". The rest wasn't my cup of tea.
metalville.de
VOGELFREY: Titanium
Metalville Records on Sept. 16 - CD, Limited Fanbox
What am I going to call this then? Folk metal? Maybe..
Anyway, this is the 6th album from this band. Most of the songs are in German, but 1 is in English, which is the first time for VOGELFREY. The guitars deliver heavy and powerful metal riffs, while the vocals is melodic. But they also use instruments like violin and cello etc. It's almost like if RAMMSTEIN suddenly would decide to play folk metal instead of industrial metal. Not bad at all.
As a bonus for those who decide to get the limited fanbox, they give you 6 acoustic versions of their most popular songs.
metalville.de
ENTOMBED: Morning Star (re-issue)
Threeman Recordings on Sept. 23 - CD, LP, Digital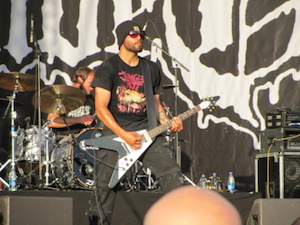 Now we're talking! I almost wanted to call this a modern classic, but figured out that it's already 21 years since this album was released (where did the time go?). Anyway, this album kicks ass! Lots of great songs all the way. But the biggest classic from this album is the opening track, "Chief Rebel Angel", of course.
"Morning Star" is the 7th album by Swedish metal legends ENTOMBED. The album have been out of print for many years, but have now been remastered and is ready to be re-released.
It's as usual a good combination of heavier and faster songs. I'm not really sure if I would call everything death metal, or even death n roll, though. To me it's more like some kind of metal or possibly thrash metal, with their own unique sound. Hard and powerful anyway.
Pre-order: smarturl.it/TRE052
STRÖM: Ström
Black Lodge Records on Sept. 23 - CD, LP
This is one of the latest "hypes" on the Swedish rock scene. A band that sounds much like AC/DC, but sing in Swedish. But there&&39;s more influences than just that here, which gives them their own sound. What makes them special is not just that they sing in Swedish though. They also have the ability to make memorable songs with the help of simple 3-chord power rock. And that's actually not as easy as you might think it is.
STRÖM comes from Växjö, and features former members of KONGH, SKOGEN BRINNER, The JOHN BULL GANG and STREETS OF MARS. This is their powerful debut album, which will be followed by tour dates in Scandinavia during the rest of the year, and then a Spanish tour in the beginning of 2023.
If you know Swedish, you can read my interview with them here.
blacklodge.se | facebook.com/tidensjunger
HEXED: Stigma Diaboli (Radio Edit)
ViciSolum Productions - Digital Single
Swedish symphonic/progressive metal band HEXED will release their second album, "Pagans Rising", on September 30. This single is the third taste of that album. It's dark and heavy, yet very melodic and majestic. Simply everything that I guess a fan of symphonic and progressive metal ask for. And even though I'm not usually such a big fan of those genres, this is actually very good stuff.
youtu.be/VtwQXNChrLs | hexed.se
LIAR THIEF BANDIT: Diamonds
The Sign Records on Sept. 16 - MLP, Digital
Swedish trio LIAR THIEF BANDIT deliver a 7-track mini album. They unites classic rock and Scandinavian garage rock with a modern twist. It's catchy, melodic and straight forward. Simple rock done with soul.
Their own songs are not bad at all, really good stuff. But they are also doing a pretty hot cover of GRAVEYARD's "Ain't Fit To Live Here" - You have to check that out!
If you have any interest in Scandinavian rock at all, then this is for you.
liarthiefbandit.bandcamp.com | thesignrecords.com
VAULT: The Perfect Truth
QUMRAN Records
VAULT hailing from The Netherlands, and are influenced by modern progressive rock, classic rock and hard rock. What they play is progressive rock though, without a doubt. So no, they are hardly here to give you catchy pop songs, but more complex rock songs instead. Most of these 7 songs are melodic and in the softer league. Progressive nerds will probably be happy to hear this.
This album is a big mystery to me though, as neither the record label or the band have the album for sale yet. And there's no information at all about the release date and on what formats it will be available. The only thing I could find out was that they have released 2 singles from the album so far. Weird people.. I want German discipline!
vaultband.com | qumranrecords.com
UNDER THE OAK: Rattus Norvegious
Wormholedeath Records - Digital
This is a really good thrash metal album, mainly influenced by the bands from the 80s (they even end the album with covers of TANK and DESTRUCTION). You should really check it out, because this should not dissapoint any fan of thrash. Yes, that's how good I think this is.
UNDER THE OAK comes from Norway, and they play both their own material and covers. They have released 1 album before "Rattus Norvegious".
facebook.com/oakthrash | wormholedeath.com
RETADOR: Retador
Xtreem Music on Sept. 13 - CD, Digital
Here's some thrash metal in Spanish then. Aggressive stuff. These guys simply know how it's supposed to be done, and take the best parts from the old school and the new school.
This band formed in June 2020, but it wasn't until March 2021 that they finally found a bassist. And in July 2022 they signed with Xtreem Music for the release of this self-titled debut album.
Yes, this is very good stuff, so you should absolutely check them out. Spanish is actually a perfect language for thrash metal.
xtreemmusic.com | facebook.com/retador.thrashmetal
REOG: First Things First (reissue)
Reog - Digital
This 6-track EP was released in 2018, but is now getting a new chance. Not really sure why. Even though the songs are not that extremely long - approximately 4-5 minutes - it feels like they are too long anyway. Which is a little weird, as the songs are not that bad. Sure, it might not be top quality. And it sounds like a demo.
Even though these guys are based in L.A., this is not another sleaze rock band, but rather some kind of American hard rock/heavy metal. It goes at a medium pace most of the time, and none of the songs stand out as anything special. Even though it's melodic, it's not always catchy. I have heard both better and worse.
reogband.com
RENEGADE ANGEL: Dawn Of Justice
Inverse Records - Digital
On this EP, Finnish band RENEGADE ANGEL continue with their melodic heavy/power metal. But this time they have added some symphonic elements and bigger vocal harmonies they say. Vocals is shared between 5 different singers, who sing in English, German and Spanish. There's also 3 different drummers and 2 bass players. So there must have been lots of work to make this EP.
Was it worth all the work then? Well, after listening to this a few times I can say yes. Because this is just as good as any other band in this genre. The songs are powerful and majestic, but yet pretty straight forward.
Both a English and a German version of "The Whistleblower" after each other was a bit unnecessary. But otherwise nothing to complain about.
youtu.be/UZ9IxrFVuYw | inverse.fi | renegadeangel.fi
INFERNAL TYRANT: Fallen From Grace
Infernal Tyrant - Digital
INFERNAL TYRANT is an American thrash metal project, and this is the debut album, which was released on July 30. The project was created by Metal Thrashing Mike of the Metal Thrashing Nerd podcast. And even though it's thrash, there's also influences from various other metal genres, like black, death and power metal.
How does it sound then? Well, like a demo recording actually. But the music is not bad because of that. It's raw but skillfully performed, and there's not that much to complain about.
instagram.com/infernaltyrantthrash
STRANGER VISION: Desolate Sea
Pride & Joy Music - Digital Single
Italian power metal band STRANGER VISION will release their new album, "Wasteland", on November 4. "Desolate Sea" is the third single from the album.
This band play a catchy and melodic, yet powerful and energetic, kind of power metal. But this song prove that they can also be a little harder and heavier, and a bit more raw. I like it though, so it will be interesting to hear the whole album. But check this out while you wait for that.
youtu.be/-7x9Sd0EGZs | strangervisionband.com
SOPHIE'S THREAT: Infernal Manipulation
Sophie's Threat - Digital Single
This is the first single from Brazilian melodic death/thrash metal band SOPHIE'S THREAT, who was formed in Sao Paulo in 2021. It's a raw and intense bastard, but yet melodic then. I like it. Fans of something like ARCH ENEMY and similar should check this out.
After the release of this song, some members left the band. They have since then been replaced though, and the next single, "Suicidal God", should be out soon.
youtu.be/zS20vZ-EZ4o | facebook.com/sophiesthreat
SEKUNDERNA: Här Har Du Ditt Liv
Luftslott Records - LP, Digital
This is the debut album from SEKUNDERNA, who hailing from Umeå in northern Sweden. And despite the fact that it's power pop, they have a unpolished sound. It could just as well be called punk rock. This is very catchy and melodic music. Most songs are around 2-3 minutes, so don't expect any progressive adventures here, but just straight and simple rock music in Swedish. And that's the way I like it, so I'm satisfied.
Even though there's 12 tracks, it's a very short album.
sekunderna.bandcamp.com | luftslottrecords.com
ARCHITECTS: deep fake
Epitaph Records - Digital Single
Hard and heavy stuff....But also melancholy and melodic....I prefer the hard and heavy parts....This sounds like nu metal, but yet modern....Maybe not my thing....
ARCHITECTS will release their 10th studio album, "The Classic Symptoms Of A Broken Spirit", on October 21. That's where this little song comes from, which is the opening track. It's the third single so far from the upcoming album.
youtu.be/TnCUJVPQH3I | epitaph.com
QUICKSAND: Giving The Past Away
Epitaph Records - Digital Single
I always thought that QUICKSAND was a hardcore band. But after listening to this song, it sounds more like some kind of indie rock from the 90s. It's soft and melodic. I guess it's o.k., but not much else actually. The kind of song that goes in through 1 ear and out through the other.
youtu.be/NVvpX7s0Bao | epitaph.com
RAKEL TRAXX: 19 Nights To Nowhere
Rock City Music Label on Sept. 9 - Digital EP
RAKEL TRAXX started in Marseille on the French riviera as a tribute to L.A.'s glam scene in the 80s. So this is a sleaze rock band without any surprises. Their first EP was recorded in 2008, which was followed by touring in France and Europe. Their first full-length album was released in 2011, and their second in 2016. After a short hiatus they are now back with this 6-track EP.
As you might have figured out already, they are not doing anything unique here. But they are doing it good, so it could be worth listening to if you like good old sleaze rock from the 80s. Try something like "Mexico" or "Wild Girl" for example.
kuronekomedia.lnk.to/19Nights | rockcitymusiclabel.com
ROOTS OF THE OLD OAK: Blot
Hammerheart Records - Cassette
In December 2021 UK black/death metal veterans Pete Rowland and Stuart R Brogan decided to make music again after 20 years. And in February 2022 they entered the studio to record this 4-track demo, which was released on cassette by Hammerheart Records in August. They are currently writing material for their debut album.
The music on "Blot" is heavy and atmospheric death/doom like in the early 90s. Think PARADISE LOST and similar for example. If you like that, then you should enjoy this too, because it's absolutely not bad at all.
rotoo.lnk.to/blot | hammerheart.com
KING'S X: Three Sides Of One
InsideOut Music - CD, 2LP/CD, Digital
The trio Dug Pinnick (bass, vocals), Jerry Gaskill (drums, vocals), and Ty Tabor (guitar, vocals) have been playing together for over 4 decades now. It's as much as 14 years since their last album was released, so I guess that this new album comes as a little surprise for some of their fans.
Anyway.. KING'S X play a heavier kind of hard rock, even though they spice it with more melodic stuff too, or a slower song. And it also happens that they throw in some funk or The BEATLES. I would say that they have their own unique sound, but it sounds good to me anyway. There could possibly be a few too many of those slow songs though.
insideoutmusic.com | kingsxrocks.com
TERRA ATLANTICA: Beyond The Borders
Pride & Joy Music on Sept. 16 - CD
TERRA ATLANTICA push the borders of the power metal genre by adding stage musical elements to their music. And it's not just an adventure musically, as the lyrics tell a story. This time it's the year 1848, 2 decades after the previous record, "Age Of Steam". In other words very ambitious stuff. But they back it up with mainly good songs, and it's never too much, so thumbs up.
prideandjoy.de
MENTALIST: Empires Falling
Mentalist Records/Pride & Joy Music on Sept. 16 - CD, 2LP, Box Set, Digital
German/Swedish melodic power metal band MENTALIST (based in Saarbrücken, Germany) has released 1 full-length album each year now since 2020, which makes them more effective than many other bands nowadays. And this third album continues where the last album left. So in other words more of that melodic, yet powerful, metal that we got on the 2 first albums.
Yes, this is very, very good stuff! So if you like melodic metal and don't check this out, then you must be really stupid. Not much else to add there..
facebook.com/mentalistband | prideandjoy.de
HARTMANN: Get Over It
Pride & Joy Music/Sonic11 on Sept. 16 - CD
"Get Over It" is the 10th album from German hard rock/rock band HARTMANN, where we get mainly modern AOR and melodic rock, even though there's some hard rock too. And sure, it's good, but 11 songs of this at once seems to be a little too much for me. Not really sure why though. I guess that this is best served in small portions. There's also a few too many slow songs here.
I would guess that fans of AOR/melodic rock will enjoy this album.
Singer/guitarist Oliver Hartmann is also well-known from AVANTASIA, Rock Meets Classic and the German PINK FLOYD tribute band ECHOS, and is also a former member of AT VANCE.
facebook.com/HartmannBand | prideandjoy.de
Marco Mendoza: New Direction
Mighty Music on Sept. 16 - LP, CD, Digital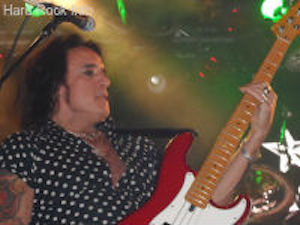 Mr. Mendoza seems to blend influences from all the bands and artists that he has been working with through the years (which are many), but also adds his own touch to it. In the end it's a powerful and catchy hard rock album that we get. And it sounds really good, so you should not miss this album.
This is the 4th solo album from this bass legend. He has once again worked with Danish producer Soren Andersen, who also take care of guitars and keyboards. We also get some guitar solos from Tommy Gentry (GUN), and the drumming were split between Morten Hellborn (ELECTRIC GUITARS) and Allan Tschicaja (PRETTY MAIDS).
mightymusic.dk | marcomendoza.com
IRON SAVIOR: Reforged - Ironbound (Vol. 2)
AFM Records - 2CD out now, 2LP on Sept. 30
German power metal band IRON SAVIOR have been active for a quarter of a century. In 2017 they started a special project: As their 5 first albums were no longer available, and they could not just re-release them for legal reasons, they decided to re-record some highlight tracks of the Noise Records years. The result became "Reforged - Riding On Fire". And of course the fans wanted more, so now they have re-recorded some more tracks. But we also get "Living On A Fault Line", which was previously only released in Japan, and even a new song, a cover of "Sweet Dreams" by EURYTHMICS.
Now I have not heard the original versions of these songs, and I have probably not even heard IRON SAVIOR before, so I can't compare. But I can at least hear that this is a very good band with many strong songs. 23 songs at once is much though, even for a good band like this. But on the other hand, who says that you have to listen to all of them at once?
iron-savior.com | afm-records.de
EDENBRIDGE: Shangri-La
AFM Records on Sept. 16 - 2CD, 2LP, Box Set
Austrian band EDENBRIDGE should be familiar to fans of symphonic metal. Their debut album, "Sunrise In Eden", was released 22 years ago, so they are among the veterans in this genre. Many other symphonic bands sounds more or less the same, and just have to use that irritating opera/soprano vocals. But not EDENBRIDGE. Somehow they are different from the rest, and actually a little better because of that. It's simply more metal, even though there's orchestral elements and emotional vocals too.
Their new album, "Shangri-La", is said to be the band's most diverse album to date. And I'm willing to believe them, because there's lots of strong material here.
edenbridge.org | afm-records.de
Steve Hackett: Genesis Revisited Live Seconds Out & More
InsideOut Music - 2CD/Blu-ray, 2CD/2DVD and Digital out now, 4LP/2CD Box Set on Nov. 25
I'm not really sure how many of these live albums with GENESIS songs that Steve Hackett (ex-GENESIS) have done through the years, but it's at least more than 2 I'm sure. But it happens that he does his own music too of course.
In September and October 2021, Steve Hackett and his band embarked on their first tour in nearly 2 years, this time bringing the GENESIS live album "Seconds Out" to life in full, alongside a host of solo favourites and tracks from his most recent studio album, "Surrender of Silence". What we find on this release was recorded and filmed in Manchester on September 24, 2021.
If you want something more complex and different from the rest, then this could probably be of interest for you. Once in a while there's a pretty normal song though, but it's never so straight that it could be a hit song. But if you have choosen to play progressive rock, then you're probably not interested in hits, even though a few bands in that genre actually have succeeded to get a hit back in the 70s or 80s. It usually just happens once though.
The music on this live album is mainly very melodic. Sometimes it's good, sometimes it's not.
youtube.com/watch?v=h2GmV_-r5Bo | insideoutmusic.com | hackettsongs.com
LITTLE VILLAINS: Battle Of Britain
Spira Records on Sept. 15 - CD, Digital
This is a band that legendary drummer Philthy Animal Taylor (MOTÖRHEAD) formed together with James Alexander Childs (AVON, AIRBUS) in L.A. in 2005. Owen Street (WAXY, VAILS) completed the line-up, playing bass at early recording sessions. They worked on and off on their recordings until 2010, when Philthy became ill and returned to England. Unfortunately he died in 2015, but the band released their debut album, "Philthy Lies", in 2019. Chris Fielden (AIRBUS) joined the band on drums when they went on tour. James's nephew, Owen Childs, joined them on second guitar.
Now we have suddenly come to their 4th album, "Battle Of Britain". The first album was a really good hard rocking album, but this time I don't really know what to think about them. It just doesn't rock that hard anymore, and the songs are much weaker. It's not totally useless (except for 2 more or less instrumental songs that are total garbage), but I'm almost a little dissapointed actually.
And the funny thing is that they are already in the studio working on their next album. Maybe they should slow down and work some more on the songs? Because this is not good enough.
thelittlevillains.com
Jack13's PANZERCROW: Murder Ballads
82 Records on Sept. 9 - CD, LP, Digital
Jack13 is the frontman of Finnish horror metal punks SCARECROW. But he has also done a few solo albums, which actually sounds better to me than SCARECROW nowadays. This is less metal and more punk, and sometimes also more melodic. He simply gives himself the freedom to vary the material considerably more. The horror theme is still there though.
I really like this album! It's full of great songs, and it's often catchy and melodic. You have to give this a try!
facebook.com/scarecrowfinland
DISPRAISED: Lines In The Dirt
Rottweiler Records on Sept. 9 - CD, Digital
Donovan de Necker (South Africa) and Tom Mong (Idaho, USA) began to talk about this project in 2017. The 2 guys have a lengthy background in the punk rock and live music scene, and also happens to be Christians. Their debut album, "Moral Rot", was released earlier this year. And now their next album is here already.
DISPRAISED holds nothing back, and channels the aggressive anti-PC stance of such legendary punk/hardcore legends as FEAR, BLACK FLAG and BAD BRAINS. So it sounds very American. The differance though is that their lyrics comes from a faith-filled Christian stance and are firmly rooted in scripture.
This sounds good, but might not be excellent. A few songs are a little better though. If you like old American hardcore/punk without any metal, then you should give this a try.
dispraisedrr.bandcamp.com
CROSSON: Ready, Aim ... Rock!!
Galaxy Records on Sept. 9 - CD
CROSSON have loaded their guns and are ready to rock.
This is the 6th album from these Australian theatrical glam rockers. And this album have it all, from fist-pumping rockers to uplifting and catchy stadium rockers to softer pieces (no ballads though). I think of MEAT LOAF when I listen to this, but with a twist of their own thing. It's bombastic and melodic, which makes it a powerful rock album.
This album might not take them all the way to the top, but they sure have some good songs here, so it could absolutely be worth listening to.
crosson.com.au | prideandjoy.de
THERION: Deggial / Lemuria / Secrets Of The Runes / Sirius B / Theli / Vovin (re-issues)
Hammerheart Records on Sept. 9 - Deluxe CDs
THERION started as a death metal band, but soon transformed to a symphonic metal band instead. They were actually one of the first metal bands to include symphonic and classical elements. These 6 albums was released between 1996-2006, called "The Symphonic Years". The albums will now be re-released as Deluxe CDs with full booklet in a silver laminated slipcase.
Today some of these albums are seen as the most essential when it comes to symphonic metal. They are simply classics in this genre. The music is really ambitious with all kinds of elements included and very complex structures, as well as all kinds of moods. So this will probably please fans of progressive metal as well.
Now I'm not going to write about each album here, because you get more or less a new adventure on every album according to me. Each album is almost like its own metal opera. Sometimes it's more symphonic, sometimes more metal. Sometimes a little better, sometimes not so interesting.
hammerheart.com | therion.se
INVADERS: Beware Of The Night
Fighter Records on Sept. 8 - CD, LP, Cassette, Digital
INVADERS is a heavy metal band from Madrid, Spain, founded in the end of 2016. Their first EP, "Metal Madness", was released in April 2019. And now it's time for their full-length debut, "Beware Of The Night".
These guys play a pretty melodic kind of heavy metal, with a touch of the 80s. And they do it really good. Except for 8 of their own original songs, they have also included a cover of DOKKEN's "Into The Fire".
Fans of more melodic stuff should absolutely check this out.
facebook.com/invadersrock | fighter-records.com
STARCHILD: Tame
Metalapolis Records - Digital Single
"Tame" is taken from the upcoming STARCHILD album "Battle Of Eternity", which will be released on October 28. And this is a very good melodic heavy metal song, with a really strong chorus. You have to check it out of course.
Not much else to add there, but now that I have heard this song, I really look forward to hear the new album.
youtu.be/OqstrisiiDg | metalapolis.eu | facebook.com/starchildmetal
«
AUGUST
|
INDEX
|
OCTOBER
»