REVIEWS JUNE 2022
«
MAY
|
INDEX
|
JULY
»
VYPERA: Eat Your Heart Out
Frontiers Music Srl - CD, Digital
This is the debut album from this Swedish hard rock band. It sounds like something from the 80s, and reminds me of the Swedish bands from that era, who were inspired by American and British bands from the 70s. So in other words, very good stuff. The choruses are very strong, and it's both melodic and energetic. Just listen to something like "Spellbound" for example - Excellent!
The band was originally formed as a covers band called MADHOUSE in 2016. But they soon wanted to play their own material instead, and changed the name to VYPERA.
I would guess that fans of something like EUROPE and 220 VOLT, as well as some more obscure hard rock and heavy metal bands, could like this a lot.
frontiers.it / facebook.com/Vyperaofficial
ICONIC: Second Skin
Frontiers Music Srl - CD, LP, Digital
ICONIC is a new "all-star" hard rock group, featuring Michael Sweet (guitars - STRYPER), Joel Hoekstra (guitars - WHITESNAKE, TRANS-SIBERIAN ORCHESTRA), Marco Mendoza (bass - THIN LIZZY, BLACK STAR RIDERS, The DEAD DAISIES, JOURNEY), Tommy Aldridge (drums - WHITESNAKE, Ozzy Osbourne, Ted Nugent, BLACK OAK ARKANSAS) and Nathan James (vocals - INGLORIOUS). The band was of course born from an idea of Serafino Perugino (President and Head of A&R for Frontiers Music), and the sound he wanted was something similar to WHITESNAKE. But that doesn't mean that this is a complete copy of that band, just something similar. Those who like their hard rock melodic and with powerful vocals should absolutely check this out, because they have lots of great songs here. This album is far away from boring.
frontiers.it / facebook.com/IconicRnR
CHAOS MAGIC: Emerge
Frontiers Music Srl - CD, Digital
On "Emerge" they have sewn together symphonic metal with hints of modern metal. There's nor chaos or magic here, but it actually works just fine. They are good at what they are doing, and the songs are good too. What else can you ask for?
For some reason I don't have much else to say, so let the music do the talking instead.
..and remember, a short review is better than no review.
frontiers.it / facebook.com/caterinanix
SACRAL NIGHT: Le Diadème D'argent
No Remorse Records on July 1 - CD, LP
French band SACRAL NIGHT release their second full-length album. And this band play a darker kind of underground heavy metal, with elements of KING DIAMOND, PORTRAIT and IN SOLITUDE, as well as vibes of DISSECTION and TRIBULATION. All lyrics are in French, which makes them a little unique.
Their music is both traditional and modern at the same time, as well as theatrical. They simply blend many different elements and moods. It sounds occult.
noremorse.gr
FLAMES: Resurgence
No Remorse Records on July 1 - CD, LP
FLAMES is a Greek thrash metal band formed in 1984. A lot has happened with the band since they started, but they are still true to old school thrash metal on this new studio album. Fans of something like KREATOR, SODOM or early METALLICA should not be dissapointed when they hear this. That's how good they are according to me. So this is more or less a must for every fan of thrash.
"Resurgence" seems to be their first record since 1996.
noremorse.gr
NOICE: Först. Sist. För alltid.
Wild Kingdom on July 8 - 2LP, CD
Swedish band NOICE became famous over one night when they appeared on the TV show Måndagsbörsen in March 1980. But they formed in 1977 already as NOISE, when they were still just teenagers. But there was already a band called NOISE in southern Sweden, so after a while they changed it to NOICE. The band released a few albums and was a big succees here in Sweden. But in 1983 they split up. Some members formed the glam/hard rock band EASY ACTION with some other guys. They have reunited several times in different constellations since then, and are still active with bassist Peo Thyrén as the only original member - New single, "Natten Tillhör Oss", on July 1. Keyboard player Freddie Hansson died in 2001, and singer/guitarist Hasse Carlsson in 2002. Both died of liver damage after several years of heavy drug abuse.
This album (which is available in a limited edition) consist of their first recording, which was done on May 23, 1979. This is unpolished versions of some of the songs that ended up on their classic debut album, "Tonårsdrömmar" (1979). We also get recordings from 1995, which ended up on the "Vild Vild Värld" (1995) album. But also the very last recordings with original frontman Hasse Carlsson, which was done in 1998 and 1999.
Sometimes there's a debate here in Sweden if NOICE was a punk band. And the first songs here could actually be called punk rock. But after a few songs they become more and more of a pop band instead. I like those early tracks best, with its teenage glow. But the tracks from 1995 was actually not so bad either. Some of the stuff towards the end is a little childish though, which makes me think that they might have been listening to the child pop band The PINKS. It's extremely catchy and melodic, with choruses that will get stuck in your head no matter if you want it or not. I think of something from the Swedish outtakes to Eurovison Song Contest actually - Not so rock n roll.
noice.se / wildkingdom.se
SWEET FREEDOM: According To Jörgen Schelander
Melodic Passion Records on July 8 - CD
I think of something like Jesus Christ Superstar when I listen to the first track, "The River Of Silver And Gold", on this record. The rest is more like a mixture of classic rock and melodic hard rock. And this sounds really good to me. You should really give these guys a try.
SWEET FREEDOM was formed by Jörgen Schelander (ex-OZ etc) when he decided to leave Swedish band ASTRAKHAN. His last album with that band was a live album where they performed songs from Jesus Christ Superstar, and that rock opera has been a hugh part of his musical journey. So it's obviously not so strange that his new band sounds like they do.
The rest of the band members comes from the DEEP PURPLE cover band DEEPEST PURPLE, except for the singer, Stefan Nykvist, who is also a member of SARAYASIGN (debut album out now).
melodicpassion.com
Derek Sherinian: Vortex
InsideOut Music on July 1 - LP/CD, CD, Digital
"Vortex" is an instrumental solo adventure by keyboardist Derek Sherinian (SONS OF APOLLO, Alice Cooper, DREAM THEATER, BLACK COUNTRY COMMUNION, Billy Idol, WHITESNAKE, KISS). If you like songs that are more like long solos or jazzy, then I guess that this could be of interest. Otherwise you should probably try something else.
This album is best described as a progressive rock/jazz/funk fusion. It's like an album from the 70s, but recorded with the technology of today. I'm pretty sure that fans of progressive rock will love this stuff.
Among the guitarists on this album are no other than Steve Stevens, Joe Bonamassa, Steve Lukather, Zakk Wylde, Ron "Bumblefoot" Thal, Michael Schenker, Mike Stern and Nuno Bettencourt. On drums we find Simon Philipps, and Tony Franklin play bass.
dereksherinian.com / insideoutmusic.com
VOMIT FORTH: Seething Malevolence
Century Media on July 8 - CD, LP, Digital
Connecticut-based death metallers VOMIT FORTH have signed with Century Media, and on this album they gives us an extreme death/grind experience. The only quiet moments here is the intro and the last minute of the album. Otherwise it's either fast or heavy, but always brutal.
They are not just making noise though, and are absolutely not chaotic. They actually seems to know how to play, and are almost a little technical sometimes as well.
Only for those who like it extreme..
centurymedia.com
TRAGOS: Radix Mendosus
XenoKorp on July 1 - CD, Digital
TRAGOS is a French old school death metal band, combining old school riffs with classical music inspired riffs. It's a pretty new band, formed about a year ago, and this is their debut album.
It actually sounds like they have made a demo recording in their rehearsal room or something like that. So I guess that this could have been much better if somebody could have paid for a studio and a better recording for them. Like it is now, it's just o.k., but honestly not much else.
Better luck next time..
tragos666.bandcamp.com / xenokorp.com
TEAR THEM DOWN: Dystopian Beats
Bakraufarfita Records - LP, Digital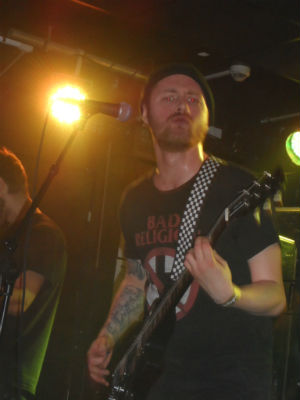 TEAR THEM DOWN hailing from Göteborg, Sweden, and formed in 2010. So it's hardly a new band that we have here. They have released a few records and toured across Europe several times, and even been to Japan. "Dystopian Beats" is their second full-length album, which is said to be more raw than previous releases.
This album is a mixture of punk rock and melodic hardcore. But most of all punk rock that is catchy and energetic with sing-along choruses. Absolutely not bad at all. They have many strong songs among these 13 tracks. The songs are often short, around 1-2 minutes. But sometimes you don't need more than that to make a good song.
Definitely worth checking out!
bakraufarfita-records.de / tearthemdown.com
The BOPPERS: White Lightning
Wild Kingdom Records on July 1 - CD, LP, Digital
My dad had 2 cassettes - their debut "Number One" (1978) and "Fan Pix" (1980) - with this legendary Swedish doo wop/rock n roll band that I used to listen to when I was a kid. There was many 50s/60s covers as well as some original material. It was very catchy and really good songs.
This new album is not really the same as the old stuff. And even though they come close once in a while, nothing is as magically as the songs on those old cassettes. Sometimes it sounds more like the later stuff with our Swedish rock n roll king Jerry Williams (R.i.P), who they have worked with earlier. I would not say that it's bad though. Already after the second listening, I like it a little more. Some songs are really catchy.
Most of the material here is original songs. And the few covers that they do here is hardly any good old stuff from the 50s/60s, but rather "King Rocker" by GENERATION X for example. Unexpected.
Some of all the guest musicians and friends on this album are Nicke Andersson (The HELLACOPTERS, LUCIFER, ENTOMBED etc), Dennis Quintero (TT GRACE), Chris Spedding (UK), Kiralina Salandy and Janne Oldaeus (ROST, The BWANAS), just to name a few. And if I got it right, Sulo (DIAMOND DOGS) and Eva Eastwood (Swedish rockabilly singer) have helped them with the songwriting. Producer was the legendary Tomas Skogsberg (The HELLACOPTERS, BACKYARD BABIES, ENTOMBED etc etc etc).
The BOPPERS have been around for 45 years, and released 19 studio albums. So they actually started to play good old rock n roll when punk exploded. Which might sound completely wrong to do, but somehow they succeeded and became extremely popular here in Sweden and Scandinavia. However, their popularity decreased after a few years, even though they had a few hit singles in the early 90s. Nowadays it's probably just old people like me and older who remember them, and I would be very surprised if this album would change that. But old fans is always better than no fans at all.
wildkingdom.se / theboppers.se
BOB MALMSTRÖM: Det Är Över Nu
Elitbolaget - Digital Single
Ha, ha! Why do they do a cover of a silly pop song by the Swedish band GYLLENE TIDER? Embarrassing to listen to even though I'm all alone. They have at least made it faster and more energetic than the original version, but that doesn't help much as I didn't like the song from the beginning.
This is the first single from an upcoming EP, "Segla Med Satan", which will be released in the fall. And normally you would release one of your own songs instead of this joke. But on the other hand, why do it like everybody else? That's obviously not BOB's melody. Which is a little funny.
Well, I look forward to hear the other songs on the EP. Because they use to play hardcore/punk, and at least a few of their songs (not all) are good.
elitbolaget.com
SENSE OF JUSTICE: Young At Heart
WTF Records - CD, Digital
In April this Austrian hardcore band released their 4th album, "Young At Heart". They formed in 1996, but have not been active for 16 years. Now they are obviously back again, but not much has changed. They are still true to old school hardcore, like they always have been. And this sounds really good to me.
This is more heavy than fast, but yet energetic. I don't think that I have to tell you about their sound though. Because if you're into hardcore, then this should sound very familiar to you.
facebook.com/SOJ1996 / wtfrecords.eu
REZET: New World Murder
Rezet - Digital EP
Looks like the future after REZET's last album, "Truth In Between", didn't look too bright. First a virus, and then both the guitarist and the bass player left the band. For a short while guitarist/singer Ricky Wagner wondered whether he should put the band to rest, but decided to continue with the band and recorded this 4-track EP with 2 new members.
What we get is 3 new songs and a cover of DEEP PURPLE's "Fireball". And the music is good old thrash metal in the catchy league, yet not friendly (if you know what I mean). Absolutely worth a try!
The song "Alien Noises" features guest vocals from Schmier (DESTRUCTION).
facebook.com/rezetband
RAGE UNFOLD: Chains
Rage Unfold - Digital Single
This song seems to be a multicultural production, mainly recoprded in England and Bulgaria. They call themselves a virtual heavy metal band, and this is their first single.
I don't have much to say, but it sounds really good anyway. Simply good old heavy metal just the way it should be. Check out!
youtu.be/Ivh93fBhXJY
BLITZKRIEG: I Am His Voice
Mighty Music - Digital Single
NWOBHM legends BLITZKRIEG are back with a brand new single. And they really deliver! Classic heavy metal like nothing has happened since 1982. This is a must for every true fan of heavy metal.
They also gives us a B-side, a live version of "Pull The Trigger". That song is not as strong as the A-side, and a little too long with its 6:30 minutes. It's hardly any crap though.
mightymusic.dk / blitzkrieg-music.com
WARWOLF: Clan Of The Undead
Metalapolis Records - Digital Single
This song comes from German band WARWOLF's upcoming album, "Necropolis", which will be released on July 29. And this is something that all fans of mid-80s IRON MAIDEN have to listen to, because it sounds a lot like them, and it's so good! You should not be dissapointed when you hear this.
"Clan Of The Undead" last for 6:52 minutes, and could easily have been a little too long. But in this case it really works.
facebook.com/WARWOLFofficial metalapolis.eu
EYE OF THE DESTROYER: What Goes Around Comes Around
Eye Of The Destroyer - Digital Single
This New Jersey-based band formed in 2013. Their debut album, "Baptized In Pain", was released in 2019. They have gone through some line-up changes, but are now strong again with their original drummer Dave Mericle back in the band.
This new single is pure New York hardcore influenced by BIOHAZARD and MADBALL. So if you like that, then you should really check out this song, who has all the right ingredients. Which means that it's hard and heavy, yet fast and catchy without being too fast or too catchy (if you get that?).
eyeofthedestroyer.bandcamp.com
REBEL PRIEST: Lesson In Love
Batcave Records/Thundermoose Entertainment on June 24 - Digital
REBEL PRIEST consist of 3 seasoned musicians from western Canada. They have played with bands like LUST BOYS, The TOXIKS, ROAD RASH and KILL MATILDA. The band formed in 2014, and has released 3 studio albums and a live record. An EP, "Lost In Tokyo", was released last year, and it was really good. Now they will release another EP, "Lesson In Love".
I described their last EP as raw and energetic hard rock n roll with punk attitude (to take the short version). And this is something similar to that, and it's still damn good. 4 really strong songs is what we get, and you should really check out this band.
batcaverecords.com / rebelpriestofficial.com
PHILOSOPHOBIA: Philosophobia
Sensory Records on June 24
Long-time friends Andreas Ballnus and Alex Landenburg (KAMELOT, CYRHA, MEKONG DELTA) got together in a studio in Germany in 2007 to work on some demo songs that Andreas had written for a prog metal concept album. But shortly after Alex joined ANNIHILATOR as their touring drummer, and Andreas became guitarist of former IRON MAIDEN singer Paul Di'Anno. So they had to postpone the project due to lack of time.
But after many years the day came when it was time to resurrect PHILOSOPHOBIA, now with Kristoffer Gildenlöw (PAIN OF SALVATION, KAYAK), Tobias Weißgerber and Domenik Papaemmanouil (WASTEFALL) involved in the project. The recordings began in 2020, and now in 2022 the debut album is ready to be released.
They gives us an adventurous and epic journey, which seems to be based on the more progressive part of heavy metal, as well as pure progressive metal of course. It's all very professional, and the songs are really good, so for once it does not disturb me that some songs are between 7-10 minutes. Fans of progressive metal should absolutely give these guys a try. But I guess that fans of IRON MAIDEN and QUEENSRŸCHE will like this too.
LA SOMBRA DEL TEJO: Unto de Muerto
Dawn of Murk/Darkwoods - MCD
Well, something must have made me interested in this record. But when I listen to it, I don't know what. Because this was not so good. It might not be totally useless though, as there's some o.k. parts here and there too.
I don't have a problem as long as they play old school black metal. But those atmospheric parts, or whatever I should call it, are so useless.
LA SOMBRA DEL TEJO is a 1-man band with Daniel Salmador (KETIKA HISPANNA), and this is his second EP. The music is described as primitive pagan black metal from the 90s. 4 tracks in Spanish is what you get.
darkwoods.eu / youtu.be/HNl72N9qkQ4
MYSTERY DUDES: Exit Through The Wormhole
Electric Valley Records on June 24 - LP, Digital
Debut LP with a Norwegian power trio, who blend stoner rock, punk and heavy psych. But most of all it's stoner and heavy psych that we get here, even though there's some punk too in some of these songs. The riffs are heavy, yet it's pretty catchy stuff. And these 8 tracks are absolutely not bad at all. You should really give these MYSTERY DUDES a try, even if there's a million other bands like this nowadays.
electricvalleyrecords.com / linktr.ee/mysterydudes
MINE COLLAPSE: Delusions
Nefarious Industries on June 24 - CD, Cassette, Digital
MINE COLLAPSE was founded in the fall of 2015 by 2 thirds of now defunct punk/metal band ARBOGAST. And this Chicago-based trio pick up where that band left off. So it should be energetic metallic hardcore with a punk nerve that we get? Well, at least the first track. Because the second track sounds more like stoner rock or something, while the third track is more experimental and almost atmospheric. The third track is a heavier hardcore song, which becomes more experimental (in lack of a better description) after a while. And it continues like that..
No, I would not say that this is a straight hardcore/metal band. It's actually hard to know what I should think of these 6 heavy songs because of that.
minecollapse.com / nefariousindustries.com
LOS PEPES: The Happiness Program
Beluga Records/Wanda Records/Adrenalin Fix on June 24 - LP, Digital
This is the fifth long player from the London-based band LOS PEPES, where they gives us a lovely blend of sharp and catchy 77 punk rock, pop punk and power pop. There's many good songs among these 12 tracks, so you should absolutely check them out. And especially if you prefer old melodic punk before new, because this sounds very old school.
belugarecords.com / lospepes.bandcamp.com
CROSSON: United
Galaxy Records - Digital Single
Australian theatrical glam rockers CROSSON has returned with a new single. It's a first taste of their upcoming album, "Ready, Aim ... Rock!!", which will be released on September 9.
Well, this is not so bad, even though I think it sounds more like melodic hard rock than glam rock. Really old school anyway. You should give this band a try.
crosson.com.au
BREFORTH: Metal In My Heart
Metalapolis Records - Digital Single
This is the title track of BREFORTH's debut album, which will be released in the fall. It's inspired by the NWOBHM movement, with bands like IRON MAIDEN, SAXON and JUDAS PRIEST. But also a 40th anniversary in the metal scene for band leader Jürgen Breforth, who started his career in MAD MAX in 1982.
A good heavy metal song with a touch of the 80s, but with a modern production. So in other words traditional, but modern as well.
metalapolis.eu / facebook.com/BreforthBand
Mambo Kurt: Sommerhits
Metalville Records on June 24 - CD, Limited Fan Box
HaHaHaHaHaHaHa! This German man is very funny, for a while at least, but it sure ain't rock n roll. This reminds me of the Swedish man Eilert Pilarm, who even though he can't sing is singing songs by Elvis Presley in his own unique way. Google that!
With the help of a home organ from 1980 and its drum rythms he deliver as much as 14 covers and 1 original composition (15 songs is way too much of this!) with a summer theme. Some songs are actually o.k., like "Summer In The City" (LOVIN' SPOONFUL), "In The Summertime" (Mungo Jerry) and "Summertime Blues" (Eddie Cochran). But there's better versions of all those songs, so the fun is soon over.
This is like a YouTube phenomenon that should have stayed on YouTube. But for some reason somebody thought it could be funny to release a record with this guy. How drunk was that person?
Does anybody need this? Probably not.. I can't take this seriously, but if you want something to laugh at, go ahead.
metalville.de
BLOODY HEELS: Rotten Romance
Frontiers Music Srl - CD, Digital
BLOODY HEELS is a hard rock band from Latvia, and "Rotten Romance" is their third album. It's said that they have pushed their sound forward on this album, even though the roots are still in 80s hard rock with elements of heavy metal. But there's also a pinch of progressive rock, gothic metal and more modern rock in the brew.
Anyway, this is a really good album that I think fans of SKID ROW and HARDCORE SUPERSTAR could like a lot. It's melodic but yet powerful. And even though I can't hear any hit song here, the material on this album is strong.
frontiers.it / facebook.com/bloodyheelsband
GRÄCE: Hope
Frontiers Music Srl - CD, Digital
Too electronic for my taste. But if you like pop music, then go ahead. I don't like that though, so this is just irritating to listen to. Not one good song on the whole album!
GRÄCE was founded in 2018 by Spanish singer Isra Ramos, and features young but experienced musicians. In other words a completely different generation than the one I come from.
frontiers.it / graceband.space
JORN: Over The Horizon Radar
Frontiers Music Srl - CD, 2LP, Digital
Norwegian singer Jorn Lande returns with a new studio album. And everything seems to be like it use to be. So in other words a safe album full of melodic hard rock and heavy metal.
That doesn't mean that it's bad though. Oh no, don't you worry about that. Jorn sing just as good as he use to do, and the songs are of really high quality. This is simply a very good album, so there's no reason to not check this out.
frontiers.it / jornlande.com
SEVENTH WONDER: The Testament
Frontiers Music Srl - CD, 2LP, Digital
When Swedish band SEVENTH WONDER released their last album, "Tiara" (2018), it was their first new music in 8 years. It didn't take that long this time though.
I don't really know why they call this progressive metal. Because sometimes this actually makes me think more of a band like ECLIPSE and similar instead of prog metal. So in other words melodic hard rock. But that's just positive to me, as I like melodic hard rock more than progressive metal.
This is simply a very good album, with many emotional songs.
frontiers.it
VENUS 5: Venus 5
Frontiers Music Srl - CD, Digital
This is yet another idea from Serafino Perugino (Frontiers' President & Head of A&R): An international melodic metal group with 5 women from different European countries singing together. These ladies are Herma (SNB), Karmen Klinc, Jelena Milovanovic, Tezzi Persson (INFINITE & DIVINE) and Erina Seitllari.
These women have not done everything by themselves though. It's also a team effort by producer Aldo Lonobile (SECRET SPHERE, Timo Tolkki's AVALON, SWEET OBLIVION, etc) and his team of writers, including Jake E. (CYRHA, ex-AMARANTHE) who co-produced the vocals, Stefan Helleblad (WITHIN TEMPTATION) who also plays guitars on the album, and Per Aldeheim (DEF LEPPARD, H.E.A.T, STANFOUR, etc). There's also some other musicians involved in this recording.
All these women are good vocalists, no doubt about that. The songs are not so bad either, but don't expect anything unique. I'm pretty sure that you have heard the same thing before, and then you know if you like it or not. But if you happens to be among the ones who like melodic metal, then this could be worth a try.
The strongest song must be "Bride With Blackened Eyes".
frontiers.it / facebook.com/Venus5Music
KISS THE VYPER: Hope You Like It
Metalapolis Records on June 24 - CD
This is the brainchild of Australian multi-instrumentalist, vocalist, songwriter, engineer and producer Bobby Miller (NOBODY'S FOOL, DELTA 7). He have a band though, so he has not done everything himself.
The debut album, "Keep The Fire Burning", was released in 2016. Why it has taken so long for the next album, "Hope You Like It", is unknown to me. But now it's soon here anyway. And this is said to be a major step forward when it comes to songwriting and production - The production is bigger, and the songs are catchier than before.
This is like a combination of melodic rock and the sound of the streets of L.A. in the 80s. So, some kind of melodic hard rock with street attitude you could say. They have many good songs here, no doubt about that, but maybe they should not repeat the chorus so many times as they often do. And yes, that's a very small problem when there's nothing else to complain about. You should give this band a try.
facebook.com/kissthevyper / metalapolis.eu
ILLUCIA: A New Reign
Illucia
This heavy metal trio comes from Bangalore in India, and formed in 2014. Their main influences are classic bands like BLACK SABBATH, DIO, IRON MAIDEN, JUDAS PRIEST, MANOWAR, OMEN, KING DIAMOND, SAXON, ACCEPT and other similar acts. So if it's traditional heavy metal that you're looking for, then I would recomend you to check out this band, because this is good stuff.
They have previously released an EP, "111", in 2019. So "A New Reign" is their debut album.
SPLIT IMAGE: Torrent Of Illusion
Split Image - Digital
Lots of hardcore in this band's music. But also some good old thrash metal. Simply what they call crossover then. And they are hardly doing anything wrong here at all. It sounds really good to me anyway. It goes fast, but there's also heavier parts.
6 tracks is what we get on this EP (but they call it debut album, even though it's no longer than 21 minutes). I think this will fit both thrashers and hardcore fans.
splitimage.bandcamp.com
SKULLDRIVER: See No Evil... Hear No Evil... Scream
Elitbolaget - Digital
SKULLDRIVER are a thrash/groove metal band from a little village in the south of Finland called Liljendal. The band was formed in 2004, and have through the years released several EPs and full-length albums with an aggressive mix of thrash, groove and nu metal, and sometimes even some death metal in the mixture.
This EP consist of 4 tracks. It's hard and heavy with harsh vocals. I would guess that fans of a band like The HAUNTED could like this. It sounds good to me anyway, if that is anything to go by, so give these guys a try.
elitbolaget.bandcamp.com/album/see-no-evil-hear-no-evil-scream
FALLEN SANCTUARY: Terranova
AFM Records on June 24 - CD, LP, Box Set
Austrian vocalist Georg Neuhauser (SERENITY) and Italian guitarist Marco Pastorino (TEMPERANCE) became friends in 2018. They soon started to talk about working together some day, and now the debut album is here. The band also features Alfonso Mocerino on drums and bassist Gabriele Gozzi.
Under the name FALLEN SANCTUARY they gives us all a lesson in melodic power metal. But they put their own twist on it with influences from AOR and some progressive elements too.
This is really good! Fast, melodic and powerful metal. They don't waste any time on a useless intro either, but just start to play like they were already in the middle of the song. The ballads might not be so cool though, as it sounds like pop songs to me.
afm-records.de / facebook.com/FallenSanctuaryMetal
DUCKWALK CHUCK: Fired Up
WormHoleDeath Records on June 17
DUCKWALK CHUCK is a Norwegian band formed in 2001, who play hard and uncompromising rock n roll. This album is full of powerful riffs and attitude. In some of these songs there's a big dose of 80s MOTÖRHEAD. Other songs could possibly remind you of 70s AC/DC or maybe something like NASHVILLE PUSSY. It might not go fast all the time, but it's full of energy. Guitar-driven old school hard rock with the speakers on 11.
Yes, these men knows how to deliver some dirty hard rock n roll. No doubt about that.
wormholedeath.com / facebook.com/duckwalkchuck
PAGANIZER: Beyond The Macabre
Transcending Obscurity Records on June 24 - LP, CD, Cassette, Digital
Well, no surprises here, just pure old school death metal. But I like it that way, so I don't complain. The problem for me though is that there is not that much to say about it, because you already know what to expect. So what could I possibly add to that? Just check this out and have a good time while you listen to it. That's the best advice I can give you.
The last track features a guest appearance from Karl Willets (BOLT THROWER).
tometal.com / paganizer.bandcamp.com
MENTALIST: Generation's Legacy
Pride & Joy Music - Digital Single
MENTALIST is a German/Swedish outfit based in Saarbrücken, Germany. Their third album, "Empires Falling", will be released on September 16, and "Generation's Legacy" is one of the songs on that album.
The music is melodic power metal, and this song is what I would call a mid-tempo song. It works very good though, so I think you should give it a listen (or 4).
Not much else to add..
facebook.com/mentalistband / prideandjoy.de
BLACK ROSE UK: WTF
Pure Steel Records on June 24 - CD
This English band formed in 1980, and released 2 LPs and some singles and EPs before they split up in 1989. In 2010 they were back again, and has released another album since then. But now it's something like 10 years since that album was released.
BLACK ROSE UK might have been a part of the NWOBHM movement, but this doesn't sound like the old bands from the 80s, but more modern somehow. I think of the 90s when I hear this. Because it's often somewhere between the alternative metal and groove metal of that era.
This is said to be the heaviest album they have done, and that might be possible, because it seems like they want to be tough guys. But then comes a more melodic song like "Pain", so they have a softer side too.
facebook.com/Black-Rose-UK-342204575811420 / puresteel-records.com
CAELI: Tied Together
Pure Steel Records on June 17 - CD
"Tied Together" is the debut album from this Swedish heavy metal band. The riffs are heavy, the vocals melodic as well as powerful, and it all sounds very good. Yet they don't seems to have any song that I remember afterwards, so I can't mention any favourite among these 11 tracks. It's still worth a try though. So give them a listen or 2.
I don't have much else to add there..
puresteel-records.com
CITIZEN RAGE: For Worse Or Better
Cursed Blessings Records - Digital Single
CITIZEN RAGE deliver a old school hardcore/punk attack straight in your ugly face.
This is a taste of the Calgary band's new album, "Harsh Reality". It's fast and heavy, simply the way it should be and absolutely not bad at all.
CITIZEN RAGE are going on a Canadian tour with DAYGLO ABORTIONS (another band worth checking out) in June/July.
linktr.ee/citizenrageyyc
Charlie Griffiths: Tiktaalika
InsideOut Music on June 17 - CD, 2LP/CD, Digital
Charlie Griffiths is guitarist for British progressive metal band HAKEN, but this is his solo debut. And except for his progressive influences, he also blend in elements of old school 80s thrash, 90s tech metal and alternative rock. It's described as a bridge between KING CRIMSON and KING DIAMOND, if that says anything to you?
Vocalists are Tommy Rogers (BETWEEN THE BURIED AND ME), Danïel De Jongh (TEXTURES), Vladimir Lalić (ORGANISED CHAOS) and Neil Purdy (LUNA'S CALL). Among the guest musicians are drummer Darby Todd (Martin Barre, FROST, Devin Townsend), keyboard player Jordan Rudess (DREAM THEATER) and saxophonist Rob Townsend (Steve Hackett). Charlie himself take care of guitar, bass and keyboards, but he also makes his debut as a lead singer.
If you want a journey through the progressive landscapes, then Charlie will be your guide. So fasten your seat belt and enjoy the ride. But if you're not so familiar with progressive metal, then you probably should not start with this album, but something easier instead. Because this album is going in every possible direction like a curious child. It's of course done very professional though.
insideoutmusic.com / linktr.ee/charliegriffiths
AOR: Journey To L.A. (reissue)
Perris Records on June 17 - CD
In 2009 Frédéric Slama released what is said to be one of his most iconic AOR albums, "Journey To L.A.". It has over the years become quite hard to find though, so Perris Records decided to re-release the album in a limited edition. It has been remastered, got new artwork, and the song list is new. Yes, there's even a secret track as well.
Except for Frédéric, the line-up on this album included Philip Bardowell (UNRULY CHILD, The BEACH BOYS), Steve Overland (FM), Fergie Frederiksen (TOTO, LE ROUX), Bill Champlin (CHICAGO), Steve Lukather (TOTO), David Williams (Michael Jackson) and many others. Not bad..
The music is of course in the good old melodic rock/AOR tradition, so no surprises there. But everybody is doing a really good job, and the songs are really good too, so there's nothing to complain about here. Every fan of melodic rock should like this.
slama101.fr / perrisrecords.com
LAZARUS DREAM: Lifeline
Pride & Joy Music on June 17 - CD, Digital
LAZARUS DREAM is a German duo: singer Carsten "Lizard" Schulz (DOMAIN, EVIDENCE ONE, DEVOID) and guitarist Markus Pfeffer (BARNABAS SKY, WINTERLAND). They play melodic rock/hard rock, and are said to be influenced by bands like DOKKEN, WINGER, TYKETTO and QUEENSRŸCHE. Sometimes it's very melodic with big choirs and all, but sometimes it's heavier with groovy riffs. No matter what style it is, there's always melodies.
Sure, it sounds pretty good, even though I can't really hear all those influences. But for some reason I get a feeling that I have heard better than this. I guess they are one of those I call a "middle band" - Not totally worthless, but hardly excellent either. And then there's as much as 14 tracks, which is as usual 4 too many. Especially when 2 of the songs are 6 and a half minutes long.
The opening track, "Dead End Symphony", features Derek Sherinian (DREAM THEATER, BLACK COUNTRY COMMUNION, SONS OF APOLLO, Billy Idol) on hammond, Moog and synths. Other guest musicians on the album are Markus Kullmann (SINNER, Glenn Hughes, VOODOO CIRCLE), Andy Lübbert, Thomas Rieder, Jorris Guilbaud (DEVOID, HEART LINE) and Thomas Nitschke.
facebook.com/lazarusdream / prideandjoy.de
HIT THE GROUND RUNNIN': Lost In Translation
Pride & Joy Music on June 17 - CD
This band was originally founded in 1985 in Delaware County, Pennsylvania under the name FREE DELIVERY. Their debut album, "Sudden Impact", was released in 1989. After that no album came out until 2001, and a third album was released in 2007.
The songs on this 4th album was written over a span of almost 30 years. And a majority of the material were originally recorded as demos for an original FREE DELIVERY release that never happened. And the music that we get is a mixture of different styles: hard rock, AOR and pop/rock.
There's absolutely some good stuff here, so it could be worth a try. You can avoid the intro, "Hall Of Doors", though.
prideandjoy.de / hitthegroundrunnin.com
DRIVE AT NIGHT: Echoes Of An Era
Pride & Joy Music on June 17 - CD, Digital (LP later)
Here's another nostalgic trip back to the 1980s. These people actually want to go back and re-live the life that they had back then. And the soundtrack to that is catchy and melodic hard rock. Very good, but why they have to destroy the party with a silly song like "Endless Kind Of Love" (a soft and acoustic thing that reminds me of something like "More Than Words" by EXTREME) is a mystery to me.
DRIVE AT NIGHT is a pretty new band, which was formed as late as last year by the 2 long-time friends and band mates Joachim Nordlund and Johan Lindstedt from ASTRAL DOORS and SUNSTRIKE. 12 songs were soon written and recorded, and this album is the result of that.
The songs follow the Scandinavian melodic rock tradition. So you can expect lots of melody, keyboards and sing-a-long choruses.
facebook.com/driveatnightofficial / prideandjoy.de
BAD BARON: Can You Love Someone (for just one night)
Pride & Joy Music - Digital Single
This is a typical melodic rock song with that usual touch of the 80s and a catchy chorus. Not so bad, even though I'm so old that I have heard it a thousand times before. Still worth checking out for those of you who like that.
This Finnish band will release a new album, "Ace Of Hearts", on August 26. And as you might have figured out already, that's where this little song comes from.
prideandjoy.de / facebook.com/badbaron
IVY GOLD: Live At The Jovel
A1 Records/Golden Ivy Records on June 17 - CD, DVD, Blu-ray, Digital
So this blues rock band released their debut album, "Six Dusty Winds", in March 2021. And now their first live release is already here. That's not exactly how you use to do it. But on the other hand, why do like everybody else?
Female singer Manou is backed up by Tal Bergman (Joe Bonamassa, Billy Idol, ROCK CANDY FUNK PARTY, a.m.m.), Sebastian Eder (AVALON), Kevin Moore (Jennifer Rush) and Anders Olinder (Glenn Hughes). In November 2021 the band played 2 exclusive shows in Germany, and the last of these 2 was recorded for this release.
IVY GOLD have some strong songs, and they seems to deliver them with passion and soul. Manou have a powerful voice, and can really sing. But I thought drum solos was something that belong to the past? Apparently not.. What a waste of time! The drum solo is all I can complain about though, as the rest is really good.
ivygold.net
ROADKILLER: Pick Of The Litter
Roadkiller - Digital
ROADKILLER is a 1-man band with Phillipa Tank, who comes from Philadelphia, Pennsylvania. On this full-length album there's also 5 guest drummers: Donald Tardy, Adrian Aguilar, Tommy Akerholdt, Jess Margera and Dave Witte.
I hear some MOTÖRHEAD here among many other ingredients, even though the vocals is totally different from Lemmy's voice. It's a wild mixture of hard rock, punk and heavy metal, which is topped with cocky but powerful female vocals.
I really like what I hear. This is a great album that you really should check out if you like hard rock/metal with punk attitude.
roadkiller.bandcamp.com
RANCOR: Bury The World
Xtreem Music on June 14 - CD, Digital
Thrash metal band RANCOR formed in 1998 in Madrid, Spain. They released 2 demos and an EP before their first full-length album, "Release The Rancor", was released in 2010. Since then they have released another EP and some more albums. "Bury The World" is their 4th album.
RANCOR play the American kind of thrash metal, but there can also be elements of speed metal, American power metal and classic heavy metal. They do this really good, and are absolutely worth checking out.
xtreemmusic.com / rancor.es
PARKWAY DRIVE: Glitch
Epitaph Records - Digital Single
Australian heavy emo metal band PARKWAY DRIVE return with a new single, which is the first new material from the band since 2018's "Reverence". As usual it's heavy but yet melodic, and lyrically it deals with the phenomenon of night terrors and sleep paralysis.
A o.k. and modern metal song, even though it's soon forgotten for me.
epitaph.com / youtu.be/bG9Cnh_Orkc
ALIEN ANOMALY: OK Boomer
Alien Anomaly on June 14 - Digital Single
Some kind of pop punk. Catchy and melodic. I guess that fans of stuff like GREEN DAY and BLINK 182 could like this. But that's just a wild guess as I don't listen to those bands (I like some stuff with GREEN DAY, but those songs are very old now, so it was a long time ago).
This is a o.k. song, even though they might repeat "OK Boomer" too many times. But that is just irritating when I'm angry, and you should be happy when you listen to this song (that's the way it is for me anyway).
STRATOVARIUS: Survive
earMUSIC - Digital Single
Finnish power metal veterans STRATOVARIUS is not exactly a band that I have been listening to through the years, but I must say that this sounds really good, so I have obviously missed something there.
This is both the title track and the first single from their new album, which will be released on September 23. That will be their first studio album in 7 years.
"Survive" is very melodic, with an anthem chorus. Let's just say that I look forward to hear some more with this band.
youtu.be/deL5dM9csNc
Little Bihlman: The Legend Of Hipster Billings
Metalville Records on June 17 - CD, LP
This man is an Emmy Award winning singer/songwriter. Throughout his career to date, Little has been featured in more than 50 songs on TV/movies worldwide. But he has also played with many of the rock and blues legends.
"The Legend Of Hipster Billings" is an Americana influenced album with elements of blues rock. It sounds very American of course, and I guess the songs are o.k. But for some reason it's just not much else than o.k. I listen and like it a little, but I can't remember anything.
metalville.de
DERAPS: Deraps
Metalville Records on June 17 - CD, LP
DERAPS is a young hard rock n roll trio with the Canadians Jacob Deraps (guitar/vocals, winner of the 2016 Dweezil & Frank Zappa Fellowship Award) and William Lachance (bass), and the Australian Josh Gallagher (drums). Their rock n roll sound is old school, and will probably take you back to Sunset Strip in the late 70s, and a band like VAN HALEN for example. Hard rock with a party vibe that you just can't say no to.
This is their debut album, which consist of 10 original songs and a cover of the SWEET classic "Ballroom Blitz". Not 1 single bad song as far as I can hear, so I wish them good luck in the future and wait for another album.
metalville.de
BRONKKO: Bättre Tider
Idle North Records on June 17 - CD, Digital
Pop/rock in Swedish that reminds me of Swedish artist Ulf Lundell. It's in other words soft and melodic, and not that much action. Some songs even reminds me of a other Swedish artist, Tomas Ledin, which I'm really not a fan of. Even though it's not totally useless, this wasn't exactly my thing.
BRONKKO hailing from Umeå in northern Sweden, which is a city that has given us much better stuff through the years. The band formed in 2011, and this is their third studio album.
bronkko.bandcamp.com
SOULFLY: The Soul Remains Insane - The Studio Albums 1998 To 2004
BMG on June 17 - 8LP Box Set, 5CD Box Set
As everybody probably know already, SOULFLY was born when Max Cavalera left SEPULTURA. And in this box set we get the 4 first albums with SOULFLY - "Soulfly" (1998), "Primitive" (2000), "3" (2002) and "Prophecy" (2004). But the box also contains a bonus album of singles, b-sides, rare cuts and a couple of previously unreleased songs. Also included is a book telling the story of these records through new interviews with Max Cavalera which contains many previously unseen photos from the era.
Now I'm not such a big fan of macho groove metal, as I call this legendary band's music. They sounds like nothing else though, as they blend in influences from all over the world - some jungle beats here, some African elements there, then some Jamica on top of that. And just if that wasn't enough, they also pick some pieces of industrial music, hip hop, and even pop music and reggae as well. It's mainly pretty hard and heavy with attitude though. You could say that these records have 2 modes: It's either too extreme or too soft and weird. Once in a while there's something good though, so it's not totally hopeless.
SOULFLY really pushes the boundaries for what's okay when you play metal, but just don't give a fuck about that and do their own thing. I guess that I have a little respect for that anyway.
soulfly.com / bmg.com
WICKED STONE: Synergy
Hard To Stay Quiet Records on June 17
WICKED STONE formed in 2015, and released their debut album in 2017. It was followed by a 5-track EP in 2019. And now their second album is ready to be released.
This British band play hard rock that is both classic and modern at the same time. The vocals is melodic, while the guitars are heavy. They have a powerful sound and strong choruses, and it seems to be done with lots of passion. Many of these 9 songs are really good stuff.
NATIONAL NAPALM SYNDICATE: The New Hell
Iron Shield Records - CD
NATIONAL NAPALM SYNDICATE formed in 1986, and was one of the first speed/thrash metal bands from Finland. After playing covers by METALLICA and EXODUS, they quickly started to write their own material instead. They signed to EMI and released their self-titled debut album in 1989. But in 1991 it was over.
That was not the end though. In 2002 the band started to rehearse with a new line-up, and they are still active today. Which this album show us all. We get a wild fusion of classic heavy metal, hardcore/punk, and most of all old school thrash metal. It's catchy but yet angry, fast as well as hard and heavy. Not so bad.. Some stuff is even really good, so you should give them a chance.
A special thing with this band is that 1 of the songs here is in Finnish (the rest is in English), but that works really good to their music.
recordshopx.com / facebook.com/nationalnapalmsyndicate
FORMULA 400: Heathens
Animated Insanity Records/Glory Or Death Records/No Dust Records - CD, LP
FORMULA 400 features 4 men from the San Diego area, and formed in 2018. "Heathens" is their full-length debut.
Influences comes from 70s acts like AC/DC, SAXON, GRAND FUNK RAILROAD and BACHMAN-TURNER OVERDRIVE, even though I think that the music of FORMULA 400 is heavier. I guess that we can call it powerful bluesy heavy rock or something like that? ..or just stoner rock to make it easy. It's absolutely not bad anyway. Give them a try!
formula400.net / animatedinsanityrecords.com / gloryordeathrecords.bandcamp.com / nodustrecords.com
ELECTRIC MOUNTAIN: Valley Giant
Electric Valley Records - LP, Digital
From Mexico City comes these desert rockers, and they have been rocking since 2013. Their music is a blend of the 70s and the 90s, and this is their second full-length album. The sound on this record is said to be more mature and intricate.
This power trio deliver doomy and bluesy riffs, and are ready to set the stage on fire with a wall of speakers. It swings and they are full of energy. Not bad at all.
For those who like it loud and heavy.
electricvalleyrecords.com / electricmountainband.bandcamp.com
CYANIDE 4: Amalgama
Perris Records - CD, Digital
CYANIDE 4 is a hard rock/glam metal band, formed in Athens, Greece in 2008. "Amalgama" is their third album, where they mix influences from the 80s glam scene in L.A. to the modern rock n roll wave in Scandinavia. The result is a good and stable hard rock album filled with energy and melody. Sometimes it's more melodic and modern. They might not have that extra good song here, but it's still worth listening to.
facebook.com/Cyanide4 / perrisrecords.com
FURNACE: Stellarum
MDD Records on June 10 - CD
This is yet another one of all the bands with Swedish death metal legend Rogga Johansson (PAGANIZER, MASSACRE etc etc). In this band he teams up with Peter Svensson (ASSASSIN'S BLADE, VOID MOON), and the concept is based on their shared love for Lovecraftian horror and dystopian science fiction. The line-up is completed by drummer Lars Demoké (GAUNTLET RULE, CATACOMB).
The music that this trio deliver is melodic death metal, possibly with a touch of heavy metal and a pinch of dark metal. I think of a band like AMON AMARTH when I listen to FURNACE, and that's a band that I really like, so I like this too of course.
"Stellarum" is the third album, and combines what we got on the 2 first albums. So if you liked those albums, then you should not be dissapointed when you hear this great album.
mdd-records.de
The TANGENT: Songs From The Hard Shoulder
InsideOut Music on June 10 - CD, 2LP/CD, Digital
UK band The TANGENT has existed for 20 years, and this is the 12th album. There's only 1 short song here, and it's 4:40 minutes. The rest are between 17-20:52 minutes. I would call this a progressive and sometimes jazzy adventure. Very mature, as well as structured and thought out. Long instrumental parts, or a completely intrumental song, is very common here. This band blend in whatever they want to, and no composition is like the other.
insideoutmusic.com / thetangent.org
WOMACK: III - Songs Of Downfall & Deliverance
Inverse Records - Digital
WOMACK is a Finnish heavy/stoner rock band, and this is their third album. It seems like it has been cooking slowly since 2016, but now it's finally ready to consume.
The music is not just heavy, but also catchy and guitar-driven. They have some good stuff among these 10 tracks, no doubt about that. But I think this is just something that a few will listen to (not really sure why I think that though). But now that you have read about them here, why not give them a try at least?
inverse.fi / bit.ly/womackforssa
REMAINS OF DESTRUCTION: New Dawn
Inverse Records - Digital
Finnish band REMAINS OF DESTRUCTION took shape in 2019. After releasing some singles in 2020 and 2021, the band finally had a complete line-up in 2022, and could start working on their debut album, "New Dawn", which is out now.
9 tracks of power metal is what they deliver. It's powerful and melodic, just like it should be. And this sounds excellent! Really strong songs all the way. Listen to something like the title track if you don't believe me.
Why this is just released digitally is a big mystery. But maybe later?
inverse.fi / remainsofdestruction.bandcamp.com
SABOTØR: Skyggekæmper
HQ REC/Pudsige Herrer Musik Aps on June 10 - LP, Digital
How do I describe this Danish trio then? They talk about stoner rock and a 3-headed fuzz monster. All lyrics are in Danish. Then I listen and hear something I would describe as turbo rock/death punk instead, as it reminds me a little of TURBONEGRO. While the next 2 songs sounds more like some kind of American funk/metal fusion, with lots of fuzz and distortion though. The 4th track then.. Slow verse, more action in the chorus, and possibly something that I could call stoner rock, but with their own twist. And after that they continue with that kind of mixture, more or less.
This is obviously an original band with their own unique sound. So you should not expect to hear American desert rock here, but what we could call a Danish version of it. It's not bad though.
facebook.com/sabotor.dk / audiblepr.com
YEAH YEAH YEAHS: Spitting Off The Edge Of The World (feat. Perfume Genius)
Secretly Canadian - Digital Single
Wasn't this a dark and mystic garage rock band once upon a time? Or am I thinking about some other band? Because now that they return with a new single after more than 9 years, it sounds more like some kind of dreamy pop/rock instead. Where's the whip? Where's the action? Not here anyway! Better luck next time.
YEAH YEAH YEAHS will release a new album, "Cool It Down", on September 30. This is the opening track on that album. This song also features somebody called Perfume Genius, which I have never ever heard of before (but then I'm not a pop fan).
youtube.com/watch?v=ckM_TklU_AQ
FALLING IN REVERSE: Voices In My Head
Epitaph Records - Digital Single
But what the hell is this? Do you want me to puke, or what? They told me that it was metal. This is not metal according to me! It sounds more like some modern pop with heavy guitars, and that sucks old man's ass.
The most funny thing is that they describe this song as a slap in the face. To me it's more like a sweet pat on the cheek.
But no matter what I think about them, FALLING IN REVERSE seems to be very popular, with millions of streams and views. An EP, "Neon Zombie", will be released later this year.
epitaph.com
DRAUGURINN: Minningar ũr Undirheimum
Nordvis Produktion - CD
The first track is 15:27 minutes. The second is 10 minutes. The last is just 6 minutes. Music? No, forget that. Not here. This is more like atmospheric soundscapes, even though they call it dark ambient/folk. It's dark, mystic, dreamy and ritualistic.
This is the 6th album from Swedish/Icelandic artist Disa Draugurinn, who play all instruments. It seems like she have a past in the black metal scene, but since over a decade this is her main project.
nordvis.com / draugurinn.bandcamp.com
PUNKTERING: 100% Kränkt
GrönPeppar Records - CD, Digital
PUNKTERING is a Swedish band from Göteborg (aka Gothenburg) who play trallpunk, which means that it's catchy and melodic, yet punk rock. And this debut album is not so bad. It reminds me of some demo bands I heard in the 90s, when I did the punk fanzine Taskigt Drag. Punk, and especially our own genre trallpunk, was very popular here in Sweden in the 90s. And if you like the stuff that came out at that time, then you will probably like this too.
The songs are from 4 seconds to 2:44 minutes. Short but sweet.
gronpepparrecords.bandcamp.com/album/100-kr-nkt
DAWN OF DEMISE: Hate Takes Its Form (reissue)
Emanzipation Productions on June 10 - LP
DAWN OF DEMISE was born when 2 Danish boys decided that they wanted to play simple and heavy death metal, influenced by bands like SUFFOCATION, PYREXIA, INTERNAL BLEEDING, DYING FETUS, early CANNIBAL CORPSE etc. The band worked hard for years on what would become their debut album, "Hate Takes Its Form", which was originally released in 2007.
Through the years the album has become a modern day Danish death metal classic, which the fans see as their best effort. Now it will be released on vinyl for the first time ever, in a limited edition of 300 copies.
Well, heavy it is, but not slow because of that. But as I have no previous connection to this band, I can't see it as a classsic. They are doing a really good job though, so it's still worth a try if you want your death metal to be heavy.
The band is still active by the way.
emanzipation.dk / facebook.com/officialdawnofdemise
Marco Mendoza: Shoot For The Stars
Mighty Music on June 3 - Digital Single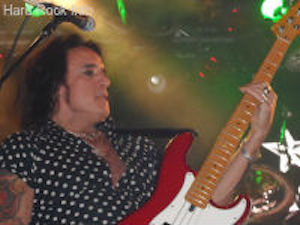 This was much softer and not as energetic as the last party anthem, "Take It To The Limit". But I guess he had to calm down a bit after that explosion. This is a o.k. song though, so don't worry.
Is there a theme here by the way? First "Take It To The Limit", and now "Shoot For The Stars". Seems like he is aiming for the top. It will be interesting to see what the title of the next single will be.
A new album is expected to be released later in 2022.
marcomendoza.com / mightymusic.dk
MERIDIAN: Dreamers
From The Vaults on June 3 - Digital Single
An upbeat melodic hard rock song is what we get from this Danish band. The song is taken from their upcoming album, "The Fourth Dimension", and it sounds really good. Like a happy summer song with a strong chorus. You should really check this out!
Not much else to add, but if they have more songs like this, then I look forward to hear some more.
meridianband.dk
DEFIATORY: Apokalyps
Black Lion Records on June 3 - CD, LP, Cassette, Digital
If you like more aggressive thrash metal, like SLAYER and KREATOR for example, but are not afraid of melodies here and there, then this could be a band for you. Because DEFIATORY is simply a really good band, and this is a great album - All 9 tracks!
The band hailing from Umeå in northern Sweden, a city that has given us lots of great metal, punk and hardcore bands through the years. This is their third album, and it's said that they are "adding a more sinister atmosphere, harsh melodies and ruthless tempo, as they explore the coming of the ultimate end of the world".
facebook.com/defiatory / blacklion.nu
CHARLOTTE: Charlotte
Eönian Records on June 3 - CD
CHARLOTTE's journey began in upstate New York in 1984, but they relocated to Los Angeles in the fall of 1986. Initially their sound was influenced by bands such as JUDAS PRIEST, MÖTLEY CRÜE and RATT. But in the beginning of 1990 their music was more influenced by old school hard rock like LED ZEPPELIN, DEEP PURPLE and AEROSMITH, as well as The DOORS, Howlin' Wolf and Willie Dixon. They split up in 1996, but 13 years later they were back again, and are still active as far as I can understand.
This untitled album is a collection of recordings they made between 1987-1992. The band has collectively picked 17 of their favorite studio recordings. I would describe this as heavier hard rock or possibly alternative rock. So you could say that they played a style that became more popular a few years after these recordings, even though this is not exactly the same thing. Most of all it's good hard rock that deserves to be heard. But I would guess that fans of alternative rock will like this anyway.
charlotterockband.com / eonianrecords.com
ASTRONOID: Radiant Bloom
Century Media/3Dot Recordings on June 3 - CD, LP, Digital
This is too much for me. Some kind of melodic and emotional indie rock with choirs/harmonies. Yet they succeed to make a lot of noise. Not because they are chaotic or scream, but because they are loud somehow. This is actually getting on my nerves!
ASTRONOID is a quartet from Boston, and I guess what they play is called shoegaze (have never really figured out what that is, but if it sounds like this, then it's not for me, just as I thought). But sure, there's some metal guitars here and there too once in a while. This is their third full-length album anyway.
centurymedia.com / astronoidband.com
«
MAY
|
INDEX
|
JULY
»