Like Hard Rock Info, NOW!
REVIEWS 2019 - Page 8
Page 7
Index
SAINTS TRADE: Time To Be Heroes - Album
(Art Of Melody Music/Burning Minds Music Group)
SAINTS TRADE came to life in sunny Bologna, Italy in 2009. And it didn't take long before they started to compose their own material and play live around Italy. In 2012 they recorded their first mini-album, "A Matter Of Dreams", and in June 2014 their first full length album, "Robbed In Paradise", was released. But it's not until now, December 2019, that their second album has been released.
People who like melodic (hard) rock should be very happy when they hear this band, because this is really good stuff that you just can't say no to. It's just as simple as that.
facebook.com/saintstrade burningmindsgroup.com
Published: Dec. 30, 2019
RAGATA: Nu å Jag - Single
(Ragata Records)
Swedish punk rock band RAGATA has released the first single from their upcoming debut album, "Rebell". The album will be released on February 21, 2020.
It's said that the band have established themselves in the Swedish punk scene with their stone hard, catchy music, and a live act who blend anger and glamour on stage. They are also said to deliver jaw bangs to the authorities in a high melodic tempo.
Well, what do I think about them then you might think now? The song start slow and almost melancholy, and you think it will be a indie pop song instead. But when they come to the chorus they speed it up a bit, and it becomes a pretty catchy song after all. It's very melodic punk rock that we get, but it's absolutely not bad. But I don't really know where that stone hard and the jaw bangs are (it was probably some pop nerd who wrote that). Doesn't really matter though as long as it's good.
facebook.com/ragatapunk
Published: Dec. 29, 2019
CABLE TIES: Tell Them Where To Go - Single
(Merge Records)
Some kind of alternative punk rock is my description of this. A pretty o.k. song, but honestly not much else, even though it has grown for each time I have been listening. The bass line in the beginning reminds me of early The STRANGLERS, which is positive in my book. But when it comes to modern Australian punk, I would recomend you to check out AMYL & THE SNIFFERS instead.
CABLE TIES is a punk trio from Melbourne. Collectively, they have poured their explicit feminist, environmentalist, and political stances into the project, with songs that can and will stretch out as long as is necessary to get the point across (this track is 4 minutes).
This song is the first single from an upcoming album that will be released during 2020.
facebook.com/cableties1
Published: Dec. 29, 2019
WALDGEFLÜSTER: Stimmen im Wind - Album
(Nordvis Produktion - Release date: Jan. 10, 2020)
This German atmospheric black metal band formed as a solo project in 2005, and a demo was recorded in 2006. Now that demo has been re-recorded, and will be released on LP (including a CD with the original demo recording) and digital.
It wasn't until August 2014 that WALDGEFLÜSTER finally became a complete band (the members had been live musicians for many years though). By that time a few albums had already been released. In 2016 they signed with Nordvis Produktion. WALDGEFLÜSTER have so far released 5 full lengths and a split with PANOPTICON.
WALDGEFLÜSTER is an individual mix of melancholic and nature-bound topics. It's much about nature, harmony and melodies. They are o.k., but honestly not much else.
waldgefluester.com
Published: Dec. 29, 2019
WAR DOGS: Die By My Sword - Album
(Fighter Records - Release date: Jan. 9, 2020)
Heavy metal in the good old tradition. A track like "The Shark" is a little extra good. The rest is more or less the same thing over and over again, which makes the other songs good but not much else, even though there's a few tracks that are a little bit better. But sure, I have heard a lot worse than this. But also much better than this.
Their style is a mixture of epic US metal and classic European heavy metal.
WAR DOGS were formed in Elche, Alicante/Spain in 2015, but didn't released their debut EP until 2018 as it took a while before the linup was complete. And as you might have figured out by now, "Die By My Sword" is their first full length album, which was mixed by Olof Wikstrand from the Swedish heavy metal band ENFORCER. And the song "The Shark" (which I mentioned in the beginning) is a tribute to Mark Sheldon (RIP) from MANILLA ROAD. That song also includes a guest apperance from the former singer of WAR DOGS, Bryan Patrick.
facebook.com/WarDogsHeavyMetal
Published: Dec. 28, 2019
UNBOUNDED TERROR: Faith In Chaos - Album
(Xtreem Music - Release date: Jan. 2, 2020)
I'm not really sure why they had to include that useless intro twice. Is it because you know that I hate intros? It could also be a little mistake that somebody has made (stay sober when you deal with digital things, haha).
UNBOUNDED TERROR formed in Mallorca in 1990, and was 1 of the first Spanish death metal bands. They were originally called PUTREFEACT MONSTRUOSITY, but changed the name in June 1991. They released 1 full length album, "Nest Of Afflication" (1992), and 3 demos before the band dissolved in 1993 due to problems with the lineup. But also because the lead guitarist, Vicente J. Payá, wanted to focus on his new doom metal band GOLGOTHA.
In April 2019 Vicente decided that it was time to reunite the band with some new members. And "Faith In Chaos" is the result of that. A pretty short and aggressive (just like me, hehe) album, but really good. You should absolutely check this out if you have any interest in death metal at all.
unboundedterror.com
Published: Dec. 28, 2019
SABER TIGER: The Shade Of Holy Light - Album
(Sliptrick Records)
First we get 3 different versions (orchetra, album and live) of the title track, which is a darker power ballad. After that it's 6 more live tracks. Well, it's not like I need to hear the same song 3 times in a row, the song is not that good. The live tracks are better though, and they were recorded in Tokyo in November 2018.
I have been writing about this Japanese heavy metal band before, and they are not bad at all. Traditional heavy metal as the Japanese do it. These veterans are hardly any amateurs. You should check this out. Simple as that!
sabertiger.net sliptrickrecords.com
Published: Dec. 23, 2019
K.A.Z: Fighting For Life - Album
(Self released)
K.A.Z was formed in Lidköping, Sweden in 2013. They released a EP, with the same title as this album, in 2017. Now their first full length album is here, which was released in August this year.
They call it female-fronted metal, but the funny thing is that the singer sounds like a man to me (she looks like a woman though, so don't worry). That doesn't really matter though. Their metal is pretty modern and very melodic, and they have some good songs among these 10 tracks, so if you like that kind of stuff then this is absolutely an album for you.
facebook.com/kazsweden
Published: Dec. 23, 2019
BS BONE: Inside Insanity - Demo
(Self released)
BS BONE is an alternative/rock n roll/stoner trio based in Italy. They started to rock in the summer of 2017. This self produced demo gives us 4 tracks of what they have to offer. And it seems like they have attitude, as they begin with a song called "I Don't Give A Fuck". It's dirty and sleazy, but also heavy. It has an alternative touch somehow. They might not be the best band on the planet, but they are absolutely not bad. Give them a try. You might like it.
facebook.com/bsboneband
Published: Dec. 19, 2019
EIGHTBALL JUNKIES: Year Of The Dog - Single
(Self released)
EIGHTBALL JUNKIES is 4 guys from Sydney's Inner West who play rock n roll. They mix "a supercharged blend of heavy grooves and hard rock swagger with an energetic, raw and loud live show", as the info sheet says. They formed back in 2005, and released a EP and toured extensively before calling it a day less than 3 years later. But in late 2015 they were back again with a new singer and drummer. They have since then released 2 EPs.
Now a new single, "Year Of The Dog", is here. This song is a heavier rocker, but with a catchy chorus. It might not be a super hit, but it's definitely not bad.
eightballjunkies.bandcamp.com
Published: Dec. 19, 2019
VOODOO MOONSHINE: Backporch Boogie With The Peace Pipe Tribe - Album
(Self released)
Now I'm not really sure if the songs were in the right order here, because the first track, "Calling All Dogs", is the weakest (and for some reason also the one with the worst sound quality). After that it's much better though, so don't worry about a brutal slaughter here.
Songs like "Give It To Me", "Chain Reaction", "Sometimes Ya Just Wanna" and "Swallow My Pride" should get the 80s hard rock party started. This is something for fans of good old RATT and MÖTLEY CRÜE.
VOODOO MOONSHINE was formed in mid-2003, and released their debut album, "The Decade Of Decay", in 2005. And that's all I know about this band. The history about the band that they sent me end in August 2007, so maybe they should update that? They are still posting stuff on their Facebook page though (which was 1 of the few links that was still working), so the band still exist anyway. But I don't know anything about this record. So I simply don't even know if it's released yet or when it was recorded. I'm pretty sure that they will let me know after reading this though, haha.
facebook.com/voodoomoonshine
Published: Dec. 19, 2019
BLADE CISCO: Edge Of The Blade - Album
(Art Of Melody Music/Burning Minds Music Group)
"Edge Of The Blade" is the official debut album from this Italian melodic rock/AOR band. But they formed back in 2007 already. It was the love and common passion for classic AOR/melodic rock which made them want to start a band together.
This is something for those of you who can't get enough of bands like JOURNEY, FOREIGNER, NIGHT RANGER, STYX, MAGNUM, FM and similar stuff. BLADE CISCO have plenty of strong material on this album, so it's absolutely worth checking out. Just listen to songs like "Foolin' Myself" and "Hungry For Love" or "We Are Still Standing" for example.
facebook.com/BladeCisco burningmindsgroup.com
Published: Dec. 18, 2019
WORK OF ART: Exhibits - Album
(Frontiers Music Srl)
This review should have been posted earlier, but somehow I succeeded to forget all about it, so I don't really know how old it is. Sorry for that..
This is so melodic that even your parents who doesn't like rock should like it. Well, just about anybody who like good melodies should like this actually. Because even though they are very melodic, they are also catchy and have great songs.
"Exhibits" is the 4th album from this Swedish trio. Their first album, "Artwork", was released in 2008. Their sound is inspired by giants like TOTO, GIANT and JOURNEY.
Soon after the first album guitarist and main composer, Robert Säll, joined W.E.T. (with vocalist Jeff Scott Soto and Erik Mårtensson from ECLIPSE). But he has also continued to play with WORK OF ART.
frontiers.it
Published: Dec. 17, 2019
N:A HOSPITALET: Bakom Ljuset - MCD
(Second Class Kids Records)
Catchy and melodic punk rock in Swedish. I really like these 7 tracks! I guess that this can be something for those of you who like the good old Swedish bands from the late 70s/early 80s, because this reminds me of the bands from that era.
N:A HOSPITALET is a trio from Luleå in northern Sweden. And that's all the informetion I could find about them. So I don't have much else to say about this record..
norrahospitalet.se secondclasskids.com
Published: Dec. 16, 2019
ANTI-LAM FRONT: Litt Av En Khan/HEADLESS FRANK - Split 7" EP
(Second Class Kids Records)
It wasn't so long ago that I reviewed Norwegian punk rockers ANTI-LAM FRONT (a split with LAARHÖNE). I don't think that I have heard HEADLESS FRANK before though (not as I can remember anyway).
ANTI-LAM FRONT call their music skate punk in Norwegian. So in other words pretty melodic and catchy punk rock. A very good band that you should check out as soon as possible.
HEADLESS FRANK is a pretty new band from Sweden. They sing in English, and play some kind of melodic punk rock too. They are not so bad either. Maybe not as great as ANTI-LAM FRONT, but still worth listening to anyway.
antilamfront.bandcamp.com facebook.com/headlessfrank secondclasskids.com
Published: Dec. 16, 2019
SARDO NUMSPA: För Alltid - LP
(Second Class Kids Records)
I guess that this can go as trallpunk and skate punk in Swedish as well as melodic punk rock. O.k. stuff but not much else for some reason. I should like this, but I'm not really sure what it is that I don't enjoy here. Maybe it's the fact that they are pale copies of better bands in the Swedish trallpunk scene? And as this is a full length album, there's 12 tracks, but I have enough of this after just 1 side.
But even though I'm not impressed, I can at least hear that they are good at what they are doing. It's catchy, melodic, harmonies, fast and slow, and most of all very tight.
facebook.com/sardonumspapunk secondclasskids.com
Published: Dec. 16, 2019
VERTHEBRAL: Abysmal Decay - Album
(Transcending Obscurity Records - Release date: Dec. 27)
VERTHEBRAL comes from Paraguay, and deliver a hard fist of death metal straight in your face. This band is hardly doing anything wrong at all. It's said to reminiscent of the Brazilian death metal wave that emerged around the turn of the century, but VERTHEBRAL take it a notch higher according to my source. It's damned good anyway, so you just can't continue to live without hearing this band. And especially not if you're a fan of KRISUN, MORBID ANGEL, DEICIDE, SLAYER, MALEVOLENT CREATION, HATE ETERNAL, NILE and similar.
verthebraldeath.bandcamp.com tometal.com
Published: Dec. 15, 2019
MATTERHORN: Crass Cleansing (Special Edition) - Album reissue
(Redefining Darkness Records in North America/Dying Victims Productions in Europe)
Swizz metal trio MATTERHORN self released this debut album in 2018. It has now been released on both LP and CD through 2 record labels (see above). This version have a brand new cover and layout, as well as 2 new songs.
They describe their music as "a eruption of punishing groove and bleak metallic darkness". But I don't really know.. I would describe it as some kind of thrash metal with a MOTÖRHEAD drive. It's good and it's definitely metal anyway. So maybe you should check this out and find out what they really sound like? Sounds like a good deal to me anyway.
matterhorn-ch.bandcamp.com/album/matterhorn-crass-cleansing-label-edition redefiningdarkness.com
Published: Dec. 13, 2019
DEPRESSED: Beyond The Putrid Fiction - Album
(Black Lion Records - Release date: Dec. 22)
DEPRESSED is a Brazilian death metal band who formed back in 1998, and earned a decent underground recognition around Brazil with their demo tape. Around 2000 they went on a long hiatus, but in 2012 the band was back again, and their first album, "Afterlife in Darkness" was released in 2015.
Now their sophomore album is ready to be released. It's classic death metal, more or less, with all the right ingredients that we want - ultra-fast blasts, precise thrashy riffs, frenzied solos and doomy passages. What else can you ask for?
depressedblacklion.bandcamp.com/album/beyond-the-putrid-fiction
Published: Dec. 12, 2019
STONED MONKEY: Stoned Monkey - EP
(Argonauta Records)
It's heavy and instrumental pieces that we get here. They repeat the same thing over and over again for approximately 3-6 minutes. They might think it's very funny to play this shit, but it sure ain't funny to listen to. This is just a waste of time! The best moment is when the terror is over.
STONED MONKEY came to life in Varese, Italy in 2017. "Heavy atmospheres, high pitched amplifiers and a strong scent of weed", is a very good description to their sound. Sludge, doom and stoner with a joint between the lips and the speakers on highest volume is another good description to this.
facebook.com/stonedlikeamonkey argonautarecords.com
Published: Dec. 11, 2019
RAINBOWS ARE FREE: Head Pains - Album
(Argonauta Records)
Heavy/psych/doom/prog rock is what they call this Oklahoma band's music, and this is their third album.
RAINBOWS ARE FREE has existed since 2007. A demo EP was released in 2008, and 2 years later their debut album, "Believers In Medicine", came out.
RAINBOWS ARE FREE is like the failing link between proto-metal and heavy psychedelic rock. And what we get on this album is 8 tracks. Most of them are good stuff, so give them a try mate.
rainbowsarfree.com argonautarecords.com
Published: Dec. 11, 2019
DENIZEN: High Winds Preacher - Album
(Argonauta Records)
This is the 4th album from the heavy fuzz rock band DENIZEN.
The story about this band began in the south of France, between Montpellier and Sète, in 2003. A first demo, "Far From Common Strategy", was released in 2006, and in 2009 their debut album, "Snatches Into Uproar", came out.
"High Winds Preacher" is filled with heavy and groovy riffs, as well as heavy rock, blues, sludge and fuzzy stoner rock. So if you're in search of the golden riff and like it heavy, then try DENIZEN.
denizen.bandcamp.com argonautarecords.com
Published: Dec. 11, 2019
BBF: Outside The Noise - Album
(Argonauta Records)
From the Alps of northern Italy comes a band called BBF. A power trio who play a wild mixture of stoner, psychedelic rock and acid funk. They formed in 2016, and "Outside The Noise" is their second album. Sometimes it's like psychedelic jamming, sometimes more normal psych rock songs. A weird little band. I think they should concentrate on making real songs instead of trying to be atmospheric, or whatever they try to be in some of these tracks. But that's just my opinion of course.
This record might have its bright moments here and there, so it's not totally hopeless anyway. But as an album I would still say no, as it's simply not strong enough.
facebook.com/BBFtrio argonautarecords.com
Published: Dec. 11, 2019
GIGANTOMACHIA: Aldebaran - Single
(Agoge Records)
GIGANTOMACHIA released their debut album, "Atlas", in 2018. 1 of the songs on that album is "Aldebaran", which has now been released as a single on digital platforms. It's also the first song that the band composed.
GIGANTOMACHIA formed in 2015 and comes from Italy. Their music is melodic death/epic metal. This song got a good groove and is not bad at all, but I just don't know what else I can say about it.. Just give it a try.
agogerecords.com
Published: Dec. 10, 2019
FELONY CASE: Strangers Give More - EP
(Self released)
FELONY CASE is a rock band from Greece, with influences from the rock and heavy sound of the 80s. "Strangers Give More" is their first EP, which you can find on digital platforms. Most of these songs are really good, but to start with a slower song like "Still Not Me" wasn't such a good idea. Because people are really stupid, so if they don't like the first track they will leave without listening to any of your other songs (I speak from my own experience here, so it's not any bullshit). And then they will miss better stuff like the title track and "Whiskey Night" (well, they could have skipped the end of that song).
felonycase.eu
Published: Dec. 10, 2019
DIRTY RATS: The Juice - Single
(Black-Roos Entertainment)
This is the first single from their upcoming album "End In Tears", which will be released on December 13. It's a celebration of getting out and having a good time, no matter what your circumstances are.
DIRTY RATS is an Australian pub rock band. But it's not the English kind of pub rock. The Australians deliver it with a little bit of more energy and raw power. Yes, you might think of classic acts like AC/DC and ROSE TATTOO now, and that's 1 part of the truth. The second part is MC5, MOTÖRHEAD and a pinch of punk rock balls.
A very good song that you absolutely should check out.
dirtyratsband.com black-roos.com
Published: Dec. 10, 2019
WOODEN EARTH: Fangs - Single
(Self released on Dec. 13)
WOODEN EARTH comes from Dallas, Texas, and formed in 2017. It seems like this is more ambitious dudes, as they are doing concept records. But they has also written a yet-to-be-released comic book depicting the story behind the band. The core duo of drummer/vocalist Griffin Thomas and guitarist Devin Moreno have been through 3 bassists already, and are currently touring as a 2-piece.
They have so far just released a EP, "Waves Of Smoke", in 2018. But their debut album will be released next year. And while we wait for that we can always listen to this single, which is a stoned heavy rocker who blend heavy rock and psych rock. A nice little piece that I think you should check out.
woodenearth.bandcamp.com
Published: Dec. 10, 2019
FEAR IS DEAD: Assimilation - Single
(Self released?)
I guess it was the talk about New York and hardcore that caught my attention. But the truth is that they were talking about a mixture of hardcore, metalcore and groove metal.
Anyhow.. FEAR IS DEAD formed in 2011, and deliver hard and heavy music for the hard boys in the streets. The vocals almost sounds like rap, and the guitars fire off hard metal riffs. But there's still a catchy rythm and a melody. This is absolutely not bad at all.
The band plan to release a new album in the summer of 2020. They have previously released some EPs.
fearisdead.com
Published: Dec. 10, 2019
OFFICIUM TRISTE: The Death Of Gaia - Album
(Transcending Obscurity Records - Release date: Dec. 13)
OFFICIUM TRISTE is a Dutch death/doom metal band who have been around for 25 years, but "The Death Of Gaia" is just their 6th full length album, so they doesn't work fast. And their music is not so fast either. This is very heavy and atmospheric stuff. Most of these tracks are around 6-10 minutes long. But it's not bad, and works really good on a dark and rainy day.
This is more doom than death metal. Sure, there's some growl here and there, but not all the time. They also use some other instruments than the usual guitar, bass and drums - like violin and cello for example, as well as keyboards.
officiumtriste.bandcamp.com tometal.com
Published: Dec. 9, 2019
CANCER CLAN/DESTEUFELS - Split 12" EP
(7Degrees Records/Merciless Records - Release date: Dec. 13)
During the spring of 2019 these 2 German bands toured together, and then it was decided that they should do a split record together. Now it's here, and the world will never be the same again. Well, that was a slight exaggeration. But keep on reading..
CANCER CLAN was formed in 2005 out of the ashes of CRUDE BE. They call their music blastpunk, but this is more like grindcore with a touch of crust, punk, hardcore and even some thrashy riffs here and there. Be prepared for a highly energetic and fast experience.
DESTEUFELS are more of an metal punk band, who started years ago. The description for their style is "d-beat driven classical and classy stenchcore". Sometimes they rock hard, sometimes they are heavy, and suddenly they throw in some blastbeats. To me their songs sounds like crust punk with a twist of metal. Sometimes it's more or less death metal.
cancerclan.bandcamp.com desteufels.bandcamp.com 7degrees-records.de merciless.records@gmx.de
Published: Dec. 9, 2019
CORNERS OF SANCTUARY: Hold On To Christmas - Single
(Self released)
No Holiday season without a Christmas tune from CORNERS OF SANCTUARY. So here it is: "Hold On To Christmas" - A catchy little thing. I guess we can describe it as melodic heavy metal. And this is a pretty good song, so check it out.
This song is available for free download from the band's website until January 6, 2020.
CORNERS OF SANCTUARY are currently putting the finishing touches on their new EP, "What We Leave Behind", which is set to be released in December exclusively through Metalheads Forever Magazine (http://www.mhf-mag.com/) for a limited time.
cornersofsanctuary.com
Published: Dec. 8, 2019
CHOTTO GHETTO: Wildfire - Album
(Quote Unquote Records)
Another useless album that never should have been released. Too much bullshit, too much talking. Just play the music instead! Not that the music help much in this case though. This just makes me want to beat the shit out of somebody, and then this is far away from hard and aggressive. When they actually play something and don't talk shit for too long, then it's more like some kind of alternative/experimental rock.
But surprise, surprise, there's at least 1 o.k. song here: "Multiversal Receiver", which is the second track. But after that it's not many bright moments for me.
This L.A. band's music is for some reason called post-hardcore punk metal, but I can honestly not hear much of that here. But if you want to listen to something that won't sound as you expect it to sound, then I guess this can be interesting for you.
CHOTTO GHETTO has already existed for more than 14 years, and this is their third album. They mention The MARS VOLTA, FAITH NO MORE and BAD BRAINS as their influences.
chottoghetto.com quoteunquoterecords.com
Published: Dec. 8, 2019
BLACK RIVER SONS: Poison Stuff - Album
(Music-Records)
Southern rock from Lille, France. This is their first album, which gives us 10 tracks that sounds more like Texas than France. Like they had been drinking moonshine (homebrew from the States) instead of wine. And I think they do it very good actually. Because this is just as good as any other band that have black, river or sons in their name. So you should defintely give them a listen or more.
facebook.com/blackriversons facebook.com/musicsarl
Published: Dec. 8, 2019
ABEYANCE: Portraits Of Mankind - Album
(Sliptrick Records)
ABEYANCE is a melodic death metal band from Italy, who have been working on these 5 songs for more than 2 years. They might not sound any different to any other band in this genre, but they really have something good here. Melodic guitar riffs are mixed with classic growl vocals, with mid-pitched and harsh singing adding an aggressive tone. They simply seems to be very good at what they are doing. Their strongest songs are the title track and "Secretly I Joined Dark Horizons".
This is absolutely something for fans of AMON AMARTH, ARCH ENEMY and AT THE GATES.
abeyance.bandcamp.com sliptrickrecords.com
Published: Dec. 8, 2019
STERBHAUS: Krampusnacht - EP
(Killhead - Release date: Dec. 13)
Swedish trio STERBHAUS have made a little Christmas EP for you. But it's not the usual sugar sweet stuff that we get here. Oh no. This is more like a mixture of thrash, black, death and heavy metal. Raw and dirty metal you could say. Maybe not the best that I have heard, but far away from the worst either. The best song is the last.
It seems like this 3-track EP has been available for free on Bandcamp since 2016, but it will now also be available in physical format on both CD and LP. And with titles like "Krampusnacht", "Santa Claus in Satan's Claws" and "Christmas with the Devil" you better prepare for a terrible Christmas in the sign of evil. This will scare both your family and Santa Clause himself away!
Pre-order: smarturl.it/krampusnacht
Published: Dec. 7, 2019
BEAT CITY TUBEWORKS: I Just Cannot Believe It's The Incredible - Album
(The Sign Records - Release date: Dec. 6)
This sounds more or less exactly as The HELLACOPTERS around the second to the 4th album or something like that. But I can also hear MC5 and 70s KISS here, among many other bands. Their music is described as "energetic 70s influenced rock n roll/garage rock in it's true form and glory... On steroids!". It's catchy and melodic, but at the same time they rock hard. And they do it really good, so there's no reason to complain.
BEAT CITY TUBEWORKS was formed in Jönköping, Sweden in early 2015. They are said to have a reputation of being a really good live act, and after listening to this record I am willing to believe that.
Published: Dec. 6, 2019
Hi/Jack: Rank And File - EP
(Self released on Dec. 6)
HI/JACK is a rock duo from Milwaukee which features drummer Ron "Hi" Terrell and guitarist/vocalist Max "Jack" Liam. They met each other somewhere in the underground scene in 2014, and became best friends. They released their debut album in 2015, a live album in 2017 and a EP in 2018. So they have not been lazy anyway.
The first and the last track is more like some kind of punky grunge a'la NIRVANA, while "TFBIWW" (which we for some resaon get both a clean and explicit version of) is more like teenage pop punk in the same style as GREEN DAY or BLINK 182. Pretty o.k. stuff, but not much else.
Best track: "Don't Wanna See You Anymore".
hijackmke.com
Published: Dec. 6, 2019
KEELRIDER: Sun - Single
(Self released on Dec. 6)
I don't really know why they choose this song as a single, because to me it's pretty boring actually. This is the kind of song that goes in through one ear and out through the other. Impossible to remember after you have heard it!
This Icelandic band is said to infuse a driving stoner metal sound with vestiges of STONE TEMPLE PILOTS and SOUNDGARDEN. They have been rocking since 2015, and "Sun" is a taste of their upcoming sophomore LP.
keelrider.bandcamp.com
Published: Dec. 6, 2019
GRIM COMET: Afterlife - Album
(Art Gates Records)
In the beginning GRIM COMET's sound used to combine stoner rock influences from the 70s and classic heavy metal and doom references. They incorporates elements from the 70s (BLACK SABBATH, LED ZEPPELIN and PINK FLOYD), but also influences from the Big 4 North American thrash metal and NWOBHM bands like MOTÖRHEAD and VENOM. And yes, that sounds like they would be very different. But when I listen to this trio it's not so different after all.
Nowadays it's more catchy. There's classic rock, 90s grunge, garage rock and even some progressive influences. And they have some really good stuff here. Just listen to a song like "Born To Die" for example. Really great!
GRIM COMET has released 2 studio albums and 1 live album before "Afterlife".
facebook.com/grimcomet artgatesrecords.com
Published: Dec. 5, 2019
SOULBURN: Demo 1996 - EP
(Vic Records)
SOULBURN was formed in 1996 by Bob Bagchus and Eric Daniels after the demise of ASPHYX in 1996. They were joined by Wannes Gubbels on bass and vocals (PENTACLE). In 1996 SOULBURN recorded their debut demo, and these 4 tracks led to a record deal with ASPHYX home label Century Media, who released their debut album, "Feeding on Angles" in 1998. SOULBURN were put to rest when ASPHYX returned with "On The Wings Of Inferno" (2000) with the same line-up.
But SOULBURN was reformed in 2013, and up till now they have released 3 full lenght albums and 2 EP's.
What we have here is that first demo then. The first and the last track is just a intro and a outtro, so there's actually just 2 real songs here, but they sounds really raw, and they are really good. "Hellish Entrapment" is as long as 7:35 minutes, while "Behold The Funeral Candle" is 5:36 minutes. Great stuff that you must check out!
vicrecords.com facebook.com/OfficialSoulburn
Published: Dec. 5, 2019
STREET LETHAL: Welcome To The Row - Album
(Fighter Records - Release date: Dec. 5)
STREET LETHAL was born in 2014 in Barcelona, Spain to play true heavy metal. They released a EP, "Chainbreaker", the same year as they formed, and a live recording, "Live From The Street", in 2015. A second EP, "Look Out! And Stay In The Streets", in 2016, and now their first full length album is here.
Well, they definitely live up to what the band was born for. Because on this album they deliver 6 tracks of true heavy metal in the traditional way. It's powerful, catchy and with the right attitude. Their influences comes from classic acts like JUDAS PRIEST, W.A.S.P., WARLOCK and IRON MAIDEN, as well as more modern bands like SKULL FIST, STRIKER, CAULDRON and STALLION. And this is absolutely not bad at all. You should definitely give this a try. Otherwise you're stupid.
facebook.com/Streetlethalheavymetalband facebook.com/fighter.records
Published: Dec. 5, 2019
STORMBURNER: Shadow Rising - Album
(Pure Steel Records - Release date: Dec. 6)
I guess it's not such a wild guess that the members of this band have several records with MANOWAR in their collections. Because the music they play sounds a lot like the more epic heavy metal that MANOWAR play. But there's more than just that band in STORMBURNER's music. Very good stuff anyway. So this is something that you should not miss.
This is a Swedish quintet, and "Shadow Rising" is their debut album, but hopefully not their only record, because I look forward to hear some more in the future.
The album was produced by Ronny Hemlin (TAD MOROSE, STEEL ATTACK). The artwork was created by Ken Kelly (MANOWAR, KISS, RAINBOW).
stormburner.com puresteel-records.com
Published: Dec. 4, 2019
PRESSURE PACT: Scared Off The Streets - Album
(Wolves Of Hades (vinyl)/Humanimaal (cassette) - Release date: Dec. 6)
The Dutch band PRESSURE PACT deliver their hardcore/punk with raw energy and a hard attitude on this debut album. It's powerful and aggressive, but yet catchy somehow. A good mixture of 80s Boston hardcore and Oi! with a twist of harder British punk from the 80s. And they definitely have the songs here.
The songs are pretty short, about 1-2 minutes, and without any unnecessary crap. I really like what I hear! This is how good old hardcore/punk should sound like according to me.
pressurepact.bandcamp.com wolvesofhades.com
Published: Dec. 4, 2019
POWER THEORY: Force Of Will - Album
(Pure Steel Records - Release date: Dec. 6)
US traditional/power metal is what they call POWER THEORY's music. And that's a pretty correct description of course. But a simple man would just call it really good heavy metal.
This quintet comes from Philadelphia, and have since 2009 released 3 full length albums, 1 EP and 1 single. "Force Of Will" is said to be their most powerful and ambitious album yet.
We have some new blood in the band: Carlos Alvarez (SHADOWDANCE) on guitar, Jim Rutherford on vocals and Johnyy Sasso on drums.
powertheory.net puresteel-records.com
Published: Dec. 4, 2019
MINDEAD: Mindead - Album
(Metalapolis Records - Release date: Dec. 6)
MINDEAD gives us a modern kind of groove metal, that sometimes has a touch of hardcore. It's often catchy, but can also be hard and aggressive or soft and melodic. It's all there. And I must say that this was not so bad, because they have some really good songs here. So no matter if you like modern metal, groove metal or hardcore, give this a try at least.
The band started in 2001, and has released 2 albums before this one. They have done over 200 shows during the years.
mindead.com metalapolis.com
Published: Dec. 4, 2019
SIGN X: Like A Fire - Album
(Pride & Joy Music - Release date: Dec. 6)
SIGN X have emerged from the Hamburg, Germany-based band CHÂLICE, who have released 7 CDs since the early 90s. When singer Gino Naschke and keyboard player Axel Hoffmann decided to leave, the other guys decided to continue under a new flag, with Michel Jotzer on keyboards and Sebastian Zierof on vocals. They released a first EP in the beginning of 2018, and now their first full length album is here.
SIGN X is something for those of you who like melodic hard rock. They deliver 10 tracks here, and most of them are really good material. Why they had to do a cover of "Free Your Mind" (EN VOGUE) is a good question though.
facebook.com/SignXGermany prideandjoy.de
Published: Dec. 3, 2019
Mats Karlsson: The Time Optimist - Album
(MK Music/Sound Pollution - Release date: Dec. 6)
Mats Karlsson is the guitarist/songwriter from Swedish hard rock veterans 220 VOLT. This is his first ever solo album, and these songs are a bit more laid back than 220 VOLT, and move freely between rock, hard rock, singer/songwriter style and some AOR-touches here and there. He has also invited some of his musician friends to participate on this record, like drummer Björn "Grizzly" Höglund (EASY ACTION, The SUMMIT, HOVEN DROVEN), drummer Peter Hermansson (220 VOLT, TALISMAN, John Norum) and bassist Nalle Påhlsson (THERION, TREAT, EASY ACTION), just to name a few.
Well, there's many good songs here, so this is something that you should check out of course.
facebook.com/mk220v
Published: Dec. 3, 2019
Luca Sellitto: The Voice Within - Album
(Pride & Joy Music - Release date: Dec. 6)
This sounds a lot like something that Yngwie Malmsteen could have done back in the 80s (when he still was good). Neo-classical hard rock/power metal with melodic vocals and much guitar. And it's absolutely not bad at all. So fans of 80s Yngwie should defintely give this a chance.
Luca Sellitto is an Italian guitarist and songwriter. He is also the founder and leader of the power/progressive metal band STAMINA, who has been active since 2007 (4 studio albums and 1 live album/DVD). "The Voice Within" is his first solo album. Among the other musicians on this album are: Patrick Johansson (ex-Yngwie Malmsteen, IMPELLITTERI, Vinnie Moore) on drums, Svante Henryson (ex-Yngwie Malmsteen, Joey Tempest) on bass and cello. Luca himself play guitar and keyboards. And among the singers are: Göran Edman (ex-Yngwie Malmsteen, John Norum, MÅRRAN etc) on 1 track, Henrik Brockmann (ex-ROYAL HUNT, EVIL MASQUERADE) on 1 track, Rob Lundgren (The MENTALIST) on 3 tracks. 3 tracks are instrumental.
prideandjoy.de
Published: Dec. 3, 2019
GHOSTREAPER: Straight Out Of Hell - Album
(Pride & Joy Music - Release date: Dec. 6)
This is GHOSTRIDER's debut album, which features 10 international vocalists (both male and female) that I never have heard of. That doesn't matter though, as these people really can sing. All 10 have powerful and clear voices.
GHOSTRIDERS seems to be a project around VOODOMA guitarist Mikk Hollenberg, who have written and produced this album. He is also playing guitar, bass and keyboards, while Wolle Haitz take care of drums and percussions. But we also get some other instruments from various people around the world: banjo, piano, harmonica, trumpet and cello.
The music is a combination of different genres of metal, but mainly more melodic metal. The songs are really good, with both good singers and musicians. This is absolutely worth a try or 12.
ghostreaper.de prideandjoy.de
Published: Dec. 3, 2019
ARTILLERY: Deadly Relics - Album reissue
(Mighty Music - Release date: Dec. 6)
Legendary Danish thrash metal act ARTILLERY re-visit their early days with 2 albums: "Deadly Relics" and "In The Trash".
"Deadly Relics" is based on 2 demo recordings - "Shellschock" and "Deeds Of Darkness" - both from 1984. We also get 2 demo tracks from "Fear Of Tomorrow" (1985), as well as a single from 1989.
This collection was originally released in 1998, and show us a young and hungry thrash band with a lot of energy. It's definitely not bad at all, and a must for every true fan of course.
facebook.com/Artillery.dk mightymusic.dk
Published: Dec. 2, 2019
ARTILLERY: In The Trash - Album
(Mighty Music - Release date: Dec. 6)
Here's another interesting collection from these Danish thrash veterans.
What we get on "In The Trash" is their very first demo, "We Are The Dead" (1982), and the 1986 demo "In The Trash", which was never officially released, as well as 1 song from 1985 and 1 from 1984 that I have no information about.
Well, just as with the "Deadly Relics" collection, this is also a must for every true fan of the band. But I think that any fan of good old thrash metal from the 80s will enjoy both of these collections, because it's absolutely not bad.
ARTILLERY is still alive today, even though they have been through several lineup changes through the years. And even though guitarist and founding member Morten Stützer died a few months ago, the band will continue to play.
facebook.com/Artillery.dk mightymusic.dk
Published: Dec. 2, 2019
BLITZKRIEG: Loud And Proud - EP
(Mighty Music - Release date: Dec. 6)
The latest album from these NWoBHM legends came out in April last year, and now a new EP is here with different versions of some songs from that album and some songs that were never released (in these versions anyway), as well as a cover version of the ALICE COOPER classic "School's Out" - A total of 6 tracks.
Well, this is pretty melodic heavy metal actually, even though a song like "Falling Into Darkness" is darker and heavier. This is absolutely not bad at all. I like all these songs.
"Loud And Proud" will be released in a limited edition of 2000 copies on CD and 500 on LP.
blitzkriegmusic.com mightymusic.dk
Published: Dec. 2, 2019
ELECTRIC GUITARS: 10 Songs 10 Cities - Album
(Mighty Music - Release date: Dec. 6)
Hm, I think that this Danish band reminds me of the Swedish band BONAFIDE. Harder rock with a touch of AC/DC. Very energetic and sweaty. But they have more to offer than just that. Sometimes it's more bluesy, sometimes almost Southern Rock, and 1 song sounds like alternative rock from the grunge era. Very good stuff anyway, no matter what they play here.
In the spring of 2018 ELECTRIC GUITARS did a tour in Denmark, and all shows was recorded. Now they have picked 10 songs from 10 different cities for this live album. It includes songs from their entire back catalog (3 full length albums), so even if you like me have not heard them before, this is a good introduction to their little world of guitars and rock.
The band is led by the 2 guitarists Søren Andersen (Glenn Hughes, Mike Tramp etc) and Mika Vandborg. And you might remember that Søren released a solo album, "Guilty Pleasures", in October? This has nothing to do with that though. This is much better!
electricguitarsmusic.com mightymusic.dk
Published: Dec. 2, 2019
KICKIN VALENTINA: Chaos In Copenhagen - EP
(Mighty Music - Release date: Dec. 6)
Ass kicking rock n roll with punk attitude directly from the States. They call it sleaze rock, and sure there's a lot of that. But I think this band is doing it with more punk attitude. Like a mixture of Bon Scott-era AC/DC and early GUNS N' ROSES. It's really good anyway, so you should really give these guys a chance.
3 of these songs was recorded when they were in Copenhagen, Denmark in May this year, which was a chaotic visit. A few weeks later they went to Germany and Bang Your Head Festival, where the last song is taken from.
KICKIN VALENTINA will spend the winter in the studio to record their new album, which should be released around next spring/summer sometime.
kickinvalentina.com mightymusic.dk
Published: Dec. 2, 2019
SATOR and DEADHEADS at Pumphuset in Borås, Sweden on November 29, 2019
As SATOR's first concert (tonight, Nov. 30) sold out very fast, they decided to add another concert on Novemebr 29. DEADHEADS was the support act on November 29, and PROFESSIONAL AGAINSTERS will be support act tonight.
A funny thing with SATOR is that I had no memory of seeing them live during the last years. So you can imagine how surpised I was when I found some photos of them from 2013 at Holmens Rock in Göteborg, Sweden. And then something similar happened today, when I suddenly found some photos of DEADHEADS from March this year that I had no memory of. Weird..
Well, DEADHEADS sounds exactly like The HELLACOPTERS, more or less. So if you like that band, then you will like DEADHEADS too. I don't have that much to say, but they did a really good job anyway.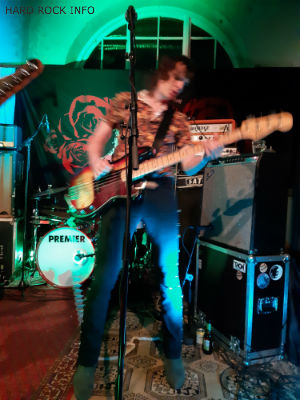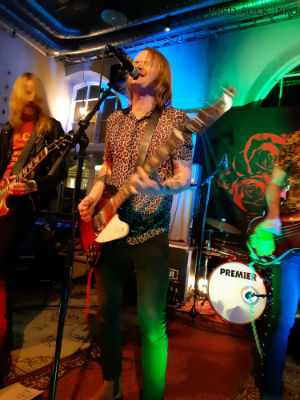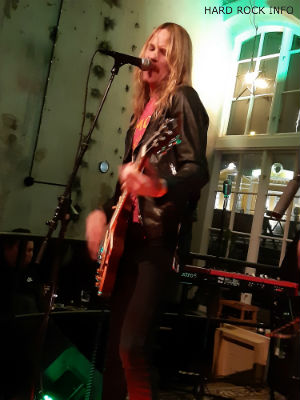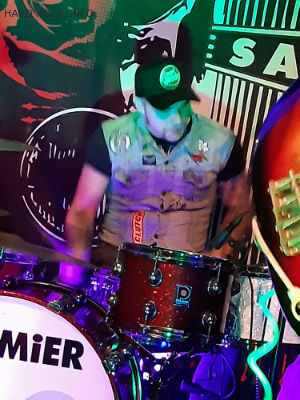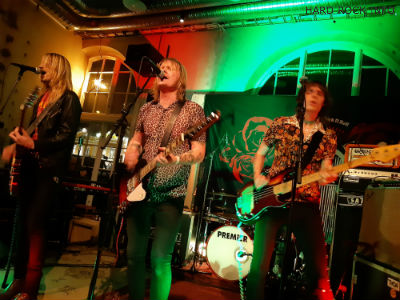 SATOR are an old legendary rock band that existed already in the 80s. But for some reason it didn't look like they had aged that much. They showed us that they can still deliver a good show, but that's more or less all I can remember as I got very drunk (therfor just 2 photos).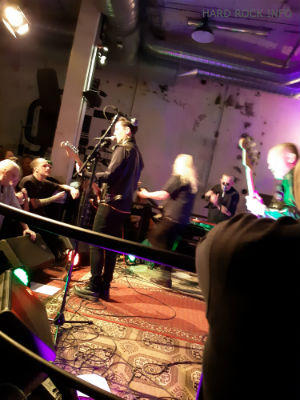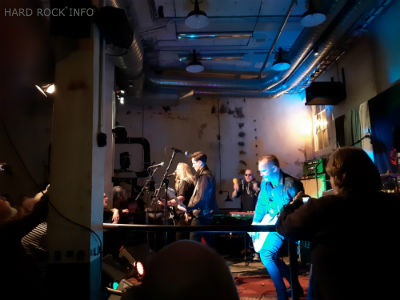 Published: Nov. 30, 2019
ICED EARTH: Alive In Athens (20th Anniversary Edition) - 5-LP Box Set
(Century Media/Sony Music - Release date: Dec. 6)
So, this is a re-release of American heavy metal band ICED EARTH's live release "Alive In Athens", which was originally released in 1999 as a 2CD, 3CD and picture LP set. Now it will finally receive a proper vinyl edition to celebrate the 20th anniversary of this recording.
"Alive In Athens" was recorded on 2 nights at Rodon Club in Athens, Greece in January 1999, and was certified gold in Greece. These albums includes as much as 32 tracks, and last for as long as 184:13 minutes. So this should be heaven for old fans of ICED EARTH. And this is absolutely not bad at all, even though it's very much to listen to at once, so it's hard to choose a favourite from all these songs.
The original release lacked the live version of "Colors", and the picture LP was a fairly careless CD to vinyl transfer interrupting Matt Barlow's (vocals) stage banter several times, and split up tracks that had been performed back to back (for example the "Something Wicked (Trilogy)"). Together with Jon Schaffer (guitar), this anniversary edition was created, offering a partially revised sequencing and fully dynamic vinyl mastering by Patrick W. Engel/Temple Of Disharmony. This fat box includes 5 180gr LPs, a 12-page LP-sized booklet and a poster.
icedearth.com centurymedia.com
Published: Nov. 28, 2019
The DARK ELEMENT: Songs The Night Sings - Album
(Frontiers Music Srl)
The DARK ELEMENT is a symphonic metal project fronted by former NIGHTWISH frontwoman Anette Olzon, who have teamed up with the Finnish guitarist/songwriter Jani Liimatainen (CAIN'S OFFERING, SONATA ARCTICA). Their debut album was released in November 2017, and now their second album is here, which takes off where the previous record left.
I read somewhere that Anette said that she would never ever return to NIGHTWISH. And why should she? This is where she belong! I'm usually not such a big fan of symphonic metal, but as a matter of fact I actually like what I hear on this album.
If you for some reason got this weird idea that you should just listen to 1 symphonic metal album this year, then I would recomend you to listen to this album.
facebook.com/TheDarkElement frontiers.it
Published: Nov. 27, 2019
EDGE OF PARADISE: Universe - Album
(Frontiers Music Srl)
This is an L.A.-based metal band formed in 2011. They has release 2 albums and 1 EP independently since 2012. Now they have taken the next step in their career and signed with Italian label Frontiers Music Srl.
EDGE OF PARADISE play a modern kind of metal which brings together symphonic and classic metal. Sometimes they also add a pinch of industrial or electronic influences, but that is luckily not too often. I like them best when they play straight metal, because then they are really good. And there's plenty of good songs among these 10 tracks.
"Universe" was produced by Mike Plotnikoff (HALESTORM, THREE DAYS GRACE) and mixed by Jacob Hansen (AMARANTHE, VOLBEAT, PRETTY MAIDS).
edgeofparadiseband.com frontiers.it
Published: Nov. 27, 2019
TYKETTO: Strength In Numbers Live - Album
(Frontiers Music Srl)
You could actually see TYKETTO as a very brave band when they released their second album, "Strength In Numbers", during the grunge and alternative rock era in 1994. Because TYKETTO was, and still isn't, the hardest, heaviest or fastest band on the planet. They play melodic hard rock. Not so popular in 1994 I can tell.
But times are changing, and in March 2019 they celebrated the 25-year anniversary of "Strength In Numbers" with a tour, where they performed the entire album plus a previously unreleased song, "Wait Forever". And it seems like it was a succees.
The music is good. Sometimes I think of the more melodic stuff with VAN HALEN actually, even though it's not exactly like them. People who like melodic hard rock should absolutely check this out.
But you can of course always ask yourself what this was good for, as they released "Live In Milan" about 2 years ago, where they performed their whole debut album, "Don't Come Easy". Are they going to do the same with the rest of their albums? Would be kind of funny though. I don't think that anybody else have done that yet.
tyketto.com frontiers.it
Published: Nov. 27, 2019
TYGERS OF PAN TANG: Destiny - Single
(Mighty Music)
This is the third single from TYGERS OF PAN TANG's latest album, "Ritual". And what can I say about this song then? Well, it's 1 of many really good songs from that record. It's just as simple as that. So if you have not checked out the album yet, try this single and you will probably like it so much that you get the album at once.
tygersofpantang.com mightymusic.dk
Published: Nov. 26, 2019
FRANKLIN ZOO: Song For The Cynic - Single
(Mighty Music)
"Song For The Cynic" is the second single from what is to become a full-length concept album with Danish prog rockers FRANKLIN ZOO. The new material is said to be more dynamic and lighter, and at times still aggressive, dark and merciless. Overall, the music is more varied within and between each song than ever before in order to reflect the nuances of a heartfelt life.
This song start slowly for a few seconds before it start to rock. This is not the most energetic band though, but hardly the heaviest either. It's simply a rock song that reminds me of Seattle somehow, but this is absolutely not grunge because of that. Not bad anyway. So maybe you should give this a try?
franklinzoo.dk mightymusic.dk
Published: Nov. 26, 2019
BLITZKRIEG: School's Out - Single
(Mighty Music)
What we have here is a cover of the old Alice Cooper classic "School's Out". No dramatic changes to the original version. Possibly a bit harder and heavier, but that's all. A pretty good version that comes from BLITZKRIEG's upcoming EP, "Loud And Proud", which will be released on December 6.
blitzkriegmusic.com mightymusic.dk
Published: Nov. 26, 2019
AVALANCHE: Sent From Hell - EP
(Sliptrick Records - Release date: Nov. 26)
AVALANCHE sounds like a young and more raw version of what AC/DC did in the 70s. Much thanks to the vocalist, who shout out the words instead of singing clean. That also gives them a touch of punk attitude. But in the end it's just harder rock n roll with a lot of energy.
AVALANCHE comes from Australia, and have previously released 2 singles and done lots of shows. "Sent From Hell" is their first EP though, which contains 8 tracks - 4 studio recordings and 4 live tracks recorded at the Bull and Bush Hotel in Baulkham Hills, Sydney on December 6, 2018.
I think that every fan of high-energy rock should give this a try.
avalanche2018.bandcamp.com sliptrickrecords.com
Published: Nov. 26, 2019
IRONTHORN: Legends Of The Ancient Rock - Album
(Sliptrick Records)
Italian heavy metal/hard rock band IRONTHORN's new album, "Legends Of The Ancient Rock", conceptually arises as a follow-up to their debut album, "After The End" (2017). It gives us 10 tracks, and 1 of them is in Italian (the rest is in English), and the first and last song is instrumental. It seems like their lyrics deal with different legends and myths, but also music.
IRONTHORN comes from Sicily and formed in 2014. Their influences comes from the famous hard rock, heavy and thrash metal bands of the 80s/90s, so it sounds more like yesterday than today you could say. But it's good. Maybe not any masterpieces, but still worth listening to.
ironthorn.it sliptrickrecords.com
Published: Nov. 25, 2019
SYZTEM7: Evolving - Album
(Mighty Music - Release date: Nov. 29)
When I reviewed their single "No Regrets" a few months ago, I though it was o.k. But it has grown since then and become a really good song instead. And this genre-blending rock band from Seattle have more interesting stuff on this album. But I can't really get why they think that fans of an industrial band like RAMMSTEIN should be the right audience for this. I think it sounds more like they take the legacy of Seattle and make their own little thing. Some alternative rock and grunge, as well as hard rock and metal.
facebook.com/Syztem7band mightymusic.dk
Published: Nov. 24, 2019
KEEN HUE: Heydays - Album
(AOR Heaven - Release date: Nov. 29)
I remember that I heard this band on Swedish national radio's show Rockbox in the mid-80s when I still was just a kid. It was the song "The Doctors Crying". We even went to the town where they come from, Vansbro, as my father was going to swim there (very cold water). And the evening before the swim run there was bands playing in a park, and KEEN HUE was going to play last I think. Unfortunately me and my little brother was still young and had to go to bed, so we missed KEEN HUE, which really sucked. We saw some other bands though, which I can't really remember the name of now (maybe TRYCKVÅG and UNIVERSE?). Who would believe then that I would review an album with KEEN HUE in 2019?
But this band started a few years earlier than that. Back in 1978 they started to play covers of bands like HURRIGANES and RAMONES. 3 years later they started to write their own material, influenced by acts like JUDAS PRIEST and BLACK SABBATH. Their first single, "Spread Your Wings Of Fire/One Of Two", was released in the fall of 1982. In 1985 they finally got signed to the English label Ebony Records, and the debut album "Ogre King" was released. Members came and left, and in the 90s they became a cover band again, called KEEN HUE-UNDER COVER.
But in 2018 1 of the 2 remaning members came up with the idea to make new recordings of their old songs, and contacted some of the old members of the band. Everybody liked the idea, so they re-recorded 10 songs which was originally made in 1981-1989. And yes, my old favorite "The Doctors Crying", which I have not heard since the 80s, is included. But I can hear that they have many more great songs here. And most of them is melodic hard rock, that sometimes reminds me of SCORPIONS and SAXON during the mid-80s.
You must check this out!
facebook.com/Keen-Hue-137383786328216 aorheaven.com
Published: Nov. 24, 2019
The END A.D.: Badlands - Album
(Fastball Music - Release date: Nov. 29)
The END A.D. is a female-fronted metal/hardcore/punk band from Philadelphia, USA. The band was formed in 2014, and is said to have "members from some of the filthiest bands to ever plague the city of brotherly love". Ami Friend joined the band on vocals in May 2017, and she is obviously an important piece of this band with her insane vocals.
Their music is mainly metal, but there's also some hardcore/punk, and Ami's vocals makes it extra wild and crazy. I really like what I hear! And the best song of them all is without a doubt their single "Why Won't You Die".
It looks like these maniacs are coming to Europe in 2020. I guess it could be pretty cool to see this band live. But will they play anywhere near me and on the right day?
theendad.bandcamp.com fastball-music.com
Published: Nov. 24, 2019
Carl Dixon: Unbroken - Album
(AOR Heaven - Release date: Nov. 29)
Last month I reviewed a re-release of Carl Dixon's solo debut, "One", which was originally released in 1993. Now a completely new album is here. And this is his first collaboration with the German musician Robert Boebel (FRONTLINE, PHANTOM V etc).
This album show us that Carl can still sing and make good songs after all these years. Every fan of AOR, melodic rock and, in a few cases, melodic hard rock should be interested in this record. Because there's lots of great songs here. Simple as that!
carldixon.com aorheaven.com
Published: Nov. 24, 2019
PRETTY MAIDS: Undress Your Madness - Album
(Frontiers Music Srl)
It's already 3 years since their last studio album, "Kingmaker", was released (where did that time go?). And on this new album they continue with what they did 3 years ago. It's simply melodic hard rock for the whole Danish krone. And the production is very good, and everything is almost a little too nice. But this is what PRETTY MAIDS sound like nowadays.
These veterans are hardly any amateurs, as you probably understand. They started back in the 80s already.
In early October it was revealed that their vocalist, Ronnie Atkins, has been diagnosed with lung cancer. This means that all shows announced until the end of January 2020 are cancelled. All focus is now on Ronnie's health and undergoing treatment.
prettymaids.dk frontiers.it
Published: Nov. 23, 2019
QUIET RIOT: Hollywood Cowboys - Album
(Frontiers Music Srl)
I still don't know what to think about this old band. Their last studio album was a big dissapointment, but their live album was fantastic. Now a new studio album is here, and it might not be such a big dissapointment as the last one, but I still wonder where the hits are. This album is better than the last album anyway. No doubt about that.
With their last studio album, "Road Rage" (2017), QUIET RIOT introduced vocalist James Durbin, who stepped in the 11th hour to give his imprint to the new songs. The funny thing is that as soon as "Hollywood Cowboys" was done, James left the band. So when the band play live you will see Jizzy Pearl on vocals, who previously fronted the group between 2013-16.
When it comes to more sad news, founding member and drummer Frankie Banali has been diagnosed with stage 4 pancreatic cancer. That doesn't seems to stop him from playing live with QUIET RIOT though.
quietriot.band frontiers.it
Published: Nov. 23, 2019
ASPHYX: Crush The Cenotaph - EP reissue
(Vic Records)
"Crush The Cenotaph" was released 1 year after ASPHYX's full length debut, "The Rack" (1991), and features the classic lineup of the band: Martin van Drunen on vocals and bass, Eric Daniels guitars, and Bob Bagchus on drums.
The first 3 tracks were specially recorded at Woodhouse Studio and produced by Waldemar Sorychta (MOONSPELL, SAMAEL, DESPAIR). The 2 last tracks were recorded live in Stockholm, Sweden in 1991.
ASPHYX play a doomy and raw kind of death metal. All I have heard with them before is their 2 latest albums, which was great. This EP might not be that great, but it's absolutely not bad at all. So you should check this out of course.
This Dutch band formed back in 1987, and disbanded in 1996 only to rise again in 1997 under the new name SOULBURN. But as the sound was more or less the same, they became ASPHYX again in 2000. But after just a few shows they dissolved again and didn't return until 2007. They are as far as I know still around today, but not as active as when they were young. The lineup is totally different nowadays though.
asphyx.nl vicrecords.com
Published: Nov. 22, 2019
COMECON: Megatrends In Brutality - Album reissue
(Vic Records)
COMECON was formed by former OMNITRON and KRIXHJÄLTERS guitarists Pelle Ström and Rasmus Ekman. "Megatrends In Brutality" was their debut album, which features ENTOMBED's L.G. Petrov on vocals (this was after he had left ENTOMBED, but as we all know, he rejoined the band later). The album was recorded at Sunlight Studios, and produced by Tomas Skogsberg (TIAMAT, ENTOMBED, DISMEMBER etc etc) in 1991.
So what do we get here? Well, what do you think? Old school Swedish death metal of course! This is something for fans of the usual bands: ENTOMBED, GRAVE and DISMEMBER. And it's just as good as anything that those bands released in the early 90s.
vicrecords.com
Published: Nov. 22, 2019
INFERNÄL MÄJESTY: Demon God - Album
(Vic Records)
Before their second album, "Unholier than Thou", INFERNÄL MÄJESTY recorded a 2-track demo in 1997. Only 4 or 5 of these demos were made for band and their management. Both songs were later released on "The Kanada Compilation" CD. The song "Is There a God?" was later renamed to "Where is Your God?".
And in 2006 INFERNÄL MÄJESTY recorded a 6-track EP, called "Demon God". This EP was issued in CD-R format to coincide with a festival appearance in Calgary, Canada. It features guest appearances on the bonus tracks by CANNIBAL CORPSE members George "Corpsegrinder" Fisher (vocals) and Rob Barrett on guitars (S.O.S.), and also features guest vocals by Chris Valagao (ZIMMERS HOLE, STRAPPING YOUNG LAD live) on the 6th track, "Skeletons in the Closet".
So, this is the material that you get on this album. And I guess it sounds o.k., but not much else. Some kind of thrash/death metal that doesn't really sound like all the others is my description to this. They seems to have an experimental lust, and doesn't always take the easiest way out. I would not say that they are advanced though.
facebook.com/infernalmajestyofficial vicrecords.com
Published: Nov. 22, 2019
SATAN TAKES A HOLIDAY: Blow - Single
(Despotz Records)
This is an action-filled rocker that reminds me of early The HIVES. So in other words really good stuff! Why they had to include a remix version is a good question though. I'm a rocker not a techno freak!
This song is said to be the last single from their latest album, "A New Sensation". Every true rocker must check this out!
I don't have much else to say..
satantakesaholiday.com despotz.se
Published: Nov. 21, 2019
SERPENT'S ORDER: Wall Of Screams - Single
(Self released?)
SERPENT'S ORDER is a blackened death metal band that was started in September 2017 by Dionysios Mantis (P.B.) and Kostas Christodoulopoulos (Velnias). They had been working together in numerous projects since 2009 though. But now they wanted to create something better than before. I'm not so sure that this is so great though. I have been listening to this song several times now, but it just goes in through 1 ear and out through the other. Nothing stay! And it last for as long as 7 minutes without giving me anything else but a headache.
An album, "Watchers Of The Future", will be out soon. And "Wall Of Screams" is a taste of that (of course).
facebook.com/serpentsorder
Published: Nov. 21, 2019
MISERY LOVES CO.: Zero - Album
(Black Lodge Records - Release date: Nov. 29)
MISERY LOVES CO. released its self titled debut in 1995 (a year earlier in Scandinavia) and soon became one of Europe's most talked-about up-and-coming metal bands. I never listened to them though, I was more into punk at that time. With their second album, "Not Like Them" (1997), they even won a Grammis (Swedish Grammy) in the "Best Hard Rock/Metal" category in 1998. Their third album, "Your Vision Was Never Mine To Share", was released in 2000, and a few months later they split up.
In 2016 they reunited, and has been playing a few festivals since then. And now, after 19 years, it's time for a new album. Which is probably very exiting news for their old fans.
We can find many different styles here: dark and atmospheric, hard and brutal, upbeat and catchy, and so on.. There's pieces of everything from goth to death metal, via electronic and industrial metal, to alternative rock and then some. They succeed to put their own touch on it though, so they are never a complete copy of something else.
facebook.com/Misery-Loves-Co-100819526726770 smarturl.it/BLOD142
Published: Nov. 20, 2019
SENTIENT HORROR: Morbid Realms - Album
(Redefining Darkness Records (N. America)/Testimony Records (Europe) - Release date: Nov. 29)
This is the second full length from SENTIENT HORROR, where they give some of that good old death metal that we all like. There's absolutely nothing to complain about here, all 10 tracks are great. These guys really know how to deliver this kind of stuff.
SENTIENT HORROR are from New Jersey, and formed in 2014 with a vision to play classic 90s style death metal influenced by Swedish bands like DISMEMBER and ENTOMBED. They have even menaged to impress the legendary musician/producer Dan Swanö (ex-EDGE OF SANITY, BLOODBATH etc), who mastered their demo "Beyond The Curse Of Death".
Let's just say that if you like old school death, then this is an album for you.
facebook.com/sentienthorrorofficial facebook.com/redefiningdarkness facebook.com/testimonyrecords
Published: Nov. 19, 2019
BEDNJA: Doline Su Ostale Iza Nas - Album
(Transcending Obscurity Records - Release date: Nov. 29)
These 3 angry men comes from Croatia, and deliver a furious mixture of black metal and hardcore. Their ways are largely unpredictable though, so this is nothing for those with weak heart and fragile health. But if you're weak for the extreme and different, then I guess that BEDNJA could be something for you.
"Doline Su Ostale Iza Nas" is their debut album, which consist of 6 tracks. The shortest is 2,15 minutes, while the longest is 8,53 minutes (but then there's just bullshit during the last minutes).
bednjacroatia.bandcamp.com tometal.com
Published: Nov. 19, 2019
JC AUTOBODY: Turbo (Doomsday Radio Edition) - Album
(Seeing Red Records/Young Tobacco Records - Release date: Nov. 22)
This is JC AUTOBODY's 6th album, and it was originally released on October 31, 2018. On this new "Doomsday Radio Edition" we get some bonus material in form of a few covers of DEEP PURPLE, PENTAGRAM and LINK WRAY.
I have not really figured out if this is just 1 man or a band, but JC comes from Indianapolis, Indiana, and the music is a wild mixture of garage rock, stoner rock, 70s glam, heavy rock, desert rock and so on.. It's rocking like an old album from the 1970s, and there's some pretty o.k. songs here, but nothing that stand out or sounds like a hit song. Just a o.k. rock album that you listen to a few times and then you probably forget all about it.
Best track: the cover of DEEP PURPLE's "Space Truckin'".
jc-autobody.bandcamp.com
Published: Nov. 18, 2019
LOVE AND WAR: Edge Of The World - Advance EP
(Advance media only EP)
According to these 4 songs, LOVE AND WAR seems to have something great coming up. Because these tracks are damned good! This is something that you must check out if you like hard rock with a lot of melody and high hit potential.
These songs is just a small taste of their upcoming album, "Edge Of The World", which will be released before Christmas. And as you can guess, I really look forward to hear that album. This EP is just available for media though.
LOVE AND WAR was formed as LOVE N WAR in early 2000 when guitarist/songwriter John Adams and vocalist Jeff Vandenberghe met to do a reunion of their former band. These 2 guys has been playing together since 1982. But now it was time for a new band. It took a while to find the right members though. It wasn't until 2010 that the band was complete. And in 2012 they finally released their debut album, "Up The Annie". But it's not until now that their second album is going to be released.
love-and-war.com
Published: Nov. 17, 2019
KNIGHTMARE: Space Nights - Album
(Rafchild Records)
KNIGHTMARE is a power metal band from Releigh, North Carolina. "Space Nights" is their 4th album, which was released digitally on October 4. The album features 7 tracks.
This band has been rocking since the early 2000s. Their first album, "Damned And Forsaken", came out in 2012.
Well, what can I say? This is definitely not bad at all. They have several great songs here, so I think you should give them a try. That's all I have to say..
knightmarenc.bandcamp.com facebook.com/rafchild.records
Published: Nov. 17, 2019
IMMANIFEST: Macrobial - Album
(The Artisan Era)
Tampa, Florida-based symphonic black/death metal outfit IMMANIFEST has just released their debut album, "Macrobial". They released a EP, "Qliphotic", in 2010 though. And fact is that they recorded all tracks for "Macrobial" in demo form back in 2011 already. But then the band went on hiatus, and that's why it took so long between the first EP and the first album. And they say that it's much thanks to the record label The Artisan Era that the album was completed after all these years.
The music on this album take equal parts of European extreme metal and American death metal. Which end up in an dark occult combination of melodic black metal and blood thirsty death metal. They say that this is something for fans of groups such as DIMMU BORGIR, SHADOW OF INTENT and ENFOLD DARKNESS.
immanifest.bandcamp.com theartisanera.com
Published: Nov. 17, 2019
TYGERS OF PAN TANG: Ritual - Album
(Mighty Music - Release date: Nov. 22)
They are seen as NWoBHM legends, but has as far as I know never been among the harder and heavier bands. Many of these songs are more like melodic hard rock, even though there's a few numbers that can go as heavy metal. But a thing like that doesn't really matter as long as it's good. And this is good. Who would think that an old band from the 80s would make such a strong album as this in 2019? I really like surprises like this!
Many of you might already know the history of this British band. But for those of you who don't, here we go.. TYGERS OF PAN TANG formed in 1978, and released a few albums before they split up for the first time in 1984, but then they were back already the next year. In 1987 they went seperate ways again. Then they got this idea that they should reform once again in 1999, and they have been rocking ever since. The only original member left is guitarist Robb Weir.
"Ritual" was actually recorded at their former guitarist Fred Purser's studio in Newcstle Upon Tyne, while mixing and additional production was conducted by Soren Andersen in Copenhagen, Denmark.
tygersofpantang.com mightymusic.dk
Published: Nov. 16, 2019
Hollywood Hairspray 8 - Compilation
(Perris Records)
Put on your best 80s look, 'cus we're going to Hollywood!
I have already heard about half of these songs as I have reviewed the bands before. But this is a very good way to know what's going on in today's sleaze and hard rock scene. And all these songs are really good stuff, so you should absolutely not miss this compilation.
Hollywood Hairspray 8 features: LOUD 'N' NASTY, MORANO, 99 CRIMES, BAD BOY EDDY, AOR, RAIN OR SHINE, WALKER, COLLUSION, NOTÖRIOUS, NiteRain, KILL CITY KILLS, MERCY, VOODOO MOONSHINE and AFFÄIRE. Some of these bands have current and past members of JOURNEY, TYKETTO, EXTREME, DANGEROUS TOYS, DIRTY LOOKS, BROKEN TEETH and FIREHOUSE. The bands comes from Sweden, USA, France, Greece, Ireland, Russia, Norway and Portugal.
I would guess that this compilation is only available digitally. So try something like Spotify, iTunes or Amazon for example.
perrisrecords.com
Published: Nov. 16, 2019
A Tribute To W.A.S.P. - Compilation
(Antichrist Magazine/Grand Sounds PR)
Very funny collection of songs as most of these bands are real amateurs. Some of them can't even keep the right tone on the vocals or sound like they don't really know what they're doing. That gives this some extra charm and a few laughs. But I don't think this is supposed to be a joke, but as the title says a tribute.
The only band that is doing a really good version is SERPHIKA from Argentina, who have choosen "Wild Child". Some other bands that do a fairly good job are OCULUM DEI from USA ("Animal"), VENGEANCE OF MINE from Brazil ("Widowmaker") and GASOLINE GUNS from Ukraine ("Harder Faster").
This compilation is only available on YouTube: youtu.be/E_Daig38x9Y
antichristmagazine.com grandsounds.net
Published: Nov. 15, 2019
ELEINE: All Shall Burn - EP
(Black Lodge Records - Release date: Nov. 22)
Melodic/symphonic metal is probably the best description to this. But then we have a song like "Mein Herz Brennt", which is a cover of RAMMSTEIN, and yes they sing in German too (many Swedes learn German in school). The most bombastic is the 2 last songs, which are symphonic versions with what sounds like a whole symphony orchestra.
If I'm not totally wrong, I think that their last EP didn't really impress me. But honestly, I don't really remember it now. This EP is really good though, even though it took a few listenings before I liked it.
This record is said to be more powerful and unique than their previous release. It's a bit darker and heavier, but yet very melodic.
eleine.com
Published: Nov. 14, 2019
MORE KICKS: More Kicks - LP
(Beluga Records/Wanda Records/Adrenalin Fix/Dirt Cult/Snap Records - Release date: Nov. 15)
MORE KICKS are described as "an explosion of pop melodies, jet-fuelled guitar riffs and shifting, sinewy rhythms". It seems like they came out of nowhere, and ended up in London's garage scene in the end of 2017. This trio was not like the others though, "thanks to their unique mix of pop sensibilities, rhythm & blues bass and good-time powerpop drums".
With short songs - approximately 2-2,30 minutes - they give us a touch of classic 60s garage rock, 70s NYC rock and roll, and jagged 90s guitar pop. Old and new at the same time. But in the end it's only rock n roll, and I like it.
belugarecords.com
Published: Nov. 13, 2019
DEAD | LOVE: The Hunger Builds - EP
(Sliptrick Records - Release date: Nov. 15)
Some kind of odd rock with a touch of both groove metal and punk? They are probably trying to do something cool, but I can't really figure out if this is good or not. And what made me interested in this band was that they called their music hardcore/punk. But this is not really what I call hardcore/punk. Listen to bands like ANTI CIMEX and DISCHARGE for example. That's hardcore/punk according to my opinion. The singer in this band is not even screaming, which I think is almost a must when it comes to hardcore. He is just singing like he was in the latest hipster band. It has to be faster, harder and more aggressive.
This EP was written and recorded over a 2-day studio session, and recorded live with very minimal overdubs. And that's punk anyway. The production is raw and honest. No extra tricks here to make it sound "better". Everything seems to be done the D.I.Y way. I give them credit for that.
This is the first EP from this trio, who comes from Taos, NM, USA.
deadlovemusic.com sliptrickrecords.com
Published: Nov. 13, 2019