Like Hard Rock Info, baby!
REVIEWS 2019 - Page 7
Page 6
Index
Lexi Layne: The Darkness Of Your Heart - Single
(Self released)
This is the first single from L.A. woman Lexi Layne, and it tells a tale of lust and love in an uncertain relationship. Hardly a new subject.
Layne began singing at age 5 and grew up performing in musical theater productions, but it was her passion for rock that led her to strike out on her own. Inspired by EVANESCENCE, FLYLEAF and WITHIN TEMPTATION, Lexi's music draws from the raw experiences that have made her a stronger woman.
The music is some kind of melodic rock of the modern kind. And this song is not bad at all. I think you should give it a chance.
facebook.com/LexiXLayne
Published: Oct. 16, 2019
ARCANE TALES: Power Of The Sky - Album
(Broken Bones Records/Silverstream Records)
ARCANE TALES is a power/symphonic metal band from Italy. And sure, they are hardly doing anything different and new here, but somehow they succeed to be a little bit more interesting than the rest. Probably because it sounds more like power/heavy metal and not just symphonic metal. This also means that this record is totally free from soprano/opera vocals. And just that is worth a few extra points from me.
So, let me put it this way: If you are going to check out just 1 symphonic album this year, then pick this one.
facebook.com/arcanetales facebook.com/brokenbonesrecords facebook.com/silverstreamrecords
Published: Oct. 16, 2019
AOR: Heavenly Demos - Album
(Perris Records)
AOR was formed in 2000 by guitarist/keyboardist Frédéric Slama, and to his help he had the cream of the U.S. and European session musicians in hard rock. The first album, "L.A. Concession", was released in 2000. Several albums has been released since then. And during the last years he has released the demo collections "Rare Tracks & Demos" (2017) and "More Demos From L.A." (2018).
Now a third demo collection, "Heavenly Demos", is here. It features 14 tracks with singers like Paul Sabu (ONLY CHILD), Steve Overland (FM), Kevin Chalfant (The STORM), Jeff Scott Soto (TALISMAN, Yngwie Malmsteen etc), Sarah and Mélissa Fontaine (CHASING VIOLETS), Chris Antblad (SPIN GALLERY), Philip Bardowell (UNRULY CHILD), Göran Edman (STREET TALK, MÅRRAN, John Norum etc) and many more.. It's said that most of the songs were recorded in the 80s and 90s (and it actually sounds like that too), which is before this project even existed. I would expect that this is just different versions of songs that was released later. But this could of course be interesting for a fan of the band.
This could actually be interesting for any fan of AOR, becuse there's lots of great songs here, even though a track like "It's Just Too Easy" reminds me of Michael Jackson or some song from an 80s film.
facebook.com/AOR4ever perrisrecords.com
Published: Oct. 15, 2019
HOLY SERPENT: Endless - Album
(RidingEasy Records - Release date: Oct. 18)
HOLY SERPENT comes from Melbourne, Australia, and this is their third album. And this doesn't really sound like anything else. They blend heavy riffs with melodic vocals. Sometimes it's a little psychedelic, and sometimes more melancholy and emotional. Like a pop singer in a rock band. Because rock it is. But exactly what sub-genre I should put them in is unknown to me.
The whole album is influenced by the ocean. We get 6 tracks in 40 minutes. A different journey.
Published: Oct. 15, 2019
ASSASSIN'S BLADE: Gather Darkness - Album
(Pure Steel Records - Release date: Oct. 18)
ASSASSIN'S BLADE consist of the former EXCITER vocalist Jacques Bélanger (from Canada) and a Swedish group with David Stranderud (ex-PORTRAIT) and members of CULT OF THE FOX. The band released their debut, "Agents Of Mystification", 3 years ago, and now another chapter of their story is here.
The music is good old heavy metal somewhere between EXCITER and JUDAS PRIEST. We get 10 tracks in 45 and a half minutes. And these guys have nothing to be ashamed of.
assassins-blade.com puresteel-records.com
Published: Oct. 15, 2019
REXORIA: Ice Breaker - Album
(Pride & Joy Music - Release date: Oct. 18)
REXORIA is a melodic heavy metal band from Sweden, and "Ice Breaker" is their second album, which have many great songs among its 12 tracks.
If you're a fan of good old heavy metal, but with a modern sound, and have nothing against influences from both power metal and folk music, well then this is a band for you.
The album was mixed and mastered by Fredrik Nordström at the famous Studio Fredman. Niklas Isfeldt (DREAM EVIL) is doing some guest vocals on the Swedish song "Vår Verklighet" (the rest is in English).
facebook.com/rexoriamusic prideandjoy.de
Published: Oct. 14, 2019
DANGER ZONE: Don't Count On Heroes - Album
(Pride & Joy Music - Release date: Oct. 18)
Italian band DANGER ZONE started in the early 80s already. After various demos and lineup changes, they released their debut LP, "Victim Of Time", in 1984. It wasn't until 1987 that they finally gained bigger attention in their homeland, but they were aiming at the American market, and in 1989 the whole band actually moved to L.A. for half a year. But the album they had just recorded, "Line Of Fire", got shelved and wasn't released until 2011.
By that time the band had already got back together again (in 2010), and was now working on new material. They have since then released a couple of albums.
The music that these Italians play is simply AOR/melodic hard rock, mainly in the good old 80s style, but with a modern production. And this is not bad at all. I think that fans of this genre will like DANGER ZONE a lot.
dangerzoneweb.com prideandjoy.de
Published: Oct. 14, 2019
KAL-EL: Witches Of Mars - Album
(Argonauta Records)
This Norwegian heavy/psych rockers formed in 2012. They have previously released 2 EPs and 3 full length records. Here they deliver a massive sound wall that reminds me a little of early BLACK SABBATH. And it's definitely not bad at all. They have many good songs among these 6 tracks, who are between 5,21 to 10 and a half minutes long. The last song is a cover of the JJ Cale classic "Cocaine".
I think that this is something that will please many different kinds of people: Heavy rockers, psych rockers, doom metallers and even space rockers should like KAL-EL.
kal-el.no argonautarecords.com
Published: Oct. 13, 2019
ARMAGEDDA: Only True Believers - Album reissue
(Nordvis Produktion - Release date: Oct. 18)
..and here comes another re-release with ARMAGEDDA. "Only True Believers" is their second album, which came out in 2003. Drums on this album was performed by Erik Danielsson (WATAIN), and this is a true black metal album. The CD version of this re-release includes 2 bonus tracks.
Well, this is a very good album. Probebly even 1 of the best of those that I have heard so far with ARMAGEDDA. So every fan of Swedish black metal should check this out.
This band released a few albums and EPs between 2001-2010. Everything they did was not so good, and after this album not even that much black metal anymore (but you can read about their third album, "Ond Spiritism" somewhere else on this site).
facebook.com/armageddaofficial
Published: Oct. 13, 2019
ANGELES: Fire It Up - Album
(Dark Star Records/Sony)
This band seems to know how to rock, and how to make good songs. But then they're hardly any kids who just started to play. No, this band played live in Hollywood back in the 80s already, and has shared stage with many legends in the rock scene. "Fire It Up" seems to be their 13th album.
What we get is classic American hard rock like it used to sound in the 80s. So if you like that, then this is simply a must for you.
angelesband.com darkstarrecords.com
Published: Oct. 13, 2019
Tommy Concrete: Trauma - EP
(Self released?)
This EP was released in late May, and contains 3 tracks that were left over from Tommy's latest album, "Unrelaxed". Funny that they have picked my line "Be prepared for an adventure if you want to try this" in the info about this release, which is something that I wrote in my review of the album.
"Trauma" is not so adventurous though. Not that it's the most "normal" music that he's playing, he definitely has his own style. They mention Devin Townsend and KILLING JOKE to describe these songs. So if you want something different, then I guess that this could be something for you. Personally I don&'t really know what I should think of these songs, but they have an important message as all 3 tracks explores mental health issues.
On Tommy Concrete's CV we can find out that he has been playing guitar for Scottish punk legends The EXPLOITED (respect!), instrumental doom with JACKAL-HEADED GUARD OF THE DEAD, been singing for metal band MAN OF THE HOUR and created harsh industrial under the pseudonym Zaceus Zinetti. He has been using his own name since 2001, and has released 6 albums and 2 EPs. He's currently working on his next album, "Unrelaxed 2", which should be released early next year.
tommyconcrete.bandcamp.com
Published: Oct. 12, 2019
LOS PEPES: Automatic - 7" EP
(Beluga Records/Wanda Records)
LOS PEPES play a kind of power pop that is more punk rock. It's more raw and dirty, but still very catchy. I really like these 4 songs, and I would not say no to some more from them. My advice to you is that you check them out at once! Especially if you like early British and American punk rock.
It looks like LOS PEPES formed in London, even though the members are from UK, Japan, Brazil and Poland. They has released several 7" EPs and 3 LPs through the years.
lospepes.bandcamp.com belugarecords.com
Published: Oct. 12, 2019
Helga: The Autumn Lament - EP
(Icons Creating Evil Art)
The vocals might not be so metal, but more like some kind of dark folk pop. But listen to the guitars. There's often both rock and metal riffs, at least in some of the songs. That doesn't really mean that this is full of action though. No, this is actually pretty laidback and cool. Something for those of you who like a artist like Louise Lemón for example, but with a touch of Swedish folk music.
facebook.com/helgadalarna icea.se
Published: Oct. 12, 2019
JD MILLER: Afterglow - Album
(Mighty Music - Release date: Oct. 18)


JD MILLER comes from the same city where I live: Borås, Sweden. They have been playing since 2011, and has been called "the heaviest AOR around" by Sweden Rock Magazine (I don't think that they are so heavy though). "Afterglow" is their third album, which is said to be their most ambitious album so far.
They mix good old Scandinavian melodies with harmonies and heavy guitars, and create the finest kind of melodic hard rock (as I prefer to call it). This is something that every fan of Swedish hard rock must check out. Simple as that!
Any favorites? "In The Afterglow" and the single track "The Desire" are some of the extra good tracks.
facebook.com/jdmillerband mightymusic.dk
Published: Oct. 11, 2019
LUCER: Crazy - Single
(Mighty Music)
What?! Seriously? Some kind of soft rock for the kids with an electronic touch. The only reason why a label sign a band like this, is beacuse they see the chance to get a quick million. So no, this wasn't something for me..
When I reviewed their latest album, "Ghost Town", I described them as a "pop band trying to be a rock band". I also wrote: "This stuff turns my whole body inside out. I guess that says it all.."
End of the story!
facebook.com/lucerofficial mightymusic.dk
Published: Oct. 11, 2019
MINUS ONE: What's Up - Single
(Mighty Music)
Oh shit. The original version by 4 NON BLONDES was really good. But why did these guys have to destroy it with this version? And a children choir? Why, oh why?
No, this is not something that I can recomend you to check out. But try the original version, it's damned good.
facebook.com/Minusonecy mightymusic.dk
Published: Oct. 11, 2019
Soren Andersen: Skybar - Single
(Mighty Music)
This is the song from his latest album, "Guilty Pleasures", that reminds me most of the 80s TV show Miami Vice. It's actually said to be a celebration of the mid-80s, and there's even electric Simmons drums (performed by Marcus Linnet) to get that typical 80s sound. It also features Ida Nielsen (Prince) on bass.
Not bad for being an instrumental song. So if you like the 80s sound, then you should check this out.
facebook.com/Soren-Andersen-Music-141280017407 mightymusic.dk
Published: Oct. 11, 2019
STARGAZER: So Now You're Leaving - Single
(Mighty Music)
This is the third single from Norwegian band STARGAZER's new album, "The Sky Is The Limit", which will be released on October 11. And it's what we can call a power ballad. Maybe not 1 of my favorites from that album, but absolutely not bad, because it's an amazing album that they have made (more about that in the album review though).
facebook.com/stargazertheband mightymusic.dk
Published: Oct. 11, 2019
HOT BREATH: Hot Breath - EP
(The Sign Records - Release date: Oct. 18)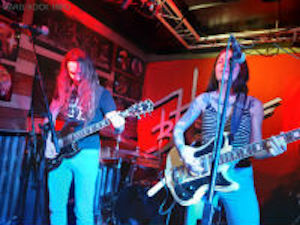 This band features members from Gothenburg, Sweden-based bands like HONEYMOON DISEASE and HYPNOS. And this self titled EP is their first release, which consist of 6 high-energy rockers. Their rock is raw and dirty, and they deliver it with adrenaline and teenage lust. It reminds me a lot of HONEYMOON DISEASE, but it's still not exactly like them.
All 6 songs are great, but "1000 Miles" is a little extra good - It should be a big hit! I really look forward to hear some more from them in the future.
facebook.com/hotbreathgbg facebook.com/thesignrecords
Published: Oct. 10, 2019
INFECTED DEAD: The Rache - Single
(Hostile Media)
"With our new single we have sought to increase the depth and diabolism of our penetrations into the masters work, with a tale of grave robbing and revenge. There is no escape from The Rache", says vocalist Lou Ede about this new song. And I must warn you, because this song will take a stranglehold on you, and won't let you go until the song is over after 4,49 minutes.
INFECTED DEAD deliver furious death metal, and it's hard to say no to this, because they are damned good. So just let them strangle you and like it.
INFECTED DEAD are a 5-piece technical death metal band from Kent, UK. They erupted onto the live scene in 2017. Their debut EP, "Archaic Malevolence", was released in December 2017, and they are currently working on their debut album, which is scheduled for release in 2020.
facebook.com/infecteddead hostilemedia.net
Published: Oct. 9, 2019
G.T: How Dare You - Single
(Despotz Records)
I think we all know the story behind this song already, but that somebody would sign and release this song was a surprise. But they are doing it for a good cause: All the record company's profits from the release will go straight to Greenpeace. With the single release, Despotz Records also launches a campaign under the hashtag #GREENMETAL, where they urge the metal fans worldwide to mobilize and take part in the environmental movement together and to create history making the song enter the billboard top 10 charts.
The artist G.T is John Mollusk, the drummer of New York thrash metal band SUAKA. This little death metal song, where he growl Greta Thunberg's speech in New York, is over in just 2 minutes. It's hard to tell if it's any good, so I guess we can say that the message is the most important thing here. But if you want the world to die, then this is not for you. But if you want the world to survive, then you should absolutely support this.
The song is available on most digital platforms; like YouTube, Spotify, Apple Music and Bandcamp for example.
despotz.se
Published: Oct. 9, 2019
STARGAZER: The Sky Is The Limit - Album
(Mighty Music - Release date: Oct. 11)
I think of Tony Martin-era BLACK SABBATH and Robin McAuley-era MSG, as well as the 2 first albums with the PHENOMENA project. We talk melodic hard rock here in case you didn't get that. And this is definitely not bad at all. This is actually great! You just have to check this out!
STARGAZER (not to be confused with STARGAZERY) released their debut album in 2010, which received great reviews all over Europe. But I guess that didn't help much, as it has taken them 9 years before their second album is finally ready to see the light. But now they are ready to take the world by storm. And if they don't succeed with this fantastic album, then there's something really wrong in the rock n roll business of today.
facebook.com/stargazertheband mightymusic.dk
Published: Oct. 8, 2019
SCREAMER: Highway Of Heroes - Album
(The Sign Records - Release date: Oct. 11)
"Highway Of Heroes" is like 1 of those great heavy metal albums from the 1980s. It has all the right ingredients, like catchy and memorable songs with melody, but yet heavy enough to be metal. This is an album that deserves more attention then it probably is going to get. SCREAMER has already existed for a few years now, and released a few albums, but they are still an underground band and not among the more well-known bands. But I really hope that this album is going to change that.
"Highway Of Heroes" is the 4th album from this Swedish band. It was produced by Gustav Hjortsjö from BULLET, recorded by Ulf Blomberg in The End Studio, mixed by the legendary Tomas Skogsberg in Sunlight Studio, and mastered by Patrik W. Engel in Temple Of Disharmony. If that's not enough to take them to the next level, then I don't know..
wearescreamer.com facebook.com/thesignrecords
Published: Oct. 8, 2019
OPIUM LORD: Vore - Album
(Sludgelord Records - Release date: Oct. 11)
The first track begin silent, before a maniac start to scream and it finally turn in to a hell of a noise towards the end. Totally useless! It gets a little better after that though. Hard, heavy and angry stuff. Not exactly any wonderful lullabies. I'm not so sure that I like this though, but many others seems to do, so don't let me stop you from checking this out.
OPIUM LORD comes from Birmingham, England, and started in 2014. Their first album, "Eye of Earth" was released in 2017 by Candlelight Records, but for their second album, "Vore", they decided to move on to Sludgelord Records instead. Their music is usually filed under the doom/sludge metal tag, but they are actually more than just that. People who like their shit heavy and a bit noisey will probably enjoy this anyway.
thesludgelord.bandcamp.com/album/vore
Published: Oct. 8, 2019
ETHEREAL KINGDOMS: Hollow Mirror - Album
(Mighty Music - Release date: Oct. 11)
They seems to be pretty good at what they're doing, but this is not really a band for me. But if you're a fan of symphonic and melodic metal, and have nothing against a few surprises, then you should at least give this band a try instead of reading what I write. Because you will hopefully understand this much better than me.
ETHEREAL KINGDOMS comes from Denmark, and this is their debut album. Their music is a little theatrical/cinematic actually, and full of ghost stories. Metal, soprano, growl and harsh vocals are mixed with choirs and a lot of different instruments and different twists and turns. So, this is obviously a very ambitious project, and absolutely not just another symphonic metal band.
etherealkingdoms.com mightymusic.dk
Published: Oct. 8, 2019
NECROTTED: Die For Something Worthwile - EP
(Rising Nemesis Records - Release date: Oct. 11)
NECROTTED was born in early 2008, and consist of as much as 6 guys. Their first EP, "Kingdom Of Hades", was released in April 2010, which was followed by a full length album, "Anchors Apart", in June 2012. 2 more albums has been released since then, and now it's time for a 4-track EP.
It's death metal that these Germans play. It's both fast and heavy, and on top of that a catchy chorus. All songs are around 3 minutes. Not bad, even though I have heard much better. You might like them more than me though, so give them a try at least.
facebook.com/NECROTTED risingnemesisrecords.de
Published: Oct. 7, 2019
LACUNA COIL: Black Anima - Album
(Century Media - Release date: Oct. 11)
These Italians celebrated their 20-year anniversary last year with both a book, "Nothing Stands in Our Way", and the live release "The 119 Show: Live in London". This new album sounds more or less like they use to: Like the beauty (Christina Scabbia) and the beast (Andrea Ferro) in a metal symphony. Possibly with some new shades here and there. Or a mixture of their past and the future you could say.
The funny thing is that the more melodic song, "Save Me", is the best song on this album. And for some reason it's the second last song. They should have played that card earlier. But the other songs are not so bad either. This is a modern metal album that is actually worth checking out. And most metal fans should find something that they like here.
lacunacoil.com centurymedia.com
Published: Oct. 7, 2019
BLACKWATER HOLYLIGHT: Veils Of Winter - Album
(RidingEasy Records - Release date: Oct. 11)
This album start with heavy doom, but after a few songs it's suddenly more like psychedelic rock instead. So I guess that we can call this doom/psych rock. It's like they say in the info about this album: "BLACKWATER HOLYLIGHT, as the name suggests, is all about contrasts. It's a fluid convergence of sound that's heavy, psychedelic, melodic, terrifying and beautiful all at once."
As I understand it, their influences comes from early SONIC YOUTH, the first album with BLACK SABBATH, as well as some post punk and krautrock. You should not get bored when you listen to these 5 women. This is a very good album.
blackwaterholylight.com ridingeasyrecords.com
Published: Oct. 7, 2019
THRASHFIRE: Into The Armageddon - Album
(Xtreem Music - Release date: Oct. 10)
THRASHFIRE comes from Turkey, and the band has existed since 2006. After a demo in 2007, and a promo EP in 2010, they finally released their debut album, "Thrash Burned the Hell", in 2011. Their new album, "Into The Armageddon", is said to be their best work to date. And I actually believe them. Because this is very good stuff! Fans of legendary acts like KREATOR, DARK ANGEL, SLAYER and SODOM should absolutely give this band a chance. Without a doubt!
facebook.com/thrashbeerandviolence xtreemmusic.com
Published: Oct. 6, 2019
TOPPLOCK and HOT BREATH at The Abyss in Göteborg, Sweden on October 5, 2019
This will be very short. HOT BREATH played first, and it was their first show ever. They did a really good job though, and was great. Check them out if you like action rock and similar stuff.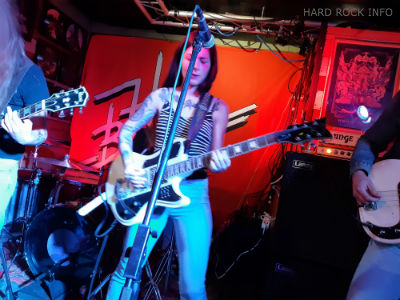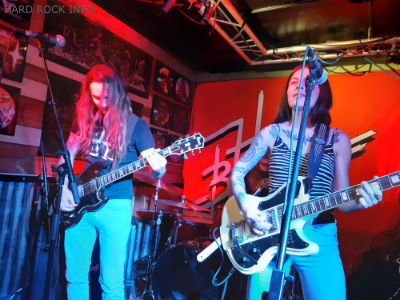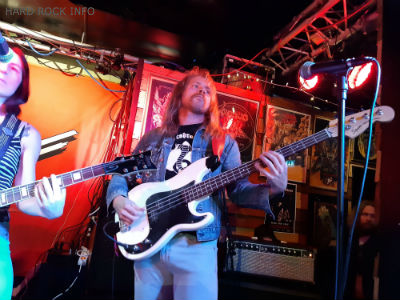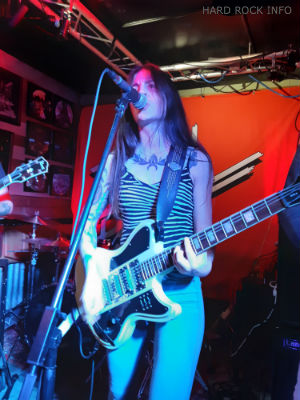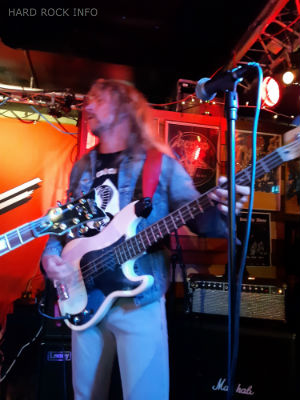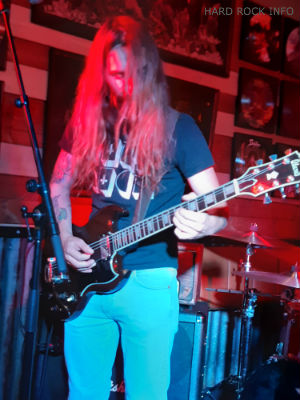 TOPPLOCK was mainly loud and heavy, but the first and the last song was more like action rock. Pretty o.k. stuff, but HOT BREATH was more in my taste.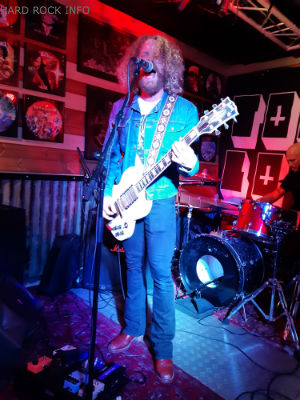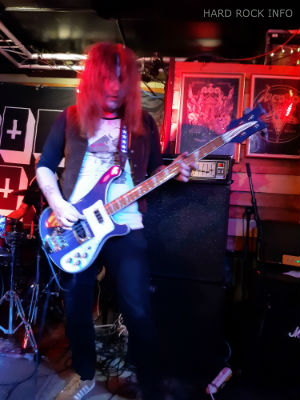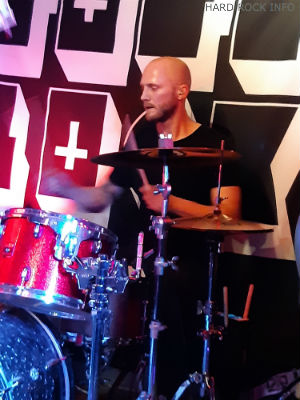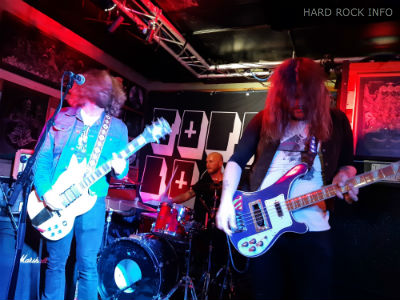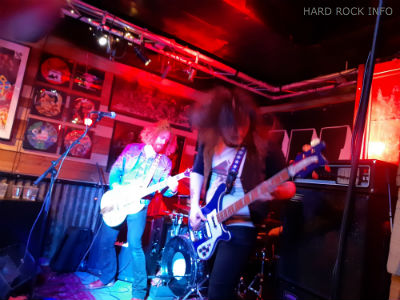 facebook.com/Topplock facebook.com/hotbreathgbg facebook.com/theabyssgbg
Published: Oct. 6, 2019
Sascha Paeth's MASTERS OF CEREMONY: Signs Of Wings - Album
(Frontiers Music Srl)
The music is great. But with American singer Adrienne Cowan (SEVEN SPIRES) on vocals this album becomes even better. Because this woman can really sing, and she can handle every vocal style. Which she gives us a taste of on this album. This is an album full of variation, and has a little bit of everything from the metal scene. But I would say that the main ingredient is melodic metal.
But who might band leader Sascha Paeth be then? Well, he's a German producer/guitarist/songwriter. Among the acts he has produced during the years are AVANTASIA, KAMELOT, RHAPSODY, EPICA and many more. After 4-5 years of discussion about a collaboration with Frontiers, he finally said o.k. But as you probably have figured out already from my beginning, this is more than just a solo album. Among the musicians that I have not mentioned yet are Felix Bohnke (AVANTASIA) on drums, André Neygenfind (AVANTASIA) on bass, and Corvin Bahn on keyboards.
This is definitely something that you should check out!
frontiers.it
Published: Oct. 5, 2019
PUDDLE OF MUDD: Welcome To Galvania - Album
(Pavement Music)
On this new album PUDDLE OF MUDD offers us many good songs in their good old tradition. Not that I have heard too many songs with them before, and probably not anything at all since early 2000 sometime, but I think it sounds familiar - which means just as they sound back then. So old fans of this band should be happy (and maybe nostalgic) when they hear this. Just listen to a song like "Uh Oh" for example, which could have been a hit about 20 years ago.
"Welcome To Galvania" is their 6th album, but they formed back in 1991 already. But their first major album, "Come Clean", wasn't released until August 2001. They have since then sold over 7 million albums, and has had a string of No. 1 singles - like "Blurry", "She Hates Me" and "Famous".
This new album was produced by Cameron Webb (ALKALINE TRIO, DISTURBED, MOTÖRHEAD), and is also their first new full length in 10 years.
facebook.com/puddleofmudd pavementmusic.com
Published: Oct. 5, 2019
KXM: Circle Of Dolls - Album
(Frontiers Music Srl)
KXM is a hard rock band who wants to be a little harder and heavier. That's what it sounds like to me anyway. But they are at the same time melodic.
This power trio features KORN drummer Ray Luzier, dUg Pinnick of KING'S X on vocals/bass, and guitarist George Lynch from LYNCH MOB and DOKKEN. They released a self titled album in 2014, and in 2017 they released another album. Now their third album is here with as much as 13 tracks. And they seems to be very proud of themselves for creating this album.
It's not totally useless, but hardly the best album on the planet either. To me this is the kind of music that goes in through 1 ear and out through the other. They have nothing that is extra good to me, something that I can remember when the album is over. A little tragic actually. This is often very boring. But that's just my opinion of course.
frontiers.it
Published: Oct. 5, 2019
The DEFIANTS: Zokusho - Album
(Frontiers Music Srl)
The DEFIANTS is a band put together by Paul Laine, Bruno Ravel and Rob Marcello. All of them have been members of DANGER DANGER at some point. And now I can't really remember what DANGER DANGER sound like, but if you like melodic hard rock then this could be something for you, because they have many good songs here. And if you like DANGER DANGER, you might be exited to hear that their drummer Steve West is special guest on this album.
Now I don't really know what else I should say here, so get the album instead.
frontiers.it
Published: Oct. 5, 2019
BULLRING: Break Down The Gates - Album
(Street Symphonies Records/Burning Minds Music Group)
Italian hard rock trio BULLRING was born in 2018, and "Break Down The Gates" is their debut album. But even though they are from the land of pasta and pizza, their music is influenced by the American sound of bands like BLACK STONE CHERRY, PRIDE & GLORY, BLACK LABEL SOCIETY and HINDER.
But honestly, the first track, "Are You Shining?", sounds more like action rock from Scandinavia. But after that they calm down a little. Just a little though. And then they slow down even more and get heavier.
This is a pretty good album, but hardly a masterpiece that will become a classic in the future.
bullringband.com burningmindsgroup.com
Published: Oct. 5, 2019
BLOCK BUSTER: Losing Gravity - Album
(Frontiers Music Srl)
BLOCK BUSTER is an up and coming band from the Finnish rock scene. They were still in junior high when they formed the band, and spent their teenage years developing their sound and identity. They released an EP and 2 singles before they got signed to Italian label Frontiers Music, who released their debut album, "Losing Gravity", last month.
Even though they are young, their music is like a mixture of all kinds of rock and hard rock from the 1970s up until today. Mainly pretty o.k. stuff. But I wonder where their hit song is? Because without a hit there won't be much action. As it is now too many songs sounds more or less the same, so they still have some stuff to work on.
frontiers.it
Published: Oct. 5, 2019
Lindsay Schoolcraft: Martyr - Album
(Self released - Release date: Oct. 7)
Lindsay Schoolcraft use to play keyboard and sing in the British extreme metal band CRADLE OF FILTH. "Martyr" is her first solo album, which was co-written with former EVANESCENCE drummer Rocky Gray.
This album doesn't have much to do with CRADLE OF FILTH though. This is more like some kind of gothic and very melodic metal/rock, influenced by Schoolcraft's background in classical music. There's also a couple of ballads. So I guess that fans of acts like EVANESCENCE and NIGHTWISH might like this.
I can hear many good songs on this album, so I guess it can be worth a try.
lindsayschoolcraft.com
Published: Oct. 4, 2019
ARCHANGEL A.D.: Eventide - Single
(Self released?)
"Raw, untamed, powerful, and precise" is how they describe this band. They are also said to be "a youthful band that channels the classic aggression and songwriting of the Big 4 with a modern sensibility".
ARCHANGEL A.D. are from Texas, and formed in 2015. They has released several demos, EPs and split releases before this single.
This song has all the right ingredients - It kicks ass, it's catchy and heavy, and on top of that an almost anthem like chorus. My advice to you is: Check this out!
archangelad.bandcamp.com
Published: Oct. 4, 2019
Soren Andersen: Guilty Pleasures - Album
(Mighty Music - Release date: Oct. 4)
O.k., I'm not really a fan of instrumental albums. And this album hardly change that. He is a very good guitarist, and the songs are not bad, but yet, it's not so funny to listen to 10 tracks that after a while sounds more or less the same. I guess that guitar freaks who like Joe Satriani and Steve Vai will be happy to hear this though.
Some of these songs actually reminds me of the 80s, and the TV show "Miami Vice".
Dane Soren Andersen is a Danish guitarist and producer who have played with Glenn Hughes (DEEP PURPLE, BLACK SABBATH etc) among others, and produced artists like Mike Tramp (WHITE LION), Marco Mendoza (a lot of bands), Tommy Aldridge (WHITESNAKE, THIN LIZZY), The DEAD DAISIES etc. Among the guests on this album are Chad Smith (RED HOT CHILI PEPPERS), Glenn Hughes, Marco Mendoza and fellow Dane Ida Nielsen (Prince).
facebook.com/Soren-Andersen-Music-141280017407 mightymusic.dk
Published: Oct. 3, 2019
ANOXIA: To The Lions - Album
(Mighty Music - Release date: Oct. 4)
The musical direction on this album is mainly good old heavy metal. It's melodic and hard-hitting, while the riffs are strong and heavy. Sometimes there's also a modern twist. And the 9 tracks that we get here are definitely not bad at all. This Danish band seems to know how to make good metal songs. No doubt about that.
ANOXIA is said to be a well-established act in the Danish undeground metal scene, and they have been playing for over 20 years already.
anoxia.dk mightymusic.dk
Published: Oct. 3, 2019
IRON KINGDOM: On The Hunt - Album
(Self released on Oct. 4)
Canadian traditional heavy metal band IRON KINGDOM are inspired by legends like IRON MAIDEN, JUDAS PRIEST, SCORPIONS and RUSH. In other words powerful heavy metal with catchy melodies and good riffs. And this band know how to make good songs. I can hear lots of great stuff on this album. There's no idea to mention any favorites here, because all tracks are good.
This is something for those of you who like the bands from the 80s and the classic sound.
iron-kingdom.com
Published: Oct. 2, 2019
INSOMNIUM: Heart Like A Grave - Album
(Century Media - Release date: Oct. 4)
This is the 8th album from this melodic death metal band, who got together back in 1997 already. The lineup has been the same since 2011. But last year guitarist Ville Friman decided that he could not combine the heavy touring with his other career as a lecturer in York university. So the band decided that they needed a third guitarist. And since Jani Liimatainen (The DARK ELEMENT, CAIN'S OFFERING, ex-SONATA ARCTICA) had already been a live guitarist on several tours, he was the right man for the job.
"Heart Like A Grave" consist of 10 tracks in over an hour (there are versions with more tracks though). The songs are epic and melancholy. Raw vocals are mixed with nice guitar melodies. The inspiration comes from some of the bleakest tales, lyrics and poems of the north. And I really like what I hear on this album. This is fantastic! And it just happens to fit perfect with the season here in the north.
insomnium.net centurymedia.com
Published: Oct. 2, 2019