REVIEWS 2019 - Page 2
Page 1
Index
TRANSPORT LEAGUE: Monster Human - Single
(Mighty Music)
Now it was a few years since I reviewed anything with TRANSPORT LEAGUE last time, and I don't think I have heard them since then. In this song their groove metal have got an almost industrial touch. Which makes it a bit more monotonous than catchy. I like them more when they have that catchy groove instead. So if this song is supposed to be representative for their upcoming album, "A Million Volt Scream" (Aug. 30), then I don't know. But I still have to find out if that album is good or bad. Let's just say that I hope that every song doesn't sound like this anyway.
facebook.com/transportleague mightymusic.dk
Published: March 19, 2019
PECTORA: Untaken - Single
(Mighty Music)
Denmark has given us a few good metal bands through the years. Among the most well-known are KING DIAMOND, VOLBEAT and PRETTY MAIDS. Now we can also add PECTORA to the list of metal bands from Denmark. They deliver melodic heavy metal, and have done that since 2013. They have previously released a demo (2014) and a EP (2017), and are now taking the big step to release their first full length album, "Untaken", in May.
As a first taste of what to expect, they have released the title track as the first single from the album. It's a 7 minutes long piece that should please both fans of classic heavy metal and fans of modern metal. I also think of METALLICA around the black album when I hear this song.
Really good stuff anyway. So give it a try, mate.
facebook.com/Pectora mightymusic.dk
Published: March 19, 2019
MERIDIAN: Margin Of Error - Album
(Mighty Music - Release date: March 22)
MERIDIAN comes from Denmark, and this is their third album. I guess we can describe their music as melodic heavy metal. But fact is that there's lots of variation here. Everything from melodic rock to hard rock to heavy metal. There's something for many different kind of fans here. So no matter if you just like 1 genre, you still have to check this out. That's how great I think this is anyway. And I'm pretty sure that you will like this too.
The band's guitarist Martin J. Andersen and album producer Marco Angioni was also involved in the making of former ACCEPT singer David Reece's latest solo album, "Resilient Heart", which you also should check out (if you have not done that already).
meridianband.dk mightymusic.dk
Published: March 19, 2019
DOMINANZ: Let The Death Enter - Album
(Mighty Music - Release date: March 22)
DOMINANZ is an extreme metal band with black metal influences, and they are from Norway. The band was formed in 2009, and 2 years later they released their debut, "As I Shine". Then it took 5 years before the next album, "Noxious", was released. And now after almost another 5 years, their third album is finally here.
This record is said to be more influenced by their roots in black metal, even though they have kept their atmospheric signature. It sounds o.k. to me anyway, so maybe you should give this a try.
facebook.com/dominanzofficial mightymusic.dk
Published: March 19, 2019
BLACK OAK COUNTY: Wasted Life - Single
(Mighty Music)
Among the 10 tracks on their upcoming second album, "Theatre Of The Mind" (release date April 26), we can find this song. Which is just 1 of many good songs from that album. And the music that this Danish trio play is some kind of modern melodic hard rock with heavy guitars. I'm not sure if this is the best song from the album, but it's definitely not bad at all. So this is a band that you really should try.
More about the album in about a month..
blackoakcounty.com mightymusic.dk
Published: March 19, 2019
The PICTUREBOOKS: The Hands Of Time - Album
(Century Media)
You might be familiar with the old expression "never judge a book from the cover". In this case we can change that to "never judge a record from the cover". Because this cover (with a girl who hands out the tongue) say nothing about the music that this German band gives us.
For some reason they thought that it was a good idea to start this album with an accapella song. I'm not so sure that it was such a good idea though. After that we get all kinds of different bluesy vintage rock, but also a song that sounds like the soundtrack to a western movie. There's both rockers and more relaxed songs here. And now that I have been listening too many times, it's a really good album that I think that all you retro rockers should take a listen to.
I would never have guessed that this is a duo, but it is. And on this album, which is their third, they have spiced up their sound with some new instruments, such as piano and tubular bells. But they have also handcrafted some of their own percussion instruments, which they will spice up their live shows with. And for the first time in their short career they have a guest vocalist on 1 of the songs - No other than Chrissie Hynde from The PRETENDERS.
thepicturebooks.com centurymedia.com
Published: March 18, 2019
WITHERFALL: Vintage - EP
(Century Media - Release date: March 22)
WITHERFALL is a dark melodic metal band with Joseph Michael (SANCTUARY) and Jake Dreyer (ICED EARTH). They released their latest album, "A Prelude To Sorrow", as late as in November last year, and now a new EP is already here.
"Vintage" will be available during their acoustic tour with SONATA ARCTICA in March. So what we get is acoustic versions of WITHERFALL songs. But we also get a very good cover of HELLOWEEN's "A Tale That Wasn't Right", and a o.k. cover of Tom Petty's "I Won't Back Down" (to me that song wasn't so interesting from the beginning). So this is a little different from what they use to sound like.
The thing is that it's as much as 8 tracks here. And just the title track last for 11 minutes. This means that this record last for 40 minutes according to my calculations. So EP? I don't think so. This is a album, even though it might be sold for the price of a EP.
witherfall.com centurymedia.com
Published: March 18, 2019
LASTKAJ 14: Stormar - Album reissue
(Second Class Kids Records)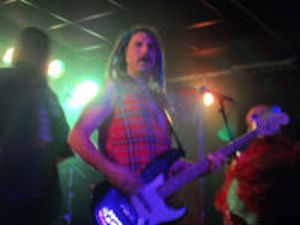 Was it this record that I started to complain about because of the accordion? Or was it something else I said that was stupid? I have obviously repressed that moment. And I'm very sorry if I said something stupid, because LASTKAJ 14 is 1 of the best trallpunk bands that we have here in Sweden nowadays. And this album is definitely not bad!
"Stormar" was originally released in 2015, so it wasn't many years ago. But it has now been re-mixed and re-mastered, and will be available on LP, CD and digital.
It can't be this record that I complained about the accordion, because there's much more violin than accordion on this album. Probably to continue the Swedish trallpunk tradition that bands like DE LYCKLIGA KOMPISARNA and RÄSERBAJS started back in the 90s.
Now I can't remember how long the original album was, but this version seems to last for a very long time (I got the CD edition). I can remember some of the songs though, but far away from all of them. If you like classic Swedish trallpunk, then this is a must!
lastkaj14.com secondclasskids.com
Published: March 17, 2019
Stagman: Ser Ni Eldarna? - Single
(GMR Music)
Former EASY ACTION singer (then Zinny Zan) Bo Stagman is back with a new single. The only connection to his old band is electric guitars. Because the music that he play now is a totally different story. Some kind of singer/songwriter in Swedish, in lack of a better description. And that doesn't say much I suppose.
While his old band mates are going to reunite with the singer who replaced him, Tommy Nilsson, for a show at Sweden Rock Festival, Bo has already moved on. He is singing straight from the heart about large and small subjects, without any filter. And he has so far done 2 albums and several singles with this type of laid-back music.
I guess that some of the people that I know see me as a rocker, and would not expect that I would like something like this. But I actually like what I hear. This song is definitely not bad at all. If it's rock or pop is still a question though. But who cares as long as it's good?
gmrmusic.se
Published: March 16, 2019
NIGHTRAGE: Wolf To Man - Single
(Despotz Records)
I can tell you that the new album with NIGHTRAGE is damned good. But I'm not really sure if this song, which is the title track, was the best choice for a single. Don't let that scare you though. It's not a bad song, but I just don't think it's a single for some reason. Not really sure why I think that way though.
More about the album later.. Check out this song while you wait.
nightrage.com despotz.se
Published: March 16, 2019
MERIDIAN: Second Best - Single
(Mighty Music)
"Second Best" is taken from this Danish band's third album, "Margin Of Error", which will be released on March 22. It's what I would call a feel good song. And if you happens to like melodic hard rock, then you should absolutely not miss this band. Because this is a excellent song!
Review of the album will be up soon..
meridianband.dk mightymusic.dk
Published: March 16, 2019
The COATHANGERS: The Devil You Know - Album
(Suicide Squeeze Records)
The COATHANGERS is a female trio from Atlanta. They deliver some kind of punk rock with nerve, that is often both catchy an a bit melodic. I guess we could call it alternative punk rock sometimes, because this is not like good old bands like The CLASH or BAD RELIGION, but more like grrrl riot (in lack of a better description). We get 11 tracks in approximately half an hour. And a album doesn't always have to be longer than that.
The band have been touring a lot through the years, and released several EPs and LPs. "The Devil You Know" is their 6th full length album.
Now I can't really remember if I have heard any album with The COATHANGERS before, so I'm not the man who can compare this album with any of their previous material. But this album sounds really good to me anyway, so I think you should check it out. You might like it too you know.
thecoathangers.com
Published: March 16, 2019
BLACK MOUNTAIN: Future Shade - Single
(Jagjaguwar Records)
BLACK MOUNTAIN is described as "space rock psych warriors", and they will release a new album, titled "Destroyer", on May 24. And yes, that's where this song comes from. And according to band member Stephen McBean, "Future Shade" has a riff that "travelled around the world then hit the bong with a chorus a year and a half later". The rest of the "information" about BLACK MOUNTAIN is not so interesting actually. Just a lot of empty words (more or less). But this song sounds interesting anyway. A really good rock song that you absolutely should check out.
Pre-order the album: blackmountain.ffm.to/destroyer
Published: March 16, 2019
AMYL & THE SNIFFERS: Monsoon Rock - Single
(Rough Trade/ATO/Flightless Records)
This little band will release their debut album on May 24, and here's a little taste of that.
AMYL & THE SNIFFERS formed in Melbourne, Australia in early 2016, and it didn't take long before they recorded and released their first EP, "Giddy Up", by themselves. Everything was done in a span of 12 hours. Their second EP, "Big Attractions", was released in February 2017. Both EPs was later re-released as a double 12" EP through Homeless Records (in Australia) and Damaged Goods (in the UK).
It may sound like a cliché, but it's actually not impossible that this is the next big thing in the punk rock scene. It's very catchy and energetic at the same time, and I really like what I hear here. I want more!
amylandthesniffers.com
Published: March 16, 2019
ROULETTE: NOW! - Album
(Black Lodge Records - Release date: March 22)
Here's a album for those of you who like more melodic (hard) rock/AOR. And I must say that ROULETTE have some really good songs here. But it's no idea to mention any titles, because every song on this record is great. Not that I know how it's possible, but that's the way it is. So it would of course be stupid of you to not check this out.
So, who are ROULETTE then? Well, they are said to be "one of Sweden's most acclaimed AOR bands during the 90s". They released 3 7" EPs between 1987-1990. And a CD, "Better Late Than Never", came out in 2010, and was followed by some digital releases between 2015-17. Now a new full length album is finally here.
rouletteswe.se
Published: March 15, 2019
MOTHER OF MILLIONS: Artifacts - Album
(ViciSolum Productions - Release date: March 22)
Deep/atmospheric progressive rock/alternative metal is how I would describe this band. They formed in 2008, and comes from Athens, Greece. This is their third album. The sound is equally massive as cinematic. A album that you listen to when you want to relax. Because this is not an ordinary rock or metal album, this is more like a journey to the center of the mind. Fans of progressive rock and/or metal should not miss this.
motherofmillionsband.com
Published: March 15, 2019
WOLF COUNSEL: Destination Void - Album
(Endless Winter)
WOLF COUNSEL was formed in 2014, when 2 veterans wanted to get out their enthusiasm for low-tuned music and heavy riffs. The band has released 3 full length albums so far, between 2015 to 2017. All albums was recorded at the same studio, Little Creek Studio. And all albums have 7 songs. The music is classic doom metal.
Now their 4th studio album, "Destination Void", is here. And it was of course recorded at the same place as usual, and also have 7 tracks. It's dark and heavy, but also epic. Just like it should be when it comes to doom. And this is definitely not bad stuff. Fans of the classic bands in this genre should not be dissapointed.
wolfcounsel.net endless-winter.org
Published: March 14, 2019
WARRIOR PATH: Warrior Path - Album
(Symmetric Records)
WARRIOR PATH is a epic heavy/power metal journey with Greek songwriter/guitarist Andreas Sinanoglou at the helm. On this debut album he has been joined by producer and musician Bob Katsionis (FIREWIND, OUTLOUD, SERIOUS BLACK), as well as vocalist Yannis Papadopoulos (BEAST IN BLACK). And what an album they have made! This is honestly fantastic! No fan of heavy and power metal should be dissapointed when they hear this masterpiece.
warriorpath.bandcamp.com facebook.com/symmetricrecords
Published: March 14, 2019
The GRAND NEW WRONG: Smooch - Album
This band can join the list "This is Grunge". They sound exactly like those alternative and heavy rock bands from the 90s. And they are just as good as any of those bands. Just listen to tracks like "All I Am About", "Cake" and "Static" for example. Really good stuff!
This might sound like they would be from Seattle, but fact is that they are simple 8 to 5 workers from Sweden. If we let Google translate their own description, then it would be something like this: "the height of sloppy production, the West Swedish middle class, punk label from Seattle and the cliché BEATLES flirt". I don't really know if that says anything at all though, but the album seems to be available digitally at Spotify, Apple Music and Soundcloud anyway. So why not give it a try?
Published: March 14, 2019
SIX FOOT SIX: Frozen In Time - Single
(Pride & Joy Music)
What we get here is a unplugged version and a album version of the song "Frozen In Time" with Swedish band SIX FOOT SIX. A song taken from their debut album "The Six Foot Six Project", which was released in November last year. And another unplugged single, "Anomina", will be release later this month.
The music is melodic hard rock like it has always been. So no fan of that should miss this band. Simply good stuff.
facebook.com/TheSixFootSixProject prideandjoy.de
Published: March 14, 2019
EYES OF THE LIVING: War On Dead, More Dead - Album
(Pavement Records - Release date: March 15)
Philadelphia, Pennsylvania-based thrash metal band, who formed in 2016. They play a more modern kind of thrash, with influences from many other genres of metal. But maybe they should work some more on the variation between the songs. Because as it is now, it sounds more or less the same in every song. Another problem is that there's as much as 15 tracks. Why? But I should add that 3 of those tracks are short pieces, like a intro or a outro.
A song like "War On Dead" is a little different from the rest though. So this is not totally hopeless. And luckily it doesn't suck old man's ass anyway. No, this is pretty good stuff. Not much else though.
EYESOFTHELIVING.com pavementmusic.com
Published: March 13, 2019
WRETCH: Man Or Machine - Album
(Pure Steel Records - Release date: March 15)
Melodic and straight power/thrash metal in the classic American style, with powerful vocals and all. That's what we get from this Cleveland act. Vocalist Juan Ricardo reminds me of a young Michael Kiske (HELLOWEEN). But they are also inspired by a band like JUDAS PRIEST, which they do a cover of, "Steeler".
This is done with passion and love for classic heavy metal. And it's definitely not bad at all. I don't think that I have to say much else than that..
wretchmetal.com puresteel-records.com
Published: March 12, 2019
RITUAL: Trials Of Torment - Album reissue
(Pure Steel Records - Release date: March 15)
RITUAL was originally founded back in 1985 already as FIREDANCE, who changed the name to ROTTERDAM in 1986, and then to TORMENT in 1988. With that last name they released 3 demos. And in 1993 it was time for this Cleveland, Ohio band to change the name once again, and they finally became RITUAL and released their debut album, "Trials Of Torment".
The debut album will now be re-released, and they will celebrate this by performing in Europe for the first time, at the Full Metal Osthessen festival. But it's not impossible that there will be a whole European tour too. Interesting as this record is really good stuff. Over an hour of classic American heavy metal that you would not want to miss. I also wonder if the singer, Juan Ricardo, still can take those high notes.
Well, they really deliver on this album anyway. No doubt about that.
facebook.com/Ritual-Cleveland-353849408777561 puresteel-records.com
Published: March 12, 2019
ECHOES: Live From The Dark Side (A Tribute To Pink Floyd) - Double album, DVD, Blu-ray
(Sonic11/Pride & Joy Music - Release date: March 15)
I can't say that I have been listening that much to PINK FLOYD, but I have heard a few of their songs through the years of course. I guess that fans of that band will be pretty satisfied when they hear this tribute. But as I said, I'm hardly an expert. It sounds good anyway, even though I might not like all these songs, which are as many as 20.
ECHOES is led by Oliver Hartmann (AVANTASIA, HARTMANNN, ex-ROCK MEETS CLASSIC), and is said to be the most popular and successful German PINK FLOYD tribute band. This was recorded when they played at Rock Of Ages Festival in Rottenburg-Seebronn, Germany in 2018. They were backed up by a string quartet, and there was guest apperances from people like Midge Ure (ULTRAVOX), Michael Sadler (SAGA) and Geoff Tate (OPERATION: MINDCRIME, ex-QUEENSRŸCHE).
Published: March 11, 2019
MÄRVEL, DEADHEADS and The DRIPPERS at Sticky Fingers in Göteborg, Sweden on March 9, 2019
I don't know if I have become too old for night clubs or whatever it could be, but I hate night clubs. So if you don't want to read my whine, scroll down for some photos instead.
First you have to wait for an eternity for the first band, and it was freezing even though it was indoors (it was more people than me who thought it was cold). I think the first band, The DRIPPERS, didn't start until something like 1 and a half hour (or something like that) after the place had open. Why?! It's so fucking stupid! Especially when there's as much as 3 bands. And I think the last band, MÄRVEL, didn't enter the stage until midnight. So I had to take the last bus back home to Borås, which leave as late as 2:30 in the morning. So I wasn't home until 4 o' clock.
It wasn't any problem at all when I was younger. But now I hate it. So why do the bands have to play so damned late? And why do we have to wait so damned long before they even start to play? I guess that's the kind of questions that I never will get a good answer to. Because everything you say is just bad excuses according to me.
The positive things was that there was a lot of young and good looking women to look at, and very good music from all 3 bands.
Anyway.. As I said earlier, The DRIPPERS was the first band out. Action rock, or rock n roll punk as I used to call it, for the whole coin. And they did it really good, and delivered a damned good and energetic show. If you like early The HELLACOPTERS, BACKYARD BABIES and similar stuff, then this is absolutely something for you.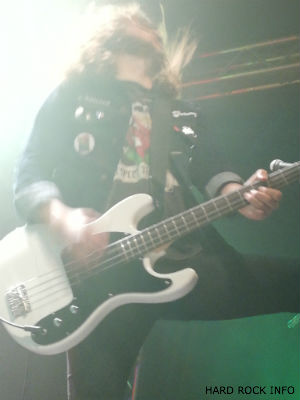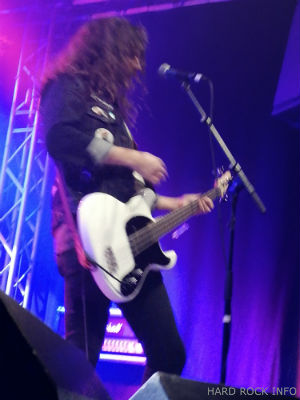 DEADHEADS was the next band. I saw them twice in 2014, and I also reviewed their latest album, "This One Goes To 11", which was really good. Another energetic action rock band, who also delivered a very good show. And yes, you have to check out this band too. That's all I have to say..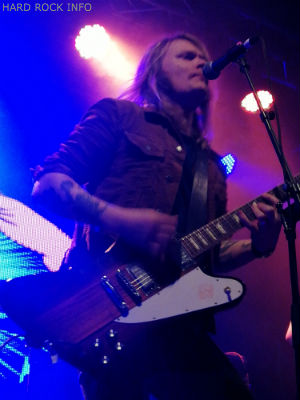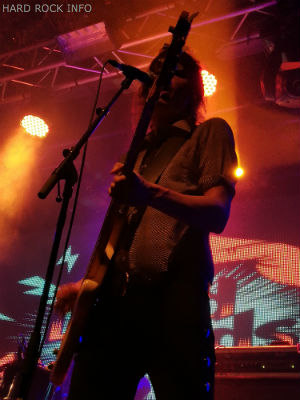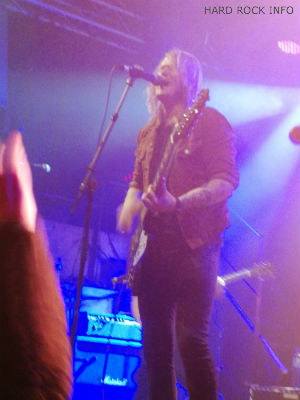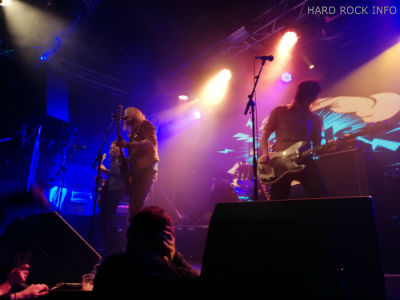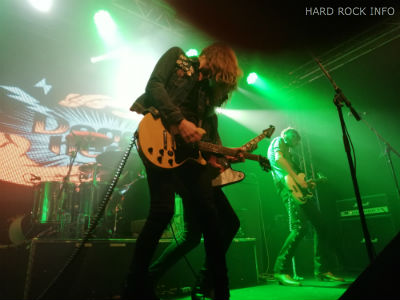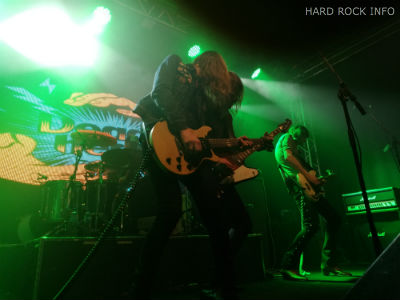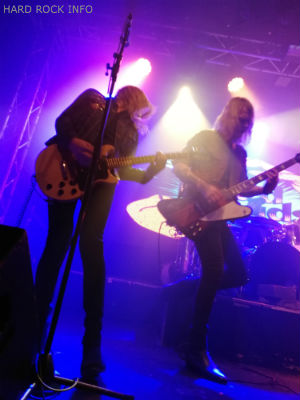 MÄRVEL started so damned late in the night that I had started to get drunk and bored, but I can't say that they were bad. They played many cover songs from their upcoming covers album. But also some "old favorites" and a few songs from their latest album, "At The Sunshine Factory", from 2017. Very good and action-filled rock from a strong power trio. But those 2 previous bands was so damned good that MÄRVEL was a little overrun actually.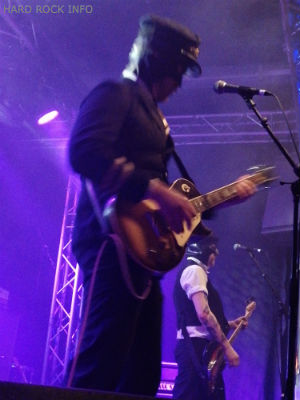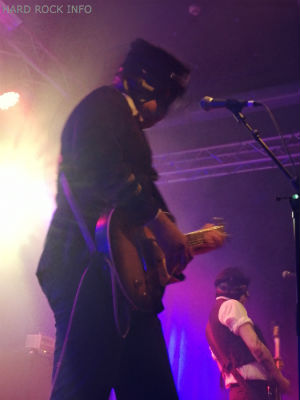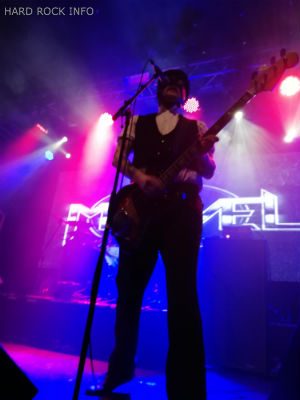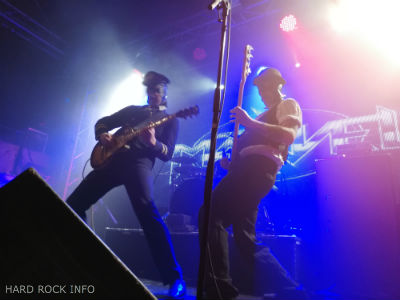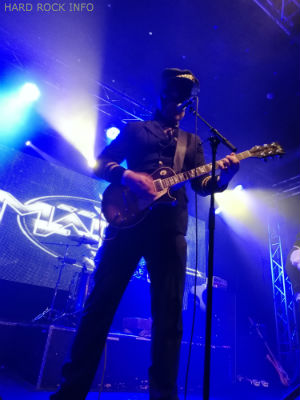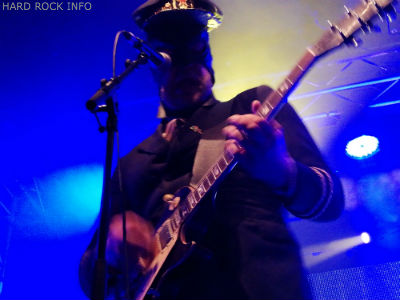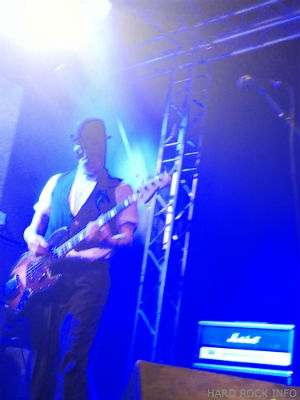 marvel.nu deadheads.bandcamp.com thedrippersgbg.bandcamp.com stickyfingers.nu
Published: March 10, 2019
LAST IN LINE: II - Album
(Frontiers Music Srl)
It sounds like I have heard the exact same thing somewhere before. And not just once. But it's pretty o.k. hard rock anyway. But they have a few songs that is extra good though. Like "Landslide" and "False Flag" for example, which are brilliant. Why can't they do more songs like that?
I'm pretty sure that this album will sell pretty good anyway, as the band features members from DIO. I wouldn't say that LAST IN LINE sounds like DIO though. So don't expect that. But it's not miles away from DIO either.
lastinlineofficial.com frontiers.it
Published: March 9, 2019
BONAFIDE: Live At KB - Album
(Self released - Release date: March 15)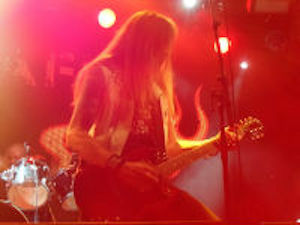 BONAFIDE are said to be 1 of Sweden's hardest working bands. They have so far released 6 studio albums and done lots of tours. They are now ready to release their first live album, which was recorded at KB in Malmö in southern Sweden on February 17, 2018. And that's the city where it all began in 2007.
Well, this is a good live album, so I have nothing to complain about. If you like what I use to call "hard rock n roll" (think AC/DC for example), then this is definitely something for you.
It looks like the LP (vinyl) version of this album will have 9 tracks, while the CD will have 4 bonus tracks. You can pre-order it now from their web site.
bonafiderocks.se
Published: March 8, 2019
USURPER: Lords Of The Permafrost - Album
(Soulseller Records - Release date: Mar. 22)
I reviewed the latest re-releases of the "Skeletal Season" album and the "Threshold Of The Usurper" EP in late December. Now a new album is here from these Chicago veterans. Yes, after a 14-year hiatus they are back with their 6th full length album. Founding members Rick Scythe and Joe Warlord are joined by bassist Scott Maelstrom and "Cryptobeast"-era vocalist Dan Tyrantor.
What they have tried to create here is a combination of heavy metal, death metal, thrash metal, black metal and hard rock. They try to pick the best parts from each sub-genre according to themselves. But I'm not totally convinced about that. This is mainly thrash/black metal according to me. Not so bad, but never fantastic either. Old fans of USURPER will probably like this though.
facebook.com/usurper.chicago
Published: March 7, 2019
WARDEHNS: Now Cometh The Foul - Album
(Self released on CD March 15)
WARDEHNS is a crust/sludge trio from a small-town in Wisconsin, USA. But even though they're labeled as crust/sludge, their influences comes from heavy bands like HIGH ON FIRE, 3 INCHES OF BLOOD, CONVERGE and many more. I guess that there's a little bit of all those things in this band's music. And sometimes it's more crust, while there can be more sludge in a other song. In the heavier songs I think of a band like BOMBUS for example. Otherwise I don't really know what I should compare them with.
This album is already available on their Bandcamp page, but now it will be released on CD. A vinyl release will follow in the future they say.
wardehns.bandcamp.com
Published: March 7, 2019
PTERODACTYL PROBLEMS: Esoteric Hobbies - Album
(Self released? - Release date: Mar. 8)
This band is a little weird. No problem as long as they are rocking. But I just can't stand those acoustic singer/songwriter lullabies. It's really embarrassing to listen to. And the reason why I even complain about this is that there's not just 2 or 3 of them. They could easily have thrown away half of these 13 songs, because that's how many "lullabies" there seems to be. But as I said earlier, their rock songs are o.k., not much else though. A melodic pop punk song like "Alone In The Cold" and the punk rocker "Lush Lives" is not so bad though. More of that please.
PTERODACTYL PROBLEMS is a quartet from Toronto, who reunited a couple of years ago after a 5-year absence. Their music is based on some kind of indie-tinged heavy rock, spiced up with influences from punk, blues, jazz and good old heavy metal, just to name a few. So if that sounds interesting to you, go ahead and give this a try.
Published: March 7, 2019
BLACK THERAPY: Echoes Of Dying Memories - Album
(Black Lion Records - Release date: March 15)
BLACK THERAPY is a melodic death metal band from Rome, Italy, who are ready to release their third album. There's 2 guest apperances on this album - Asim Searah (WINTERSUN) is playing a guitar solo on "Scars", and Sami El Kadi (ADIMIRON) providing some dreamy vocal lines on "Ruins".
Well, you probably know what melodic death metal sounds like. But this band also add a melancholy atmosphere to their songs, which makes them stand out a little from the rest. I think it sounds great anyway.
This is said to fit fans of INSOMNIUM, DARK TARNQUILLITY, HYPOCRISY, KALMAH and similar acts. So if you like those bands, then BLACK THERAPY is something for you.
blacktherapy.it facebook.com/blacklionrecordsswe
Published: March 6, 2019
MEADOWS END: The Great Antiquation - Album
(Black Lion Records - Release date: March 8)
MEADOWS END was born in 1997 by a group of childhood friends in Örnsköldsvik, Sweden. They are put in the symphonic/melodic death metal genre, but have actually created their own kind of modern extreme metal on this album. It's a wild mixture of orchestrated atmospheres, good melodies, heavy riffs and aggressive vocals.
I usually prefer the classic old school when it comes to death metal. But MEADOWS END prove that modern death metal can be interesting too.
With such a long existance, there have of course been a lot of lineup changes through the years. The only original members left are Jan Dahlberg (guitars) and Mats Helli (bass). And lineup changes is the reason why it took as long as 13 years before they finally released their debut album, "Ode to Quietus", in 2010. "The Great Antiquation" is their 4th album.
meadowsend.org facebook.com/blacklionrecordsswe
Published: March 6, 2019
STEELWINGS: Back - Album
(Sliptrick Records)
These old men have nothing to do with the Swedish heavy metal band STEELWING. This is actually 1 of many bands from the 80s who tried to succeed back then. And now they are (as the title says) back.
Fans of BULLET, AC/DC and early ACCEPT should like this band. It's the same kind of classic 80s hard rock/heavy metal with a big doze of rock n roll that we get from STEELWINGS. Most of the songs are about having a good time, but there's also a few with a bit deeper lyrics.
STEELWINGS comes from Laholm and Markaryd in Sweden. They released a few records between 1983-1989, and 2 self released records in 2014 and 2016.
steelwings.se sliptrickrecords.com
Published: March 5, 2019
FM: The Italian Job - CD/DVD, Blu-ray
(Frontiers Music Srl)
After the release of melodic rock veterans FM's 10th studio album, "Atomic Generation", the band kicked off their touring for the album with a performance at Frontiers Rock Festival in Milan, Italy in April 2018. And now we can see and hear this performance.
FM gave the fans a set which included fan favorites and classic cuts taken from the band's first 2 records, brand new additions to the setlist taken from their last 2 albums as well as some surprises, such as "Let Love Be The Leader", a single originally released in 1987. So this is something that the fans of the band definitely should not miss.
fmofficial.com frontiers.it
Published: March 5, 2019
CRYPT TRIP: Haze County - Album
(Heavy Psych Sounds Records - Release date: March 8)
They label this Texas-based trio as hard rock. But fact is that I can hear much more than just simple hard rock here. There's also country rock and psychedelic rock. And that mixture makes it a little progressive actually. Sometimes there's loud speakers and hard rythms, while there can be silent and dreamy guitars in the next moment. I can definitely not complain about too little variation here, because every song is its own song on this album.
Special guest Geoff Queen add some pedal steel, which gives it that touch of country. But just in a few songs. They have also used analog equipment to get the right vintage sound. And it doesn't sound modern at all. I guess that this could be something for fans of rock bands from the 60s/70s.
Well, I like what I hear anyway.
crypttrip.bandcamp.com heavypsychsounds.com
Published: March 5, 2019
WENDIGO: Wasteland Stories - Album
(Self release? - Release date: March 3)
WENDIGO was founded in northern Germany in 2012, but it wasn't until 2016 that they released their first EP, "Initiation". And now in 2019 they are ready to release their first full length, "Wasteland Stories".
Their music is called stoner rock, but I don't know.. It's some kind of heavier but catchy hard rock anyway. Which is probably the same as stoner rock for some people. But their influences are much more than just that. There are references to doom metal, sludge, classic and hard rock, and even some black metal they say.
1 thing is for sure, they have found their own sound anyway.
facebook.com/wendigoband
Published: March 3, 2019
WHITESNAKE: Shut Up & Kiss Me - Single
(Frontiers Music Srl)
I don't think that this band need any deeper presentation. A new album, "Flesh & Blood", will be released on May 10, and "Shut Up & Kiss Me" is a first taste of that. And while many bands seems to focus on the end of the world and all the negative sides of life, WHITESNAKE try to give us some positive energy instead. I mean, "Shut Up & Kiss Me" is exactly what you want to say to that wonderful lady who just talk and ask questions all the time. Isn't it? Well, WHITESNAKE has always been equal to love lyrics, so that's hardly anything new.
This song kicks ass! If the rest of the album is this good, then bloody hell what an album it will be. But I guess that's a little too much to ask for.
Except for band leader David Coverdale, today's lineup of the band features Reb Beach (guitar), Joel Hoekstra (guitar), Michael Devin (bass), Michele Luppi (keyboards) and the veteran Tommy Aldridge (drums).
whitesnake.com frontiers.it
Published: March 2, 2019
The RIVEN: The Riven - Album
(The Sign Records)
This makes me think of Swedish bands like SPIDERS, BLUES PILLS and GRAVEYARD (just to name a few). But also something more emotional with THIN LIZZY. So blues-based hard rock then. And I really like that stuff! Their music is electrifying and powerful, with a soulful voice and a classic rock sound from a other time. And this band is just as good as any of my favorites in this genre. Which means that they are damned good, if you didn't get that. So you just have to check this out!
This band was formed in London, UK, where they recorded their first EP, "Blackbird", in 2016. But in the fall of 2017 they decided to move to Sweden to be part of the scene over here instead. And then, in 2018, they went to Madrid, Spain to record their first full length album. This might seems to be odd, but a look at the names of the members makes me think that most of them are from Sweden from the beginning, while 1 of them is from Spain.
facebook.com/TheRivenMusic
Published: March 2, 2019
EARTH MESSIAH: Ouroboros - Album
(Argonauta Records - Release date: March 1)
Here's another band from Gothenburg, Sweden who are ready to release their debut album. EARTH MESSIAH was formed in 2017 by Mathias Helgesson (UNHEALTH, ex-LAWGIVER) and Patrik Orrmén (ex-FUZZTRATED, RHUBARB BLUES BAND). In early 2018 they found their bassist, Marcus Hedkvist (FROM SOIL, ex-ESKATOLOGIA), and the band was complete and ready to fuzz.
What this trio is playing is some kind of heavy stoner rock. The bass have so much distortion that it's just a fuzzy rumbling. But it's a cool sound somehow, and they are absolutely not bad at all.
earthmessiah.bandcamp.com argonautarecords.com
Published: March 1, 2019
DUN RINGILL: Welcome - Album
(Argonauta Records - Release date: March 1)
When the Swedish band The ORDER OF ISRAFEL took a 1-year break from September 2017, the rhythm section Patrik Andersson Winberg (bass) and Hans Lilja (drums, also in LOTUS) grabbed the chance to create new music again together with Patrik's old band mate from the DOOMDOGS era, Tomas Eriksson (INTOXICATE, ex-GROTESQUE). They were soon joined by some other musicians from the Gothenburg rock scene: Tommy Stegemann (guitar, from SILVERHORSE), Jens Florén (guitar, also in LOMMI and ex-live guitarist for DARK TRANQUILLITY), and Patric Grammann (guitar, from SFT, NEON LEON).
So yes, they have as much as 3 guitarists. But they also spice it up with some flute here and there. And the music that they give us on this debut is some kind of dark doom metal with Nordic folk influences. Most of these 6 songs sounds really good to me, so maybe you should give it a try too.
The album also features a guest apperance from Per Wiberg (CANDLEMASS, KAMCHATKA, ex-OPETH) on 1 of the songs.
facebook.com/DunRingillSwe argonautarecords.com
Published: March 1, 2019
DOWNFALL OF GAIA: Ethic Of Radical Finitude - Album
(Metal Blade Records)
"Ethic Of Radical Finitude" is said to be this international quartet's most melodic, most structured and most dynamic release to date. They build their music on a sludgy, crusty and metallic sound. It's both hard and heavy, as well as melodic and atmospheric. Every song is a little like a small journey.
They call this post black metal. And why not' I guess it's almost black metal when it goes a little faster. But their music also has the same mood as black metal use to have. It's dark and gloomy.
We get 6 tracks, who are between 2:44 to 9:39 minutes.
downfallofgaia.com metalblade.de
Published: March 1, 2019
BACKYARD BABIES: Sliver & Gold - Album
(Century Media - Release date: March 1)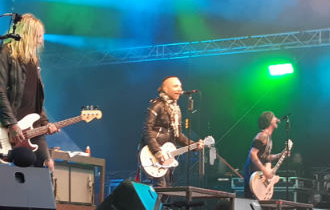 BACKYARD BABIES is the kind of band that I, almost every time they release a new album, have to listen to a few times before I like it. But after that it's usually really good, even though I wasn't so impressed of their last album, "Four By Four" (2015). I began to listen to BACKYARD BABIES when "Total 13" came out in 1998. And I have been following them since then.
But they actually started much earlier than that, in 1989. Which means that they celebrate their 30-year anniversary this year. And it's still the same 4 guys as back in 1989. And that's something really unique!
This new album is their 8th studio album, and it was produced by Chips Kiesbye. It has a little bit of everything that they have done so far, and there's many good songs here. So if you're a fan of the band (like me), then you should absolutely give this a try. I'm not so sure if they will get that many new fans though. But if you never have heard BACKYARD BABIES before, then I would describe their music as energetic and powerful hard rock filled with catchy rock n roll and a punk attitude. This is actually their most intense album in many years.
backyardbabies.com centurymedia.com
Published: Feb. 28, 2019
BUS: Never Decide - Album
(RidingEasy Records - Release date: March 1)
If there is something called old school heavy rock, then this must be it. It's an adventurous experience with a sound of yesterday. A time when you just rocked and didn't think so much. You just played, and then we will see what happens. It's like if you would have put a pinch each of early BLACK SABBATH and early ALICE COOPER (when they were a band), and mix them with some stoner rock. And just like those bands, this band is not afraid to suddenly go on a progressive or psychedelic adventure in a song. This is the kind of rock music that nobody does anymore, even though everybody like it.
BUS formed in Athens, Greece in 2011. They have released 3 EPs and 2 full length albums before this album. They have also been touring in Greece and in neighboring nations. But with the new record they want to take it to the next level, and expand the touring radius considerably.
Well, I go for the retro/vintage card again. Because people who like old heavy rock from the 60s and 70s should love this band.
facebook.com/bustheunknownsecretary ridingeasyrecords.com
Published: Feb. 28, 2019
DEATH IS DEATH: Death Wears Suit - Album
(Concorde Music Company - Release date: March 1)
If I get it right, this band was called DEATH IS LIBERTY until last spring, when guitarist Ville left the band. And as a replacement was not found immediately, the remaining trio decided to play straightforward and simple thrash metal for fun until another guitarist was found. But that was so much fun that they started a new band called DEATH IS DEATH. They quickly had songs for a whole album, and recorded their debut over a weekend in August 2018.
What we get is a raw product with 10 songs in less than half an hour. All lyrics have something to do with death. And it's not so bad, even though it's far away from a masterpiece.
deathisdeath.org
Published: Feb. 28, 2019
DeVicious: Reflections - Album
(Metalapolis Records - Release date: March 1)
Well, this band seems to know how to do it right. They have a few songs with hit potential. Like "Never Let You Go" and "Hungarian Girl" to name just a few of them. Now that doesn't exactly mean that these songs will be any huge hits, because this kind of music is hardly on the top of charts nowadays (as far as I know anyway). But it's not impossible that they would have had a smaller succees if it still would have been the 1980s. It's some WHITESNAKE here and some BON JOVI there. Fans of melodic hard rockers like ECLIPSE and AMMUNITION should not be dissapointed.
DeVicious is a international band, but was founded in Karlsruhe, Germany in 2016. Their debut album, "Never Say Never", was released as late as in August 2018, and now their second album is already here. Seems like we have a bunch of eager boys here.
devicious.band metalapolis.com
Published: Feb. 28, 2019
Mike Tramp: Stray From The Flock - Album
(Mighty Music - Release date: March 1)
Long time since I heard them now, but doesn't this sound like R.E.M.? Not so rock n roll in other words. Melodic pop/rock for boring days. To me everything sounds more or less the same here. Maybe not totally useless, but most of these songs doesn't give me that much either. Yes, most of these songs. There are a couple of songs that I began to like after something like 3 listenings, but not much more than that.
Mike Tramp is (as you might know already) the singer in WHITE LION, but also FREAK OF NATURE. And for more than 20 years he has also had a solo career, where the music is a little different from his bands. Here he is a singer/songwriter with the roots in rock n roll. And even though Mike is from Denmark, this sounds American somehow.
miketramp.dk mightymusic.dk
Published: Feb. 26, 2019
STATEMENT: Force Of Life - Album
(Mighty Music - Release date: March 1)
STATEMENT comes from Copenhagen, and are said to be one of Denmark's hardest working new bands. This is their third album. They describe their music as "old school hard rock songs with a new twist". You could also call it a crossing between melodic rock and metal.
Well, no matter what we decide to call this, they have many good songs among these 10 tracks. And they are also doing a good cover of the hippie classic "California Dreaming", which I really like. Release that song as a single, and you should have a hit.
facebook.com/StatementDK mightymusic.dk
Published: Feb. 26, 2019
QUEENSRŸCHE: The Verdict - Album
(Century Media - Release date: March 1)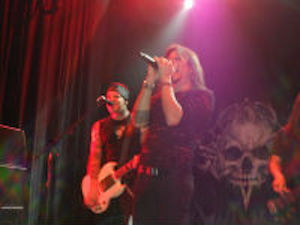 I don't really know, but it feels like they have lost the hit potential that they used to have on their early albums. It's not bad, that would be very wrong to say, but it's different somehow. But o.k., I just might have to listen a few more times to get used to this album. Sometimes it is like that. And then, after a few times, it's suddenly excellent. It doesn't always happen, but sometimes.
This is as a matter of fact QUEENSRŸCHE's 15th studio album. And it's also the first new album since 2015's "Condition Hüman", and the third album with Todd La Torre on vocals. Their old drummer Scott Rockenfeld was not involved with this album though. So Todd, who has been a drummer before, play drums on this album.
Well, like it or not, but this is what QUEENSRŸCHE sound like in 2019. Now I'm going to listen some more to this album..
queensrycheofficial.com centurymedia.com
Published: Feb. 25, 2019
ÖTZI: Part Time Punks Sessions - EP
(Psychic Eye/Near Dark - Release date: Feb. 28)
ÖTZI is a trio from Oakland, California. Their music is described as dark post punk. And this EP was recorded in September 2018, just after a show at the renowned Part Time Punks live concert night. The recordings were produced by the KXLU radio show of the same name, and the recording series is designed with John Peel's legendary Peel Sessions in mind. The series allows promoter and DJ Michael Stock the opportunity to create alternate versions of the alumni"s material.
"Ballad Of Oiwa" is a brand new single. A heavier thing. Some kind of alternative rock is my best description. "Winter" is not exactly faster, but at least not that heavy. Now we talk more like some kind of post punk instead. "Charms" is the fastest and most catchy song on this little EP. "Drought" is pretty catchy too actually.
Well, this is o.k. according to me anyway.
ÖTZI is currently working on their sophomore album, with an anticipated release in late 2019. Check this out while you wait for that..
otzi.bandcamp.com/album/part-time-punks-sessions psychiceye.bandcamp.com facebook.com/pg/neardarkfest
Published: Feb. 25, 2019
HUMBLE PIE: Joint Effort - Album
(Deadline Music)
Once upon a time, in the year 1974, blues rock legends HUMBLE PIE began the recordings of an album at their own home-built studio, called Clear Sounds. The result was a raw and fiery collection of originals and covers that was promptly and unceremoniously shelved by the band's label, never to see the light of day. ..until now then.
"Joint Effort", a title given to the project early on that reflected the collaboration between HUMBLE PIE founders Steve Marriott and Greg Ridley, is a reunion album of sorts in that Marriott had recently walked out of the group. But a near miss at taking Mick Taylor's spot in The ROLLING STONES, plus renewed interest in the band STATESIDE, coaxed Marriott back into the pie alongside guitarist Dave Clempson and drummer Jerry Shirley.
3 of the songs is covers: "Think" by James Brown, "Rain" by The BEATLES and Betty Wright's "Let Me Be Your Lovemaker". The rest is original songs that most people never have heard before. Which makes it a must for every true fan of the band.
This doesn't really sound like the stuff I use to review here. It's actually very funky, but also very catchy. But there's some blues as well. In lack of anything better, it makes me think of something like James Brown or Janis Joplin for example. Funky blues rock with rythm might be a good description.
facebook.com/humblepiemusic
Published: Feb. 24, 2019
GERM BOMB: Gist Sucked Out - Album
(Metal Race)
If I'm not totally wrong, these 2 men, Pierre Ohlsson and Hampus Kuylenstierna, had a band called HATHOR in the early 2000s, which I reviewed a few recordings with. GERM BOMB was formed in 2009 though. They are inspired by acts like GBH, TOXIC HOLOCAUST, MOTÖRHEAD and SLAYER. A few records have been released through the years, both own albums and some split EPs. "Gist Sucked Out" seems to be their 4th full length.
I have as far as I can remember not heard GERM BOMB before. Not more than 1 track at least, and then I must have forgot it. But if I should try to describe what I hear (feels like I have to), then I recomend you to take your blender and put in those bands that inspired them, and then you add some heavier rock and some post punk. Maybe a pinch of black metal as well. Now we have something that sounds like a GERM BOMB.
Their own description to their music is "apocalyptic rock n roll" and "a blend of metal and punk". And yes, those description are actually also correct.
Best track must be the last song, "Asfalt". They should obviously do more songs in Swedish. But it's also 1 of their heavier songs, with a more post-apocalyptic feeling (or however I should describe it).
germbomb.bandcamp.com
Published: Feb. 24, 2019
Volume Doom - Compilation Album
(Alternative Control)
As it usually is with compilations, there's both good and less good stuff here. But among the better bands (according to me) are YOTC, HOWLING GIANT, WITCHING, PintoGraham, 1476 and DUST PROPHET. The rest are just o.k. or less good. Not much that sucks anyway.
11 of these 12 bands are from U.S.A., while 1 is from UK. The record is made by the Connecticut-based music blog Alternative Control, and gives us all kinds of subgenres in the doom and stoner genre. So if you're into that, then you have to check this out of course.
Volume Doom is available for streaming and digital download through Bandcamp. All proceeds will go towards Alternative Control's web site maintenance costs. A limited number of CD copies will be distributed by the participating bands.
alternativecontrolct.com
Published: Feb. 24, 2019
WRETCHED FATE: Fleshletting - Album
(Redefining Darkness Records)
WRETCHED FATE blend the classic Swedish HM2-distorted death metal with the fury of modern death metal. This is a brutal adventure to listen to. But these Swedes seems to know what they are doing, so it's never out of control. If you want action, then you got it here. It's more or less pedal to the metal from the beginning to the end. A really hard album. But they can play slow and heavy too if they want to. It just doesn't happen too often here.
I have heard both better and worse. I guess this album end up somewhere in the middle for me. But that's at least better than the bottom. And I might even be so kind that I keep this album.
redefiningdarknessrecords.bandcamp.com/album/wretched-fate-fleshletting
Published: Feb. 24, 2019
ARTILLERY: Fear Of Tomorrow / Terror Squad - Album reissues
(Dissonance Productions)
It sounds like these guys was horney on the ultimate thrash riffs. And nothing wrong with that. But unfortunately they play the same thing for a little too long once in a while, which is very boring. Another problem is that they didn't have the best songs on these 2 albums. It seems like they mainly wanted to be hard and heavy, even though there's melodies too. But I should also add that nothing really sucks on these 2 albums. They just don't have the top quality that we want. It can still be worth a try though.
"Fear Of Tomorrow" is the debut album from this Danish thrash metal band. It was originally released back in 1985. So that's a few years ago. This is not the typical old school stuff though, which you might expect from that time. It's still full of young energy, and just as raw as it should be.
And "Terror Squad" is their second album, which they released in 1987. I actually like this album a little bit more than the first one. Here they had developed a little bit, and learnt how to do better songs, instead of just riffing and trying to be cool.
A funny thing is that even though this band comes from Denmark, which is close to Sweden where I live, I never heard about them back in the 80s as far as I can remember. It wasn't until just a few years ago that I read about this band somewhere. So yes, they are still alive after all these years.
artillery.dk
Published: Feb. 23, 2019
QUARTZ: Quartz / Live Quartz - Album reissues
(Dissonance Productions)
I have 1 song with QUARTZ, "Stoking Up The Fires Of Hell", from 1 of all those hard rock/heavy metal compilations that came out in the 80s. Not exactly the best song on that compilation, but not the worst either. And that's probably all I had heard with them before I got these 2 albums for review.
QUARTZ was actually started back in 1974 already as BANDY LEGS. In 1977 they changed the name of the band to QUARTZ, who released a few albums before they split up in 1983. In 2011 they reunited, and have been active now and then ever since. Geoff Nicholls (r.i.p) was a member of this band (guitars/keyboards) until late 1979, when he left the band to play keyboards with BLACK SABBATH. He was back in the band when they reunited, but unfortunately he died in late January 2017.
But let's take a ride back to 1977. Because that's when their first self-titled album came out on the market. And here we have another connection to BLACK SABBATH, as the album was produced by no other than Tony Iommi. This brings my thoughts to a classic act like SCORPIONS actually. But not what they sound like when they became famous all over the world, but what they sound like back in the 70s. I also think of bands like UFO and NAZARETH. But QUARTZ have their own identity, and was not a copy of somebody else. Fans of what is called NWOBHM should like this. Not that they played the heaviest or hardest heavy metal. Sometimes it's more like hard rock instead.
After the release of their second album, "Stand Up And Fight", in 1980, they thought it was time for their first live album, simply titled "Live Quartz", which was recorded in their hometown Digbeth, Birmingham. You could say that it's a "greatest hits" of the 2 first albums with extra live energy. Not bad at all.
facebook.com/QuartzBackintheBand
Published: Feb. 23, 2019
WARISH: Warish - EP
(RidingEasy Records)
This trio formed as late as last year, and their music is described as if "Incesticide" era NIRVANA were crossed with "Static Age" era MISFITS. Low budget horror rock with a twisted weirdness, you could also say. But I think it sounds more like some kind of garage/surf rock made by some lunatics. I think of early The DWARVES, around 1983-86, for example. But also a band like The CRAMPS. I think something like "evil garage punk" is a description that works.
The band formed when guitarist/vocalist Riley Hawk and drummer Bruce McDonnell decided they wanted to try their hand at something more distinct than they had done previously. Simplier riffs and a fun live show. A pinch of punk, a pinch of grunge and a pinch of evil. They are energetic and scary at the same time, but you have to check it out.
This debut EP is available on 7" vinyl and as download.
facebook.com/Warishband ridingeasyrecs.com
Published: Feb. 23, 2019
THUNDERMOTHER: Da Igual - Single
(Despotz Records)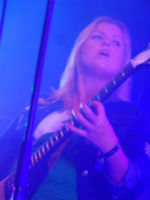 The latest single from THUNDERMOTHER is actually a Spanish version of "Whatever", which is 1 of the hits from their latest self titled album (which was released about a year ago). It's a thundering rocker that will kick your ass a long, long way from where it should be. But probably most fun for the Spanish fans I suppose. But THUNDERMOTHER is a favorite band to me, so I swallow it.
Not much else to say though.. Maybe they should start to work on some new material?
thundermother.com despotz.se
Published: Feb. 22, 2019
Louise Lemón: Not Enough - Single
(Icons Creating Evil Art)
I can't really understand why Louise Lemón was nominated in the Hardrock category at Manifestgalan (Swedish award for independent artists). But on the other hand she didn't win (to my suprise CRAFT won instead of ABRAMIS BRAMA, which I thought would win that category). She should have been in the Pop category instead. That would have fit better.
But anyway.. I have been writing about Louise here before. And it's still the darker kind of pop that we get from her. And according to me, that's much more interesting than the shit they play on the radio (not that I use to listen to radio). Other labels that they have put on her music is "death gospel", "nu goth" and "dark soul".
This song is taken from the upcoming album "A Broken Heart Is An Open Heart", which will be released next month. And my opinion about is that it's a o.k. song.
louiselemonmusic.com icea.se
Published: Feb. 22, 2019
DEAD WITCHES: The Final Exorcism - Album
(Heavy Psych Sounds Records - Release date: Feb. 22)
DEAD WITCHES is the brainchild of Mark Greening from ELECTRIC WIZARD. And I actually knew their original guitarist, Greg Elk (real name Greg Pearson, r.i.p), who lived here in Sweden for a few years. First in Stockholm (where he played with LUCIEN), and then here in Borås (where I met him, and he played with CRYPT OF THE ZOMBIELORD), before he moved back home to England and joined DEAD WITCHES. Unfortunately he died on October 29, 2016, before this band had released their debut album, "Ouija", in 2017. That album will by the way be re-released now.
Anyway, this is their second album. Which consist of mainly long and heavy pieces of occult doom rock. Very dark stuff. Almost like a fuzzy nightmare that comes alive. But it's absolutely not bad. I like what I hear here.
On this album they have 2 new members in the band: Oliver Irongiant (GRAVE LINES, SEA BASTARD) on guitar and Soozi Chameleone (SATLAN) on vocals. Original members Mark Greening (drums) and Carl Geary (bass) are still in the band.
facebook.com/DeadWitches heavypsychsounds.com
Published: Feb. 21, 2019
GODSLEEP: Coming Of Age - LP
(The Lab Records/Threechords Records)
This album was released in digital format and on CD in November last year, but has now been released on LP as well.
GODSLEEP was formed in 2010 and comes from Greece. Their music is called everything from heavy psych rock to heavy rock, and even stoner rock. We get heavy and fuzzy guitars, thick bass lines, powerful groovy drumming and variated vocals. And it sounds really good to me, no matter what we decide to call it. So my advice is that you should check this out.
"Coming Of Age" is their second album, and the first recording with their new singer Amie Makris, who is doing a really good job here.
godsleep.bandcamp.com
Published: Feb. 21, 2019
RED BEARD WALL: The Fight Needs Us All - Album
(Argonauta Records - Release date: Feb. 22)
This sounds like a bad demo recording from the 80s/90s. And all songs are more or less the same crap. A mixture of hardcore screaming and male background vocals, while the band play something heavy but try to be rythmic. And the worst moment is when they decide to play an instrumental song that last for over 6 minutes. So boooooooooooriiiiiiiiiiiing. I don't really know how these guys are thinking, but they can obviously not make music (not music that I like anyway).
And now you may wonder why I even gave this album a chance at all. Yes, I wonder that too, now that I have heard it. Because they told me that this was supposed to be sludge rock. But this is definitely not sludge rock. So did I get the wrong record?
It looks like this is a 1-man band, with a man from Texas named Aaron Wall. His influences is said to come from alternative bands like FLOOR, HELMET, TORCHE, CAVITY, NIRVANA and many more.
redbeardwall.bandcamp.com argonautarecords.com
Published: Feb. 21, 2019
REZET: Deal With It - Album
(Metalville - Release date: Feb. 22)
Why did they have to start this album with an acoustic guitar piece? That's not metal! It almost makes me feel like I want to strangle the whole band. But after that little mistake, they are on the right way in life. Then it's definitely metal! Some kind of heavy/thrash metal to be more exact. They are mainly hard and heavy, but can also be more melodic once in a while. Sometimes it's not even thrash metal anymore, but still good anyway.
This is the 4th studio album from these Germans, and it's said to be their most diverse album to date.
rezet.de metalville.de
Published: Feb. 20, 2019
WALLS OF BLOOD: Imperium - Album
(Metalville - Release date: Feb. 22)
This record will be sold with a sticker that says "featuring musicians of MEGADETH, KING DIAMOND, JUDAS PRIEST, TESTAMENT and QUEENSRŸCHE". And that sounds exiting of course. It almost makes you think that it's yet another one of all these all-star supergroups. But here's the deal: This is a new band with Canadian guitarist Glen Drover, who have played with 3 of those bands (and then some), and he have used several singers from different bands on this album - Todd La Torre (QUEENSRŸCHE), Chuck Billy (TESTAMENT), Tim "Ripper" Owens (JUDAS PRIEST) and a few more.
We get 10 tracks of some really good heavy/power metal. And both singers and musicians deliver as the professionals that they are. This is worth a try at least.
metalville.de
Published: Feb. 20, 2019
MILLENCOLIN: SOS - Album
(Epitaph Records)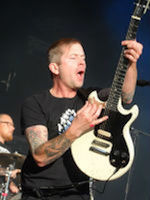 A new album with Swedish skate punk veterans MILLENCOLIN is like a new album with BAD RELIGION. You know exactly what you're going to get: The finest kind of catchy and melodic punk rock. No more, no less. And why should you say no to that? Of course you shouldn't. Because this album is excellent!
MILLENCOLIN have made 12 new hit songs on this album, and none of their old fans should be disappointed when they hear this. I don't think I have to say much else than that..
millencolin.com epitaph.com
Published: Feb. 19, 2019
HEXVESSEL: All Trees - Album
(Secret Trees/Century Media)
This album can be described with just 1 word: Slow. It's soft and silent music that we get from this band, which was founded in the forests of Finland by a man from UK in 2009. His name is Mat "Kvohst" McNerney. And he had already made himself a name in the British extreme metal scene and the Norwegian black metal scene, when he got the idea that he should move to Finland and form a psychedelic forest/folk rock band. Now the band has released 4 albums (with this one included).
Honestly I don't really know what I should think of this album. But I can at least figure out that they have created something on their own out of their influences from folk music and psychedelic rock.
I must have liked their last album as I like them on Facebook, but this album seems to take longer.
facebook.com/hexvessel centurymedia.com
Published: Feb. 19, 2019
SKULLCLUB: Smækhugger - Album
(Mighty Music - Release date: Feb. 22)
Sometimes they sound like a Danish answer to DROPKICK MURPHYS and The OFFSPRING. Sometimes like something else. But most of all it's some kind of raw rock in Danish (well, there's a few songs in English too). But they mix it with punk rock and folk music once in a while, and sing-along choruses. And they end the album with a cover of "Dirty Old Town" by The POGUES. Many of these 11 songs are good.
This band is probably an entertaining element when they play live. I think that they would fit perfect at a summer festival.
facebook.com/SkullclubDK mightymusic.dk
Published: Feb. 19, 2019
GHOST SHIP OCTAVIUS: Delirium - Album
(Mighty Music - Release date: Feb. 22)
This band was formed in 2012 by 2 former members of NEVERMORE and GOD FORBID. Their self titled debut came out in 2015, and they are said to be "the new US progressive power metal sensation". But when we take a deeper look (or listen) into the band's music, then we can soon figure out that it's emotional and melodic stuff, but also technical playing. Don't expect any high speed records here. This is actually pretty laidback and heavy mid-tempo metal.
Maybe not a album for everyone, but those who give it a true chance can look forward to many joyful moments in this company.
ghostshipoctavius.com mightymusic.dk
Published: Feb. 19, 2019
BLOOD RED SAINTS: Pulse - Album
(AOR Heaven - Release date: Feb. 22)
I don't know what's wrong with this record, but for some reason I'm not so impressed. This should be good stuff, and sure it doesn't sound so bad, but still I don't fall for it. You might have better luck though. So if you're a fan of melodic rock and AOR, then give this a try.
This is the third album from this British band. It's said that they have tried to modernize their sound, whilst still retaining the big choruses. The album has a more contemporary edge, and they are trying to push the boundries of melodic rock. And maybe that's the problem? Sometimes it's very radio friendly.
facebook.com/bloodredsaints aorheaven.com
Published: Feb. 18, 2019
Mikael Erlandsson: Capricorn Six - Album
(AOR Heaven - Release date: Feb. 22)
With titles like "Why", "Pain", "Evil" and "Fear The People" it might sound like there would be some kind of darker theme here. But fact is that this is very far away from that. This is very melodic hard rock/AOR with a feel good feeling. We even have something for the children here, in form of the last track, "Alice In Wonderland", which reminds me a little of The BEATLES (not that I use to listen to them, but they are hardly the worst band on the planet).
Who is Mikael Erlandsson then? He is a Swedish singer who was the frontman in a band called N'GANG in the early 1990s, who participated in the Eurovision Song Contest. His first solo album was released in 1993, and "Capricorn Six" is his 6th solo album. He has also been guest artist on albums with PHENOMENA, RADIOACTIVE, SALUTE and LOVE UNDER COVER among others.. And just as that wasn't enough, he has also led his own band LAST AUTUMNS DREAM during the last 15 years, who has released as much as 15 albums.
You could always ask why he waste time on a solo career, when he have so many other projects. But when it's as good as this, I think you should just shut up and listen instead of askinging yourself stupid questions.
facebook.com/mikael.erlandsson1 aorheaven.com
Published: Feb. 18, 2019
VELVET INSANE: Velvet Insane - Album
(Metalapolis Records - Release date: Feb. 22)
Looks like this Swedish band is trying to do some kind of feel good rock. And I guess that would have worked good if it was spring or summer or sunshine at least. But unfortunately it's still winter here in Sweden (even though it's getting brighter where I live). This will still be a good soundtrack to next summer though, because it's absolutely not bad at all.
VELVET INSANE comes from the northern part of Sweden, and is centered around guitarist Jesper Lindgren and singer Jonas Eriksson. The band was founded from the ashes of Jesper's short-lived band PURE FAITH in 2013. They have previously released 2 EPs, even though just 1 of them, "Youth On Fire", is official. VELVET INSANE was a band for a while, but 2 members left, so Jesper and Jonas decided to continue as a duo.
Their music is a mixture of hard rock and classic rock. Often in the more melodic league. Their influences are old bands like MOTT THE HOOPLE, HUMBLE PIE and T.REX, but they also say that they are influenced by The HELLACOPTERS (must be the later material then, can honestly not hear much of that).
facebook.com/velvetinsane metalapolis.com
Published: Feb. 18, 2019
KSMB: Showen, En Slemmig Torsk - Double Album
(Wild Kingdom Records - Release date: Feb. 22)


This was an odd idea. To make a play and perform it at theatres around the country is 1 thing. But to record the whole thing in the studio, without any audience, that's unusual. They could have written a book instead. I actually don't know if any rock band have done the same thing before.
It's a very stripped album, and actually not that much music. And the few songs that they play are acoustic, more or less. They mainly talk. And the story is about the rise and fall of the Swedish band KSMB, but also about their former guitarist Johnny. There's both some funny anecdotes and some more tragic stuff. Everything is in Swedish. So if you don't know that language, this is pretty useless to listen to (on the other hand, you're probably not even interested in this band then).
KSMB started as a punk band in the late 1970s, and released a few albums and toured for a few years before they split up in 1982. To my surprise they came back for a couple of years in the 90s, but the record that they released was more of a rock album. And then it took something like 20 years before they was back once again a few years ago. They released another rock album, "Ond Saga", and toured. And I thought that would be the end of the band. But it wasn't. They did 4 sold-out shows with this performance in Stockholm last year, and now they will be touring with it here in Sweden during the spring.
If you didn't like their last album (a few of those songs are included here in other versions), then you will probably not like these songs either. But you might enjoy the story at least. I like both actually. It's an interesting story, and the songs are really good.
facebook.com/ksmbofficiella
Published: Feb. 17, 2019