REVIEWS 2018 (Page 4)
Back to page 3


June 1974: Nemesi - Album
In June 1974 I was about 1 and a half year old. So now you know how old I am (luckily I still look pretty young).
The music on this record is all kinds of instrumental, pretty soft and laidback music. Not really my thing actually. They try to rock a little once in a while, but that doesn't help much. There's always a new adventure around the corner though. So I guess we can call this progressive as well as psychedelic.
The most funny thing is that there's guest apperances by people from the metal scene on almost every song, even though it's not metal at all. Among these musicians are Tommy Talamanca (SADIST), John Cordoni (NECROMASS), Andy LaRocque (KING DIAMOND), Jørgen Munkeby (SHINING), Patrick Mameli (PESTILENCE), James Murphy (OBITUARY, DEATH) etc. So I guess that they want to fool metal fans to buy this album, even though it's not metal? That's very nasty!
If you want to try this, then it should be available for download and/or streaming at places like iTunes, Amazon, Spotify and similar. This is only available digitally.
(Visionaire Records)
june1974.com
JUNE 18, 2018 MICK'S JAGUAR: Fame And Fortune - Album
This sounds like a combination of glam rock and proto punk. Or a combination of NEW YORK DOLLS and The STOOGES maybe? I guess we can call it hard Rock n Roll.
This band comes from New York, and they want to bring back the noisey, wild and unafraid big rock to the NYC rock scene. I'm not so sure that this is the right band for that though. Sure, they have some good songs, but everything is not interesting. And it's not like I can hear any future classics here.
Their songs are about life, death, cars, blood, murder, sex, drugs and booze.
Release date: June 22, 2018 (RidingEasy Records)
micksjaguar.com
JUNE 18, 2018 WOLFEN: Rise Of The Lycans - Album
This is these Germans 6th album, and the first with the new members Siegfried Grütz (drums) and Andreas Doetsch (guitar). The music is best described as melodic power metal with thrash influences, but I think that any metal fan could like this.
They have some good songs among these 9 tracks, so they are worth a try of course. I don't really know what else I should say about them..
Release date: June 22, 2018 (Pure Steel Records)
wolfen-metal.de
JUNE 16, 2018 STREET DOGS: Stand For Something Or Die For Nothing - Album
The first song reminds me of a band like The OFFSPRING for example, while the second track reminds me of something like FLOGGING MOLLY instead. And it continues something like that, but in general it's different kinds of melodic American punk rock that we get. And it's not bad at all. They have several good songs on this album, and it's full of energy and anthems.
STREET DOGS are from Boston, and they have been around for 16 years already. This is the first time I have heard them though. It's 8 years since their last, self-titled, album was released. And on this 6th album they sing about brotherhood and common values. You have to wake up and fight against the rich and greedy. Typical punk subjects you may say, but still important stuff. Maybe even a little extra important nowadays.
Release date: June 22, 2018 (Century Media)
facebook.com/streetdogs
JUNE 15, 2018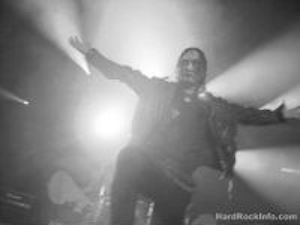 MARDUK: Viktoria - Album
Swedish black metal veterans MARDUK are back with a new album. And this time they concentrate on fast and simple songs. None of these 9 tracks are longer than 4 and a half minutes. And I think that was a good choice, even though this album is pretty short. Because this is good stuff.
The lyrical theme is as usual war. But that doesn't make them nazis, as some stupid people seems to think that MARDUK are. Come on, it's just history! Do you call your teacher in history a nazi too?
The front cover is simple, but just as cold and hard as the music.
If you don't like this, then you probably don't even like black metal at all. Simple as that.
Release date: June 22, 2018 (Century Media)
marduk.nu
JUNE 14, 2018 RYDERS CREED: Ryders Creed - Album
Debut album from a British 5-piece act, who formed as late as in May 2017. Their influences comes from many different bands, everything from classic acts like AC/DC and BLACK SABBATH to more modern groups like CLUTCH and MONSTER TRUCK. I guess we can call it catchy heavy rock.
There's some good songs among these 10 tracks, so I guess it could be worth a try. 1 of my favorites must be the 6th track, "Ryder". Check that out first if you can.
(Off Yer Rocka Recordings)
ryderscreed.co.uk
JUNE 13, 2018 CHAOS BEFORE GEA: Chronos - Album
Spanish band who formed in Málaga in 2008. They play a crazy mixture of progressive metal, groove metal, death metal and metal in general. This is their 3rd album, which is the last chapter in a trilogy. It's said to be something for fans of MACHINE HEAD, MASTODON, GOIJIRA, SYMPHONY X and LAMB OF GOD.
If you get the ambitious idea to make a trilogy, then you better make sure that you actually can deliver as well. These guys seems to be very good musicians, so no problem there. But they doesn't seems to be able to make any songs that I can actually remember. And that's a big problem. Because then it doesn't really matter how ambitious and good you are, as nobody will care. Oh, excuse me, now I forgot that there are actually some people who are satisfied with just that. But how many are they?
(The Braves Records)
JUNE 13, 2018 KHARVA: Kharva - Demo
Many years since I got a burned CD-R with a demo recording last time. They succeed to have a better sound quality than many of today's albums though.
KHARVA is a heavy and hard metal band from Karlstad, Sweden. They are a pretty young band, as they formed as late as September 2017. 3 of them have been playing together since 2008 though.
Their music has influences from both extreme metal and hardcore. I'm not really sure if I should call it metalcore, but that's what it reminds me of most. There's at least variation between the songs. And that's always an extra plus.
4 songs is what we get here.
kharva.bandcamp.com
JUNE 13, 2018 VEGA: Only Human - Album
Another melodic rock/AOR band on Frontiers Music. And just like so many others of those bands, this is pretty good stuff. They might not be the best band in this genre, but they are absolutely worth a try at least. I think it sounds very radio friendly. And it has a touch of the 80s, but with a modern sound and production.
This is the 5th studio album from this British band. They produced it themselves, while Canadian musician/producer Harry Hess (HAREM SCAREM) mixed and mastered the record.
(Frontiers Music Srl)
vegaofficial.co.uk
JUNE 12, 2018 THY PRIMORDIAL: The Blackened Years - 4CD Box Set (reissues)
This little box features the albums "Where Only The Seasons Mark The Paths Of Time" (1997), "The Heresy Of An Age Of Reason" (2000), "The Crowning Carnage" (2002) and "Pestilence Upon Mankind" (2004). They were originally released by Blackened, and are said to be classics (I have never heard these albums before, so they are definitely not classics to me anyway).
The music is typical 90s black metal of the more extreme kind. So if you like that, and like me have not heard this band before, then you should give this a try. I think you will like it. Because this is absolutely true black metal. No doubt about that.
Release date June 15, 2018 (Dissonance Productions)
JUNE 12, 2018
TAD MOROSE: Chapter X - Album
This heavy metal veterans from Bollnäs, Sweden have been around for as much as 27 years, and this is their 10th studio album.
The main ingredient is traditional heavy metal, but there can also be a progressive and/or symphonic touch or a pinch of melodic power metal as well. And everything is cooked with modern technology.
They have many good songs here. But 14 tracks is as usual a little too much for me. Still worth checking out though. No doubt about that.
Release date: June 15, 2018 (GMR Music)
JUNE 12, 2018 PRIMITAI: The Calling - Album
PRIMITAI are a London-based melodic metal band drawing inspiration from classic heavy metal and combining it with a modern production, intensity and a progressive edge. We get 10 tracks on this album, and it doesn't sound bad at all. This could be worth a try. No doubt about that.
Now I don't have much else to say. Seems to be yet another album that I have been listening to several times, but still I can't come up with anything to say. But o.k., I actually didn't get that much information, and could not find that much either. This is not their first album anyway.
(Dissonance Productions)
primitai.com
JUNE 11, 2018 PRAYING MANTIS: Gravity - Album
The first track, "Keep It Alive" is pretty good melodic hard rock, but "Mantis Anthem" is hardly an anthem. It sounds like a silly pop song from the 80s actually. And the most disturbing part is the beginning, which always makes me think: "What the fuck is this?". Then comes "Time Can Heal", which reminds me a little of BON JOVI. Good, but hardly the strongest song. In "39 Years" they are finally back to the melodic hard rock that they began the album with. It reminds me of early EUROPE somehow. Really good! 1 of the best songs on this album.
The title track reminds a little of good old THIN LIZZY in the beginning. It's a little softer, but another really good song. Unfortunately most of the songs after that are actually pretty boring tracks that doesn't really impress your editor. It makes me think: "How much fillers can you put on the same album and get away with it?" It's not until the second last song, "Shadow Of Love", that I finally wake up a little again. Not a masterpiece, but still much better than the 3-4 sleeping pills before.
The last track, "Final Destination", is o.k. Probably the heaviest song on this album.
(Frontiers Music Srl)
JUNE 11, 2018 The NEAL MORSE BAND: The Similitude Of A Dream, Live In Tilburg 2017 - 2CD/2DVD, Blu-ray
A double sandwich of progressive/symphonic rock wasn't really what I wanted. And it's the same old problem that I almost always seems to have with these bands - Very talented musicians, but no hit potential. But I bet that there's lots of classics here for some old fart. So who am I to judge&63; Fans of a band like GENESIS will probably love this stuff. I know 1 man who like GENESIS very much, and he's not exactly a genious. But that's a completely different story, and doesn't mean that everybody who listen to progressive and/or symphonic rock are stupid.
This recording comes from a night at 013 in Tilburg, Holland last year, where they performed the entire "The Similitude Of A Dream" double album, as well as a 4-song encore. Among the musicians were Neal Morse, Mike Portnoy, Eric Gillette, Bill Hubauer and Randy George.
Release date: June 15, 2018 (Radiant/SONY/Metal Blade)
radiantrecords.com/products/704-the-similitude-of-a-dream-live-in-tilburg-2017.aspx
JUNE 11, 2018




DOOMSDAY OUTLAW: Hard Times - Album
These blues-based hard rockers comes from Derbyshire, UK. They released their debut album, "Suffer More", on their own in 2016. And that gave them many good reviews. And I understand why, because this is good stuff with a lot of melody. They really seems to know how to play this kind of music. Definitely a band that you should check out if you like the more blues-based hard rock bands from the 70s.
Not much else to add..
(Frontiers Music Srl)
JUNE 10, 2018 CRYING STEEL: Stay Steel - Album
What is crying steel? I have never heard of that before. But then I have never been a steel worker. Sounds a bit silly actually. But luckily their music is not silly at all. Really good heavy metal (made of steel of course) with lots of melody.
This band was actually founded in Bologna, Italy in 1982 already. After a couple of demos, they released a self-titled EP in 1985. After some more demos and promo releases, they finally released their debut album, "On The Prowl", in 1987. But it looks like they didn't release any new album after that until 2007, when "The Steel Is Back" was released.
And just in case you didn't get it, this is definitely worth checking out.
Release date: June 15, 2018 (Pride & Joy Music)
facebook.com/CryingSteel
JUNE 10, 2018 BROWSING COLLECTION: Thank God It's Friday - Single
I reconize this somehow.. It sounds so familiar.. Just like I would have heard the exact same thing before somewhere.. And well, how impossible is that? It's not exactly easy to be original nowadays. But I don't think it's metal-influenced punk rock anyway, like they say in the info sheet about this single. I would rather go with something like catchy and energetic party rock with punk attitude. Power pop maybe?
BROWSING COLLECTION comes from Sweden, and formed in 2008 already. This song is taken from an upcoming EP.
(DITTO Music/Icons Creating Evil Art)
browsingcollection.com
JUNE 10, 2018 BLACK LIGHT WHITE LIGHT: Horizons - Album
O.k.? This wasn't exactly what I wanted to hear. Some kind of electronic indie pop instead of psychedelic rock as they promised. What a dissapointment! It didn't exactly make me happier, when I was already irritated. I gave up after just 3 songs, and had to continue some other day. But it wasn't much better on a other day either, so I had to give up again after just a couple of songs.
What I don't really understand is why some people think that this kind of stuff would fit in on a site called Hard Rock Info. I think the name of the site says it all. But people are stupid. That's hardly something new.
Could this be what they call shoegaze by the way? I have never really understood what that is. They talk about psychedelic indie rock and dark pop in the info sheet anyway. And film is obviously a big influence, because this sounds just as weird to me as a film by David Lynch.
(Forward Backwards Recordings/Custom Made Music)
blacklightwhitelight.com
JUNE 10, 2018 HERE LIES MAN: You Will Know Nothing - Album
Psychedelic, man. Why they have such an ugly album cover is my biggest question though.. It definitely doesn't give you any hint of what kind of music it really is that they are playing.
This is the second album from this L.A. band. They often play the same thing over and over again. Sometimes it last for a little too long. But I guess it's a part of the game when it comes to psychedelic rock like this. And I guess it's not so hard to fall into trance when you listen to this album. Pretty good though.
Release date: June 15, 2018 (RidingEasy Records)
JUNE 9, 2018 FRAYLE: The White Witch - EP
It seems like this EP has already been self released digitally a couple of months ago. But now it will be released in physical format as well.
They label their music as doom/witch rock, and says that it's "music for the night sky". They get their inspiration from acts like SLEEP, PORTISHEAD, BEASTWARS, BLONDE REDHEAD, KYUSS, MASSIVE ATTACK, DOWN and CHELSEA WOLFE. And I can't say that it's any bands that I use to listen to, but I would prefer to describe FRAYLE as a hybrid of doom and dream pop, with a sweet girl on vocals. It's not so bad actually. I have definitely heard a lot worse in my life.
Release date: June 15, 2018 (Seeing Red Records/Lay Bare Recordings)
JUNE 9, 2018 FABRIKEN: Hoppa Av I Farten - EP
Seems like the lineup has changed a little since last time. The latest members are Patrik Trankell (drums) from ROLANDS GOSSKÖR and Peter "Ampull" Schölander (guitar/vocals) from KSMB, JOHN LENIN and KSM3. The other members are Curre Sandgren (guitar/vocals) from COCA CAROLA, ROLANDS GOSSKÖR, KRYMPLINGS and Åke Noring (bass/guitar/vocals) from ROLANDS GOSSKÖR. There's also guest apperances from Tony Johansson (FAS-3, KSM3) and Johan Johansson (KSMB, STRINDBERGS, KSM3 etc).
This is the band's 6th EP, and it includes 5 tracks of pretty melodic punk rock in Swedish. It sounds more or less like their previous EPs actually, and I have liked them, so I have no problem with this. Fans of Swedish bands like COCA CAROLA and ROLANDS GOSSKÖR should like this.
(Beat Butchers)
ifabriken.com
JUNE 9, 2018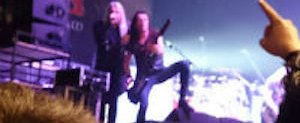 SAXON: Denim And Leather / Power & The Glory / Crusader - Deluxe reissues
"Denim And Leather" kick off with the classics "Princess Of The Night" and "Never Surrender". Other classics on this album are "And The Bands Played On" and the title track of course, which end the original album. They still play some of these classics live today. And I guess that says a lot about how great they are. But you should not dismiss the rest of the tracks on this album, because there's lots of great songs. But I don't really get why "20,000 Ft" from the "Strong Arm Of The Law" album is included here. A great song too though.
The bonus material consist of 8 live tracks from different concerts. But I'm not really sure why they start the live tracks with something as stupid as "Bap Shoo Ap". But otherwise it's just classics all the way. You get a total of 18 tracks on this release.
"Denim And Leather" is SAXON's 4th album, and it was originally released on October 5, 1981. "Power & The Glory" was the first SAXON album that I heard. I had a copy on cassette (if anybody remember those things?). A few years ago I bought it on CD, and thought that this was a pretty weak album for being SAXON. It was actually just the title track and the last track, "The Eagle Has Landed", that was really good. The rest of the songs was more or less just fillers. But nothing was totally worthless on the other hand.
And now that I hear the album again a few years later, I realize that I was a fool. It's definitely not as bad as I first thought it was. Sure, there's not as many classics as on some other albums, but it's definitely not bad at all. More or less every song is in good old SAXON tradition. This is actually a great album!
As bonus tracks we get 7 demo outtakes. Mainly songs from the album, but also some other songs. There's also 2 songs, "Make Em Rock" and "Turn Out The Lights", that I don't really know where they comes from. Why they didn't make it to the album is a good question. Maybe they were used as b-side or on the Japanese edition? Good songs anyway.
This is their 5th studio album, and it was originally released on March 21, 1983. It was the first album with Nigel Glockler on drums, who replaced Pete Gill. "Crusader" was the first SAXON album that I bought myself, and didn't just copy to a cassette (which was very usual in the 80s). A damned good album! The opening track, which is the title track, is 1 of their best songs (1 of many, many). A pretty epic mid-tempo song. After that they continue with a rocker called "A Little Bit Of What You Fancy", which is followed by the more melodic "Sailing To America". Yes, there's definitely variation on this album. And it's 1 of my favourite albums with them. Well, they continue with a cover of the SWEET classic "Set Me Free". A fast and good version. And then we have the sing-a-long anthem "Just let Me Rock". After that it's still good stuff, but not the kind of songs that I remember until I hear them again.
And just if it wasn't enough with the original album, there's lots of bonus tracks included here. Mainly demo outtakes of some of the songs from the album, but also of some that didn't make it to the album. And we also get another 2 songs that I have not heard before - "Borderline" and "Living For The Weekend". A total of 19 tracks.
"Crusader" was originally released on April 16, 1984. I would like to add that you don't have a complete heavy metal collection without any SAXON in it. But if you want the bonus tracks, then you have to buy the CD versions, which are released as 24-page mediabooks. These albums are also available on coloured swirl and splatter vinyl.
(BMG)
saxon747.com
JUNE 8, 2018 The SOUL EXCHANGE: Edge Of Sanity - Album
The SOUL EXCHANGE is a Swedish band who released their first album, "Bloodbound", as late as in March 2017. It was followed by a 5-track EP, "Vow Of Seth", already in December the same year. By that time they had already started to work on this second album. But even though this band is pretty new, the members have been playing for many years.
The music that they give us is some kind of melodic hard rock with a touch of metal. And it doesn't really sound like anybody else, but it's definitely not bad at all. The lyrics deal with subjects from the darker side of life, such as insanity and evil in various forms.
I don't really know what I should compare this band with. EVERGREY maybe?
Release date: June 15, 2018 (Pride & Joy Music)
soulexchangeofficial.com
JUNE 8, 2018 Stagman: Moder Jord - Album
Bosse Stagman, or Zinny Zan as he called himself in the 80s, was the singer in EASY ACTION and SHOTGUN MESSIAH. Both bands have done their reunions, even though it was just for a couple of shows with SHOTGUN MESSIAH, and probably under some other name if I'm not totally wrong. He has also had his own band ZAN CLAN.
Now he go solo, and this is his second album under the name Stagman. But I guess that hard rock wasn't fun anymore, because this is very far away from what he did before. This is more like some kind of pop songs (in lack of a better description) in Swedish, where an middle-aged man look back at his adventures in life. Not much rock here (not until track 7 and 8 anyway). And some songs unfortunately reminds me of Swedish artists like ELDKVARN, Ulf Lundell and Tomas Ledin. And that's not good of course. Because they're not cool at all. But if this is what he want to do, then I'm not going to stop him. Some songs are o.k., while some are not so interesting. Nothing sucks though, and that's always something.
If you're looking for action, then this is not the album for you. Because the party is definitely over.
(GMR Music)
facebook.com/bz.stagman
JUNE 8, 2018 Louise Lemón: Purge LP - LP
They call this death gospel. But fact is that this has nothing to do with neither death metal or gospel. This is more like some kind of laidback, melancholy pop music. People who like the latest albums with Swedish artist Thåström might like this. Not that it really sounds like him, but it has the same kind of gothic darkness. Fans of Anna von Hausswolff will probably like this too.
Why she had to include an instrumental version of the album is a good question though. It hardly makes it any better, does it? No, that instrumental stuff was not for me. But the more I listen to the vocal version, the better it gets. I would not say that I have found a new favorite artist though. It's not that good. But it can be nice background music when you just want to relax.
"Purge LP" is Louise's debut album, and it was recorded in a haunted cabin in the north of Sweden, and then mixed in Seattle together with Randall Dunn (SUNN O))), MYRKUR, CHELSEA WOLFE etc).
(Icons Creating Evil Art)
louiselemonmusic.com
JUNE 7, 2018 LORDS OF BLACK: Icon Of The New Days - Album
Even though it's melodic hard rock/heavy metal that we get from this Spanish band, it's actually pretty hard and heavy. Was it really like that last time I heard them? Many of these songs makes me think of the late great Ronnie James Dio (r.i.p). Among my favorites are the title track. But there simply is no weak songs here. And to me that's thumbs up of course.
The Chilean born singer, Ronnie Romero, is most well-known nowadays for being the singer in Ritchie Blackmore's RAINBOW. But he's also a member of The FERRYMEN and CORELEONI. How he succeed to get the time is a mystery to me. I guess he live and love music so much that he's ready to offer all his time to it. In other words a very devoted man that deserve all attention that he can get.
(Frontiers Music Srl)
lordsofblack.com
JUNE 7, 2018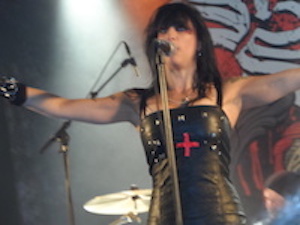 LiV SiN: Inverted - EP
Hm.. They are obviously doing something different with the 3 songs that we get on this EP. It's not the usual heavy metal, but rather some kind of laidback, almost acoustic pieces. But it's not worse because of that. It's still good.
They start with the DANZIG cover "Devil's Plaything". Now I have not heard the original version, so I can obviously not compare. But it sounds good to me anyway.
"Black Souls" must be a new song written just for this EP. I'm not really sure what I should compare this song with or how I should describe it. But it's another good song anyway.
They end the whole thing with "Killing Ourselves To Live", which is a song from their debut album, "Follow Me", that came out last year. But this is a completely different version. They have turned it into a half-ballad (more or less) with piano and strings. Pretty o.k.
(Despotz Records)
livsinofficial.com
JUNE 7, 2018 Jizzy Pearl of LOVE/HATE: All You Need Is Soul - Album
Jizzy Pearl from the 90s hard rock band LOVE/HATE is back with a new solo album. Among his musicians are Dave Moreno (PUDDLE OF MUDD) on drums and LOVE/HATE guitarist Darren Housholder among others.
LOVE/HATE was apperantly very famous in the early 90s. But I can honestly not remember 1 single song from them. So I'm not the one who can compare this album with the old albums from that band. But I can at least hear that he has plenty of good songs here.
Among my favorites are the opener "You're Gonna Miss Me When I'm Gone". But that's just 1 of many great songs on this album. I would like you to know that there are not a bad song here. And that's really strong.
(Frontiers Music Srl)
facebook.com/JizzyPearlsLoveHate
JUNE 7, 2018 HOLLYWOOD VAMPIRES at Liseberg in Göteborg, Sweden on June 6, 2018
HOLLYWOOD VAMPIRES was formed in 2015 by rock legends Alice Cooper, Joe Perry (AEROSMITH) and film star Johnny Depp (who the other members are is unknown to me) as a tribute to the rock stars who died in the 70s. Sounds like a cool idea, so I went to see their show, and hoped I would hear lots of classics from the 60s and 70s. But unfortunately it wasn't as cool as I expected it to be. I don't have a clue what those 3-4 first songs was. But after that it was much better, with some stuff that I know (and not just from the 60s/70s) - The DOORS, AC/DC, MOTÖRHEAD and THE WHO. Unfortunately they had to destroy the party with a stupid drum solo. And after that I'm not really sure what they played, but there was 1 song by Alice himself, as well as a bad cover of AEROSMITH.
They had already been playing for over an hour when I had to catch the bus back home. And while I left they played "Heros" by David Bowie, with Johnny Depp on vocals (yes, the other guys also sang, and not just Alice). And even though I had left, I could hear that they played the old classic "Train Kept A-rollin", which have been recorded by several bands, like The YARDBIRDS, AEROSMITH and MOTÖRHEAD, just to name a few. I could also hear "School's Out" while I was waiting for the bus.
Well, this was far away from the best concert in my life. It would probably have worked a lot better at a night club instead of a large stage at an amusement park. And the band was trying so hard to be as cool as possible, that it almost became pathetic. I read a review of this show, and that man was so dissapointed that he said that the music died that day.
As I'm a very short person, and there was thousands of people, I didn't succeed to take any photos (hardly the first time). And then we also have the very irritating thing that people have to walk back and forth exactly where I'm standing. It's always an insane traffic of people when there's a show at Liseberg. And I hate it!
hollywoodvampires.com
JUNE 7, 2018 SVVAMP: Svvamp II - Album
Swedish power trio playing what you could call heavy psych rock, with inspiration from CREAM, Eric Bell-era THIN LIZZY, CREEDENCE CLEARWATER REVIVAL and CRAZY HORSE. But it's actually a mixture of styles and genres that we get here. So you should not be bored when you listen to this. And they definitely have their bright moments here and there. So if it's heavy rock and/or classic rock in the good old tradition that you are looking for, then SVVAMP might be a perfect band for you.
Release date: June 8, 2018 (RidingEasy Records)
facebook.com/SwampJKPG
JUNE 6, 2018 AVENGER: Blood Sports / Killer Elite - Album reissues
AVENGER was formed by 3 members from the British cult band BLITZKRIEG. And just like that band, they were a New Wave Of British Heavy Metal band, which you can hear on "Blood Sports", originally released in 1984. Most songs on this album are pretty melodic, but it's a very good album, that you definitely should check out.
"Killer Elite" was released in 1985. It's mainly a continuation of the first album. There's talk about a thrash metal direction on this album, but I can honestly not hear much of that. Both JUDAS PRIEST and ACCEPT have made harder songs than this, but not many would call those bands thrash metal because of that. This is also a very good album, with many good songs. So you simply have to check this out too.
Both these re-releases features previously unreleased bonus tracks.
(Dissonance Productions/Back On Black Records)
facebook.com/avengerukofficial
JUNE 5, 2018 Alberto Rigoni featuring Marco Minnemann: EvoRevolution - Album
Very normal to play a song that is 32,48 minutes long - NOT. And of course it has to be instrumental (more or less, except for some talking here and there) as well. Very boring to listen to for a guy like me, who want vocals and more normal length on a song.
The other song have a more normal length though, just 4 minutes. But it's also instrumental. So it wasn't much more fun.
This is a solo project with the Italian bassist Alberto Rigoni (co-producer of VIVALDI METAL PROJECT, founder of BASSISTS ALLIANCE PROJECT, ex-TWINSPIRITS). "EvoRevolution" is an prog/rock/ambient concept album, which also features drummer Marco Minnemann (The ARTISTOCRATS, Paul Gilbert).
Well, if you prefer difficult music before normal music, then this might be a album for you.
Release date: June 8, 2018 (AR Music Production)
albertorigoni.net
JUNE 5, 2018 INJECTOR: Stone Prevails - Album
INJECTOR was born in 2012 in Cartagena, Spain. Their first demo, "Harmony Of Chaos", was released in 2013, and in 2015 they signed with Art Gates Records, who released the band's debut album, "Black Genesis".
Their sound comes from a blend of the most aggressive thrash metal and classic elements from heavy metal. And it's a really good mixture that satisfy my ears at least. So you should do yourself a favour and check this out.
The only thing I can complain about is the small detail that it would have been enough with just 8 tracks instead of 12. And that's hardly a major problem.
(Art Gates Records)
facebook.com/InjectorThrash
JUNE 4, 2018 FANTASY OPUS: The Last Dream - Album
Power/Prog metal from Portugal. This is said to be "a gigantic leap in terms of production, style, image, lyrics, heaviness and overall content from their predecessor. The main element of the whole album is the sea as a metaphor, and all tracks are built around this element." It could be something for fans of SYMPHONY X and ANGRA, but there's also pieces of DREAM THEATER and CACOPHONY.
11 tracks in 70,44 minutes is what we get, and it sounds really good to me. This is something that both fans of power metal and progressive metal can like. But it's a extra plus if you like both genres of course.
Release date: June 8, 2018 (Pure Steel Publishing)
facebook.com/FantasyOpusOfficial
JUNE 4, 2018 DEFIATORY: Hades Rising - Album
Swedish thrashers DEFIATORY started in 2015, when guitarist Ronnie Björnström left the death metal band AEON. He soon found singer Martin Runnzell, and within 1 week they released their first demo track, "Furor Unleashed". After that they found some more members to complete the lineup, and released their debut album, "Extinct", in 2016. Now their second album, "Hades Rising", is here.
..and what a great album it is! They mainly take their influences from the classic Bay Area thrash scene. It's a perfect combination of aggressive as well as more rythmic and melodic parts. Perfect if you ask me. This is not just another old-school thrash band without any variation. Oh no. You won't get bored when you listen to this. Yet another fantastic thrash band from Sweden!
(Black Lion Records)
defiatory.se
JUNE 3, 2018 DEFIANT: Insurrection Icon - Album
This band comes from Croatia, and they are pretty good. Maybe not the best band in the world, but definitely worth a chance at least. Nothing is bad on this album anyway.
The band formed in 2005, and their music is death/black metal in the same mood as BEHEMOTH, VADER, HATE and DECAPITATED. So if that's something that you like, then you probably know what to do.
They have released 3 albums before this one, and I actually don't have much else to say..
(Art Gates Records)
facebook.com/defiant.croatia
JUNE 3, 2018 DEATH STRIKE: Fuckin' Death - Album reissue
Most of these 8 songs are around 2-3 and a half minutes. But there's also a few who are 6-7 minutes. This is good stuff, but for some reason it's like I know this band after the 4 first songs, and get a little bored. I have not figured out why, but the problem is obviously mine. Becuase as I said earlier, it's good stuff.
DEATH STRIKE was formed in Chicago, IL, USA, in September 1984 by Paul Speckmann (MASTER, FUNERAL BITCH) and Chris Mittleburn (MASTER, SINDROME). So they were obviously one of the earliest extreme metal bands. The first 4 songs comes from a demo tape that they released in 1985, which had a massive impact in the extreme metal underground scene. It's nowadays considered as one of the very first death metal recordings. Where the last 4 songs comes from is unknown to me, but it seems like this record has been released on CD in 1991 already.
(Vic Records)
facebook.com/Death-Strike-167679447659
JUNE 3, 2018 GRÁ: Väsen - Album
Pretty good black metal in the old school. Mainly in Swedish. But there's also a couple of songs in English. And for some reason I like the Swedish songs better. Not that the others are bad.
GRÁ was founded in Stockholm, Sweden in 2010 by Heljarmadr (DARK FUNERAL, CURSED 13, DOMGÅRD) and Dimman. "Väsen" is their 3rd full length album, which will be available on CD and digital formats to begin with. It will be released on LP in the fall.
(Carnal Records)
grahorde.com
JUNE 2, 2018 GLUTTONY: Cult Of The Unborn - Album
Well, if it's old-school death metal without any surprises at all that you're looking for, then I have found the perfect band for you my friend: GLUTTONY.
This is a Swedish band with 3 members from MY OWN GRAVE and 1 from SETHERIAL. GLUTTONY has existed since 2009. Their first demo, "Coffinborn", was released in 2012, and followed by a EP. In 2014 it was time for their debut album, "Beyond The Veil Of Flesh". They also released a split CD with SORDID FLESH in 2016. And now their second full length is here. Simply a must for every true fan of what I described in the beginning.
(Vic Records)
gluttony.se
JUNE 2, 2018 FRAGMENTS OF DESPAIR: Broken Lost Mistakes - Single
This band was formed in Paros (which I think is in Greece) in 2013, and they have just recently released their debut album, "Broken Lost Mistakes". And as you might have figured out already, that's exactly where this song comes from.
This is unfortunately a song that I never seems to be able to remember. It's like it just goes in and out of my head. But it's hardly the first time that happens. While I listen it sounds like some kind of groove/macho metal, and that's not my favorite genre anyway.
(Label unknow.. Self released?)
facebook.com/Fragmentsofdespair
JUNE 2, 2018 MEGADETH: Killing Is My Business...and Business Is Good - The Final Kill - Album (Deluxe Reissue)
Well, I have to be honest with you and admit that this is another classic album that I have never had, and therefor not have heard before. So I guess it was about time then, now that it will be released again.
This was the band's debut album, and this version has been completely restored to band leader/frontman Dave Mustaine's intended vision. It reveals unheard parts and performances throughout the record. Except for the whole album, you also get 7 live tracks from an old VHS tape that Dave found in his attic. You also get their 3-track demo from 1984, as well as the once removed cover of the Lee Hazelwood classic "These Boots" - A total of 18 tracks and over 70 minutes of music.
Release date: June 8, 2018 (Century Media/Legacy Recordings)
megadeth.com
JUNE 1, 2018 The PROFESSIONALS at Liseberg in Göteborg, Sweden on May 31, 2018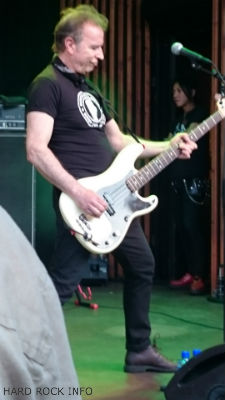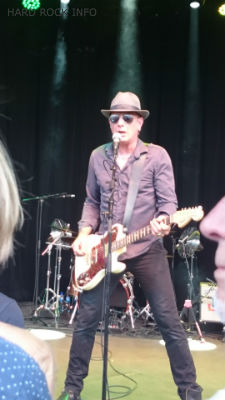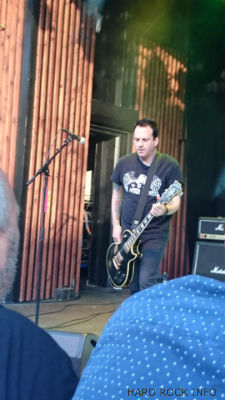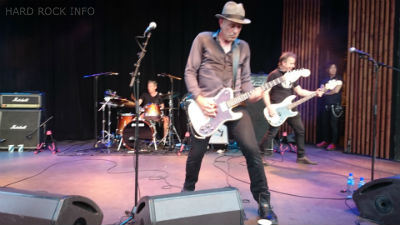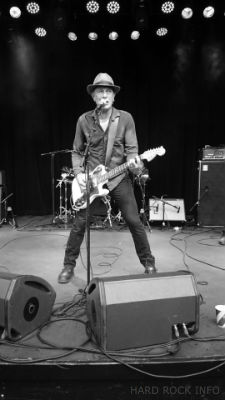 The PROFESSIONALS comes from U.K., and is the band that Steve Jones and Paul Cook formed after SEX PISTOLS split up. Now they are back, but without Steve Jones, and released a new album a while ago that was pretty good. They have a few old classics that I really like, but not much else. The rest of the songs that I have heard have just been good or o.k.
But that didn't stop me from going to see them when they played just about an hour away from home. And they played some of the songs that I really like, as well as some songs from the new album that I like too. But they also did "Silly Thing" from the soundtrack to "The Great Rock n Roll Swindle", and surprised us with the SEX PISTOLS classic "Bodies" as an encore. Brilliant!
As you can see on my photos, they are not exactly young anymore. But that didn't stop them from doing a good show. This band is definitely not finished yet.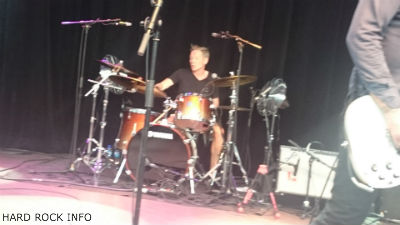 JUNE 1, 2018
Take Me To The Top
Back to page 3
---
This site has been online since 2001.
All reviews and photos/images by Jimmy Blom.