REVIEWS 2018 (Page 2)
Back to page 1


SLAVERIET: När Röken Lagt Sig - EP
3 out of 4 of the members have previously played in a punk rock band called FROST (2000 to mid-2000s). But now they continue the journey with a new, female singer called Loppan (ANGELPISS). Some members has also played in Swedish bands like DENY, CARPE DIEM, COSA NOSTRA and ASTA KASK. And that might give you an idea of what SLAVERIET might sound like.
I would describe this as melodic punk rock, close to what we in Sweden call trallpunk. And I really like what I hear. This is absolutely something that you should check out. Another new punk band that is great.
These 4 songs are a first taste of what to come. A full length album will be released in the winter.
(Second Class Kids Records)
facebook.com/Slaveriet
MARCH 24, 2018 Rick Parfitt: Over And Out - Album
This man have, together with Francis Rossi, put himself in the book of rock forever thanks to STATUS QUO. Unfortunately he died on Christmas Eve 2016. But before he died he had been working on his first solo album, which is being released now. He had luckily recorded all his parts, and was very clear that the album should be released no matter what happened to him. Among the guest artists are people like Brian May (QUEEN), John Lancaster (STATUS QUO) och John "Rhino" Edwards (STATUS QUO).
No problem with the 3 first tracks, which gives us some melodic rock n roll. But after that comes "When I Was Fallin' In Love" (just the title should be a warning sign), and then it suddenly reminds more of something like Roy Orbinson than a good old rocker. But after that little "mistake" it's back to rock n roll business again. ..for 1 song at least. Then it's suddenly time for a ballad. The 4 last songs are good rock n roll though, so 2 bad songs out of 10 is really not that bad. How many solo albums have not turned out to be a total joke for example? This is not 1 of those albums at least.
This is a album for those who want real classic rock n roll. 10 brand new songs. No covers or re-recordings of STATUS QUO songs.
(earMUSIC)
MARCH 24, 2018 PARKWAY DRIVE: The Void - Single
Australian, melodic metalcore band PARKWAY DRIVE will release their 6th album, "Reverence", on May 4. And that's where this song comes from. A hard and heavy, but yet melodic piece, with lots of metal riffs. Not bad at all. I like it.
The new album is described as "the most sonically adventurous and emotionally intense effort yet". "It has been born through pain, sacrifice, and conviction", says 1 of the members.
The band will return to Europe and the United Kingdom this Summer to play some of the biggest festivals on the continent, as well as a handful of headlining shows.
(Epitaph)
MARCH 24, 2018 HOT SNAKES: Jericho Sirens - Album
This reminds me a little of early The HIVES - Punky garage rock with a lot of young energy. They don't have the same hit potential as them though, but it's definitely not bad. This kicks arse!
Their songs are between 1-4 minutes, so this album is over pretty fast as most tracks are around 2 and a half to 3 minutes. But short and sweat is always better than long and boring when it comes to music.
Even though I call it punky garage rock, they call their music post-hardcore. I'm pretty sure that you will hear both and a little bit more when you listen to this.
It seems to be their first new album in as much as 14 years.
(Sub Pop Records)
facebook.com/HotSnakes
MARCH 24, 2018 QFT: Aliens - Single
Debut single from THERION singer Linnéa Vikström, who now goes solo with QFT (Quantum Field Theory). And this is something totally different from what THERION are doing. More like some kind of melodic hard rock/AOR. Very catchy stuff that even pop fans could like.
It's a good song, so the upcoming album, "Live In Space", can be interesting to hear.
(Despotz Records)
facebook.com/QFT.band
MARCH 22, 2018 BAD BREEDING: Abandonment - Single
New, young anarcho punk band from UK. It sounds like some alternative band from the 90s or something like that. Pretty noisey. This will nail you to the wall for 2 and a half minutes.
BAD BREEDING will release their new EP, "Abandonment", on April 27. This is a first taste of that. The EP will be available on vinyl and digital.
(One Little Indian Records)
facebook.com/badbreedingband
MARCH 22, 2018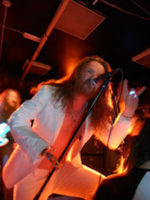 ABRAMIS BRAMA: Vem Är Du? - Single
On April 20 Swedish heavy rock veterans ABRAMIS BRAMA will finally release a new album, "Tusen År". And that's where this song comes from. A catchy rocker who ask the question: Do you know who you are? A always relevant question I suppose.
This is a really good song, so check it out while you wait for the new album. I have already heard the new album, and I can tell you that you will find more great songs there (review next month).
(Black Lodge Records)
abramisbrama.com
MARCH 22, 2018 HELLAVISTA: Robolution - Album
Austrian groove/thrash metal band who says that they are "straight from the earth's core - sent by the devil himself as his orchestra - to set the world on fire". How fucking silly! Kind of hard to take a band like that seriously. Especially when the singer calls himself Dirty Harry. How stupid.
Luckily their music has nothing to do with that crap. The members comes from different other bands, which have been playing together with bigger bands like MESHUGGAH, NAPALM DEATH, The HAUNTED and GRAVE. They are good musicians who seems to know exactly what they are doing.
Release date: Mar. 23, 2018 (Art Gates Records)
facebook.com/hellavista
MARCH 21, 2018 GREYSTONE CANYON: While The Wheels Still Turn - Album
So, the reason why I got interested in this record was because they said that it was something for fans of Ozzy Osbourne, MEGADETH and BLACK LABEL SOCIETY. Now it might not sound exactly like any of those bands, but I guess they're not so bad anyway.
They have a tendency to mix their heavier hard rock/metal with some Southern rock. But mainly it's just hard rock and/or metal.
(Rockshots Records)
facebook.com/greystonecanyon
MARCH 21, 2018 FUZZ LORD: Fuzz Lord - Album
The name of this trio from Chillicothe, Ohio should give you a hint of what they sound like. Stoner/doom with heavy guitars, and the speakers on 11. But they succeed to be a bit catchy as well, so it's definitely not bad at all.
The 2 first tracks are not more than an o.k. introduction. But after that they become much better, and present many good songs. People who like it heavy should definitely try this. This is 10 times better than all those shit heavy and monotonous bands, that we seems to have hundreds of nowadays.
Release date: Mar. 23, 2018 (Fuzzdoom Records)
MARCH 21, 2018 ELIMINATOR: Last Horizon - Album
"Eliminator" is a classic album by ZZ TOP. But this has nothing to do with those old veterans. No, this is heavy metal.
ELIMINATOR started mainly because 2 guitarists, Jack and Matt, wanted to play live. And their first gig took place in 2008. They soon had enough original material to record their first EP, "We Rule The Night", which was released in 2011. It was followed by a 7" single in 2012 and a demo in 2015. And now in 2018 they finally release their debut album.
When bands sing about the future, it use to be something like 20 years into the future at least. But this band have done a song about next year. I'm not really sure what they mean by that, but I think it's an old song.
The music we get is best described as pure British heavy metal in the good old tradition. So if you like that, then this is a band that you definitely must check out. Because these 8 tracks are really good stuff.
Release date: Mar. 23, 2018 (Dissonance Productions)
facebook.com/eliminatorheavymetal
MARCH 21, 2018 DEAD OF NIGHT: The Evolving Science Of Self - Album
Ever heard about "female-fronted symphonic metal" before? I bet you have! And if you don't like that, then you can stop reading now. Because this band doesn't have much new to add to this genre. To me they sound more or less the same as about a hundred other bands. But they seems to be very good at what they are doing. And it would not surprise me if you will hear more about this band in the future. So this is of course worth a try for all fans of symphonic metal.
The band comes from various parts of the UK, and was formed in 2013. "The Evolving Science Of Self" is their 4th album, and it consist of 12 songs.
Release date: Mar. 23, 2018 (Pride & Joy Music)
deadofnight.co.uk
MARCH 20, 2018 Jari Tiura: King Of Lions - Album
Jari Tiura is a former singer for MICHAEL SCHENKER GROUP, and current singer in STARGAZERY and the new band CENTURY LOST (debut album later this year). "King Of Lions" is his first solo album. The music is a mixture of melodic hard rock and AOR. So more or less the same as what he has been doing before. And people who like that should not be dissapointed when they hear these 9 tracks, because he have made many good songs for this solo debut.
Release date: Mar. 23, 2018 (AOR Heaven)
jaritiura.com
MARCH 20, 2018 LAST DAYS OF EDEN: Chrysalis - Album
Spanish symphonic metal band who try to spice it up with some folk music. And they don't just use bagpipes, violins and whistles, but also a full symphonic orchestra. Still I think they sounds more or less the same as 50 other symphonic bands. And there's not much variation between the songs either. To me it sounds more or less the same all the time. And for some reason this album seemes to last for an eternity.
But I can't say that they are bad, and I think it's a safe band for those who already like these kind of bands. They also seems to be very good at what they are doing. Definitely not any amateurs.
Release date: Mar. 23, 2018 (Pride & Joy Music)
lastdaysofeden.es
MARCH 20, 2018 DEATH ALLEY: Superbia - Album
DEATH ALLEY was formed in Amsterdam, The Netherlands in 2013. Their music isn't really like every other rock band's music. There's both psychedelic and progressive stuff here, but also all kinds of other stuff. In other words a wild mixture of a little bit of this and a little bit of that.
"Superbia" is their second studio album, but they have also released several 7" EPs and a live album. Today's lineup of the band includes members from The DEVIL'S BLOOD and IN SOLITUDE. Add those 2 bands to what I described earlier, and you might at least get a small idea of what they could sound like.
This is a band for those of you who like more odd and experimental rock bands.
Release date: Mar. 23, 2016 (Century Media)
deathalley.nl
MARCH 19, 2018


VÄRLDEN BRINNER: Slöseri Av Tid - Album
Debut album from a Swedish punk rock band that it has been some talk about in the Swedish punk scene lately. But not because of any scandals. People simply seems to like them a lot. And I like what I hear too. A lot! It's very catchy and melodic with female vocals in Swedish. They have many sing-a-long-friendly choruses. Punk rock with pop melodies you could say, but yet energetic. This is definitely a succees!
This is without a doubt 1 of the best new punk bands that we have here in Sweden.
Release date: Mar. 23, 2018 (Luftslott Records)
facebook.com/varldenbrinner
MARCH 19, 2018


THRONELESS: Cycles - Album
Why have they put the vocals in the background? I don't really get that. It sounds a little stupid and weird when you get a fat wall of guitars and can hardly hear the singer.
The second track start atmospheric and instrumental, but after a couple of minutes the heavy guitars are there again. After almost 5 minutes they finally let the singer come in.
Well, "Senseless" was a suitable title. Because by the 3rd track I'm getting really tired of the same monotonous guitars and long instrumental parts. This is the shortest song though. "Just" 6 and a half minutes.
The last song torture my soul for as long as 14 fucking minutes, and now I'm insane. Thanks a lot!
It's obviously very long pieces of psychedelic doom metal that we have to deal with here. But if you have nothing against that and like it really heavy, then go ahead. I must check in to the madhouse now.
Release date: Mar. 23, 2018 (Black Bow Records)
MARCH 18, 2018


MAIDAVALE: Madness Is Too Pure - Album
I really liked their first album, but I don't really know what to think about this second album. I get a feeling that it's even more psychedelic than last time, and I'm not really sure if I really like that. It's more HAWKWIND and PINK FLOYD somehow. Not that they sound exactly like any of them. It's actually said to be a step closer to kraut rock and post punk bands like NEU!, AMON DüüL II, PUBLIC IMAGE LTD and SIOUXSIE AND THE BANSHEES. A description that just makes me confused.
No, this band is doing their best to both look and sound like it was still the late 60s. And I must say that they definitely succeed with that. And even though I complain a little, this album is actually not so bad after all. But it took something like 4-5 listenings before I could admit that.
Release date: Mar. 23, 2018 (The Sign Records)
maidavaleband.com
MARCH 18, 2018


HIGH PRIESTS: Spinning - Album
Yet another band with a singer from the madhouse. Sounds like some kind of grunge punk. Like a noisey NIRVANA on bad crack or something like that.
HIGH PRIESTS is a Chicago trio who was formed in 2013 by former and current members of The BROKEDOWNS, WIDE ANGLES and POST CHILD. They didn't really have any direct goal but to make noisey and discordant music. And well, noisey it is.
Release date: Mar. 23, 2018 (Triple Eye Industries)
MARCH 18, 2018


COILGUNS: Millennials - Album
How should I describe this crap then? Noise rock? Avantgarde? Experimental hardcore? All I know is that it's damned boring to listen to, and that it gets on my nerves. This is definitely not good for your health.
Release date: Mar. 23, 2018 (Hummus Records)
facebook.com/coilguns
MARCH 18, 2018


NALE: Death. Skulls. Satan. - Album
Metal in the hard and heavy school. But not doom or sludge or anything like that this time. But there's fast tracks too here, so there's definitely variation.
For some reason they say that this is a unique blend of metal, punk and rock n roll. And they also claim that it's something for rockers not into metal and vice versa. I don't really agree. I can't here that much punk in this band's music, and it doesn't rock enough to be interesting for a rocker. This is most of all a metal band. Simple as that!
I guess that people who like ENTOMBED's death n roll period around the "Wolverine Blues" album will like this band. Not exactly the same thing though. This is more like groove metal mixed with death n roll, or however I should describe it. Other people might hear something totally different. But that's what it sounds like to me anyway (and hopefully I'm not totally wrong).
NALE comes from Sweden, and have previously released 2 EPs and 1 album.
Release date: Mar. 23, 2018 (Black Lodge Records)
naleband.com
MARCH 17, 2018


MYRHOLT: Vinter - EP
Well, this is old school black metal from Norway, so it should be good. But I don't really know what to think about these 2 songs. It might not suck completely, but it's far away from the best that I have heard from Norway. And the songs are very long, 10,13 and 7,17. Pretty monotonous as well, which is nothing unusual in this genre.
No, I have definitely heard better.
(Self released?)
olealexandermyrholt.com
MARCH 17, 2018


Jack White: Over And Over And Over - Single
Hm.. Some kind of rocking hip hop? Or what should I call this? Hardly the good old bluesy rock that he used to play anyway. I'm not really sure if I like his new direction. And that's simply because it's not the kind of stuff that I use to listen to. But the funny thing is that when I have been listening a few times, it's not so bad anymore as I think it was the first time I heard the song.
His 3rd solo album, "Boarding House Reach", will be released on March 23. And that's where this song comes from.
(Third Man/XL Recordings)
jackwhiteiii.com
MARCH 16, 2018


HIIDENHAUTA: 1695 - Album
Some kind of melodic black metal in Finnish. Piano pieces like "Musta Leipä" and "Nimettömät" is pretty useless. But as long as they concentrate on black metal, I guess it's pretty o.k. stuff. Not much else though.
We get mainly harsh male vocals, but there's also some clean female vocals here and there.
HIIDENHAUTA comes from Satakunta, Finland, and formed in 2012. Already in 2013 they released 2 EPs. And their first full length was released in 2014. But it's not until now that their second album is here.
Release date: Mar. 16, 2018 (Inverse Records)
facebook.com/pg/Hiidenhauta
MARCH 16, 2018


TWINGIANT: Mass Driver - Album (Reissue)
Not the most rewarding I have been listening to. I guess what disturb me most is the vocals. This dude is hardly a good singer. The music is o.k. though. But not much more than that. It often end up in a bloody mess on the border to chaos. And that stuff doesn't impress me.
It's loud and heavy. Sometimes almost psychedelic. But unfortunately this is more like some guys jamming than any real songs. You will hardly find anything catchy to sing-a-long to on this album.
This is actually a re-issue. But I have no information of what year it was originally released. It will be available on CD, LP and digital anyway.
"Mass Driver" is a conceptual album about a drunken space hobo who passes out in a garbage barge when he is jettisoned out into deep space. The songs detail his hangover nightmare as he attempts to return to a dumpster on planet Earth.
Release date: Mar. 16, 2018 (Sludgelord Records)
MARCH 16, 2018


EXEKUTION: The Worst Is Yet To Come - Album
This is a thrash metal band from Tarragona, Spain, who formed in 2007, and this is their second full length. Fans of bands like SODOM, early KREATOR, DESTRUCTION, NUCLEAR ASSAULT, SLAYER, MUNICIPAL WASTE and TOXIC HOLOCAUST should not be dissapointed when they hear this band. But what makes this band special is that they sing in Spanish sometimes. Most of the songs are in English though. Definitely worth checking out.
Release date: Mar. 16, 2018 (Thanatology Productions/Tales From The Pit Records)
MARCH 15, 2018


XENOBLIGHT: Procreation - Album
XENOBLIGHT is a Danish extreme metal band. The band was formed as late as last year, but they are already ready to release their first album, "Procreation".
If you think that a band like ARCH ENEMY are too melodic, then you should try this band instead. Sure there are melodies, but this band is more brutal. More death metal than melodic death metal, if you get what I mean. And this woman can sing just as good as both Angela Gossow (ex-ARCH ENEMY) and Alissa White-Gluz (current ARCH ENEMY singer).
It's definitely not bad. I like this. You should definitely check this out.
(Distributed through Grand Sounds Promotion)
facebook.com/Xenoblight
MARCH 15, 2018


VELVET VIPER: Respice Finem - Album
I didn't really like this the first times I heard it. It was something odd with her voice that sounded strange. But after listening to this several times, I have come to the conclusion that this is not so bad after all. They have some really good heavy metal songs here, even though everything might not be so great. My favorite is without a doubt "Shadow Ryche".
Their music is heavy and dramatic, but hardly slow. The band comes from Germany and includes ex-ZED YAGO singer Jutta Weinhold and guitarist Holger Marx. Producer was no other than Kai Hansen (GAMMA RAY, HELLOWEEN), and co-producer was Uwe Seemann, who also play bass on the album.
Release date: Mar. 16, 2018 (GMR Music)
facebook.com/VelvetViper
MARCH 15, 2018


PUNGENT STENCH: Been Caught Buttering/Club Mondo Bizarre/Dirty Rhymes & Psychotronic Beats/First Recordings/For God Your Soul... For Me Your Flesh - Albums (reissues)
This Austrian band is probably best known for their controversial album covers, which caused a lot of attention in the 90s, and made the kids interested in the band. But fact is that this is a band that I never have been listening to. And after listening to these re-releases, it's hardly something that I regret. Read what a amateur like me think about some of their albums..
"Been Caught Buttering" is the band's second album, which was originally released in 1991. And the whole album sounds like a demo tape. The music is probably best described as some kind of morbid thrash/death metal/grindcore. Not totally worthless, but 17 tracks is way too much of this. I get tired of it after just 5-6 songs.
"Club Mondo Bizarre" is the third album, originally released in 1994. It's a bizarre mixture of metal, mainly in the more extreme category. But they have actually tone down a bit on the death metal and grindcore from the previous albums, and it's a bit more crazy instead. It's said to be their strongest album, but as an PUNGENT STENCH amateur I don't really know. It's not totally useless, there's some o.k. stuff, but I find it hard to believe that I suddenly 1 day want to hear this album again.
"Dirty Rhymes & Psychotronic Beats" was originally released as a EP in 1993. It contained a couple of new songs, 2 covers and 2 remixes of the "Blood, Pus, and Gastric Juice" song, taken off the debut album, "For God Your Soul... For Me Your Flesh". To make it a full album, they have also included some live tracks here. These songs are not as extreme as their other records, but still metal of course. Well, most of it. That disturbing techno/house mix sucks old man's dirty arse, and it's definitely not metal. And there's also a couple of more tracks that sucks, who are not so metal. But otherwise it's probably the most normal record of these re-releases.
"First Recordings" is a compilation of miscellaneous early work from this band. The sound quality is not always the best, but I have heard worse in my life. The music on this record is a bit more punk somehow, but mainly their typical death/grind. The songs are not better or worse than any of their other stuff. 20 tracks is what you get.
And as said earlier, "For God Your Soul... For Me Your Flesh" is their debut album from 1990. And this album gives us more of their death/grind. There's at least a few listenable songs here, but it's hardly a masterpiece. This re-release gives us as much as 38 tracks (!), so most of it is obviously bonus tracks (mainly live tracks). Value for the money anyway, but still way too much for me.
..and there will be more re-issues with PUNGENT STENCH.
Release dates: Mar. 16, 2018 (Dissonance Productions)
pungentstench.net
MARCH 14, 2018


OWL MAKER: Paths Of The Slain - EP
Debut EP from a southern Connecticut trio who formed in late 2016. 6 tracks is what we get here, but I'm not sure what I should call their music. It's not bad, but they seems to go in different directions. First a few songs of this, and then a song like that, followed by yet another direction. I guess it's supposed to be some kind of alternative hard rock/metal though. But as I said, I'm not really sure.
This EP is released digitally to begin with, but will get a physical release later this year.
Release date: Mar. 16, 2018 (Self released)
MARCH 14, 2018


PESTILENT REIGN: Pyres - Album
Debut album with a German modern death metal band. They have previously released 2 EPs, and their influences comes from bands like DYSCARNATE, PSYCROPTIC, DYING FETUS, ABORTED, MISERY INDEX and REVOCATION.
This is the way modern death metal should sound like according to me. They seems to have found the perfect balance between the hard and heavy brutality and the thrashy hooks. There's even some technical stuff, but nothing too advanced.
Release date: Mar. 16, 2018 (Rising Nemesis Records)
pestilentreign.bandcamp.com
MARCH 14, 2018


DEFECTO: Nemesis - Album
This album got a little bit of everything. It's hard and heavy, melodic and progressive. But I would say that the backbone is powerful heavy metal. Not the classical 80s heavy metal though. Those fans might not like this. But I'm pretty sure that those who like melodic metal and/or progressive metal will have a nice time in this company.
DEFECTO are said to be the newest and finest addition to the melodic and progressive metal scene in Denmark, and this is their second album. They are also said to be the most promising Danish metal band since VOLBEAT. This band is at least far more interesting than VOLBEAT, who sound more or less the same everytime I hear them somewhere. But now we can't really compare DEFECTO with a band who doesn't even play the same kind of music.
I might not always be so friendly when it comes to progressive music, but I actually like what I hear here. These guys are really good at what they are doing, AND they know how to make good songs too. In this case that's enough for me.
Release date: Mar. 16, 2018 (Black Lodge Records)
defecto.dk
MARCH 13, 2018


UNRULY CHILD: Unhinged, Live From Milan - CD/DVD, Blu-ray
Do they have that Frontiers Rock Festival just so that they can make live releases with their artists? I'm not really sure how many bands that have released a live album and/or DVD from that festival, but it's definitely more than 3 at least. Well, if they think it's funny, just let them do it.
On this recording they perform their entire debut album from 1992, as well as some other classics. But it's actually a little hard to hear what the singer mumble about between the songs. I guess it's nothing important anyway. The music is very melodic hard rock. Many love songs. So if you like that, then this might be worth your money.
(Frontiers Music srl)
facebook.com/unrulychildband
MARCH 12, 2018


SHIRAZ LANE: Carnival Days - Album
Saxophone? And then they start to jazz.. Unusual beginning of a hard rock album. But while you have your dance shoes on you might as well dance. Because what we get here is really good melodic hard rock with melody and passion. But they mix it up with some other elements too once in a while (like that saxophone/jazz thing for example).
This is the band's second album, and it was made in collaboration with Swedish producer Per Aldeheim (DEF LEPPARD, SOILWORK, LAMBRETTA).
It seems like these guys are ready to fight with the more well-known bands.
(Frontiers Music srl)
facebook.com/ShirazLane
MARCH 12, 2018


REVERTIGO: Revertigo - Album
REVERTIGO is a Stockholm-based duo formed by Mats Levén (vocals, CANDLEMASS, ex-TREAT etc) and Anders Wikström (guitar, TREAT). They have been close friends for nearly 30 years, and have been talking about making music together again for many years. But it wasn't until 2016 that they finally had the time to start writing songs. And now in 2018 their debut album is here.
Mats and Anders play all the instruments except for drums, which was performed by their friend Thomas Broman (GREAT KING RAT, Michael Schenker, ELECTRIC BOYS). And the music they have created is a blend of heavy, yet melodic crafted songs paying tribute to favourite albums and artists from the 70s, 80s and up to present day. In other words really good hard rock with parts from both the past and today.
(Frontiers Music srl)
facebook.com/ReVertigoOfficial
MARCH 12, 2018


DUKES OF THE ORIENT: Dukes Of The Orient - Album
Progressive rock that fits perfect on a boring day (like it was when I wrote this). No over-ambitious stuff to show how brilliant they are or anything like that. Just 8 really good songs that should please fans of ASIA, YES, TOTO and similar stuff.
DUKES OF THE ORIENT is a collaboration between a British dude who loves American AOR and an American who loves British progressive rock. In other words vocalist John Payne (ex-ASIA, GPS) and keybordist Erik Norlander (LAST IN LINE, LANA LANE). It has taken them 10 years to make this album. And among the other musicians are Jeff Kollman, Guthrie Govan, Moni Scaria, Bruce Bouillet and Jay Schellen.
(Frontiers Music srl)
dukesoftheorient.com
MARCH 12, 2018


CORELEONI: The Greatest Hits Part 1 - Album
CORELEONI might sound like something Italian, but is a project founded by GOTTHARD guitarist Leo Leoni to pay a very personal tribute to his rock n roll past. If I got it right it's early songs by GOTTHARD that they don't play anymore. But there's also 1 new song: "Walk On Water". Singer is Ronnie Romero (LORDS OF BLACK, RAINBOW).
Now I have not heard anything with GOTTHARD (as far as I know), so I'm not the one who can compare these new versions with the old ones. But this reminds me a lot of WHITESNAKE actually. Bluesy hard rock in its best mood.
My favorite on this album is without a doubt "Downtown". What a hit! Why haven't I heard that song before?
(Frontiers Music srl)
facebook.com/coreleoni
MARCH 12, 2018


ANIMAL DRIVE: Bite! - Album
Hailing from Zagreb, Croatia, ANIMAL DRIVE were formed in 2012 by singer Dino Jelusic, who is the primary songwriter and driving force behind the band's sound. Dino was chosen by the late Paul O'Neill to tour as a featured vocalist on TRANS-SIBERIAN ORCHESTRA's most recent U.S. tour, where he crossed paths with the legendary singer Jeff Scott Soto (Yngwie Malmsteen, JOURNEY, TALISMAN, S.O.T.O). Jeff then introduced Dino and his band to Frontiers Music, which was so impressed that they signed the band.
And I can understand why. This man can really sing. A very powerful but yet melodic voice that fits perfect for this kind of heavier hard rock. Their influences are SKID ROW around the "Slave To The Grind" era, heavier stuff with WHITESNAKE and even a little DREAM THEATER.
(Frontiers Music srl)
animal-drive.com
MARCH 12, 2018


SABER TIGER: Bystander Effect - Album (Expanded Edition)
SABER TIGER was founded back in 1981 already, but I'm not sure how many of their records that have reached the rest of the world (if any at all). It's pretty obvious that this Japanese band is trying to make great classic heavy metal anthems. And well, it's not bad. They have some good songs here. No doubt about that. But it's hardly any future classics that we get here.
This is a re-issue for the international market. 4 of the songs have been re-recorded with English lyrics (they were originally in Japanese). There's also a new recording of what is said to be a classic, "First Class Fool". And we also get a couple of demo recordings. A total of 15 tracks, which I think is a little too much.
Release date: Mar. 13, 2018 (Sliptrick Records)
sabertiger.net
MARCH 11, 2018


PARASIGHT: At Leve Som Hvis Der Var Et Håb - LP
A hardcore/punk fist straight in your face with greetings from Denmark.
PARASIGHT started in 2009 because of pure love for Swedish punk, D-beat and bands like MOTÖRHREAD and DISCHARGE. This is their second full length. The album title means "To live as there was any hope". I guess that says something about their view of life. The songs are political, with subjects like criticism against the system. All lyrics are in Danish. The music has equal parts of metal, punk and hardcore. But I think this is mainly something for fans of hardcore/punk. It's mainly hard and aggressive, but there's also room for melodies.
The album has been produced by the band themselves, but they let Swedish producer Fredrik Nordström (MARTYRDÖD, AT THE GATES etc etc) take care of the mixing. The sound is really good, and I like the songs, so this is something that you should check out.
(Indisciplinarian/Modstand Records)
facebook.com/parasightdk
MARCH 9, 2018


Rick Parfitt: Long Distance Love - Single
Before this legendary rocker from STATUS QUO died on December 24, 2016, he had been working on his first solo album, "Over And Out". He made it clear that he wanted the album to be released, no matter what. Luckily he had recorded most of his vocals and guitars before he died. So the album will now be released on March 23, and this is the first single.
This is a pretty melodic rocker. Very catchy. Fans of STATUS QUO, and especially Rick's songs, should not be dissapointed when they hear this.
(earMUSIC)
MARCH 8, 2018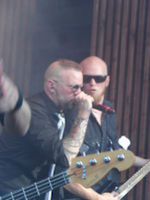 SPARZANZA: Whatever Come May Be - Single
Now it was a while since they released a single last time. This must be the 4th single from their latest album, "Announcing The End", which was released last year. A heavier and a little slower song. But I would not say that it's a bad song because of that. This is a pretty good song. But it might actually be the most different of the songs on the album. On the other hand, this Swedish hard rock/metal band has come so far into their career by now that they can do a little like they want to. And this song is proof of that.
(Despotz Records)
sparzanza.com
MARCH 8, 2018


VILE CREATURE: Cast Of Static And Smoke - Album
Well, this is hardly any happy adventure. Yet another band with hard and heavy long songs (8.52-13.36 minutes). Same riffs over and over again for an eternity, and a maniac who is screaming like he's ready for the madhouse instead of singing. We can't dig that, can we? Well, there are actually some maniacs who actually like this kind of stuff. Not that I can figure out why, but anyway.. And if you happens to be 1 of them, then you could always try this.
VILE CREATURE is a Canadian duo who play blackened doom metal. They have released 1 album and a EP before this record. It seems like it will be released on vinyl and a self released cassette (only 100 copies). But it will probably be available digitally too sooner or later I suppose.
Release date: Mar. 9, 2018 (Halo Of Flies/Dry Cough)
vilecreature.bandcamp.com
MARCH 8, 2018


WISHING WELL: Rat Race - Album
Many of these 10 songs sounds a lot like DEEP PURPLE and RAINBOW. Very good stuff of course. But there's also what you could call power metal ("Wheeling And Dealing") and almost doom metal ("Pilgrim Caravan"). Those of you who grew up with 70s and 80s hard rock and metal should not be dissapointed when you hear this.
This is the second album from this Finnish band. New members are Chilean vocalist Rafael Castillo and Arto Teppo on hammond organ. And I guess it's those 2 who are the reason why I think about DEEP PURPLE and RAINBOW when I hear this. No matter what, they have definitely taken it to the next level. Now it's just up to you to discover them.
(Inverse Records)
facebook.com/wishingwell2016
MARCH 8, 2018


JANGLE TOWN: A Love So True - Single
O.k., normally this isn't really something that might fit in here on Hard Rock Info. It sounds like some kind of alternative rock/power pop to me. But it's a very catchy piece that they have made, and I happens to like what I hear. I actually like this a lot. But I'm not so sure that I would want to listen to a whole album with this stuff though. I give them a good luck anyway.
JANGLE TOWN is a pretty fresh band (formed in 2016) from Skövde, Sweden, and this is their debut single. They call their music garage pop. Pop melodies from the 60s are mixed with garage and punk rock.
Release date: Mar. 9, 2018 (Cramada)
MARCH 7, 2018

FINNEGAN'S HELL: Life And Death - Album
It's not always so easy with the variation between the songs when it comes to this genre, which is called Celtic punk. And many of the songs by these bands use to be about drinking adventures. And I'm not so sure that the Swedish group FINNEGAN'S HELL is any different from the others, even though they try here and there. But it's definitely not bad anyway. They have many good songs.
And for you who are not familiar with what Celtic punk might be, it's like Irish folk music, but a little faster. The most well-known example is The POGUES. Some songs are more folk music, while others are more punk rock. But they always have that Irish touch.
And if you are looking for more Celtic punk rock from Sweden, then I would recomend you to check out SIR REG.
(Heptown Records)
finneganshell.com
MARCH 7, 2018


RHINO PROOF: Rhino Proof - Album
1 band that this makes me think of is EUROPE. And then I talk about what they sound like today, and not their 80s sound. But they also reminds me of the blues-based hard rock bands from the 70s, who was not afraid to let the hammond organ/keyboard take place in the sound. And they have some really good songs among these 11 tracks. So it could be worth a try if you like my description of this band.
RHINO PROOF comes from Finland, and this is their debut album. If they continue to be this good, then I won't say no to some more albums with them.
Release date: Mar. 2, 2018 (Self released)
rhinoproof.com
MARCH 6, 2018


ONDT BLOD: Natur - Album
ONDT BLOD could be translated to evil blood. But this is hardly that evil..
This band have a problem, as they combine hardcore/punk and some kind of American pop. That means that it will be very hard to find an audience. Because usually people don't like both genres (even though there might be a few). I don't really understand how these Norwegian dudes were thinking.
According to my opinion the best parts are when they play aggressive hardcore/punk, and those moments are way too few here. So why they have to destroy it with pop is a big question (that we probably never will get any answer to). But o.k., it's not worthless at least, and that's always something. But it's not a record that I want to keep.
Release date: Mar. 9, 2018 (Fysisk Format)
MARCH 6, 2018


THUNDERMOTHER: Thundermother - Album
You might know the story by now, but let's take it again.. In Spring 2017 4 of the members left THUNDERMOTHER, which left founder and guitarist Filippa Nässil alone. But she had no thoughts of giving up THUNDERMOTHER, and she soon found 3 new members for the band. It didn't take long before the first single, "We Fight For Rock N Roll", was released, and proved that we hardly had to worry about the future of the band.
After that they went on a European tour before they entered the studio to record the band's 3rd album, but the first with the new lineup. And what we get here is the usual AC/DC hard rock n roll that the band always have played. The biggest surprise is their first slow song, "Fire In The Rain". The sound is a little heavier and more powerful than before, but that's hardly something that should make people who like high-octane rock n roll dissapointed.
(Despotz Records)
thundermother.com
MARCH 5, 2018


BLACK DREAMS: Kiss The Gun - Digital Single
Heavy blues-driven metal/rock band who have succeeded to make a song that goes in through 1 ear and out through the other. No matter how many times I listen to this song, I just can't remember it. Sure, I have lots of other music to listen to. But if a song is good or bad, then I will remember that. This song is neither. It's just there for a while, and then it's like it just dissapear in the atmosphere or something until I listen to it again. Weird..
This Finnish group is currently working on their debut album. Let's hope that they have stronger material than this to come up with.
(Inverse Records)
facebook.com/BLACKDREAMSOFFICIAL
MARCH 5, 2018

TROUBLEMAKERS, NYA KRÖSUS and MÖGEL at Klubb Undergrunden/Pumphuset in Borås, Sweden on March 3, 2018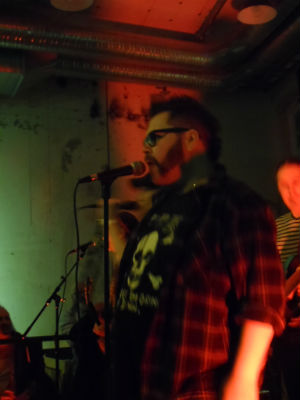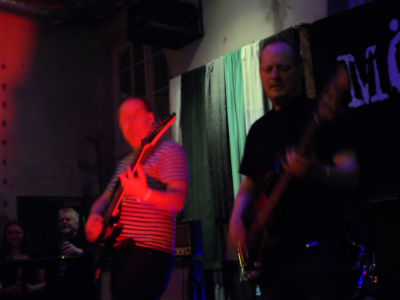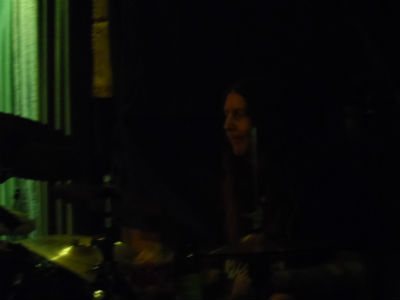 It's not too often that there has been any punk gigs here in Borås during the last years, but now it finally happened thanks to Klubb Undergrunden. And the first band this night was the local legends MÖGEL, who has not played here in many years. The band has existed since 1985 with different members. This time they decided to have 2 singers and 2 guitarists. I'm not really sure why they wanted to have 2 singers, but I guess it worked. Many old classics was played anyway, but also some newer stuff. I have liked this band for many years, and I liked what I heard here too. Simple as that.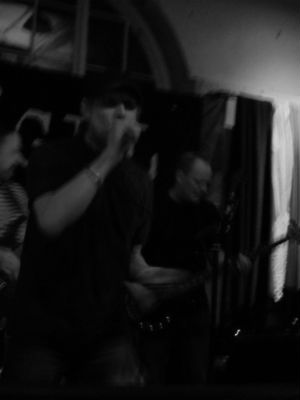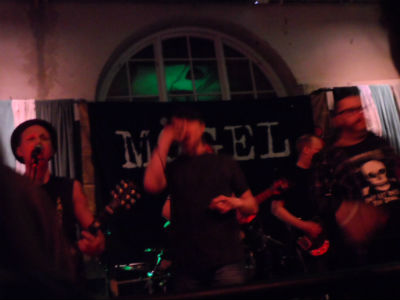 NYA KRÖSUS is a hardcore/punk band from Stockholm, Sweden with Patrik Arve from TEDDYBEARS. Why they have added NYA to the band name is a mystery though. Maybe it's becuse of their new colorful outfits? They definitely didn't look like a hardcore band. The music was definitely hardcore/punk though. No doubt about that. But I'm not sure how many people that actually like this kind of music here in Borås. I guess most people was there for MÖGEL and TROUBLEMAKERS, who play more catchy and sing-along friendly punk rock.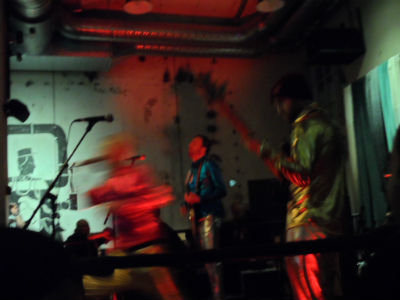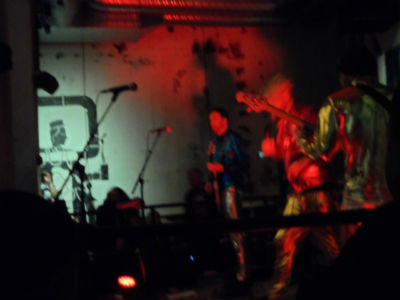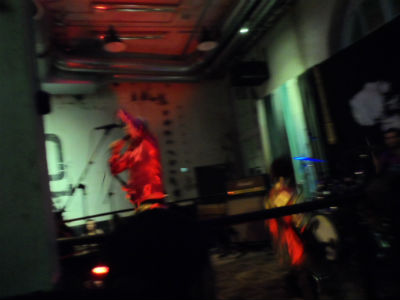 I don't really know how many times I have seen TROUBLEMAKERS live, but it's many times through the years anyway. And it's not often that they dissapoint me. They really know how to deliver a good show. And even though there wasn't more than 10-15 people last time they played in Borås, they still delivered a damned good show. There was much more people this time though (almost sold out, which means almost 200), and they did a really good job this night too of course. As usual it was a mixture of old classics and later material. This band has not made many bad songs, so I liked what I heard. No doubt about that.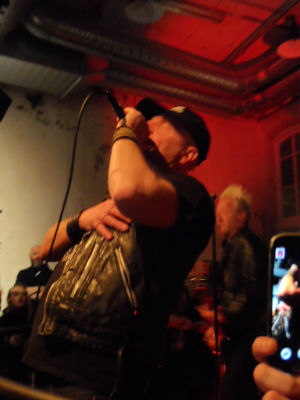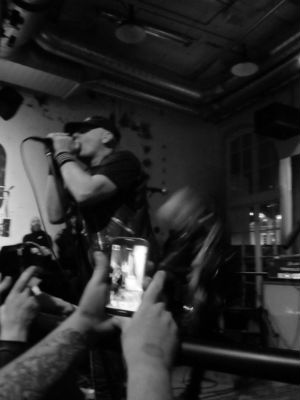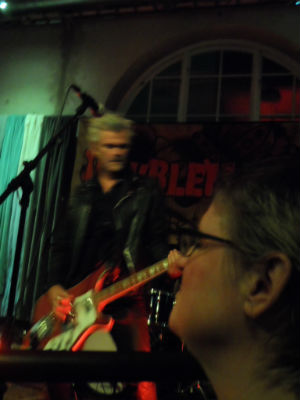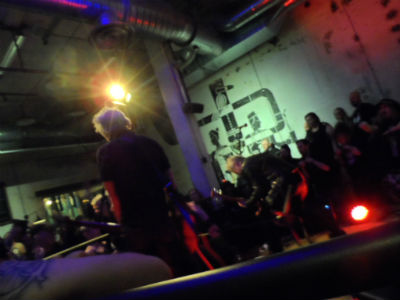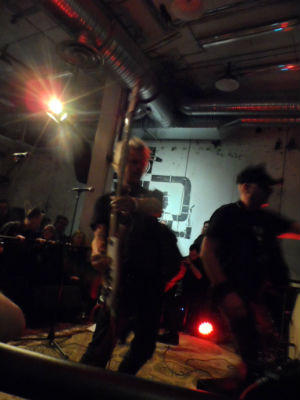 MARCH 4, 2018

TOWARDS ATLANTIC LIGHTS: Dust Of Aeons - Album
Hey guys, why don't we kick off the album with a song that is half an hour long? And then we add 3 more tracks who are between 4.23 to 16.35 minutes. Cool idea, huh? Well, that might not have been what they were thinking when they created this dark, atmospheric death/doom metal album, but anyway..
This is described as a doom metal supergroup, featuring members from bands like PANTHEIST, APHONIC THRENODY and VOID OF SILENCE. All totally unknown to me. So supergroup? I don't know.. But if I'm going to mention more unknown bands, then it's said that this will fit fans of BELL WITCH, MOURNFUL CONGREGATION, USNEA, SKEPTICISM, PANTHEIST, ILLIMITABLE DOLOR and JUPITERIAN. I think I have heard about 2 of those bands at least.
I'm very tired now after listening to this, so goodnight.
Release date: Mar. 5, 2018 (Transcending Obscurity Records)
towardsatlantislights.bandcamp.com
MARCH 2, 2018


KILLIBRIUM: Purge - EP
Death metal from India. I think they sounds very American though. It's definitely not the Scandinavian old-school style anyway. They have somehow found the perfect balance between the old and the new school, and I think it sounds very good actually. So this is of course worth a try.
KILLIBRIUM are said to be India's most exiting new death metal band and the next big thing in India. This is their first release, which gives us 6 powerful tracks. Check it out!
Release date: Mar. 5, 2018 (Self released)
killibrium.bandcamp.com
MARCH 2, 2018


SATANIC SURFERS: The Usurper - 7" EP
I got a demo with this band in the 90s sometime when I did a fanzine called Taskigt Drag. Fact is that they started back in 1989 already, which makes them veterans in the Swedish skate punk scene. They were touring in Europe, Canada, Japan, Australia and South America. But after that they went on a 8-year hiatus.
In the summer of 2015 they were back again, and played at some festivals before they went on tours to South America, Japan and Germany. "The Usurper" makes me think of MILLENCOLIN, and is the first taste of a new album, entitled "Back From Hell", which will be released on April 13. But you will also get the exclusive b-side "Skate, Don't Care", which you won't find on the album.
Let's just say that if you like Swedish bands like MILLENCOLIN and NO FUN AT ALL, as well as an American band like BAD RELIGION, then this is definitely something for you.
"The Usurper" is released both as a 7" vinyl and digital.
(Mondo Macabre)
facebook.com/satanic.surfers.official
MARCH 1, 2018


HELLANBACH: The Big H: The Hellanbach Anthology - Album (reissue)
Another re-release of a collection with a British heavy metal band. This anthology was originally released in 2002, and consist of 27 tracks.
HELLANBACH were often touted as the New Wave Of British Heavy Metal's answer to VAN HALEN. Thanks in large part to their crowd-pleasing party attitude and upbeat hard rock tunes. Yes, this is often more hard rock than heavy metal if I should be more correct. And most of these songs are very catchy stuff, so this could definitely please fans of VAN HALEN as well as fans of NWOBHM.
Well, they seems to have many good songs here, so this could be worth a try. Everything is not good though. I don't really get why they thought it was a good idea to do a cover of "Everybody Wants To Be A Cat" (from the Cats musical if I'm not totally wrong?). But luckily the bad songs are few.
(Dissonance Productions)
FEBRUARY 28, 2018


FIST: Back With A Vengeance - Album (reissue)
FIST are a heavy metal band from North East UK, and this is a re-release of a collection with them, which gives you as much as 33 tracks to listen to. This band was among the New Wave Of British Heavy Metal groups in the late 70s/early 80s, so fans of that era should find something interesting that they could like here. And you can't complain about too little variation here. In the beginning it sounds a lot like UFO in the 70s. But later on it's more like something from the 70s/early 80s with JUDAS PRIEST instead. And in "Where They Are" it sounds like the ska/pop band POLICE (it could be a cover of them, but I'm not sure).
There's a lot of great songs here, even though everything might not be excellent. But most of these songs are worth a listen at least.
(Dissonance Productions)
FEBRUARY 28, 2018


SVARTANATT: Starry Eagle Eye - Album
SVARTANATT have a classic rock sound that reminds of the 70s. But I can also hear some late The HELLACOPTERS somehow. I don't really know what else I can compare them with. But if you like 70s rock and hard rock, then you should definitely try this. They have many good songs here that I'm pretty sure that you will like.
And just to make this review a little longer, I wanted to find some more information about this band. But that was easier said than done. All I could find was that they are from Stockholm, Sweden, and it seems like they have released a self-titled album before (or if it was a demo?).
Release date: Mar. 2, 2018 (The Sign Records)
svartanatt.com
FEBRUARY 27, 2018


SPINY NORMAN: Spiny Norman - Album
This album was actually recorded back in the mid-70s, but it was never released. Not until now at least. But it could just as well have been a new album from 1 of all these retro bands that we have nowadays. Because it sounds very much as it would have been recorded in the late 60s instead.
The band came from Houston, and what we get here is a mixture of hard rock, progressive rock, psychedelic rock and even more rock. So you could say psychedelic rock with extra everything. It sounds more English than American actually. Like they would have been taking LSD with HAWKWIND, JETHRO TULL and PINK FLOYD. Except for the usual rock instruments (guitar, bass and drums) they also used instruments like mellotron, flute with echo effects and more stuff.
But it's a pleasant trip, that probably will make today's retro bands jealous.
Release date: Mar. 1, 2018 (RidingEasy Records)
FEBRUARY 27, 2018


OCEANS OF SLUMBER: The Banished Heart - Album
What shall I call this then? It's mainly pretty soft and emotional, even though there's a few outbursts with growl and hard and heavy music here and there. Most of these songs seems to be more pop than metal according to me. And this is not really my cup of tea. It's almost like the sound of when dreams and nightmares collide.
If you like more melancholy metal on the border to pop, then this might be a album for you.
Release date: Mar. 2, 2018 (Century Media)
oceansofslumber.com
FEBRUARY 26, 2018


OBSCURE: Zero Dawn - EP
OBSCURE is a Finnish band who was founded in 2015. They combine stoner rock and sludge metal, but other elements can also appear in their music.
These 3 songs are heavy but catchy. No song is better than the other. They are all good. Fans of stoner rock should definitely check this out.
I don't have much else to add as I simply don't know much else about them.
(Self released)
facebook.com/OfficialObscure
FEBRUARY 26, 2018


MIMIKRY: Grit - Album
It was ages since I was listening to more than 1 song with this band. And to my surprise I found as much as 3 CDs with them in my record collection (I thought I had just 1), which all came out in mid-2000. They have never been among the faster or rawer Swedish punk rock bands, but concentrate more on melody and being catchy. You could almost call it pop punk. And their lyrics are often more like little stories, and not always the typical punk subjects.
I didn't really know what to expect after all these years, but luckily this album sounds really good. And I'm almost impressed that there is so much variation between the songs, without any song that is totally different to the rest. We get everything from traditional trallpunk songs to more laid-back stuff, as well as some melodic punk rock. There's even a cover of "Alla Vill Till Himmelen Men Ingen Vill Dö" (which I think Swedish hip hop artist Timbuktu did), with a guest apperance by former LOK and current LILLASYSTER vocalist Martin Westerstrand.
Release date: Mar. 2, 2018 (Krypton)
facebook.com/mimikrysverige
FEBRUARY 25, 2018


MITHRIDATIC: He Who Lies Underneath - Digital Album
This is the first live audio and video from French death metallers MITHRIDATIC. Both audio and video are available for free streaming. And how funny is that? Should you really call it a real live release when it's just available for streaming/download? I'm actually not really sure. When I grew up it was still vinyl records and cassettes, and then it was really cool with a new live release. But I guess the interest got lost along the way somehow. I don't feel exited about new live records today.
This is as real as it can be when it comes to the recording though. Because I don't think they have done anything with it. What you hear and/or see is what you get. It's not any amateur recording with bad sound quality though. No, this is actually filmed with multiple cameras and professionally recorded. So why they just release it digitally then is a mystery. Why waste time and money on something that you will give away for free?
MITHRIDATIC released their first single, "The Hunt Is On", in 2014, and their debut album, "Miserable Miracle", in 2016. And as far as I know it's very unusual to release a live recording after just 1 album. But I guess these guys doesn't want to be like everybody else.
I don't really know what I should say about their music though. I have heared both better and worse than this. And there's many better bands. But why not give it a try? It's free.
(XenoKorp)
mithridaticband.bandcamp.com
FEBRUARY 25, 2018

Take Me To The Top
Back to page 1
---
This site has been online since 2001.
All reviews and photos/images by Jimmy Blom.