REVIEWS 2018 (Page 1)
Next page


Bob Katsionis: Prognosis & Synopsis - Album
If you know me, then you probably know that I'm not such a big fan of progressive music (everything doesn't suck though), and not of instrumental songs either. And this man combine both. But I can at least say that he seems to be very good at what he is doing (which seems to be enough for some people). This is definitely not cat piss.
This is hardly an album that you play when you have a party. But it works just fine as background music or when you want to relax.
Who might Bob Katsionis be then? Well, he's a multi-instrumentalist, producer, video director and composer based in Athens, Greece. And this is actually his 5th solo album. He has been a member of bands like REVOLUTION RENAISSANCE, SEPTIC FLESH, NIGHTFALL, and many more.. And just if that wasn't enough, he has also been writing songs with KAMELOT for their 3 latest albums, and co-wrote the introduction theme of EPICA's "The Quantum Enigma", as well as writing songs with several Greek bands and artists.
(Symmetric Records)
FEBRUARY 24, 2018


BALLS OUT: Too Big To Handle - EP
Hard rock n roll band from France, who are influenced by AC/DC, MOTÖRHEAD, KISS and LED ZEPPELIN. They give us 6 tracks on this EP, and most of them are good party songs that I think fans of action rock will like. No long and advanced songs here. Just pure rock n roll with the balls out.
I really don't have much else to say, as there wasn't that much information about this band. But it could be worth checking out anyway.
Release date: Mar. 9, 2018 (M&O Music)
facebook.com/ballsoutofficial
FEBRUARY 24, 2018


ABSENT: Towards The Void - Album
4 looooooong songs - 8.34-11.32 minutes. Heavy? Of course, my friend!
While many others of all these heavy bands are extremely monotonous and boring, this band seems to have figured out that it can be good with a melody as well. And that makes them more interesting than many of their colleagues.
ABSENT comes from Brazil, and this is their debut album. The music is mainly doom metal, but I'm very sure that fans of psych, stoner, sludge and any kind of heavy rock will like this too, as there's a touch of that too here. And as I have said before, the borders between these genres are very thin nowadays.
Release date: Feb. 23, 2018 (World War Now Records)
blackmarketmetallabel.bigcartel.com/product/absent-towards-the-void
FEBRUARY 23, 2018


OV SHADOWS: The Darkness Between Shadows - Album
Black metal in the more extreme and brutal class. For some reason they call it atmospheric black metal. But I can't hear much atmosphere on this album. I would rather call it chaotic. But somehow I can also hear some melody in all the noise that these Swedes make.
Old school black metallers will probably love this band, so give it a try.
(Black Market Metal Label)
blackmarketmetallabel.bigcartel.com/product/ov-shadows-the-darkness-between-stars
FEBRUARY 23, 2018


REACH: The Great Divine - Album
REACH are a melodic hard rock trio from Sweden. And that's all I know about them. What we get on this album is 10 tracks that all are a little different from each other. So the risk that you will be bored because it sounds the same is very small. Because this band has succeeded to give every song their own identity. And I like what I hear.
I recomend you to listen to songs like "The Great Divine" and "Running On Empty" for example. I'm pretty sure that you will like what you hear.
(Sunhill Production)
reachofficial.com
FEBRUARY 23, 2018


VORACIOUS SCOURGE: Our Demise - EP
Death metal project in the good old school formed by Jason McIntyre (SUTURE). The other members are Adrie Kloosterwaard (SINISTER), Mike Smith (ex-SUFFOCATION) and Lance Strickland (SUTURE). The inspiration comes from the love of late 80s and early 90s death metal. This is the band's first release. 4 very good songs and a intro is what we get here. And it's definitely something for those of you who love old-school death metal.
(Immortal Souls Productions)
voraciousscourge-isp.bandcamp.com
FEBRUARY 22, 2018


TWILIGHT'S EMBRACE: Penance - EP
This death/doom metal trio comes from Nottingham, UK, and released their debut album, "By Darkness Undone" in 2014. But not much have happened since then when it comes to new records. This because some members left, and therefor they didn't play live that often. But now they are back with a EP, that consist of 4 tracks: 3 original songs and a cover of PARADISE LOST's "It's Too Late".
Not bad. I have heard both better and worse, but this is at least worth a try. And that's positive for coming from me, as most heavy bands seems to be sooooooo boring.
Release date: Feb. 23, 2018 (Self released)
facebook.com/twilightsembrace
FEBRUARY 22, 2018


The LEAD: Again - EP
A very weird experience is probably the best way to describe this 4-track EP. The song I like best is the first track, "Dressed In A Robe (Rev. 19)", which is the most normal song. But I also like the last song, "The Lead", which is pretty normal too. The 2 tracks between those songs are the weird experience. I don't really get those songs. I think you should concentrate your energy on making songs like the first and the last instead of that crap. But that's just my opinion of course.
The reason why I gave this record a chance at all, is because they said that they are Christian punk legends (I have as far as I can remember just heard 1 Christian punk band before, and that was so long ago that I have forgotten their name, they were from Sweden anyway). Well, I don't really know if I would call this punk. Maybe because they do their own thing then. But what has that to do with music? And legends? I don't think that I have ever heard of this band before, so forget that.
I think I go for alternative rock to decribe these songs. But I'm honestly not even sure about that either..
Release date: Feb. 23, 2018 (Roxx Records)
FEBRUARY 22, 2018


OBTRUNCATION: Sanctum Disruption, Sphere Of The Rotting/The Callous Concept - Albums (reissues)
This is said to be the heaviest and most brutal Dutch death metal demos ever. Especially their second demo, "Sphere of the Rotting", is in the death metal underground highly acclaimed as one of the most extreme demos ever.
"Sanctum Disruption" is their first demo, and it was released in 1991. "Sphere Of The Rotting" was released in 1992. You also get 1 previously unreleased song and a live track on this album.
"The Callous Concept" is OBTRUNCATION's debut album, and it was recorded in 1995. As a bonus they have also included 2 live tracks.
Well, the description that it would be both heavy and brutal is correct. This is hardly any Sunday sailing. And just because it's heavy doesn't mean that it's slow. I guess that this could be something for those of you who are looking for more extreme death metal.
Release date: Feb. 23, 2018 (Vic Records)
FEBRUARY 21, 2018


MELECHESH: As Jerusalem Burns... Al'Intisar - Album (reissue)
The chaos department have a meeting I can hear. But if you like noisey and brutal black metal, then I won't stop you from listening to this. I'm not impressed at all though. Same shit over and over again, and a hell of a noise - That's my opinion about this.
But o.k., I'm at least man enough to admit that they are a little bit better when they calm down. Like in "Planetary Rites" for example. Those songs are few though. But there's lots of stuff to clean your brain with after a shitty day.
The most interesting with this band is that it was formed in Jerusalem, Israel in 1995 by 2 young and ambitious extreme metal musicians, who were influenced by both European extreme metal and their own Middle Eastern roots.
This is a re-release of their debut album, which also includes their first demo and a 7" EP - A total of 16 tracks.
Release date: Feb. 23, 2018 (Vic Records)
FEBRUARY 21, 2018


HEXX: Quest For Sanity & Watery Graves - Album (reissue)
When guitarist/vocalist Clint Bower (ABSCESS, The RAVENOUS) joined HEXX in 1984, their musical direction changed from power metal (which they played on their 2 first albums) to raw thrash metal, almost death metal sometimes. And what we have here is a re-release of their 2 EPs "Quest For Sanity" (1988) and "Watery Graves" (1990). And I must say that it doesn't sound bad at all. It might not be a cult masterpiece for me who have not heard these EPs before, but it's still worth listening to. No doubt about that.
This band comes from San Francisco, and formed in 1983 (as PARADOX) and split up in 1995. They have been active again since 2013, and released a album, "Wrath Of The Reaper", as late as last year.
Release date: Feb. 23, 2018 (Vic Records)
FEBRUARY 21, 2018


ACHERON: The Rites Of The Black Mass - Album (reissue)
Talk about intro terror! We get a useless intro to every damned song! What made them think that people would like to listen to that? Especially when it's more or less the same shit every time. Well, because of that there's as much as 20 tracks here, but actually just 10 songs.
ACHERON was founded in 1988 by vocalist/bassist/songwriter Vincent Crowley (formerly of NOCTURNUS). After 3 demos they recorded their debut album, "Rites of the Black Mass", in 1992 at the now legendary Morrisound Studios with Scott Burns (DEATH, DEICIDE, CANNIBAL CORPSE etc). On this re-release of the album we also get a 2-track promo recorded in 1990.
I guess Morrisound Studios gives you a hint of what kind of music this band is playing. Yes, it's death metal to the grave. And the music is not so bad, so it could actually be worth a try.
Release date: Feb. 23, 2018 (Vic Records)
FEBRUARY 21, 2018


GONOREAS: Minotaur - Album
What is this then? Is it really the right record you have sent me? Because it sounds more like some kind of Eastern music than metal.
Next track is definitely metal though. So now I can stop to worry. Luckily the rest of the album is metal too.
It looks like this Swizz band was reborn in 2009, and this is their 6th album. The easiest way to describe their music is probably just to call it metal. But I know, that doesn't say much about their sound. Some kind of modern heavy metal in the heavier league, but yet not doom, could probably be a pretty good description. Yes, I think that people who like heavy metal could like this. So don't be afraid, and give this band a chance or 3.
Release date: Feb. 23, 2018 (Art Gates Records)
facebook.com/Gonoreas
FEBRUARY 20, 2018


MAD HATTER: Mad Hatter - Album
MAD HATTER is a pretty young power metal band from Sweden, which was formed by MORNING DWELL members Petter Hjerpe and Alfred Fridhagen in 2017. After recording this self titled debut album, they found out that they needed a couple of more members, so that they can play live. So Eric Rauti and Magnus Skoog joined the band.
They combine their power metal with some good old heavy metal, which is nothing unusual of course, and have succeeded to create 11 powerful songs (if you include the bonus track) that any fan of said genres should like. There's lots of great songs on this album, so I can't really see why you should not check this out.
Release date: Feb. 23, 2018 (Art Gates Records)
facebook.com/madhattermetal
FEBRUARY 20, 2018


SPARTAN WARRIOR: Hell To Pay - Album
This is hardly a new band. They released their 2 first albums back in 1983 and 1984 already. Nothing that I have heard, but anyway.. In 2009 the band decided to reunite, and released "Behind Closed Eyes".
It has taken some time, but now their 4th album is here. And you can almost hear that it's an old band from Great Britian that we have here. It's hard rock and heavy metal that should please fans of bands like SAXON and UFO for example. Or any fan of the so-called New Wave Of British Heavy Metal genre.
Release date: Feb. 23, 2018 (Pure Steel Records)
facebook.com/spartanwarriorofficial
FEBRUARY 20, 2018


SALEM: Attrition - Album
SALEM is a heavy metal band from Hull, in the north of England. They were formed already in 1979, but I don't think they have been active all the time since then, as they didn't release any album until 2013. This is their 3rd studio album anyway, which is said to be a little "edgier". Whatever they mean by that?
What I hear is a pretty soft kind of heavy metal, with melodic vocals. It sounds more like 1978 or 88 than 2018 anyway. Which is just good according to an old man like me. And well, they have some good songs here, so I guess it could be worth a try.
Release date: Feb. 23, 2018 (Dissonance Productions)
FEBRUARY 20, 2018


KILL RITUAL: All Men Shall Fall - Album
This band was formed in 2010 by former members of IMAGIKA, DARK ANGEL and ELDRITCH. Their debut CD, "The Serpentine Ritual", was released in 2012. Since then they have been touring and recorded some more records. And the music they play is heavy metal in the more powerful league. 11 tracks is what we get here. Mainly pretty o.k. stuff, but I have heard stronger songs.
Release date: Feb. 23, 2018 (Dissonance Productions)
FEBRUARY 20, 2018


DESOLATION ANGELS: King - Album
I think that the singer reminds a little of a young Biff Byford, but I would not call this band a new SAXON, even though there's definitely some early NWOBHM over this band's music. And this London band was actually alive at that time (late 70s/early 80s), and released some demos and records before they split up in 1994. They reformed in 2012, and released a EP, "Sweeter The Meat", in 2014. And now a new full length is finally here.
This is a very good album that sounds like it could have been made during their early days. So you should definitely check it out. Especially if you like good old classic heavy metal from the UK.
Release date: Feb. 23, 2018 (Dissonance Productions)
desolationangels.co.uk
FEBRUARY 20, 2018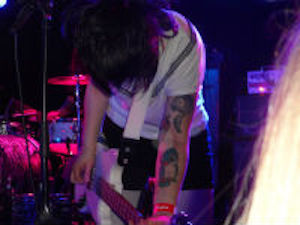 RIOT GRRRL SESSIONS: The 1st Session - Album
This is the result of what 12 Swedish rock musicians could create within 1 week together in a studio. Every person involved in this project is a woman, transperson or non binary. Among the more "famous" persons are probably Canan Rosén (TWIN PIGS, TIGER BELL, SATIRNINE), Kajsa Grytt (TANT STRUL), ex-CRUCIFIED BARBARA and current The HEARD members Klara Force and Nicki Wicked, Frida (The BABOON SHOW) and Maja (HEAVY TIGER).
Some of these songs makes me think of The RUNAWAYS, but a bit more punk rock. Other songs sounds more like post punk. And then we have a song like "Goodbye", which sounds like a mixture of JOY DIVISION's "Love Will Tear Us Apart" and a ballad from the 50s/60s. Most of it is really good, but I don't like the more electric song "Fuck You". There's many different influences here, but it's never too divided. It works.
Release date: Feb. 23, 2018 (GMR Music)
riotgrrrlsessions.com
FEBRUARY 19, 2018


MERRYWEATHER STARK: Carved In Rock - Album
This could be something for fans of 80s bands like VAN HALEN and ELECTRIC BOYS for example. There are of course more influences than that here, but you could say that this is good old hard rock with heavy guitar riffs anyway. Sometimes a little funky or bluesy. They might not have any hit on this album, but it's definitely good stuff. No doubt about that.
What we have here is a co-operation between American singer/bassist Neil Merryweather and Swedish guitarist Janne Stark (also writer of the big, fat book "The Heaviest Encyklopedia Of Swedish Hard Rock And Heavy Metal Ever!"). These gentlemen are veterans, and between them they have been part of over a hundred albums through the years. Impressive! This is their first album together though. And I don't think that I would say no to another album in the future.
Release date: Feb. 26, 2018 (GMR Music)
youtube.com/watch?v=iS5DYKYwaRc
FEBRUARY 19, 2018


PONTUS SNIBB'S WRECK OF BLUES: Too Late To Die Young - Album
Pontus Snibb, vocalist and guitarist for Swedish hard rockers BONAFIDE, and his friends (Kalle Johansson on bass and Håkan Nyberg on drums) play some blues here. Their self titled debut album came out in 2014, and now their second album is here.
Now I'm hardly a professional when it comes to blues rock, even though I got some for review lately. But I know what I like and not like, and this sounds really good according to me anyway. They definitely have some good songs here. No doubt about that.
Some blues artists have something like 5 guitar solos in 1 song, but that doesn't happen here. And thanks a lot for that. They have probably figured out that it's extremely boring to listen to.
Release date: Feb. 21, 2018 (Off Yer Rocka Recordings)
facebook.com/blueswrecked
FEBRUARY 18, 2018


Ossian Smith: Sleepless Town - Digital EP
Ossian Smith is a young Finnish singer/songwriter. But instead of playing pop music or country, like many other singer/songwriters do, he play some kind of laid-back rock. And these 5 songs are not bad at all. So if you like rock, then maybe you should give this a try.
"Sleepless Town" is his debut EP. And I don't know much else to say..
(Secret Entertainment)
facebook.com/ossiansmithofficial
FEBRUARY 18, 2018


ODDNOTE: Oddnote - Album
This reminds me of the grunge/alternative rock bands from the 90s actually. But there's also a touch of the 70s. Some kind of alternative hard rock.
ODDNOTE is a pretty young band, who formed last summer in Nashville. The ambition seems to be to blend the old sound with the new sound. And I guess it's not so hard to figure out that this is their debut album, which is said to be availble on all streaming sites.
Well, the band is new, so there's not much to write about them. But they have a few good songs here, even though everything isn't so great (the introduction and that interlude stuff here and there is totally useless).
(Self released?)
oddnote.net
FEBRUARY 18, 2018


HENRY METAL: War In Heaven - Album
Well, this Chicago man probably have nothing else to do than making metal songs all day long, and then record them. You might have read about HENRY METAL here before, as I reviewed 2 of his albums just a few months ago. Fact is that he released 4 albums just within the first year of existance (2017). A very ambitious man!
This time he gives us songs about serious themes such as child abuse, the fall of Lucifer, greed and the musical nature of time. But as always there's also room for some humour. And another as always is that here's both good and less good songs, and many different kinds of metal and hard rock. I would say that this album is a little bit better than his last album. And that's always something I suppose.
(Henry Metal Records)
henrymetal.bandcamp.com/album/war-in-heaven
FEBRUARY 17, 2018


GRIMNER: Vanadrottning - Album
These Swedish folk metal Vikings has been around for 10 years now. Which they celebrate with a new album and a lot of touring.
Even though the vocals is harsh sometimes, the music is pretty catchy and melodic. But it can also be heavy and powerful at the same time. And they have many good songs on this album, so I have nothing to complain about.
It seems like today's folk metal bands are a little bit more serious. I remember when most of these bands played humpa-humpa metal, and none of them seemed to be sober. Funny for 1 or 2 songs, but hardly a whole album. This is much more interesting to hear.
(Despotz Records)
grimnerband.com
FEBRUARY 17, 2018


FUNERARY BELL: Undead Revelations - Album
From the kingdom of gloom and cold comes this Finnish band. And their music is described as "old school metal vibes mixed with horror and occult in the form of black heavy metal of death". Black heavy metal is the shorter version, and this is their second album.
Well, they can describe it how they want. The first track sounds like some kind of atmospheric death/doom to me, while the second track is more like crust punk mixed with metal. Most of the other tracks fits pretty good to their description, even though I would call it blackened metal instead of black heavy metal (but that's just a small detail).
FUNERARY BELL was founded in 2007, and released their first EP in 2009. The first album came out in 2011.
Release date: Feb. 23, 2018 (Saturnal Records)
facebook.com/funerarybell
FEBRUARY 17, 2018


ELEINE: Until The End - Album
..and what we have here is yet another symphonic metal band. This is the second full length from this Swedish band. And to me they are not better or worse than any other band in this genre. So if you like symphonic metal (without opera vocals), then you should definitely check this out.
I don't really know what else I can say about this. Let the music do the talking..
Release date: Feb. 23, 2018 (Black Lodge Records)
eleine.com
FEBRUARY 17, 2018

JJ Mortensen and Reidar Assine at Café Nära in Borås, Sweden on February 16, 2018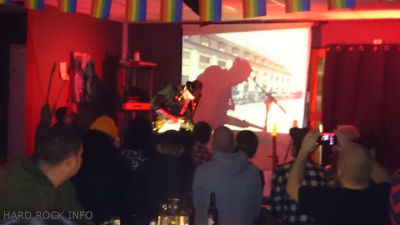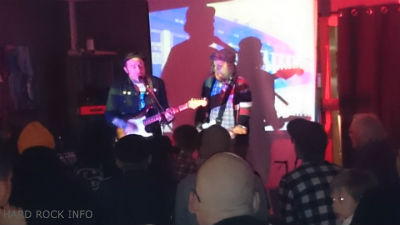 My first concert in a long time became a gig with 2 singer/songwriters. Maybe not that rock n roll you might think, but they used electric guitar instead of acoustic at least.
Jonas Mortensen (aka JJ Mortensen and sometimes Jonas Jävel) was the first man out. He is well-known from local bands like GATANS LAG (Oi! punk), LILLA KROGEN BAND (singer/songwriter) and HELDBACK (hardcore). But he also play solo shows, and most of his songs is about his hometown Borås and daily life in general. No advanced music. The other man, Reidar Assine, came up a few times and played solo guitar with him.
Jonas was very good. I really like what I heard.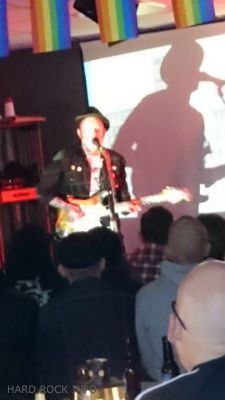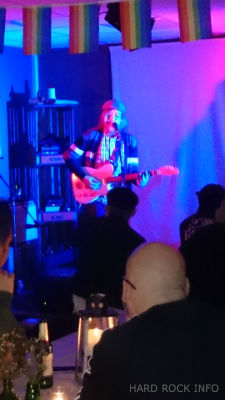 Reidar Assine was totally different to Jonas. Much softer, and more poetic lyrics. Almost like love ballads. And his playing seemed to be a little bit more advanced as well. But it was definitely not bad. He made me think of Swedish singer/songwriters like Stefan Sundström and Lars Demian, even though Reidar isn't really in the same league as them.
FEBRUARY 17, 2018


ANTI CIMEX: Victims Of A Bombraid - 3CD Box Set (reissues)
What we have here is a box filled with all the official studio records by this legendary hardcore/punk band: "Anarkist Attack", "Raped Ass", "Victims Of A Bombraid", "Anti Cimex", "Absolut Anti Cimex" (aka "Country Of Sweden") and "Scandinavian Jawbreaker".
In the beginning ANTI CIMEX was a typical Swedish hardcore/punk band in the same style as bands like MISSBRUKARNA and HUVUDTVÄTT/HEADCLEANERS, which you can hear on the first EP. But then the British d-beat legends DISCHARGE came, and everything changed. The music became much harder and rawer, and from now on all lyrics was in English instead of Swedish. And another important thing is that Jonsson (who played bass earlier) took over the microphone from Nillen (who formed D.N.A). During the years they also added some metal to their sound, and the songs became longer. They soon got a reputation that they never played sober, and their concerts often ended up in chaos (unfortunately I never saw them live, as they cancelled when I finally was going to see them).
ANTI CIMEX fell apart during the big Dis wave (bands playing like DISCHARGE, but often faster, and usually began their name with Dis) in the 90s, and not much has happened since then. And it doesn't look like anything will happen again with the band (bad health, lack of interest etc), even though there's rumours about a reunion (probably just wishful thinking).
After the band split up, Cliff (guitar) formed DRILLER KILLER, Jonsson (vocals) ended up in WOLFPACK, who became WOLFBRIGADE. Charlie (drums) have played with several bands and projects during the years, like TROUBLEMAKERS for example, and Sixten (bass) played with FULL METAL JACKETZ and GBG PUNX.
Well, it was really nice to hear these songs again. I have not heard some of these songs in many, many years. And some records were actually much better than I thought that they would be. But if you already have all these records, then I can't really see why you should get this little box. Because you will not get anything exclusive at all (there's other records with that kind of stuff). But if you have not heard this excellent band before, then it's about time. Get this box at once!
Release date: Feb. 23, 2018 (Dissonance Productions)
FEBRUARY 16, 2018


ANGSTBREAKER: The Flying Cat - EP
This band might not be doing anything new at all. It's just pure angry hardcore with punk lyrics about cops, nazis, the HC scene, evironmental issues and even robots and artificial intelligence. But it's good stuff at least. So it could definitely be worth checking out.
This EP contains 4 new songs and 1 re-recording. And it seems like it will be released on all kinds of formats: LP, Cassette, CD, download and streaming.
ANGSTBREAKER was founded in Leipzig, Germany in 2012. At that time they were 6 members. But since 2015 they are 4.
(SM Musik, Bharal Tapes, PCS Records)
angstbreaker.org
FEBRUARY 16, 2018


SQUEALER: Behind Closed Doors - Album
This band was originally formed as a power metal band back in the 80s, and are from the north of Hessia, Germany. Much has happened since then. Both with the world and SQUEALER's music. Nowadays it's more like a pot of several metal elements, even though the main ingredients are heavy, speed and power metal. But I can also hear melodic thrash metal once in a while.
The band has been searching for new members for several years now, and has not been active since 2008. But in 2016 they were back with a new lineup and started to play live again. And now a new album is here as well.
There's many good songs among these 11 tracks. Everything might not be great, but nothing is useless.
Release date: Feb. 23, 2018 (Pride & Joy Music)
squealer.de
FEBRUARY 15, 2018


SEBASTIEN: Act Of Creation - Album
Melodic hard rock/metal that is pretty good. But why so many ballads?
This band comes from the Czech Republic, and are 1 of the very few bands from that country who are also known outside of the republic. Their first album, "Tears Of White Roses", was released in 2010. Their second album, "Dark Chambers Of Déjà Vu", wasn't released until 2015. And now their 3rd album is here.
This album includes guest vocals from Apollo Papathanasio (SPIRITUAL BEGGARS, ex-FIREWIND), Mayo Petranin (SIGNUM REGIS) and Kristýna Dostálová, plus backing vocals from Vendula Skalová.
Most of these songs are good, but they could easily have thrown away about 4 of these 14 songs (including a bonus track) according to me.
Release date: Feb. 23, 2018 (Pride & Joy Music)
sebastienofficial.com
FEBRUARY 15, 2018


JOHAN KIHLBERG'S IMPERA: Age Of Discovery - Album
So, after 3 albums with his band IMPERA, founding member and drummer Johan Kihlberg decided that it was time to spread his wings and record a solo album. Why he decided to call it JOHAN KIHLBERG'S IMPERA is a mystery though. Especially when it doesn't sound so much different from IMPERA (as far as I can remember, but my memory isn't always the best). But it's good stuff anyway, so why whine about the name then?
There's a whole list of artists that has participated in one way or another on this album. Some of them are Mats Vassfjord (220 VOLT), Michael Sadler (SAGA), Göran Edman (Yngwie Malmsteen, John Norum etc. etc.), Nils Patrik Johansson (LION'S SHARE, ASTRAL DOORS) and Mattias IA Eklundh (FREAK KITCHEN), just to name a few.
Johan have a wide range of musical influences, but the genre I put this album in is melodic (hard) rock/AOR. And if you happens to like that, then you have plenty of good material to discover here.
Release date: Feb. 23, 2018 (AOR Heaven)
impera.org
FEBRUARY 15, 2018


ALCYONA: Trailblazer - Album
Yet another female-fronted symphonic metal band. And of course the singer have to pretend that she is singing for a damned opera. I just can't stand that voice. Luckily she's not using that voice all the time or in every song, and then it's so much better. I have nothing against their music though, which is very good. I can just imagine how great this could have been if she had used a more true metal voice instead. Oh man, I think that could have been excellent.
But now I'm not a member of the band, so I guess my opinion is taken with a pinch of salt. Too bad. But if you happens to be a fan of this genre called symphonic metal, then I think you should give them a try.
The band started in 2012, and comes from Minsk, Belarus. "Trailblazer" is their debut album.
Release date: Feb. 23, 2018 (Pride & Joy Music)
facebook.com/alcyonaband
FEBRUARY 15, 2018


VERIKALPA: Taistelutahto - Album
Finnish warriors who play folk metal and sing about drinking. Luckily they take it easy with the worst humpa-humpa, which makes them a little better than some other bands in the same genre.
VERIKALPA comes from Oulu in Finland, and call their music troll/beer metal. This is their debut album, but they have existed for many years already. All lyrics are in Finnish, and sung with the accent of Oulu (as a Swede I can't hear any difference from other Finnish bands though). Their songs are tales about drinking, hangovers, trolls and bloodspattered eternal battles. More or less what you can expect from a band like this.
Good or bad then? Well, this is not so bad. I think they are pretty good actually. So give them a try.
Release date: Feb. 16, 2018 (Inverse Records)
facebook.com/Verikalpa
FEBRUARY 14, 2018


Sam Russell: Impetuous Desire - Album
Sam Russell is a guitar player and composer from West London, UK. He started to play when he was 15 years old. His big heroes are Joe Satriani, Yngwie Malmsteen and Steve Vai. After playing in a few bands, he wanted to be more serious. So he started a solo career instead. And this is the first result of that.
The album includes a guest apperance by German metal queen Doro Pesch (DORO, WARLOCK), and Jason Bowld (BULLET FOR MY VALENTINE) play drums. I guess that Sam himself handle the rest (guitar, bass and vocals). But why he decided that Doro should sing on a useless ballad, instead of using her for 1 of the better songs, is a big question mark though.
The music that we get here is hard rock in the melodic category. And he have some good songs here. No doubt about that.
(Self released?)
samrussell.co.uk/impetuous-desire
FEBRUARY 13, 2018


THE GOOD THE BAD AND THE ZUGLY: Misanthropical House - Album
Norwegian hardcore/punk with a touch of the harder stuff with TURBONEGRO. This is their 3rd album, and it reflects the Norwegian way of life and the hodge-podge of values they share, most often taking the form of complaining and whining. And that last thing is something that I think punks are very good at. Especially in the early days (the late 70s/early 80s).
We get 12 tracks here, and I think most of the songs are very good. So this could of course be worth checking out if you like TURBONEGRO and hardcore/punk.
Release date: Feb. 16, 2018 (Fysisk Format)
FEBRUARY 12, 2018


FEED THE RHINO: The Silence - Album
FEED THE RHINO are said to be a hardcore/metal band. But this is honestly not the kind of hardcore/metal that I'm used to. To me they sound more like 1 of all those modern metal bands with melodic choruses. But o.k., once in a while there's some hardcore too. I guess that they have a lot of influences that they want to put together.
The band comes from Kent, UK, and formed in 2008. Maybe they were a hardcore/metal band back then, but they are not that anymore according to my opinion. I'm pretty sure that they have found their audience anyhow, but you won't see me at one of their shows.
Release date: Feb. 16, 2018 (Century Media)
feedtherhino.co.uk
FEBRUARY 12, 2018


EMPIRESFALL: A Piece To The Blind - Album
I could easily have survived without that irritating guitar screech in the first track. But after that I'm more positive. Good old thrash metal is always nice.
EMPIRESFALL is a German band, who was founded in late 2008 in a suburb of Hamburg. Their first release was a self released 4-track EP, "Place Of Pain", in 2009. It wasn't until late 2014 that they finally released their debut album, "Riot". And it has once again taken a while, but now their second album is finally here.
Yes, I know. This band is hardly doing anything new at all. But that's nothing unusual in this genre. So if you like old-school thrash metal, then you like EMPIRESFALL. Simple as that.
Release date: Feb. 16, 2018 (Iron Shield Records)
facebook.com/empiresfallmania
FEBRUARY 12, 2018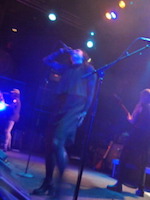 The BABOON SHOW: Radio Rebelde - Album
I saw this band live a couple of years ago, and they were so damned good that I had to buy their latest album after the show. That album was among the best punk rock albums that year (2016).
Now they are releasing a new album, and I don't really know what to think about it. It's not the same energy as it was before, and not the same hit potential. It's more like rock with a touch of punk on a few places, instead of that fantastic catchy punk rock that I want more of. The first time I heard this, it was a big dissapointment I must say. But the more I listen, the better it is. It's never as brilliant as their last album, "The World Is Bigger Than You", though. But they are at least still true to the punk subjects in their lyrics.
For being a Swedish band, they are actually not so well-known here. Not when you compare with other European countries anyway, like Germany and Spain for example, where they will be touring in March and April. They will actually just do 2 shows here in Sweden. I don't think that this 8th album will change that.
Release date: Feb. 16, 2018 (Kidnap Music)
thebaboonshow.com
FEBRUARY 9, 2018


COFFIN TORTURE: Dismal Planet - Album
Damned much heavy acts nowadays. Can't people play something else for a change? A few years ago I thought there was too many death metal bands, and now there seems to be an invasion of all kinds of heavy bands. Well, luckily some of these bands are good at least. But I think most of these bands are soon forgotten actually, because the good ones are few. And this band belongs to that last category. Even though it's not totally worthless, it just doesn't give me that much to listen to this.
They say that this duo play sludge/doom, and there we have another question to ask: What's the difference between doom and sludge nowadays? Good old doom should according to me be more like heavier heavy metal. But I think that many of these heavy bands sounds more or less the same nowadays. Tragic actually.
The 4th track, "Gustave", is at least a little more punk than the rest. Unfortuntely that doesn't help much. This just isn't a band for me.
Release date: Feb. 16, 2018 (Sludgelord Records)
FEBRUARY 9, 2018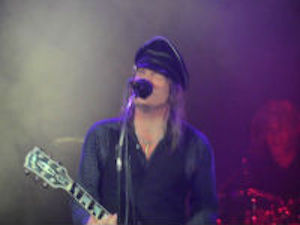 IMPERIAL STATE ELECTRIC: Anywhere Loud - Album
This Swedish rock band (with Nicke Andersson from The HELLACOPTERS and Dolf de Borst from The DATSUNS among others) have released something like 5 studio albums now. So I guess it was just a matter of time before they would release a live album. And now it's here with as much as 23 tracks recorded in Tokyo, Madrid and Stockholm between 2014-2016. Many of their "classics" are included of course, but also 2 covers: "Sonic Reducer" by DEAD BOYS and "This Is Rock 'n' Roll" by The KIDS. And it's a damned good album that every fan just must have.
Their music could be described as more or less everything that The HELLACOPTERS did and some more. Simple and catchy rock n roll songs. Sometimes with a twist of power pop.
Release date: Feb. 16, 2018 (Psychout Records)
imperialstateelectric.se
FEBRUARY 8, 2018


TOMMY STEWART'S DYERWULF: Shadow In The Well - Single
Wouldn't it be great if you actually could sing before you open your mouth? Especially when you're singing with clean voice and not growl, and it's music that demand a good singer. This doom song could have been so much more powerful with any of the singers that CANDLEMASS have had through the years. But o.k., that band is on a totally different level as well.
I wouldn't call this a bad song though just beacuse of that. No, it has something that is good. So it could at least be worth a try.
Who might TOMMY STEWART'S DYERWULF be then? Well, it's Tommy Stewart (HALLOW'S EVE) and Eric Vogt (ARMED CHAOS) who have left the thrash metal, which they play in their other bands, on the side to do some doom instead.
"Shadow In The Well" will be featured on the band's next album, which is projected to be released in late 2018.
(Self released)
tommystewartsdyerwulf.bandcamp.com
FEBRUARY 7, 2018


THUNDERMOTHER: Fire In The Rain - Single
THUNDERMOTHER gives us what they call their first ever ballad. It turns out that it's just a slow rock song that doesn't impress me that much. Not much thunder there, but probably something for mothers (excuse my bad humour). In through 1 ear and out through the other. No, I know you can do much better than this my ladies. And I'm pretty sure that the rest of the songs on their upcoming album will be great.
(Despotz Records)
thundermother.com
FEBRUARY 7, 2018


Rick Springfield: The Snake King - Album
Rick is playing blues rock. Blues can be good. Blues can be cool. If it got that right swing (or however I should describe it). But it can also be so damned boring, with no soul at all. And then it can be like the first track. Neither of that. Just like you could expect it to sound like when a guy who usually sing melodic rock get the idea that he should do a blues album. But that doesn't mean that this is totally hopeless. No, no. There's plenty of cool stuff that sounds just like I want it to. So no problem there. The weak moments are luckily few here.
I actually think that this is more interesting to listen to than the blues cover album that The QUIREBOYS released last year.
(Frontiers Music Srl)
rickspringfield.com
FEBRUARY 6, 2018


AMMUNITION: Ammunition - Album
AMMUNITION was founded in 2014 by the songwriting duo Age Sten Nilsen (former WIG WAM singer) and Erik Mårtensson (ECLIPSE, W.E.T., NORDIC UNION). The band released their debut album, "Shanghaied", in 2015 independently. The other members are former TNT and JACK IN THE BOX bassist Victor Cito Borge, keyboard player Lasse Finbråten (CIRCUS MAXIMUS, ex-WIG WAM), drummer Magnus Ulfstedt (ECLIPSE), and guitar player Jon Pettersen.
I have not heard WIG WAM, but it's said that AMMUNITION's sound is not too far away from them, just a little bit rougher and slightly updated. 1 thing that I know is that you will get some very good melodic hard rock. And I think that fans of bands like ECLIPSE, ONE DESIRE and W.E.T. will like this a lot. Possibly fans of modern EUROPE as well.
(Frontiers Music Srl)
facebook.com/ammunitionofficial
FEBRUARY 6, 2018


MIKE LEPOND'S SILENT ASSASSINS: Pawn And Prophecy - Album
Mike LePond is probably best known as the bassist for progressive metal band SYMPHONY X. But in 2014 he decided to step out of the box and front his own project. And now that project is back with a new album.
It starts good with some true heavy metal with a touch of progressive metal, but then comes the title track, which is a 21.38 minutes long opus based on William Shakespeare's "Macbeth". Then it's pretty clear that anything can happen here. All kinds of different music (Celtic folk music, "opera", a lonley piano, blues rock) is mixed with metal. And then it's not so good anymore. And you probably know by now what I use to think about eternity long songs.
The 7 tracks before the title track was not so bad though.
(Frontiers Music Srl)
facebook.com/mikelepondssilentassassins
FEBRUARY 5, 2018


OBLIVIOUS: När Isarna Sjunger - Album
Here we have yet another band from Sweden playing blues-based 70s hard rock like NOVEMBER and ABRAMIS BRAMA. And just like those 2 bands, all lyrics are in Swedish here. I really like what I hear! This is an excellent album with only great songs that they have created. So if you just like me like this kind of retro rock, then you just have to check this out. Promise me that you will do that!
This band has already released 3 albums, and also a EP late last year. So they are not exactly a new band. But it's never too late to discover something that is new for you.
Even though it's hard to pick a favorite, "Din Låga" is a song that get stuck in my head.
Release date: Feb. 9, 2018 (Gaphals Records)
facebook.com/obliviousofficial
FEBRUARY 5, 2018


DEFENESTRATION: Gutter Perdition - EP
Well, if you want it fast and brutal and in the old-school way, then this is a death metal band for you. It's said to fit fans of early CANNIBAL CORPSE and early CRYTOPSY, so it doesn't sound like all those bands who try to copy the Scandinavian sound. But sure, they are hardly doing anything unique either, but they are really good at what they're doing. You should definitely check them out.
The band formed in 2014, but this is actually their debut EP, which will be released as CD single and digital.
Release date: Feb. 9, 2018 (Xenokorp)
facebook.com/Defenestration44
FEBRUARY 4, 2018


LORD OF PAGATHORN: Daimono Philia - Album
This is actually pretty monotonous. Way too little variation. And the vocals are in the same register all the time. But o.k., it's black metal, so I guess that's not something unusual.
LORD OF PAGATHORN comes from Finland, and the band was formed back in 1992 already. They released a demo in 1994, and then nothing seems to have happened until Christmas Eve 2010, when their second demo was released. Why be in a hurry? However, they signed a record deal for 2 albums with Woodcut Records anyway, and this is their second full length, which consist of a useless intro and 8 songs.
Release dates: CD is already out, LP on Feb. 28, 2018 (Woodcut Records)
lordofpagathorn.com
FEBRUARY 3, 2018


LIONE CONTI: Lione Conti - Album
Alessandro Conti is the singer of the Italian power metal band TRICK OR TREAT, and was also tapped to be the lead singer in Luca Turilli's RHAPSODY when the 2 founding members of RHAPSODY, Luca Turilli and Alex Staropoli, decided to part ways and create their own versions of said band. Fabio Lione is the original singer of RHAPSODY, who fronted the band's classic albums, and he sang for Alex Staropoli's RHAPSODY OF FIRE, until he decided to rejoin Luca Turilli on the very recent RHAPSODY world tour.
This is described as an Italian version of ALLEN/LANDE, but a little heavier and more power metal. So melodic metal then. But let's just say that if you like any of the bands that has been mentioned, then you will probably like this too.
(Frontiers Music Srl)
FEBRUARY 3, 2018


LEGEND OF THE SEAGULLMEN: Legends Of The Seagullmen - Album
LEGEND OF THE SEAGULLMEN is described as a genre destroying super-group featuring Danny Carey of TOOL, Brent Hinds of MASTODON, director Jimmy Hayward (Jonah Hex, Horton Hears A Who) on guitar, and Pete Griffin of ZAPPA PLAYS ZAPPA and DETHKLOK on bass, and a few others. Their music is cinematic psychedelic rock, and this is their debut album.
I hear something that reminds me of HAWKWIND in some of the songs, even though this band rock more and are not so spaced out. But there's obviously other influences involved here too. Pretty good stuff anyway. No doubt about that. So I think you should give this a try.
Release date: Feb. 9, 2018 (Dine Alone Records)
FEBRUARY 3, 2018


LABYRINTH: Return To Live - CD/DVD, Blu-ray
Italian power/progressive metal band LABYRINTH did their first reunion show at Frontiers Metal Festival in Trezzo Sull'Adda, Italy on October 30, 2016. And that's where this recording comes from, where they performed the entire "Return To Heaven Denied" album, which was originally released in 1998. The lineup was founding members Olaf Thorsen and Andrea Cantarelli on guitars, long time singer Roberto Tiranti and the new faces Nik Mazzucconi (on bass), Oleg Smirnoff (on keyboards) and John Macaluso (on drums).
I have not heard "Return To Heaven Denied", so I'm on thin ice here. To me it sounds just like any other band in this genre. But they're not bad. But maybe not a new favorite band either. They seems to have the audience in their hands though, so fans of this band should not be dissapointed.
(Frontiers Music Srl)
labyrinthmusic.it
FEBRUARY 3, 2018


GRIMNER: Fafnersbane - Single
Yet another single from these Swedish metal vikings GRIMNER. And this song also features guest vocals by Erik Grawsiö from MÅNEGARM. The song comes from their upcoming album, "Vanadrottning", which will be released on February 9. "Fafnersbane" convey the pagan legend of Sigurd Drakdräparen (Sigurd the dragon killer). It's a song about greed, and what it could do to the one who can't resist it.
The music sounds like typical folk metal to me, but it's pretty o.k. stuff.
(Despotz Records)
grimnerband.com
FEBRUARY 2, 2018


GODWATT: Necropolis - Album
For some reason this trio thought it was a good idea to sing in a language that I think is Italian. That might work just fine with other kinds of metal. But I'm not really sure if it works so good with doom (even though I get used to it after a while). Otherwise there's no problem though. They are a very good band. And they don't play the really slow kind of doom. It's actually pretty catchy stuff.
GODWATT started to play in 2006 as GODWATT REDEMPTION. They released a demo and 2 self-produced albums under that name between 2007-2012. After that they changed the name of the band to just GODWATT, and released some more self-produced records between 2013-2015. Jolly Roger Records got interested and released the album "L'ultimo Sole" on CD and LP in 2016, which featured recordings from some of their self-released records.
"Necropolis" is as I said earlier a very good album, and I think that you should check it out. That's it!
Release date: Feb. 9, 2018 (Jolly Roger Records)
facebook.com/godwatt
FEBRUARY 2, 2018


IRON WILL: Life Is Your Labyrinth - Album
Tony had a dream. He wanted to be in a heavy metal band and record an album. But unfortunately none of the bands he joined seemed to be the right one for his goals. So he continued to chase the dream for many years, even though it was a hard time with all kinds of shit. But then 1 day, his friend Eli (RAVAGE) reached out to him about a new project, and IRON WILL was born.
After years of fine-tuning the songs, their 12-track concept album "Life Is Your Labyrinth" is finally here. And we get a lot of great heavy and power metal songs. But I don't really know what a piano piece like "The Dream" have to do here. Just a useless waste of time.
I really think you should check this out and at least give it try. Fans of classic heavy/power metal should not be dissapointed.
Best track: "Rising".
(Iron Rise Records)
facebook.com/TheIronWill
FEBRUARY 1, 2018


EROTIC PSYCHO: The Lost Boyz - Album
Well, if it's 80s sleaze rock that you're looking for, then you don't have to look any further. EROTIC PSYCHO is a band for you!
The band consist of 4 guys from Valencia, Spain. But they do their best to sound like they had grew up on Sunset Strip during the happy 80s. They got the party vibe and the street attitude. It's hot and nasty. Nothing for the political correct people who take everything too seriously. This is all about having a good time with lots of alcohol and horny chicks. Simply the old cliche sex, drugs and rock n roll.
This could be something for fans of GUNS N' ROSES, POISON, MÖTLEY CRÜE and maybe even BACKYARD BABIES.
Release date: Feb. 2, 2018 (Art Gates Records)
facebook.com/EroticPsycho
JANUARY 31, 2018


HAUTAJAISYÖ: Matkalla Kohti Hautaa - Album
"Melodic death/Melancholic thrash metal"? This sounds more like some kind of darker crust punk/metal to me (especially "Tunteeton"). But sure, there are some death and thrash too in some of the songs. All lyrics are in Finnish, so I understand nothing of it. But it's said to be sad storys about life, death, love, failure and mental problems. No happy stuff.
The band was formed in 2014, and they obviously doesn't aim at being like all the other metal bands. It's not bad though. There's many good songs on this album. So give it a try.
Release date: Feb. 2, 2018 (Inverse Records)
facebook.com/Hautajaisyo
JANUARY 30, 2018


The OUTFIT: The Outfit - Album
It wouldn't surprise me if FOO FIGHTERS is this band's big idols, becuse it sounds a lot like them sometimes. It's described as straight up rock and roll, with catchy hooks and an aggressive sound. I can agree on rock and catchy, but aggressive? No, I don't think so.
Chicago veteran musicians/brothers Mark and Matt Nawara, and Mike Gorman, along with Phoenix, Arizona's Andy Mitchell is what The OUTFIT consist of. The Nawara brothers have played the Chicago club scene for years, along with writing and recording original music. Mike Gorman comes from the 2 Chicago bands PEZBAND and OFF BROADWAY. Rounding out the lineup is singer/songwriter and guitarist Andy Mitchell, whose past bands includes DISH, VERONA and 9 VOLT. Now I happens to live in Borås, Sweden, so I have never heard of these people or their bands before. But they are probably some kind of local rock heros.
If you like catchy and melodic American rock, then this is a band for you.
Release date: Feb. 2, 2018 (Pavement Music)
JANUARY 29, 2018


DEATH ON FIRE: Witch Hunter - Digital Album
No, I can just as well say it immediately, this is not my kind of band. Deathcore and metalcore have never been any of my favorite genres, and will probably never be. But for some reason they call this melodic death metal, which I think is a little funny. Because this is not how it use to sound. And just because of that I invent the genre melodic deathcore.
That it's not really my kind of music is not the only problem I have with this record. In some songs I start to wonder if he actually can sing, or even know what he's doing. It's not until "Never See You Again", which is the second last song, that I feel that everything is right. But 1 song out of 8 doesn't make a hit album.
This is actually a solo project with multi-instrumentalist Tim Kenefic, and this is his debut album.
Release date: Feb. 2, 2018 (Self released)
JANUARY 28, 2018


The BAD LARRY'S: Hodads - Album
This is their debut album, and they are from Philadelphia. The band's sound is described as "an amazing blend of psych/stoner/fuzz/ punk and garage". But also as a combination of classic surf rock and the raw power of proto punk. But to make it easy I just call it garage rock, which is more or less the same as those descriptions.
Anyway, they rock! And it's not bad at all. I like this kind of stuff. Very 60s. So this is something that is definitely worth checking out.
This album will be available digitally to begin with. But they plan to release it on vinyl too in a near future.
Release date: Feb. 2, 2018 (Self released)
vimeo.com/243769989
JANUARY 28, 2018


The HYPOTHESIS: Illusion Now - Single
Modern melodic death metal quintet from Finland who formed in 2009. Heaviness, groove and catchy melodies is their recipe. It's not bad, but no matter how many times I listen to this song, it just goes in and out. But that might not happen to you, so let's give them a chance.
(Inverse Records)
facebook.com/thehypothesisband
JANUARY 27, 2018


The STONE: Teatar Apsurda - Album
Here's a band that was founded in 1996 in Belgrade, Serbia, and this is their 8th studio album. They play black metal in the good old way, and they're not better or worse than any other band in this genre. The only thing that possibly could make them a little unique, is that they sing in their own language. So if you like black metal, then you simply like The STONE too. And as they sounds like so many other bands, I don't have much else to say about this record.
(Mizantropeon Records)
facebook.com/thestonehorde
JANUARY 27, 2018


EXALTER: Persecution Automated - Album
I knew that there's a metal scene in India, but there also seems to be some bands from their neighbours BANGLADESH as well. Here's a thrash metal band from that country anyway. But why they have to bore us with a intro and then a short instrumental song before the thrash party starts is a very good question. After that it's mainly pretty good stuff that they offer, so there's not much to complain about.
Sure, this band might not do anything unique. They sounds just like the German and American bands. But how many other thrash bands are doing anything unique? And the few who are doing it, how good are they? No, we old farts want the good old style. And that's exactly what we get here.
Release date: Jan. 28, 2018 (Transcending Obscurity Asia)
exalterthrash.bandcamp.com
JANUARY 26, 2018


GRETHOR: Damnatio Memoriae - Album
Much noise and chaos here. But they mix it with something that I actually could call music. The tragic thing is that it doesn't help much. Simply because this seems to be yet another band who concentrate more on being as raw and brutal as possible, instead of making listenable songs that people can remember and actually like.
GRETHOR comes from Virginia, and has previously released a EP, "Cloaked In Decay", in 2015. This is their first full length album. Their music is extreme metal influenced by multiple genres, but mainly black and death metal as far as I can hear. The central lyrical themes of the album are dehumanization, authoritarianism, and the decline of critical thinking.
Release date: Jan. 26, 2018 (Edgewood Arsenal)
grethor.bandcamp.com
JANUARY 25, 2018


EYNOMIA: Break Free - Album
I might not like every part of this album, but I can hardly say no to something like "I Can Tell" for example. So it's definitely not hopeless anyway. And nothing is so bad that I have to skip it, and I guess that's something positive as well.
The band comes from Minneapolis, U.S.A. and play symphonic metal. Among the group's members we can find people who have played with SYMPHONY X and RON KEEL BAND, just to name a few. Their music is a little like FIFTH ANGEL, SYMPHONY X and QUEENSRŸCHE, but more catchy and melodic, and with female vocals.
Release date: Jan. 26, 2018 (Pure Legend Records)
eynomiaband.com
JANUARY 24, 2018


SHAMELESS: Filias y Fobias - Album
Another bunch of weirdos.. Some kind of mixture of metal and hardcore, sometimes with a crazy touch of jazz or whatever they feel like adding to the song. Let's just say that there seems to be tons of influences for this band. This is something for those of you who want something different and a little crazy. It's not impossible that fans of a band like SYSTEM OF A DOWN will like this. But I guess that even some fans of hardcore could like this band.
I couldn't find that much information about them, but they are from Madrid, Spain anyway and formed in 2014. This seems to be their first album.
Release date: Jan. 26, 2018 (Art Gates Digital)
shamelessmetal.com
JANUARY 24, 2018


KB36: Fake - Album
KB36 comes from Russia, and their music is mainly based on the classic rock tradition, even though there's some heavy guitar riffs as well, which gives it a metal tone. So hard rock is the easiest way to describe this. The theme of the lyrics is searching for authenticity in a fake world, and are based on personal experiences.
Well, they have a few good songs here. Like the title track for example, which reminds me of TENICIOUS D (or however they spell it). I also like the second track, "Who Cares", plus a few others. Let's give them a try at least.
Release date: Jan. 26, 2018 (Self released)
kb36rockband.com
JANUARY 24, 2018


P.A.L.: Prime - Album
This is a Swedish collaboration between Peo Pettersson, Peter Andersson and Roger Ljunggren. Roger and Peter have been friends since the early 80s, and it was when they was going to record a demo with their band ESCAPE in 1987 that they met Peo in his studio. And as the band didn't have a singer, Peo helped them with that.
30 years later these 3 gentlemen are making music together again, and the result of that is this fine debut album, where a man named Mauritz Petersson play the drums. It's very catchy and melodic hard rock that reminds me of KISS in the late 80s. I don't really know how else I should describe this. But if you like melodic hard rock, then you should like this band too.
Release date: Jan. 26, 2018 (AOR Heaven)
facebook.com/peo.pettersson.7
JANUARY 23, 2018


MISKATONIC UNION: Astral Quest - Album
This little band was formed in 2014 in Melipilla, Chile, when 2 friends decided to put together their influences from 80s heavy metal with their admiration for HP Lovecraft. They found 2 more guys and started to rehearse as a full band in April 2015. They soon thought it was a good idea to start recording their debut album, which unfortunately was delayed due to guitarist/singer Héctor's health issues. He had to stop singing. So they recruited a man named Raúl on vocals.
Well, to make the story short, the album is finally here. And it's a really good album I must say. This could definitely be worth checking out.
Release date: Jan. 26, 2018 (Iron Shield Records)
facebook.com/miskatonicunion
JANUARY 23, 2018


Mr. PLOW: Maintain Radio Silence - Album
It mainly seems to be some kind of stoner rock or alternative rock. But sometimes they reminds me of GUNS N' ROSES actually. It's labeled as stoner rock though, so that's the main ingredient here.
This is actually their first new album in over 10 years (their last album, "Asteroid 25399", was released in 2016), and the band has existed for 20 years already. I don't think I have ever heard about them before though. So they have probably been lurking around under the radar.
When they started they were heavily influenced by more well-known bands at the time, like KYUSS and FU MANCHU. But they didn't share the lyrical theme with those bands. Instead of singing about dark and evil, they wrote songs about having a good time instead.
Well, they have some good songs here. But maybe it has taken too long since the last album, because even though it's not more than 12 tracks, it feels like it would be 14.
Release date: Jan. 26, 2018 (Self released)
JANUARY 23, 2018


REVENGE: Spitting Fire - Album
REVENGE was formed in 2002 in Medellin City, Colombia. Their first demo, "Infernal Angels", was released in 2003, and in 2004 they made their first album, "Metal Warriors". There have been some more albums since then. This seems to be their 7th full length (if I got it right).
The music they play is good old speed metal like it sounded back in the 80s. Their lyrics is about heavy metal, warriors, fire and other important things in life (typical heavy metal lyrics). And if you like that, then this is a band that is worth checking out. They have many good songs here, so I have nothing to complain about anyway.
Release date for CD: Jan. 26, 2018 / Release date for LP: Mar. 30, 2018 (Iron Shield Records)
facebook.com/REVENGESPEED666
JANUARY 22, 2018


SEASONS OF THE WOLF: Last Act Of Defiance - Album
Some of these songs goes in some kind of mid-tempo, and have a little dark and scary vibe over them. While other songs, like my favorite "Drifter", is really good heavy metal. Sometimes there's also some progressive parts. There's definitely both good and less good stuff here.
This Florida band was founded in the late 80s already. From 1996 until today they have released 4 albums. And it seems to be as much as 11 years since their last album was released.
Their vocalist, Wes Waddells, is said to remind of fomer METAL CHURCH vocalist David Wayne. Older material with SAVATAGE is also something to compare them with.
Release date: Jan. 26, 2018 (Iron Shield Records)
seasonsofthewolf.com
JANUARY 22, 2018


BIND TORTURE KILL: Viscères - Album
The first track is a very heavy, instrumental piece. But after that all hell's breaking loose. The music is full of hardcore/punk energy, and it's mainly very intense and noisey. They are hardly the best band in the world. I guess it's the lack of variation that makes them a little boring, even though they have a few bright moments here and there. Sometimes they decide to play heavy for example.
This trio comes from France, and their music is labeled as post-hardcore. It's also described as a blackened form of TRAP THEM and CONVERGE. I don't know if that gives you an idea of what this band is all about..
Release date: Jan. 26, 2018 (WOOAAARGH)
JANUARY 21, 2018


BLOOD RED SAINTS: Love Hate Conspiracies - Album
BLOOD RED SAINTS released their debut album, "Speedway", in 2015. Now they return with their second album. This record is full of melodic (hard) rock in the same league as many of the more well-known acts in this genre. So I guess it's pretty obvious that you have to check this out if you happens to like that.
Some of these songs reminds me of BON JOVI. While a song like "Something In Your Kiss" sounds a lot like something from DEF LEPPARD. But they also reminds me of about 10 more bands as well.
Release date: Jan. 26, 2018 (AOR Heaven)
facebook.com/bloodredsaints
JANUARY 21, 2018


CRIMSON DEVILS: A Taste For Blood - Album
This is labeled as high-energy heavy rock n roll. Raw, powerful and loud as hell seems to be important ingredients for them. And I suppose that's a pretty o.k. description. They are definitely rocking anyway. And it's not bad at all.
The band comes from Austin, Texas, and this is their debut album. I think we can say that they are a little like Texas answer to the Scandinavian action rock. Because it reminds me a little of that actually, but with their own touch to it.
People who like raw rock should check this out.
(Self released)
facebook.com/crimsondevils
JANUARY 21, 2018


TRIBULATION: Down Below - Album
TRIBULATION continue to develop their sound. But are they really going in the right direction this time? I'm actually not really sure.. To me it sounds like some kind of post punk/zynth rock with death metal growls (at least the first time I heard this album). Definitely something different anyway, that's for sure. It's the kind of album that you have to give a couple of chances I suppose. And I guess that people will either love it or hate it. What category I belong to? Well, I'm not like everybody else, so let's just say that after listening several times, I can finally hear that there's some good stuff here that I like ("Nightbound" is among my favorites).
If it's pure death metal that you're looking for, then this album is probably not for you. But what I should call their music is a good question.. I guess we still can call it metal at least. And there are still vibes of death metal too. So maybe something like post death metal or death rock?
Release date: Jan. 26, 2018 (Century Media)
tribulation.se
JANUARY 20, 2018

DEADHEADS: This One Goes To 11 - Album
Do you miss The HELLACOPTERS? Well, then this is the band for you my friend. Their action rock takes us back to the late 90s/early 2000. Nothing original at all, but still damned good and exactly what you need to get the party started.
This band was formed in Göteborg, Sweden in 2011, and they have released several singles and 2 full lengths since they started. Now their 3rd album will be released, and there's no chance in the world that you're not going to like it. There's many good songs among these 11 tracks, and nothing really sucks.
Release date: Jan. 26, 2018 (High Roller)
deadheadsband.com
JANUARY 19, 2018


DELTA DEEP: East Coast Live - Album, DVD
Blues rock band with guitarist Phil Collen (DEF LEPPARD, MANRAZE), bassist Roberto DeLeo (STONE TEMPLE PILOTS), drummer Forrest Robinson (Joe Sample, CRUSADERS) and vocalist Debbi Blackwell-Cook (Michael Buble, Gregory Hines). But even though it's mainly blues, they are not afraid to add some soul and funk once in a while. And they are also doing covers of LED ZEPPELIN's "Black Dog" and DEEP PURPLE/RAINBOW's "Mistreated".
This is a very good band, and this is a very good live album. But if the female singer could have concentrated on just singing instead of making all those stupid "sounds" once in a while, then it would have been so much better. And a drum solo, even though it's short, is never interesting.
This was recorded at Daryl's House in Pawling, NY, U.S.A. They forgot to mention date and year though. And as an extra bonus, their self titled debut album from 2015 will be re-released as well. That's a album that I really think you should check out.
Release date: Jan. 26, 2018 (Frontiers Music srl)
deltadeep.net
JANUARY 19, 2018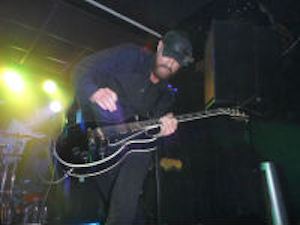 MÄBE: När Rösten I Radion Sa Hans Namn - EP
MÄBE is back with a new EP, which will be available as a 12" vinyl (with CD) and digital. But I must say that they have developed their sound a little bit. It doesn't sound exactly like Swedish rock legend Thåström anymore, which it did earlier. They have actually found their own twist somehow. And that's nothing bad at all, because it's still really good. I really like these songs!
But how should I describe their music then? Well, why not some kind of heavy and laidback singer/songwriter dark rock maybe? I think more people should listen to this anyway. But as he sing in Swedish, this is probably mainly something for Swedish people I suppose.
Release date: Jan 26, 2018 (TwoFaced Productions)
mabe.nu
JANUARY 18, 2018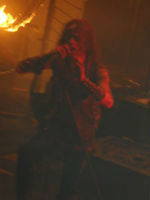 WATAIN: Trident Wolf Eclipse - Album
WATAIN goes bezerk again. I wouldn't recomend this for people with a weak heart. It's extremely hard and brutal black metal. Really intense. But that's hardly something new when it comes to WATAIN. They can slow down once in a while though as well, so that you can catch the breath before the next attack.
The good thing with this band is that even though the music is so extreme, it's still something that I can call music, and not just total chaos. But one thing I can't really understand is the big hype. Because it's not just metal heads who like this band. I'm actually not really sure if they even have heard WATAIN, or if they just go to their shows like it was some kind of a theatre. Weird people. And it's their problem of course.
This band's albums use to be very long. But this time no song is longer than 5 minutes. Which gives us a total plying time of about 35 minutes. And that's just about enough for me, as I have always thought that their albums are way too long.
(Century Media)
templeofwatain.com
JANUARY 18, 2018


RAPTURE: Paroxysm Of Hatred - Album
Death/thrash metal beast from Greece. This is hard, fast and brutal stuff played by people who seems to be very good at what they are doing. So don't expect any violent chaos here. But well, maybe some violence then, but never ever chaos.
They take the best elements of good old thrash metal and blend in influences of death metal. And what we get is a really interesting album with potential to scare the whole neighborhood away. I really like what I hear!
RAPTURE are from Athens and started in 2013. Their first full length, "Crimes Against Humanity", was released in 2015. It was followed by a EP, "Total Madness Reigns", in 2016. "Paroxysm Of Hatred" is their second full length.
Release date: Jan. 22, 2018 (Memento Mori)
facebook.com/ThrashRapture
JANUARY 17, 2018


APOPHYS: Devoratis - Album
Dutch death metal band who has existed since 2012. The group features members from GOD DETHRONED and TOXOCARA. This is their second album, which is based on a science fiction story written by vocalist Kevin Quilligan. Their music is a more modern and technical kind of death metal. So if you think you would like that, then this might be a band for you.
Release date: Jan. 22, 2018 (Ultimate Massacre Productions)
facebook.com/apophysdeath
JANUARY 16, 2018


THUNDERMOTHER: Whatever - Single
Yeah! THUNDERMOTHER kicks ass as usual. This is nothing but a damned good high-energy hard rock n roll song that will make you thirsty for more. I don't think I have to say much more than that. You check this out immediately!
This is the second single from their upcoming, self titled, album. Their last album, "Road Fever", was great, so I really look forward to hear that new album, which will be their 3rd album, and the first full length with the new lineup. Release date is February 23.
(Despotz Records)
thundermother.com
JANUARY 15, 2018


STARCRAWLER: Starcrawler - Album
The easiest way to describe this would be just to call it rock. But that doesn't really say that much about their sound, because it's not some good old rock n roll that we get here. No, I think it's more like a album that deliver many different kinds of rock - everything from simple rock to stuff like garage rock. But I also think that fans of psychobilly, surf rock etc. can find something that they like here (not that they play exactly that). But it's said that this band combines elements of as different artists as The CRAMPS, YEAH YEAH YEAH'S, Alice Cooper, Ozzy Osbourne and The RUNAWAYS. Confused? I bet you are. But it's actually not that advanced. After all it's just simple rock and not rocket science. But the best way to find out what a band sounds like, and if you like them, is always to listen to them. So do that! They have some really good songs here.
STARCRAWLER are from Los Angeles. They formed in 2015, but it's not until now that their debut album is here.
Release date: Jan. 19, 2018 (Rough Trade)
rtrecs.co/ilovela
JANUARY 14, 2018


Jack White: Connected By Love - Single
Once upon a time Jack White was rocking with The WHITE STRIPES. Those days are unfortunately gone since many years, but he have been pretty good as a solo artist too. Now I don't really know though.. I guess we still can call it rock, in lack of any better description, but it sure ain't that good anymore. I lose all hope when I hear these 2 songs. This man is probably done when it comes to making good rock songs.
On the other hand though, you never really know what he will do next. So who knows? This wasn't good anyway. The second track was the most useless I have heard so far this year.
This song is taken from Jack's 3rd solo album, "Boarding House Reach", which I don't have any release date for yet. It will probably be released during the coming months though.
(Third Man Records/XL Recordings)
jackwhiteiii.com
JANUARY 13, 2018


VARVARA: Identical - Single
..and when they say that it's rock, then I get this melodic soft rockers. Where's the raw action? Where's the energy? It's too much love and too little hard-on, if you get what I mean. La, la, la all the way to I don't know where. But media seems to love them. I guess that says it all (not a band for me then).
This Finnish band will release their 4th album, "GO", on February 23. And this happens to be the first taste of that. I'm not impressed.
(Haminian Sounds)
facebook.com/varvaraband
JANUARY 12, 2018


RISE OF AVERNUS: Eigengrau - Album
Australian band who call their music orchestral death/doom metal. They formed in 2011 and have released a couple of albums and EPs since then. "Eigengrau" is said to be their darkest and heaviest release so far. It's like the sound of a dark and scary nightmare. So if that sounds like something that you would like, then I recomend you to check tham out, because they're not bad at all.
Release date: Jan. 19, 2018 (code666)
JANUARY 11, 2018


REXORIA: Queen Of Light - Album
This is what they call female-fronted melodic metal. When am I going to read male-fronted melodic metal? That would be more of a surprise, wouldn't it? Anyway.. It's also said that there would be folk influences in this band's music, but I can honestly not hear much of that, so it must be just a small pinch then.
They formed in 2016, but have already been touring with some more famous bands. They have also released 2 EPs - "Moments Of Insanity" (2016) and "The World Unknown" (2017) - that can be found on Spotify. And now their first full length is ready for the world.
Jan. 19, 2018 (Pride & Joy Music)
facebook.com/rexoriamusic
JANUARY 10, 2018


NEKROKRAFT: Witches Funeral - Album
The first song sounds like it was recorded in their rehearsal room. And I don't really like that sound. But after that the sound is much better. And what we get here is good old raw and brutal thrashy black metal. I like what I hear.
It seems like this is a collection of early demo recordings. 2 of the songs - "They Swim, They Must Hang" and "Wrath of the Heavens" - are previously unreleased tracks that was written in the same era as the demos. There's also 2 covers - "Angel Of Death" by SLAYER and "Satan My Master" by BATHORY.
NEKROKRAFT are currently working on their new album, "Servants", which they plan to release in late spring 2018.
Release date: Jan. 19, 2018 (The Sign Records)
JANUARY 9, 2018


SPIRAL KEY: An Error Of Judgement - Album
Symphonic/progressive metal band from UK, who formed in 2012. Their debut album, "Perfect Machine", was released in 2013. It has taken a few years, but now their second album is here.
This band is making melodic, thoughtful and heavy music, with diverse themes and a dark sense of humour. It could be something for fans of progressive rock, but defitinely not for those who wants it fast and brutal.
Release date: Jan. 19, 2018 (Pride & Joy Music)
spiralkey.co.uk
JANUARY 8, 2018


SONIC PROPHECY: Savage Gods - Album
Sure it's good, but they seems to have a tendency to play the same thing for a little too long once in a while, and that's not so funny. If they work a little on that, then they might actually be excellent in the future.
SONIC PROPHECY is an American power/heavy metal band, and this is their 3rd album. They are said to fit fans of bands like IRON MAIDEN, JUDAS PRIEST, HELLOWEEN, HAMMERFALL and KAMELOT. And I don't think it would be so hard to come up with 5 more bands.
Their lyrics cover many different topics, from quests and medieval wars, to mechanized genocide, to the dangers associated with extremist ideologies.
This is something for every true fan of good old heavy metal.
Release date: Jan. 19, 2018 (Rockshots Records)
sonicprophecy.com
JANUARY 7, 2018


VIVALDI METAL PROJECT: The Extended Sessions - Album
This project was so successful that they now have decided to release a EP (they released a album about a half year ago). And I think it's extremely funny that they call this a EP. Because just the first track is as long as 26.48 minutes, which is longer than a EP use to be. And then there's 3 more songs.. And 1 of them happens to be as long as 16.37 minutes. So no, I wouldn't call this a EP even though there's just 4 tracks.
The first track is not so metal by the way. It's pure classical music. Just a piano and a feamle singer, and sometimes a violin, doing the whole "The Four Seasons". Hardly something for a rocker like me. But I know that there's rockers who actually like classical music too, so this could be something for them then.
After that comes "Vita", which is followed by an instrumental version of the same song. Whatever that would be good for? It's finally metal at least, and it doesn't last for an eternity. And that's positive of course.
For some reason they end the whole thing with another version of "The Four Seasons" (a medly). It's a live recording with just a piano and a female singer. And as I said earlier, it last for as long as 16.37 minutes.
No, this is a totally useless release unless you are a really hardcore fan of this project. 1 listen was more than enough for me.
Release date: Jan. 19, 2018 (Pride & Joy Music)
vivaldimetalproject.com
JANUARY 6, 2018


HELL BENT: Hell Bent - Cassette EP?
This band comes from Rhode Island and includes current and past members of bands like DROPDEAD, ULCER, PAINDRIVER, STRAIGHT TO HELL and NEON BITCHES. And this EP has previously been available digitally and in an extremely limited cassette edition. It looks like it will now be reissued on cassette (if I got it right) and include a bonus sticker. There will also be a deluxe edition with a limited edition pin and patch. Well, wouldn't it have been more fun to release it on vinyl as a 7" instead?
The music that we get from this band is like a fist of thrashy punk straight in your face. They say that they blend old school thrash and crossover with d-beat hardcore, but I think this is hardcore/punk and not much thrash. But they should find a label who can release this on vinyl. These songs deserves that!
Release date: Jan. 12, 2018 (Self released?)
JANUARY 4, 2018


(D)JURET: Sök Din Sekt - Digital EP
These songs was recorded at the legandary Sunlight Studios, but it's not death metal that we get here. This is a Swedish punk rock band who formed a few years ago, and this is their first EP, which consist of 3 tracks.
I would say that this is some kind of darker and metallic mid-tempo punk rock, and I don't really have any band that I can compare them with. But I'm pretty sure that if you like Swedish punk from the 90s, then you probably will like this too.
It might not be excellent, but it's not bad at all. I find it hard to believe that they will do any bigger succees though.
Release date: Jan. 12, 2018 (Cramada)
facebook.com/djuretpunk
JANUARY 3, 2018


CRUENTATOR: Ain't War Hell? - Album
This is like listening to a new album with a band like KREATOR or SLAYER. You simply know what you're going to get. Because it sounds more or less the same all the way. But once in a while they can surprise us with something that sounds a little different, even though that doesn't happen too often in this case.
But in the end I have to say that this band is just as good as the Swedish thrash bands that I like. Not that they sound like them, but more like the bands I mentioned in the beginning. So if you like thrash, then you probably like CRUENTATOR too.
Release date: January 2018 (Xtreem Music)
JANUARY 3, 2018


BLOODSHOT DAWN: Reanimation - Album
Melodic death metal. Brutal/harsh vocals are mixed with melodic and technical guitar melodies. I suspect that fans of ARCH ENEMY like this. Just listen to "Gravitation Nightmare" for example. But they can also be pretty old school as well. So I guess you could say that it's a combination of melodic and old school death metal that we get here. Very good stuff anyway. No doubt about that.
This is their 3rd full length. And this album also includes guest apperances from people like Jeff Loomis (ARCH ENEMY, NEVERMORE), Paul Wardingham (?), Ken Sorceron (ABIGAIL WILLIAMS, The FACELESS) and Mendel Bij De Leij (ABORTED). It seems to be an international bands as the members comes from different countries.
Release date: Jan. 12, 2018 (Hostile Media)
facebook.com/bloodshotdawn
JANUARY 3, 2018


AVATAR: Avatar Country - Album
The first track sounds like a Christmas song. But I guess it wasn't supposed to do that. This is actually a very mysterious record. So if you want a metal album that is different from the others, then this might be something for you.
The word king appears in every title. And that's because it seems to be a concept album about some king in Avatar Country. But I'm not going to tell the story here (I honestly don't really get it myself as it was way too much to read). So let us talk about the music instead then..
After listening to this album a few times, I can finally hear that there actually are some good songs here, even though far away from everything is great. A track like "The King Speaks" is totally useless. Just a lot of talking. How funny is that? You're not MANOWAR.
What they sound like is a little harder to tell though. But what I can hear is some kind of modern (progressive) metal. Which probably doesn't say that much. So let's just say that they have found their own sound, even though it might not be totally unique. You still have to listen if you want to know what they sound like though.
European release date: Jan. 12, 2018 (Century Media)
avatarmetal.com
JANUARY 2, 2018


AMMOURI: Dare To Be Happy - Album
This is hardly the best album that I have heard lately. But it's far away from the worst at least. And that's always something I suppose. And everything is not hopeless here, but I can count the good songs on 1 hand, and I don't even have to use all fingers. I find it hard to believe that I will listen to this album again though.
AMMOURI is the Swedish female singer Marina Ammouri, who is also a model. She is a classical schooled pianist and graduated sound engineer from SAE collage. She has previously composed and produced songs in different genres for other artists (both in Sweden and abroad). But now it's time for her first own album.
The music on this album is best described as harder rock with a powerful voice. And among the musicians are Pontus Engberg (The POODLES, KING DIAMOND) on bass (who also has co-produced 6 tracks), guitarists Staffan Österling (Paul Di'Anno), Tony Borg (ALIEN) and John Berg, and on drums Johan Kullberg (THERION, HAMMERFALL).
Release date: Jan. 12, 2018 (Pride & Joy Music)
JANUARY 2, 2018


DJINN AND MISKATONIC: Even Gods Must Die - Album
Yeah, what do you need a singer for? Let's just play the same riffs over and over again to bore the shit out of people instead. But suddenly, after almost 5 minutes, there's finally some vocals. It's really heavy and more meditative doom metal that we get in the first track (which last for as long as 15 and a half minutes). But I wouldn't say that the other 5 songs are that much faster.
If you have nothing against long and monotonous pieces, then this Indian band might be something for you. I have definitely heard worse than this in my life.
Release date: Jan. 10, 2018 (Transcending Obscurity India)
djinnandmiskatonic.bandcamp.com
JANUARY 1, 2018

Take Me To The Top
Next page
---
This site has been online since 2001.
All reviews and photos/images by Jimmy Blom.