REVIEWS 2016 (Page 5)


Back to page 4 Next page
OPERATION: MINDCRIME: Resurrection - Album
They should really have thrown those first 4 useless tracks away. I mean what's the point with that crap? Just play the real songs instead!
I have heard the 2 latest albums with QUEENSRŸCHE, where the singer (Geoff Tate) used to be the singer. So I thought it could be interesting to finally hear what OPERATION: MINDCRIME sounds like. But what a dissapointment this is! Some kind of progressive and melodic rock soup that last for an eternity. I find no joy at all in listening to this. Some songs even sounds like David Bowie (r.i.p). And then I'm not talking about the Ziggy Stardust period, but his pop era.
Geoff will always be remembered for and compared with his former band, and it's really easy to say that today's version of QUEENSRŸCHE whip the shit out of this band.
(Frontiers Music)
OCTOBER 6, 2016




SEVENTH WONDER: Welcome To Atlanta Live 2014 - Double Album/Double DVD
..and then we have entered the progressive circus again. And the beginning isn't so interesting as they start with a couple of instrumental songs. But when there's finally some vocals, then it's much better. But I get tired after a while, and then there's another record to listen to. 24 tracks at once of progressive metal is way too much at once for me. I guess it works better in small dozes though.
The album is a full rendition of their album "Mercy Falls" and a selection of their most popular material. The show was recorded live at ProgPower USA on September 12-13, 2014. And as a special bonus there's 2 unreleased studio tracks.
SEVENTH WONDER was formed in 2000, and released their first album, "Become", in 2005. Their latest studio album, "The Great Escape", was released in 2010. They are currently working on a new album.
(Frontiers Music)
OCTOBER 6, 2016




PROJECT THEORY: Something Between Us - Album
Nu metal in 2016? A genre that probably was pretty out of date already in 2012, when this Greek band started their career. But now their debut album is here.
It's not bad, but 10 tracks is a little too much for me. A EP would have been enough. But that's just my opinion. So if there actually still is any fans of nu metal, then they should definitely check this out, because it sounds like they know exactly what they're doing.
Release date: October 7, 2016 (Sliptrick Records)
facebook.com/projecttheory
OCTOBER 5, 2016




HEX VOLT: The Best Hex Volt EP Ever - EP
I bet they will get some shit for that title. But if The HIVES could call themselves the best band in the world before anybody even knew how great they actually was, then why not?
The first song, "Best We Got", is a punk rocker that you could pogo dance to. But already in the second song they're a little more progressive, or however I should describe it. Still a little punk, but it reminds me a little of KVELERTAK and BOMBUS too for some reason. And the rest of the songs are even more in that direction and less punk.
HEX VOLT is a garage duo from Arizona. They're described as a mixture of MOTÖRHEAD, BLACK FLAG, HELMET, The MELVINS, CORSAIR and The WHITE STRIPES. Which means that they blend metal, punk and sludge.
Check out if you dare. It's actually not so bad.
Release date: October 7, 2016 (Self released)
OCTOBER 5, 2016




ESCHATOS: The Grand Noire - Album
It seems like black metal can be just about anything nowadays. It can be everything from brutal noise to melancholy and atmospheric stuff, as well as anything in-between that.
This band seems to be stuck in the mid-tempo swamp, and even though there's some o.k. stuff here and there, it's not the best band that I've ever heard. I get a feeling that they want to be progressive, and maybe even melodic. But I can be wrong of course (it wouldn't be the first time).
"On The Divine Names" goes faster, and that's more like I want it to be.
Release date: October 7, 2016 (Starwolf Records)
OCTOBER 5, 2016




CRUZ: Culto Abismal - Album
Debut album from a Spanish death metal/crust punk band. It's described as a mixture of WOLFPACK/WOLFBRIGADE, BOLT THROWER, GRAVE, DISCHARGE and early ENTOMBED. In other words something for both those who like old-school death metal and those who like crust and d-beat punk. And this is definitely something that you should check out, because it's really good stuff.
Release date: October 7, 2016 (Sentient Ruin/To The Death Records/Neanderthal Stench/Selfmade Gor Records)
OCTOBER 5, 2016




NARTHRAAL: Chainsaw Killing Spree - Digital EP
Bad sound quality. Sounds like an old demo recording.
NARTHRAAL is something so unusual as an Icelandic old school death metal band. They started in late 2012, and this is their second EP. They are currently working hard on their first full length album, which will be released sometime in 2017.
This band just love old school death metal from Sweden, and are even said to be the only band in Iceland that uses the legendary Boss HM-2 pedal for their guitars.
These 2 songs goes in mid-tempo, and it's something that you should not miss, because this band is really good. I actually look forward to hear their album.
Release date: October 7, 2016 (Inverse Records)
facebook.com/Narthraal
OCTOBER 4, 2016




MERCYLESS: Pathetic Divinity - Album
French death metal band who released their first album, "Abject Offerings", in 1992 already. Their last album, "Unholy Black Splendor", was released in 2013.
Their style is described as uncompromising and crushing old school death metal with the same feeling as Swedish pioneers like GRAVE, DISMEMBER, ENTOMBED, UNLEASHED, CARNAGE and NIHILIST, mixed with the blood thirsty hate of INCANTATION and IMMOLATION.
Way more interesting to me than all these collections with old bands that almost nobody knew about that are released nowadays. You should of course check out a band like this instead of that old crap.
Definitely 1 of the better death metal bands from France that I've heard.
Release date: October 7, 2016 (Kaotoxin)
facebook.com/mercylesscult
OCTOBER 4, 2016




METAL WITCH: Tales From The Underground - Album
This band was started in Wedel, outside of Hamburg, in 1985. They practiced almost every day and played a few local shows. In 1987 they split up, but came back in 1998. Their first record, a MCD entitled "Ready To Burn", came out in 2002. Their first full length album, "Risen From The Grave", came out in 2008.
METAL WITCH play what they call teutonic heavy metal. It's similar to bands like ACCEPT, GRAVE DIGGER and TYRANT.
Worth checking out.
Release date: October 7, 2016 (Iron Shield Records)
OCTOBER 3, 2016




SCARLET AURA: Falling Sky - Album
Female-fronted melodic metal/rock from Romania. Not bad at all. They have some really good songs here and singer Aura Danciulescu look and sounds good. A possible single would be "Chasing White Horses". I don't really know what else there is to say about this.. Could be worth checking out anyway.
Release date: October 7, 2016 (Pure Rock Records)
scarletaura.net
OCTOBER 3, 2016




DREAMARCHER: Dreamarcher - EP
Here comes another band that can be a little hard to get a grip on.
The first song, "Beat Them Hollow", start really heavy and is 7 and a half minutes long. But this is not another doom/sludge band. No, this is another progressive band. Sometimes it's heavy, sometimes melancholic and melodic, sometimes hard as hardcore and so on.. Their influences comes from "weird" bands like DEAFHEAVEN, CONVERGE, MASTODON, The MARS VOLTA, A PLACE TO BURY STRANGERS, BARONESS and Sunn O))). And that's hardly something that I use to listen to. But I must say that DREAMARCHER doesn't sound so bad after all. Even though everything they do might not be so good.
The band comes from a small town on the west coast of Norway, but are now living in Oslo. And I guess there wasn't too much to do there, and that's probably the reason why they play like they do. Most of the members are actually educated in jazz, and have been session musicians in other genres before they decided to form this progressive metal band 2 years ago. Which might be another reason why they sound like they do.
Release date: October 7, 2016 (Indie Recordings)
dreamarcher.net
OCTOBER 3, 2016




NONEXIST: The New Flesh EP - EP
A really good 5-track death metal EP from Sweden is what we get here. But it's not always the usual old school death metal.
The first song, the title track, is good old death without any odd stuff though.
The second track, "A Promise Unfulfilled", is a mixture of a heavy death beast and melodic death metal.
"Dark And Tortured Universe" is hard and fast. No fun and games here.
After that comes "Before The Storm Takes Me", which begin a little heavier, but end up as an experimental mid-tempo song (or however I should explain it). This is definitely the most odd song.
The last song is a live recording of "Delirious Tongues". Pure fast death metal straight in your face.
(Self released)
facebook.com/nonexistofficial
OCTOBER 2, 2016




NECROPHILIAC: Maze Of Forking Paths - Double album
20 tracks on the first disc, 18 on the second disc. In other words everything this Spanish death metal band recorded during their existance in the late 80s/early 90s: A LP from 1992, 2 unreleased EPs from 1991, a live recording from 1991, demo and live recordings from 1988 and 1990, a demo from 1989 and 2 tracks from a compilation album from 1990.
They're hardly among the better bands in this genre, but it's never really bad either. The best songs are on the demo from 1989.
Another album for the extreme collectors who just must have every collection there is with any old death band.
(Xtreem Music)
facebook.com/necrophiliacdeathmetal
OCTOBER 2, 2016




SWAMPCULT: The Festival - Album
I guess this is how it goes when the story is more important than the music. Because this is really boring to listen to.
This Dutch band are not just inspired by H.P. Lovecraft, they have based an album entirely on his highly acclaimed story "The Festival". The music is supposed to be a mixture of black metal, doom metal and death metal, but to me it's just heavy and damned boring. It's like nothing happens, no matter how hard they try.
Release date: October 2, 2016 (Transcending Obscurity Records)
facebook.com/SwampCult
OCTOBER 1, 2016




IRACONJI: Global Genocide - Album
Nashville-based thrash/death metal band who release their debut album in October (and sent out promos in June already!). It's a wild mixture of influences from different bands like SLAYER, DEATH, EXODUS, CARCASS, KREATOR, SODOM, CANNIBAL CORPSE, MEGADETH and OBITUARY.
Pretty o.k. stuff. So if you like the bands I mentioned, then check this out.
Release date: October 1, 2016 (Self released)
facebook.com/Iraconji
OCTOBER 1, 2016




FOUL BODY AUTOPSY: 21st Century Fascism - Single
Really good death metal that I think you should check out.
This is a 1-man project with a British man named Tom Reynolds. Since 2010 he has released 1 full length album and 2 EPs. He is now working on his second album.
The song is about the rise of the extreme right wing within modern mainstream politics, and was produced by Russ Russell (NAPALM DEATH, DIMMU BORGIR).
Release date: October 1, 2016 (Grindscene Records)
facebook.com/foulbodyautopsyofficial
OCTOBER 1, 2016




AGHAST!: Something Else; Something Rotten - Album
They start with 3 hardcore songs, and I have no problem with that (the info sheet says that it's death metal with a dose of grindcore though, but to me it sounds more like hardcore). But then there's 5 remix verisons of those songs, and I really hate that shit. Why destroy a song by making a fucking techno or rave version of it? I don't get it! It's not even music! It's just noise.
But as the hardcore songs was o.k., I simply deleted the rest of the songs, and diden't have to listen to them anymore.
The band comes from London, UK and have released 3 self-released EPs and a full length album.
Release date: October 3, 2016 (Abducted Records)
facebook.com/aghastkvlt
OCTOBER 1, 2016




HARTMANN: Shadows & Silhouettes - Album
Melodic stuff.
This is the fifth studio album from singer/guitarist Oliver Hartmann (AVANTASIA, Rock Meets Classic, and the PINK FLOYD tribute band ECHOES). It's nearly 4 years since his last album, "Balance", was released.
The music is mainly melodic rock/classic rock, but there's also a few acoustic numbers and some sleepy ballads. It's said to fit fans of Bryan Adams, TOTO, FOREIGNER, WHITESNAKE, Bruce Springsteen, ECHOES and AVANTASIA.
There's definitely a couple of good songs here, so if melodic rock is what you like, then I think you should check this out.
Favorite track: "High On You".
Release date: September 30, 2016 (Sonic11/Pride & Joy Music)
oliverhartmann.com
SEPTEMBER 30, 2016




PETER GRUSEL UND DIE UNHEIMLICHEN: Peter Grusel und die Unheimlichen - Album
With that name and the colorful artwork you could easily think that it would be something totally different than death metal. It looks more like some kind of psychedelic voodoo stuff from the 60s.
It's not really pure death metal though, as they add some hardcore cartridges to their machine gun. Could it possibly be what is called death core? At least some of the songs sounds like it could be that.
This is a pretty new band from Germany, who formed as late as last year. And this is obviously their debut album. 12 tracks without anything extra. Some songs are better than others and the same old blues..
Release date: September 30, 2016 (Kernkraftritter Records)
SEPTEMBER 30, 2016

HEAVY TIGER: Devil May Care - Single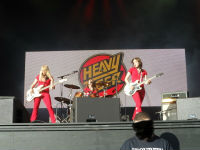 The first single from these Swedish rock trio's new album. It reminds me of The RUNAWAYS, and it's a really good and very catchy rock song written by Ola Salo (The ARK). It was produced by the legendary Nicke Andersson (IMPERIAL STATE ELECTRIC, The HELLACOPTERS, ENTOMBED).
HEAVY TIGER comes from Stockholm, Sweden. And it's a band that you really should check out if it's 70s rock that you like. Simple as that!
Release date: September 30, 2016 (Wild Kingdom)
heavytiger.com
SEPTEMBER 29, 2016




FOGHAT: Under The Influence - Album
This boogie rock legends formed back in 1971 already, but I'm not sure if they have been active all the time as this is said to be a comeback album. It has taken as much as 3 years to make this album.
I thought this was yet another band that I have not heard before. But then I heard the last song, which is a re-recording of their old classic "Slow Ride", and that's a song that I have heard before somewhere (can't remember where though). Unfortunately I think it's too long.
Good stuff anyway, and definitely worth checking out if you like a band like ZZ TOP for example. I wouldn't say that FOGHAT is a direct copy of them though. No, I think this band got a touch of Southern rock in their brew. And in 1 song they actually get funky.
Release date: September 30, 2016 (Metalville)
SEPTEMBER 29, 2016




CHRON GEN: This Is The Age - Album
Now I don't know what this band sounded like 32 years ago, when their last studio album was released. But when an old punk band comes back after so long and sounds like this, then I'm not really impressed. It's more like a rock album than good old punk. Luckily it get better after a couple of listenings, but it sounds like they try to be a modern The CLASH somehow. But that's just a wild guess.
If you're an old fan, then you should give it a try. You might actually like it.
Release date: September 30, 2016 (Westworld Recordings)
SEPTEMBER 28, 2016




NOCTEM: Haeresis - Album
Iberian extreme metal outfit founded in 2001. They have released 3 EPs and 3 albums through the years. "Haeresis" is said to be their most extreme release. Luckily it's not so brutal that it becomes chaos. No, this is still music. Some kind of fast black/death metal with melody. And it's actually not so bad at all. So this album could definitely be worth checking out.
Release date: September 30, 2016 (Art Gates Records/Prosthetic Records)
noctemofficial.com
SEPTEMBER 28, 2016




GRAND MASSIVE: 3 - Album
This German band started in early 2008. Their music is described as "fat heavy rock with stoner influences". And as the title says, it's their third full length.
We get 7 tracks, and it's not bad at all. People who like stoner and heavy rock should try this. And no matter how many times I listen to this album, I don't really know what else to say about this. But a short review is also a review as Dr. Rock use to say (and I'm not Dr. Rock, as some stupid thought).
Release date: September 30, 2016 (Metalville)
SEPTEMBER 28, 2016




YETI ON HORSEBACK: The Great Dying - Album
6 tracks that are between 9 to 13 and a half minutes long. Heavy shit indeed. But yet brutal somehow. Yes, it's doom metal we talk about here.
The band comes from London, Ontario in Canada, and this is their first album.
I have definitely heard better doom in my life. That's for sure. It doesn't really suck, but it's very monotonous, and the songs are way too long. I like more melody, and a song doesn't become better just because it last for an eternity.
I just get tired of this.
Release date: September 30, 2016 (Medusa Crush Recordings)
SEPTEMBER 28, 2016




NETHERBIRD: Pillars Of The Sky - Single
"Pillars Of The Sky" begin as a pretty soft and slow song, but becomes some kind of heavier extreme metal after a couple of minutes. It's a pretty long song with its 7.20 minutes, but not bad.
The second song, "Brazen Splendour", is a little faster and more like some kind of melodic black/death metal. Both songs are good, but the second song is a little better than the title track.
This is the second single from their upcoming album, titled "The Grander Voyage", which will be released on October 28.
Release date: September 30, 2016 (Black Lodge Records)
netherbird.com
SEPTEMBER 27, 2016




LEGION: War Beast - Album
Here's a band that probably will be stuck in the underground scene forever. Not that they're bad, their songs are really good heavy metal, but there's no true anthems or future classics among these songs. It's actually a little like a forgotten demo recording from the late 70s/early 80s sometime. So if you're into New Wave Of British Heavy Metal, then this is a band for you.
This band is not from old Britian though. They're from New Jersey, and released their first album, "Shadow Of The King", by themselves in 2005 (it was re-released a year later through Majestic Rock Records). But after that it has been silent. Until now..
Release date: September 30, 2016 (Pure Steel Records)
legionofficial.com
SEPTEMBER 27, 2016




Bernhard Welz: Stay Tuned 1.5 - Album
Shortly before his 40th birthday, Austrian drummer Bernhard Welz (NO BROS, SCHUBERT IN ROCK) set up an all-star band for a charity project for the Linda McCartney-Fundraising Centre. Among the musicians were legends like Dan McCafferty (NAZARETH), Tony Martin (BLACK SABBATH), Neil Murray (WHITESNAKE), Carl Sentance (KROKUS, NAZARETH, Geezer Butler), Guy Pratt (PINK FLOYD, ROXY MUSIC), Steve Lukather (TOTO), Sir Paul McCartney etc. DEEP PURPLE members Ian Paice, Don Airey, Roger Glover and Steve Morse also play on a couple of the songs.
What we get on this album is a wild mixture of classic rock, hard rock and ballads. Most of the songs are good. Some are better than others. But when a live version of the DEEP PURPLE classic "Child In Time" is the best song on the whole album, then you can always question if you have succeeded to make a good album. But I guess this is not the kind of album you buy for the songs but for the good cause. Which is Rock aginst Cancer. And who doesn't want to rock against that?
Release date: September 30, 2016 (Pure Rock Records)
bernhard-welz.com
SEPTEMBER 26, 2016




ASPHYX: Incoming Death - Album
Finally a new album with these Dutch death metallers! It's already 4 years since their last album, "Deathhammer", was released. During that time drummer and founder Bob Bagchus has left the band. He was replaced by Stefan "Husky" Hüskens (DESASTER).
They kick off the album with a really fast songs, but after that it's mainly their good old mixture of death and doom, even though there's a fast one once in a while too. And it's a good mixture. If you play just fast or just heavy, then it can be too much of that. But this band knows how to do it.
Release date: September 30, 2016 (Century Media)
asphyx.nl
SEPTEMBER 25, 2016




TRUCKFIGHTERS: V - Album
Some bands are hard to get a grip on. Like this band for example. I'm not really sure if they want to be a new COLDPLAY (not that I've heard that much with them) or a heavy rock band. What they're doing here is as a matter of fact a mixture of both according to me. They put their own twist on it though, and sometimes I actually wonder what the hell they're doing. But I must admit that I actually like the last song, "Storyline", (probably because it's the most normal song). There's a few more songs that are o.k., but it takes a couple of listenings to discover that.
Their label describe this Swedish power trio as "groovy, stoner-influenced, progressive and melodic hard rock". Sometimes it's soft and laidback, sometimes hard and heavy, but always melodic. I guess people who like QUEENS OF THE STONE AGE could like this.
Release date: September 30, 2016 (Fuzzorama/Century Media)
truckfighters.com
SEPTEMBER 24, 2016




TWIN PIGS: Got Enough - Single
Members from some Swedish punk rock bands - GAMLA PENGAR, TIGER BELL, INKVISATIONEN and BESSERBITCH - have teamed up here, and this is their first single from their upcoming album, "Chaos, Baby!", which will be released on November 4. It's a very short and aggressive song with both male and female screams. Just 1.18 minutes. So it's a little hard to tell if this is any good at all. I think I will wait for the album before I decide what to think about this band. But there's hope at least. And that's always something.
If you want your punk angry, this might be a band for you.
(Luftslott Records)
SEPTEMBER 23, 2016




RUTS DC: Music Must Destroy - Album
..yeah, but does this destroy? It might not destroy, but it's definitely not a bad rock album that they have made. Yes, a rock album. Because I don't think this sounds that much like punk rock (which they used to play, at least when they called themselves The RUTS). "Second Hand Child" reminds me of something slow with TURBONEGRO, and the last song, "Golden Boy", sounds like something laidback with Swedish rock band The SOUNDTRACK OF OUR LIVES. But everything isn't slow. There's a little more action in most of the other songs.
This is their first new studio album since "Animal Now", which came out in 1981.
(Westworld Records/Restricted Release/Abstract Sounds)
theruts.co.uk
SEPTEMBER 23, 2016




BONG MOUNTAIN: You're Doin' Great! (For The Record) - Album
American pop punk that sounds more like teenage rock. Hardly any of my favorite genres, but I guess this band have some o.k. songs anyway. Not much else than that though. After 2-3 songs it's usually enough for me when I hear stuff like this. And this band doesn't really change that. I prefer good old punk rock instead.
This album is a collection of the group's recorded output, containing their demo and 2 split cassette releases. It's said to please fans of HOT WATER MUSIC, AGAINST ME! and BAD RELIGION (not that I can hear any BAD RELIGION in this). I think it's something for those who like BLINK 182 and similar teenage "punk".
Release date: September 23, 2016 (Stonewalled)
SEPTEMBER 23, 2016




STEVE GRIMMETT'S GRIM REAPER: Walking In The Shadows - Album
This is their first new studio album in almost 30 years.
I don't know, but the first times I heard this album they sounded like a bad copy of SAXON that doesn't succeed to make the same good songs. And all their songs was more or less the same after a while. It was not bad, but never really good either. Just somewhere in the middle.
Now that I have been giving the album a couple of more chances, it sounds much better. And I can hear more than just SAXON in their songs. It's simply classic heavy metal. So if you like that, then this can be worth a try.
This band existed as GRIM REAPER between 1979-1988 and released 3 full length albums. The band came back in 2006.
Release date: September 23, 2016 (Dissonance Productions)
grimreaperofficial.co.uk
SEPTEMBER 22, 2016




ICY STEEL: Through The Ashes - Double album
Heavy metal from Sardinian (Sassari), an Italian island. It's epic and powerful, and very 80s. People who like classic heavy metal should definitely check this out.
I can't help but thinking that a double album is a little over ambitious. But fact is that I like what I hear. And these 13 tracks doesn't last for more than about an hour, so it doesn't take an eternity to listen to it.
The second disc is actually more acoustic and softer. I prefer the first disc with its pure heavy metal explosions.
Best track: "Fire And Flames".
Release date: September 23, 2016 (Self released)
icysteel.wix.com/icysteel
SEPTEMBER 22, 2016




INSOMNIUM: Winter's Gate - Album
1 eternity long song that last for 40 minutes is what we get here. I don't know how they came up with the idea that they should do such a long song. But talk about it and actually do it is 2 totally different things. Now they're not the first band who have done an extremely long song, but there's not many bands who have done a 40-minutes song. I wonder if they recorded the song in just 1 take? Because then you really don't want to fuck it up, so that you have to start all over again.
This is the seventh studio album from this Finnish band. It's a concept album that is forged around an award-winning short story written by the band's vocalist/bassist Niilo Secänen. The music includes all kinds of moods, but it's mainly some kind of melodic death metal. Sometimes it's a little more brutal, sometimes it's very atmospheric and melancholy.
If you want something different and a challenge, then this is the album for you.
Release date: September 23, 2016 (Century Media)
insomnium.net
SEPTEMBER 21, 2016




SAHG: Memento Mori - Album
It was a couple of years since I heard anything with these Norwegian heavy rockers last time (they formed in 2004). This is their fifth album, which is filled with a mixture of doom and progressive metal. A combination that works really good. I like what I've heard with them before, and I like this album too.
The band has 2 new members, guitarist Ole Walaunet and drummer Mads Lilletvedt, on this album.
Good stuff that is worth checking out.
Release date: September 23, 2016 (Indie Recordings)
sahgband.com
SEPTEMBER 21, 2016

IMPERIAL STATE ELECTRIC: All Through The Night - Album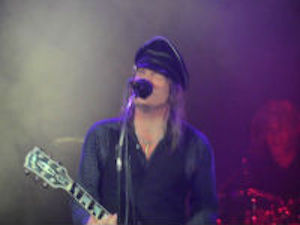 It's not that many bands that release 1 album a year nowadays, but IMPERIAL STATE ELECTRIC is 1 of the few. And they always deliver a really good album too. And that's really something unique.
You can definitely not say that it sounds like usual this time. Something has changed, even though it's the same old band. There's a string orchestra in the title track, "Break It Down" sounds like country, and "Over And Over Again" sounds like something cool with THIN LIZZY. But there's some good old rockers too of course.
That shouldn't scare you away though. After all it's Nicke Andersson (the legend from bands like ENTOMBED, The HELLACOPTERS etc.), so it's almost like it has to be good just because of that. But fact is that I actually like this album. And if you like their previous albums, then I'm pretty sure that you will like this one too (sooner or later at least).
If you sit still to "Get Off The Boo Hoo Train", then there's something wrong with you.
Release date: September 23, 2016 (Psychout Records)
imperialstateelectric.se
SEPTEMBER 20, 2016




The KREOLES: Psycho - Album
I'm not sure if the songs are supposed to be in alphabetic order or if it's just another amateur who has been doing something he or she shouldn't have done (if you don't know how digital files work, then ask somebody else to do it for you, because I'm very tired of all amateurs who can't do it right).
The KREOLES is a female-fronted rock/metal band from Italy, and this is their second album.
If it's modern melodic metal rock you're looking for, then this might be the band for you, because it's actually not so bad at all. The singer reminds me of a young Gwen Stefani (NO DOUBT, who actually was a pretty good rock band in the 90s).
There's many good songs here, with a lot of hit potential, but my favorite is "Don't You Know...". It should be a hit single!
A rock album that even your pop friends will like. This band should be more famous.
Release date: September 20, 2016 (Sliptrick Records)
SEPTEMBER 19, 2016




AGGRAVATOR: Sterile Existence - Album
..and then it was time for some good old thrash metal again. How many of these bands do we really have? But most of them seems to be good, so why complain? AGGRAVATOR is another good band, so check them out.
This band comes from the States and formed in the summer of 2008. And once again I don't really know what else to say.. It's simply not much else to add anyway, as you already know exactly what you're going to get.
Release date: September 19, 2016 (Dead Center Productions)
aggravatorofficial.com
SEPTEMBER 19, 2016




MUMINCUNT: Visor Från Muminskogarnas Mörker - Album
Well, that band name is probably just funny if you know what a Mumin is (or Mumintroll as we call them in Swedish). Unfortunately the music wasn't so funny. The stupid lyrics (all in Swedish and about Mumin) are pretty funny though, but hardly something for the children. The singer sounds like "Moffegreven" sometimes, which The KRISTET UTSEENDE sing about. And the music then.. Well, I guess it's supposed to be some kind of black metal, even though it's not so fast and brutal. It's metal anyway.
This will probably fit people who like Swedish bands like The KRISTET UTSEENDE and SKITARG. Not that MUMINCUNT sounds like any of those bands, but the lyrics are definitely in the same league. Unfortunately they're not as good as those bands, so this will hardly go down in history as a legendary album.
The band comes from Uppsala, Sweden. And there seems to be a lot of maniacs there. Could it possibly be SPORTLOV with a new theme?
The most sick record in a long time..
Release date: September 2016 (Heathen Tribes)
SEPTEMBER 18, 2016




MARES OF DIOMEDES/DREICH - Split EP
Well, MARES OF DIOMEDES are definitely not in a hurry. At least not during the first 3 minutes. But the song goes a little faster after that. Their second song is heavier, but not really slow because of that.
DREICH participate with 3 songs, and they're not exactly in a hurry either. Their second song, "Where Do They Hide", is way too long and monotonous with its 9 minutes.
Heavy and monotonous seems to be the concept here, and I have had much more fun in my life than listening to this. I'm not really sure why I even gave this record a chance. But I guess I was thinking that descriptions like "bone rattling doom that is on par with the best in the genre" and "a must-have purchase for anyone into doom, fuzz or sludge metal" could be something interesting. Unfortunately it wasn't.
(Heavy Earth Records)
SEPTEMBER 17, 2016




DEAP VALLY: Femejism - Album
The single "Gonnawanna" was good, so I had to check out the album too. But I'm not sure that I got what I was looking for. This doesn't sound like the cool garage pop (or what ever I should call that song) that it offered. It's not totally useless though. They have some other good songs too. But everything is hardly good.
How should I describe this then? Well, maybe like some kind of alternative rock with a touch of yesterday? Some songs reminds me of SKUNK ANANSIE somehow, while some songs reminds me of The PRETENDERS. Sometimes I think there's even a punk attitude too. But I'm not sure if I'm on the right way there.
Cool rock is probably the best description after all. But 13 tracks is definitely 3 too many.
(Cooking Vinyl)
deapvally.com
SEPTEMBER 17, 2016




MEANTIME (REDUX) - Compilation album
In the 90s I was mainly into punk and a few death metal bands. The only band from the grunge scene that I listened to was NIRVANA, because they were more punk than the rest, who was more like heavy hard rock.
What that has to do with this? Well, here we have 15 artists covering songs from HELMET's album "Meantime", along with some additional tracks from HELMET. And wasn't they a 90s band at least? I wouldn't really call this grunge or heavy hard rock though. This is more like post hardcore or noise rock.
As I have not heard the original album before, I can't compare these bands versions with the original album. But it sounds o.k. anyway. Not much else though.
The bands on this tribute compilation are I AM BECOME DEATH, EARTHSHIP, IRONWEED, SUNFLO'ER, KEN MODE, KINGS DESTROY, MEEK IS MURDER, The GLORIOUS REBELLION, FUCK THE FACTS, FASHION WEEK, ROSETTA, LIVVER, HEADS:, BLACKWOLFGOAT and BRIEF LIVES.
Release date: September 16, 2016 (Magnetic Eye)
SEPTEMBER 16, 2016




HEAVEN SHALL BURN: Wanderer - Album
They start heavy, but after a couple of minutes they speed it up.
This is the eight studio album from these melodic death metallers. I think there's some hardcore aggression in these songs, so don't expect any clean vocals here. I wouldn't say that they're doing anything unique though.
They have some good songs here, no doubt about that. This could actually be worth checking out. That's for sure.
Release date: September 16, 2016 (Century Media)
heavenshallburn.com
SEPTEMBER 15, 2016




ANCILLOTTI: Strike Back - Album
True Italian steel from Italy. The Ancillotti "family" is back with their second album, which is filled with classic heavy metal, but yet melodic and with a modern production. In other words obvious to check out!
I don't think I have to say much more than that.. If you like classic heavy metal, then you should like this band.
Release date: September 16, 2016 (Pure Steel Records)
ancillottiband.com
SEPTEMBER 15, 2016




PESTILENCE: Reflection Of The Mind - Album
This band is one of the leading and most influential in the Dutch extreme metal scene. They formed in 1986 already, and have released 7 full length albums through the years.
This album features the ultra rare 1992 3-track demo which later evolved into songs for the "Spheres" album. Additionally the album contains 15 rehearsal tracks. So in other words it's just a collection for true collectors/nerds who just got to have everything, because this can hardly be the best they have ever done (but I'm not a fan, so what do I know?). Some kind of alternative/complicated thrash/death metal is what it sounds like to me. It doesn't totally suck, but there's way too few good songs according to me.
I guess you should take it for what it really is though - Half good leftovers.
Release date: September 16, 2016 (Vic Records)
SEPTEMBER 14, 2016




DEAD END: Reborn From The Ancient Grave - Album
DEAD END was formed in 1988 and released 2 demos and a EP in the early 90s. A compilation with all their material was released last year.
The band reformed in late 2014 with some new members, and now they have made 10 new tracks for us. And what we get is old-school doom/death metal. This is something for fans of early ANATHEMA, PARADISE LOST and MY DYING BRIDE.
"Dead End (Reborn)" starts good. It reminds me of ENTOMBED's version of the Roky Erickson classic "Night Of The Vampire". But after that it's not so good anymore. It's not really bad, but there's nothing that grab my balls and tell me to wake up and bang my head either.
This is pretty heavy stuff, and not that many faster parts. There could have been some more fast songs. But that's just my opinion of course.
Release date: September 16, 2016 (Vic Records)
SEPTEMBER 14, 2016




CREMATION: Retaliation - Album
Another Dutch death metal band, who formed in 1991 and released 4 demo tapes, 1 split EP and 1 album.
What we get here is their album from 2002 plus 8 demo tracks as a bonus.
CREMATION was heavily inspired by the Florida death metal scene, and especially by DEATH. But they did it the Dutch way.
After the band split up, guitarist/vocalist Paul Baayens have been a member of THANATOS, ASPHYX and HAIL OF BULLETS.
Well, this sounds good to me anyway, so now it's up to you to discover them.
Release date: September 16, 2016 (Vic Records)
SEPTEMBER 14, 2016




CEREMONY: Tyranny From Above - Album
Death metal in the heavier league with a band that was founded in the Rotterdam area in 1989. They released 2 demo tapes, 1 7" EP and 1 album before the adventure was over.
The album is now being reissued with the EP and a 3-track promo as a bonus.
CEREMONY's music is described as "typical extreme Dutch death metal from the early 90's", and they're compared with SINISTER. Pretty good stuff that can be worth checking out.
Release date: September 16, 2016 (Vic Records)
SEPTEMBER 14, 2016




AVULSED: Eminence In Putrescence - Album
This Spanish death metal band formed in 1991 already, and the band still exist after all these years. This is a 20th anniversary re-issue of their first album from 1996, which comes with 1 bonus track recorded at the same time, but was never included on the original album.
AVULSED isn't doing anything unique. They sound like any other death band from the 90s. It's pretty good, even though every song might not be great. But it could be worth listening to anyway.
Funny with a cover by BARÓN ROJO by the way.
(Xtreem Music)
avulsed.com
SEPTEMBER 13, 2016




GUITAR FORCE: Different Universe - Album
GUITAR FORCE comes from Poland and play modern hard rock and melodic heavy metal. Too much violin for my taste. Which I guess is supposed to give it a touch of folk music. And was it really necessary with so many slow songs?
The band has existed since 2007, and released a couple of records through the years.
Even though I complain a little, most of these 10 tracks are good. So don't be afraid to check this out.
Release date: September 16, 2016 (Inverse Records)
guitarforce.pl
SEPTEMBER 13, 2016




KUROKUMA: Advorsus - EP (Digital, Cassette)
Debut EP from a Sheffield, UK trio playing a mixture of doom, sludge and psychedelic drone. 3 heavy tracks in over 20 minutes is what we get here, so the songs are pretty long (6.30, 7.57 and 5.45 minutes).
Well, this will be another very short review, because all I have to say is that this isn't really my tea bag. But if you like it heavy, go ahead. Otherwise, avoid. Simple as that!
(Medusa Crush Recordings)
facebook.com/kurokumauk
SEPTEMBER 13, 2016




MENTOR: Guts, Graves And Blasphemy - Album
A Polish band that is said to play a mixture of black/thrash metal and harcore/punk. And I guess there's some truth in that description. It's definitely metal anyway. And it's both hard and heavy, but never slow. No fun and games in the park on a Sunny day if we put it that way.
O.k. for a while, but honestly not much else.
Release date: September 15, 2016 (Arachnophobia Records)
SEPTEMBER 13, 2016




PSYKOSIS: Welcome To The Psyko Ward - Album
Nothing new under the sun. What we get here is simply some old-school thrash metal. But if you're looking for something safe, this is definitely something for you.
The band comes from Dublin, Ireland and started in 2008. But it's not until now that their debut album will finally be released. And it's a album filled with young energy. Most likely a perfect party album.
Release date: September 16, 2016 (Self released)
facebook.com/psykosisthrashmetal
SEPTEMBER 13, 2016




GUNS OF GLORY: Strafing Run - Album
Party hard rock with attitude. Or hard rock n roll if you prefer that.
This is the second album from these Finnish guys, who pick their influences from bands like NASHVILLE PUSSY, AC/DC, KROKUS and ROSE TATTOO. And it's good stuff, even though some of the lyrics can make you smile (I don't think you should take them too seriously). Give it a try at your next party. You will probably like it.
(Pure Rock Records)
facebook.com/Gunsofgloryofficial
SEPTEMBER 12, 2016




SONIC SYNDICATE: Start A War - Single
My first thought is: "Is this really the right song?". Now I have not heard SONIC SYNDICATE in many years, but this is not like I remember them. Then they was a damned good modern metal band. But what should I call this then? It sounds more like some kind of modern pop/rock made for the radio. This really dissapointed me!
Yes, it could have been good anyway. But unfortunately I have to say that this song is not so good. I prefer old anthems like "Revolution, Baby" and "Burn This City" from the "We Rule The Night" album. But it's actually 6 years since that album came out. I didn't really expect that they would become a pop band though.
This is the first single from their new album, "CONFESSIONS", which will be released on October 14. Might be something for those who like the Eurovision Song Contest.
(Despotz Records)
sonicsyndicate.net
SEPTEMBER 12, 2016




The QUIREBOYS: Twisted Love - Album
The boys returned to Klippan in southern Sweden to record their tenth studio album. Last time I heard them (last year's "St Cecilia And The Gypsy Soul") it was acoustic, but this time it's electric. I think both works with this band, so I have nothing to complain about.
They might be old in this game, but don't think that they will slow down because of that. It's rock n roll all the way, and just a few slow songs. But no ballads.
If you are going to listen to only 1 rock n roll album this year, this might be a good choice for you.
(Off Yer Rocka Recordings)
quireboys.com
SEPTEMBER 11, 2016




D-A-D at Liseberg in Göteborg, Sweden on September 9, 2016
First and last time I went to Liseberg this year. I usually go there a couple of times during the summer to check out good bands. But because of a hip surgery a couple of months ago, that has not been possible this year.
This will (as usual) be very short. All I have to say about the Danish hard rock veterans D-A-D is that they was mainly good. A little too much jamming when they played old classics though, but otherwise nothing to complain about. And the bassist always have a funny bass. He build them himself, and they only have 2 strings. Ha, ha.
I don't have much else to add..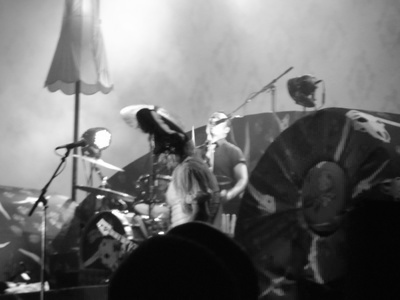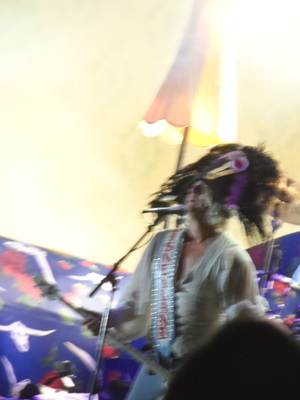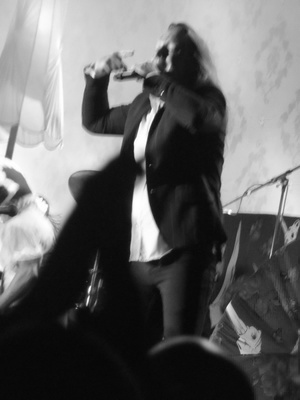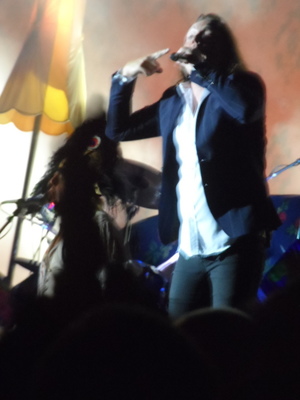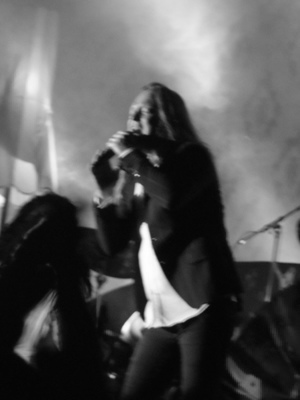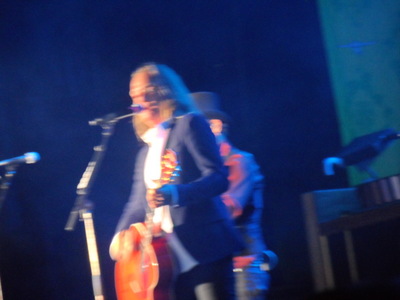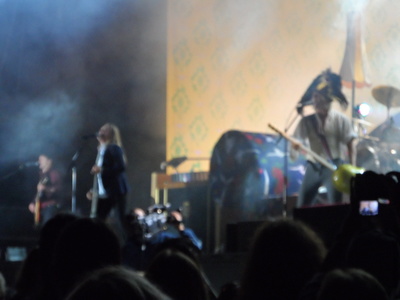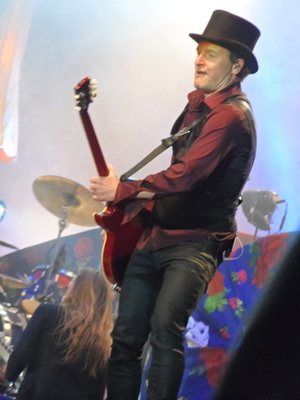 SEPTEMBER 10, 2016



Jack White: Acoustic Recordings 1998-2016 - Double album
This is a double album filled with 26 tracks of alternate versions, mixes and previously unreleased recordings from The WHITE STRIPES, The RACONTEURS and solo material. I have heard some of the songs with The WHITE STRIPES before - like "Apple Blossom", "Hotel Yorba" and "We're Going To Be Friends" for example - which isn't so different from the original versions. I have also heard his solo material when I got it for review (but forgot it soon). I don't think I have heard The RACONTEURS before though.
And just because it says acoustic recordings, that doesn't mean that it's just guitar and vocals. No, there's more instruments than that involved here.
I like most of the songs, but 26 tracks is very much, and there's actually a couple of sleeping pills here and there. But I guess you could call this a best of.. If it wasn't for 2 things:
1. It's an acoustic album
2. His 2 biggest hits with The WHITE STRIPES - "Fell In Love With A Girl" and "Seven Nation Army" - is not included here.
(Third Man/Columbia/XL Recordings)
jackwhiteiii.com
SEPTEMBER 9, 2016




QUAKE THE EARTH: Declaration Of War - Album
Hardcore/metal from Oulu, Finland. They take their musically influences from bands like LAMB OF GOD, PANTERA, HATEBREED, SICK OF IT ALL, AGNOSTIC FRONT and RAGE AGAINST THE MACHINE among others. They try to make their own unique sound, even though you can still hear some of their influences as well. This is their second album.
The best songs are the first track, "Silence Is Golden", and the last track, "Vitun Lampaat". They have a couple of good songs between those 2, but I think a EP with 4-6 songs would have been enough for me. It would surprise me if people who are more into this genre won't like this though.
Release date: September 9, 2016 (Inverse Records)
quaketheearth.com
SEPTEMBER 8, 2016




COLOSSO: Obnoxious - Album
I don't really get the pause music in "Seven Space Collisions", and the last remix really sucks. But otherwise it's mainly o.k. stuff, even though it's not much else than just o.k.
What we get from these Portugese guys is described as "death metal with a new vision". And sure, they definitely doesn't sound like most other death metal bands use to do, as they add some dissonant and industrial elements to their music.
I'm sure that some people will praise this album to the skies, but I'm not 1 of them. It's not that good.
Release date: September 9, 2016 (Self released)
colossometal.com
SEPTEMBER 7, 2016




CORTEZ: Initial - LP
Pretty chaotic hardcore. It's really hard to concentrate when I listen to this band. So I don't like it. Fact is that it's probably the worst noise this week. Just a lot of guitars and a screaming maniac. This is not music. It's noise! ..and I hate noise!
This is a 10th anniversary edition from this Swizz hardcore band, which will be released on 12" vinyl.
Release date: September 9, 2016 (WOOAAARGH/Get A Life!)
SEPTEMBER 7, 2016




PALACE: Master Of The Universe - Album
Sounds more like master of zynth in the beginning. But when he start to sing it's good old melodic hard rock/AOR that smells like the 80s. And I suppose that if this album would have been released then, it could have been a classic. But nowadays there's so many other bands who sounds more or less the same, so it's really hard to make a classic today as you get lost among all the others.
On the other hand, now that you know that this band exist, you're next step is to check them out. Because otherwise you're pretty stupid or not just into this kind of stuff.
Swedish singer/guitarist Michael Palace began working with Frontiers Music as a songwriter and guitar player for FIRST SIGNAL (featuring Harry Hess), CRY OF DAWN (with Göran Edman), KRYPTONITE (featuring Jakob Samuel) and Toby Hitchcock. The successful collaborations led to a worldwide record deal with the label, and the signing of his band PALACE. The members have previously been playing with ADRENALINE RUSH, REACH, Erika, FIND ME and GUTTERDÄMERUNG, just to name a few.
(Frontiers Music Slr)
SEPTEMBER 6, 2016




KING COMPANY: One For The Road - Album
This sounds like RAINBOW after Ronnie James Dio (r.i.p) had left the band. Especially the title track, who start the whole party. But I can also hear some WHITESNAKE and similar bands. In other words a wet dream for everybody who love melodic hard rock from the 70s and 80s.
The band formed in the early spring of 2014 under the name NO MANS LAND. All members comes from other bands (but I'm not going to bore you with any names). The reason why they changed the name of the band is simply because there's already 2 other bands with that name. So they decided to call themselves KING COMPANY instead.
(Frontiers Music srl)
SEPTEMBER 6, 2016




TESLA: Mechanical Resonance Live! - Album
This is a live recording of their classic album "Mechanical Resonance", which they recorded on its 30th birthday. This album also includes the brand new song "Save That Goodness", which was written and produced by Phil Collen (DEF LEPPARD).
Now I have not heard the original studio album, but it sounds familiar somehow anyway. A little like CINDERELLA, The QUIREBOYS and early DEF LEPPARD (around "High 'n' Dry" and "Pyromania"). And that's not bad stuff according to me. So this get both thumbs up.
(Frontiers Music Slr)
SEPTEMBER 5, 2016




DGM: The Passage - Album
Well, this is hardly a new band. They started back in 1997 already, and this is their eight studio album, which includes special guests like Tom Englund (EVERGREY) and Michael Romeo (SYMPHONY X).
DGM play progressive hard rock/metal. It's pretty melodic, and luckily they're not extremely advanced. So this could really be something for those of you who like melodic hard rock and metal.
(Frontiers Music srl)
SEPTEMBER 5, 2016




CRUZH: Cruzh - Album
The members of CRUZH comes from a Swedish glam rock band called ThrashQueen. When that band split up, 2 of the members wanted to play melodic hard rock/AOR instead. The third member had been a studio musician on a ThrashQueen record that was never released.
In March 2013 they let the world know that CRUZH existed. But all they revealed was their silhouettes and that they were from Sweden, and you could also hear their first song, "In A Blink Of An Eye". In the fall of 2013 they unmasked themselves and released the first of 2 demos. In late spring 2015 Frontiers Music wanted to sign them, and they started to work on their debut album.
Among their influences are DEF LEPPARD, TOTO, FM, WINGER, FIREHOUSE and Bryan Adams.
There's many good songs here, so nobody who like melodic hard rock should miss this album.
(Frontiers Music srl)
SEPTEMBER 4, 2016




DEAP VALLY: Gonnawanna - Single
Catchy, female-fronted garage rock is how I describe this band. I have never ever heard about them before, but I like what I hear anyway. So you just have to check this out of course.
The song is the second single from their upcoming album, "Femejism", which will be released on September 16. And that might be worth checking out too when it has arrived.
(Cooking Vinyl)
deapvally.com
SEPTEMBER 3, 2016




The FRANKS DAREDEVILS: Dead Inside - Album
Another band name and cover that doesn't really say that it's supposed to be death metal. Yes, supposed to be. Because I think some parts sounds more like thrash metal actually, even though there's death metal parts too. So I guess we can call it thrash/death metal.
But no matter what we decide to call this, they don't have that many good songs according to my opinion. It's definitely not worthless, but it's hardly more than just o.k. And that's not enough for me (fastidious bastard, huh?).
The FRANKS DAREDEVILS is a project from Quebec, who was formerly known as HELL FIRE'S CLUB 666.
(Via Nocturna)
SEPTEMBER 3, 2016




HEAVY GLOW: The Filth & The Fury/Pearls & Swine And Everything Fine - Album
Catchy and a little psychedelic (sometimes) blues rock for the cool cats. I dig most of it, but there might be a little too many songs here (there's 15 to be more exact). It seems like when the songs start to sound the same, they try to add something different, like funk or soul for example. Unfortunately that doesn't always help. It's unfortunately getting boring towards the end. And another problem is that some songs are a little too long.
"The Filth & The Fury" is a EP that was recorded in one 6-hour live studio session in 2010. It contains 5 songs.
"Pearls & Swine And Everything Fine" was produced by Grammy-nominated producer Michael Patterson (Beck, BLACK REBEL MOTORCYCLE CLUB). And that's probably not a new album (they forgot to tell from which year it is though).
The band is expected to enter the studio in September to begin the recording of their new album, planned for release in early 2017.
If you like good old rock from the late 60s/early 70s, then give them a try. I like the EP best, so try that one first.
Release date: September 2, 2016 (Purge Records/Restricted Release)
SEPTEMBER 1, 2016




USELESS: Absence Of Grace - Album
With a name like that you can easily think that they really are useless or that they have a really bad self-confidence. But it's all we others who are useless according to them.
Well, the first track, "Black Wolf", is hardly the best I've ever heard. Dark, monotonous and slow. Pretty boring actually.
But after that they start to play faster, and that's just so much better. ..for a while at least. Unfortunately it's still a little monotonous. But that's nothing unusual when it comes to black metal, which is the kind of music this band are playing. I also think that most of these songs are way too long (4,38-9,14 minutes). When they reach 6 minutes I've already got tired of the song a couple of minutes ago.
Hardly the best I've ever heard..
Release date: September 2, 2016 (Third Eye Temple)
AUGUST 31, 2016




The DEVILS MUSIC: The Devils Music - Album
I don't think this sounds like the devil's music.
This band was founded by former DEVILMENT founder Daniel J Finch. The music is described as old-school metal, like MACHINE HEAD meets CRADLE OF FILTH. And the songs on this debut album was originally written for the second album with DEVILMENT. So this could probably be something for those of you who like those bands.
This might not really be my thing, but after a couple of listenings I like the first track, "From Beyond", at least. And "Phoenix" is not so bad either. But I think many of the other songs got an industrial touch, and sometimes it reminds me of KORN actually (not that I've heard that much with them). Not something that make an impression on me.
Release date: September 2, 2016 (Coffee Jingle Records)
thedevilsmusic.bandcamp.com
AUGUST 31, 2016




SLOMATICS: Future Echo Returns - Album
Why they send out a promo already in May/June when the album won't be released until September is a big question? Why don't they just release the record at once instead? Seems to be very stupid according to me anyway.
SLOMATICS formed in Belfast late 2004. Their music is described as doom/fuzz/sludge rock. But I would like to call it a doom band torturing the shit out of the riff. Heavy stuff to make it easier. Or simply sludge.
They start the whole thing with a instrumental song. But after that we get some vocals. And it's pretty good stuff. Hard and heavy.
Release date: September 2, 2016 (Black Bow Records)
AUGUST 30, 2016




SADDISCORE: Demons Of The Earth - Album
SADDISCORE formed in August 2011 and play modern metal inspired by both old bands like IRON MAIDEN and METALLICA, as well as a newer band like MACHINE HEAD. It's hard and heavy, but at the same time catchy and melodic. Not bad at all says a old man like me.
Their first EP, "Roots Of Fear", was released in March 2014. "Demons Of The Earth" is their first full length, and I wish them good luck in the future.
Release date: September 2, 2016 (Boersma-Records)
saddiscore.de
AUGUST 30, 2016




S.N.A.F.U.: Present Day Plague - LP, Cassette
I'm actually not really sure if I have reviewed this album already or not, because the difference from last time I heard them (whenever that was) isn't that big to be honest. But now this album will be released on vinyl and good old cassette anyway.
It's still some kind of crossover between crust punk and thrash metal that we get from them. And it doesn't sound so bad, even though I have had much more fun.
The band comes from Detroit. S.N.A.F.U. stands for Situation Normal All Fucked Up.
Release date: September 2, 2016 (Self released)
snafudetroit.bandcamp.com
AUGUST 29, 2016




VEIL OF DECEPTION: Tearing Up The Roots - Album
This band was formed in Vienna, Austria, in January 2013 to prove that Austrian metal is alive and well. "Tearing Up The Roots" is their second album, so they must have done something right. But to describe their music isn't so easy. I would say modern metal with a twist of stoner, groove and possibly a pinch of thrash. Heavy guitars and melodic vocals. They have a couple of good songs anyway, so it could be worth checking out.
Release date: September 1, 2016 (Sliptrick Records)
AUGUST 29, 2016




VOLTURYON: Cleansed By Carnage - Album
Brutality! Yes, pretty brutal death metal is what we get from this band, and I like what I hear. We get 10 pieces of something that most death metallers should like. So you have to check this out of course.
VOLTURYON was formed in 2005 and comes from Sweden. Their first album, "Blood Cure", was released in 2008. It was followed by "Coordinated Mutilation" in 2011 and the EP "Human Demolition" in 2014.
Not much else to add..
Release date: September 2, 2016 (ViciSolum Productions)
volturyon.net
AUGUST 28, 2016




OSMIUM GUILLOTINE vs. The TICKTURDS - Split EP
They say that heavy metal and punk rock go head-to-head on this split record. But all I hear is 5 tracks of punk rock.
They start with a song that is written and performed by all members from both bands. Which means 4 vocalists, 3 lead guitarists, 2 bass players and 1 drummer. After that they're doing 1 original song each and 1 cover each of the other band.
Most songs are catchy and o.k. I have heard both better and worse.
(Self released)
osmiumguillotine.com thetickturds.bandcamp.com
AUGUST 28, 2016




DIMINO: Old Habits Die Hard - Album
Well, this is not a new album as it was released last year already. I'm not really sure why they decided to promote it now though. Seems to be a little late. But better late than never as the positive said. And it's hardly the first time that has happened.
Frank DiMino fronted a band called ANGEL throughout the 70s. It was a band that started as a progressive rock band, but developed to a melodic rock band (if I got it right). He has also recorded with LOUDNESS, KING KOBRA, SPARKS and Paul Raymond (UFO).
In 2015 DiMino returned to the scene with his first solo album, where many of his friends participated. Among these friends were Oz Fox (STRYPER), Eddie Ojeda (TWISTED SISTER), Rickey Medlocke (BLACKFOOT, LYNYRD SKYNYRD), Pat Thrall (HUGHES/THRALL), former ANGEL bandmate Punky Meadows, Jeff Duncan (ARMORED SAINT), Jeff Labansky, along with members from Meat Loaf's band.
"Old Habits Die Hard" is a album filled with melodic hard rock songs. And it's definitely not bad at all. So this is something you should check out of course.
(Frontiers Music srl)
AUGUST 27, 2016




LIFT THE MEDIUM: Mastermind - Album
Modern melodic rock with a singer that sometimes whine so much that he almost gives me a nervous breakdown. This is definitely not something for an old man like me. This is music for the youth.
The funny thing is that they compare this band with giants like SOUNDGARDEN, FOO FIGHTERS, VELVET REVOLVER and Slash. I don't agree, but it's always possible that fans of those artists might actually like LIFT THE MEDIUM. I'm not always right.
This is by the way not really a new album, but a deluxe version with new artwork and a new track, called "Fact Of The Matter". The album was originally released in 2014, and this new version was supposed to be released in March already, but for some reason the release was postponed to August instead.
Release date: August 27, 2016 (Self released)
AUGUST 26, 2016




KING: Reclaim The Darkness - Album
Really good black metal! This is what it shall sound like if you want me to like it.
KING was formed in 2013 by David Hill and Tony Forde, who had worked together previously on grindcore and death metal projects, but shared the same drive to create something with more depth and space to express their musical ideas and concepts. David Haley joined KING on drums in 2014 to complete the line up. Among their influences were IMMORTAL, MOONSORROW, IN FLAMES, SATYRICON, DISSECTION and SOILWORK. In other words they focus on strong song structures to allow the arrangements to effortlessly transition between raw black metal and epic, soaring layered melodies.
Something worth checking out.
Release date: August 26, 2016 (Indie Recordings)
oneworldoneking.com
AUGUST 25, 2016

Strängen: Bangatan - Single
New single from Robert "Strängen" Dahlqvist (ex-The HELLACOPTERS, DUNDERTÅGET etc). And this time he is using his nickname instead of his real name (which he was using last time).
This song reminds me of Swedish 70s rock, but with a drunk vocalist. A little like Swedish 70s singer Kenta (probably just old Swedes who knows who I'm talking about). "Bangatan" was written and recorded together with Björn Olsson (UNION CARBIDE PRODUCTION, SOUNDTRACK OF OUR LIVES, H&qring;kan Hellström etc).
Well, it's a really good song. So why not check it out?
(Wild Kingdom)
AUGUST 24, 2016

MOTOROWL: Om Generator - Album
Psychedelic doom rock from Germany.
This is a very young band. They formed as late as 2014, and most of the members wasn't even 20 years old yet. The music they play is hardly something new though. It's the kind of stuff you could be happy if you would find it in your dad's or uncle's record collection. Very much like rock and hard rock sounded in the 70s. A sound that I really like!
And I'm happy to tell you that MOTOROWL have many good songs on this debut album. I actually think that there's not a single bad song among these 8 tracks.
Release date: August 26, 2016 (Century Media)
motorowl.de
AUGUST 24, 2016

MARTYRION: Our Dystopia - Album
Melodic death metal outfit from Cologne, that was founded 10 years ago.
Their sound might be familiar, but I don't think they sound exactly like the Gothenburg bands, like so many other bands in this genre. No, I actually think they have more in-common with let's say AMON AMARTH for example. At least in some of the songs.
I like what I hear anyway, and that's always the most important thing to me. Then you can describe it however you want to.
Release date: August 26, 2016 (Boersma Records)
AUGUST 24, 2016

MADAME MAYHEM: Now You Know - Album
She brag about having musicians like Billy Sheehan (MR. BIG, WINERY DOGS), Ray Luzier (KORN, KXM), Ron "Bumblefoot" Thal (GUNS N' ROSES) Russ Parrish (aka "Satchel" from STEEL PANTHER) and Corey Lowery (SAINT ASONIA, STUCK MOJO). But as far as I know they just play here and have not written anything (I could be wrong though). It's nothing but a cheap trick to get more attention than you actually deserve.
The music is some kind of harder rock in the heavier league, but still with a lot of melody. And sure it's good, but 14 tracks is a little too much at once. And who needs a cover of "Anyone Who Had A Heart"? A song that probably most of you don't even know anything about. I never really liked that song anyway. There might also be a little too many slow ones. It's not like every third song have to be slow just because it's a woman on vocals.
Well, now that I have complained so much, I have to say that it's definitely not a hopeless album. At least half of the album is good.
Release date: August 26, 2016 (Metalville)
AUGUST 23, 2016

George Tsalikis: The Sacrifice - Album
Many of these songs reminds me of early MANOWAR somehow, but with a modern production. It doesn't sound exactly like them though, so there's obviously more influences. The second song, "Of My Dreams", reminds me of HAMMERFALL for example.
George Tsalikis is the main songwriter in ZANDELLE. This is his first solo project. And he have managed to compose some really good songs here. No doubt about that.
There's some guest musicians here (5 singers for example), but I'm not going to bore you with any names (none of them are well-known to me anyway).
Release date: August 26, 2016 (Self released)
facebook.com/GeorgeTsalikisSinger
AUGUST 22, 2016

FRIGORIS: Nur ein Moment... - Album
This is the third album from this German post/black metal band. The first track is 11 minutes long, and the last song is 5,40 minutes. The songs between those 2 are approximately 8-10 minutes long. You get 6 tracks. It's a wild mixture of atmospheric, slow and faster parts. Definitely not something for those of you who want your black metal straight in the face. I think they're o.k. though, but I would be surprised if I ever listen to this record again.
Release date: August 25, 2016 (Hypnotic Dirge Records)
AUGUST 21, 2016

NUCLEAR CHAOS: Shockwave - Single
Not exactly anything new under the grey sky. We have heard this kind of melodic death metal so many times before. But it's not bad, so why complain? There isn't that much to say about it though that hasn't already been said. In other words you know if you like it or not.
NUCLEAR CHAOS are a Mexican quartet, and they have released 2 albums so far. They are currently working on their third full length, which will be released early next year.
If you like melodic death metal, then check them out!
facebook.com/nuclearchaosmusic
AUGUST 20, 2016

Larre U-A: Hero - Single
I have been trying to write about this Swedish band before, but it has been hard to come up with something interesting to say about them. Not that they're bad, their rock music is pretty o.k. I'm not really sure what it is, but I can't come up with that much to say about this song either. It's just a pretty o.k. rock song. That's all.
So far they have not succeeded to surprise me with something that smells like a hit. So maybe it's time for the next step?
(Self released)
AUGUST 20, 2016

DEATH DESIGN: Drown With Me - Single
Design death metal for the hip kids? No, not really.
This is a very young trio from Pori, Finland, who formed as late as January 2016. They describe their music as death metal with various influences from sub genres such as groove, progressive and melodic metal.
It might not be anything new, but it's good stuff that I think you should check out.
(Inverse Records)
facebook.com/deathdesignband
AUGUST 20, 2016

SEVEN BURNING CHURCHES - Compilation album
O.k., this might sound a little odd to some of you, but I have actually not heard anything with POSSESSED before (as far as I can remember anyway), and this is a tribute album to them. So for obvious reasons I can't compare these versions with the original versions. But after listening to this I can at least say that POSSESSED seems to be a good band.
The bands on this compilation are PYRE, DECEASE, VIOLENTOR, BESTIALITY, HELL PATROL, SEPTORY, TERROR STRIKER, CLÓÉÄÊÍ (not sure if that is correct), GROND, CASTRUM and REGRESSIVE.
Only for the most fanatic fans I suppose..
(Dead Center Prods/More Hate Prods)
AUGUST 19, 2016

VIOLENT REVOLUTION: State Of Unrest - Album
Good old crossover thrash metal from Phoenix, Arizona.
The band formed in 2014 and are influenced by bands like S.O.D., EXODUS, D.R.I., SLAYER and The EXPLOITED. This is their debut album.
Well, let's just say that if you like the bands mentioned above, then you will definitely like VIOLENT REVOLUTION too.
Release date: August 19, 2016 (Iron Shield Records)
reverbnation.com/violentrevolution1
AUGUST 18, 2016

WIRED ANXIETY: The Delirium Of Negation - EP
It's a little weird that some bands can be excellent, while some bands just sucks. And to make it even more complicated there's also these bands who are somewhere in the middle, like these Bombay boys. You don't really know what to think about them. Are they good or are they bad?
This death metal band have some good moments here and there, but they always succeed to destroy it with something that's not so good according to me. But luckily it's just 4 songs, and they don't last for an eternity.
(Transcending Obscurity Distribution)
facebook.com/wiredanxiety
AUGUST 18, 2016

RATTLEPLAGUE: Bourbon Scenes EP - Digital EP
Finnish heavy rock band. And that's all the information I have about this band.
It would have been so much better if these dudes knew how to make fantastic songs. But that's not easy of course. Like it is now, they're just a good rock band among thousands of others. They don't have anything special that makes you want to check out this band before any other band in the same genre. It's nice for as long as it last at least, but that's not really enough if you want to make it.
But I guess that if you're satisfied with just playing for your closest friends, and have no dreams about being a rock star, then this is definitely good enough.
Release date: August 19, 2016 (Inverse Records)
facebook.com/rattleplague
AUGUST 17, 2016

BEWITCHER: Bewitcher - Album
These maniacs comes from Portland, Oregon, and deliver what is best described as old school blackened thrash/speed metal. And they have done a really good album here, so I can really recomend you to check this out. Especially if you like bands like POSSESSED or early VENOM and BATHORY.
I don't really know what else there is to say though..
Release date for LP and digital: August 18, 2016 / Release date for CD: September 9 (Divebomb Records/Diabolic Might Records)
cultofthebewitcher.com
AUGUST 16, 2016

BEELZEFUZZ: The Rightous Bloom - Album
Heavy rock with a band who formed in 2009. Their first album came out in 2013.
There's a melodic 70s vibe over this, which is nice. I really like it! Just listen to the 2 first songs, "Nazriff" and "The Soulless", for example. Excellent! There's no bad songs here though.
You just must check this out!
Release date: August 19, 2016 (Restricted Release/The Church Within)
beelzefuzz.com
AUGUST 16, 2016

SVVAMP: Svvamp - Album
This makes me think of LED ZEPPELIN, but also blues-based Swedish rock bands like TORNET and SPIDERS. The label mention acts like CREAM, Eric Bell-era THIN LIZZY, CREEDENCE CLEARWATER REVIVAL and CRAZY HORSE. Sometimes it's more like laidback country rock/Americana instead of blues rock. And sometimes there's psychedelic moments too. So there's variation at least, but most songs have their roots in the late 60s/early 70s.
This is the first album from this Swedish trio, and it's definitely something for all you retro rockers out there.
Release date: August 19, 2016 (RidingEasy Records)
AUGUST 15, 2016 Back to page 4 Next page Take Me To The Top
---
This site has been online since 2001.
All reviews and photos/images by Jimmy Blom.