Yesterday's news..


JULY 18, 2018
NEW ALBUM WITH ANAAL NATHRAKH IN SEPTEMBER
On September 28, Birmingham extreme metallers ANAAL NATHRAKH will release their 10th full-length album, "A New Kind Of Horror", via Metal Blade Records. The disc's first single, "Forward!", is available now.
Listen to the single and pre-order the album here: metalblade.com/anaalnathrakh
anaal-nathrakh.com NEW ALBUMS WITH RED DRAGON CARTEL AND STEPHEN PEARCY IN NOVEMBER
Former Ozzy Osbourne guitarist Jake E. Lee's band RED DRAGON CARTEL will release a new album, "Patina". And RATT singer Stephen Pearcy will also release a new album, "View To A Thrill". Both albums will be released on November 9 via Frontiers Music Srl.
reddragoncartel.com facebook.com/SEPearcy frontiers.it NEW ALBUM WITH NAZARETH IN OCTOBER
Old Scottish rock veterans NAZARETH, who celebrate their 50-year anniversary this year, will release their 24th studio album, "Tattooed On My Brain", on October 12 via Frontiers Music Srl.
It will be their first album with new vocalist Carl Sentance (ex-PERSIAN RISK, Don Airey).
nazarethdirect.co.uk frontiers.it JULY 17, 2018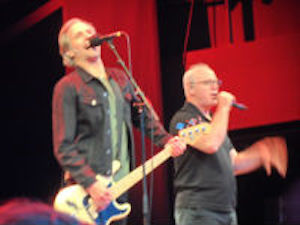 BAD RELIGION, RANCID, SOCIAL DISTORTION AND THE INTERRUPTERS CONFIRMED FOR SURF CITY BLITZ
The line up for this year's Surf City Blitz has been announced. The list of bands playing it includes The OFFSPRING, SOCIAL DISTORTION, PENNYWISE, RANCID, BAD RELIGION, SUICIDAL TENDENCIES, FEAR, SNUFF, MAD CADDIES, BLACK REBEL MOTORCYCLE CLUB, The INTERRUPTERS, VOODOO GLOW SKULLS and more.
The event is scheduled for October 27-28 at Hunting State Beach in Hunting Beach, CA, U.S.A.
surfcityblitz.com TIM RIPPER OWENS AND SIMON WRIGHT TO TAKE PART IN ORCHESTRAL TRIBUTE TO AC/DC
Former JUDAS PRIEST singer Tim "Ripper" Owens and ex-AC/DC drummer Simon Wright will take part in the world's first AC/DC orchestral tribute tour, set to take place this fall, mainly in Australia. The project goes under the name "Let There Be Rock – Orchestrated", and will feature all the hits from AC/DC's career from both Bon Scott and Brian Johnson eras.
Except for Owens and Wright, the lineup will feature NOISEWORKS founding bassist Steve Balbi, guitar legend Joel McDonald, former bassist for ARIA Hall Of Famers The ANGELS James Morley, MONDO ROCK bassist Paul Christie, and introducing the female rock vocalist Cynthia Gallie.
Tickets go on sale to general public on Monday, July 23. And the few dates are:
Nov. 30 - Palais Theatre, Melbourne
Dec. 01 - Crown Perth, Perth
Dec. 06 - Enmore Theatre, Sydney
Dec. 07 - Anita's Theatre, Thirroul
Jan. 19 - Belasco, Los Angeles, CA
youtu.be/f7Ypd_HnF6k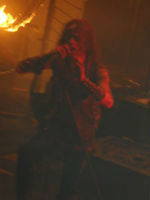 WATAIN ANNOUNCES SWEDISH TOUR DATES
Swedish black metallers WATAIN will do 4 shows in Sweden in October, with support from OBNOXIOUS YOUTH and DREADFUL FATE. These dates are:
Oct. 12 - Nöjesfabriken, Karlstad
Oct. 13 - Folkets Park, Huskvarna
Oct. 19 - Kulturbolaget, Malmö
Oct. 20 - Trädgår'n, Göteborg
Tickets can be bought here: livenation.se/artist/watain-tickets
templeofwatain.com NEW ALBUM WITH HIGH ON FIRE IN COTOBER
California heavy rockers HIGH ON FIRE have set "Electric Messiah" as the title of their 8th studio album, due in October via Entertainment One.
highonfire.net AT THE GATES ANNOUNCES 2 SWEDISH DATES WITH NIFELHEIM AND VAMPIRE
Swedish death metal legends AT THE GATES will do 2 shows in Sweden with NIFELHEIM and VAMPIRE. The exclusive dates are:
Oct. 5 - KB, Malmö
Oct. 6 - Pustervik, Göteborg
Tickets go on sale Friday, July 20.
atthegates.se facebook.com/Nifelheim.Official facebook.com/vampiretheband DEMON HEAD ANNOUNCES SCANDINAVIAN TOUR
Danish "diabolic" rock act DEMON HEAD will be touring in Denmark, Sweden and Norway in September. And the dates are:
20 Sep - DK, Stengade, Copenhagen
21 Sep - SWE, Sticky Fingers, Gothenburg
22 Sep - SWE, Skylten, Linköping
25 Sep - SWE, Geronimo, Stockholm
26 Sep - SWE, Plan B, Malmö
27 Sep - NO, Krøsset, Oslo
28 Sep - NO, Heavy Night Vol 3, Haugesund
29 Sep - DK, HQ, Aarhus
facebook.com/Demoncoven KVELERTAK TO CONTINUE WITH NEW SINGER
Norwegian rock/metal band KVELERTAK will continue with a new singer, which will be announced at their show on Friday, July 20 at Fjellparken in Flekkefjord, Norway.
Singer Erlend Hjelvik announced yesterday (July 16) that he has decided to leave the band.
KVELERTAK is currently working on their next album, intended for release in 2019.
kvelertak.com
Take Me To The Top JULY 16, 2018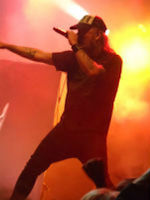 AT THE GATES TO SUPPORT BEHEMOTH IN NORTH AMERICA
Polish black/death metal band BEHEMOTH are going on a North American tour in October/November, with Swedish death metal legends AT THE GATES as special guests, and American metal band WOLVES IN THE THRONE ROOM as support act.
Tickets go on sale July 20. For more info, check out 1 of these sites: behemoth.pl atthegates.se wittr.com NEW ALBUM WITH HYPNOS IN SEPTEMBER
Swedish hard rockers HYPNOS have set "Set Fire To The Sky" as the title of their new album, which will be released on September 28 via The Sign Records.
The first single, "Deadline", will be released on July 30.
You can pre-order the album here: freighttrain.se/en/the-sign-record/hypnos
facebook.com/hypnosboogie thesignrecords.com KVELERTAK PARTS WAYS WITH SINGER
Singer Erlend Hjelvik has decided to leave the Norwegian rock/metal band KVELERTAK.
Due to circumstances out of Erlend's control, he will not be able to perform the last 4 shows in Norway this summer.
Read his statement at: facebook.com/Kvelertak
kvelertak.com ONSLAUGHT PRESENTS NEW DRUMMER AND GUITARIST
British thrash veterans ONSLAUGHT got a new drummer, James Perry, and guitarist, Wayne Dorman.
onslaughtuk.com JULY 15, 2018
LIVE ALBUM WITH GRANDE ROYALE IN SEPTEMBER
Swedish rock band GRANDE ROYALE will release a live album, titled "Captured Live", on September 21 via The Sign Records. The album was recorded in Flensburg, Germany last year.
Pre-order: freighttrain.se
granderoyaleoff.bandcamp.com thesignrecords.com
Take Me To The Top JULY 14, 2018
EXODUS TO HEADLINE EUROPEAN EDITION OF MTV HEADBANGERS BALL TOUR
As San Francisco Bay Area thrash metal legends EXODUS are just finishing their summer run across Europe, the band has announced that it will return to the continent in November and December to headlline the 2018 edition of the renowned "MTV Headbangers Ball Tour", which will lead them through 17 cities and venues in 9 countries. The lineup will be completed by newly re-structured Ruhr Area thrash veterans SODOM, U.S. metal act DEATH ANGEL plus Greek underground metal band SUICIDAL ANGELS.
The dates are these:
Nov. 30 - D Leipzig, Hellraiser
Dec. 01 - CZ Zlín, Hala Euronics
Dec. 02 - H Budapest, Barba Negra
Dec. 03 - PL Wroclaw, A2
Dec. 04 - D Hamburg, Markthalle
Dec. 05 - NL Tilburg, O13
Dec. 06 - UK London, Electric Ballroom
Dec. 07 - D Oberhausen, Ruhrpott Metal Meeting
Dec. 08 - D Geiselwind, Christmas Bash
Dec. 09 - A Vienna, Arena
Dec. 10 - D Ravensburg, OberschwabenHalle
Dec. 11 - D Wiesbaden, Schlachthof
Dec. 12 - D Saarbrücken, Garage
Dec. 13 - D Ludwigsburg, Rockfabrik
Dec. 14 - I Novara, Phenomenon
Dec. 15 - CH Lausanne, Les Docks
Dec. 16 - D Munich, Backstage
Trailer for the tour: youtu.be/qMEVVSn4seg
headbanger.deinetickets.de exodusattack.com sodomized.info deathangel.us suicidalangels.com JULY 13, 2018
NEW ALBUM WITH EX-HARDCORE SUPERSTAR GUITARIST THOMAS SILVER
Former HARDCORE SUPERSTAR guitarist Thomas Silver have signed with Volcano Records for the release of his new album, which will be released in November.
youtube.com/watch?v=Oars8MyLfs8 volcanopromotion.com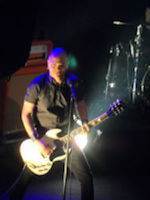 DANKO JONES ADD 4 MORE SHOWS TO EUROPEAN TOUR
Canadian hard rocking trio DANKO JONES have added 4 dates to their European fall tour. And those dates are:
Nov. 18 - Alkmaar, Victorie (NL)
Nov. 28 - Zurich, Dynamo (CH)
Dec. 07 - Solothurn, Kofmehl (CH)
Dec. 15 - Copenhagen, Pumpehuset (DK)
Tickets, info and more dates at: dankojones.com/tour MUSTASCH ANNOUNCES NORTH AMERICAN TOUR
Swedish heavy hard rockers MUSTASCH are going on their first North American tour in September/October. All dates (and more) can be found at: mustasch.net JULY 12, 2018
THE QUIREBOYS TO RE-RELEASE "HOMEWRECKERS & HEARTBREAKERS"
The QUIREBOYS' fifth studio album, "Homewreckers & Heartbreakers", will be re-released as a 10th-anniversary limited-edition digipack on September 3 via Off Yer Rocka Recordings.
quireboys.com offyerrocka.com DIAMOND HEAD ANNOUNCES EUROPEAN TOUR
NWOBHM legends DIAMOND HEAD will be busy touring in Europe from late September to late November. Dates can be found at: facebook.com/DiamondHeadOfficial OPETH WORKING ON NEW ALBUM
Swedish progressive rock/metal band OPETH are currently working on new material for their next album. They hope to release the new studio album in the first quarter of 2019. JULY 11, 2018
PARADISE LOST ANNOUNCES NORTH AMERICAN TOUR
U.K. gothic doom/death pioneers PARADISE LOST will return to North America after a 6-year absence for a headlining tour in support of their latest album, "Medusa". Joining them are Iceland's premiere psychedelic post-metal export SÓLSTAFIR, as well as The ATLAS MOTH. Tickets go on sale Friday, July 13. Dates can be found at: paradiselost.co.uk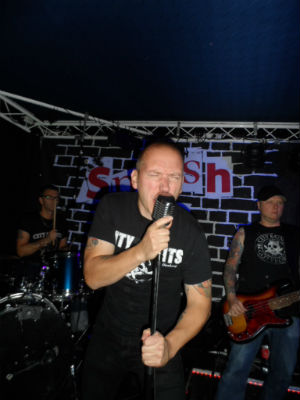 NEW 7" EP WITH CITY SAINTS NEXT WEEK
Swedish punk rockers CITY SAINTS are going to release a new 7" EP, "Weekend EP", on July 20 via Sunny Bastards Records. You can pre-order it from: shop.sunnybastards.de/Music/Vinyl/City-Saints-Weekend-EP-7inch-Single-150-silver-marbled-Vinyl-MP3::2769.html?language=en TYGERS OF PAN TANG ANNOUNCES SPANISH TOUR DATES
NWOBHM legends TYGERS OF PAN TANG are going to Spain for 3 shows in November. The dates are:
Nov. 16 - Coruña, Forum Celticum
Nov. 17 - Donostia, C.C. Larratxo
Nov. 18 - Valencia, Paberse Club
tygersofpantang.com JULY 10, 2018
NEW ALBUM WITH VOIVOD IN SEPTEMBER
Canadian progressive sci-fi metal innovators VOIVOD celebrate their 35th anniversary this year, and will release a new album, "The Wake", on September 21 via Century Media Records.
The first single from the album will be released on July 20.
VOIVOD are going on a European tour in September/October, which will start in Prague, Czech Republic on September 7 and end in Oslo, Norway on October 20. Dates can be found at: voivod.com
centurymedia.com YNGWIE MALMSTEEN, ZAKK WYLDE, STEVE VAI, NUNO BETTENCOURT AND TOSIN ABISI TEAM UP FOR NORTH AMERICAN TOUR
GENERATION AXE brings together some of the greatest guitarists of all time: Steve Vai, Zakk Wylde, Yngwie Malmsteen, Nuno Bettencourt, and Tosin Abisi. They will all once again join together to tour North America to stage 32 appearances across the country. Beginning on November 7 at the Fox Theater in Oakland, CA, the run will return to markets where the inaugural tour was celebrated and hit several new cities for the first time. The general on-sale goes live July 13. For additional information visit: generationaxe.com
yngwiemalmsteen.com zakkwylde.com vai.com nunobettencourt.com facebook.com/ animalsasleaders LACUNA COIL CELEBRATE 20 WITH LIVE RELEASE IN NOVEMBER
2018 marks the 20th anniversary of LACUNA COIL's debut. To celebrate this special year, they played a very special show on January 19 in London at the O2 Forum Kentish Town. The unique, one-time event was filmed and recorded for "The 119 Show - Live In London", which is scheduled for release on November 9.
Around the release the band will head out for a European tour to support the release of "The 119 Show - Live In London". These dates are:
Nov. 02 - (DE) Weissenhäuser Strand, Metal Hammer Paradise
Nov. 03 - (BE) Bruges, Entrepot
Nov. 04 - (NL) Leiden, Gebr. De Nobel
Nov. 06 - (CH) Pratteln, Z7
Nov. 08 - (DE) Ludwigsburg, Rockfabrik
Nov. 09 - (DE) Weinheim, Café Central
Nov. 10 - (DE) Cologne, Club Volta
Nov. 11 - (DE) Dresden, Scheune
Nov. 13 - (DE) Munich, Strom
Nov. 14 - (DE) Nürnberg, Hirsch
Nov. 15 - (IT) Milan, Santeria
Trailer: youtu.be/0Ui21FFcH9M
DANZIG ANNOUNCES HALLOWEEN TOUR
To celebrate DANZIG's 30th anniversary, special live dates for Halloween week 2018 have been announced. The short tour will end in Southern California with a big Halloween bash. These will be the last DANZIG live dates for awhile as Glenn Danzig will be concentrating on other projects which will be announced at a later date.
The Halloween tour dates are:
Oct. 24 - Portland, OR - Roseland
Oct. 25 - Seattle, WA - Sodo
Oct. 27 - Salt Lake City, UT - The Complex
Oct. 28 - (to be announced on July 25)
Oct. 31 - Denver, CO - Fillmore
Nov. 01 - Albuquerqe, NM - El Rey Theatre
Nov. 03 - Irvine, CA - FivePoint Amphitheatre NAZARETH TO RELEASE ANTHOLOGY IN SEPTEMBER
Scottish rock legends NAZARETH celebrate their 50-year anniversary this year with the release of a anthology, titled "Loud & Proud", on September 28. It will be available as 3CD, 2LP and a limited Super Deluxe box set with all their albums and a lot of other stuff.
Read more and pre-order it here: nazareth.tmstor.es
nazarethdirect.co.uk REFUSED TO REPLACE BULLET FOR MY VALENTINE AT BORGHOLM BRINNER
BULLET FOR MY VALENTINE have been forced to cancel their apperance at the Borgholm Brinner festival due to personal reasons. Swedish legends REFUSED will step in to replace them.
The festival take place at the Borgholm Castle on Öland, Sweden on July 27-28. Among the other artists are IN FLAMES (who arrange the festival), GRAVEYARD, SATYRICON, COMEBACK KID, RAISED FIST, DANKO JONES, DARK TRANQUILLITY and TRIBULATION.
borgholmbrinner.se
Take Me To The Top JULY 9, 2018
TRIBULATION ANNOUNCES NORTH AMERICAN TOUR
Swedish metal band TRIBULATION will be touring North America in September/October. It will be a mix of co-headlining shows with PALLBEARER and their own headline shows. There will also be support acts, who are not confirmed yet.
The dates can be found at: facebook.com/Tribulationofficial UK SUBS TO RELEASE DISCOGRAPHY BOX SETS
UK SUBS have one of the largest discographies in punk history, having released at least 26 albums (depending on how you count). Each of the 26 albums is titled alphabetically with their first album being 1979's "Another Kind of Blues", and their latest album of original material being 2016's "Ziezo" (they also just released a covers album last month).
Now these veterans will be releasing the entirety of their alphabet discography, spread across 2 massive box sets. "The Albums Volume 1 (A - M)" is out July 20 via Edsel and includes 15 discs, the final 2 discs having 37 rare tracks and singles. After that, "The Albums Volume 2 (N - Z)" is out August 24, and also has 2 discs worth of rarities.
uksubs.co.uk DORO ANNOUNCES EUROPEAN TOUR
As previously reported, German metal queen DORO will release the new double album, "Forever Warriors, Forever United", on August 17 via Nuclear Blast. That will be followed by European tours in November/December and March 2019.
Pre-order the album here: media.nuclearblast.de/shoplanding/2018/Doro/forever-warriors-forever-united.html
For tour dates, go to: doromusic.de/dates_de.php JULY 8, 2018
NEW ALBUM WITH SOULFLY IN THE FALL
SOULFLY has set "Ritual" as the title of its new album, tentatively due in October via Nuclear Blast. EX-MALEVOLENT CREATION SINGER BRET HOFFMANN IS DEAD
Former MALEVOLENT CREATION frontman Bret Hoffmann has died after a battle with stage 4 colon cancer. He was only 51 years old. BIOGRAPHY ABOUT CORTEX TO BE PUBLISHED NEXT MONTH
A biography about Swedish cult punk rock/post punk band CORTEX will be released on August 2. The title of the book is "Skuggorna Kommer", and it will tell the whole story.
Read more (in Swedish)
Take Me To The Top JULY 7, 2018
NIGHTRAGE TO RECORD NEW ALBUM
Greek/Swedish melodic death metallers NIGHTRAGE will enter the studio in a couple of weeks to start recording a new album.
facebook.com/nightrage JULY 6, 2018
NEW RATT LINEUP REVEALED
According to Metal Sludge, singer Stephen Pearcy and bassist Juan Croucier have recruited drummer Pete Holmes (BLACK 'N BLUE, RATT's Juan Croucier), lead guitarist Jordan Ziff (RAZER) and rhythm guitarist Chris Sanders (BRITNY FOX, KNIGHT FURY) to play in the new lineup of RATT.
Pearcy and Croucier are the sole remaining original members in RATT's current lineup, which will make its live debut this Saturday (July 7) in Mulvane, Kansas.
therattpack.com EX-KING DIAMOND BASSIST HAL PATINO SUFFERS MILD HEART ATTACK
Former KING DIAMOND bassist Hal Patino suffered a "mild heart attack" over the weekend. The news was revealed by his son, Danish rock singer Maryann Cotton (born Jackie Patino), who recently embarked on a North American tour, with his father handling bass duties during the trek. JULY 5, 2018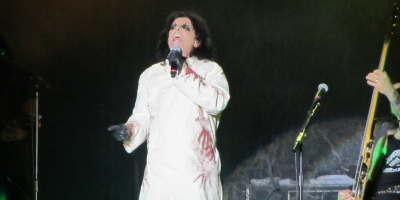 NEW LIVE ALBUM WITH ALICE COPPER IN THE END OF AUGUST
Alice Cooper will release his new live album, "A Paranormal Evening At The Olympia Paris", on August 31 through earMUSIC as 2CD digipak, 2LP gatefold (white and red LP), and digitally.
The concert was recorded at the world renowned Olympia in Paris on December 7, 2017.
alicecooper.com ear-music.net IN FLAMES RECRUITS NEW DRUMMER
Swedish metal band IN FLAMES have recruited American drummer Tanner Wayne, best known for his work with UNDERMINDED, SCARY KIDS SCARING KIDS and CHIODOS, to sit behind the kit for the band for their summer 2018 live appearances.
Wayne has stepped into IN FLAMES following the apparent recent departure of Joe Rickard. Tanner made his live debut with IN FLAMES last night (Wednesday, July 4) in Brno, Czech Republic. Which you can watch here: youtu.be/fUVPjopjNFA
inflames.com DRUMMER JIMMY DEGRASSO HAS LEFT RATT
Drummer Jimmy DeGrasso has confirmed to SiriusXM DJ Eddie Trunk that he is no longer part of RATT. Singer Stephen Pearcy and bassist Juan Croucier are the sole remaining original members in RATT's current lineup, which will make its live debut in Mulvane, Kansas on July 7.
therattpack.com SAXON REISSUES POSTPONED UNTIL NEXT MONTH
Due to a manufacturing hold-up, BMG will now re-issue SAXON's 3 classic albums "Innocence Is No Excuse", "Rock The Nations" and "Destiny" on August 10 instead of July 27.
Pre-order links: saxonband.lnk.to/IINE saxonband.lnk.to/RockTheNations saxonband.lnk.to/Destiny
saxon747.com JULY 4, 2018
2 NEW LIVE ALBUMS WITH STATUS QUO IN AUGUST
STATUS QUO are to release a pair of "twin" live albums, "Down Down & Dignified At The Royal Albert Hall" and "Down Down & Dirty At Wacken", on August 17 through earMUSIC. These releases capture the legendary rock band delivering 2 sets, each full of hits, energy and passion, while each offering a radically different tone and style of delivery.
The first album features an acoustic show recorded at the legendary The Royal Albert Hall, while the second album features an electric show recorded at Wacken Open Air.
statusquo.co.uk ear-music.net JULY 3, 2018
DEATH DOCUMENTARY TO RECEIVE DVD RELEASE ON FRIDAY
"Death By Metal", the definitive documentary on DEATH frontman Chuck Schuldiner, will receive its long-awaited DVD release on July 6 via MVD Visual.
The film features exclusive interviews, rare footage and demos, and is the first film of its kind to tribute Schuldiner's unparalleled role in the evolution of heavy metal. It was written and directed by Canadian filmmaker Felipe Belalcazar.
Schuldiner's life and career was tragically cut short by cancer in 2001.
A trailer for the film is available here: vimeo.com/125608027 JULY 1, 2018

FREDAGEN DEN 13:E, KURT OLVARS REBELLER AND KÖRSBÄRSFETTERA CONFIRMED FOR HALMSTA PUNKEN 2018
The bands who will play at Halmsta Punken 2018 have been confirmed. And among the bands are FREDAGEN DEN 13:E, KURT OLVARS REBELLER, KÖRSBÄRSFETTERA, PUNK MAHONE, BOMBER, WELTSCHMERZ and HOTET.
The 1-day punk festival take place in Halmstad, Sweden on July 29.
facebook.com/Halmsta-Punken-1591991377734221 UPPSALA ROCK NIGHTS CANCELED
Uppsala Rock Nights has been canceled. The festival was supposed to take place in Uppsala, Sweden on July 6-7, but only 10-15% of the tickets they expected to sell has been sold.
Read more (in Swedish) here: facebook.com/UppsalaRockNights
Take Me To The Top JUNE 30, 2018
BUZZCOCKS, THE SKIDS AND PENETRATION TO PLAY AT THE ROYAL ALBERT HALL
British punk rock veterans BUZZCOCKS, The SKIDS and PENETRATION will be playing a very special show at The Royal Albert Hall in London, England on June 21, 2019.
Get your tickets here: royalalberthall.com/tickets/events/2019/buzzcocks-the-skids OVERKILL, DESTRUCTION AND FLOTSAM AND JETSAM TO JOIN FORCES FOR EUROPEAN TOUR
Legendary New Jersey thrashers OVERKILL will join forces with DESTRUCTION, FLOTSAM AND JETSAM and MESHIAAK for the "Killfest Tour 2019" in March 2019. The dates are:
March 08 - IT - Bologna - Zona Roveri
March 09 - IT - Bergamo Palosco - Arcadia
March 10 - DE - München - Backstage
March 14 - DE - Berlin - Columbia Theater
March 16 - DE - Osnabrück - Hyde Park
March 17 - DE - Frankfurt - Batschkapp
March 20 - FR - Paris - Trabendo
March 21 - UK - London - O2 Academy
March 22 - UK - Hammerfest
March 23 - IR - Dublin - O2 Academy
March 24 - UK - Glasgow - SWG3
wreckingcrew.com destruction.de flotsam-and-jetsam.com DISKONTO WAS GOING TO REUNITE
Swedish crust punks DISKONTO were going to reunite for some shows later this year. Unfortunately cancer took the singer's life before that happened.
facebook.com/DISKONTOUPPSALA JUNE 29, 2018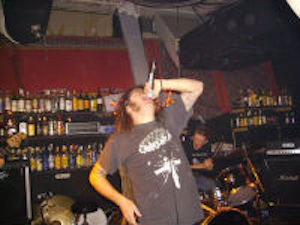 DISKONTO SINGER STEFFE IS DEAD
It seems like Stefan "Steffe" Pettersson, singer for Swedish crust punk bands like DISKONTO and TIMES SQUARE PREACHERS, as well as metal bands like SPORTLOV and USURPRESS, has died at the age of 46. I have no further details..
He made it to the news anyway (where they call him a hard rock profile): svt.se/nyheter/lokalt/uppsala/hardrocksprofil-fran-uppsala-gatt-ur-tiden (in Swedish). JUDAS PRIEST ANNOUNCES JAPANESE TOUR
JUDAS PRIEST are going to Japan for 5 shows in November:
21st November Zepp Sapporo - Sapporo, Hokkaido
23rd November Valor Culture Hall - Gifu
25th November Civic Hall - Okayama
26th November Grand Cube - Osaka
29th November Musashino Forest Arena - Tokyo
Tickets go on sale Saturday, August 4 at: eplus.jp/sys/main.jsp
judaspriest.com BLITZKRIEG ANNOUNCES EUROPEAN TOUR DATES
NWOBHM legends BLITZKRIEG have announced the first dates of their European tour in November/December. And they are:
28.11.18 UK - Newcastle, Trillians
29.11.18 UK - London, New Cross Inn
01.12.18 FR - Paris, Le Klub
04.12.18 DE - Nurnberg, Der Cult
07.12.18 NL - Weert, De Bosuil
09.12.18 NL - Den Haag, Musicon
More dates to be confirmed soon..
blitzkriegmusic.com CAREER SPANNING COMPILATION WITH JOE STRUMMER
On September 28, the estate of Joe Strummer will be releasing a career spanning 2CD compilation, called "Joe Strummer 001".
The archiving of the material and compiling was overseen by Joe's widow Luce and Robert Gordon McHarg III. The set focuses on nearly all of Strummer's non-The CLASH output, with recordings from The 101'ERS, his time with The POGUES, his late 80s solo era, his recordings with The MESCALEROS, and a few demos from 1986 recorded by Strummer and former The CLASH band mate Mick Jones.
The release includes a mix of well known material, including his duets with Johnny Cash and Jimmy Cliff, as well as some unreleased alt-versions, demos, and other previous unknown tracks. In addition to the 2CD version, there are also several box set versions that include books, vinyl records, and other items. NEW ALBUM WITH DEICIDE IN SEPTEMBER
American death metal legends DEICIDE announce the release of their 12th studio album, "Overtures Of Blasphemy", their first new album since 2013's "In The Minds Of Evil". The album will be released through Century Media Records worldwide on September 14.
centurymedia.com JUNE 28, 2018
GATANS LAG AND ADAM NILSSON TO PLAY IN LINKÖPING
Lórient in Linköping, Sweden seems to be the place you should go to this fall if you want Swedish punk..
On October 5 Adam Nilsson, BANDET ELLINGTON, ISFRUN and 1 more act (tba) will play.
And on November 17 it's time for GATANS LAG, GRÅ VARDAG, NYA GIVEN and SYSTEMKOLLAPS.
facebook.com/Lorientlinkoping JUNE 27, 2018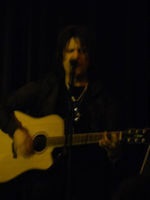 KEE MARCELLO ANNOUNCES UK TOUR
Swedish guitarist/vocalist Kee Marcello (best known for his years with multi-platinum selling band EUROPE) has announced a 6-date UK tour in October.
Kee will be performing both his own songs and EUROPE songs together with Ken Sandin (ALIEN, Joe Lynn Turner, ROCK LEGENDS, Eric Martin) and Tim Brown (Don Airey, Martin Turner ex-WISHBONE ASH, Aynsley Lister).
And the tour dates are:
October 11 - Bilston (West Midlands), The Robin 2
October 12 - London (Camden), The Underground
October 13 - Merthyr Tydfil, The New Crown
October 14 - Stoke-on-Trent, Eleven
October 17 - Manchester, Rebellion
October 18 - Glasgow, The Ferry
facebook.com/keemarcello NEW ALBUM WITH ALICE IN CHAINS IN AUGUST
ALICE IN CHAINS will release its new album, "Rainier Fog", on August 24. The latest single from the effort, "So Far Under" can be streamed here: youtu.be/qusV7bKsrAE TWISTED SISTER TO REISSUE "YOU CAN'T STOP ROCK 'N' ROLL"
On June 27, 1983, TWISTED SISTER released their second album, "You Can't Stop Rock 'N' Roll". To mark the 35th anniversary of this release, a newly remastered, expanded version of this breakout album will be available on September 14, featuring the original songs, in addition to a rare live performance of the album recorded in March 1983 at London's Marquee Club, plus 3 studio bonus tracks. Available as a 2CD set and digitally - pre-order your copy here: rh-ino.co/ycsrnr.
A live album, titled "Live At The Marquee 1983", will also be released on August 10 as a 2LP set on colored vinyl (an exclusive release for Record Store Day Crawl in the U.S.), and it includes covers of the SHANGRI-LAS' "Leader Of The Pack" and the SLADE version of "Let The Good Times Roll", plus the first-ever public performance of the song "You Can't Stop Rock 'N' Roll".
twistedsister.com NEW ALBUM WITH SATAN IN SEPTEMBER
On September 7 Metal Blade Records will release "Cruel Magic", a brand new studio album by English NWOBHM legends SATAN.
For a preview of "Cruel Magic" surf over to metalblade.com/satan, where you also can watch the video for the 1st single, "The Doomsday Clock".
satanmusic.com metalblade.de
Take Me To The Top JUNE 26, 2018
THUNDERMOTHER ANNOUNCES MORE EUROPEAN TOUR DATES
Sweden-based hard rock n roll women THUNDERMOTHER have announced part 2 of their European tour, which will take place in November/December. And the dates are:
29.11. BE – De Verlichte Geest, Roeselare
30.11. NL – Boerderij, Zoetermeer
01.12. DE – Rosenheckhalle, Ebernhahn
02.12. FR – L'Empreinte, Savigny-le-Temple
04.12. CH – Z7, Pratteln
05.12. AU – P.M.K, Innsbruck
06.12. DE – Der Cult, Nürnberg
07.12. DE – X, Herford
08.12. DE – NIKOLAUT Rockfestival, Oberhausen
thundermother.com

VRÄVARNA TO REPLACE SKITARG AT VICIOUS ROCK FESTIVAL
Swedish sex/dirt metal/punk band SKITARG has been forced to cancel their apperance at Vicious Rock Festival at Folkets Park in Trollhättan, Sweden on July 6-7. Borås, Sweden's own dirt punk veterans VRÄVARNA will play instead.
Among the other artists are The CROWN, DRAGON STEEL, DIA PSALMA, Richie Ramone, BULLET, KNOGJÄRN, The GLORIA STORY, NEKROMANT, PASTORATET etc.
viciousrock.se THE RUTS TEAM UP WITH THE PROFESSIONALS FOR UK TOUR
British punk rockers The RUTS (aka RUTS DC) will celebrate the 40-year anniversary of their debut album, "The Crack", with a UK tour in February 2019. Special guests will be The PROFESSIONALS.
Tickets go on sale Friday, June 29, and the dates can be found at rutsdc.com W.A.S.P. RECRUITS DRUMMER BRIAN TICHY FOR EUROPEAN SUMMER FESTIVALS
W.A.S.P. has recruited renowned drummer, songwriter and multi-instrumentalist Brian Tichy, known for his tours of duty with WHITESNAKE, Billy Idol, FOREIGNER and Ozzy Osbourne, to sit behind the kit for the band's current run of European festivals.
waspnation.com KINGDOM COME TO CELEBRATE DEBUT ALBUM WITH 30-YEAR ANNIVERSARY TOUR
Hard rock band KINGDOM COME was formed in 1987, and was quickly signed to Polydor Records, who released their self-titled debut album in 1988, which was a big success.
2018 marks the 30th anniversary of that album. And to celebrate that, drummer James Kottak are going to team up with original members Danny Stag (guitar), Rick Steier (guitar) and Johnny B. Frank (bass), for a tour. Original singer Lenny Wolf declined to participate in the tour, but wishes the rest of the guys all the success and best in the world. Keith St. John (ex-MONTROSE, LYNCH MOB) will be stepping up to fill that position.
This version of KINGDOM COME will tour in 2018–2019, performing their debut album in its entirety (when headlining) along with music from their second album, "In Your Face". Confirmed dates so far are:
Sept. 27 Seattle, WA – Club Sur Rocks
Sept. 29 Sacramento, CA – Holy Diver
Oct. 3 West Hollywood, CA – Whisky a Go-Go
Oct. 5 Las Vegas, NV – Vamp'd
Oct. 6 Ramona, CA – Ramona Mainstage
Oct. 11 St. Charles, IL – Arcada Theatre
Oct. 17 Warrendale, PA – Jergel's
Oct. 18 Sellersville, PA – Sellersville Theater
Oct. 21 Derry, NH – Tupelo Music Hall
Oct. 23 New Bedford, MA – Greasy Luck Brewpub
Many more dates will be added, so keep an eye on kingdomcomeband.com JUNE 25, 2018

JUDAS PRIEST LAUNCHES GLENN TIPTON PARKINSON'S FOUNDATION
JUDAS PRIEST have launched the Glenn Tipton Parkinson's Foundation in honor of their guitarist who is suffering from the degenerative neurological disorder.
Read more on Facebook JOAN JETT AND THE BLACKHEARTS ANNOUNCES AUSTRALIAN TOUR
JOAN JETT AND THE BLACKHEARTS are going on the "Red Hot Summer Tour" in Australia early next year, together with Jimmy Barnes, The LIVING END, DIESEL, Richard Clapton and CHOCOLATE STARFISH. Tickets go on sale Thursday, June 28, and the dates are these:
Jan 12 - Mannum, SA
Jan 13 - Swan Valley, WA
Jan 19 - Mornington, VIC
Jan 26 - Launceston, TAS
Jan 27 - Ballarat, VIC
Feb 2 - Hunter Valley, NSW
Feb 3 - Baulkham Hills, NSW
Feb 9 - Bribie Island, QLD
redhotsummertour.com.au joanjett.com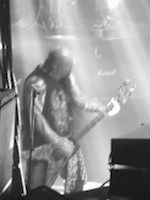 SLAYER, MANOWAR AND CARCASS CONFIRMED FOR HELLFEST 2019
The first bands to be confirmed for next year's Hellfest in Clisson, France are SLAYER, MANOWAR, CARCASS, DROPKICK MURPHYS and MASS HYSTERIA.
The festival take place June 21-23, 2019.
hellfest.fr GRAVE DIGGER PARTS WAYS WITH DRUMMER AND ANNOUNCE NEW DRUMMER
German heavy metal veterans GRAVE DIGGER are going seperate ways with drummer Stefan Arnold. New drummer is Marcus Kniep.
The band also says that they will return to their roots and rock the stages of the world as a pure quartet. The use of keyboards will be reduced to a minimum.
grave-digger-clan.com GHOST TO PLAY AT THE ROYAL ALBERT HALL
GHOST have announced that they will play a show at The Royal Albert Hall in London, England on September 9.
O2 pre-sale: Wednesday, June 27
LN & venue pre-sales: Thursday, June 28
General On-sale: Friday, June 29
Tickets: livenation.co.uk/artist/ghost-tickets
ghost-official.com
Take Me To The Top JUNE 24, 2018
VINNIE PAUL DIED IN HIS SLEEP
Vinnie Paul Abbott's family has told TMZ that the legendary drummer for PANTERA, DAMAGEPLAN and HELLYEAH died in his sleep at his home in Las Vegas. His body has been turned over to the medical examiner to determine a cause of death, and after that, he will be flown back to his home state of Texas to be buried between his mother and brother ("Dimebag" Darrell Abbott, who died in Dec. 2004). LIVE ALBUM WITH GG ALLIN & THE JABBERS DUE NEXT WEEK
Blood Orange Records will release a live album with GG ALLIN & The JABBERS, titled "Live At The Rat", on June 28, which is the date when GG Allin died 25 years ago. There will be a limited edition of 500 copies on vinyl. You will get it first from The JABBERS' Facebook page.
There will be many more previously unreleased recordings with GG ALLIN & The JABBERS on Blood Orange Records.
facebook.com/officialjabbers JUNE 23, 2018
NEW ALBUM WITH NASHVILLE PUSSY IN SEPTEMBER
American hard rock n roll band NASHVILLE PUSSY will release a new album, "Pleased To Eat You", on September 7 via Verycords.
nashvillepussy.com verygroup.fr/verycords PANTERA DRUMMER VINNIE PAUL IS DEAD
Vincent Paul Abbott, aka Vinnie Paul, has passed away. He was 54 years old.
Paul is best known for his work as the drummer in the bands PANTERA, DAMAGEPLAN and HELLYEAH.
No further details are available at this time.
pantera.com
Take Me To The Top JUNE 22, 2018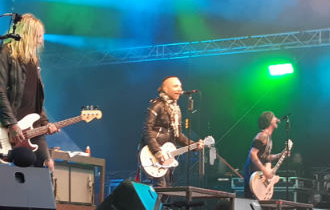 BACKYARD BABIES SIGNS WITH CENTURY MEDIA
Swedish hard rockers BACKYARD BABIES have signed with Century Media Records. A new album, titled "Sliver and Gold", is scheduled for an early 2019 release. The first single from the album, "Shovin' Rocks", is out now on digital platforms, and you can find links to it here: BackyardBabiesMusic.lnk.to/ShovinRocks
backyardbabies.com centurymedia.com JUNE 21, 2018
DEBUT ALBUM WITH AXIS OF DESPAIR NEXT MONTH
AXIS OF DESPAIR - formed by current and former members of NASUM, COLDWORKER, INFANTICIDE, VOLTURYON, LIVET SOM INSATS, NERVGIFT, OVERTORTURE, and more - will release their debut full length, "Contempt For Man", on July 27 through Southern Lord.
Pre-listen here: axisofdespairsl.bandcamp.com/album/contempt-for-man MANOWAR ANNOUNCES NORWEGIAN SHOWS
MANOWAR are going to Norway in April 2019 for 6 shows. Confirmed dates are:
April 09, 2019 – Scandic Scene, Hamar
April 10, 2019 - Scandic Scene, Hamar, Norway
April 12, 2019 – Konserthuset, Stavanger, Norway
April 13, 2019 – USF Verftet, Bergen, Norway
April 14, 2019 – USF Verftet, Bergen, Norway
April 16, 2019 – Kulturhuset, Longyearbyen, Norway
General Admission tickets will go on sale on Monday, June 25.
manowar.com JUDAS PRIEST ANNOUNCES SOUTH AMERICAN TOUR DATES
JUDAS PRIEST will do 4 shows in South America in November. The dates are:
November 8: Solid Rock Festival - Pedeira, Curitiba, Brazil
November 10: Solid Rock Festival - Allianz Park, Sao Paulo, Brazil
November 11: Km Hall - Rio De Janeiro, Brazil
November 14: Solid Rock Festival - Expominas, Belo Horizonte, Brazil
judaspriest.com LED ZEPPELIN'S "THE SONG REMAINS THE SAME" TO BE REISSUED
LED ZEPPELIN's classic live album "The Song Remains The Same", will be re-released in multiple formats on September 7 via Atlantic/Swan Songs.
ledzeppelin.com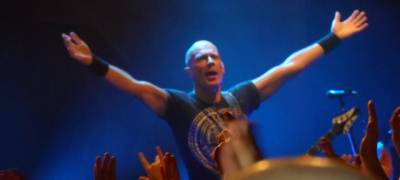 ANOTHER LIVE RELEASE WITH ACCEPT IN NOVEMBER
ACCEPT will release "Symphonic Terror – Live at Wacken 2017" on November 23 via Noclear Blast. They forgot to tell on what formats it will be available, but it will feature a 2-hour performance that took place at Wacken Open Air in Wacken, Germany on August 3, 2017. Some tracks were performed with a symphony orchestra.
acceptworldwide.com nuclearblast.de THE EXPLOITED ANNOUNCES NORTH AMERICAN TOUR WITH TOTAL CHAOS
Scottish punk legends The EXPLOITED are going on a North American tour in August/September, with support from American punk veterans TOTAL CHAOS.
Dates and tickets at bit.ly/the-exploited-tour
the-exploited.net totalchaospunk.com
---
As Hard Rock Info's Facebook page refuse to work as it should for me, I'm not able to post birthday wishes and other stuff there. So let's take it here instead..
June 20 - Congratulations in arrears to: Michael Anthony (CHICKENFOOT, ex-VAN HALEN), born in 1954, and Kelly Johnson (GIRLSCHOOL, dead in July 2007), born in 1958.
Happy Birthday on June 21 to: Ray Davies (The KINKS), born in 1944, and Joey Kramer (AEROSMITH), born in 1950.
---
JUNE 20, 2018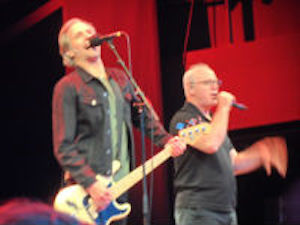 NEW SINGLE WITH BAD RELIGION
Californian punk rock veterans BAD RELIGION have released a brand new song called "The Kids Are Alt-Right": youtu.be/hES9IBTPbcw NEW ALBUM WITH THERAPY? IN SEPTEMBER
Northern Ireland rockers THERAPY? will release their 15th studio album, "Cleave", on September 21 via Marshall Records. STEVE HACKETT ANNOUNCES UK DATES FOR GENESIS REVISITED TOUR
Prog icon Steve Hackett (ex-GENESIS) brings his 8-date "Genesis Revisited Tour" to the UK in October. The show will feature his band together with a 41-piece orchestra. The London Royal Festival Hall, Birmingham Symphony Hall and Manchester Bridgewater Hall have already sold out.
The dates are these:
October 1 - Nottingham, Royal Concert Hall
October 3 - Manchester, Bridgewater Hall (SOLD OUT)
October 4 - London, Royal Festival Hall (SOLD OUT)
October 5 - Birmingham, Symphony Hall (SOLD OUT)
October 7 - Gateshead, The Sage 1
October 8 - Glasgow, Royal Concert Hall
October 10 - Ipswich, Regent
October 11 - London, Palladium
Tickets are available from myticket.co.uk, hackettsongs.com and venue box offices. D.R.I., PESTILENCE, UNANIMATED AND VOMITORY CONFIRMED FOR MARYLAND DEATH FEST 2019
The first wave of acts have been announced for Maryland Death Fest 2019. And among those bands are D.R.I., PESTILENCE, UNANIMATED, VOMITORY, BLOOD, VIOLATOR, CRO-MAGS, FULL OF HELL, IMMOLATION, MORTICIAN, BRUTALITY, CHASM etc.
The festival takes place May 23-26, 2019 in Baltimore, Maryland at Rams Head Live and Baltimore Soundstage.
deathfests.com ROSS THE BOSS ANNOUNCES EUROPEAN TOUR WITH BULLET
MANOWAR co-founding guitarist ROSS THE BOSS announces headline tour all over Europe to promote his recently released album "By Blood Sworn". His band features Marc Lopes on lead vocals, SYMPHONY X bassist Mike LePond on bass and Steve Bolognese on drums.
Swedish heavy metal band BULLET will co-headline on all dates. Special guests on part 1 (Oct. 16-22) of the tour will be CRYSTAL VIPER, and PORTRAIT on part 2 (Oct. 24-Nov. 3).
All dates and other details can be found at ross-the-boss.com
facebook.com/bulletband crystalviper.com facebook.com/portraitsweden DOCUMENTARY ABOUT JAPANESE HARDCORE/PUNK SCENE IN THE 80S
"Oh damn!" is a documentary film about Japan's hardcore/punk scene in the 80s. The film is being released 34 years after it was actually first created. The documentary is to be screened in full August 18. Some of the bands that will be featured include: GAUZE, G.I.S.M., The EXECUTE, The COMES, The TRASH, CLAY, GASTUNK.
You can check out a little preview here: youtu.be/3yspKYhP96c
More info here: silvergelatin.main.jp/movie/chottonoame-feb
Take Me To The Top JUNE 19, 2018
SCHMIER HAS LEFT PÄNZER
DESTRUCTION frontman Schmier has exited PÄNZER, the heavy metal "supergroup" featuring Pontus Norgren (HAMMERFALL) and V.O. Pulver (G.U.R.D., POLTERGEIST) on guitar and Stefan Schwarzmann (ACCEPT, ex-RUNNING WILD) on drums. METALLICA DONATES POLAR MUSIC PRIZE MONEY
According to Billboard, METALLICA has donated its monetary award from the Polar Music Prize to 3 charities. 50 percent of the one-million-Swedish-Kronor prize (just over $130,000) went to the Stockholm City Mission, which supports the homeless; 25 percent to the World Childhood Foundation, founded by Sweden's Queen Silvia; and 25 percent to the Afghanistan National Institute Of Music, also a recipient of this year's Polar Music Prize.
metallica.com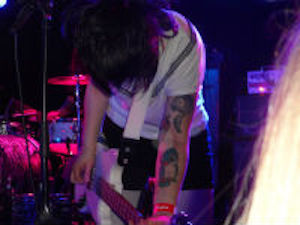 DEBUT ALBUM WITH RIOT GRRRLS NOW AVAILABLE IN NORTH AMERICA
Swedish all-female rock project RIOT GRRRLS had their debut album, "The Riot Grrrl Sessions", released in North America on June 15 via GMR Music. The album was released here in Sweden in February.
The project is led by Canan Rosén (TWIN PIGS, TIGER BELL etc), and the album also features artists from bands like CRUCIFIED BARBARA/The HEARD, HEAVY TIGER, TANT STRUL, The BABOON SHOW, SATIRNINE etc.
You can read more about this project here: riotgrrrlsessions.com




JUNE 18, 2018
CELEBRATE NEW YEAR IN MEXICO WITH RAMMSTEIN
German industrial metal band RAMMSTEIN will play 2 very exclusive shows in Puerto Vallarta, Mexico on December 31, 2018 and January 2, 2019. Tickets available on June 27 at ramm.st/2tiCPWr
rammstein.com MONSTER MAGNET ANNOUNCES NORTH AMMERICAN TOUR
MONSTER MAGNET will be touring in North America for a whole month in September/October.
The tour will kick off in Toronto on September 28, and will end in Boston on October 28. Support on the tour will come from ELECTRIC CITIZEN and DARK SKY CHOIR.
monstermagnet.net napalmrecords.com GRAVE GOT A NEW DRUMMER
Tomas Lagrén is the name of the new drummer of Swedish death metal veterans GRAVE. He has been drumming with the band for the past year, and has done such a good job that he has now become an official member.
grave.se
---
Sorry that the site was "lost in cyber space" during the weekend (June 16-17). But now it's back, as you can see..
Hopefully everything works as it should, otherwise it would be good if you could let me know via Facebook (click on the f) or e-mail (click on contact).
---
JUNE 15, 2018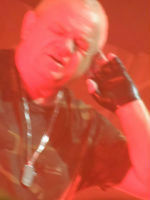 NEW ALBUM WITH U.D.O. IN AUGUST
German heavy metal veterans U.D.O. (with Udo Dirkschneider from ACCEPT) have set "Steelfactory" as the title of their new album, which will be released on August 31 via AFM Records.
The first single, "Rising High", is available here: youtube.com/watch?v=c0e2Q8wZQh8
Pre-sell starts today at: promo.afm-records.de/en/u-d-o
udo-online.de WATAIN ANNOUNCES EUROPEAN TOUR
Swedish black metallers WATAIN are going on a European tour in November. Support bands will be ROTTING CHRIST and PROFANATICA.
Dates can be found at facebook.com/watainofficial
rotting-christ.com facebook.com/profanaticausa NEW 7" WITH RÖVSVETT IN JULY
Swedish hardcore/punk legends RÖVSVETT will release a new 4-track 7" EP, "Bly, Skrot & Hagel", on July 2 via their own label Röv Records.
facebook.com/Rovsvett BON JOVI ANNOUNCES AUSTRALIAN DATES
BON JOVI are going to Australia in December for 4 shows. Pre-sale starts on Monday, June 18. Tickets and VIP packages go on sale to the public on Friday, June 29.
The dates are:
Dec. 1 - Melbourne Cricket Ground, Melbourne
Dec. 4 - Botanic Park, Adelaide
Dec. 6 - QSAC, Brisbane
Dec. 8 - Sydney ANZ Stadium, Sydney
bonjovi.com
Take Me To The Top JUNE 14, 2018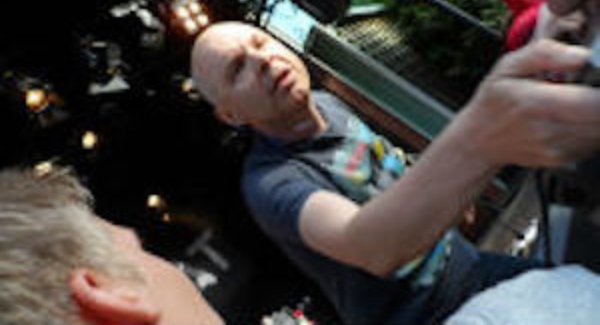 ATTENTAT ANNOUNCES ANOTHER HOMETOWN SHOW
Swedish punk rock veterans ATTENTAT will do another show at Bellmans in their hometown Göteborg on October 27 (their first show there was just a couple of months ago). Support act will be the local 15-year old kid Punk-Jon (who use to play at Järntorget).
This time they will both record and film the show for a upcoming live album and DVD. Tickets go on sale Monday, June 18 via Ticketmaster.
attentat.nu NEW HORROR FILM WITH LEMMY, TRACII GUNS AND DIZZY REED
Cleopatra Entertainment has announced the worldwide premier of their latest horror film Sunset Society. Directed by Phoebe Dollar and Rolfe Kanefsky, Sunset Society stars Dollar, MOTÖRHEAD's Lemmy Kilmister, Steve-O (Jackass), Ron Jeremy, Robert Donovan, and L.A. GUNS' Tracii Guns, with GUNS N' ROSES' Dizzy Reed rounding out the cast. The film premieres theatrically at 7:30pm on July 6 at Downtown Independent Theatre in Los Angeles, followed by an evening of DJ sets and live bands.
The original motion picture soundtrack for Sunset Society is also available from Cleopatra Records, and features music from Lemmy (MOTÖRHEAD), Stephen Pearcy (RATT), Jurgen Engler (DIE KRUPPS), Jyrki 69 (69 EYES), Thor, ELECTRIC HELLFIRE CLUB and more.. The soundtrack is available as part of the Blu Ray/DVD Home Entertainment version and also as a stand alone Digital Download and Vinyl LP version on August 17.
Sunset Society will also be released on VOD, DVD, and Blu-ray on July 24.
sunsetsociety.brownpapertickets.com MORE SAXON RE-ISSUES IN JULY
BMG are happy to announce the re-issue of 3 more SAXON classic albums. This time it's "Innocence Is No Excuse" (1985), "Rock The Nations" (1986) and "Destiny" (1988). These re-issues will be available on July 27.
The CDs will be 24-page media books containing original lyrics, rare photos and memorabilia. All albums will feature bonus tracks, including a selection of early demos, some of which didn't make final track listings, as well as B-sides and live recordings. The vinyl will be coloured splatter with no bonus tracks.
Pre-order links: saxonband.lnk.to/IINE saxonband.lnk.to/RockTheNations saxonband.lnk.to/Destiny
saxon747.com JUNE 13, 2018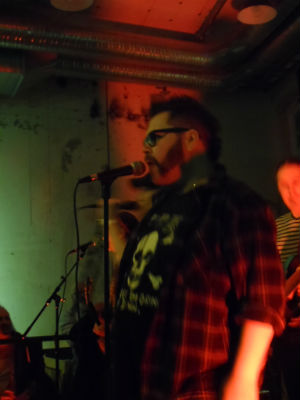 MÖGEL SINGER THOMAS "BULLEN" OSCARSSON IS DEAD
Thomas "Bullen" Oscarsson, who used to sing for the local (Borås, Sweden) punk veterans MÖGEL, has died. I don't have any details about his death.
I met him once in a while through the years. His last show with MÖGEL was on March 3 here in Borås, when they for some reason thought it was a good idea to have 2 singers (he had not been a member of the band for many years before that).
R.I.P.
facebook.com/MÖGEL-7203971898 PARADISE LOST TO SUPPORT DANZIG IN UK
British gothic metal legends PARADISE LOST will be very special guests at DANZIG's 2 shows in UK in August. The dates are:
Aug. 6 - Barrowland Ballroom, Glasgow
Aug. 7 - O2 Academy Brixton, London
Get your tickets here: myticket.co.uk/artists/danzig
..and while we talk about DANZIG, a tribute album called "GDANSK: A Tribute To Danzig" will be released by Metalville on June 29. It's the German stoner band GRAND MASSIVE - with special guests from THUNDERMOTHER, CRITICAL MASS, SABATON, DORO and SINNER - doing covers of songs by DANZIG, SAMHAIN and MISFITS.
paradiselost.co.uk danzig-verotik.com metalville.de DEAD KENNEDYS ANNOUNCES UK SHOWS
American punk legends DEAD KENNEDYS will do 3 shows in UK in August. The dates are:
Aug. 7 - O2 Academy, Oxford
Aug. 8 - Club Academy, Manchester
Aug. 9 - Roadmender, Northampton
facebook.com/deadkennedys JUNE 12, 2018
HIRAX ANNOUNCES EUROPEAN TOUR
American thrash veterans HIRAX are coming back to Europe in August. They will play both festivals and club dates.
You can find the dates here: facebook.com/hiraxthrashmetal DEEP PURPLE ANNOUNCES MEXICAN TOUR
DEEP PURPLE are going to Mexico in November for 10 shows in 9 cities. Here are the dates:
Nov 3rd - Tijuana
Nov 7th - Chihuahua
Nov 9th - Monterrey
Nov 11th - San Luis Potosi
Nov 13th - Leon
Nov 15th - Guadalajara
Nov 17th - Mexico City
Nov 21st - Merida
Nov 23rd and Nov 24th - Cancún
deeppurple-infinite.com
Take Me To The Top JUNE 11, 2018
WATAIN ANNOUNCES SOUTH AMERICAN TOUR
Swedish black metallers WATAIN are going to South America for the first time since 2014 in September. Support band on most of the dates will be the Italian band BULLDOZER (some dates will have a other support band).
For more information, go to facebook.com/watainofficial GHOST ANNOUNCES YET ANOTHER NORTH AMERICAN TOUR
GHOST has announced a massive North American fall/winter tour. The trek, which includes the Swedish band's previously announced headline arena dates at The Forum in Los Angeles, California and Barclays Center in Brooklyn, New York, will kick off on October 26 in Tulsa, OK and wrap on December 15 in Brooklyn. Pre-sale tickets for the tour will be available beginning June 12, and general tickets will be available to the public beginning June 15.
You can find all upcoming tour dates at ghost-official.com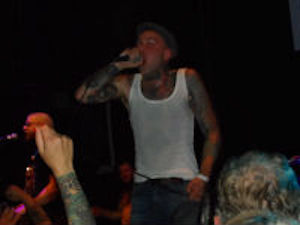 GATANS LAG TO RECORD NEW SINGLE
Swedish Oi! punks GATANS LAG will (finally) enter the studio in the end of this month to record 3 songs for a single, which they plan to release in September.
facebook.com/GatansLag FRONTIERS FESTIVAL COMES TO SWEDEN
Italian record label Frontiers Music Srl will take their Frontiers Festival to Stockholm, Sweden on October 13, under the name Frontiers Rock Sweden. The bands that will play are ECLIPSE, CRAZY LIXX, ONE DESIRE, PERFECT PLAN, CREYE and The DARK ELEMENT.
Tickets are available now at tickster.com
frontiers.it GRAVEYARD ANNOUNCES SWEDISH TOUR
Swedish retro rockers GRAVEYARD will do some shows in Sweden in November and December. These dates are:
Nov. 2 - Nöjesfabriken, Karlstad
Nov. 3 - Nordfest, Sundsvall
Nov. 9 - Frimis Salonger, Örebro
Dec. 15 - Pustervik, Göteborg
Dec. 21 - Cirkus, Stockholm
facebook.com/graveyardofficial LILLASYSTER, ENGEL AND VOJD CONFIRMED FOR SKOGSRÖJET
LILLASYSTER, ENGEL, VOJD, SUPERCHARGER, BLACK INK RIVER and CIRKUS PRÜTZ have been confirmed for the Skogsröjet festival in Rejmyre, Sweden on August 3-4.
Confirmed since earlier are cool cats like Dee Snider, KREATOR, Dirkschneider, HAMMERFALL, STEEL PANTHER, DANKO JONES, DOKKEN, MR. BIG, DRAGONFORCE, PRETTY MAIDS, Lee Aaron, The QUIREBOYS, EVERGREY etc.
skogsrojet.se




JUNE 9, 2018
ULI JON ROTH FORCED TO POSTPONE NORTH AMERICAN TOUR DUE TO VISA ISSUES
Legendary German guitarist Uli Jon Roth has been forced to postpone his previously announced North American tour due to visa issues.
The trek, which was schedule to kick off in late May, was slated to celebrate a rare triple anniversary:
40th anniversary of SCORPIONS' "Tokyo Tapes"
40th anniversary of the birth of ELECTRIC SUN
50th anniversary of Uli's first-ever stage performance in 1968
ulijonroth.com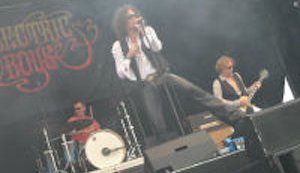 ELECTRIC BOYS ANNOUNCES NEW ALBUM AND SWEDISH TOUR DATES
Swedish hard rockers ELECTRIC BOYS will release a new album in October (title and release date will be announced later). That will be followed by a few tour dates in Sweden in November and December. Those dates are:
2/11: Malmö, KB 3/11: Helsingborg, The Tivoli
7/12: Uppsala, Katalin
8/12: Linköping, Palatset
14/12: Göteborg, Sticky Fingers
15/12: Västerås, Bankiren
22/12: Stockholm, Kägelbanan
facebook.com/electricboys JUNE 8, 2018

---
HEY!
To those of you who are sending me pop music. What's the name of this site? It's HARD ROCK INFO, and not soft pop info. O.k.?
Now take a walk in the sun instead of sending me stuff that doesn't fit in (I have too much already anyway).
---
MOTÖRHEAD'S RÖAD CREW BEER TO BE RELEASED IN THE STATES
MOTÖRHEAD has announced June 23 as the official U.S. launch date for its Röad Crew beer, brewed by Kalamazoo, Michigan's Arcadia Brewing Company.
Music fans and beer lovers alike are invited to the official launch party, taking place at Arcadia's Riverfront Brewery, Pub and Beer Garden, incorporating Lemmy's Lounge, in Kalamazoo. The party will begin at 3:00 p.m. and will include live music from the rock band BONEHAWK, MÖTORHEAD tribute band KILMISTER, and Detroit metal band ANGUISH. In between bands, the Bangarang Circus group will entertain with burlesque, aerial and fire-breathing acts.
Click this invite link to reserve your spot as space is limited.
For more info about the beer, go to motorhead-beer.com DEBUT ALBUM WITH DREAM CHILD (featuring ex-members from DIO, AC/DC, QUIET RIOT) IN SEPTEMBER
DREAM CHILD, a brand new band featuring former members of DIO, AC/DC and QUIET RIOT, will release its debut album, "Until Death Do We Meet Again", on September 14 via Frontiers Music Srl.
DREAM CHILD is:
Craig Goldy (DIO, GIUFFRIA): Guitar
Wayne Findlay (MSG): Guitar, Keyboards
Simon Wright (AC/DC, DIO, OPERATION: MINDCRIME): Drums
Rudy Sarzo (QUIET RIOT, Ozzy Osbourne, WHITESNAKE, DIO): Bass
Diego Valdez (HELKER): Vocals
The fist single from the album, "You Can't Take Me Down", can be streamed here: youtu.be/lzRoWBtFT7I
KREATOR AND DIMMU BORGIR TO GO ON EUROPEAN TOUR WITH HATEBREED AND BLOODBATH
German thrash legend KREATOR and Norwegian symphonic black metal veterans DIMMU BORGIR will join forces for a co-headline arena tour through Europe this winter. Together with American hardcore/metal band HATEBREED and Sweden-based death metallers BLOODBATH they will bring you the "European Apocalypse" tour.
Tickets go on sale Wednesday, June 13 at europeanapocalypsetour.com
kreator-terrorzone.de dimmu-borgir.com hatebreed.com bloodbath.biz BUTCHER BABIES TO TEAM UP WITH KOBRA AND THE LOTUS FOR EUROPEAN TOUR
American metal band BUTCHER BABIES will team up with KOBRA AND THE LOTUS for a European tour in October. Support acts will be SKARLETT RIOT and IGNEA, plus 1 more band.
Check out butcherbabiesofficial.com or kobraandthelotus.com for dates and other details.. NEW ALBUM WITH TREAT IN SEPTEMBER
Swedish melodic hard rock veterans TREAT will release their new album, "Tunguska", on September 14 via Frontiers Music Srl.
The release will be followed by tour dates in Europe and Japan.
facebook.com/treatofficial frontiers.it JUNE 7, 2018
BACKYARD BABIES POSTPONE NEW SINGLE A COUPLE OF WEEKS
Due to a sudden change of label, Swedish hard rockers BACKYARD BABIES will not release their new single, "Shovin' Rocks", tomorrow (June 8) as they were supposed to. The new release date is June 22.
backyardbabies.com DEBUT ALBUM WITH SIEGE OF POWER (feat. members of ASPHYX and AUTOPSY) IN SEPTEMBER
SIEGE OF POWER started in 2013 as a project without any expectations. Shortly after releasing a split album, it was left for dead, buried and almost forgotten until the rotten corpse was exhumed in 2017. This resulted in a no-nonsense extreme metal album mixed with several doomdozers. Influences vary from CARNIVORE and STORMTROOPERS OF DEATH to DISCHARGE and AMEBIX, done in their own style.
The members of SIEGE OF POWER are:
Chris Reifert (AUTOPSY, VIOLATION WOUND, ABSCESS, PAINTED DOLL) - Vocals
Paul Baayens (ASPHYX, HAIL OF BULLETS, THANATOS) - Guitars
Theo van Eekelen (HAIL OF BULLETS, HOUWITSER, GRAND SUPREME BLOOD COURT) - Bass
Bob Bagchus (ASPHYX, SOULBURN, GRAND SUPREME BLOOD COURT) - Drums
The band's debut album, "Warning Blast", will be released in September.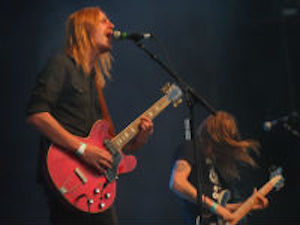 GRAVEYARD ANNOUNCE HOMETOWN SHOW
Swedish retro rockers GRAVEYARD have announced a hometown show at Pustervik in Göteborg on December 15. Tickets go on sale on Monday, June 11.
pustervik.goteborg.se SOLO ALBUM WITH RAT SCABIES FROM THE DAMNED
Rat Scabies, who drummed for British punk rock legends The DAMNED from 1976 through 1996, has released his first solo album, "P.H.D. (PRISON, HOSPITAL, DEBT)", and it includes 12 songs, including a Louis Prima cover. It's out now via Cleopatra Records.
ratscabies.bandcamp.com/album/p-h-d METAL GUITARIST RALPH SANTOLLA IS DEAD
Former DEATH, ICED EARTH, DEICIDE and OBITUARY guitarist Ralph Santolla died Wednesday night (June 6) at St. Joseph's Hospital in Tampa, Florida.
The musician fell into a coma after suffering a heart attack on May 30 and was taken off life support last night around 11:00 p.m. He was 51 years old. RE-RELEASE OF JACK RUSSELL'S SOLO DEBUT
GREAT WHITE vocalist Jack Russell has reissued his solo debut, "Shelter Me", from 1996, via Deadline Music (a division of Cleopatra Records).
You can order it here: cleorecs.com/store/shop/jack-russell-shelter-me-cd JUNE 6, 2018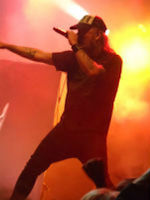 AT THE GATES ANNOUNCE 2 RUSSIAN SHOWS
Swedish death metal legends AT THE GATES are going to Russia in March 2019 for 2 shows:
March 23 - Zil Arena, Moscow
March 24 - Zal, St. Petersburg
atthegates.se JUNE 5, 2018
NEW ALBUM WITH GRAVE DIGGER IN SEPTEMBER
German heavy metal veterans GRAVE DIGGER will release their new album, "The Living Dead", on September 14 via Napalm Records.
A headlining tour, dubbed "Tour Of The Living Dead", will launch in Hannover, Germany on January 11, 2019 and finish in Tel Aviv, Israel on February 9, 2019. Support on the trek will come from BURNING WITCHES.
Dates can be found at facebook.com/gravediggerofficial NEW URIAH HEEP ALBUM IN SEPTEMBER
British classic rock icons URIAH HEEP will release their 25th studio album, "Living The Dream", on September 14 via Frontiers Music Srl. The first single and video for the song "Grazed By Heaven" is available now: youtu.be/PHgDPxLlFW4
facebook.com/uriahheepofficial frontiers.it KISS TO KICK OFF 3-YEAR WORLD TOUR IN JANUARY 2019
Gene Simmons has told Sweden's Expressen newspaper that KISS will launch a 3-year world tour in January 2019. Calling it the band's "most spectacular tour ever", the bassist/vocalist added that the trek will make stops on "all continents". NEW BOOK ABOUT NEW YORK DOLLS
NEW YORK DOLLS guitarist Sylvain Sylvain has written a book about the band, called "There's No Bones In Ice Cream". It will be released in UK on July 19, and North America in September.
nydolls.org
Take Me To The Top THE JABBERS DRUMMER MICHAEL O'DONNELL HAS DIED
Michael O'Donnell, drummer for American punk band The JABBERS (where the legendary G.G. Allin used to sing) has passed away after a long battle with cancer. JUNE 4, 2018
THE HEARD SIGNS WITH DESPOTZ RECORDS
Swedish band The HEARD - with 2 members from CRUCIFIED BARBARA and 1 from DEATHSTARS - have been signed to Despotz Records.
The band are currently in the studio, and the result of that will be released in the fall.
facebook.com/theheardofficial despotz.se JUNE 3, 2018
OVERKILL IN THE STUDIO
Veteran New Jersey thrashers OVERKILL have entered the studio to begin recording the follow-up to 2017's "The Grinding Wheel" album. The disc will mark the band's recording debut with drummer Jason Bittner (SHADOWS FALL, FLOTSAM AND JETSAM), who joined OVERKILL last year. SPLIT ALBUM WITH DEATHCROWN AND RIBSPREADER IN JULY
A split album with American death metallers DEATHCROWN and Swedish death metallers RIBSPREADER, entitled "Comorbid Diagnosis", will be released on July 27 via Lost Apparitions Records.
lostapparitions.com facebook.com/deathcrownband facebook.com/Ribspreader-148182408532846 VALLENFYRE SAYS GOOD BYE
Death metallers VALLENFYRE will call it a day after the summer. But before it's over they have 3 more shows: June 16 at the With Full Force festival, August 2 at Wacken Open Air and their farewell show at Nambucca in London, UK on September 29.
Greg and Chris will start a new project called STRIGOI, which will carry on where VALLENFYRE has left off.
facebook.com/Vallenfyre JUNE 2, 2018
STEFAN KAUFMANN SAVE THE DAY FOR U.D.O./DIRKSCHNEIDER THIS SUMMER
Former ACCEPT drummer and former U.D.O. guitarist Stefan Kaufmann will re-join U.D.O. and DIRKSCHNEIDER (same band, different songs) during the festival season. This is only temporary though. The name of the new permanent guitarist who will join the band after the summer will be announced soon.
udo-online.de RATT ANNOUNCE NEW LIVE DATES
The new breed of American veterans RATT, led by founding members vocalist Stephen Pearcy and bassist/vocalist Juan Croucier, will relaunch its well-storied hard rock brand this summer with a teaser of tour dates that foreshadow a schedule that will keep the band busy through the end of the year into 2019.
The first dates to be announced take place in the States, and are as follows:
Jul. 07 - Mulvane, KS - Kanas Star Casino
Jul. 13 - Costa Mesa, CA - Pacific Amp at OC Fair
Jul. 21 - Detroit, MI - Chene Park Amp
Sep. 07 - Hinckley, MN - Grand Casino
Sep. 29 - Las Vegas, NV - Fremont
Oct. 05 - St Charles, IL - Arcada Theatre
Oct. 06 - Manistee, MI - Little River Casino
Oct. 12 - El Paso, TX - Speaking Rock
Oct. 13 - Dallas, TX - Bomb Factory
Oct. 14 - Corpus Christi, TX - Concrete St
Oct. 17 - Little Rock, AR - Arkansas State Fair
Oct. 25 - Worley, ID - Courdalene Casino
More dates to be announced, so keep an eye on their web site: therattpack.com JUNE 1, 2018
KSM3 TO TEAM UP WITH CHARTA 77 FOR 3 DATES
Swedish punk rock bands KSM3 (with Johan Johansson from KSMB and some other people) will team up with CHARTA 77, Ola Aurell and Herman Hedning for 3 dates in Sweden in October. The tour will be called "Vi Vill Bara Dansa!", and the dates are these:
18 October - Stockholm, Slaktkyrkan
19 October - Sticky Fingers, Göteborg
20 October - Malmö, Kulturbolaget
Tickets go on sale June 11.
facebook.com/charta77band 10" SINGLE WITH VENOM INC. IN AUGUST
VENOM INC. - the band featuring original VENOM members Jeff "Mantas" Dunn (guitar) and Anthony "Abaddon" Bray (drums) alongside ex-VENOM bassist/vocalist Tony "Demolition Man" Dolan, will release a 3-song 10" single, titled "War", on August 10 through Nuclear Blast.
venom-inc.com SODOM, DEATH ANGEL AND SUICIDAL ANGELS TO JOIN FORCES FOR EUROPEAN TOUR
SODOM, DEATH ANGEL and SUICIDAL ANGELS will join forces for the 2018 installment of the "MTV Headbangers Ball" European tour.
The tour will kick off in Leipzig, Germany on November 30, and will last until December 16.
Dates can be found here: facebook.com/sodomized METAL GUITARIST RALPH SANTOLLA IS IN A COMA AFTER SUFFERING A HEART ATTACK
Former DEATH, ICED EARTH, DEICIDE and OBITUARY guitarist Ralph Santolla is in a coma at St. Joseph's Hospital in Tampa, Florida after suffering a heart attack Tuesday night (May 29). GHOST ANNOUNCES SWEDISH SHOWS
GHOST will do 2 shows in their homeland Sweden in February 2019. The dates are:
Feb. 20 - Scandinavium, Göteborg
Feb. 23 - Ericsson Globe, Stockholm
ghost-official.com MAY 31, 2018
FORMER ANAL CUNT GUITARIST JOSH MARTIN DEAD IN ESCALATOR ACCIDENT
Josh Martin, who was the guitar player for ANAL CUNT circa 1996-2001 and 2006-2011, tragically died in an escalator accident on Monday (May 28) night in a Providence mall. According to reports, Martin fell off the escalator and into the food court, where he suffered severe head trauma. He died later in the evening.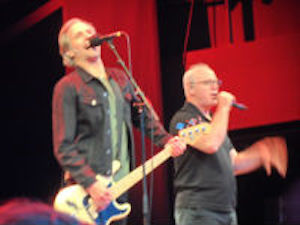 BAD RELIGION, THE EXPLOITED AND FLOGGING MOLLY CONFIRMED FOR RIOT FEST 2018
Riot Fest 2018 has announced the first wave of bands playing the festival. Among these artists are BAD RELIGION, The EXPLOITED, FLOGGING MOLLY, CONFLICT, SUICIDAL TENDENCIES, The AVENGERS, BLONDIE, DROPKICK MURPHYS, Elvis Costello, FEAR, GWAR, HOT SNAKES, Jerry Lee Lewis, KILLING JOKE, LAGWAGON, PUSSY RIOT, WOLFMOTHER, TOTAL CHAOS etc. etc.
Riot Fest take place in Chicago on September 14-16.
More info at riotfest.org THE DWARVES ANNOUNCES SOUTH AMERICAN TOUR
American punk rock veterans The DWARVES have announced a South American tour that's scheduled for August. The dates are:
Aug. 17 - (to be announced)
Aug. 18 - Sao Paulo, Brazil - Jai Club
Aug. 19 - Rio de Janeiro, Brazil - La Esquina
Aug. 21 - Montevideo, Uruguay - Buzz Live
Aug. 22 - Buenos Aires, Argentina - The Roxy Live
Aug. 24 - Santiago, Chile - Bar Loreto
Aug. 25 - Lima, Peru - El Calabozo
Aug. 26 - Quito, Ecuador - La Ideal
Find more tour dates at thedwarves.com
Take Me To The Top MAY 30, 2018
THE DISTILLERS ANNOUNCES U.S. TOUR DATES
American punk band The DISTILLERS are back, and to prove that they have announced some tour dates on the American west coast that are scheduled for September. The dates are these:
September 10 - Vancouver, Commodore Ballroom
September 11 - Seattle, The Showbox
September 12 - Portland, Roseland
September 14 - Oakland, Fox Theatre
September 15 - Los Angeles, Hollywood Palladium
September 18 - San Diego, The Observatory
September 20 - Las Vegas, Brooklyn Bowl
Tickets go on sale Friday, June 1.
facebook.com/ABandCalledTheDistillers CANDLEMASS GUITARIST MAPPE FORCED TO SIT OUT FREAK VALLEY FESTIVAL
Mats "Mappe" Björkman, guitarist for Swedish doom legends CANDLEMASS, was rushed to the hospital with severe infection on the balance center of the brain a few weeks ago. There is no direct treatment, still it's not really dangerous. His balance is not back to 100%, and the doctors says it's a bad idea to be on an airplane (and play a show) such a short time after the incident. Because of this Mappe has been forced to step out of the show with CANDLEMASS at the Freak Valley festival on Friday, June 1. Marcus Jidell will be playing guitar with the band instead.
candlemass.se VENOM GUITARIST MANTAS IS RECOVERING AFTER HEART SURGERY
Former VENOM and current VENOM INC. guitarist Jeff "Mantas" Dunn underwent a successful emergency open-heart surgery earlier in the month.
venom-inc.com




MAY 28, 2018
BASSIST VICTOR BRANDT JOIN DIMMU BORGIR
DIMMU BORGIR have announced that Swedish bass player Victor Brandt (ENTOMBED A.D., FIRESPAWN) has officially joined the team. The symphonic black metal titans will play their first show since 2012 in June, and will visit all corners of the world throughout this year and 2019.
dimmu-borgir.com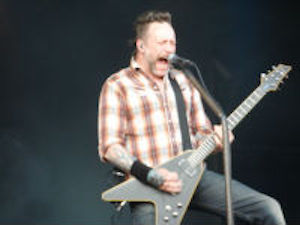 MUSTASCH, HARDCORE SUPERSTAR AND BACKYARD BABIES CONFIRMED FOR CLOSE-UP BÅTEN 23
MUSTASCH, HARDCORE SUPERSTAR, BACKYARD BABIES, SPARZANZA, SISTER, The LAST BAND, DYNAMITE and ALISTER have been confirmed for Close-Up Båten 23, a hard rock cruise that will sail from Stockholm, Sweden to Åbo, Finland and back on October 25-26.
Find tickets at tallinksilja.se/close-up23 UFO TO CELEBRATE 50 WITH THEIR LAST TOUR
Phil Mogg has confirmed that next year's 50th anniversary tour with UFO will be his last as the frontman of the long-running hard rock band. Consequently, it seems almost certain that at that point they will cease to exist.
UFO were formed in London in 1969, and Mogg is their only ever-present member, performing on all of the group's 22 studio albums.
ufo-music.info DECEMBER DARKNESS WITH MARDUK AND VANHELGD
MARDUK, VANHELGD, NORDJEVEL and MEPHORASH have been confirmed for December Darkness at Arbis in Norrköping, Sweden on December 22. Tickets go on sale tomorrow (Tuesday, May 29) at skrikhult.se NEW ALBUM WITH IRON LAMB IN OCTOBER
Swedish hard rocking metal/punks (or however you should describe them) IRON LAMB will release their 3rd album, "Blue Haze", on October 26 via The Sign Records.
The first single, "Into The Night", is out now on digital platforms.
ironlamb.se facebook.com/thesignrecords MAY 27, 2018
DEF LEPPARD GUITARIST PHIL COLLEN FORCED TO LEAVE TOUR
DEF LEPPARD guitarist Phil Collen has left the band's North American tour with JOURNEY to deal with a family emergency. Replacing him until he returns is TRIXTER's Steve Brown. Brown made his live debut with DEF LEPPARD on the current tour Friday night (May 25) at the Hersheypark Stadium in Hershey, Pennsylvania.
defleppard.com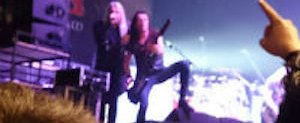 SAXON FRONTMAN BIFF BYFORD TO RECORD SOLO ALBUM
SAXON frontman Biff Byford has revealed in a new interview with Rock Hard magazine that he is planning to go to Sweden "in a few weeks" to write and record some demos for his upcoming solo album "with some friends up there". He added that he has "a few" songtitles for the disc, which he said may end up being called "School Of Hard Knocks".
saxon747.com DOCUMENTARY ABOUT DRUMMER RANDY CASTILLO
According to Variety, Freestyle Digital Media, the digital film distribution division of Byron Allen's Entertainment Studios, has acquired digital worldwide rights for the documentary "The Life, Blood And Rhythm Of Randy Castillo".
Written and directed by Wynn Ponder and produced by Michael Bell, "The Life, Blood And Rhythm Of Randy Castillo" tells the story of the late, legendary drummer who played with Ozzy Osbourne, MÖTLEY CRÜE, Lita Ford and other rock and roll icons of the 1980s and 1990s.
The film will be available to rent and own on digital HD on June 15.
randycastillomovie.com youtu.be/VAbwPRecKT0 THE EXPLOITED ANNOUNCES NORTH AMERICAN TOUR
Scottish punk legends The EXPLOITED will do 2 festival dates in Canada and U.S.A in June. And in late August they go back to North America for a full tour.
Dates can be found at facebook.com/TheExploited MAY 26, 2018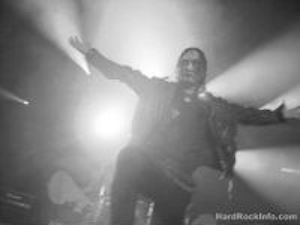 MARDUK ANNOUNCES JAPANESE TOUR DATES
Swedish black metal veterans MARDUK are going on a 4-date tour of Japan in November, together with ABIGAIL WILLIAMS, DEAD SPACE and 3 other bands with logos that are impossible to read. The dates are these:
November 22 - Osaka, Fanj Twice
November 23 - Nagoya, Club 3Star
November 24 - Tokyo, Cyclone
November 25 - Tokyo, Cyclone
marduk.nu MAY 25, 2018
CHRIS LANEY TO PRODUCE KSMB
It looks like rock producer Chris Laney is going to produce soemthing new with Swedish punk rock legends KSMB.
facebook.com/ksmbofficiella facebook.com/laney.chris
Take Me To The Top MAY 24, 2018
NEW ALBUM WITH ASTRAL DOORS IN NOVEMBER
Swedish hard rock/metal band ASTRAL DOORS are working on new songs for their 9th studio album, which will be released in November via Metalville Records. NO MORE MORGOTH FOR A WHILE
Organizational and individual reasons have compelled German death metal veterans MORGOTH to refrain from any further live activities. A new record is not planned. The last scheduled live show will take place on June 8 at the Chronical Moshers Open Air in Germany.
The decision does not mean that MORGOTH will permanently split up, but all activities are being suspended at this time. PYRAMIDO ARE WORKING ON NEW MATERIAL
Swedish heavy rockers PYRAMIDO are currently writing new songs for their next album, which they plan to release during next year some time.
facebook.com/Pyramidodoom WITCHERY REPLACE ONCE HUMAN AT GEFLE METAL FESTIVAL
ONCE HUMAN have canceled their apperance at Gefle Metal Festival this summer. WITCHERY will step in instead, and that will be their only festival apperance in Sweden this summer.
It has also been confirmed that The KRISTET UTSEENDE will do their last show at the pre-party on July 12. Free entrance!
Gefle Metal Festival take place in Gävle, Sweden on July 13-14. More info at geflemetalfestival.se
---
May 26, 2018 - Årrefest at Insikten/Kulturhuset, Jönköping, Sweden - with ABNORM, RAJOITUS, SVAVELDIOXID, ÅTERFALL, GENERAL GENOCIDE, BOTTLE KIDS, HARÄKIRI and WELTSCHMERZ.
More info at facebook.com/events/1843363722342026
---
MAY 22, 2018
NEW ALBUM WITH VIXEN IN JULY
American 80s melodic hard rock veterans VIXEN will release "Live Fire" on July 6 via Rat Pak Records. BLOODBATH FORCED TO CANCEL NORTH AMERICAN TOUR
Due to unforeseen and uncontrollable circumstances involving complications with the U.S. visa process, Swedish/British death metal supergroup BLOODBATH - which features in its ranks KATATONIA''s Jonas Renkse and Anders Nyström, along with OPETH's Martin Axenrot and PARADISE LOST's Nick Holmes - has been forced to postpone their previously announced North American tour dates. The band's excursion was set to begin this week and included performances at Maryland Deathfest and Modified Ghost festival. The tour will be rescheduled for a later date.
BLOODBATH recently entered the studio to begin recording the follow-up to 2014's "Grand Morbid Funeral" album.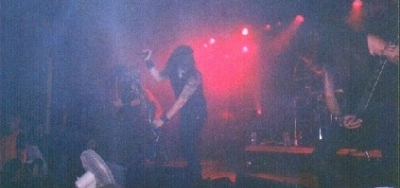 SATYRICON AND DARK TRANQUILLITY CONFIRMED FOR BORGHOLM BRINNER
SATYRICON and DARK TRANQUILLITY have been confirmed for the Borgholm Brinner festival in Borgholm, Sweden on July 27-28.
Confirmed since earlier are IN FLAMES (who arrange the festival), BULLET FOR MY VALENTINE, RAISED FIST, GRAVEYARD, DANKO JONES, COMEBACK KID and TRIBULATION.
borgholmbrinner.se/ NO FUN AT ALL TEAM UP WITH SATANIC SURFERS FOR 3 DATES IN SWEDEN
Swedish skate punk veterans NO FUN AT ALL will team up with SATANIC SURFERS for 3 shows in Sweden in November. Support act will be TWIN PIGS, and the dates are:
Nov. 8 - Kulturbolaget, Malmö
Nov. 9 - Kägelbanan, Stockholm
Nov. 10 - Pustervik, Göteborg
facebook.com/nofunatallofficial satanicsurfers.bandcamp.com facebook.com/twinpigspunk NAZARETH ANNOUNCES TITLE OF NEW ALBUM
Scottish rock veterans NAZARETH have set "Tattooed On My Brain" as the title of their new album, which probably will be released this fall via Frontiers Music Srl.
nazarethdirect.co.uk MAY 21, 2018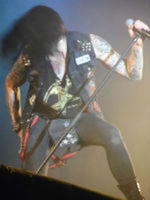 NEW ALBUM WITH HARDCORE SUPERSTAR IN SEPTEMBER
Swedish party hard rockers HARDCORE SUPERSTAR will release their 11th studio album, "You Can't Kill My Rock 'N Roll", on September 21 via Gain Music Entertainment.
hardcoresuperstar.com NEW EP WITH FABRIKEN IN JUNE
Swedish punk rockers FABRIKEN (with veterans from several other bands) will release a new EP, "Hoppa Av I Farten", on June 1 via Beat Butchers.
ifabriken.com beatbutchers.se
Take Me To The Top MAY 19, 2018
SWEDISH DEATH VETERANS KENTHA PHILIPSON AND JÖRGEN SANDSTRÖM GOT A NEW DOOM BAND TOGETHER
Swedish death metal veterans Kentha Philipson (The PROJECT HATE MCMXCIX, ex-TORTURE DIVISION, GOD AMONG INSECTS) and Jörgen Sandström (The PROJECT HATE MCMXCIX, ex-ENTOMBED, GRAVE, TORTURE DIVISION, VICIOUS ART) got a new band called DOMEDAGEN, and they play doom.
Their first demo recording is available here: youtube.com/watch?v=fx68xnnDfog&feature=share
facebook.com/domedagen666 GUNS N' ROSES ANNOUNCES ASIAN TOUR DATES
GUNS N' ROSES have added some tour dates in a few Asian countries in November:
Nov. 8 - Jakarta, Indonesia
Nov. 11 - Manila, Philippines
Nov. 14 - Kuala Lumpur, Malaysia
Nov. 17 - Taipei, Taiwan
Nov. 20 and 21 - Hong Kong, China
Nov. 25 - Abu Dhabi, UAE
gunsnroses.com




MAY 18, 2018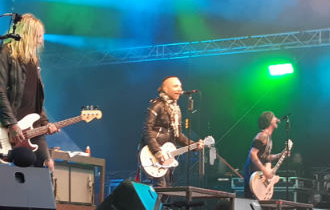 NEW SINGLE WITH BACKYARD BABIES IN JUNE
The new BACKYARD BABIES single, "Shovin' Rocks", will be released on June 8 on all digital platforms, and shortly after as a limited edition 12" vinyl maxi single.
"Shovin' Rocks" is taken from the forthcoming album "Sliver & Gold".
backyardbabies.com SOLO ALBUM WITH RYAN ROXIE
Ryan Roxie will release his new solo album, "Imagine Your Reality", on May 25 via Cargo Records UK. The vocalist, guitarist and songwriter, who is best known as Alice Cooper's longtime lead guitarist and collaborator, has also worked with Slash and Gilby Clarke and been a member of Classic Rock award-nominated band CASABLANCA.
"Imagine Your Reality" is Ryan's first official solo release and sees him joined by other noteworthy musicians, including a collaboration with CHEAP TRICK's Robin Zander on the track "California Man".
youtu.be/61ezD8zCC8M youtu.be/suQjRTKuqFs youtu.be/Dw8GQ6DIa38 DELUXE ANNIVERSARY VINYL REISSUES WITH DEATH IN JULY
Relapse Records has announced 3 deluxe, anniversary vinyl reissues of DEATH's legendary albums "Leprosy" (30 years), "Individual Thought Patterns" (25 years) and "The Sound Of Perseverance" (20 years). DEATH's anniversary vinyl will be released in stores and online on July 20 and will contain expanded, gatefold packaging and bonus LPs of extra content previously only available on the long sold-out deluxe boxset editions. NEW SINGLE WITH PRIMAL FEAR ON TUESDAY
International heavy metal veterans PRIMAL FEAR will release a new single, "Hounds Of Justice", on Tuesday, May 22.
primalfear.de MAY 17, 2018
DIRKSCHNEIDER AND U.D.O. HAVE FOUND A NEW GUITARIST
It looks like German heavy metal band DIRKSCHNEIDER/U.D.O. has found a guitarist to stand in for the upcoming 2018 festival shows. They have not revealed his name yet, but he knows all of the songs very well, and he will be playing with both bands until October 18.
Meanwhile DIRKSCHNEIDER and U.D.O. is trying out several different guitarists in the rehearsal studio, and is very optimistic to be able to announce a permanent replacement sometime during the summer of 2018.
The new U.D.O. album is scheduled for August 31 release, and the first U.D.O. tour dates for the end of 2018 will be announced soon.
For upcoming show dates, go to udo-online.com "THE MUSIC OF CREAM - 50TH ANNIVERSARY WORLD TOUR" IS COMING TO NORTH AMERICA IN THE FALL
Following their successful inaugural tour across Australia and New Zealand in 2017, the pedigree of hallowed '60s trio CREAM — Ginger Baker's son Kofi Baker, Jack Bruce's son Malcolm Bruce and Eric Clapton's nephew (by marriage) Will Johns — have come together for the first time in North America to pay homage to the band's extraordinary legacy with "The Music Of Cream - 50th Anniversary World Tour". The 8-week outing — kicking off September 28 in Ottawa and spanning 34 cities throughout North America this fall — will mark 50 years since the original lineup's farewell U.S. tour of 1968.
In addition, look for the announcement of 4 celebratory shows across the U.K. coming soon, coinciding with the anniversary of the original band's legendary Albert Hall farewell concert, November 26, 1968, ahead of a nationwide tour in the spring.
vimeo.com/269354585 FRIDAY SINGLES WITH HARDCORE SUPERSTAR, SIR REG AND TWIN PIGS
The following Swedish bands will release new digital singles on Friday, May 18:
HARDCORE SUPERSTAR, "Baboon" - Party hard rock from the street.
SIR REG, "FOOL (Fight Of Our Lives)" - Celtic punk rock.
TWIN PIGS, "Scandinavian Nightmare" - Punk.
All bands will have new albums out soon (before the year is over).. MAY 16, 2018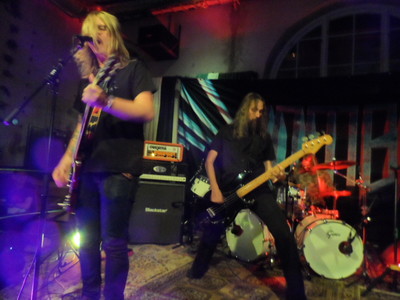 VOKONIS SIGNS WITH THE SIGN
Swedish sludge band VOKONIS has signed to The Sign Records. The band will enter the studio in August to record their 3rd album.
Ripple Music will re-release the band's debut album, "Olde One Ascending", on July 28. In 2019 they will appear in the movie "Planet Of Doom" with their song "Runa".
facebook.com/OfficialVokonis thesignrecords.com NEW ALBUM WITH CAULDRON IN SEPTEMBER
Canadian heavy metal trio CAULDRON will release its new album, "New Gods", on September 7 via The End Records (North America) and Dissonance Productions (Europe). METALLSVENSKAN HAS BEEN CANCELED
Swedish metal and football festival Metallsvenskan has been canceled due to poor ticket sales. Only 20% of the tickets has been sold.
The event was supposed to happen in Norrköping on June 15-16.
More info at metallsvenskan.net QUEEN MOVIE BOHEMIAN RHAPSODY AT CINEMAS IN THE FALL
The QUEEN film "Bohemian Rhapsody - The Movie" will be released to cinemas on October 24 in the UK and November 2 in the U.S.
Release dates for other territories to be announced soon..
queenonline.com MAY 15, 2018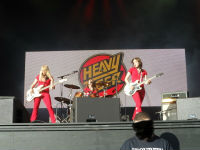 HEAVY TIGER TAKE A BREAK
Swedish female glam rock trio HEAVY TIGER let us know that they will take a break for a while.
facebook.com/heavytigermusic BOOK ABOUT BEASTIE BOYS IN OCTOBER
For a few years, BEASTIE BOYS have been stating that they were working on a history of the band. They have now released details about the book. It is simply called "Beastie Boys Book", and will be out October 30. It's almost 600 pages and is out via Spiegel & Grau.
In addition to the band's history, the book also includes rare photos, original illustrations, a cookbook by chef Roy Choi, a graphic novel, a map of BEASTIE BOYS' New York, mixtape playlists, and pieces by guest contributors.
You can pre-order the book today at: beastieboysbook.com
beastieboys.com DEF LEPPARD BEER FOR TOUR WITH JOURNEY
Def Leppard Pale is a co-operation between rock giants DEF LEPPARD and the American brewery Elysian Brewing. The beer will be unleashed for the massive co-headlining DEF LEPPARD and JOURNEY tour in North America this summer. The beer will be on sale starting May 23 (the second tour stop at Times Union Center in Albany, New York) and is available in 16oz cans and on draught at most concert venues and select restaurants, bars and pubs near the venue. The can was designed in tribute to the 30th anniversary of DEF LEPPARD's landmark album "Hysteria".
For more information, go to elysianbrewing.com/defleppardpale
DefLeppard.com
---
May 26, 2018 - Årrefest at Insikten/Kulturhuset, Jönköping, Sweden
ABNORM, RAJOITUS, SVAVELDIOXID, ÅTERFALL, GENERAL GENOCIDE, BOTTLE KIDS, HARÄKIRI and WELTSCHMERZ
More info at facebook.com/events/1843363722342026
---
MAY 14, 2018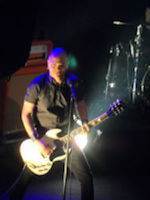 DANKO JONES ANNOUNCES EUROPEAN TOUR
Canadian rock trio DANKO JONES will be touring in Europe in November/December. Tickets go on sale today (May 14), and the dates can be found at dankojones.com ZEKE COMES BACK TO EUROPE IN NOVEMBER
American punk band ZEKE are coming back to Europe in November for a few shows in Finland, Germany, Hungary and Austria. The dates are:
14.11.2018 FI, Tampere, Klubi Tampere
15.11.2018 FI, Helsinki, Tavastia-klubi
16.11.2018 DE, Frankfurt, Das Bett
19.11.2018 DE, Dortmund, Hafenschänke subrosa
20.11.2018 DE, Dresden, Chemiefabrik Dresden (Chemo)
21.11.2018 DE, Nürnberg, Z-Bau
22.11.2018 DE, Regensburg, Kulturzentrum Alte Mälzerei
23.11.2018 HU, Budapest, Robot
25.11.2018 AT, Wien, Arena Wien
zekeband.com MAY 13, 2018
METALLICA TO EMBARK ON EUROPEAN TOUR IN 2019
METALLICA will embark on a European stadium tour in May 2019. The trek, which will run through August 2019, is expected to be officially announced in September.
metallica.com THERAPY? SIGNS WITH MARSHALL RECORDS
Irish rock veterans THERAPY? have announced a worldwide deal with Marshall Records, the label launched in 2016 by the legendary amplification company. The first release for their new label will be their 15th full length, titled "Cleave", and the first single, "Callow", is due to drop on May 25. MAY 11, 2018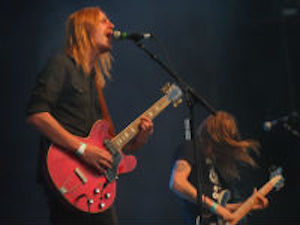 GRAVEYARD ANNOUNCES EUROPEAN TOUR WITH BOMBUS
Swedish retro rockers GRAVEYARD are going on a European tour in September/October with special guests BOMBUS.
There will also be a UK tour in November/December.
Check for dates at facebook.com/graveyardofficial or facebook.com/bombusmusic
Take Me To The Top TAD MOROSE SIGNS WITH GMR MUSIC
Swedish metal veterans TAD MOROSE has signed a new record deal with GMR Music, who will release the band's 10th studio album, "Chapter X", on June 15.
tadmorose.se SLAYER ANNOUNCES DATES FOR THEIR LAST EUROPEAN TOUR
The dates for SLAYER's last European tour with LAMB OF GOD, ANTHRAX and OBITUARY in November/December are up now at slayer.net/tour MAY 10, 2018
NEW ALBUM WITH GRAHAM BONNET BAND IN JULY
Meldoic hard rockers GRAHAM BONNET BAND will release a new album, "Meanwhile, Back In The Garage", on July 13 via Frontiers Music Srl.
grahambonnetband.com frontiers.it NEW ALBUM WITH STEPHEN PEARCY LATER THIS YEAR
RATT singer Stephen Pearcy has set "View To A Thrill" as the tite of his 5th solo album, due later in the year via Frontiers Music Srl.
facebook.com/SEPearcy frontiers.it DEE SNIDER TO PLAY IN TEL AVIV
TWISTED SISTER frontman Dee Snider are coming to Tel Aviv, Israel for the first time ever on July 2.
Tickets available here: tixwise.co.il/he/deesnider FORMER MURDERDOLLS DRUMMER BEN GRAVES IS DEAD
Rock drummer Ben Graves (MURDERDOLLS, DOPE, PRETTY BOY FLOYD) passed away yesterday (Wednesday, May 9) after a year-long battle with cancer. He was only 46 years old.
---
May 26, 2018 - Årrefest at Insikten/Kulturhuset, Jönköping, Sweden - with ABNORM, RAJOITUS, SVAVELDIOXID, ÅTERFALL, GENERAL GENOCIDE, BOTTLE KIDS, HARÄKIRI and WELTSCHMERZ.
More info at facebook.com/events/1843363722342026
---
MAY 9, 2018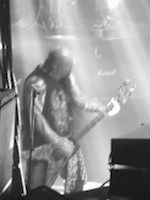 SLAYER TO TOUR EUROPE WITH LAMB OF GOD, ANTHRAX AND OBITUARY
SLAYER will embark on the European leg of its "farewell" tour in the fall. Support on the trek will come from LAMB OF GOD, ANTHRAX and OBITUARY.
So far the following dates have been leaked:
Nov. 14 - Dortmund, Germany
Nov. 15 - IJsselhallen, Zwolle, The Netherlands
Nov. 24 - Freiburg, Germany
Nov. 26 - Hamburg, Germany
Nov. 29 - München, Germany
Nov. 30 - Erfurt, Germany
Dec. 02 - Berlin, Germany
The full European tour is expected to be announced later this week..
slayer.net MAY 8, 2018
KIX CELEBRATES 30TH ANNIVERSARY OF "BLOW MY FUSE" ALBUM
Maryland hard rock veterans KIX will release "Fuse 30 Reblown" on September 21, exactly 30 years after "Blow My Fuse"'s original September 19, 1988 release date. NEW ALBUM WITH DEE SNIDER IN JULY
TWISTED SISTER frontman Dee Snider has inked a deal with Napalm Records for his upcoming solo album, titled "For The Love Of Metal", which will be released on July 27.
The effort features contributions from Howard Jones (ex-KILLSWITCH ENGAGE), Mark Morton (LAMB OF GOD), Alissa White-Gluz (ARCH ENEMY), Joel Grind and Nick Bellmore (TOXIC HOLOCAUST), and Charlie Bellmore (KINGDOM OF SORROW).
deesnider.com QUEEN + ADAM LAMBERT TO PLAY 10 SHOWS IN LAS VEGAS
QUEEN + ADAM LAMBERT will rock the Las Vegas Strip this fall with a 10-date limited engagement, "The Crown Jewels", at Park Theater at Park MGM in Las Vegas. Shows will be held September 1, 2, 5, 7, 8, 14, 15, 19, 21 and 22 at 8 p.m. Tickets will go on sale Friday, May 11.
queenonline.com L.A. GUNS ANNOUNCES UK/EUROPEAN TOUR
American hard rock veterans L.A. GUNS are coming to the UK and Europe in August/September. Special guests will be Jared James Nichols and STONE TRIGGER.
The dates are:
Fri 31 Aug - London, UK - Islington Academy
Sat 01 Sep - Sheffield, UK - HRH Sleaze
Sun 02 Sep - Newcastle, UK - Riverside
Tue 04 Sep - Bilston, UK - The Robin 2
Wed 05 Sep- Milton Keynes, UK - Craufurd Arms
Thu 06 Sep - Manchester, UK - Rebllion
Sat 08 Sep - Buckley, UK - Tivoli
Tue 11 Sep - Essen, Geramny - Turock
Wed 12 Sep - Aschaffenburg, Germany - Colos Saal
Fri 14 Sep - Paris, France - Savigny L'empreint
Sat 15 Sep - Raismes, France - Raismes Fest
Sun 16 Sep - Hull, UK - Hair Metal Heaven
lagunsmusic.com NEW ALBUM WITH KRISIUN IN SEPTEMBER
South American death metal trio KRISIUN will release their new album, "Scourge of the Enthroned", on September 7 via Century Media Records.
krisiun.com.br centurymedia.com MAY 6, 2018
THE JABBERS SIGNS WITH BLOOD ORANGE
Stockholm, Sweden-based Blood Orange Records has signed a deal with American punk veterans The JABBERS (who played with G.G. Allin in the late 70s and early 80s) to release at least 7 vinyl only LPs and EPs over the next 1-2 years out of their U.S. office.
The first record will be G.G. ALLIN & The JABBERS "Live At The Rat", which was recorded in Boston on May 14, 1980.
facebook.com/The-Jabbers-103252154788




MAY 5, 2018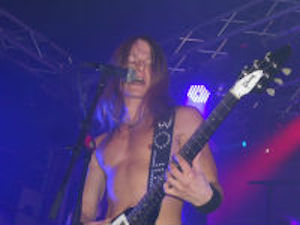 WOLF - PALE MOON ALE TO RETURN IN AUGUST
Swedish heavy metal band WOLF will re-launch their "Wolf - Pale Moon Ale" in August. It will premier at the Skogsröjet festival in Rejmyre, Sweden, which take place August 3-4.
The beer is brewed by Heavy Metale, who will also provide the festival with the festival beer.
wolf.nu skogsrojet.se heavymetale.se MAY 4, 2018
UNLEASHED SIGNS WITH NAPALM
Swedish death metal veterans UNLEASHED have signed to Napalm Records. The band is ready to record their 13th album this month. They aim at a late 2018 release.
UNLEASHED will celebrate their 30-year anniversary in 2019.
unleashed.se napalmrecords.com EUROPE INDUCTED INTO SWEDISH MUSIC HALL OF FAME
EUROPE have been inducted into the Swedish Music Hall of Fame.
europetheband.com facebook.com/pages/Swedish-Music-Hall-of-Fame MAY 3, 2018
NEW LIVE RELEASE WITH MR. BIG IN JULY
American rock band MR. BIG are going to release "Live From Milan" on July 13 via Frontiers Music Srl on 2CD+Blu-ray combo pack, 3xLP, and MP3 (audio only).
mrbigsite.com frontiers.it DELUXE EDITION OF GUNS N' ROSES' "APPETITE FOR DESTRUCTION" DUE IN JUNE
GUNS N' ROSES will release a new version of its classic 1987 debut album, "Appetite For Destruction", on June 29 via Universal Music Group. An unboxing video of the remastered and expanded "Locked N' Loaded" reissue has revealed that it will include 73 songs (49 of which are previously unreleased) spread out across 4 CDs and 7 12" 180-gram LPs. In addition to a remastered version of the original album (presented across 2 LPs), there will be the band's 1986 "Live ?!*@ Like A Suicide" EP, a second EP containing B-sides from the era, 25 previously unreleased recordings from the band's 1986 sessions at Sound City studios, and 2 previously unreleased tracks from GN'R's sessions with producer Mike Clink.
The super deluxe version will also include a 96-page handbound book with unreleased photos from Axl Rose's personal archive, 12 new illustration lithos visualizing each song from "Appetite For Destruction", and replica memorabilia.
gunsnroses.com DE LYCKLIGA KOMPISARNA GOES TO JAPAN
Swedish trallpunk legends DE LYCKLIGA KOMPISARNA are going to Japan in September for 4 shows. The dates are:
Sep. 23 - Basementbar, Shimokitazava
Sep. 24 - Hukk Finn, Imaike
Sep. 25 - 108, Kobe
Sep. 26 - Three, Shimokitazava
facebook.com/delyckligakompisarna FORMER THE DICTATORS DRUMMER STUART KING IS DEAD
Stuart "Stu-Boy King", drummer on the first The DICTATORS album, "The Dictators Go Girl Crazy", has passed away after a brief battle with pancreatic cancer.
A GoFundMe page has been set up by the family to cover expenses. DARK FUNERAL ANNOUNCES SWEDISH TOUR DATES
Swedish black metal veterans DARK FUNERAL will do 5 club shows in their homeland in November. The dates are these:
Nov. 2 - Nordfest, Aveny, Sundsvall
Nov. 3 - Halloween Meltdown, Lokomotivet, Eskilstuna
Nov. 8 - Mejeriet, Lund
Nov. 9 - Pustervik, Göteborg
Nov. 10 - Kraken, Stockholm
Tickets go on sale Monday, May 7.
darkfuneral.se MAY 2, 2018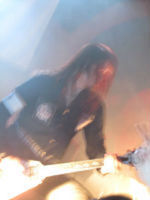 ARCH ENEMY ANNOUNCES U.S. TOUR
Melodic death metallers ARCH ENEMY are going on a U.S. tour this fall together with GOATWHORE and UNCURED. The 22-city tour kicks off on September 28 in Providence, RI, hitting major markets along the way, before culminating at the iconic Starland Ballroom in New Jersey on October 27. Tickets go on sale Friday, May 4.
Exact dates and tickets can be found at archenemy.net MAY 1, 2018
EX-NEVERMORE AND FORBIDDEN GUITARIST TIM CALVERT IS DEAD
Former FORBIDDEN and NEVERMORE guitarist Tim Calvert died yesterday (Apr. 30) after battling an aggressive form of amyotrophic lateral sclerosis, or ALS. He was only 52 years old. GEOFF TATE ANNOUNCES "OPERATION: MINDCRIME" 30TH ANNIVERSARY U.S. TOUR
To celebrate the 30th anniversary of the landmark concept album "Operation: Mindcrime", original QUEENSRŸCHE singer Geoff Tate and his band, OPERATION: MINDCRIME, will perform the platinum-selling album from beginning to end in its entirety, along with a set full of greatest hits. The tour will take place in U.S.A. in June and August.
For dates and other information, check out operationmindcrime.com Take Me To The Top


This site has been online since 2001.
All reviews and photos/images by Jimmy Blom.