NEWS
NOV. 17, 2018
JOE PERRY RELEASED FROM HOSPITAL
According to TMZ, AEROSMITH guitarist Joe Perry is back home, 6 days after he was hospitalized following an appearance with Billy Joel. Sources close to Joe tell the site that Perry was released from the hospital Thursday and is now resting.
VINNIE VINCENT SHOWS POSTPONED TO FEBRUARY
Former KISS guitarist Vinnie Vincent's previously announced shows in Memphis on December 7 and December 8 have been postponed until February 8 and February 9, 2019 in Nashville due to additional scheduling and logistical requirements by the promoter.
For the February shows, Vinnie will be joined by an all-star band that will include Carmine Appice (VANILLA FUDGE, Rod Stewart, Jeff Beck, BLUE MURDER) on drums, and Tony Franklin (David Gilmour, Jimmy Page, The FIRM) on bass.
Tickets for the December 7 show will be honored on the February 8 date, and tickets for the December 8 show will be honored on the February 9 date.
vinnievincentlive.com
NOV. 16, 2018
JEFF SCOTT SOTO AND KEEL CONFIRMED FOR FRONTIERS ROCK FESTIVAL VI
The artists for next year's Frontiers Rock Festival have been announced. And among these artists are Jeff Scott Soto, KEEL, TEN, HARDLINE, W.E.T., KING COMPANY, CREYE etc.
The festival take place at Live Club in Trezzo (Milano), Italy on April 27-28, 2019.
Tickets and more info at: frontiersrockfestival.com
NOV. 15, 2018
FRONTIERS MUSIC HAVE CREATED ANOTHER SUPERGROUP
Frontiers Music Srl is known for building new bands/projects featuring musicians of outstanding quality and who come from unique backgrounds. After an intense brainstorming session, a dream team of renowned metal musicians including Tim "Ripper" Owens (ex-JUDAS PRIEST, ICED EARTH, Yngwie Malmsteen), Chris Caffery (SAVATAGE, TRANS-SIBERIAN ORCHESTRA), Steve DiGiorgio (TESTAMENT, DEATH) and Mark Zonder (ex-FATES WARNING, WARLORD) was born and put together under the direction of renowned Los Angeles-based producer Roy Z (Bruce Dickinson, HALFORD, TRIBE OF GYPSIES).
Called SPIRITS OF FIRE (after the title of one of their songs), the band has completed work on their debut album which is set for release on February 22 via Frontiers Music Srl.
Check out the first single: youtu.be/Cg1gzFPAhcM
frontiers.it
NEW EP WITH CHRIS HOLMES
Former W.A.S.P. guitarist Chris Holmes is putting the finishing touches on a new EP, "Under The Influence", to be released in December. A new full-length album will follow a year later.
CKY RELEASES COVER OF GG ALLIN
CKY has released a cover of the GG Allin classic "Bite It You Scum". The song is taken from the band's vinyl-only EP "Too Precious To Kill", which will be released in stores on Black Friday, November 23.
Check it out: youtu.be/g39kfkRrcoQ
KÖTTGROTTORNA ANNOUNCES NEW GIGS
Swedish trallpunk veterans KÖTTGROTTORNA will do 3 shows here in Sweden in late January next year. The dates are:
24 Jan. - Riddar Jakob, Jakobsberg
25 Jan. - Pastabaren, Örebro
26 Jan. - Rock Bar, Karlstad
facebook.com/kottgrottorna
NOV. 14, 2018
LION'S SHARE'S COMPLETE CATALOG AVAILABLE DIGITALLY
Swedish heavy metal band LION'S SHARE is making its first 5 albums available on streaming services and digital service providers today, November 14.
The albums "Lion's Share" (1995), "Two" (1997), "Fall From Grace" (1999), "Entrance" (2001) and "Emotional Coma" (2007) have all been remastered by Mike Lind, giving them a new life. These new releases join LION'S SHARE's catalog titles already online — "Dark Hours" (2009) and "EP" (2018). The cover artwork has been touched up, and in most cases completely redone, by Carl-André Beckston.
The LION'S SHARE catalog features appearances by current and former members of MEGADETH, KISS, KING DIAMOND, HAMMERFALL, SYMPHONY X, Yngwie Malmsteen and CANDLEMASS. Mixers include top engineers such as Jens Bogren (ARCH ENEMY, OPETH, SYMPHONY X, AMON AMARTH), Niklas Flyckt (one-time Grammy Award winner and four-time nominee) and Ronny Lahti (ROXETTE, EUROPE, Glenn Hughes).
lionsshare.org
CHRIS CORNELL TRIBUTE CONCERT IN L.A. WITH METALLICA AND FOO FIGHTERS
FOO FIGHTERS and METALLICA are among the all-star cast of musicians who will honor the memory of the late Chris Cornell with a special tribute performance at The Forum in Los Angeles, California on January 16, 2019.
Billed as "I Am The Highway: A Tribute To Chris Cornell", the event will also feature appearances by Cornell's former bandmates in SOUNDGARDEN, AUDIOSLAVE and TEMPLE OF THE DOG, as well as Ryan Adams.
The event will be hosted by late-night TV host and comedian Jimmy Kimmel and will feature other surprise guests. Proceeds from the show will benefit the Epidermolysis Bullosa Medical Research Foundation (EBMRF).
Tickets for "I Am The Highway: A Tribute To Chris Cornell" go on sale to the general public this Friday, November 16.
CRIPPA PARTS WAYS WITH ATTENTAT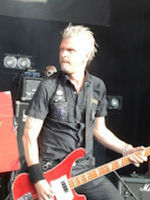 After 40 years as the bass player for Swedish punk rock band ATTENTAT, Cristian "Crippa" Odin has decided to leave the band to concentrate on other projects (Crippas Café, brew beer and other musical projects). His last shows with the band will be at Victoriateatern in Malmö, Sweden on February 1 and 2, 2019.
attentat.nu
THE INTERRUPTERS ANNOUNCES NORTH AMERICAN TOUR
L.A. punk/ska band The INTERRUPTERS are going on a North American tour early next year. "Fight The Good Fight" 2019 tour will kick off in Phoenix, AZ on February 27, and will last until April 6 when they play in Salt Lake City, UT.
For dates, go to: wearetheinterrupters.com
MANOWAR ANNOUNCES 2 SHOWS IN BIRMINGHAM
MANOWAR will do 2 shows at O2 Academy in Birmingham, England. The shows will happen on April 19 and 20, 2019.
These will be the only shows in the UK on this tour. Tickets are on sale now.
More tour dates at: manowar.com
NOV. 13, 2018
THE EXPLOITED LOOKING FOR A NEW GUITARIST
Guitarist Robbie will do his last shows with The EXPLOITED in Edingburgh, UK and Russia. The band is now looking for a new guitarist for next year's concerts.
the-exploited.net
LIVE ALBUM WITH CLASSIC LINEUP OF TYGERS OF PAN TANG
On December 21 legendary NWOBHM band TYGERS OF PAN TANG will release "Hellbound Spellbound Live 1981" featuring the classic line up of Jon Deverill - Vocals, Robb Weir - Guitars, John Sykes - Guitars, Rocky - Bass, and Brian Dick - Drums.
The show was originally recorded live by Chris Tsangarides at Nottingham Rock City in 1981, and has now been remixed and remastered by Soren Andersen (Glenn Hughes, Mike Tramp) in October 2018 at the Medley Studios in Denmark.
The release is exclusively available for pre-order now at targetshop.dk/tygers-of-pan-tang
tygersofpantang.com
HELIX DRUMMER IN COMA
Greg "Fritz" Hinz, longtime drummer for Canadian hard rockers HELIX, has been placed in a medically induced coma after fracturing his skull in a fall from the roof of his house.
According to HELIX singer Brian Vollmer, Hinz's injuries "are not life-threatening" but doctors are "keeping him in a coma and on breathing tubes until they feel he's all right to come out of it".
As a result of his condition, Hinz — who joined HELIX in 1982 and stayed in the band until 1996, before returning to the group 13 years later — will be unable to play with HELIX at the band's 2 scheduled gigs in Ontario this weekend. Filling in for him will be Jamie Constance from SYRE.
planethelix.com
NEW ALBUM WITH MICHAEL MONROE NEXT SPRING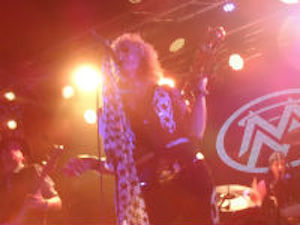 Former HANOI ROCKS singer Michael Monroe will release his new solo album, "One Man Gang", in the spring. The follow-up to 2015's "Blackout States", which is currently being mastered, features guest appearances by ex-HANOI ROCKS guitarist Nasty Suicide and The DAMNED legend Captain Sensible.
michaelmonroe.com/web
NOV. 12, 2018
ELECTRIC BOYS ANNOUNCES UK TOUR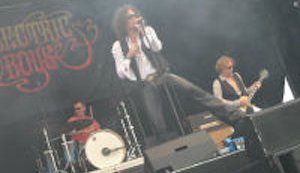 Swedish hard rockers ELECTRIC BOYS are going on a UK tour in March 2019, with special guests LAST GREAT DREAMERS. The dates are:
Mar. 16 - HRH AOR, Hafan Y Mor
Mar. 17 - Waterloo, Blackpool
Mar. 18 - Bannermans, Edingburgh
Mar. 19 - Think Tank, Newcastle
Mar. 20 - The Underworld, London
Mar. 21 - The Crauford Arms, Milton Keynes
Mar. 22 - The Tivoli, Buckley
The new album, "The Ghost Ward Diaries", will be released on November 23 via Mighty Music (go to reviews to read what I think about it).
electricboys.com
10TH-ANNIVERSARY EDITION OF SLIPKNOT'S "ALL HOPE IS GONE"
SLIPKNOT's 2008 album, "All Hope Is Gone", will be reissued on December 7. The 10th-anniversary deluxe edition of the LP will feature re-imagined artwork and a bonus disc containing an audio recording of the band's 2009 headlining concert at Madison Square Garden.
slipknot1.com
NOV. 11, 2018
AEROSMITH'S JOE PERRY RUSHED TO HOSPITAL
According to TMZ, AEROSMITH guitarist Joe Perry was rushed to the hospital Saturday night (November 10) after performing with Billy Joel in New York City.
Perry had just finished playing "Walk This Way" with Joel at Madison Square Garden and had gone back to his dressing room. A source connected with the concert told the tabloid site that Joe collapsed and "looked terrible".
Paramedics rushed to the scene and worked on the 68-year-old for around 40 minutes. A trachea was put down his throat to clear the air path and one eyewitness told the site "Joe did not look good". The ambulance personnel then put the guitarist on a stretcher, gave him oxygen and rushed him to a hospital.
Joe's condition remains unknown, and his reps did not immediately respond to a New York Daily News request for comment.
Perry is scheduled to kick off a solo tour on November 30 in support of his most recent solo album, "Sweetzerland Manifesto".
ROGGA JOHANSSON TO RELEASE SOLO ALBUM
The man with a hundred bands, Swedish death metal legend Rogga Johansson (PAGANIZER, DOWN AMONG THE DEAD MEN, ECHELON etc etc), is going to release a solo album, titled "Entrance To The Otherwhere", early next year via Transcending Obscurity Records.
facebook.com/roggaofficial tometal.com
NOV. 10, 2018
NEW ALBUM WITH VENOM IN DECEMBER
Black metal pioneers VENOM will release their 15th full-length studio album, "Storm The Gates", on December 14 through Spinefarm Records. The album will be made available on CD and digital formats, with vinyl and cassette versions to arrive in early 2019.
venomslegions.com
NOV 9, 2018
IRON MAIDEN ANNOUNCES NORTH AND SOUTH AMERICAN TOUR
IRON MAIDEN will spend next summer in U.S.A., Canada and South America. "Legacy of the Beast Tour 2019" will kick off in Sunrise, FL, U.S.A. on July 18, and will last until October 15, when they play in Santiago, Chile.
Support act will be The RAVEN AGE. Tickets go on sale November 16.
Dates and other details can be found at: ironmaiden.com
JAKE E LEE'S RED DRAGON CARTEL ANNOUNCES NORTH AMERICAN TOUR
Jake E Lee's RED DRAGON CARTEL are going on a North American tour from February 23 to April 2. More information at: reddragoncartel.com
Their new album, "Patina", is out now.
NOV. 8, 2018
TYGERS OF PAN TANG AND ELECTRIC BOYS CONFIRMED FOR NORDIC NOISE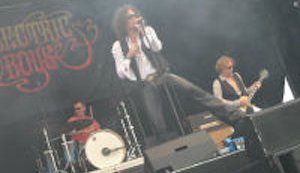 The first confirmed bands for the Nordic Noise festival have been announced. And among the artists are TYGERS OF PAN TANG, The NIGHT FLIGHT ORCHESTRA, ELECTRIC BOYS, Mike Tramp and JUNKYARD DRIVE. More acts to be announced..
The festival will take place at Amager Bio in Copenhagen, Denmark on May 10-11, 2019.
nordicnoise.dk
PENETRATION CONFIRMED FOR REBELLION
PENETRATION have been confirmed for the punk festival Rebellion, which happens at Winter Gardens in Blackpool, England on August 1-4, 2019.
Other acts that's been confirmed are COCK SPARRER, ANGELIC UPSTARTS, UK SUBS, DOA, The CASUALTIES, The SUBHUMANS, 999, CJ Ramone, JOHNNY MOPED, SPECIAL DUTIES, The LURKERS, MENACE, LOS FASTIDIOS, SYSTEM OF HATE etc.
rebellionfestivals.com
CJ RAMONE TO RELEASE CHRISTMAS SINGLE
CJ Ramone has announced a Christmas themed 7", titled "Christmas Lullaby". It will feature 1 original song as well as a cover of "Father Christmas" by The KINKS.
The release is due out on December 7 via Fat Wreck Chords.
ZEPHYRA TO RECORD NEW ALBUM NEXT YEAR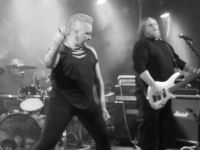 Local (Borås, Sweden) melodic death metallers ZEPHYRA are currently working on new material, and plan to enter the studio in February 2019 to record a new album.
facebook.com/zephyraofficial
KSMB ANNOUNCES TOUR AND NEW ALBUM


Swedish punk rock legends KSMB are going on a short tour in Sweden with their theatre show "En Slemmig Torsk" in March. It's said to be the story about the band, but there will be music too. The dates are:
15/3 - Örebro, Hjalmar Bergmanteatern
22/3 - Piteå, Black Box/Acusticum
23/3 - Luleå, Kulturens Hus
28/3 - Stockholm, Södra Teatern
29/3 - Uppsala, Katalin
More dates will be announced soon..
In conjunction with the tour, KSMB will also release the double album "En Slammig Torsk", which will include 11 new songs plus the entire show.
facebook.com/ksmbofficiella skrikhult.se
NOV. 7, 2018
NEW LIVE RELEASE WITH QUIET RIOT
QUIET RIOT's performance at Frontiers Rock Festival 2018 marked the band's first-ever concert in Italy. This special event is now being released on CD/DVD and Blu-ray. Titled "One Night In Milan", this once-in-a-lifetime performance will be released on January 25, 2019 via Frontiers Music Srl.
quietriot.band frontiers.it
SCORPIONS LAUNCH THEIR OWN WHISKY
SCORPIONS have teamed up with the Swedish top distillers MACKMYRA to release the ground-breaking whisky "Scorpions Rock'n Roll Star Single Malt Whisky Cherry Cask", adding a distinct and original German twist to the drink. This particular whisky gets to its perfect maturity in extraordinary German sweet cherry wine casks.
Read more about it at: brandsforfans.se
the-scorpions.com
CRASHDÏET ANNOUNCES LONDON SHOW
Swedish sleaze rockers CRASHDÏET will do a show at O2 Academy Islington in London, England on April 5, 2019.
crashdiet.org
JUDAS PRIEST CANCEL CONCERT IN ICELAND
Due to circumstances totally beyond the band's control, the Iceland show with JUDAS PRIEST on January 24, 2019 has been cancelled by the promoters. JUDAS PRIEST hope to be able to perform in Iceland at a later date instead.
judaspriest.com
TESTAMENT TO PLAY IN SWEDEN
Bay Area thrash legends TESTAMENT are coming to Sweden for 2 shows next summer. The dates are:
June 30 - Club Destroyer, Sundsvall
July 2 - KB, Malmö
testamentlegions.com
LIVE ALBUM WITH AMEBIX
AMEBIX have released a live album, called "Slovenia 1986", via Easy Action Records. The set was previously released as a very limited CD press in 1997 as "Make Some Fucking Noise" (and as a bootleg cassette before that). The new version features restored audio and is out now.
NOV. 6, 2018
EX-ACCEPT GUITARIST HERMAN FRANK TO RELEASE SOLO ALBUM
Former ACCEPT guitarist Herman Frank will release a new solo album, "Fight The Fear", on February 8, 2019 via AFM.
STATUS QUO TO SUPPORT LYNYRD SKYNYRD IN THE UK
STATUS QUO will be special guests for LYNYRD SKYNYRD when they do 4 shows in the UK in June 2019. Tickets go on sale on Friday, November 9. The dates are:
June 26 - The SSE Hydro, Glasgow
June 27 - Manchester Arena, Manchester
June 29 - The SSE Arena/Wembley, London
June 30 - Resorts World Arena, Birmingham
statusquo.co.uk lynyrdskynyrd.com
LIVE ALBUM WITH RAVEN IN JANUARY
British/American heavy metal trio RAVEN will release a new live album, "Screaming Murder Death From Above:Live In Aalborg", through SPV GmbH/Steamhammer on January 18, 2019.
For upcoming tour dates, check out: ravenlunatics.com
ALESTORM ANNOUNCES AUSTRALIAN/NEW ZEALAND TOUR
Drunk metal pirates ALESTORM are going to Australia and New Zealand in February. The dates are these:
Feb 6th - Perth, Capitol
Feb 7th - Adelaide, The Gov
Feb 8th - Sydney, The Metro
Feb 9th - Melbourne, The Croxton
Feb 11th – Brisbane, The Triffid
Feb 13th - Auckland, TBC
Tickets on sale on Thursday, November 8.
alestorm.net
NOV. 5, 2018
WATAIN TO PLAY IN JAPAN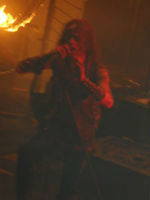 Swedish black metallers WATAIN are going to Japan together with ANAAL NATHRAKH in March 2019. They will do the following 4 shows there:
March 1 - Shibuya duoExchange, Tokyo
March 2 - Osu Rad Hall, Nagoya
March 3 - Shinsaybashi Soma, Osaka
March 5 - Holiday Shinjuku, Tokyo
templeofwatain.com
NEW BAND WITH THE SINGER FROM BESEECH
There's a new band in town - Borås, Sweden - called SVARTA SANNINGAR, featuring BESEECH singer Klas Bohlin. They describe their music as a harder version of Swedish artist Thåström, late 70s and dark metal. The lyrics are in Swedish.
Their debut EP, "Kapitel 1", will be released on November 30. Check out a teaser: youtu.be/8GzrjUZ3SK0
svartasanningar.se
OZZY ANNOUNCES NORTH AMERICAN TOUR WITH MEGADETH
Ozzy Osbourne has announced additional "No More Tours 2" North American tour dates for 2019, with MEGADETH as support act for the entire run. Tickets go on sale to the general public starting Friday, November 9.
A lot of dates (May 29 to July 29), but go to: ozzy.com
ACCEPT ANNOUNCES FIRST SHOWS WITH ORCHESTRA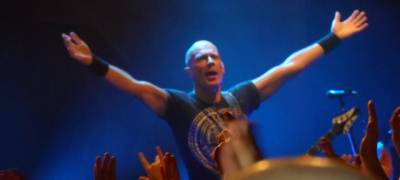 As you may know already, ACCEPT will release a live set, "Symphonic Terror - Live At Wacken 2017", on November 23 via Nuclear Blast. And because what started as a premiere at Wacken caused a sensation and recognition worldwide, the "Symphonic Terror" will hit other cities live in April 2019. ACCEPT will debut its orchestra tour throughout Europe in 2019, and today, the band has revealed the first tour dates for Germany, which are:
Apr. 20 - Wuppertal - Stadthalle
Apr. 21 - Leipzig - Haus Auesee
Apr. 22 - Hamburg - Mehr!Theater
Apr. 23 - Fürth - Stadthalle
Apr. 25 - Saarbrücken-Congresshalle
Apr. 27 - München-Circus Krone
acceptworldwide.com
NOV. 3, 2018
TRANSPORT LEAGUE RECORDING NEW ALBUM
Swedish groove metallers TRANSPORT LEAGUE have entered the studio with producer Roberto Laghi ( IN FLAMES, LOK, HARDCORE SUPERSTAR, B-THONG, RAISED FIST, ENTOMBED A.D., DIA PSALMA, MUSTASCH etc) to record a new album, which will be called "A Million Volt Scream".
facebook.com/transportleague
NOV. 2, 2018
NEW BOX SETS WITH MOTÖRHEAD IN DECEMBER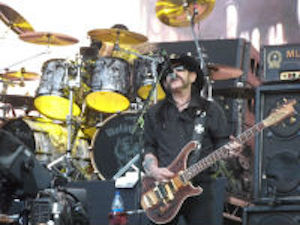 On December 7, Motörhead Music (Silver Lining Music) will release 2 MOTÖRHEAD box sets.
The first is "Böx Of Magic", a special vinyl set featuring "The Wörld Is Yours" white vinyl, "Clean Your Clock" with special pop-up art sleeve, a silver picture disc of "Bad Magic" and "Aftershock", all in a deluxe package which will include a 64x64cm WarPig poster.
The second is the live recording-driven "End Of The Wörld", featuring "Clean Your Clock", "Aftershock" with a live performance from Download in 2013, and "The Wörld Is Ours Vol 1: Everywhere Further Than Everyplace Else" plus "Vol 2: Anyplace Crazy As Anywhere Else".
"End Of The Wörld" comes in 2 formats. Version A is a German-only exclusive with a "Bad Magic" back patch, MOTÖRHEAD keychain with bottle opener limited to 700 copies. Version B is for the rest of the world, containing MOTÖRHEAD keychain with bottle opener, limited to 1300 copies.
Pre-order "Böx Of Magic": hyperurl.co/MHBoxOfMagic
Pre-order "End Of The Wörld": hyperurl.co/MHEndOfTheWorld
imotorhead.com
UNLEASHED AND ASPHYX CONFIRMED FOR GAMROCKEN
UNLEASHED, ASPHYX, BIRDFLESH, INTERMENT, FRANTIC AMBER, JUST BEFORE DAWN, NIGHT CROWNED, OF FIRE and FAYENNE have been confirmed for the Glamrocken festival in Grängesberg, Sweden on May 31 to June 1.
Confirmed since earlier are HYPOCRISY, VOMITORY, VALKYRJA, EVIL INVADERS, LIK, DEFIATORY etc.
gamrocken.se
NEW ALBUM WITH RIVAL SONS IN JANUARY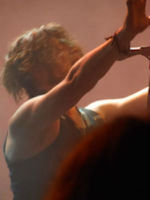 RIVAL SONS will release their new album, "Feral Roots", on January 25, 2019 via Grammy Award-winning producer Dave Cobb's major label imprint Low Country Sound/Atlantic.
rivalsons.com
ASTA KASK ANNOUNCES SWEDISH SPRING DATES


Swedish punk legends ASTA KASK will do a few shows here in Sweden next spring. The dates are:
April 5 - Göteborg, Pustervik (w/ LASTKAJ 14)
April 6 - Malmö, Kulturbolaget (w/ LASTKAJ 14)
April 12 - Stockholm, Debaser Strand
May 23 - The Baltic Sea, Close-Up Båten 25
facebook.com/astakaskofficial
RAMMSTEIN ANNOUNCES EUROPEAN TOUR
German industrial metal veterans RAMMSTEIN are going on a European stadium tour next summer, which will last from May 27 to August 22. Tickets go on sale Thursday, November 8. More info at: eventim.com/rammstein
A new, yet untitled, album will be released in spring 2019. It will be their first new studio album in 9 years.
rammstein.de/en
NOV. 1, 2018
GRAND MAGUS RECORDING NEW ALBUM
Swedish riff lords GRAND MAGUS are currently working on the follow up to their highly acclaimed 2016 album "Sword Songs". The band have already ensconced themselves at Sweetspot Studio in Sweden to kick off the recordings with producer Staffan Karlsson (ARCH ENEMY, FIREWIND, SPIRITUAL BEGGARS).
facebook.com/grandmagusofficial nuclearblast.de
OCTOBER 31, 2018
HANK VON HELL ANNOUNCES NORTH AMERICAN TOUR
Former TURBONEGRO frontman Hank Von Hell (formerly known as Hank Von Helvete) are going to America for a tour in January and February 2019. The adventure will start in Atlanta on January 15, and the last experience will take place in New Orleans on February 6.
Dates can be found here: facebook.com/HankVonHellOfficial
NEW ALBUM WITH HEXVESSEL IN FEBRUARY
Finland-based psychedelic forest folk rock band HEXVESSEL will release their 4th album, "All Tree", on February 15. The album will be made available via their own label Secret Trees, in exclusive partnership with Century Media Records.
hexvessel.com centurymedia.com
NEW SONG WITH SLIPKNOT
SLIPKNOT have released a new song today, "All Out Life". You can listen/watch at: slipknot1.com
OCTOBER 30, 2018
UFO ANNOUNCES GERMAN TOUR
Hard rock veterans UFO have announced some shows in Germany in July and August 2019. The dates are:
July 26 - Germany - Burg Herzberg - Festival
July 27 - Germany - Nuremberg - Pyraser Classic Rock Night
July 28 - Germany - Bensheim - Musiktheater Rex
July 30 - Germany - Dortmund - Musiktheater Piano
July 31 - Germany - Wacken - Open Air
Aug. 02 - Germany - Neuruppin - Kulturhaus
Aug. 03 - Germany - Leipzig - Parkbühne
ufo-music.info
GEHENNAH TO RE-RELEASE CHRISTMAS EP ON 12" PICTURE DISC
On November 16, Swedish cult metal band GEHENNAH's EP "No Fucking Christmas!" will be reissued, for the first time on 12" Picture Disc. This title has been out of print for over 20 years. It features 2 tracks: "Sathana Claus" and "Merry Shitmas!", and is strictly limited to only 666 copies world wide from Critical Mass Recordings.
Pre-order here: criticalmass.se
facebook.com/gehennah.metal
NEW LIVE ALBUM WITH MAGNUM IN JANUARY
British melodic (hard) rockers MAGNUM will release a new live album, "Live At The Symphony Hall", on January 18, 2019 through SPV/Steamhammer as a 2CD digipak, 3LP gatefold, download and stream.
FEAR TO PLAY IN TEXAS
Reunited American punk band FEAR have announced a tour of Texas with CH3 that is scheduled for December. The dates are:
Dec. 12 - Houston, TX - Studio at Warehouse Live
Dec. 14 - Dallas, TX - Cutain Club
Dec. 15 - Austin, TX - Mohawk
Dec. 16 - San Antonio, TX - Paper Tiger
HIGH ON FIRE FORCED TO PULL OUT FROM NORTH AMERICAN TOUR
HIGH ON FIRE and MUNICIPAL WASTE was supposed to co-headline the North American "The Speed of the Wizard" tour. But unfortunately, HIGH ON FIRE will not be joining the tour. Singer/guitarist Matt Pike had a medical emergency and had to get a partial toe amputation. Read more about that here: facebook.com/highonfire
The other bands will still do the tour, with MUNICIPAL WASTE as only headliner, and TOXIC HOLOCAUST and HAUNT as support acts. The tour kicks off at Canton Hall in Dallas, TX on Friday, November 2.
OCTOBER 29, 2018
KISS, RAINBOW AND DEF LEPPARD CONFIRMED FOR SWEDEN ROCK FESTIVAL
The first confirmed acts for next summer's Sweden Rock Festival have been announced. Among these artists are KISS, Ritchie Blackmore's RAINBOW, DEF LEPPARD, AMON AMARTH, DEMONS & WIZARDS, ARCH ENEMY, HAMMERFALL, KROKUS, SKID ROW, AT THE GATES, ANNIHILATOR, MAGNUM, Joe Lynn Turner, Uli Jon Roth, DEATH ANGEL, DEMON and BEAST IN BLACK.
The festival take place in Sölvesborg, Sweden on June 5-8, 2019. Tickets go on sale Thursday, November 1.
swedenrock.com
NEW ALBUM WITH QUEENSRŸCHE IN MARCH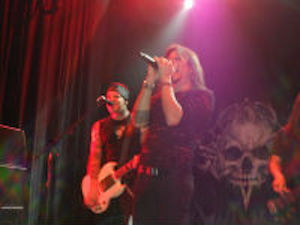 QUEENSRŸCHE will release their new album, "The Verdict", on March 1, 2019 via Century Media Records.
To support "The Verdict", the band have also announced a spring U.S. headline tour with special guests FATES WARNING. The CRINGE will be joining both bands on select dates. The tour will kick off on March 2 in Orlando, making stops in major markets such as New York, Atlanta, Chicago and Los Angeles, and will wrap on April 3 in Seattle. Dates can be found at queensrycheofficial.com
KISS ANNOUNCES FIRST DATES OF FAREWELL TOUR
KISS have announced the first dates of their "End Of The Road" world tour.
The tour will start in North America from January 31 to April 13. Then they go to Europe between May 27 to July 16.
All dates and other information can be found at kissonline.com
ASTA KASK AND CHARTA 77 CONFIRMED FOR CLOSE-UP BÅTEN 25


Swedish punk bands ASTA KASK, CHARTA 77, LASTKAJ 14, TRUBBEL, STILETT, SIXTEN REDLÖS, FREDAG DEN 13:E, VÄRLDEN BRINNER and BJÖRNARNA have been confirmed for Close-Up Båten 25, a 23-hour cruise that will leave Stockholm, Sweden on May 23 for Åbo, Finland, and will be back in Stockhom the next day.
Tickets: tallinksilja.se/close-up25
Event page: facebook.com/events/1747174495404439
closeupmagazine.net
BLOODBATH AND DARK TRANQUILLITY CONFIRMED FOR CLOSE-UP BÅTEN 24
Metal bands BLOODBATH, DARK TRANQUILLITY, SCAR SYMMETRY, UNANIMATED, VOMITORY, LIK, DEMONICAL and DREADFUL FATE have been confirmed for Close-Up Båten 24, a 23-hour cruise that will leave Stockholm, Sweden on March 28 for Åbo, Finland, and will be back the next day.
Tickets: tallinksilja.se/close-up24
Event page: facebook.com/events/168197967452949
closeupmagazine.net
BON JOVI COMES TO EUROPE
BON JOVI have announced a European tour next summer that will kick off in Moscow, Russia on May 31, 2019, and will last until July 21 when they play in Bucharest, Romania.
For dates and ticket information, go to: bonjovi.com
OCTOBER 28, 2018
GUITARIST TODD YOUTH IS DEAD
Todd "Youth" Schofield (born 1971), the American guitarist best known for his work with WARZONE, MURPHY'S LAW and DANZIG, has died at the age of 47.
Youth has also played with BLOODCLOT, D GENERATION, FIREBURN and many more acts. Back in 2003, Youth had a brief stint as the fill-in guitarist for MOTÖRHEAD at several dates on the band's U.S. tour after regular guitarist Philip Campbell's mother passed away.
RONNIE JAMES DIO'S AUTOBIOGRAPHY TO FINALLY BE RELEASED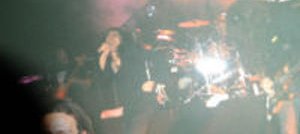 Wendy Dio, widow and longtime manager of Ronnie James Dio, is working with legendary rock journalist Mick Wall on the long-awaited autobiography of the heavy metal master, which was three-quarters written before the singer's death and which was originally scheduled to be published several years ago via MTV Books.
ronniejamesdio.com
OCTOBER 27, 2018
AVATAR WANT TO CREATE A FILM TO THEIR LATEST ALBUM
Swedish metal band AVATAR have announced the launch of a Kickstarter campaign for the creation of "Legend Of Avatar Country", a musical featurette to their latest album, "Avatar Country". The band has teamed up with Kerrang! magazine to bring this incredible film to light.
The Kickstarter campaign will launch this Monday, October 29.
youtu.be/q8LTYdDsffE
DRAGONFORCE RECORDING NEW ALBUM
DRAGONFORCE recently entered the studio with producer Damien Rainaud (FEAR FACTORY, ONCE HUMAN) to begin recording its 8th album, due out 2019.
MANOWAR COMMENTS OF KARL LOGAN'S ARREST
MANOWAR has released a short statement regarding the arrest of guitarist Karl Logan on charges of possessing child pornography:
"With regard to Karl Logan's arrest and the charges against him: Due to the fact that Karl and his attorneys are dealing with these issues, he will not perform with MANOWAR. The new album and upcoming tour will not be affected."
Scroll down a little to read more about the arrest..
manowar.com
OCTOBER 26, 2018
NEW ALBUM WITH KANE ROBERTS IN JANUARY
Former Alice Cooper guitarist Kane Roberts will release his new solo album, "The New Normal", on January 25, 2019 via Frontiers Music Srl.
MANOWAR GUITARIST KARL LOGAN ARRESTED ON CHILD PORNOGRAPHY CHARGES
MANOWAR guitarist Karl Logan has been charged with possessing child pornography.
Logan, 53, was arrested on August 9 in Charlotte, North Carolina and charged with 6 counts of third-degree exploitation of a minor. Logan's bail was set at $35,000 and he has since bonded out.
ZAKK SABBATH, DEVILDRIVER AND WEDNESDAY 13 CONFIRMED FOR OZZFEST ON NEW YEAR'S EVE
ZAKK SABBATH - the all-star BLACK SABBATH cover band featuring guitarist/vocalist Zakk Wylde (BLACK LABEL SOCIETY, Ozzy Osbourne) - DEVILDRIVER and Wednesday 13 will perform on the second stage at the special one-night-only New Year's Eve Ozzfest, set for Monday, December 31 at The Forum in Los Angeles, California.
Headlining the event will be Ozzy Osbourne, with a lineup of some of the biggest names in rock (and Ozzfest alumni): Rob Zombie, Marilyn Manson, and Jonathan Davis (of KORN), along with the Ozzfest debut of BODY COUNT featuring Ice-T. The evening will conclude with Osbourne onstage counting down to the new year.
ozzfest.com
NEW SINGLE WITH MÄRVEL IN NOVEMBER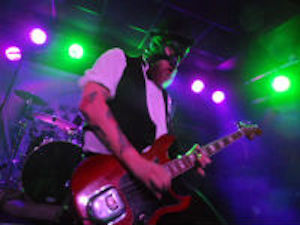 On November 2, Swedish rock band MÄRVEL will be releasing the first in a series of "guilty pleasure" cover songs, that will eventually lead up to a full length album release in the spring. Which song it is will be revealed the day before the release.
facebook.com/marveltheband
HAMMERFALL TO RELEASE 20-YEAR ANNIVERSARY EDITION OF THEIR SECOND ALBUM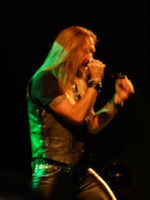 Swedish heavy metal band HAMMERFALL will celebrate the 20-year anniversary of their second album, "Legacy Of Kings", with a re-issue. This 2-CD/DVD box set will be released on December 7 via Nuclear Blast.
Trailer: youtu.be/TPmwLWd_ovk
Pre-order: nblast.de/HammerfallLOK20Years
hammerfall.net nuclearblast.de
OCTOBER 25, 2018
NEW ALBUM WITH STEVE HACKETT IN JANUARY
Former GENESIS guitarist Steve Hackett announces the release of his new studio album "At The Edge Of Light" on January 25, 2019.
More info and tour dates can be found at hackettsongs.com
CHANGES IN THE LINE UP FOR INGLORIOUS
UK classic rock act INGLORIOUS have today confirmed the departure of guitarists Drew Lowe and Andreas Eriksson and bassist Colin Parkinson.
19 year old guitarist Danny Dela Cruz is anounced to replace Andreas Eriksson in the band. Announcements on a further guitarist and new bass player to follow..
inglorious.com
LÄÄZ ROCKIT BASSIST WILLY LANGE IS DEAD
Willy "Lange" Langenhuizen, bass player of San Francisco Bay Area thrash metal band LÄÄZ ROCKIT and DUBLIN DEATH PATROL, passed away on October 23 from injuries sustained in a motorcycle accident. He was 57 years old.
SATANIC SURFERS ANNOUNCES CANADIAN TOUR
Reunited Swedish skate punks SATANIC SURFERS have announced a short Canadian tour that is scheduled for April 2019 with BELVEDERE. LA ARMADA will be joining both bands on the eastern part of the tour, and the dates are:
11 April - Vancouver, BC at Rickshaw Theatre
12 April - Calgary, AB at Dickens
13 April - Edmonton, AB at The Starlite Room
14 April - Toronto, ON at Velvet Underground
16 April - London, ON at London Music Hall
17 April - Ottawa, ON at The 27 Club
18 April - Quebec City, QC at Salle Multi
20 April - Montreal, QC at Foufounes Electriques
SATANIC SURFERS are currently working on new material.
OCTOBER 24, 2018
PRIMORDIAL, DEMON AND STEVE GRIMMETT'S GRIM REAPER CONFIRMED FOR THE ABYSS FESTIVAL
The first confirmed bands for next year's The Abyss Festival have been announced. And among the artists are PRIMORDIAL, DEMON, STEVE GRIMMETT'S GRIM REAPER, QUARTZ, AURA NOIR etc.
The festival will take place at Gotheburg Film Stusios in Göteborg, Sweden on March 1-2, 2019.
facebook.com/theabyssgbg
GRAVEYARD ANNOUNCES NORTH AMERICAN CO-HEADLINE TOUR WITH UNCLE ACID AND THE DEADBEATS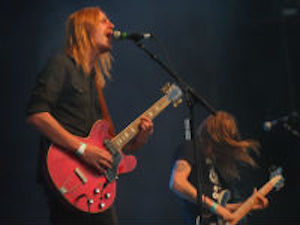 Swedish rock band GRAVEYARD are going on a North American co-headline tour with British rock band UNCLE ACID AND THE DEADBETAS in March 2019.
Tickets and more info here: bit.ly/PATWtour
facebook.com/graveyardofficial uncleacidband.com
DISCHARGE AND ANTI-NOWHERE LEAGUE CONFIRMED FOR LONDON PUNK FESTIVAL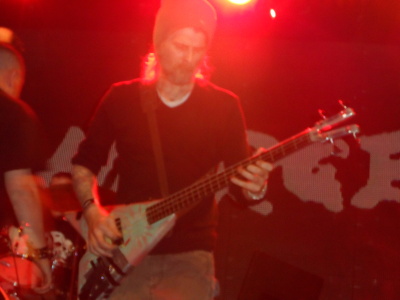 DISCHARGE, ANTI-NOWHERE LEAGUE, VICE SQUAD, CHRON GEN, ANTI-PASTI, MENACE, CRIMINAL MIND and KNOCK OFF will play at London Punk Festival, somewhere in London, UK on September 21, 2019.
Tickets at: seetickets.com
BUZZCOCKS TO RE-ISSUE 2 FIRST ALBUMS
For their 40th Anniversary, English pop punk legends BUZZCOCKS will re-release their 2 first albums - "Another Music In A Different Kitchen" and "Love Bites" - on January 25, 2019 via Domino Recording Company. Both albums are available on LP and CD.
Pre-order here: smarturl.it/Buzzcocks40
OCTOBER 23, 2018
BOOK ABOUT LACUNA COIL
Italian heavy rockers LACUNA COIL will release their first-ever book, titled "Nothing Stands In Our Way", on November 28 via Rocket 88.
Published to celebrate the band's 20th anniversary, "Nothing Stands In Our Way" contains rare and candid photographs, memorabilia and personal artefacts from the collections of founding members Cristina Scabbia, Andrea Ferro and Marco Coti Zelati. Among the wealth of photographs in the book are baby pics, 1990s skater poses, pre-LACUNA COIL performance shots, and tons of backstage scenes from the past 2 decades.
Andrea, Maki and Cristina tell the band's story in the first person, beginning with their early life, teen years, key musical influences, personal record collections and details of how they met. It goes on to describe how LACUNA COIL formed, found success and became the global phenomenon that they are today.
The book is only available at LacunaCoilBook.com
SLIPKNOT ANNOUNCES EUROPEAN SUMMER TOUR
SLIPKNOT will embark on a month-long tour of Europe next summer. The band will perform at a number of festivals across the continent, including Download, Rock Am Ring, Graspop Metal Meeting and Resurrection.
SLIPKNOT will also perform at the Iowa State Fair Grandstand for the first time ever on August 10, 2019. Tickets for the concert go on sale November 2 via IowaStateFair.org
All upcoming tour dates can be found at slipknot1.com
DEF LEPPARD, SLIPKNOT AND TOOL CONFIRMED FOR DOWNLOAD FESTIVAL
DEF LEPPARD, SLIPKNOT, TOOL, SLASH FEATURING MYLES KENNEDY AND THE CONSPIRATORS, WHITESNAKE, Rob Zombie, AMON AMARTH, CARCASS, OPETH, SKINDRED and TESLA are among the artists that have been confirmed for Download Festival at Donington Park in Donington, UK on June 14-16, 2018.
Tickets go on sale Thursday, October 25. More info at downloadfestival.co.uk
OCTOBER 22, 2018
NEW ALBUM WITH INGLORIOUS IN JANUARY
British classic rock act INGLORIOUS are going to release their third studio album, "Ride To Nowhere", on January 25, 2019 through Frontiers Music Srl.
The first single fromt he album, "Where Are You Now?", was released on October 18. You can check it out here: youtu.be/oeb1As36m3k
inglorious.com frontiers.it
BOX SET WITH JORN IN DECEMBER
Frontiers Music Srl will celebrate Norwegian singer Jorn Lande's 50th birthday with the release of the ultimate JORN box set, "50 Years On Earth - The Anniversary Box Set", on December 14.
A definitive overview, "50 Years On Earth" is comprised of 12 CDs, including all JORN albums from "Worldchanger" (2001) to "Life On Death Road" (2017). The CD artwork has been recreated in a stunningly visual vinyl replica format.
In addition to the studio albums, an exclusive collection of JORN's best live tracks taken from his albums "Live In The USA" and "Live In Black" and of his best cover songs are included. Finally, there is a disc which includes 16 rare and bonus tracks, which are going to whet the appetites of the JORN completists.
This attractive package also includes a beautiful booklet with handwritten notes from Jorn Lande himself.
frontiers.it
FLOGGING MOLLY ANNOUNCES EUROPEAN TOUR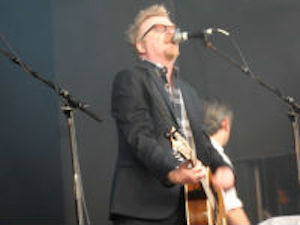 Celtic/folk punk rockers FLOGGING MOLLY will return to Europe in January/February. Tickets go on sale this Friday, October 26, and you can get them and see the dates at floggingmolly.com/tour
NEW YEAR'S EVE OZZFEST WITH OZZY, ROB ZOMBIE AND MARILYN MANSON
There will be a Ozzfest on New Year's Eve at The Forum in Los Angeles, USA. Confirmed artists so far are Ozzy Osbourne, Rob Zombie, Marilyn Manson, Jonathan Davis and BODY COUNT. Second stage lineup and more info will be announced soon..
Tickets go on sale this Friday, October 26.
ozzfest.com
OCTOBER 20, 2018
THOR TO RELEASE CHRISTMAS ALBUM
Hard rock/heavy metal legend Thor will release his very first holiday album, "Christmas In Valhalla", on October 26 via Deadline Music, a division of Cleopatra Records, Inc.
The album features 9 original Christmas songs, and will be available on CD and digitally.
You can check out the first video from the album here: youtu.be/cgtl5X86xag
thorcentral.net facebook.com/DeadlineMusicRecords cleopatrarecords.com
OCTOBER 19, 2018
FORMER GHOST MEMBERS PLAN TO APPEAL DISMISSAL OF LAWSUIT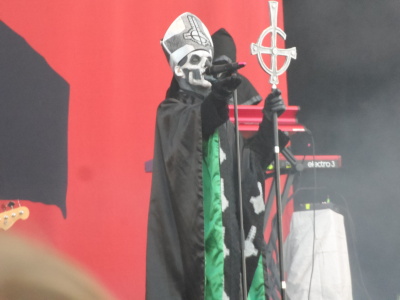 Former members of GHOST have vowed to appeal the dismissal of their lawsuit against the band's leader, Tobias Forge. Forge, who founded the group 8 years ago, was sued by the 4 ex-members in April 2017. They accused the singer of cheating them out of their rightful share of the profits from the band's album releases and world tours.
The musicians — Simon Söderberg (Alpha; member of GHOST from 2010 until 2016), Mauro Rubino (Air; member of GHOST from 2011 until 2016), Henrik Palm (Eather; member of GHOST from 2015 until 2016) and Martin Hjertstedt (Earth; member of GHOST from 2014 until 2016) — have 3 weeks to appeal the ruling, and their attorney, Michael Berg, told SVT earlier today that they intend to seek a reversal.
svt.se/nyheter/lokalt/ost/ghost-domen-kommer-overklagas
ACE FREHLEY TO PERFORM 1978 SOLO ALBUM IN ITS ENTIRETY
Former KISS guitarist Ace Frehley will celebrate the 40th anniversary of his acclaimed solo debut by performing the album for the first time in its entirety on the final day of the New Jersey Kiss Expo 2018, which will take place December 7-9 at the Hilton Parsippany in Parsippany, New Jersey.
Other guests scheduled to appear at the event include Lita Ford, Bobby Rock (VINNIE VINCENT INVASION, NELSON), Lydia Criss and artist Ken Kelly ("Destroyer", "Love Gun").
Tickets are on sale now at NJKissExpo.com
ALLVARET ANNOUNCES U.S. TOUR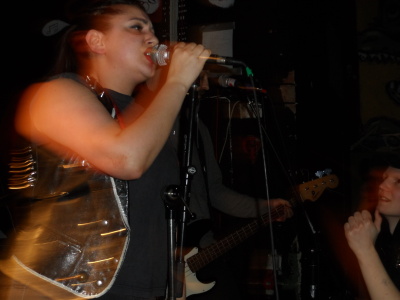 Swedish punk rock band ALLVARET are going to the States in November. The dates are:
8 - Long Beach, CA at Alex's Bar
9 - San Francisco, CA at Knockout
9 - San Francisco, CA at Thrillhouse
10 - Portland, OR at Blackwater
11 - Seattle, WA at Highline
12 - Olympia, WA at Le Voyeur
13 - Corvallis, OR at Interzone
14 - Oroville, CA at Spirit Venue
15 - Sacramento, CA at (to be announced)
16 - Oakland, CA at Elbo Room Jack London
17 - Sat. - Ventura, CA at Garage
facebook.com/allvaret
UNION CARBIDE PRODUCTIONS TO DO 3 MORE SHOWS IN SWEDEN
Swedish rock legends UNION CARBIDE PRODUCTIONS will do 3 shows here in Sweden in November. The dates are:
Nov. 7 - KB, Malmö
Nov. 8 - Debaser Strand, Stockholm
Nov. 9 - Stora Teatern, Göteborg
facebook.com/unioncarbideproductions
OCTOBER 18, 2018
SCORPIONS TO PLAY IN CHINA
SCORPIONS are going to do 2 shows in China in November. The dates are:
Nov. 17 - Olympic Sports Center Gymnasium, Beijing
Nov. 21 - Mercedes Benz Arena, Shanghai
More info and concert dates at: the-scorpions.com
NEW ALBUM WITH THE QUIREBOYS IN FEBRUARY
English rock n roll veterans The QUIREBOYS will release a new album, "Amazing Disgrace", on February 8, 2019. You can now pre-order a signed copy on their PledgeMusic campaign page.
quireboys.com
NEW BAND WITH MEMBERS FROM MORBID ANGEL, MAYHEM AND CRYPTOPSY
Season Of Mist has announced the signing of VLTIMAS, which is a new 3-piece extreme metal formation consisting of David Vincent (ex-MORBID ANGEL), Rune "Blasphemer" Eriksen (ex-MAYHEM, AURA NOIR) and Flo Monier (CRYPTOPSY). They have just completed the work on its debut album for an early 2019 release.
OZZY ANNOUNCES RESCHEDULED TOUR DATES
Ozzy Osbourne has announced the new dates for the 4 shows on his North American "No More Tours 2" that he was recently forced to cancel. The 69-year-old rock legend was hospitalized earlier in the month for a peculiar hand injury that left both his thumb and middle finger severely swollen.
The new dates are:
July 20 - Las Vegas, NV - MGM Grand Garden Arena
July 23 - Chula Vista, CA - Mattress Firm Amphitheatre
July 27 - Mountain View, CA - Shoreline Amphitheatre
July 29 - Los Angeles, CA - Hollywood Bowl
Ticketholders for the 4 shows should hold on to their tickets, as they will be honored for the rescheduled dates. Refunds are also available at point of purchase.
ozzy.com
OCTOBER 17, 2018
WATAIN ANNOUNCES TOUR IN AUSTRALIA/NEW ZEALAND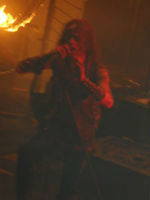 Swedish black metallers WATAIN will invade Australia and New Zealand in February 2019. Tickets on sale Monday, October 22. The dates are these:
February 22 – OZ, Melbourne, Max Watt's
February 23 – OZ, Brisbane, Crowbar
February 24 – OZ, Sydney, The Factory
February 26 – NZ, Wellington, Valhalla
February 27 – NZ, Auckland, Galatos
templeofwatain.com
NEW SONG WITH BAD RELIGION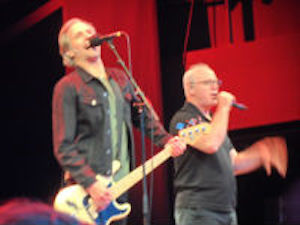 California punk rock veterans BAD RELIGION have released a new track, "The Profane Rights Of Man". Take a listen here: ffm.to/profanerightsofman
badreligion.com
ALL THAT REMAINS GUITARIST OLI HERBERT IS DEAD
Oli Herbert, guitarist of the American metal band ALL THAT REMAINS, has died. He was reportedly only 44 years old. No further details are available at this time.
FORMER GHOST MEMBERS' LAWSUIT AGAINST TOBIAS FORGE DISMISSED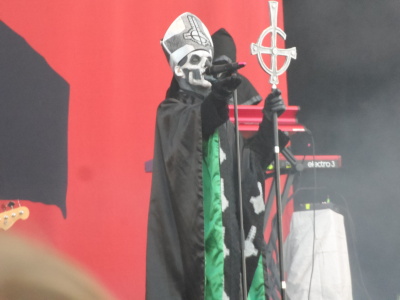 A lawsuit filed by 4 former members of GHOST against the band's leader has been dismissed by a Swedish court.
Tobias Forge, who founded the group 8 years ago, was sued by 4 ex-members in April 2017 who accused the singer of cheating them out of their rightful share of the profits from the band's album releases and world tours.
The lawsuit claimed that a partnership agreement existed between Forge and the 4 former members, all of whom performed anonymously in the band as Nameless Ghouls.
Forge responded that "no legal partnership" ever existed between him and the other members, that they were paid a fixed salary to perform as his backing band, and that they were essentially session musicians.
The trial in Linköping District Court lasted for 6 days and at 11 a.m. on Wednesday (October 17), a 108-page decision was released dismissing the case. The 4 former GHOST members were also ordered to pay Forge's legal fees.
Forge claimed more than 2 million kronor (approximately $225,000) in legal costs, but the district court was of the opinion that 1.3 million kronor ($146,000) was more reasonable.
The original lawsuit, which was filed in the district court of Linköping, where GHOST was originally based, claimed that Forge solely controlled the band's business affairs without input from anyone else in the group. The 4 musicians furthermore stated that a partnership agreement existed between them and Forge which put Tobias in charge of carrying out the company's management duties.
DEAD KENNEDYS TO CELEBRATE 40-YEAR ANNIVERSARY IN CALIFORNIA
To celebrate their 40th anniversary as a band, DEAD KENNEDYS (with Ron "Skip" Greer on lead vocals) will be playing a couple of Northern California shows with TSOL, The DWARVES, MDC, and more in December. The dates are:
Dec. 8 - Sacramento, CA at Ace Of Spades (w/ TSOL, The DWARVES, MDC, The MOANS, TWITCH ANGRY)
Dec. 9 - Berkeley, CA at UC Theatre (w/ TSOL, The DWARVES, MDC, SCREAMING BLOODY MARYS)
deadkennedys.com
NEW BAND WITH EX-MEMBERS OF DOKKEN WILL BE CALLED THE END MACHINE
The new band featuring 3 members of the classic DOKKEN lineup along with former LYNCH MOB and current WARRANT singer Robert Mason has officially been christened THE END MACHINE.
Although guitarist George Lynch said in a recent interview that his new collaboration with his onetime DOKKEN bandmates Jeff Pilson (bass) and Mick Brown (drums) would be called THE END, Pilson clarified during a chat with "Rock Talk With Mitch Lafon" that the actual name will be THE END MACHINE, with "The End" written "in capitals and 'Machine' in small letters."
OCTOBER 16, 2018
THE BOOK OF JETHRO TULL
JETHRO TULL, the pioneering British prog rock group, has announced the launch of the band's first-ever official illustrated history.
"The Ballad Of Jethro Tull" will be a beautifully packaged, fully illustrated hardback book, printed in 2 editions: a "Classic" version; and a limited-run "Signature Edition", signed by Ian Anderson and featuring additional content.
The project is being overseen by JETHRO TULL founder and frontman Ian Anderson who, together with members and former members of the band, will contribute memories, personal photos, memorabilia, classic and previously unseen live photography, behind-the-scenes snaps, original press cuttings and album art.
More information here: https://youtu.be/qWnyuhMUvSI and/or jethrotullbook.com
EXCITER ANNOUNCES NEW GUITARIST
Canadian thrash metal pioneers EXCITER have announced the addition of guitarist Daniel Dekay (DIEMONDS, Banger TV) to the group's ranks.
The band is already working on new tunes, with plans for a full-length studio record.
OCTOBER 15, 2018
CANDLEMASS TO SUPPORT GHOST ON EUROPEAN TOUR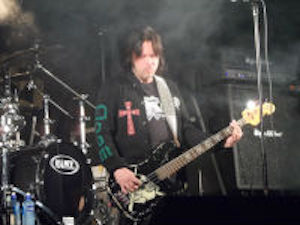 CANDLEMASS will be special guests for GHOST on their European tour, called "A Pale Tour Named Death Europe 2019".
Dates can be found here: ghost-official.com
candlemass.se
NEW ALBUM WITH PERKELE IN JANUARY
Swedish Oi! punks PERKELE will release a new album, titled "Leaders Of Tomorrow", on January 18, 2019.
facebook.com/Perkele1993
THE QUIREBOYS ANNOUNCES SPANISH SHOWS
British rock n roll veterans The QUIREBOYS are going to Spain for 4 shows in April 2019. Special guests will be PÖLISONG. The dates are:
April 11 - Sala Upload, Barcelona
April 12 - Auditorio Municipal, Burlada (no PÖLISONG)
April 13 - Pozal De Gallinas, Galia Fest
April 14 - Sala Even, Sevilla
quireboys.com
OCTOBER 12, 2018
URIAH HEEP'S "DEMONS AND WIZARDS" TO BE RE-RELEASED ON VINYL
BMG will re-release URIAH HEEP's classic album "Demons And Wizards" from 1970. It will be availbale as a 180g vinyl LP on November 23.
More info: musicglue.com/uriahheep
uriah-heep.com
HANK VON HELL ANNOUNCES EUROPEAN TOUR
Former TURBONEGRO frontman Hank Von Hell (aka Hank Von Helvete) are going on a European tour in November/December. The schedule now looks like this:
3 Nov - Stockholm, Slaktkyrkan (SOLD OUT)
8 Nov - Gothenburg, Sticky Fingers (SOLD OUT)
9 Nov - Copenhagen, Pumpehuset
10 Nov - Malmoe, Babel
10 Dec – Munich, Backstage
11 Dec – Vienna, Flex
12 Dec – Prauge, Nova Chmelnice
13 Dec – Berlin, SO36
15 Dec – London, Garage
16 Dec – Amsterdam, Melkweg
17 Dec – Hamburg, Markthalle
18 Dec – Hannover, Faust
19 Dec – Dresden, Scheune
20 Dec – Essen, Turock
28 Dec – Karlstad, Nöjesfabriken
29 Dec – Sundsvall, Club Destroyer
Hank Von Hell's first solo album, "Egomania", will be released on November 2 via Century Media Records. You can pre-order it here: hank-von-hell.lnk.to/Egomania
facebook.com/HankVonHellOfficial centurymedia.com
NEW BEST OF COLLECTION WITH DEF LEPPARD IN NOVEMBER
DEF LEPPARD will release a brand new greatest-hits collection titled "The Story So Far - The Best Of", arriving in stores and online November 30. It will be available in multiple configurations. All versions will feature 3 new songs, including the official recording of the band's recent fan favorite DEPECHE MODE cover "Personal Jesus", "Rock On (Remix)" and the original holiday song "We All Need Christmas". As a bonus for collectors, the first pressing vinyl copies of "The Story So Far" feature an exclusive 7" single of "Personal Jesus" and "We All Need Christmas".
youtu.be/KWTuUpLg0zw defleppard.com
OCTOBER 11, 2018
BULLET TO SUPPORT MANOWAR IN SWEDEN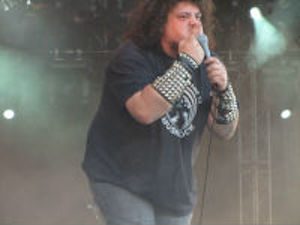 Swedish heavy metal band BULLET will be support act for MANOWAR at their only show in Sweden this summer. Gasklockorna in Gävle is the place, and July 18 is the date. More support bands will be announced later..
bullet.nu manowar.com
DEBUT ALBUM WITH ALTITUDES & ATTITUDE IN JANUARY
ALTITUDES & ATTITUDE, the project featuring ANTHRAX bassist Frank Bello and MEGADETH bassist David Ellefson, will release its debut album, "Get It Out", on January 18, 2019 via Megaforce.
ACE FREHLEY CHANGE MUSICIANS IN HIS BAND
Former KISS guitarist Ace Frehley has decided to part ways with the solo band that has backed him on his most recent tours: Richie Scarlet on guitar, Chris Wyse on bass and Scot Coogan. His new band members are the same as KISS bassist/vocalist Gene Simmons was using in Australia: Philip Shouse on guitar/vocals, Ryan Cook on guitar/vocals, Jeremy Asbrock on guitar/vocals, and Christopher Williams on drums. After the Aussie dates, Shouse, Cook, Asbrock and Williams accompanied Frehley on the Japan trek. Shouse switched from guitar to bass for Frehley's show.
Ace Frehley's new solo album, "Spaceman", will be released via eOne on October 19.
acefrehley.com
OCTOBER 10, 2018
RAINBOW ANNOUNCE GERMAN SHOW
RAINBOW will return to rock Europe in June 2019. The first show to be announced (with more to follow) is at Olympiahalle in München, Germany on June 12.
ritchieblackmore.com
ANTHRAX, TESTAMENT, DORO AND DANKO JONES CONFIRMED FOR MEGADETH'S MEGACRUISE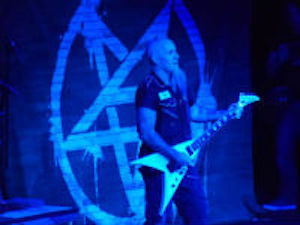 MEGADETH's first-ever Megacruise will take place on The Norwegian Jewel, which will set sail on October 13, 2019 from Los Angeles, California and hit ports of San Diego, California and Ensenada, Mexico before returning on October 18, 2019. Among the confirmed acts so far are MEGADETH, ANTHRAX, TESTAMENT, CORROSION OF CONFORMITY, DEVILDRIVER, METAL CHURCH, DORO, John 5, ARMORED SAINT, DANKO JONES, BEASTÖ BLANCÖ and METALACHI.
For more information, visit: megacruise.com
AT THE GATES TEAM UP WITH THE HAUNTED AND WITCHERY FOR AUSTRALIAN TOUR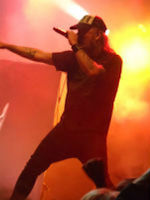 Swedish death metal legends AT THE GATES will take their Swedish friends in The HAUNTED and WITCHERY on a very short Australian tour in late April 2019. Tickets will go on sale Monday, October 15. The exclusive dates are:
April 25 - Triffid, Brisbane
April 26 - Manning Bar, Sydney
April 27 - Max Watt's, Melbourne
atthegates.se the-haunted.com facebook.com/officialwitchery
DEAD KENNEDYS TO RELEASE EARLY DEMO WITH PREVIOUSLY UNRELEASED SONGS
As part of Record Store Day Black Friday (an American figment that take place on Nov. 23), California punk legends DEAD KENNEDYS will release "Iguana Studios Rehearsal Sessions". These recordings are from 1978, before the recording of their debut album, "Fresh Fruit for Rotting Vegetables", and include the original band of Jello Biafra, East Bay Ray, Klaus Floride, Ted and 6025. Notably, there are several unreleased songs and drastically different renditions of released songs, including "Dreadlocks of the Suburbs", "Cold Fish", "Kidnap" and "Mutations of Today".
This material has been available for some time as a bootleg, but this is the first official release. It's out via Manifesto.
deadkennedys.com
THE EXPLOITED FRONTMAN WATTIE TO UNDERGO MINOR HEART SURGERY
As you may know already Wattie Buchan, frontman for Scottish punk legends The EXPLOITED, have had health problems during the last years. The band report that he will now go for a minor heart surgery on October 16. And after that The EXPLOITED plan to do a hometown show in December in Edinburgh. Then they will be back touring next year.
the-exploited.net
OCTOBER 9, 2018
TROUBLEMAKERS ANNOUNCES NEW SHOWS IN SWEDEN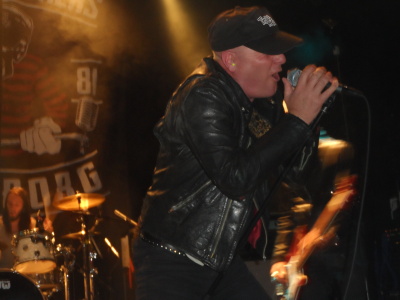 Swedish punk rock veterans TROUBLEMAKERS will do some shows here in Sweden in November and December. The dates are:
Nov. 2 - The Rockbar, Karlstad (w/ DUST RATS)
Nov. 3 - Daltons, Kalmar (w/ KURT OLVARS REBELLER)
Dec. 7 - Backstage Rockbar, Trollhättan
Dec. 8 - Lilla Jerusalem, Jönköping (w/ HYRDA KNEKTAR, PROJEKT 9)
Dec. 14 - Rockbåten, Helsingborg (w EXISTENZ, NimbWits)
Dec. 15 - Folk & Rock, Malmö (w/ HEADLINES, SHUVIT)
troublemakers.se
DEF LEPPARD, RAGE AGAINST THE MACHINE AND MC5 AMONG NOMINEES FOR ROCK AND ROLL HALL OF FAME INDUCTION
DEF LEPPARD, RAGE AGAINST THE MACHINE and MC5 are among the nominees for induction into the Rock And Roll Hall Of Fame next year. Also nominated are RADIOHEAD, Stevie Nicks, The CURE, DEVO, Janet Jackson, KRAFTWERK, LL Cool J, ROXY MUSIC, Todd Rundgren, John Prine, Rufus featuring Chaka Khan and The ZOMBIES.
The top vote-getters will be announced in December and inducted March 29, 2019 at a ceremony at Brooklyn, New York's Barclays Center. HBO will broadcast the event later next year.
NEW ALBUM WITH DOKKEN NEXT YEAR
DOKKEN is planning to enter the studio in December to begin writing a new studio album for a tentative spring 2019 release. The disc will mark the band's first collection of all-new material since 2012's "Broken Bones" effort.
OCTOBER 8, 2018
CJ RAMONE CONFIRMED FOR REBELLION
Former RAMONES bassist CJ Ramone have been confirmed for the Rebellion punk festival at Winter Gardens in Blackpool, UK on August 1-4, 2019.
Confirmed since earlier are COCK SPARRER.
rebellionfestivals.com
THE BABOON SHOW ANNOUNCES NEW TOUR DATES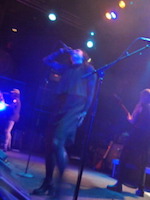 Swedish punk rockers The BABOON SHOW have announced some new tour dates in Germany, Switzerland and Austria in the beginning of 2019. Tickets go on sale Wednesday, October 10, and the dates can be found at: thebaboonshow.com
ACID BLOOD WORKING ON NEW ALBUM
Swedish punk band ACID BLOOD are currently working on songs for a new album, that they plan to release early next year through Janml Records/Maja von Lobeck.
facebook.com/acidbloodumea janml-records.de
OCTOBER 6, 2018
NEW ALBUM WITH TED NUGENT IN NOVEMBER
Ted Nugent will release a new studio album, "The Music Made Me Do It", on November 9.
MARDUK BANNED IN LATIN AMERICA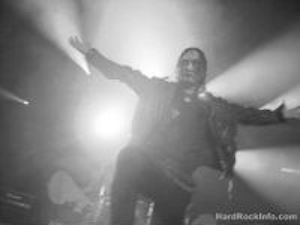 Swedish black metal veterans MARDUK have been touring in Latin America since September 20, but the concerts have been met with protests from both Christians and agencies, who have tried to stop their shows, and as far as I can understand also succeeded in some cases. Some countries don't even want to let them in.
Those of you who know Swedish can read more here: varldenidag.se/nyheter/svenskt-black-metal-band-stoppas-i-latinamerika/reprjb!JczvxvRzb57Vt1EFGXfpA/
SAXON ANNOUNCES ANOTHER U.S. TOUR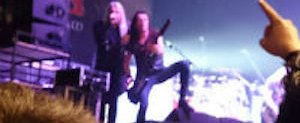 SAXON are going back to USA for a short headline tour in February next year. Tickets go on sale Wednesday, October 10, and the dates are:
Wed 13th Feb – Tulsa, OK – ID Ballroom
Thur 14th Feb – Austin, TX – Come And Take It Live
Fri 15th Feb – San Antonio, TX – The Vibes Event Center Showroom
Sat 16th Feb – Houston, TX – Scout Bar
Sun 17th Feb – Dallas, TX – Canton Hall
Wed 20th Feb – Nashville, TN – Exit/In
Thur 21st Feb – Atlanta, GA – Center Stage Theater
Sat 23rd Feb – Tampa, FL – Brass Mug
Sun 24th–Thur 28th Feb – Monsters of Rock Cruise
More tour dates at: saxon747.com
GUNS N' ROSES ANNOUNCES SHOW IN HAWAII
GUNS N' ROSES will do their first show ever in Hawaii on December 8 at Aloha Stadium. Tickets go on sale next Friday, October 12.
gunsnroses.com
OCTOBER 5, 2018
5CD BOX SET WITH ROSE TATTOO
Australian hard rock n roll band ROSE TATTOO formed in Sydney, Australia in 1976, and quickly became (together with AC/DC) one of the country's most celebrated acts. The group gained international fame when GUNS N' ROSES covered the band's "Nice Boys (Don't Play Rock 'N' Roll)".
Now a special box set with 5 CDs, titled "Scarred For Live", is released via Deadline Music/Cleopatra Records (if I got it right). It features live recordings from 1980 to 1982. Something that I would like to have as a birthday or Christmas present this year.
You can order the box here: cleorecs.com/store/shop/rose-tattoo-scarred-for-live-1980-1982-5-cd
For upcoming tour dates, take a look at: rosetattoo.com.au
NEW ALBUM WITH METAL CHURCH IN DECEMBER
American metal veterans METAL CHURCH will release their 12th full-length studio album, "Damned If You Do", on December 7 via Rat Pak Records in North America. The effort will also be available in Europe via Nuclear Blast and Japan via King Records.
Album teaser: youtu.be/v6-BZp6UUec
metalchurchofficial.com ratpakrecordsamerica.com nuclearblast.de/en/ kingrecords.net
ANTICHRIST MAGAZINE TO RELEASE BURZUM TRIBUTE
Antichrist magazine have set November 1 as the international release date for "A Tribute to Burzum". The tribute album will be released via Antichrist Magazine's official Youtube channel exclusively, and will feature 22 bands from all over the world.
antichristmagazine.com
BACKYARD BABIES TEAM UP WITH THE BONES AND AUDREY HORNE FOR GERMAN TOUR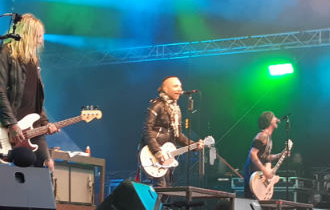 Swedish hard rockers BACKYARD BABIES are going on a tour in Germany together with The BONES and AUDREY HORNE in March 2019. Tickets will go on sale Monday, October 8. The dates are:
01.03.2019 – München, Backstage München
02.03.2019 – Wiesbaden, Schlachthof Wiesbaden
03.03.2019 – Karlsruhe, Substage
04.03.2019 – Saarbrücken, Garage Saarbrücken
05.03.2019 – Nürnberg, Der Hirsch
06.03.2019 – Hannover, Capitol Hannover
07.03.2019 – Berlin, SO36
08.03.2019 – Leipzig, Conne Island
09.03.2019 – Düsseldorf, zakk Düsseldorf
10.03.2019 – Hamburg, Gruenspan
backyardbabies.com facebook.com/thebonesswe audreyhornemusic.com
U.D.O. ANNOUNCES 2 NEW MEMBERS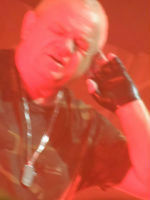 German heavy metal veterans U.D.O. have 2 new members: Dee Dammers on guitar and Tilen Hudrap on bass.
udo-online.com
MIMIKRY ANNOUNCES TOUR DATES IN SWEDEN
Swedish trallpunk band MIMIKRY will do the following shows in Sweden during the fall/winter 2018:
12/10 - Uppsala, Katalin
23/11 - Trollhättan, Backstage Bar
24/11 - Örebro, Klubb Wah-Wah at Olearys
6/12 - Stockholm, Nalen Klubb
7/12 - Skövde, Freja at Kulturhuset
8/12 - (to be announced)
facebook.com/mimikrysverige
OCTOBER 4, 2018
HEWHOCANNOTBENAMED ON SOLO ADVENTURE IN EUROPE
It looks like The DWARVES guitarist HeWhoCannotBeNamed will release a solo album pretty soon, which will be followed by a European tour (mainly Germany and UK) with The HIP PRIESTS in November.
I found the dates here: facebook.com/punkrecords.se
DOCUMETARY ABOUT ANTI-NOWHERE LEAGUE TO HAVE ITS PREMIERE IN LONDON
"We Are The League (How Deep Do You Want It?)" is the name of the official documentary about the English punk band ANTI-NOWHERE LEAGUE. The documentary will have its world premiere at Genesis Cinema, Mile End Road, London on November 2 at 9pm. The premiere will be followed by a Q&A with frontman Animal and the director.
Tickets are extremely limited, but you can always try to get 1 here: genesiscinema.co.uk/GenesisCinema.dll/Booking?Booking=TSelectItems.waSelectItemsPrompt.TcsWebMenuItem_0.TcsWebTab_0.TcsPerformance_13955661.TcsSection_4496269
Watch the trailer: vimeo.com/289284872
antinowhereleague.com
MANOWAR ANNOUNCES SWEDISH TOUR DATE
MANOWAR are coming to Sweden on their "The Final Battle World Tour 2019". There will be 1 exclusive show at Gasklockorna in Gävle, Sweden on July 18. Tickets go on sale October 5.
More tour dates at: manowar.com
G.B.H. GO TO TURKEY
British punk legends G.B.H. have announced their first date in 2019, which will be a show in Izmir, Turkey on January 26.
gbhuk.com
OCTOBER 3, 2018
Y&T ANNOUNCES EUROPEAN/UK TOUR NEXT FALL
American hard rock veterans Y&T are going on a European/UK tour from September to November 2019.
All upcoming tour dates can be found at: yandtrocks.com
FORMER MEMBERS OF TYGERS OF PAN TANG FORM NEW BAND
Former TYGERS OF PAN TANG members Fred Purser and Jon Deverill get together in new project, simply called PURSER DEVERILL. They have signed to Mighty Music, and will release their debut album, "Square One", on December 14.
Here's a little teaser: youtu.be/4PkI-iA-m6c
RAVEN ANNOUNCES NORTH AMERICAN TOUR
In between finishing a new studio album and a European tour opening for SAXON, veteran British/American heavy metal trio RAVEN has announced a 27-date North American tour with EXTINCTION A.D. and MOBILE DEATHCAMP. The trek begins on November 1 in Houston, Texas and runs through December 1st in Jonesboro, Georgia.
ravenlunatics.com
NEW LIVE ALBUM WITH SKUNK ANANSIE
SKUNK ANANSIE has announced the release of a new live album, "25LIVE@25", showcasing their incomparable live presence over a career-spanning collection, to be released on January 25, 2019 via Republic Of Music.
Pre-order here: skunkanansie.tmstor.es/cart/product.php?id=39835
Check out 1 of the songs: youtu.be/P1PmPk91Jbo
skunkanansie.net
OCTOBER 2, 2018
BOTH NEW STUDIO ALBUM AND LIVE ALBUM WITH RAVEN
Veteran British/American heavy metal trio RAVEN is putting the finishing touches on its new album for a tentative early 2019 release.
There are plans for RAVEN to release a live album as well.
ravenlunatics.com
AVSKUM ANNOUNCES TOUR DATES
Swedish hardcore/punk legends AVSKUM will do 3 European shows in January 2019. The exclusive dates are:
Jan. 25: Ungdomshuset, Copenhagen, Denmark
Jan. 26: Köpi, Berlin, Germany
Jan. 27: Black Denim Fest, Rotterdam, The Netherlands
The band also announce that their drummer Pyri has left the band after 30 years. New drummer is Johnny Lebisch (INSANE, GRÄNSLANDET HC, VEGEANCE OF KARMA etc).
facebook.com/AVSKUM-251921811500128
A NIGHT FOR STRÄNGEN
There will be a tribute night for late Swedish guitarist Robert "Strängen" Dahlqvist (The HELLACOPTERS, DUNDERTÅGET, THUNDER EXPRESS etc.), who died on February 1, 2017. Strängen's solo band will play live with Swedish artists Chips Kiesby (SATOR) and Stefan Sundström at Debaser in Stockholm, Sweden on October 18, where they will perform his latest album, "Rock På Svenska", for the first and last time. Free entrance.
facebook.com/events/1874894599233102
OCTOBER 1, 2018
THE BUSINESS CONFIRMED FOR PUNK & DISORDERLY
The BUSINESS will make a special apperance at the Punk & Disorderly festival in Berlin, Germany, which will take place April 12-14, 2019. The lineup will feature original members Mick Fairbairn (drums), Steve Whale (guitar) and Steve Kent (guitar), as well as guest vocals from Al Barr (DROPKICK MURPHYS), Roi Pearce (The LAST RESORT) and Jeff Turner (COCKNEY REJECTS).
Other bands that are confirmed to play includes DISCHARGE, COCKNEY REJECTS, BOOZE & GLORY etc.
punk-disorderly.de facebook.com/OiTheBusiness
HANDSOME DICK MANITOBA TO START A SOLO BAND
The DICTATORS frontman Handsome Dick Manitoba announce that he will no longer perform as MANITOBA NYC (his latest incarnation of The DICTATORS). He will start a solo band instead, and plan to record some new material.
facebook.com/handsomedickmanitoba
NEW BAND WITH EX-MEMBERS OF QUIET RIOT AND ROUGH CUTT
Former members of QUIET RIOT and ROUGH CUTT have joined forces in a "supergroup" called ROUGH RIOT. The new band consists of lead vocalist Paul Shortino (ROUGH CUTT, QUIET RIOT), guitarists Chris Hager (MICKEY RATT, ROUGH CUTT, Stephen Pearcy) and Carlos Cavazo (QUIET RIOT, RATT), bassist Sean McNabb (QUIET RIOT, LYNCH MOB, DOKKEN, ROUGH CUTT) and drummer Dave Alford (ROUGH CUTT).
ROUGH RIOT is scheduled to perform on November 2 at Count's Vamp'd in Las Vegas, Nevada.
roughriot.com
MICHAEL SCHENKER FEST ANNOUNCES NORTH AMERICAN TOUR
The hard rock band MICHAEL SCHENKER FEST will be touring in North America in April/May 2019. You can find all dates at: michaelschenkerhimself.com
ROSS THE BOSS AND AT THE GATES CONFIRMED FOR HOUSE OF METAL
ROSS THE BOSS, AT THE GATES, TIAMAT, The HAUNTED, NECROPHOBIC, TAAKE and MALAKHIM have been confirmed for the House Of Metal festival in Umeå, Sweden on March 1-2, 2019.
More info at: houseofmetal.se
SEPT. 30, 2018
KIM LARSEN IS DEAD
Danish rock legend Kim Larsen (GASOLIN) passed away this morning after a long period of illness. He became 72 years old.
PHENOMENA TO RE-RELEASE 3 FIRST ALBUMS
The 3 first albums with the melodic hard rock project PHENOMENA will be re-released on November 9 via Cherry Red Records.
More information at: cherryred.co.uk/heres-a-look-ahead-to-our-november-release-schedule-at-cherry-red-records
SEPT. 29, 2018
NEW SINGLE WITH SCENIC BELLY IN NOVEMBER
Swedish punk rockers SCENIC BELLY will release their new single "Here Comes The Weekend" digitally on November 2 via AMTY. The single will include the 2 songs "Here Comes The Weekend" and "Parlament".
facebook.com/SCENICBELLY
MARTY BALIN OF JEFFERSON AIRPLANE IS DEAD
Marty Balin, guitarist/vocalist for psychedelic rock legends JEFFERSON AIRPLANE, passed away on Thursday, September 27 at the age of 76. Cause of death is currently unknown.
SEPT. 28, 2018
NEW SINGLE WITH CHARTA 77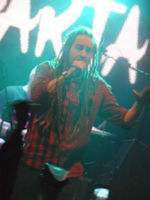 Swedish punk rock veterans CHARTA 77 have released a new single, "Har Aldrig Trott", on digital platforms. Like Spotify for example.
facebook.com/charta77band
SOLO ALBUM WITH ALICE COOPER GUITARIST NITA STRAUSS IN NOVEMBER
Nita Strauss, a guitarist who has rocked out on stage with Alice Cooper, FEMME FATALE, Jermaine Jackson, The IRON MAIDENS and more, will release her debut solo album, "Controlled Chaos", on November 16 via Sumerian Records.
SEPT. 27, 2018
ACCEPT, DARK FUNERAL AND ONSLAUGHT CONFIRMED FOR 70000TONS OF METAL CRUISE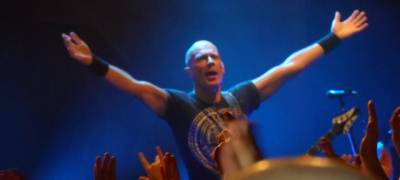 70000tons Of Metal, the world's biggest metal cruise, has announced the Public Sales date and the first 28 of 60 bands for their 9th voyage, sailing January 31 to February 4, 2019, from Miami/Fort Lauderdale to beautiful Labadee and back.
Public Sales will begin on Wednesday, October 3 at 12:00 PM EDT. And among the confirmed artists are ACCEPT, CORONER, DARK FUNERAL, DELAIN, GOD DETHRONED, GRIM REAPER, IN VAIN, NILE OBITUARY, ONSLAUGHT, PESTILENCE, SOULFLY (Max and Iggor Cavalera returning to their roots), The BLACK DAHLIA MURDER, TIAMAT (performing the "Wildhoney" album), VOMITORY, WARBRINGER etc.
More information at: 70000tons.com
LIVE ALBUM WITH DEE SNIDER NEXT WEEK
Former TWISTED SISTER frontman Dee Snider will release a new live album, "Sick Mutha F**kers - Live In The USA", on October 5 via earMUSIC.
The album is a recording from the 1995 "SMF" tour, and includes the musical milestones of his legendary band TWISTED SISTER. It offers 16 songs packed with sheer power and energy, everything that Dee Snider stands for.
deesnider.com ear-music.net
CJ RAMONE TO PLAY IN ARGENTINA
Former RAMONES bassist CJ Ramone has announced a couple of shows in Buenos Aires, Argentina that are scheduled for November. The 2 dates are:
Nov. 8 - Auditorio Sur
Nov. 9 - El Teatrito
instagram.com/theecjramone
EDDIE AND THE HOT RODS TO SUPPORT STIFF LITTLE FINGERS
Old English pub rockers EDDIE AND THE HOT RODS have been confirmed as support act for Belfast punk veterans STIFF LITTLE FINGERS on their UK tour in March 2019. It will be the last tour with EDDIE AND THE HOT RODS. After that they will do 1 final gig on April 13 at O2 Academy in Islington, UK.
Full dates and ticket links are on: eddieandthehotrods.com
SEPT. 26, 2018
NEW ALBUM WITH SICK OF IT ALL IN NOVEMBER
Hardcore veterans SICK OF IT ALL have released details about their upcoming album. It's called "Wake the Sleeping Dragon", and is produced by Jerry Farley. Although the album was initially announced as a Century Media release, it now appears the album will be a Century Media/Fat Wreck Chords co-release. The release date is November 2.
JUDAS PRIEST TO PLAY IN SOUTH AFRICA
JUDAS PRIEST are going to South Africa for 2 shows in March 2019. The dates are:
20th March Grand Arena, CPT
22nd March Ticketpro Dome, JHB
More tour dates at: judaspriest.com
STAR-STUDDED KISS TRIBUTE TO BE RE-RELEASED NEXT MONTH
An incredible line-up of world-class musicians and vocalists gathered together, under the helm of Grammy award-winning producers Bob Kulick and Bruce Bouillet, to recreate 11 classics from the catalog of one of music's greatest shock rockers, the mighty KISS.
Originally released as "Spin The Bottle" in 2004, the resulting album has received a complete makeover this year, and will be reissued on October 19 with all new artwork. Now titled "Pure Fire - The Ultimate KISS Tribute", the album features unique combinations of A-list performers including former KISS member Bruce Kulick plus some of the bands biggest friends and fans including Tommy Shaw (STYX), Lemmy Kilmister (MOTÖRHEAD), Dee Snider (TWISTED SISTER), Steve Lukather (TOTO), Chris Jericho (FOZZY), Buzz Osbourne (The MELVINS), Dug Pinnick (KING'S X), C.C. DeVille (POISON) and many more.
This special multi-media edition also comes with a bonus making-of DVD that features interviews and stories from the artists.
Pre-order the CD here: amazon.com/Pure-Fire-Ultimate-Tribute-Various/dp/B07G228VJT/ref=sr_1_1?ie=UTF8&qid=1537890497&sr=8-1&keywords=Pure+fire+CD
STIFF LITTLE FINGERS ANNOUNCES UK TOUR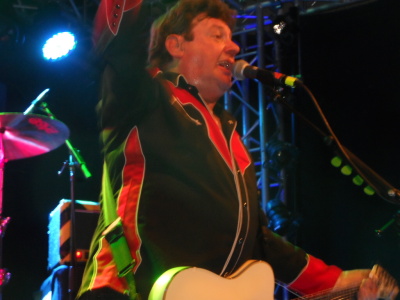 Punk legends STIFF LITTLE FINGERS are going on a UK tour in March 2019. Tickets for all shows will go on sale to the general public this Friday, September 28. Support band will be announced soon. More information at: slf.rocks
SEPT. 25, 2018
MANOWAR ANNOUNCES RUSSIAN TOUR
MANOWAR are bringing their "Final Battle World Tour 2019" to Russia in March 2019. It will be their biggest ever Russian tour.
Tickets on sale now, and the confirmed dates are:
Friday, Mar 1, 2019 – Expo Center – Novosibirsk
Sunday, Mar 3, 2019 – Fetisov Arena – Vladivostok
Tuesday, Mar 5, 2019 – Erofey Arena – Khabarovsk
Thursday, Mar 7, 2019 – Expo Center – Yekaterinburg
Sunday, Mar 10, 2019 – MTL Arena – Samara
Tuesday, Mar 12, 2019 – Yubileyny Sports Palace – St. Petersburg
Thursday, Mar 14, 2019 – VTB Dynamo Arena – Moscow
Saturday, Mar 16, 2019 – KSK Express – Rostov-on-Don
Monday, Mar 18, 2019 – DS Olymp – Krasnodar
After that they are going to Ukraine and Belarus:
Thu, Mar 21, 2019 – Sports Palace – Kiev, Ukraine
Sat, Mar 23, 2019 – Sports Palace – Minsk, Belarus
More tour dates at: manowar.com
U.D.O. ANNOUNCES NORWEGIAN TOUR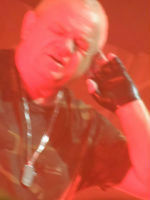 Udo Dirkschneider's U.D.O. are going to Norway for 4 shows in March:
March 7 - Gregers, Hamar
March 8 - Byscenen, haugesund
March 9 - Folken, Stavanger
March 10 - Union Scene, Drammen
More tour dates at: udo-online.com
LAST IN LINE ANNOUNCES AMERICAN TOUR DATES
LAST IN LINE, with former members of DIO, have announced a few tour dates in USA early next year. These dates are:
January 17 – San Jose, CA (The Ritz)
January 18 – Fresno, CA (Tower Theater)
January 19 – Sacramento, CA (Ace of Spades)
February 18 – Houston, TX (Warehouse Live)
March 29 – St Charles, IL (Arcada Theater)
March 30 – Westland, MI (Token Lounge)
April 26 – Las Vegas, NV (Golden Nugget)
More dates will be announced soon..
lastinlineofficial.com
SEPT. 24, 2018
PESTILENCE PARTS WAYS WITH BASSIST AND ANNOUNCES REPLACEMENT
Dutch death metal veterans PESTILENCE have parted ways with bassist Tilen Hudrap due to "scheduling differences" and have replaced him with Edward Negrea (NECROVILE).
METALLICA ANNOUNCES EURO TOUR WITH GHOST
METALLICA will spend next summer on the European roads (or are they flying nowadays?). Special guests will be GHOST and BOKASSA. Tickets on sale Friday, September 28 at 10 AM local time with Fan Club presales beginning tomorrow, Tuesday, September 25.
More details at: metallica.com
SEPT. 22, 2018
DANKO JONES ANNOUNCES U.S. TOUR WITH NASHVILLE PUSSY AND PRIMA DONNA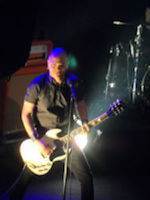 Canadian rock trio DANKO JONES are going on tour in western USA in February together with American rockers NASHVILLE PUSSY and PRIMA DONNA. Tickets on sale September 25, and the dates are:
Feb. 6 Las Vegas, NV – Club172
Feb. 7 Mesa (Phoenix), AZ – The Nile
Feb. 8 West Hollywood, CA – Whisky A Go Go
Feb. 9 Tustin, CA – Marty's On Newport
Feb. 10 San Diego, CA – Observatory North Park
Feb. 13 Long Beach, CA – Alex's Bar
Feb. 14 Ventura, CA – Discovery Ventura
Feb. 15 San Jose, CA – The Ritz
Feb. 16 San Francisco, CA – Slim's
Feb. 17 Sacramento, CA – Harlow's
Feb. 19 Bellingham, WA – Wild Buffalo House of Music
Feb. 20 Portland, OR – Dante's
Feb. 21 Seattle, WA – El Corazon
dankojones.com nashvillepussy.com primadonnarocks.com
SEPT. 21, 2018
NEW ALBUM AND BOX SET WITH CHRIS CORNELL
On November 16, fans can celebrate the recorded legacy of musical icon and singer/songwriter Chris Cornell with the 17-track self-titled album, "Chris Cornell", and a 64-track limited-edition deluxe box set. The first release since his passing in 2017, the album will be made available by Cornell's wife, Vicky Cornell, on behalf of the Chris Cornell estate through UMe.
The breadth of all 17 selections on "Chris Cornell" display the full span of his artistic achievements, from the full-on kick of SOUNDGARDEN's seminal "Black Hole Sun" to the mournful yearning of TEMPLE OF THE DOG"s "Hunger Strike" to the sensitive depth of AUDIOSLAVE's "Like A Stone" to his spot-on solo theme to the 2006 James Bond film Casino Royale, "You Know My Name". This collection also contains a pair of previously unreleased recordings: a touching cover of Prince's "Nothing Compares 2 U" that was cut live at SiriusXM, and "When Bad Does Good". You can listen to the last song here: youtu.be/WuUZy5B205E
The November 16 release will also include a limited-edition 4CD deluxe box set of the same name, consisting of 64 tracks (11 of them previously unreleased).
Additionally, a limited-edition super deluxe 4CD, 1DVD, and 180-gram 7LP box set is set for release on November 16. The super deluxe edition holds 88 tracks — 64 songs plus 24 videos, with 13 entries (11 audio + 2 video) previously unreleased overall. Also included in the super deluxe box are a 66-page hardcover photo book wrapped in linen with a red foil signature cover, 3 artist lithos, 3 photochromatic lithos inspired by Cornell's lyrical fascination about the sun (images are brought to life by holding under direct sunlight), a turntable mat, a microfiber vinyl cleaning cloth, and a 36x48-inch wall poster.
You can see the full track listing at: chriscornellmerchandise.com/collections/box-set-collections/products/chris-cornell-super-deluxe-box-set-1
ALL ALBUMS WITH RAGE AGAINST THE MACHINE TO BE RE-RELEASED ON VINYL
It has been announced that the entire RAGE AGAINST THE MACHINE discography will be reissued on vinyl. This includes remastered versions of 1992's "Rage Against the Machine", 1996's "Evil Empire", 1999's "The Battle of Los Angeles", 2000's "Renegades", and 2003's "Live At the Grand Auditorium". The release date for the records is September 28.
SEPT. 20, 2018
VANDENBERG'S MOONKINGS TO RELEASE "RUGGED AND UNPLUGGED" IN NOVEMBER
VANDENBERG'S MOONKINGS and Mascot Records/Mascot Label Group will release "Rugged and Unplugged" globally on November 23. The album is a stripped back acoustic album which features songs from across Adrian Vandenberg's career (Adrian has been a member of VANDENBERG and WHITESNAKE for example).
A pre-order is now live here: smarturl.it/VDBMK-DSP
vandenbergsmoonkings.com mascotlabelgroup.com
U.D.O. ANNOUNCES SWEDISH TOUR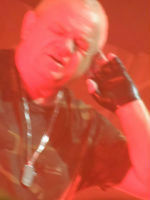 German heavy metal band U.D.O. (with ex-ACCEPT singer Udo Dirkschneider) are coming to Sweden for a short tour in March 2019. The dates are these:
Mar. 13: Malmö, KB
Mar. 14: Göteborg, Trädgårn
Mar. 15: Karlstad, Nöjesfabriken
Mar. 16: Huskvarna, Folkets Park
Mar. 17: Stockholm, Fryshuset Klubben
Get your tickets at: tickster.com
In related news, bassist Fitty Wienhold, who joined U.D.O. in 1996, has announced his departure from the band. Wienhold's final performance will take place next month in Palma de Mallorca, Spain.
U.D.O.'s new album, "Steelfactory", was released on August 31 via AFM.
More tour dates at: udo-online.com
THE ADICTS ANNOUNCES SHORT CALIFORNIA TOUR
Punk rock veternas The ADICTS have announced a very short tour of California that is scheduled for late October. The DROOGETTES will be opening for the band on all of the dates.
..and the 4 dates are:
Oct 28 - House of Blues, Anaheim, CA (w/ GALMSKANKS)
Oct 29 - The Novo, Los Angeles, CA (w/ GALMSKANKS)
Oct 30 - House of Blues, San Diego, CA (w/ LOWER CLASS BRATS)
Oct 31 - Riverside Municipal Auditorium, Riverside, CA (w/ NARCOLEPTIC YOUTH)
Before that they are going on a European tour that will kick off next week. Check out theadicts.net for all dates.
NEW ALBUM WITH LEGION OF THE DAMNED IN JANUARY
Dutch death/thrash outfit LEGION OF THE DAMNED returns after a hiatus of 5 years. Their new album, "Slaves Of The Shadow Realm", will be released on January 4 via Napalm Records.
facebook.com/LOTDOfficial napalmrecords.com
KISS ANNOUNCES FINAL TOUR (AGAIN)
KISS announced exclusively on NBC's "America's Got Talent" on September 19 that they are hanging up their 9" tall touring boots. The news was delivered in trademark larger-than-life KISS style with a blistering performance of "Detroit Rock City".
KISS will play their final shows as part of the multi-year "End Of The Road World Tour". Dates have yet to be announced, but kissonline.com will have all the updates in the weeks to come.
SEPT. 19, 2018
NEW SINGLE WITH DANKO JONES ON FRIDAY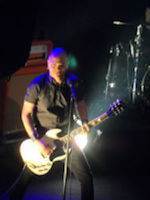 Canadian hard rocking trio DANKO JONES will release a new single, "We're Crazy", on all digital platforms this Friday, September 21.
dankojones.com
EXCITER PARTS WAYS WITH GUITARIST JOHN RICCI AGAIN
Canadian thrash metal pioneers EXCITER have once again parted ways with guitarist John Ricci. Dan Beehler (drums, vocals) and bassist Allan Johnson are going to forge on with their songwriting and recording. However, live shows will be postponed until such a time that they can find a suitable guitarist.
longlivetheloud.com
RONNIE JAMES DIO PHOTO BOOK DUE IN DECEMBER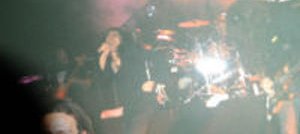 "A Life In Vision" is a photographic journey of one of the most admired and respected rock vocalists of all time — Ronnie James Dio.
Due on December 7, this collection of photos was taken by New Jersey photographer Frank White. They capture Dio from his first-ever U.S. show with RAINBOW in 1975 through to 2009, just a few months before he lost his fight with cancer in May 2010. This collection also covers Dio's career with BLACK SABBATH, his own band DIO and HEAVEN & HELL.
This unique item is limited to 500 copies worldwide. Order by October 30 and have your name printed in the book on a dedicated page. Order here: wymeruk.co.uk/webshop/collector-s-items/ronnie-james-dio-a-life-in-vision-1975-2009-by-frank-white
KISS SOLO ALBUMS COME TOGETHER IN LIMITED-EDITION VINYL BOX SET
40 years ago (on Sept. 18) the 4 founding members of KISS — Gene Simmons, Paul Stanley, Ace Frehley and Peter Criss — released their respective solo albums all on the same day to much fanfare, chart success, and platinum sales. And now, 4 decades later, all 4 of these pioneering albums are celebrated in "The Solo Albums - 40th Anniversary Collection", a limited-edition 180-gram 4LP box set by Casablanca/UMe that will be released on October 19.
Preorders for the limited run of 2,500 vinyl box sets are now available exclusively through KISS's artist webstore and The Sound Of Vinyl. Each heavyweight 180-gram LP features a unique color to match its associated cover art; "Gene Simmons" appears in red vinyl, "Paul Stanley" sports purple vinyl, "Ace Frehley" contains blue vinyl, and "Peter Criss" is in green vinyl. All 4 albums are housed together in a deluxe black-matte slipcase that features glossy black images of the 4 artists' faces surrounding a silver-foil print of the infamous KISS logo.
Also included in this set are 4 12-by-12-inch posters of each album cover, plus an exclusive turntable slipmat that shows all 4 of artist Eraldo Carugati's iconic, painted album-cover face images all connected together.
kissonline.com
OZZY, SLAYER AND JUDAS PRIEST CONFIRMED FOR DOWNLOAD FESTIVAL AUSTRALIA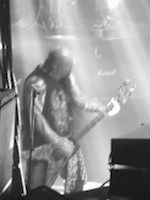 Download Festival are going "down under" in March 2019. The festival will take place in Sydney on March 9 and Melbourne on March 11. Tickets go on sale Wednesday, September 26. Among the confirmed artists are Ozzy Osbourne, SLAYER, JUDAS PRIEST, ALICE IN CHAINS, ANTHRAX, GHOST, HALESTORM, BEHEMOTH etc.
More details at: downloadfestival.com.au
SEPT. 18, 2018
BILLY IDOL ANNOUNCES LAS VEGAS SHOWS
Rock legend Billy Idol have announced a 10-show run at Palms Casino Resort in Las Vegas. The first 5 shows begins on January 18, 19, 23, 25 and 26, and continue on October 4, 5, 9, 11 and 12. Pre-sale begins on Wednesday, September 19, and general tickets go on sale Friday, September 21.
billyidol.net
KISS TO PERFORM ON AMERICA'S GOT TALENT SEASON FINALE
KISS will perform at the "America's Got Talent" season 13 finale on Wednesday. The band will open the 2-hour program, which will air in the States at 8 p.m. ET on NBC.
kissonline.com
NEW DVD/BLU-RAY WITH AMON AMARTH IN NOVEMBER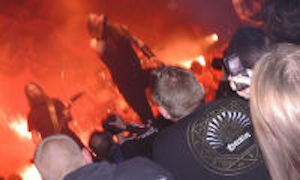 Swedish death metallers AMON AMARTH will release a new DVD and Blu-Ray, "The Pursuit Of Vikings: 25 Years In The Eye Of The Storm", in November. The set will include a documentary as well as footage of the band's 2017 performance at the Summer Breeze festival in Dinkelsbühl, Germany.
AMON AMARTH is working on material for its next album, tentatively due in early 2019.
amonamarth.com
SEPT. 17, 2018
THE STRANGLERS ANNOUNCES UK/IRELAND TOUR
British rock veterans The STRANGLERS have announced a tour of the UK and Ireland in March 2019. Under the title "Back On The Tracks", the tour features a total of 19 gigs covering Northern Ireland, Republic of Ireland, Scotland and England. Special guests for all dates are DR FEELGOOD.
Exact dates and ticket information can be found at: stranglers.net
BLACK STAR RIDERS PARTS WAYS WITH DAMON JOHNSON AND ANNOUNCE NEW GUITARIST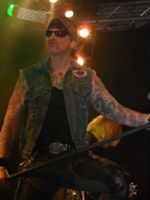 Hard rockers BLACK STAR RIDERS announce that their new lead guitar player from January 1, 2019 will be Christian Martucci (STONE SOUR).
Christian will replace founding BLACK STAR RIDERS member Damon Johnson, who has decided to part company with the band at the end of the year to concentrate on a solo career and session work.
BLACK STAR RIDERS will head down for the first time to South America in November, joining JUDAS PRIEST (with ALICE IN CHAINS on some dates) for shows in Chile, Argentina and Brazil. Damon will not be with the band for this run, but his temporary replacement is long time friend of the band, THUNDER guitarist Luke Morley.
They will finish off the year with some dates in the United Kingdom, which will be Damon's last shows with the band.
The band will then enter the studio in early 2019 to record their 4th studio album for Nuclear Blast Entertainment.
blackstarriders.com
SEPT. 16, 2018
MISFITS TO PLAY IN CHICAGO
MISFITS (with Glenn Danzig on vocals) will play at Allstate Arena in Chicago, IL, USA on April 27. Special guests will be FEAR, VENOM INC. and POWER TRIP. Tickets go on sale Friday, September 21.
misfits.com
SEPT. 14, 2018
MÖTLEY CRÜE RECORDING NEW SONGS
MÖTLEY CRÜE bassist Nikki Sixx has confirmed that the band is recording 4 new songs for the film adaptation of the group's biography, "The Dirt - Confessions Of The World's Most Notorious Rock Band". The movie, which is being helmed by "Jackass Presents: Bad Grandpa" director Jeff Tremaine, was picked up by Netflix after being previously developed at Focus Features and before that at Paramount.
motley.com
50TH ANNIVERSARY DELUXE BOX SET OF JIMI HENDRIX EXPERIENCE'S "ELECTRIC LADYLAND"
In celebration of the 50th anniversary of the release of the JIMI HENDRIX EXPERIENCE masterpiece "Electric Ladyland", Experience Hendrix, L.L.C. and Legacy Recordings, the catalog division of Sony Music Entertainment, are releasing the deluxe edition box set on November 9. Available as either a 3CD/1 Blu-ray set or a 6LP/1 Blu-ray set, both packages include the original double album, now newly remastered by Bernie Grundman from the original analog tapes. For the LP set, Grundman prepared an all-analog direct-to-disc vinyl transfer of the album, preserving the authenticity. Also included is "Electric Ladyland: The Early Takes", which presents demos and studio outtakes from this period in Hendrix's career, plus a new 5.1 Surround Sound mix of the entire original album by Hendrix's original engineer Eddie Kramer. This marks the first and only time this has been done with a Hendrix studio album, and gives listeners the original stereo mixes in uncompressed 24 bit/96 kz high-resolution audio.
"Jimi Hendrix Experience: Live At the Hollywood Bowl 9/14/68", part of Experience Hendrix's Dagger Records official bootleg series, is another exclusive component. The never before released recording captures the band and the mounting excitement that took place just weeks before the release of "Electric Ladyland". The Blu-ray also includes the acclaimed, feature length documentary "At Last... The Beginning: The Making Of Electric Ladyland".
Lastly, "Electric Ladyland Deluxe Edition" includes a full-color, 48-page book containing Jimi's handwritten lyrics, poem and instructions to his record label, as well as never before published photos from the recording sessions that were shot by Eddie Kramer himself.
The new cover art — a Linda (McCartney) Eastman photograph of the band and children at the statue of Alice In Wonderland in New York's Central Park — was Hendrix's own choice of imagery for the album's cover image. The shot was relegated to the inside of the U.S. version on Reprise Records, printed in black and white. The U.K. version of the album released by Track Records didn't include the photo at all, and instead featured a gatefold photo of 19 naked women, which Hendrix famously abhorred. For the first time ever, the Linda Eastman photo, in full color, will grace the cover of "Electric Ladyland", true to Jimi Hendrix's original vision.
Learn more about this new release at: bit.ly/2NJJXHs and/or youtu.be/RkOdjMXMc40
jimihendrix.com
LIVE ALBUM WITH KADAVAR IN OCTOBER
Berlin-based heavy/psych rockers KADAVAR have announced the release of a brand new live album, called "Live in Copenhagen", featuring their infamous show at Pumpehuset in Denmark"s capitol in November 2017 during the band's tour in support of the most recent album, "Rough Times". The live album will be released on October 12 via Nuclear Blast, and you can pre-order it here: nblast.de/KadavarCopenhagen
kadavar.com nuclearblast.de
SEPT. 13, 2018
DEADHEADS ANNOUNCES GERMAN TOUR
Swedish high-energy rockers DEADHEADS are going to Germany in February for a few shows. The dates are these:
Feb. 5 - Stellwerk, Hamburg
Feb. 6 - Toast Hawaii, Berlin
Feb. 7 - Black Label, Leipzig
Feb. 8 - Paunchy Cats, Lichtenfels
Feb. 9 - MTS, Oldenburg
facebook.com/deadheadsband
COCK SPARRER CONFIRMED FOR REBELLION
COCK SPARRER have been confirmed for the English punk festival Rebellion, which will take place in Blackpool on August 1-4, 2019.
rebellionfestivals.com
RE-ISSUES WITH THE QUILL IN OCTOBER
On October 26 the first 2 of a total of 4 re-releases from Swedish hard rockers The QUILL will be released by Metalville.
The first ones are "Hooray! It's a Deathtrip" and "Voodoo Caravan". Both albums have been remastered from the original tapes, and contain extended liner notes as well as previously unreleased bonus tracks.
metalville.de
HEART SISTERS TO DISCUSS THE FUTURE OF THE BAND
Ann Wilson says that she is planning to reconnect with her sister Nancy to discuss a possible HEART comeback in 2019.
Ann and Nancy had a falling out during HEART's 2016 tour, when Ann's husband Dean Welter was arrested for assaulting Nancy's then-16-year-old twin sons in a backstage altercation at a gig near their hometown of Seattle. He pleaded guilty to 2 lesser assault charges to avoid jail time, but the damage to HEART had been done.
Ann has just completed a tour with Jeff Beck and Paul Rodgers where she sang mostly covers, including a few from her forthcoming album "Immortal", a collection of songs by deceased friends and heroes like Tom Petty and Chris Cornell.
After completing HEART's last tour, Nancy formed a new band called ROADCASE ROYALE and released an album, "First Things First".
UK SUBS ANNOUNCES EUROPEAN TOUR
Old British punk legends UK SUBS are going on a European tour in January/February 2019. Before that they will do some shows in Stockholm (Sweden), Helsinki (Finland) and Herentals (Belgium) this month.
The European tour kicks off in Paris, France on January 16, and will end in Aalst, Belgium on February 16.
All dates can be found here: facebook.com/UKSubs
SEPT. 12, 2018
LIVE CD/DVD WITH STEELHEART IN DECEMBER
On December 7, Frontiers Music Srl will release "Rock'n Milan", a live album and long-form video of STEELHEART's 2017 performance at Milan, Italy's Frontiers Rock Festival IV. The show is a fitting tribute to the loving memory of STEELHEART guitarist Kenny Kanowski, who passed away just a couple of months after this last concert with the band.
A performance video of the song "My Dirty Girl", taken from "Rock'n Milan", can be seen here: youtu.be/7ZJQeI33j7E
You can pre-order the CD/DVD here: radi.al/RocknMilan
steelheart.com frontiers.it
NEW BOOK ABOUT BON SCOTT ERA AC/DC
"AC/DC 1973-1980: The Bon Scott Years", a richly illustrated guide to the glory years of Australia's finest musical export, will be published on November 14 by Jawbone Press.
NEW MUSIC WITH THE DISTILLERS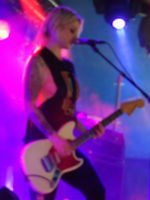 Reunited American punk band The DISTILLERS have released their first new music in 15 years. The band has released a digital single with the tracks "Man vs. Magnet" and "Blood in the Gutters". Those tracks are available now via digital platforms.
"Blood in the Gutters" was orignal released as a solo track by vocalist Brody Dalle.
ANOTHER SWEDISH TOUR WITH THE QUIREBOYS AND THE GLORIA STORY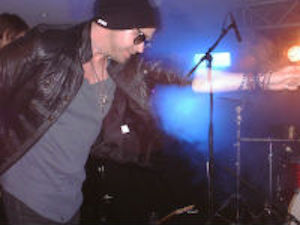 British rock veterans The QUIREBOYS are once again going on a short unplugged tour in Sweden with support from Swedish rockers The GLORIA STORY. The dates are just 4, and take place in the end of January.
January 24th Vinyl Bar, Halmstad
January 25th Backstage Rockbar, Trollhättan
January 26th Saga Salongen, Torshälla
January 27th Brooklyn Bar, Stockholm
quireboys.com thegloriastory.com
SEPT. 11, 2018
SAXON TO RE-RELEASE "THE EAGLE HAS LANDED" IN OCTOBER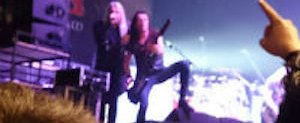 "The Eagle Has Landed" was SAXON's first live album. It was recorded on the European leg of their "Denim And Leather" tour during 1981, and it was originally released in May 1982. This classic live album will now be re-issued on October 19, and will also feature bonus tracks recorded live at Hammersmith Odeon in 1981-1982.
You can pre-order "The Eagle Has Landed" here: saxonband.lnk.to/TheEagleHasLanded
For live dates and other info, go to: saxon747.com
NEW SINGLE WITH JOAN JETT AND THE BLACKHEARTS
"Fresh Start" is a brand new song from Joan Jett. The track is included in the Jett documentary "Bad Reputation", which will be released in theaters and on demand on September 28. Listen here: youtu.be/8fQFSBJlhLc
store.joanjett.com
LIVE RELEASE WITH ALCATRAZZ IN DECEMBER
As part of the GRAHAM BONNET BAND's 2017 "The Book" tour in Japan, a 3-night special engagement and reunion of ALCATRAZZ was presented, much to the delight of the Japanese hard rock faithful.
On December 7, Frontiers Music Srl will release "Parole Denied - Tokyo 2017", a special documentation of these special shows, on 2CD/DVD and digital formats.
Additionally, the GRAHAM BONNET BAND has announced a U.S. tour where it will perform the first ALCATRAZZ album, "No Parole From Rock 'N' Roll", from front to back along with the other hits from the band's and Graham's catalog.
grahambonnetband.com
NEW EP WITH SODOM IN NOVEMBER
German thrash metal veterans SODOM will release a new EP, "Partisan", on November 23 via SPV/Steamhammer. The effort will be made available as a CD digipak, 10" clear vinyl, download and stream.
Live dates at: sodomized.info
SEPT. 10, 2018
KROKUS ANNOUNCES FAREWELL TOUR
Then the time has come for Swizz hard rock veterans KROKUS to say goodbye. They are going on the "Adios Amigo Tour" in 2019, and promise that they will keep their word and pull the plug at the end of 2019.
More info at: facebook.com/KROKUSonline
MICHAEL SCHENKER AND PETE WAY WILL NOT TAKE PART IN UFO'S 50TH ANNIVERSARY
Guitarist Michael Schenker and bassist Pete Way have confirmed that they will not take part in UFO's 50th-anniversary celebration in 2019.
Schenker, who first joined UFO in 1973 and last played with the band in 2003, told Classic Rock that "bands like UFO and the SCORPIONS are trying to fool the audience, and I'm not a part of that world. It's becoming a trend to make a big deal about playing last shows, and those bands do it because they can't get anywhere in a normal way. For me, UFO only exists with the original five members, plus producer Ron Nevison. [Singer] Phil Mogg calls his current band UFO, but it isn't UFO."
Way, who co-founded UFO in 1969, left for the first time n 1982, returned to the band in 1988 and remained with the group through 2008, wrote on Facebook: "After the publicity which is currently surrounding Michael Schenker's announcement that he most definitely will not be joining in with UFO's advertised outing, I would like to make sure that nobody is under the illusion that I will be appearing. It is not made clear in the advertising. I will be touring with my new band — Paul Chapman [former UFO guitarist who replaced Schenker] will not be on guitar, sadly, but it was a pleasure to see him again. I wish UFO all the luck in the world and I am sure fans would like to see the original lineup but for me, I can only say RIP UFO."
Back in May, Mogg announced his plans to retire from UFO. The singer, who turned 70 in April, released a statement confirming that he will leave the band after UFO completes a farewell 50th-anniversary tour in 2019.
NEW SINGLE WITH THE HEARD, DEBUT ALBUM IN NOVEMBER
THE HEARD, the new Swedish rock band featuring former CRUCIFIED BARBARA guitarist Klara "Force" Rönnqvist Fors, bassist Ida "Evileye" Stenbacka and drummer Nikki Wicked (a.k.a. Jannicke Lindström) alongside DEATHSTARS bassist Jonas "Skinny Disco" Kangur (on lead guitar) and burlesque performer, model and singer Pepper Potemkin, has released a new single, "Tower Of Silence". The song is taken from the band's upcoming debut album, "The Island", which is due on November 2 via Despotz Records.
Listen to the single here: youtu.be/0BfFzg2H9ek
facebook.com/theheardofficial despotz.se
GHOST ANNOUNCES EUROPEAN TOUR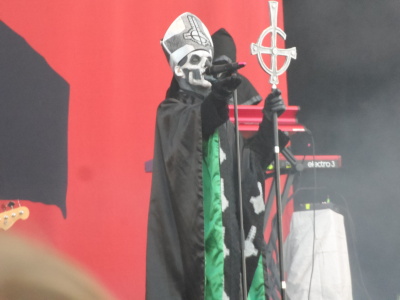 GHOST has announced the European leg of its "A Pale Tour Named Death" world tour, the band's first set of 2019 concert dates, that will start on February 3 in Lyon, France. Ticket presales begin this Thursday, September 13 at 10 a.m. CET, and the general on sale will start Friday, September 14 at 10 a.m. CET.
And the dates are these:
Feb. 03 - FRA, Lyon, Tony Garnier
Feb. 05 - HOL, Amsterdam, AFAS Live
Feb. 06 - BEL, Antwerp, Lotto
Feb. 07 - FRA, Paris, Zenith
Feb. 14 - GER, Stuttgart, Schleyerhalle
Feb. 15 - GER, Bochum, Ruhrkongress
Feb. 17 - GER, Hannover, Swiss Life Hall
Feb. 18 - GER, Hamburg, Sporthalle
Feb. 20 - SWE, Gothenburg, Scandinavium
Feb. 21 - NOR, Oslo, Spektrum
Feb. 23 - SWE, Stockholm, Ericsson Globe
ghost-official.com
SEPT. 9, 2018
2500 REVIEWS
Yes, there's now as much as 2500 reviews to read here at Hard Rock Info.
EVERGREY ANNOUNCES TITLE OF NEXT ALBUM
Swedish dark metal band EVERGREY have confirmed "The Atlantic" as the title of their 11th studio album. The follow-up to 2016's "The Storm Within" is tentatively due in January via AFM.
MATS LEVÉN IS WORKING ON SOLO SONGS
Former CANDLEMASS singer Mats Levén has shared a short audio snippet of some of the new solo music he is working on. The song in question, which can be heard here: facebook.com/MatsLeven/videos/735914933414771, features Martin "Axe" Axenrot (BLOODBATH, OPETH, WITCHERY) on drums and Nalley Påhlsson (TREAT, THERION) on bass.
According to Levén, he didn't want to work on his solo material while he was in CANDLEMASS because he "didn't wanna kind of interfere".
SEPT. 8, 2018
NEW ALBUM WITH TOPPER
Swedish punk rockers TOPPER will have their new album, "Are We All Damned?", released through AMTY. A exact release date will be announced later..
facebook.com/toppersthlm facebook.com/amessagetoyou
EARACHE TO REISSUE MISFITS' "WALK AMONG US"
Earache Records will be doing a vinyl reissue of The MISFITS classic album "Walk Among Us" in November. As of today, it appears that the reissue will be a straight re-press, with no bonus material.
All previous USA vinyl releases of this album were on Ruby Records, which is a sub-label of Slash Records or under Rhino Records, as licensed by Ruby. London and Warner Records also each released a CD version.
misfits.com earache.com
NEAL MORSE SIGNS WITH FRONTIERS MUSIC FOR ROCK OPERA PROJECT
Frontiers Music Srl has announced the signing of a monumental project titled "Jesus Christ - The Exorcist", a progressive rock opera written and produced by legendary musician and singer Neal Morse with performances by Neal and an all-star cast of singers and musicians.
With recordings set to commence imminently, the record will be released in 2019 on a double album set featuring about 2 hours of music that will encompass all the spectrums and genres Neal Morse is known for and will, of course, tell the Story of Stories. In the meantime, you can hear an audio sample of demos of the musical here: youtu.be/o2h1s-nrjNo
SEPT. 7, 2018
JOAN JETT CATALOG PART OF SONY MUSIC/LEGACY'S NEW AGREEMENT WITH BLACKHEART RECORDS
Sony Music Entertainment and Legacy Recordings, a division of SME, have entered into an historic new agreement with Blackheart Records, the groundbreaking American music label founded in 1980 by rock icon Joan Jett, legendary songwriter/producer Kenny Laguna and Meryl Laguna. The new SME/Legacy/Blackheart pact covers the worldwide rights to Joan Jett's recorded music catalog.
Legacy Recordings is making a variety of Joan Jett titles available for the first time on streaming services and digital service providers today, September 7.
Under the terms of this new agreement, the entire Joan Jett catalog — singles, albums, music videos, concert films, etc. — will be available under the SME/Legacy umbrella and released in digital and physical formats. And as part of this unique partnership with Blackheart Records, The Thread Shop, Sony Music Entertainment's in-house merchandising company, will administer Joan Jett's exclusive merchandising rights, retail licensing and e-commerce on a worldwide basis.
joanjett.com sonymusic.com legacyrecordings.com
Y&T FORCED TO DROP OUT OF EURO TOUR WITH SAXON
San Francisco hard rockers Y&T will not be joining SAXON on their upcoming European tour this fall. Y&T guitarist Dave Meniketti has a serious back injury that has meant he cannot travel to Europe for the shows.
SAXON have added UK rock band FM to the bill as Y&T's replacement for all the shows. Dates and other details at: saxon747.com
yandtrocks.com
PRIMAL FEAR SIGNS WITH NUCLEAR BLAST
Geramn heavy metal band PRIMAL FEAR have signed a multi album contract with Nuclear Blast.
To celebrate the signing they will release a 7" vinyl single – limited to just 1.000 copies – on September 28 featuring a new, as yet unpublished track, titled "Crucify Me", plus a live version of the classic "Nuclear Fire".
primalfear.de nuclearblast.de
SEPT. 6, 2018
DISCHARGE, ANTI-NOWHERE LEAGUE AND SLAUGHTER AND THE DOGS CONFIRMED FOR NORTH WEST CALLING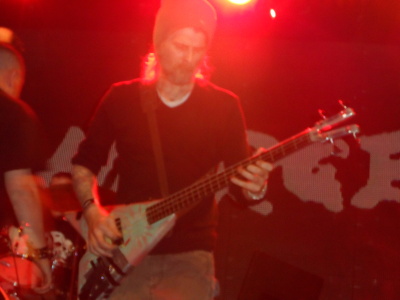 DISCHARGE, ANTI-NOWHERE LEAGUE, SLAUGHTER AND THE DOGS, UK SUBS, SUBHUMANS, CONFLICT and PETER AND THE TEST TUBE BABIES are some of the acts that have been confirmed for North West Calling at O2 Ritz in Manchester, England on June 1, 2019.
Tickets at: seetickets.com/event/north-west-calling/o2-ritz/1256598
DELUXE EDITION OF METALLICA'S "...AND JUSTICE FOR ALL" TO BE RELEASED IN NOVEMBER
METALLICA commemorates the 30th anniversary of the release of its 4th album "...And Justice For All" with the announcement of its definitive reissue to be released on November 2 via the band's own Blackened Recordings.
The re-release of "...And Justice For All" has been remastered for the most advanced sound quality overseen by Greg Fidelman, and will be available in multiple digital and physical configurations. Pre-orders begin today (Sept. 6) at metallica.com where fans can see the full package details and track listing.
NASTY SAVAGE BASSIST RICHARD BATEMAN IS DEAD
Richard Bateman, bassist for Florida metal legends NASTY SAVAGE, died from a heart attack on Wednesday, September 5.
DARKTHRONE IS WORKING ON NEW ALBUM
Norwegian black metallers DARKTHRONE are working on the follow-up to their 2016 album, "Arctic Thunder".
SEPT. 5, 2018
NASUM GUITARIST JESPER LIVERÖD NEW MEMBER IN MASSGRAV
Swedish crust/grind punks MASSGRAV has recruited a second guitarist, Jesper Liveröd from NASUM, BURST etc.
massgrav.com
NICKE AND DREGEN FROM BACKYARD BABIES TO PLAY ACOUSTIC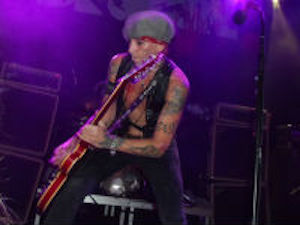 Nicke Borg and Dregen from Swedish hard rock band BACKYARD BABIES will do some acoustic shows in November/December here in Sweden. The dates are:
23 Nov - Saga Salongen, Torshälla
24 Nov - Saga Salongen, Torshälla
30 Nov - The Rock Bar, Karlstad
1 Dec - Klubb Wah-Wah, Örebro
7 Dec - Palatset/Liveklubben, Linköping
8 Dec - Pop Corner, Alvesta
13 Dec - Wilmas, Arvika
14 Dec - Mastis, Kristinehamn
dregen.se nickeborg.com
ALBUM WITH LEADER OF DOWN, FEATURING LAST RECORDINGS FROM MOTÖRHEAD GUITARIST WÜRZEL
In 2008 former MOTÖRHEAD guitarist Würzel and bass player Tim Atkinson started to write material for a album with their new band LEADER OF DOWN. They also recruited Steve Clarke (ex-FASTWAY) on drums, and continued to work. The name LEADER OF DOWN came from Würzel mishearing the lyrics to the STATUS QUO track "Down, Down". Würzel found this extremely funny as he had been singing the wrong words "Down Down, Leader of Down" for over 30 years.
The band started recording the initial tracks for the album, which included a reworking of Würzel's solo release from the 80s, "People Say I'm Crazy". These initial sessions also included a track that was always intended for Lemmy Kilmister (MOTÖRHEAD) to sing on. This track eventually became "Paradise Turned Into Dust", with Lemmy finishing his recording at Paramount Studios in Los Angeles in 2015 shortly before his own passing.
Although there are several guest vocalists on the album, the line up of LEADER OF DOWN is completed by vocalist Matt Baker and guitarist Alex Ward.
After Würzel's tragic death in 2011, the band continued to finish the album and enlisted the help of some friends to honour the great man. There's guest appearances from Lemmy, Phil Campbell (who joined MOTÖRHEAD on the same day as Würzel in 1984), Fast Eddie Clarke (ex-MOTÖRHEAD, who has also sadly passed away beginning of 2018), Whitfield Crane (UGLY KID JOE), Lee Richards (ex-GODSMACK), Bruce Foxton (The JAM), and Cliff Evans (TANK).
LEADER OF DOWN have now signed a worldwide deal with Los Angeles-based label Cleopatra Records, and will finally release the album, "Cascade Into Chaos", on September 28. You can pre-order the CD here: cleorecs.com/store/shop/leader-of-down-cascade-into-chaos-cd and the LP here: cleorecs.com/store/shop/leader-of-down-cascade-into-chaos-lp
leaderofdown.com cleopatrarecords.com
NEW BAND WITH MEMBERS FROM DOKKEN AND WARRANT, ALBUM IN APRIL
A new band called THE END, featuring 3 members of the classic DOKKEN lineup (Jeff Pilson, George Lynch and Mick Brown), along with former LYNCH MOB and current WARRANT singer Robert Mason will tentatively release its debut album in April 2019 via Frontiers Music Srl.
QUEEN TO RELEASE BOHEMIAN RHAPSODY ORIGINAL FILM SOUNDTRACK IN OCTOBER
For the first time ever, audio tracks from QUEEN's legendary performance at Live Aid are being released as part of the soundtrack album to "Bohemian Rhapsody", 20th Century Fox and Regency Enterprises' forthcoming feature film celebrating the band, their music and their extraordinary lead singer Freddie Mercury. Recorded at the historic Wembley concert in July 1985, these Live Aid songs are among the rare gems and unheard versions from the band's rich catalogue.
Alongside the show-stopping Live Aid performances of "Bohemian Rhapsody", "Radio Ga Ga", "Hammer To Fall" and "We Are The Champions", the album features other rare live tracks spanning QUEEN's entire career, new versions of old favorites, and a choice selection of the band's finest studio recordings. Among them are some of QUEEN's biggest hits, including 11 all-time greatest anthems that reached No. 1 around the world. The track listing was announced today, September 5, 2018, which would have been Freddie's 72nd birthday.
"Bohemian Rhapsody" will have its world premiere in the U.K. on October 23 before opening across the globe in early November. It stars Rami Malek as Freddie, Gwilym Lee as Brian May, Ben Hardy as Roger Taylor, Joe Mazzello as John Deacon, and Lucy Boynton as Freddie's lifelong companion Mary Austin. The soundtrack, featuring all-original QUEEN recordings and vocals, will be released on CD and digital formats on October 19.
The 22 songs on the soundtrack were produced by Brian May and Roger Taylor, with engineering and co-production by longtime QUEEN studio collaborators Justin Shirley-Smith, Kris Fredriksson and Joshua J Macrae, and mastering by Adam Ayan and Bob Ludwig.
youtu.be/mP0VHJYFOAU queenonline.com
BOOK ABOUT EARLY YEARS OF BLACK FLAG
Before the American punk band BLACK FLAG settled on a name, they called themselves PANIC!. On September 17, Ryan Richardson will release a book covering these early years, titled PANIC!.
The book stretches from the band's formation through their failed deal with Bomp! Records to the release of the "Nervous Breakdown" EP.
The book is hardcover and includes previously unpublished photographs.
SEPT. 4, 2018
NEW ALBUM WITH MASTER IN NOVEMBER
Death metal veterans MASTER will release their new full-length album, "Vindictive Miscreant", on November 28 via Transcending Obscurity Records. The disc's title track can be streamed here: youtu.be/2vZbt7yDLPo
TRANSPORT LEAGUE TO RECORD NEW ALBUM
Swedish groove metal band TRANSPORT LEAGUE will enter the studio with producer Roberto Laghi (IN FLAMES, LOK, HARDCORE SUPERSTAR, RAISED FIST, GRAND MAGUS, DIA PASALMA, SONIC SYNDIACATE etc) in the beginning of November to record a new album, with the working title "A Million Volt Scream".
facebook.com/transportleague
SEPT. 3, 2018
OZZY ANNOUNCES EURO TOUR WITH JUDAS PRIEST
Ozzy Osbourne are going on a European tour together with JUDAS PRIEST in early 2019. Dates and more info: ozzy.com or judaspriest.com
SINGER JOHAN LÄNGQUIST IS BACK IN CANDLEMASS
In the middle of recording a new album, Swedish doom legends CANDLEMASS announce that their old singer from the classic "Epicus Doomicus Metallicus" album, Johan Längquist is back in the band after 32 years. He's replacing Mats Levén, who's been with the band since 2012.
"We wanted to find our way back to the roots of CANDLEMASS, back to the soul and essence of the band", they say in a post on Facebook.
The new album will be released during 2019 through Napalm Records.
candlemass.se
SEPT. 2, 2018
GHOST RETURN TO MILWAUKEE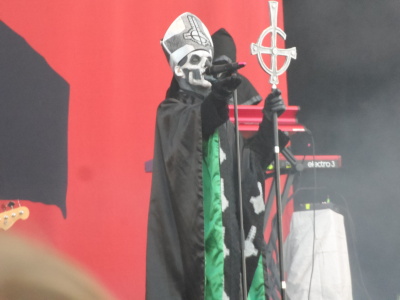 GHOST will return to Milwaukee on Halloween to honor its fan who passed away this past spring after attending one of the band's shows.
The Swedish metal act's sold-out concert at the Riverside Theater on May 31 came to an abrupt and tragic end when fan Jeff Fortune collapsed at the venue, and died that evening.
For the October 31 show, a special shirt, featuring an illustration of GHOST frontman Cardinal Copia and Fortune wearing Michael Myers costumes from "Halloween", will be sold at the Riverside Theater, with all proceeds being donated to Fortune's family.
This performance is for attendees of the May 31 show only. If you would like to attend, you will receive the same ticket location you had for the earlier GHOST performance at no charge. To save your spot, the original ticket buyer must RSVP to the Riverside. The deadline to RSVP is September 30.
ghost-official.com
MORE RUMORS ABOUT A NEW ALBUM WITH AC/DC
Texas-based publication JAM Magazine has cited a "reliable source inside the AC/DC camp" as letting them know that Angus Young is working on a new AC/DC album that will be dedicated to his brother, the late Malcolm Young (who died in November 2017 at the age of 64 after suffering from dementia and failing health for several years). According to the site, the new recordings will include "Malcolm playing rhythm guitar on all tracks!".
A posting on the JAM Magazine Facebook page reads: "Turns out, five years prior to the 'Black Ice' LP, AC/DC's 15th studio release, Angus and Malcolm Young lived together where they literally wrote hundreds of songs, many were recorded and have been stashed away until now. Angus has decided to selected the best tracks from those recordings that Malcolm played on and is now back in the studio recording and mixing them with fellow bandmates Phil Rudd, Cliff Williams and, yes, Brian Johnson on vocals."
acdc.com
REMASTERED DELUXE EDITION OF METALLICA'S "...AND JUSTICE FOR ALL"
METALLICA is teasing a deluxe remastered version of its "...And Justice For All" (1988) album. A short video clip of the reissue being manufactured has been posted to the band's official Twitter account along with the hashtag #comingsoon.
In addition to the original album and other rarities, the deluxe edition will apparently include a 1989 METALLICA concert in Seattle, recorded during the "...And Justice For All" tour.
metallica.com
NEW SINGLE WITH ENTOMBED A.D.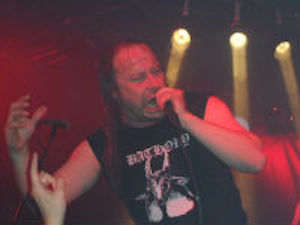 Swedish death metallers ENTOMBED A.D. have returned with a new single, "Fit For A King". The song is taken from the band's forthcoming third album, which is currently in the works.
Check it out: youtu.be/iu2je8QTNDc
entombedad.com
30TH ANNIVERSARY DELUXE EDITION OF ANTHRAX'S "STATE OF EUPHORIA"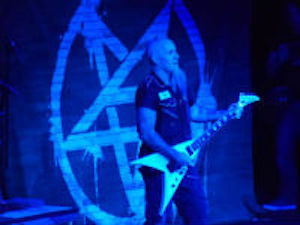 On October 5, Island Records/Ume/Universal Music will release the 30th-anniversary, 2CD deluxe edition of ANTHRAX's 4th studio album, "State Of Euphoria". The package will consist of 2 discs: Disc 1 is the fully remastered album, all of the B-sides originally released in conjunction with the album, and "Antisocial" recorded live in London at the Hammersmith Odeon in March, 1989. Disc 2, "Charlie's Archives", is a real treasure trove for ANTHRAX fans as it puts you right in the room with the band as the album's songs evolved. The package also includes a 20-page booklet that will take you right back to the time of the album's release.
"State Of Euphoria" will also be issued as a 2-LP set on standard black vinyl and limited edition red and yellow colored vinyl. Both versions are available for pre-order here: ume.lnk.to/AnthraxState30
anthrax.com
SEPT. 1, 2018
HYPNOS ARE GOING ON EUROPEAN TOUR WITH LIZZIES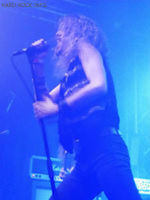 Swedish hard rockers HYPNOS will team up with Spanish hard rockers LIZZIES for a European tour in October. Find the dates at: facebook.com/hypnosboogie
SKID ROW ANNOUNCES UK TOUR WITH BACKYARD BABIES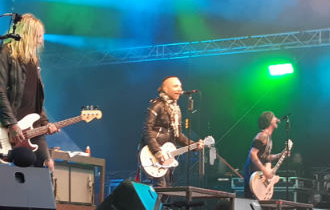 American hard rock veterans SKID ROW have announced 4 shows in UK in January 2019 with very special guests BACKYARD BABIES, H.E.A.T., and VEGA. The dates are:
Jan. 22 - Manchester, O2 Ritz
Jan. 23 - Sheffield, O2 Academy
Jan. 25 - Bristol, O2 Academy
Jan. 26 - London, O2 Forum Kentish Town (w/ KilliT)
Tickets go on sale Monday, September 3.
skidrow.com backyardbabies.com heatsweden.com vegaofficial.co.uk killitband.com
AUGUST 31, 2018
NEW ALBUM WITH THE PEAWEES IN SEPTEMBER
Italian punk rockers The PEAWEES are still alive, and will release their new album, "Moving Target", through Wild Honey Records (LP) and Rum Bar Records (CD).
I have not found the exact release date, but it will be availbale for pre-order on September 3. More info at: thepeawees.it
EX-TURBONEGRO FRONTMAN HANK VON HELVETE IS BACK AS HANK VON HELL
8 years have passed since the legendary frontman of TURBONEGRO, Hank Von Helvete, left the scene and stated that he would never come back again. Fans all over the world have craved a return, begged him to reconsider. But Hank have firmly said "No". Until now..
Like the rise of a Phoenix, Hank Von Helvete (or Hans-Erik Dyvik Husby, which is his real name) rises from the ashes and is once again re-born as Hank Von Hell. His very first single as a solo artist, "Bum to Bum", is released today (Aug. 31).
The single comes off the upcoming album "Egomania" due to be released on November 2 through Sony Music Entertainment/Century Media Records, worldwide. Hank Von Hell will also do an exclusive tour in Sweden this fall, on the following dates:
Nov. 03 - Slaktkyrkan, Stockholm
Nov. 08 - Sticky Fingers, Gothenburg
Nov. 10 - Babel, Malmö
Dec. 28 - Nöjesfabriken, Karlstad
Dec. 29 - Club Destroyer, Sundsvall
Tickets are extremely limited and goes on sale September 4 at jubel.se/livePress
AUGUST 30, 2018
PRETTY MAIDS ANNOUNCES NEW TOUR DATES
Danish hard rock veterans PRETTY MAIDS have finally managed to reschedule the gigs they cancelled in the spring due to illness. And they have also added a few more gigs to their schedule. So take a look at facebook.com/prettymaids
EX-MOTÖRHEAD AND HAWKWIND MEMBERS RELEASE NEW ALBUM WITH PINK FAIRIES
PINK FAIRIES - with founding member Paul Rudolph, former HAWKWIND bassist Alan Davey, and original MOTÖRHEAD drummer Lucas Fox - have released a new album, "Resident Reptiles". Former member Larry Wallis also contributes to the record, and Jürgen Engler of DIE KRUPPS produced it.
Check it out at: pinkfairies.bandcamp.com/album/resident-reptiles
DIAMOND HEAD ANNOUNCES EUROPEAN TOUR
NWOBHM legends DIAMOND HEAD will be touring around UK and Europe in October and November. Go to facebook.com/DiamondHeadOfficial for more information..
QUIET RIOT ANNOUNCES MEXICAN SHOWS
L.A. hard rock veterans QUIET RIOT will do the following 4 shows in Mexico in November:
Nov. 15 Guadalajara Jalisco
Nov. 16 Morelia Mochoacan
Nov. 17 Leon Guanajuato
Nov. 18 Mexico City
quietriot.band
AUGUST 29, 2018
METALLICA WHISKEY IN THE STATES
METALLICA has partnered with master distiller extraordinaire Dave Pickerell to create Blackened, a unique blend of straight American whiskey available in select U.S. cities later this week and online at ThinkLiquor.com or SpiritedGifts.com
metallica.com blackenedwhiskey.com
NEW ALBUM WITH UNCLE ACID & THE DEADBEATS IN OCTOBER
Retro rockers UNCLE ACID & THE DEADBEATS will release their fifth album, "Wasteland", on October 12 via Rise Above Records.
NEW ALBUM WITH DE LYCKLIGA KOMPISARNA IN OCTOBER
Swedish trallpunk legends DE LYCKLIGA KOMPISARNA will release a new album, "Pengar Har Inga Ögon", on October 12 via Gaphals. It will be released on 180gr vinyl. And you can pre-order it here: freighttrain.se/sv/pre-order
DE LYCKLIGA KOMPISARNA will also do some touring here in Sweden during October/November. The dates are these:
12/10 - Örebro, Frimis (Sold out!)
13/10 - Mora, Lilla Helfvetet
19/10 - Eskilstuna, K100
26/10 - Malmö, KB
27/10 - Kristianstad, Biljardkompaniet
2/11 - Halmstad, Kajskjulet
3/11 - Göteborg, Sticky Fingers
16/11 - Stockholm, Kraken
facebook.com/delyckligakompisarna facebook.com/Gaphals
AUGUST 28, 2018
VINNIE PAUL'S CAUSE OF DEATH REVEALED
Vinnie Paul Abbott's cause of death has been revealed. The 54-year-old PANTERA and HELLYEAH drummer died of dilated cardiomyopathy — an enlarged heart — as well as severe coronary artery disease, a heart condition. Clark County Coroner John Fudenberg told TMZ he died of natural causes.
AUGUST 27, 2018
NAGLFAR TO SUPPORT DARK FUNERAL IN SWEDEN
Swedish black metal veterans NAGLFAR will be support act when DARK FUNERAL is touring in Sweden in November. The dates are:
02.11 Nordfest at Club Deströyer, Sundsvall
03.11 Halloween Meltdown at Lokomotivet, Eskilstuna (without NAGLFAR)
08.11 Mejeriet, Lund
09.11 Pustervik, Göteborg
10.11 Kraken, Stockholm
darkfuneral.se
ELECTRIC BOYS SIGNS WITH MIGHTY MUSIC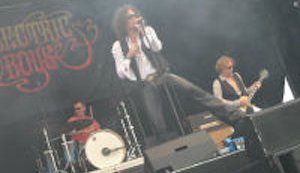 Swedish hard rockers ELECTRIC BOYS have signed with Mighty Music. A new album, titled "The Ghost Ward Diaries", will be released worldwide on November 23.
For upcoming live dates, go to: electricboys.com
AUGUST 26, 2018
WEEDEATER DRUMMER CARLOS DENOGEAN IS DEAD
Carlos Denogean, drummer for North Carolina sludge band WEEDEATER, has died.
Denogean joined WEEDEATER in 2017 as the replacement for Travis Owen, who stepped down from the group due to health issues. Prior to joining WEEDEATER, Denogean had played with BEARD OF ANTLERS, SALVACIÓN and ASG.
facebook.com/weedmetal
WE CAME AS ROMANS FRONTMAN DEAD
Kyle Pavone, vocalist for the Michigan metalcore act WE CAME AS ROMANS, has died. He was only 28 years old.
AUGUST 25, 2018
VINNIE VINCENT ADDS SECOND SHOW AT GRACELAND
Former KISS guitarist Vinnie Vincent has added a second show at Graceland following the announcement of his plans to perform "full-shred" electric guitar at his comeback performance. In addition to the previously announced concert on Friday, December 7, Vincent will also play on Saturday, December 8.
The Graceland concerts will be Vincent's first live appearances in over 30 years. The shows will start with an acoustic set, followed by an intermission, and then a full shred electric set. In addition to special guest Robert Fleischman, original vocalist for the VINNIE VINCENT INVASION, who will be joining Vinnie for several songs including "Back On The Streets", there will be more special guests, to be announced soon.
Vinnie will release a special promotional video for the Memphis show on Friday, September 28 at 12:00 noon PST to give fans a little taste of what to expect at the Graceland shows, plus maybe a surprise or 2.
For tickets and more information, visit vinnievincentlive.com
AUGUST 24, 2018
TRIBUTE ALBUM TO GARY MOORE IN OCTOBER
A new tribute album dedicated to legendary guitarist Gary Moore will be released this fall.
Due on October 26 via earMUSIC, "Moore Blues for Gary - A Tribute To Gary Moore" is the brainchild of Bob Daisley, who had played bass with Gary since the early 80s.
Among the artists on the album are John Sykes (THIN LIZZY, WHITESNAKE), Daniel Bowes (THUNDER), Steve Morse (DEEP PURPLE, DIXIE DREGS), Ricky Warwick (THIN LIZZY, BLACK STAR RIDERS, The ALMIGHTY), Doug Aldrich (WHITESNAKE, DIO), Steve Lukather (TOTO), Joe Lynn Turner (RAINBOW), Jeff Watson (NIGHT RANGER), Damon Johnson (BLACK STAR RIDERS, Alice Cooper), Stan Webb (CHICKEN SHACK), Bob Daisley (RAINBOW, Ozzy Osbourne, Gary Moore), Glenn Hughes (DEEP PURPLE, BLACK SABBATH), Eric Singer (KISS, Lita Ford, BLACK SABBATH, Alice Cooper) and many more..
Gary Moore passed away on February 6, 2011.
DIMMU BORGIR CONFIRMED FOR GEFLE METAL FESTIVAL
The first act to be confirmed for next year's Gefle Metal Festival is Norwegian black metal veterans DIMMU BORGIR.
The festival take place at Gasklockorna in Gävle, Sweden on July 19-20, 2019. Tickets are available at: secure.tickster.com/Intro.aspx?ERC=W54H6K5MEVY5W0N
facebook.com/geflemetalfestival
EX-LYNYRD SKYNYRD GUITARIST ED KING IS DEAD
Former LYNYRD SKYNYRD guitarist Ed King has died at the age of 68. Cause of death has not been established yet, but he had fought against lung cancer for many years.
Ed King is one of the persons behind the LYNYRD SKYNYRD classics "Sweet Home Alabama", "Workin' For MCA" and "Saturday Night Special". He played with the band 1972-1975 and 1987-1996.
AUGUST 23, 2018
NEW ALBUM WITH UNLEASHED IN OCTOBER
Swedish death metal veterans UNLEASHED will release their 13th full-length album, "The Hunt For White Christ", on October 26 via Napalm Records.
unleashed.se napalmrecords.com
AUGUST 22, 2018
BOX SET WITH RUNNING WILD IN SEPTEMBER
On September 28, Noise Records will release RUNNING WILD's "Pieces Of Eight: The Singles, Live And Rare. 1984 - 1994". A deluxe, limited-edition box set containing all the band's Noise Records singles, the re-record compilation "The First Years Of Piracy" and an expanded, double gold vinyl version of its debut live album, "Ready For Boarding", which features a whole new show on disc 2, from 1989, previously only available before on VHS tape.
All of these titles have been long out of print, since their original release during the band's decade tenure on Noise. The box set also includes a collectable RUNNING WILD piece of 8 coin and a 2-sided poster featuring the band's classic lineup and the box set artwork.
youtu.be/G3hp_M5kHyA
FILM ABOUT THE SONICS TO PREMIERE IN LONDON
After 10 years of work, "BOOM", a film about the American garage rockers The SONICS, will be having it's world premiere in London at this year's "Raindance Film Festival" on September 30, with another screening to follow on October 1.
More information about the film at: facebook.com/sonicsfilm
UNION CARBIDE PRODUCTIONS TO REUNITE FOR 2 SHOWS
Mythical Swedish cult rock band UNION CARBIDE PRODUCTIONS (with Swedish artist Ebbot Lundberg) are going to reunite for 2 unique shows in Sweden. The first one will take place at Liseberg in their hometown Göteborg on August 24, and the second at Gröna Lund in Stockholm on September 6.
AUGUST 21, 2018
ADLER'S APPETITE RECRUITS SINGER FROM GN'R TRIBUTE BAND
Former GUNS N' ROSES drummer Steven Adler has recruited Ariel Kamin, the singer of Argentinian GN'R tribute band SON OF A GUN, to front his group ADLER'S APPETITE. Kamin replaces Constantine Maroulis of "American Idol" and "Rock Of Ages" fame, who was the vocalist for ADLER'S APPETITE for a dozen or so dates this past May, including an Australian tour.
In addition to Adler and Kamin, the latest version of ADLER'S APPETITE includes guitarist Michael Thomas and bassist Tanya O Callaghan.
The new incarnation of ADLER'S APPETITE will play the following 3 shows at the end of this week:
Aug. 23 - The Rose, Pasadena, CA, USA
Aug. 24 - Golden Nugget, Las Vegas, NV, USA
Aug. 25 - The Canyon Theatre, Santa Clarita, CA, USA
LIVE RELEASE AND NEW STUDIO ALBUM WITH HELLOWEEN
The reunited expanded classic lineup of German power metallers HELLOWEEN — featuring 7 musicians, including former vocalist Michael Kiske and guitarist Kai Hansen alongside current singer Andi Deris and guitarist Sascha Gerstner — has captured "the very best moments" from its ongoing "Pumpkins United" world tour and will make the footage and recordings available as a live CD as well as on DVD and Blu-ray in early 2019. In addition, there will be a brand-new HELLOWEEN studio album featuring Kiske and Hansen. The band's songwriting trio of Michael Weikath, Hansen and Deris will retreat to the studio in 2019 to begin work on the disc, which is scheduled to arrive in 2020 via Nuclear Blast.
HELLOWEEN will tour North America in September, to be followed by additional dates in Latin America. The final "Pumpkins United" concert of 2018 will take place in Hamburg, where it all started in 1984, at the legendary Sporthalle on December 22.
helloween.org
DEE SNIDER GOING TO AUSTRALIA TO SPEAK AND SHOUT
TWISTED SISTER frontman Dee Snider are going to Australia for a unique set of shows in Sydney and Melbourne. Each city will be treated to 1 SPOKEN night and 1 SHOUTED.
SPOKEN nights: These will see Dee being interviewed on stage and telling stories about his life, career and a real in depth look at the man himself, then an audience question and answer forum. This will be a very intimate, once in a lifetime opportunity. Plus on these nights there will be a special VIP meet and greet opportunity available, which includes entry to the SPOKEN night, front and second row seats and the first 20 buyers get to ask Dee a question over the mic from the audience, and meet Dee after the event for a photo and 2 items signed.
The SHOUTED nights: These shows will see Dee hit the stage backed by his full band and slam out a killer set list top heavy with classic TWISTED SISTER material.
Tickets go on sale Thursday, August 23 at hardlinemedia.net. The dates are:
Thursday, 31st January - Sydney - Manning - SPOKEN
Friday, 1st February - Sydney - Manning - SHOUTED
Saturday, 2nd February - Melbourne - Croxton - SHOUTED
Sunday, 3rd February - Melbourne - Croxton - SPOKEN
AUGUST 20, 2018
JUDAS PRIEST TO CELEBRATE 50 NEXT YEAR
Rob Halford has revealed that JUDAS PRIEST is planning to mark the band's 50th anniversary in 2019 with a special celebration. There's no concrete plans yet on what's going to happen, but they are at least planning it.
judaspriest.com
AUGUST 18, 2018
HELLOWEEN TO RELEASE BOX SET WITH EARLY RECORDINGS
Noise Records has announced the October 26 release of "Helloween - Starlight: The Noise Records Collection". It is a deluxe, limited-edition box set containing all the band's Noise recordings, from the long-out-of-print EPs "Helloween" and "Judas", through their debut album "Walls Of Jericho" to the masterpieces "Keeper Of The Seven Keys" and "Keeper Of The Seven Keys Part II" and a new, revised version of "The Best, The Rest, The Rare" that covers all the obscure and rare tracks from the Noise catalog.
3 of these titles have long been out of print on vinyl and all of them are now on color vinyl for the first time.
Pre-order here: pumpkins-store.com/box-set_starlight_
helloween.org noiserecords.net
AUGUST 17, 2018
NEW BLOODBATH ALBUM IN OCTOBER
Death metal supergroup BLOODBATH - with members from bands like PARADISE LOST, KATATONIA, OPETH and CRAFT — will return with their fifth album, "The Arrow Of Satan Is Drawn", on October 26 via Peaceville.
peaceville.com bloodbath.biz
NEW ALBUM WITH SICK OF IT ALL IN NOVEMBER
New York hardcore legends SICK OF IT ALL will release their 12th studio album, "Wake The Sleeping Dragon!", on November 2 via Century Media Records.
centurymedia.com sickofitall.com
NEW SINGLE WITH DJÄVULEN MÖBLERAR OM
Swedish punk rockers DJÄVULEN MÖBLERAR OM will release their new single, "Hela Vägen Ner", on both vinyl and digitally on August 25 through Jerry Kobra Records.
Pre-order starts on August 20 at: punkrecords.se
facebook.com/DjavulenMoblerarOm
HUNTRESS SINGER JILL JANUS IS DEAD
Jill Janus, frontwoman for the California heavy metal band HUNTRESS, passed away on Tuesday, August 14. She was only 42 years old.
A long-time sufferer of mental illness, she took her own life outside of Portland, Oregon. Janus spoke publicly about these challenges in hopes of guiding others to address and overcome their mental illness.
huntresskills.com
NEW ALBUM WITH STRÄNGEN
Swedish guitarist/singer Robert "Strängen" Dahlqvist (The HELLACOPTERS, DUNDERTÅGET, THUNDER EXPRESS etc.) died when he took a bath and got an epileptic seizure in February last year. He was working on a new solo album at the time, and it has now been confirmed that the album will finally be released. The title is "Rock På Svenska" (Rock in Swedish), and the release date is September 28.
More info (in Swedish) and pre-order here: mailchi.mp/soundpollution/rock-pa-svenska
facebook.com/Robert.Dahlqvist.official
NEW LIVE RELEASE WITH OPETH IN NOVEMBER
Swedish progressive rock/metal act OPETH will release "Garden of the Titans: Live at Red Rocks Amphitheatre" on November 2 via Moderbolaget Records/Nuclear Blast Entertainment. This event was captured for the DVD, Blu-Ray and Vinyl formats during their performance on May 11, 2017 at the Red Rocks Park and Amphitheatre in Denver, CO, U.S.A. Both the DVD and Blu-ray formats include CDs containing the audio as well.
Pre-order in various formats at: nblast.de/OpethGarden
Or stream and download "Sorceress (live)" at: nblast.de/OpethSorceressLive
AUGUST 16, 2018
JUDAS PRIEST, HELLOWEEN, KREATOR AND ARCH ENEMY SET FOR FIRST-EVER KNOTFEST COLOMBIA
JUDAS PRIEST will headline the first-ever Colombian edition of Knotfest, the music festival launched by the American metal band SLIPKNOT, on October 26 at Hipódromo de los Andes in Bogotá.
The festival billing is shaping up as follows: JUDAS PRIEST, HELLOWEEN, KREATOR, ARCH ENEMY, MASSACRE, KILKROPS, UNDERTHREAT, IRON REAGAN, GOATWHORE, REVOCATION and PITBULL.
For more information, visit: knotfestcolombia.com
GROOVIE GHOULIES TO RE-RELEASE EARLY MATERIAL ON CASSETTE
American horror pop punks GROOVIE GHOULIES are going to reissue some of their earliest recordings on a 2-for-1 cassette. "The '80s Collection" will be out this fall via Burger Records, and will include their 7" compilation "Flying Saucer Rock n Roll" and the full "Appetite for Adrenochrome" album.
Meanwhile frontman Kepi Ghoulie is also re-recording "Reanimation Festival" with The COPYRIGHTS.
50TH-ANNIVERSARY EDITION OF THE KINKS' "THE KINKS ARE THE VILLAGE GREEN PRESERVATION SOCIETY"
British rock legends The KINKS will release a 50th-anniversary edition of their album "The Kinks Are The Village Green Preservation Society", on October 26 via BMG.
thekinks.info
AUGUST 15, 2018
NATIONALTEATERN ANNOUNCES WINTER DATES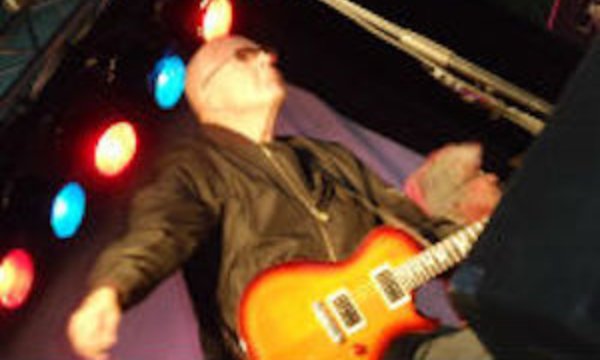 Legendary Swedish cult rock band NATIONALTEATERN (aka NATIONALTEATERNS ROCKORKESTER) are going to do their last shows here in Sweden in December. Tickets on sale now. The dates are these:
Dec. 14 - Lokomotivet, Eskilstuna
Dec. 15 - Konserthuset, Växjö
Dec. 17 - Konserthuset, Göteborg
Dec. 19 - Cirkus, Stockholm
Dec. 20 - Malmö Live, Malmö
Dec. 22 - Åhaga, Borås
Tickets at: nationalteaternsrockorkester.se
RANDY RAMPAGE, FORMER MEMBER OF ANNIHILATOR AND D.O.A., IS DEAD
Former ANNIHILATOR frontman Randy Rampage passed away on August 14 at the age of 58. The singer, whose real name was Randall Desmond Archibald, was also a founding member, bass player and occasional vocalist of the Canadian hardcore band D.O.A.
Rampage appeared on ANNIHILATOR's debut album, 1988's "Alice In Hell", before leaving the band. In 1999, he returned to the group and recorded 1 more album called "Criteria For A Black Widow" after which he left once again to rejoin D.O.A.
The news of Randy's passing was confirmed by the Facebook page of the documentary "Bloodied But UnBowed", a historical look at the evolution of punk rock on the West coast of North America during the 1978-1983 timeframe. Randy made an appearance in the documentary, which was narrated by Billy Hopeless (formerly of The BLACK HALOS) and released in 2010.
AT THE GATES ADDS EXTRA HOMETOWN SHOW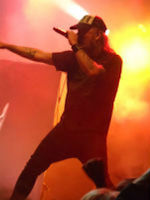 The show with Swedish death metal legends AT THE GATES at Pustervik in Göteborg, Sweden on October 6 is sold out. They have now added a extra show on October 7 at the same dark venue, and tickets go on sale Friday, August 17.
Support acts on both shows will be NIFELHEIM and VAMPIRE.
atthegates.se
AEROSMITH GOING TO LAS VEGAS
AEROSMITH is bringing the heat to the Las Vegas Strip with their headlining residency, "Aerosmith: Deuces Are Wild". Shows begin Saturday, April 6, 2019 at Park Theater at the new Park MGM resort.
More information at: aerosmith.com
OZ FOX TO UNDERGO BRAIN BIOPSY
STRYPER guitarist Oz Fox will undergo a brain biopsy after he reportedly fell down during a concert last weekend.
As reported here earlier, Fox suffered a seizure while performing with SIN CITY SINNERS Saturday night (August 11) at Harrah's in Las Vegas, Nevada. He was immediately transported to a local hospital, where medical personnel ran extensive tests to determine the cause of the seizure.
AUGUST 13, 2018
TIM "RIPPER" OWENS, SEAN PECK AND HARRY CONKLIN ARE THE THREE TREMORS
Acclaimed heavy metal singers Tim "The Ripper" Owens (JUDAS PRIEST, ICED EARTH, Yngwie Malmsteen), Harry "The Tyrant" Conklin (JAG PANZER) and Sean "The Hell Destroyer" Peck (CAGE, DEATH DEALER, DENNER/SHERMANN) have joined forces in a new project called The THREE TREMORS.
Their self-titled debut LP is due on September 20. Check out audio samples on The THREE TREMORS' PledgeMusic page.
THE CROWN ANNOUNCES EUROPEAN TOUR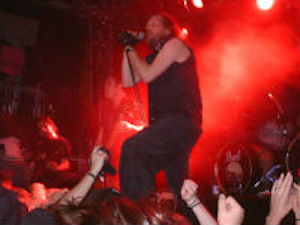 Swedish death metal veterans The CROWN are going on a short European tour in December. Support comes from SVART CROWN, BLEEDING GODS, TEMNEIN and BLEEDING UTOPIA.
The exclusive dates are:
Dec. 10 DK – Aarhus – Voxhall
Dec. 11 DE – Hamburg – Bambi Galore
Dec. 12 DE – Erfurt – From Hell
Dec. 13 DE – Mannheim – MS Connexion
Dec. 14 CH – Sursee – Kulturwerk 118
Dec. 15 BE – Chapelle-Lez-Herlaimont – Le Cercle
thecrownofficial.com facebook.com/SVARTCROWN bleedinggods.net temnein.net facebook.com/BleedingUtopia
MC50 ANNOUNCES UK DATES WITH MICHAEL MONROE
MC50 - featuring Wayne Kramer (MC5), Brendan Canty (FUGAZI), Marcus Durant (ZEN GUERRILLA), Billy Gould (FAITH NO MORE) and Kim Thayil (SOUNDGARDEN) - will do 4 shows in UK, with special guest Michael Monroe (ex-HANOI ROCKS), in November.
MC50 celebrate that it's 50 years since MC5's debut album, "Kick Out The Jams", was released. They play the whole album and some other stuff.
The UK dates are:
Nov 9: Bristol, O2 Academy (without Michael Monroe)
Nov 10: Glasgow, Academy
Nov 11: Manchester, Albert Hall
Nov 12: London, Shepherd's Bush Empire
michaelmonroe.com
OFFICIAL STATEMENT FROM STRYPER REGARDING OZ FOX
News began circulating this morning (Sunday, Aug. 12) that STRYPER's Oz Fox suffered a medical emergency on stage in Las Vegas overnight. In order to provide accurate information and dispel any rumors, the band has issued an official statement:
"Our dear friend and lead-guitarist Oz Fox fell ill Saturday night while performing in Las Vegas with a side project that he sometimes plays in when not touring with STRYPER. Oz suffered a seizure causing a fall on stage. After performing an MRI, doctors discovered an area of concern near his brain which they are now running a biopsy on. The doctors have instructed him not to drive or fly for 90 days. No additional information is available at this time. We appreciate your thoughts and prayers and we will communicate additional information as it becomes available.
The logistics and options for current tour dates are being discussed with the respective promoters. U.S. tour dates will play as scheduled and in anticipation of a full recovery will include Oz Fox. The upcoming Australian tour will be performed as a trio (with the blessing of Oz), and will include Michael Sweet, Robert Sweet, and Perry Richardson. For our fans in Japan, please await an announcement from the concert promoter there as to the plans for the Japan tour.
New information will first be communicated via Stryper.com and STRYPER's official Facebook page."
AUGUST 12, 2018
STRYPER GUITARIST OZ FOX HOSPITALIZED IN LAS VEGAS
STRYPER guitarist Oz Fox has been hospitalized after reportedly "falling down due to a medical condition" during his guest appearance at SIN CITY SINNERS concert Saturday night (August 11) at Harrah's in Las Vegas, Nevada.
NEW MINI-LP WITH THE DAHLMANNS LATER THIS MONTH
Power pop band The DAHLMANNS will release a new mini-LP (12" vinyl EP), titled "American Heartbeat", on August 31 via Beluga Records and Ghost Highway Recordings.
You can pre-order it from: punkrecords.se
youtube.com/watch?v=Mwf6uFZiFto
AUGUST 11, 2018
IN FLAMES TO SUPPORT DEEP PURPLE IN MEXICO
Swedish metal band IN FLAMES will be support act for DEEP PURPLE when they go on tour in Mexico in November. Tickets are on sale now, and the dates are:
November 3 - Tijuana
November 7 - Chihuahua
November 9 - Monterrey
November 11 - San Luis Potosi
November 13 - León
November 15 - Guadalajara
November 17 - Mexico City
November 21 - Merida
November 23 & 24 - Cancún
inflames.com deeppurple-infinite.com
AUGUST 10, 2018
GLENN DANZIG SIGNS FEATURE FILM DEAL WITH CLEOPATRA ENTERTAINMENT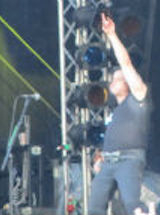 This week, legendary musician, Glenn Danzig of MISFITS and DANZIG fame, has signed a feature film agreement with Cleopatra Entertainment, a division of the Los Angeles independent record label, Cleopatra Records. Danzig will pen, direct and compose music for the feature film which will be structured as an anthology splitting its running time between 3 individual characters/storylines based on Danzig's own popular Verotik comic book characters.
Verotik is Danzig's long-running brand of mature horror comic books and related material. The comics, featuring mostly deadly femme fatales, have been in print since 1994. Principal photography for the anthology film will begin fall of 2018.
cleopatrarecords.com
NEW ALBUM WITH AMARANTHE IN OCTOBER
Swedish melodic/electro metal act AMARANTHE will release their fifth album, "Helix", on October 19 through Spinefarm Records.
NEW SOULFLY RECORD IN OCTOBER
SOULFLY will release its 11th album, "Ritual", on October 19 via Nuclear Blast Entertainment.
AUGUST 9, 2018
NEW ALBUM WITH ACE FREHLEY IN OCTOBER
Former KISS guitarist Ace Frehley will release his new album, "Spaceman", on October 19 via Entertainment One (eOne).
Check out 2 of the songs: youtu.be/GA2I_HpoA7I, youtu.be/2bHsXP0EJck
acefrehley.com
FEAR ANNOUNCES 4 NEW SHOWS
Reunited American punk band FEAR will do 4 shows on the American east coast next month. The dates are:
September 19 - Asbury, NJ at House Of Independents
September 20 - Baltimore, MD at Baltimore Soundstage
September 21 - New York, NY at Gramercy Theatre
September 23 - Cambridge, MA at Middle East Downstairs
fearleeving.com
THE EXPLOITED FORCED TO CANCEL UPCOMING SHOWS, WATTIE STILL AT HOSPITAL
Unfortunately Scottish punk legends The EXPLOITED's frontman Wattie Buchan has been having more issues with his heart, and faces further surgery. Doctors have advised that he can not perform any upcoming gigs. Therefore all upcoming gigs have been cancelled. The band are trying to reschedule for next year sometime.
the-exploited.net
PYRAMIDO TO RECORD NEW ALBUM
Swedish heavy rockers PYRAMIDO plan to enter the studio in mid-October to record their fifth full length.
facebook.com/Pyramidodoom
AUGUST 8, 2018
AC/DC WORKING IN VANCOUVER?
It seems like AC/DC members Stevie Young, Phil Rudd and Brian Johnson has been seen outside Warehouse Studios in downtown Vancouver, Canada, where the band's last 3 albums were recorded. What they are up to, and if Phil and Brian is back in the band is still a question though..
CLOVEN HOOF TO RELESE "THE BBC SESSIONS"
NWOBHM veterans CLOVEN HOOF recorded 2 BBC Sessions in 1983 and 1989. Now these recordings will finally be released on LP and digitally as "The BBC Sessions" on August 24 via High Roller Records.
hrrecords.de clovenhoof.net
BLITZKRIEG ANNOUNCES EUROPEAN TOUR
NWOBHM legends BLITZKRIEG are going on a European tour in November/December. The dates are these:
Nov. 09 – Hard Rock Hell, Pwllheli, Wales, UK
Nov. 11 – MonstersFest, The Ironworks, Inverness, UK
Nov. 28 – Trillians Newcastle, Newcastle, UK (w/ PARIS DANCER)
Nov. 29 – New Cross Inn, London, UK (w/ The DEEP and BlackMayne)
Dec. 01 – Le Klub, Paris, FR (w/ BEGGARS)
Dec. 02 – Het Debuut, Westerlo, BE (w/ BEGGARS)
Dec. 04 – Der Cult - nightclub & more, Nuremberg, DE (w/ BEGGARS)
Dec. 05 – Chemiefabrik Dresden (Chemo), Dresden, DE (w/ BEGGARS)
Dec. 06 – Bambi galore, Hamburg, DE (w/ BEGGARS)
Dec. 07 – Muziekcentrum De Bosuil, Weert, NL (w/ BEGGARS)
Dec. 09 – Musicon, Den Haag, NL (w/ BEGGARS)
More dates will be added soon..
blitzkriegmusic.com
DEAD KENNEDYS ANNOUNCES AUSTRALIAN/NEW ZEALAND DATES
American punk legends DEAD KENNEDYS will travel to Australia and New Zealand in November for 6 shows. Tickets go on sale Friday, August 10, and the dates are:
2nd November - Sydney, Metro
3rd November – Melbourne, Croxton
6th November – Adelaide, The Gov
7th November - Brisbane, The Triffid
9th November – Christchurch, The Foundry
10th November – Auckland, Powerstation
Get your tickets at: davidroywilliams.com/tours/dead-kennedys
deadkennedys.com
AUGUST 7, 2018
NEW ALBUM WITH TWIN PIGS IN SEPTEMBER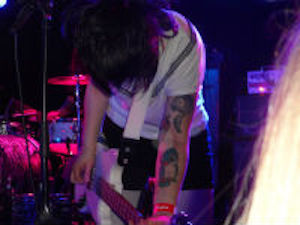 Swedish punk band TWIN PIGS will release their second album, "Scandinavian Nightmare", on September 7 via Luftslott Records.
facebook.com/twinpigspunk luftslottrecords.com
MUNICIPAL WASTE AND HIGH ON FIRE ANNOUNCES CO-HEADLINE U.S. TOUR
Richmond thrashers MUNICIPAL WASTE will embark on a co-headlining U.S. trek with California heavy rockers HIGH ON FIRE. Direct support on "The Speed Of The Wizard tour" will be Portland thrash metallers TOXIC HOLOCAUST and Fresno's HAUNT.
For more information take a look at one of these sites: municipalwaste.net highonfire.net toxicholocaust.com hauntthenation.bandcamp.com
WARREL DANE'S FINAL RECORDINGS TO BE RELEASED IN OCTOBER
On December 13, 2017, Warrel Dane (singer for SANCTUARY and NEVERMORE) died of a heart attack during the recordings of his second solo album in São Paulo, Brazil.
In 2014 Warrel had teamed up with Brazilian musicians Johnny Moraes (guitar), Thiago Oliveira (guitar), Fabio Carito (bass) and Marcus Dotta (drums) as his touring band and ultimately this successful collaboration led to plans for a new studio album. Recordings for "Shadow Work", the follow-up to 2008's "Praises To The War Machine", started in fall 2017 at Orra Meu Studio, São Paulo, and Travis Smith commenced to create the artwork following a concept and ideas previously discussed with Warrel.
Then he passed away, left his fellow musicians, fans, friends and family as well as his label in shock putting the status of the new album in limbo for a while. But after reviewing the material that could actually be completed using vocals from various studio and pre-production sessions with Warrel, the decision was made to release his final recordings as "Shadow Work".
The album will now be release on October 26 via Century Media Records. A first song and pre-sales will be available from August 31.
centurymedia.com
AUGUST 6, 2018
BOOK ABOUT THE FINAL YEAR OF THE CLASSIC DEEP PURPLE MKII LINEUP
"Time To Kill" is a new publication from Wymer Publishing that focuses on the final tumultuous year for the classic DEEP PURPLE MKII lineup. Written by DEEP PURPLE biographer Jerry Bloom, who has already written several books on the band, this is an in-depth look at the the appropriately named "The Battle Rages On..." album and the tour that followed its release during this much-overlooked period in the band's career.
The book will be published on November 17 this year, 25 years to the day that MKII played its last-ever concert together.
"Time To Kill" can be ordered here: wymeruk.co.uk/webshop/books/rock/deep-purple/time-to-kill-deep-purple
ENTOMBED A.D. TO SUPPORT VADER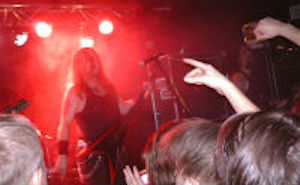 Polish death metal veterans VADER are going on a Western European tour in October/November, with very special guests ENTOMBED A.D.
This will be VADER's last tour before they enter the studio in early 2019 to record a new album. There will be what they call a super special set list and some limited merchandise. Exact dates will be announced soon..
vadernews.pl entombedad.com
MANOWAR CONFIRM DENMARK DATE
MANOWAR will do 1 exclusive show in Denmark at Valby Hallen in Copenhagen on April 1, 2019.
This will be MANOWAR's only show in Denmark. General Admission tickets will go on sale on August 8.
More tour dates at: manowar.com
AUGUST 5, 2018
SABATON, PARKWAY DRIVE, POWERWOLF AND ROSE TATTOO CONFIRMED FOR WACKEN OPEN AIR 2019
Wacken Open Air have already confirmed the first acts for next year's festival. And they are: SABATON, PARKWAY DRIVE, DEMONS & WIZARDS, POWERWOLF, AIRBOURNE, ROSE TATTOO, WITHIN TEMPTATION, MESHUGGAH, KROKUS, DARK FUNERAL and AVATAR.
The festival take place in Wacken, Germany on August 1-3, 2019. Tickets will go on sale in the night of Monday, August 6, 12 AM CET.
wacken.com
SKITSYSTEM TO DO EXCLUSIVE ONE-OFF SHOW IN 2019
Swedish crust punks SKITSYSTEM let us know that they will do an exclusive one-off show next year with yet another lineup. More information later I suppose?
facebook.com/Skitsystem
AUGUST 4, 2018
BOX SET WITH MAYHEM IN NOVEMBER
On November 16, Peaceville will release a comprehensive limited-edition deluxe set covering the influential Dead era of Norwegian black metal pioneers MAYHEM. The package will contain 6 picture disc LPs, a 7" single, 92-page book, posters, and DVD featuring the never-before-seen Jessheim and Sarpsborg live shows plus Henhouse rehearsals.
For more information, go to:
burningshed.com/store/peaceville/mayhem_cursed-in-eternity_deluxe-boxset
WHITESNAKE TO RELEASE BOX SET WITH ACOUSTIC RECORDINGS
After WHITESNAKE finishes its current summer tour with FOREIGNER, the band will revisit some of its best acoustic performances with "Unzipped: Super Deluxe Edition". This 5 CD/DVD collection brings together unplugged and acoustic-based performances recorded over the past 20-plus years, including rare and unreleased studio and live recordings, acoustic demos, concert videos, interviews and more. The extensive set will be available on October 19. On the same day, Rhino will also release "Unzipped" in 3 other formats: single-CD, double-CD, and double-LP. All of the music will also be available digitally and via streaming services.
More info at:
whitesnake.com
FLOGGING MOLLY ANNOUNCES LATIN AMERICAN TOUR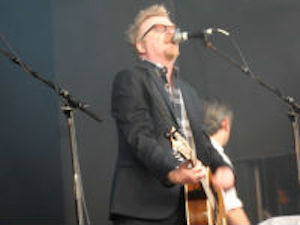 American celtic punk/folk rock band FLOGGING MOLLY are going to Latin America for 6 shows in October. Tickets go on sale Monday, August 6, and the dates are:
Oct. 5 - Hermes Bar, Curitiba, Brazil
Oct. 6 - Carioca Club, Sao Paulo, Brazil
Oct. 9 - Palermo Club, Buenos Aires, Argentina
Oct. 10 - Blondie, Santiago, Chile
Oct. 12 - Auditorio Lumiere, Bogota, Colombia
Oct. 14 - Lunario, Mexico City, Mexico
More tour dates at:
floggingmolly.com
AUGUST 3, 2018
THE EXPLOITED FRONTMAN WATTIE IS BACK IN HOSPITAL
Scottish punk legends The EXPLOITED have been forced to cancel their apperance at Rebellion Festival in Blackpool, UK this weekend. Their legendary singer, Wattie Buchan, is back at the hospital. Wattie has struggled with health/heart issues during the last years.
the-exploited.net
rebellionfestivals.com
AUGUST 2, 2018
INTO ETERNITY SIGN WITH M-THEORY AUDIO
Canadian extreme/progressive metal quintet INTO ETERNITY have signed with M-Theory Audio, and will release their 6th album, "The Sirens", on October 26. It will be available on both LP and CD, as well as digital.
Originally, INTO ETERNITY intended to self-release "The Sirens" (on August 3) after a planned release through a European label fell through. But that won't happen now.
Physical pre-order:
m-theoryaudio.com/store
Digital pre-order:
intoeternitysk.bandcamp.com/releases
My review of "The Sirens"
m-theoryaudio.com
intoeternity.net
EX-DEICIDE MEMBERS ERIC AND BRIAN HOFFMAN SIGN WITH HAMMERHEART RECORDS
Hammerheart Records has entered into an agreement with former DEICIDE members Eric and Brian Hoffman to work together on AMON and the classic DEICIDE catalog.
AMON was the band that changed its name to DEICIDE in 1989. When Eric and Brian left DEICIDE, they resurrected AMON and released an album called "Liar In Wait" in 2012. Hammerheart will now reissue "Liar In Wait", and also the legendary AMON demos from 1987 and 1989. It looks like there will be a new album with AMON as well.
Hammerheart will also reissue all the DEICIDE albums that were released between 1990 and 2001. All albums will get a deluxe treatment, remastering, 2-CD editions, bonus tracks (tons of never-released recordings), LP editions (first time for some), digital, MC, merchandise.
After releasing its second full-length album, AMON will tour worldwide and play a full set of only old-school songs, taken from the first 4 DEICIDE albums. This will happen in 2019.
hammerheart.com
AUGUST 1, 2018
ARCH ENEMY POSTPONES NORTH AMERICAN TOUR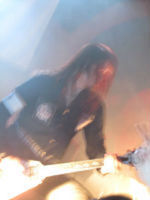 International metal band ARCH ENEMY has postponed its previously announced North American tour until 2019, due to reasons beyond their control. The 22-city tour was scheduled to kick off on September 28 in Providence, Rhode Island and run through October 27 at the Starland Ballroom in Sayreville, New Jersey.
Ticket and VIP refunds are available at point of purchase.
archenemy.net
JOAN JETT DOCUMENTARY TO BE RELEASED IN SEPTEMBER
The Joan Jett documentary "Bad Reputation" will be released in theaters and on demand on September 28 (probably just in the States).
joanjett.com
DEBUT ALBUM WITH BLACK INK RIVER LATER THIS YEAR
Swedish vintage rock band BLACK INK RIVER - featuring members of WOLF, GRANDEXIT, MONACO BLUES BAND and UNCLE DOGHOUSE - will release its debut album, "Headstrong", later this year via GMR Music Group.
youtu.be/7I5Y6bGC6QU
PICTURE SIGNS WITH PURE STEEL RECORDS
Dutch heavy metal veterans PICTURE have signed a worldwide deal with Pure Steel Records. The deal will be for the bands all new live album, titled "PICTURE LIVE: 40 Years Heavy Metal Ears, 1978-2018".
As part of the deal, PICTURE have also announced the release, for the first time on vinyl, of "Old Dog New Tricks" from 2009 and "War Horse" from 2012.
More details will be announced later..
pictureband.nl
puresteel-records.com