10 LATEST REVIEWS
The WHY OH WHY'S: Hoochie - Single (Garage rock)
AXEMASTER: Crawling Chaos - Album (U.S. metal)
ALEA JACTA: Tales Of Void And Dependence - Album (Modern metal)
ABSALEM: Chaosvolution - Album (Hard metal)
ACCIDENTAL SUICIDE: Dead Erotica - Album (reissue) (Death metal)
DEVASTATION: Dispensable Bloodshed - Album (Extreme/Death metal)
DISCIPLES OF POWER: Powertrap - Album (reissue) (Thrash/Death metal)
FUNERAL NATION: Molted From Sin - Album (Reissue) (Thrash/Black metal)
JUMPIN' JESUS: The Art Of Crucifying - Album (reissue) (Death metal)
MYSTIFIER: Profanus - Album (reissue) (Death/Thrash metal)
MORE REVIEWS »

CRADLE OF FILTH TO PLAY THEIR FIRST SHOW IN ISRAEL
British extreme metal band CRADLE OF FILTH will play in Israel for the first time on March 10, 2018 at Redaing 3 in Tel Aviv.
This show will mark the end of the European leg of their World tour before the band head off to South America.
cradleoffilth.com GUS G. SIGNS WITH AFM RECORDS
Greek guitar virtuoso Gus G., well known in rock and metal circles for his work as Ozzy Osbourne's guitarist and as leader of his own band FIREWIND, has signed a worldwide deal with AFM Records for his solo band.
Gus is currently working on a brand new solo album for an April 2018 release. In the meantime, the guitarist will embark on a North American tour with Vinnie Moore, kicking off on November 28 in Derry, New Hampshire. Gus will present a surprising, brand new power trio lineup for the very first time: he will be joined by Dennis Ward on bass/vocals and Richie Monica on drums.
For tour dates, check out gusgofficial.com ROSE TATTOO, TURBONEGRO AND SLADE CONFIRMED FOR SWEDEN ROCK FESTIVAL
ROSE TATTOO, BODY COUNT, TURBONEGRO, SKINDRED, SLADE, The DARK ELEMENT and Bernie Tormé have been confirmed for next summer's Sweden Rock Festival, which take place in Sölvesborg, Sweden on June 6-9, 2018.
Confirmed since earlier are Ozzy Osbourne, HEAVY LOAD, IRON MAIDEN, JUDAS PRIEST, HELLOWEEN, KREATOR, VIXEN, PRETTY MAIDS, NAZARETH, Joe Lynn Turner, BULLET, F.K.Ü., The QUILL etc.
Tickets go on sale Friday, November 24.
More info at swedenrock.com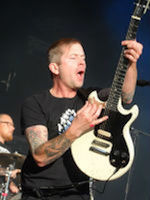 MILLENCOLIN ANNOUNCES NEW DATES IN SWEDEN
Swedish skate punk legends MILLENCOLIN will be playing in Göteborg and Stockholm, Sweden in February 2018. Support act will be STILETT, and tickets go on sale Friday, November 24.
The dates are:
Feb. 9 - Pustervik, Göteborg
Feb 10 - Kägelbanan, Stockholm
millencolin.com ANTHRAX TO REISSUE JOHN BUSH ERA ALBUMS
ANTHRAX's "We've Come For You All" (2003) and "The Greater Of Two Evils" (2004) albums will be reissued on December 22 via Nuclear Blast.
The 2 LPs will be available for purchase via CD in one package, and also available via limited-edition gatefold vinyl as separate pieces.
Singer on both albums was John Bush.
anthrax.com BLACK SABBATH DRUMMER BILL WARD HOSPITALIZED
BLACK SABBATH drummer Bill Ward wound up in hospital this past weekend with heart problems. He's okay and in good recovery at this time, but becuase of this he have to cancel the previously announced U.S. West Coast tour, with his new band DAY OF ERRORS, which was scheduled to take place in early December.
DAY OF ERRORS has just released its first 2 songs, "Day Of Errors" and "Blaspheming At Creation" via iTunes, Spotify, Amazon MP3 and Google Play. SODOM, BELPHEGOR AND MERCILESS CONFIRMED FOR SAVING CHRISTMASS
As you might remember the Black Christmass festival in Norrköping, Sweden was cancelled this year. But as a small solution some of the bands that were supposed to play at the festival will be playing after all at the mini festival Saving Christmass. The date is December 15 at Arbis in Norrköping, and the bands that will play are SODOM, BELPHEGOR, MERCILESS, TYRANEX and THRONE OF HERESY.
Tickets and more info at skrikhult.se DEF LEPPARD WRITING NEW MATERIAL
DEF LEPPARD has commenced the songwriting process for the follow-up to 2015's self-titled album.
defleppard.com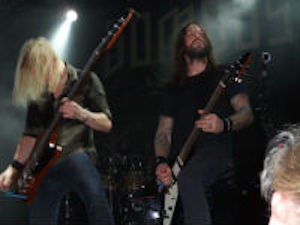 TREAT ARE WORKING ON A NEW ALBUM
Swedish melodic hard rockers TREAT are currently in the studio to record a new album, which will be released sometime in 2018 via Frontiers Music srl.
facebook.com/treatofficial BOMBUS RECORDING NEW ALBUM
Swedish metal band BOMBUS has entered the studio during the weekend to record a new album.
facebook.com/bombusmusic MALCOLM YOUNG IS DEAD
AC/DC guitarist Malcolm Young has passed away at the age of 64.
Malcolm had been suffering from Dementia for several years and passed away peacefully on Saturday (Nov. 18) with his family by his bedside.
acdc.com W.A.S.P. TO RELEASE "REIDOLIZED" IN FEBRUARY
Napalm Records proudly presents "ReIdolized (The Soundtrack To The Crimson Idol)", the 25th anniversary of the iconic hit album plus the original "The Crimson Idol" movie on DVD and Blu-ray. For the first time ever as originally intended — film and soundtrack united and released as 1 special product. The product will also feature 4 missing songs that were originally intended to be part of the original "The Crimson Idol".
"ReIdolized (The Soundtrack To The Crimson Idol)" will be released worldwide on February 2, 2018 via Napalm Records.
waspnation.com napalmrecords.com NEW COVERS EP WITH IN FLAMES
Swedish metal band IN FLAMES have surprised fans by releasing a 4-track covers EP, "Down, Wicked & No Good".
The EP includes covers of DEPECHE MODE's "It's No Good", ALICE IN CHAINS' "Down In A Hole", Chris Isaak's "Wicked Game", and a live bonus version of NINE INCH NAILS' "Hurt".
As far as I can understand it's just available digitally.
inflames.com D.R.I. ANNOUNCES BELGIUM/UK TOUR
American crossover pioneers D.R.I. will play a show at Brakrock Ecofest in Duffel, Belgium on August 3, 2018. After that they are going on a UK tour, where the dates are these:
Aug. 04 - Underworld, London
Aug. 05 - Rebellion Festival, Blackpool
Aug. 07 - Think Tank, Newcastle
Aug. 08 - Audio, Glasgow
Aug. 09 - Bannermans, Edinburgh
Aug. 10 - Limelight, Belfast
Aug. 11 - Voodoo Lounge, Dublin
dirtyrottenimbeciles.com STATUS QUO ANNOUNCES GERMAN TOUR DATES
STATUS QUO will bring their "Plugged In, Live and Rockin'" tour to Germany in June and August 2018. The dates are:
June 8 - Sparkassenarena, Aurich
June 9 - Legends @ The Sea, Büsum
Aug. 3 - Parkbühne, Leipzig
Aug. 11 - Ritterhuder Torfnacht, Ritterhude
Aug. 18 - Alter Hafen, Wanfried
More dates (like an upcoming UK tour in Nov./Dec.) at statusquo.co.uk URIAH HEEP TO RECORD NEW ALBUM
British rock veterans URIAH HEEP are working on a new album, which will be titled "Living The Dream". It will be their 25th studio album, and they plan to release it in the fall 2018 via Frontiers Music SRL.
A full tour in support of the new release will be announced in the coming months.
uriah-heep.com frontiers.it NEXT SUMMER'S VANS WARPED TOUR WILL BE THE LAST
Vans Warped Tour, the last major annual traveling music festival in North America, has announced that 2018 will be its final year, marking the tour's 24th edition since it first launched in 1995. No lineup has been announced as of yet, but the tour itinerary has been confirmed. The trek will begin on June 21 in Pomona, California, coming to a close on August 5 in West Palm Beach, Florida.
For more information, go to vanswarpedtour.com
TOTALT JÄVLA MÖRKER SAYS GOODBYE
It looks like Swedish crust/metal/punks TOTALT JÄVLA MÖRKER's tour in Sweden and Norway in early December will be their last shows. You could also see it as that they celebrate 20 years by breaking up.
Take the chance to see them 1 last time at the following dates:
Dec. 2 - Studion, Umeå, Sweden
Dec. 7 - Pustervik, Göteborg, Sweden
Dec. 8 - John Dee, Oslo, Norway
Dec. 9 - Mejeriet, Lund, Sweden
Dec. 10 - Kraken, Stockholm, Sweden
facebook.com/totaltjavlamorker EUROPE ANNOUNCES 2018 UK TOUR
EUROPE are going on a UK tour in September 2018, with support from KING KING.
The dates are:
Fri 14 - Manchester, Academy
Sat 15 - Glasgow, Barrowlands
Mon 17 - Newcastle, O2 Academy
Tue 18 - Nottingham, Rock City
Wed 19 - Birmingham, O2 Institute
Fri 21 - Cardiff, St David's Hall
Sat 22 - Portsmouth, Pyramids Centre
Sun 23 - London, Royal Albert Hall
Monday 24 - Brighton, Dome
Tickets go on sale Friday, November 24.
europetheband.com NEW ALBUM WITH VOJD IN FEBRUARY
Swedish hard rock/heavy metal band VOJD (formerly known as BLACK TRIP) will release a album, "The Outer Ocean", on February 23, 2018 via High Roller Records.
facebook.com/vojdofficial THUNDERMOTHER CONFIRMED FOR SABATON OPEN AIR
THUNDERMOTHER have been confirmed for Sabaton Open Air in Falun, Sweden on August 15-18, 2018.
Confirmed since earlier are SABATON (as always), SEPULTURA, PRIMAL FEAR, BATTLE BEAST, HULKOFF, BEAST IN BLACK, ELEINE and some band with a logo I can't read.
For more info, go to sabatonopenair.net LIVE ALBUM WITH LINKIN PARK IN DECEMBER
LINKIN PARK will release a live album, "One More Light Live", on December 15. It was recorded live on the band's "One More Light" world tour. STONE TEMPLE PILOTS HAVE FOUND A NEW FRONTMAN
STONE TEMPLE PILOTS have selected one-time "The X Factor" contestant Jeff Gutt as their new vocalist.
JUDAS PRIEST, HELLOWEEN AND KREATOR CONFIRMED FOR SWEDEN ROCK FESTIVAL
26 more acts have been confirmed for Sweden Rock Festival in Sölvesborg, Sweden on June 6-9, 2018. Among these artists are: JUDAS PRIEST, HELLOWEEN, KREATOR, STONE SOUR, Tarja, VIXEN, PRETTY MAIDS, PRIMORDIAL, Joe Lynn Turner, SUFFOCATION, NAZARETH, ROTTING CHRIST, NOCTURNAL RITES, The 69 EYES, CYHRA, BULLET, F.K.Ü., The QUILL, LUGNET etc.
Confirmed since earlier are IRON MAIDEN, Ozzy Osbourne and HEAVY LOAD.
Tickets go on sale Friday, November 24.
More info at swedenrock.com




'77 PARTS WAYS WITH BASSIST
Guillem Martinez, bassist for Spanish hard rock band '77, has decided to leave the band after 3 years due to personal reasons.
77rocks.com DOCUMENTARY ABOUT SWEDISH PUNK ON SWEDISH TV
Swedish TV station SVT are going to show a documentary about the Swedish punk scene in 3 parts. The first one will be sent on Christmas Eve (Dec. 24). And that's all I know at the moment..
And while we talk about Swedish TV.. Same TV station will show a documentary about the Swedish rock band DAG VAG on December 22 at 20.00.
svt.se SEPULTURA CONFIRMED FOR SABATON OPEN AIR
SEPULTURA have been confirmed for Sabaton Open Air in Falun, Sweden on August 15-18, 2018.
Confirmed since earlier are SABATON (as always), PRIMAL FEAR, BATTLE BEAST, HULKOFF, BEAST IN BLACK, ELEINE and some band with a logo I can't read.
For more info, go to sabatonopenair.net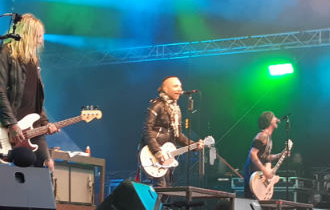 BACKYARD BABIES ANNOUNCES SOUTH AMERICAN TOUR
Swedish hard rockers BACKYARD BABIES are going to South America for 3 shows in March 2018. The dates are:
Mar. 23 - Santiago, Chile
Mar. 24 - Buenos Aires, Argentina
Mar. 25 - Sao Paulo, Brazil
backyardbabies.com NEW ALBUM WITH BLAZE BAYLEY IN MARCH
British heavy metal vocalist Blaze Bayley (IRON MAIDEN, WOLFSBANE) will release the 3rd album in his "Infinite Entanglement" trilogy on March 2, 2018 and has announced pre-order packages, plus an world tour schedule for Europe, USA, Canada and Latin America. The new album is called "The Redemption Of William Black".
More info at blazebayley.net CHILDREN OF BODOM TO RECORD NEW ALBUM NEXT YEAR
Finnish metal band CHILDREN OF BODOM will enter the studio at the end of March to begin recording their new album for a late 2018 release.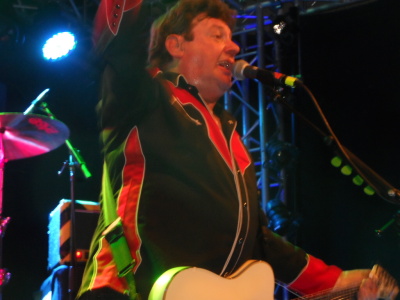 STIFF LITTLE FINGERS ANNOUNCES UK TOUR
Norther Irish punk veterans STIFF LITTLE FINGERS are going on a UK tour in March. Support act on all dates will be RUTS DC, and the dates we talk about are:
Mar. 09 Cardiff Tramshed
Mar. 10 Bristol Academy
Mar. 11 Norwich Waterfront
Mar. 13 Manchester Ritz
Mar. 14 Nottingham Rock City
Mar. 16 Newcastle Academy
Mar. 17 Quaint Fishing Village on the Clyde Barrow land
Mar. 18 Inverness Ironworks
Mar. 19 Aberdeen Lemon Tree
Mar. 21 Reading Sub 89
Mar. 22 Brighton Concorde 2
Mar. 23 London Forum
Ticket links will be up on Tuesday, November 14 at slf.rocks
IRON MAIDEN ANNOUNCES EUROPEAN SUMMER TOUR
IRON MAIDEN are going on a European tour next summer, which will kick off in Tallin, Estonia on May 26 and finnish in London, England on August 10. Special guests will be KILLSWITCH ENGAGE.
Tickets for most of the shows go on-sale Friday, November 24. Pre-sales start Monday, November 20.
Dates and more information can be found at ironmaiden.com IRON MAIDEN CONFIRMED FOR SWEDEN ROCK FESTIVAL
IRON MAIDEN have been confirmed for Sweden Rock Festival in Sölvesborg, Sweden on June 6-9, 2018.
Confirmed since earlier are Ozzy Osbourne and a reunited HEAVY LOAD.
swedenrock.com BLACK CHRISTMASS HAS BEEN CANCELLED
Swedish extreme metal festival Black Christmass has been cancelled due to poor ticket sales.
skrikhult.se NEW BAND WITH FORMER BOLT THROWER AND MASSACRE SINGERS
TROIKADON is a new triple-throated band featuring Kam Lee (ex-MASSACRE, DEATH), Dave Ingram (ex-BOLT THROWER, HAIL OF BULLETS) and Karl Willetts (MEMORIAM, ex-BOLT THROWER) on vocals, along with Rogga Johansson (PAGANIZER, DOWN AMONG The DEAD MEN) on guitar, Jonny Pettersson (ASHCLOUD, WOMBBATH) on bass, and Travis Ruvo (CROPSY MANIAC, ECHELON, HELLFROST & FIRE) on drums.
This brand new old-school project will be bringing its full-length album, "Triumvirate Of Death", to the world in 2018.
facebook.com/Troikadon EXISTENZ CLASSIC TO BE RE-RELEASED IN 2018
Reunited Swedish punk band EXISTENZ will have their classic 12" EP "Let's Get Drunk Before It's Too Late" re-released on vinyl by HepTown Records in 2018.
That's all I know right now..
facebook.com/existenzpunk FAITH NO MORE SINGER CHUCK MOSLEY IS DEAD
Former FAITH NO MORE singer Chuck Mosley has died at the age of 57.
After a long period of sobriety, Charles Henry Mosley III lost his life on November 9 due to the disease of addiction.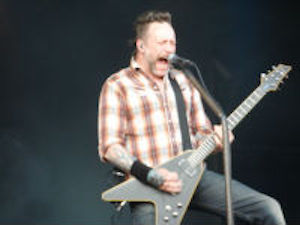 NEW SINGLE WITH MUSTASCH LATER THIS MONTH
Swedish heavy hard rockers MUSTASCH will release a new single, "Fire", which features a guest apperance by Hank Von Helvete (ex-TURBONEGRO). The single will be available on November 24.
mustasch.net D.R.I. ANNOUNCES SOUTH AMERICAN TOUR
American crossover legends D.R.I. are going to South America for a short tour in April 2018. The dates are:
April 6 - Mangos, Lima, Peru
April 8 - Teatro Caupolican, Santiago, Chile
April 11 - Botequim, Belem, Brazil
April 13 - Bar Ba Montanha, Limeira, Brazil
April 14 - Clash Club, Sao Paulo, Brazil
April 15 - To be announced, Somewhere in Brazil
dirtyrottenimbeciles.com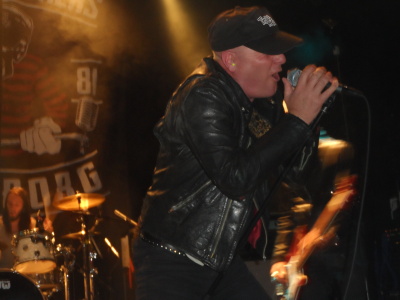 TROUBLEMAKERS, VÄNSTERNÄVEN AND THE PAST CONFIRMED FOR UDDEVALLA PUNK INVASION
TROUBLEMAKERS, VÄNSTERNÄVEN, The PAST, CITY SAINTS, HEADONS and The CRASH LANDINGS have been confirmed for Uddevalla Punk Invation on January 26, 2018 in Uddevalla, Sweden (venue to be announced). DARK FUNERAL DRUMMER TAKE TIMEOUT
Swedish black metal veterans DARK FUNERAL's drummer, Nils "Dominator" Fjellström, is taking a timeout from the band to handle personal matters.
The band have hired a drummer called "Jalomaah" to fill in Nils position until further notice. And his first show will be today (Nov. 10) at Aalborg Metal Festival in Denmark.
darkfuneral.se GUNS N' ROSES ANNOUNCES EUROPEAN SUMMER TOUR
GUNS N' ROSES are coming back to Europe next summer (June/July 2018) to play at festivals, arenas and stadiums.
For dates and other info, check out gunsnroses.com ONSLAUGHT TAKE A BREAK TO WRITE NEW MATERIAL
Following a recent health issue for ONSLAUGHT guitarist Nige Rockett, the British thrash veterans will take a short break from touring after the upcoming Black Christmass festival in Sweden on December 15, to focus on writing and recording new material for their next studio album.
Following an accident in Germany while on tour, Nige suffered quite a severe blunt force trauma injury, which resulted in him receiving a partially collapsed lung and internal bleeding. Now he has to recover from that.
onslaughtuk.com VIXEN HAVE RECORDED A NEW SINGLE
Veteran female melodic hard rockers VIXEN have recorded a new single as well as an acoustic version of one of the band's classic hits. The new recordings are expected to be included as "bonus surprises" on the band's upcoming live album, which was recorded on August 12 at the Arcada Theatre in St. Charles, Illinois. The disc is being mixed by Michael Wagener (METALLICA, MEGADETH, Alice Cooper, DOKKEN, SKID ROW) at his WireWorld studio outside of Nashville, Tennessee.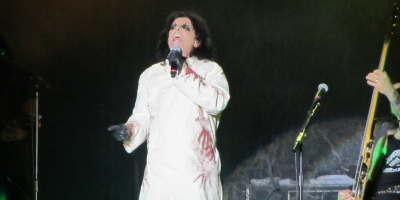 ALICE COOPER AMONG NOMINEES FOR SONGWRITERS HALL OF FAME
Alice Cooper is among the 2018 nominees for induction into the Songwriters Hall Of Fame. Other nominees include Mariah Carey, Tom Waits, The PRETENDERS founder Chrissie Hynde, The ISLEY BROTHERS and John Mellencamp.
The Songwriters Hall Of Fame is dedicated to recognizing the work and lives of those composers and lyricists who create music around the world. To qualify for induction, a songwriter must be a published writer for a minimum of 20 years with a notable catalog of hit songs. Eligible voting members will have until December 17, 2017 to turn in ballots with their choices of 3 nominees from a non-performing and 3 from a performing category. 6 songwriters, or songwriting groups, will be officially inducted on June 14, 2018 at the annual Songwriters Hall Of Fame gala in New York.
alicecooper.com THE 69 EYES TO RELEASE CHRISTMAS SONG
Finnish goth rockers The 69 EYES will release a Christmas song, "Christmas In New York City", on November 24. It will be available for download and streaming from http://nblast.de/The69EyesDigital
There will also be a video for the song on the same date.
The band is currently working on new material for their next studio album.
69eyes.com
MORE NEWS Take Me To The Top


This site has been online since 2001.
All reviews and photos/images by Jimmy Blom.