10 LATEST REVIEWS
SLAVERIET: När Röken Lagt Sig - EP (Melodic punk rock)
Rick Parfitt: Over And Out - Album (Rock n Roll)
PARKWAY DRIVE: The Void - Single (Metal)
HOT SNAKES: Jericho Sirens - Album (Energetic punk rock)
QFT: Aliens - Single (Melodic hard rock)
BAD BREEDING: Abandonment - Single (Punk)
ABRAMIS BRAMA: Vem Är Du? - Single (Heavy rock)
HELLAVISTA: Robolution - Album (Groove/Thrash metal)
GREYSTONE CANYON: While The Wheels Still Turn - Album (Hard rock/metal)
FUZZ LORD: Fuzz Lord - Album (Stoner/Doom)
MORE REVIEWS »
SEPULTURA DOCUMENTARY TO RECEIVE DVD AND BLU-RAY RELEASE
SEPULTURA's official documentary, "Sepultura Endurance", will tentatively be released on DVD and Blu-ray this fall. MILLENNIUM SIGNS WITH PURE STEEL RECORDS
New Wave Of British Heavy Metal band MILLENNIUM have signed a worldwide deal with Pure Steel Records.
millenniumofficial.com puresteel-records.com HORISONT CONFIRMED FOR MUSKELROCK
HORISONT have been confirmed for the Muskelrock festival in Alvesta, Sweden on May 31 to June 2.
Confirmed since earlier are THOR, OLIVER/DAWSON SAXON, BULLET, ICE AGE, HONEYMOON DISEASE, SPIDERS, RAM, MAIDAVALE, HÄLLAS, DEATH ALLEY, MEFISTO, NIGHT VIPER, COUNT RAVEN, LUCIFER, JEX THOTH, MANILLA ROAD, NIGHT etc.
muskelrock.com NEW ALBUM WITH SVINTASK IN APRIL
Swedish punk band SVINTASK will release a new CD, "Svinhugg Går Igen", on April 3.
You can buy it from amty.se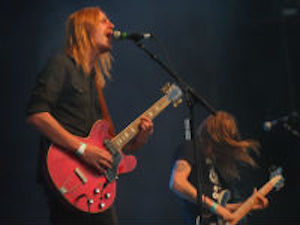 NEW ALBUM WITH GRAVEYARD IN MAY
Swedish retro rock band GRAVEYARD will release their 5th album, "Peace", on May 25.
Pre-order it at lnk.to/PreOrderPeace
facebook.com/graveyardofficial RIVAL SONS CONFIRMED FOR METALLSVENSKAN
RIVAL SONS have been confirmed for the Metallsvenskan festival in Norrköping, Sweden on June 15-16.
Confirmed since earlier are W.A.S.P., GRAVEYARD, SATYRICON, PAIN, F.K.Ü., HULKOFF, The KRISTET UTSEENDE, EXODUS, BULLET etc.
metallsvenskan.net NEW SINGLE WITH KÖTTGROTTORNA
Swedish punk rock veterans KÖTTGROTTORNA have released a new digital single, "40 År", on Spotify and other platforms today (Mar. 23).
facebook.com/kottgrottorna MAIDAVALE CONFIRMED FOR MUSKELROCK
MAIDAVALE are the latest act to be confirmed for the Muskelrock festival in Alvesta, Sweden on May 31 to June 2.
Confirmed since earlier are THOR, OLIVER/DAWSON SAXON, BULLET, ICE AGE, HONEYMOON DISEASE, SPIDERS, RAM, HÄLLAS, DEATH ALLEY, MEFISTO, NIGHT VIPER, COUNT RAVEN, LUCIFER, JEX THOTH, MANILLA ROAD, NIGHT etc.
muskelrock.com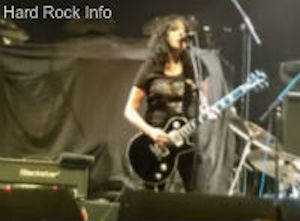 ROSE TATTOO TEAM UP WITH GIRLSCHOOL FOR UK/IRELAND TOUR
Australian rock veterans ROSE TATTOO are going on a tour in UK and Ireland in September together with GIRLSCHOOL. The dates are:
Sep. 6 - O2 ABC Glasgow, Glasgow, Scotland
Sep. 7 - Limelight 2, Belfast, Ireland
Sep. 8 - Voodoo Lounge, Dublin, Ireland
Sep. 11 - O2 Academy 2, Birminham, England
Sep. 13 - O2 Islington Academy, London, England
rosetattoo.com.au girlschool.co.uk DEBUT ALBUM WITH BIG KIZZ IN MAY
BIG KIZZ — a rock band featuring drummer Axel Sjöberg (ex-GRAVEYARD), guitarist John Hoyles (SPIDERS, ex-WITCHCRAFT) on bass and vocalist/guitarist Pontus Westerman from Swedish garage outfit LADY BANANA — will release its debut album, "Music Is Magic", on May 18 via Tee Pee Records. EX-THE STOOGES GUITARIST JAMES WILLIAMSON GOT A NEW BAND
Former The STOOGES guitarist James Williamson have a new band called JAMES WILLIAMSON & THE PINK HEARTS. The band is fronted by Los Angeles-based vocalists Frank Meyer (The STREETWALKIN' CHEETAHS) and Petra Haden (THAT DOG, The HADEN TRIPLETS). THE PINK HEARTS' repertoire encompasses everything from feral rockers to soul-searching balladry. The album "Behind The Shade By James Williamson & The Pink Hearts" will be released on LP+CD, standalone CD, and digitally by Leopard Lady Records on Friday, June 22.
youtu.be/lBLQKo4-ThI CARCASS AND ELUVEITIE CONFIRMED FOR GEFLE METAL FESTIVAL
CARCASS and ELUVEITIE have been confirmed for Gefle Metal Festival in Gävle, Sweden on July 13-14.
Confirmed since earlier are WATAIN, VENOM, CHILDREN OF BODOM, AT THE GATES, SOULFLY, SODOM, GRAVE DIGGER, TRIBULATION, F.K.Ü., TYRANEX, The LURKING FEAR etc.
geflemetalfestival.se NEW 12" EP WITH ANATOMI-71 OUT NOW
Swedish hardcore/punk band ANATOMI-71 got a new 12" EP, "Människor Som Medel", out now.
Read more and order it at anatomi-71.blogspot.se/2018/03/new-record-out-now.html ALICE COOPER GUITARIST MICHAEL BRUCE'S BIOGRAPHY REVISED
Much to the excitement of ALICE COOPER group fans worldwide, Gonzo Multimedia will release Michael Bruce's critically acclaimed biography "No More Mr. Nice Guy" revised. Also available is a limited edition signed by Michael Bruce himself, who was guitarist, keyboard player and main song writer in the band.
You can order the book at pledgemusic.com/projects/michael-bruce-no-more-mr-nice-guy NO MORE 7 SECONDS
American hardcore/punk veterans 7 SECONDS have announced their breakup after more than 38 years. 1 of the reasons is health issues.
Read more about it here: facebook.com/official7seconds NEW ALBUM WITH HIGH ON FIRE LATER THIS YEAR
California heavy rockers HIGH ON FIRE have wrapped production on their 8th studio LP, due later this year. DROPKICK MURPHYS TEAM UP WITH FLOGGING MOLLY FOR U.S. TOUR
Celtic punk bands DROPKICK MURPHYS and FLOGGING MOLLY will be heading out on a co-headlining tour through North America in June. The tour will kick off in Cleveland, OH on June 1 and end in Gilford, NH on June 23.
For exact dates and other details, visit dropkickmurphys.com or floggingmolly.com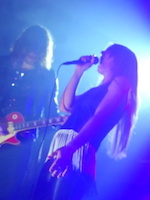 SPIDERS CONFIRMED FOR MUSKELROCK
SPIDERS have been confirmed for the Muskelrock festival in Alvesta, Sweden on May 31 to June 2.
Confirmed since earlier are THOR, OLIVER/DAWSON SAXON, BULLET, ICE AGE, HONEYMOON DISEASE, RAM, HÄLLAS, DEATH ALLEY, MEFISTO, NIGHT VIPER, COUNT RAVEN, LUCIFER, JEX THOTH, MANILLA ROAD, NIGHT etc.
muskelrock.com SKID ROW ANNOUNCES NEW SHOWS IN UK
As you might know, American hard rock veterans SKID ROW was forced to postpone the last shows on their current UK tour. These dates have now been rescheduled, and will take place in August.
Here's the new dates:
Aug. 14 - Waterfront, Norwich, England
Aug. 15 - Rock City, Nottingham, England
Aug. 19 - Concorde 2, Brighton, England
Aug. 20 - 02 Academy Bristol, Bristol, England
Aug. 22 - Dublin Academy, Dublin, Ireland
skidrow.com THUNDERMOTHER ANNOUNCES GERMAN TOUR
Swedish hard rockers THUNDERMOTHER are going on a tour in Germany in May. It seems like they will kick off the tour in Paris, France on May 13 before they go to Germany on May 15-24.
For more details, go to thundermother.com or facebook.com/thundermother AEROSMITH SINGER STEVEN TYLER ANNOUNCES SOLO TOUR DATES
AEROSMITH singer Steven Tyler has announced dates for North America and Europe this summer, with Nashville's LOVING MARY BAND as his backing group. The tour is set to launch on June 12 at Artwork Amphitheater in Lewiston, New York, and will conclude on August 7 at O2 Forum Kentish Town in London, England. Tickets go on sale from March 21.
Try steventyler.com for further details.. SANTA CRUZ IMPLODES IN THE MIDDLE OF U.S. TOUR
Finnish rockers SANTA CRUZ appear to have imploded in the middle of their tour of the United States of America as the support act for FOZZY.
The quartet kicked off its first U.S. tour in support of the "Bad Blood Rising" album earlier in the month in Houston and was scheduled to perform 2 dozen shows alongside FOZZY, THROUGH FIRE and DARK SKY CHOIR. However, those plans have now been derailed, with SANTA CRUZ announcing over the weekend that it was canceling the remaining dates on the trek.
In an Instagram post explaining why the rest of the tour was called off, SANTA CRUZ frontman Arttu "Archie Cruz" Kuosmanen claimed that his bandmates — guitarist Joonas "Johnny Cruz" Parkkonen, bassist Mitja "Middy Cruz" Toivonen and drummer Tapani "Tazzy Cruz" Fagerström — kicked him "out of the bus on the street like a pariah" and told him they were no longer members of the group.
For his part, Parkkonen said that he, Toivonen and Fagerström were "leaving SANTA CRUZ after facing issues that they could not solve even though we tried everything that we could to make this tour and band happen." He added: "I can't stay in a situation anymore where I have to be scared if somebody does irreversible harm to themselves or somebody else. That's why I'm leaving. I never thought I'd be in this situation, but I have no more options to use. I'm sorry." DISCHARGE ARE GOING ON EUROPEAN TOUR NEXT MONTH
British hardcore/punk legends DISCHARGE are going on a European tour in April, where they will visit countries like UK, Poland, The Netherlands, Germany, Austria, Czech Republic and Belgium.
Dates can be found at facebook.com/Dischargeofficial SKID ROW POSTPONE LAST 4 SHOWS IN UK
American hard rock veterans SKID ROW have been forced to cancel the 4 last dates on their UK tour due to illness to members of the band. Affected dates are March 19-22.
Tickets will be honored for rescheduled dates or refunded.
skidrow.com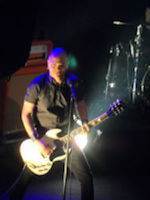 DANKO JONES CONFIRMED FOR SKOGSRÖJET
DANKO JONES have been confirmed for the Skogsröjet festival in Rejmyre, Sweden on August 3-4.
Confirmed since earlier are HAMMERFALL, STEEL PANTHER, DIRKSCHNEIDER, MR. BIG, DOKKEN, Lee Aaron, The QUIREBOYS, EVERGREY etc.
skogsrojet.se COUNT RAVEN CONFIRMED FOR MUSKELROCK
COUNT RAVEN are the latest act to be confirmed for the Muskelrock festival in Alvesta, Sweden on May 31 to June 2.
Muskelrock continue to confirm bands every day this month, and among the already confirmed artists are THOR, OLIVER/DAWSON SAXON, BULLET, ICE AGE, HONEYMOON DISEASE, RAM, HÄLLAS, DEATH ALLEY, MEFISTO, NIGHT VIPER, LUCIFER, JEX THOTH, MANILLA ROAD, NIGHT etc.
muskelrock.com



MINISTRY ANNOUNCES EUROPEAN TOUR
Industrial metal veterans MINISTRY have announced an extensive tour of Europe in July/August. Kicking off in Spain, the trek will bring Al Jourgensen and his troop to the summer festivals and will also see them perform several headline shows with various special guests, such as the haunting CHELSEA WOLFE, hardcore punk combo CONVERGE and post-rock highflyers GRAVE PLEASURES.
Dates can be found at ministryband.com MASTER SIGNS WITH TRANSCENDING OBSCURITY RECORDS
Death metal pioneers MASTER have inked a deal with Transcending Obscurity Records. The band's new album, "Vindictive Miscreant", will be released later in the year.
facebook.com/Master-18521536017 tometal.com
MORE NEWS Take Me To The Top


This site has been online since 2001.
All reviews and photos/images by Jimmy Blom.