NEW ALBUM WITH VIXEN IN JULY
American 80s melodic hard rock veterans VIXEN will release "Live Fire" on July 6 via Rat Pak Records. BLOODBATH FORCED TO CANCEL NORTH AMERICAN TOUR
Due to unforeseen and uncontrollable circumstances involving complications with the U.S. visa process, Swedish/British death metal supergroup BLOODBATH - which features in its ranks KATATONIA''s Jonas Renkse and Anders Nyström, along with OPETH's Martin Axenrot and PARADISE LOST's Nick Holmes - has been forced to postpone their previously announced North American tour dates. The band's excursion was set to begin this week and included performances at Maryland Deathfest and Modified Ghost festival. The tour will be rescheduled for a later date.
BLOODBATH recently entered the studio to begin recording the follow-up to 2014's "Grand Morbid Funeral" album.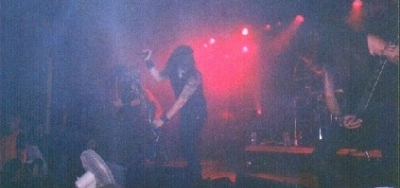 SATYRICON AND DARK TRANQUILLITY CONFIRMED FOR BORGHOLM BRINNER
SATYRICON and DARK TRANQUILLITY have been confirmed for the Borgholm Brinner festival in Borgholm, Sweden on July 27-28.
Confirmed since earlier are IN FLAMES (who arrange the festival), BULLET FOR MY VALENTINE, RAISED FIST, GRAVEYARD, DANKO JONES, COMEBACK KID and TRIBULATION.
borgholmbrinner.se/ NO FUN AT ALL TEAM UP WITH SATANIC SURFERS FOR 3 DATES IN SWEDEN
Swedish skate punk veterans NO FUN AT ALL will team up with SATANIC SURFERS for 3 shows in Sweden in November. Support act will be TWIN PIGS, and the dates are:
Nov. 8 - Kulturbolaget, Malmö
Nov. 9 - Kägelbanan, Stockholm
Nov. 10 - Pustervik, Göteborg
facebook.com/nofunatallofficial satanicsurfers.bandcamp.com facebook.com/twinpigspunk NAZARETH ANNOUNCES TITLE OF NEW ALBUM
Scottish rock veterans NAZARETH have set "Tattooed On My Brain" as the title of their new album, which probably will be released this fall via Frontiers Music Srl.
nazarethdirect.co.uk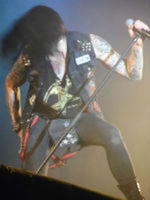 NEW ALBUM WITH HARDCORE SUPERSTAR IN SEPTEMBER
Swedish party hard rockers HARDCORE SUPERSTAR will release their 11th studio album, "You Can't Kill My Rock 'N Roll", on September 21 via Gain Music Entertainment.
hardcoresuperstar.com NEW EP WITH FABRIKEN IN JUNE
Swedish punk rockers FABRIKEN (with veterans from several other bands) will release a new EP, "Hoppa Av I Farten", on June 1 via Beat Butchers.
ifabriken.com beatbutchers.se SWEDISH DEATH VETERANS KENTHA PHILIPSON AND JÖRGEN SANDSTRÖM GOT A NEW DOOM BAND TOGETHER
Swedish death metal veterans Kentha Philipson (The PROJECT HATE MCMXCIX, ex-TORTURE DIVISION, GOD AMONG INSECTS) and Jörgen Sandström (The PROJECT HATE MCMXCIX, ex-ENTOMBED, GRAVE, TORTURE DIVISION, VICIOUS ART) got a new band called DOMEDAGEN, and they play doom.
Their first demo recording is available here: youtube.com/watch?v=fx68xnnDfog&feature=share
facebook.com/domedagen666 GUNS N' ROSES ANNOUNCES ASIAN TOUR DATES
GUNS N' ROSES have added some tour dates in a few Asian countries in November:
Nov. 8 - Jakarta, Indonesia
Nov. 11 - Manila, Philippines
Nov. 14 - Kuala Lumpur, Malaysia
Nov. 17 - Taipei, Taiwan
Nov. 20 and 21 - Hong Kong, China
Nov. 25 - Abu Dhabi, UAE
gunsnroses.com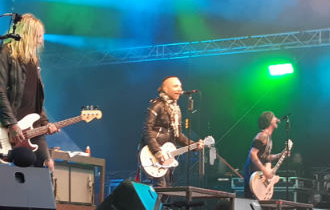 NEW SINGLE WITH BACKYARD BABIES IN JUNE
The new BACKYARD BABIES single, "Shovin' Rocks", will be released on June 8 on all digital platforms, and shortly after as a limited edition 12" vinyl maxi single.
"Shovin' Rocks" is taken from the forthcoming album "Sliver & Gold".
backyardbabies.com SOLO ALBUM WITH RYAN ROXIE
Ryan Roxie will release his new solo album, "Imagine Your Reality", on May 25 via Cargo Records UK. The vocalist, guitarist and songwriter, who is best known as Alice Cooper's longtime lead guitarist and collaborator, has also worked with Slash and Gilby Clarke and been a member of Classic Rock award-nominated band CASABLANCA.
"Imagine Your Reality" is Ryan's first official solo release and sees him joined by other noteworthy musicians, including a collaboration with CHEAP TRICK's Robin Zander on the track "California Man".
youtu.be/61ezD8zCC8M youtu.be/suQjRTKuqFs youtu.be/Dw8GQ6DIa38 DELUXE ANNIVERSARY VINYL REISSUES WITH DEATH IN JULY
Relapse Records has announced 3 deluxe, anniversary vinyl reissues of DEATH's legendary albums "Leprosy" (30 years), "Individual Thought Patterns" (25 years) and "The Sound Of Perseverance" (20 years). DEATH's anniversary vinyl will be released in stores and online on July 20 and will contain expanded, gatefold packaging and bonus LPs of extra content previously only available on the long sold-out deluxe boxset editions. NEW SINGLE WITH PRIMAL FEAR ON TUESDAY
International heavy metal veterans PRIMAL FEAR will release a new single, "Hounds Of Justice", on Tuesday, May 22.
primalfear.de DIRKSCHNEIDER AND U.D.O. HAVE FOUND A NEW GUITARIST
It looks like German heavy metal band DIRKSCHNEIDER/U.D.O. has found a guitarist to stand in for the upcoming 2018 festival shows. They have not revealed his name yet, but he knows all of the songs very well, and he will be playing with both bands until October 18.
Meanwhile DIRKSCHNEIDER and U.D.O. is trying out several different guitarists in the rehearsal studio, and is very optimistic to be able to announce a permanent replacement sometime during the summer of 2018.
The new U.D.O. album is scheduled for August 31 release, and the first U.D.O. tour dates for the end of 2018 will be announced soon.
For upcoming show dates, go to udo-online.com "THE MUSIC OF CREAM - 50TH ANNIVERSARY WORLD TOUR" IS COMING TO NORTH AMERICA IN THE FALL
Following their successful inaugural tour across Australia and New Zealand in 2017, the pedigree of hallowed '60s trio CREAM — Ginger Baker's son Kofi Baker, Jack Bruce's son Malcolm Bruce and Eric Clapton's nephew (by marriage) Will Johns — have come together for the first time in North America to pay homage to the band's extraordinary legacy with "The Music Of Cream - 50th Anniversary World Tour". The 8-week outing — kicking off September 28 in Ottawa and spanning 34 cities throughout North America this fall — will mark 50 years since the original lineup's farewell U.S. tour of 1968.
In addition, look for the announcement of 4 celebratory shows across the U.K. coming soon, coinciding with the anniversary of the original band's legendary Albert Hall farewell concert, November 26, 1968, ahead of a nationwide tour in the spring.
vimeo.com/269354585 FRIDAY SINGLES WITH HARDCORE SUPERSTAR, SIR REG AND TWIN PIGS
The following Swedish bands will release new digital singles on Friday, May 18:
HARDCORE SUPERSTAR, "Baboon" - Party hard rock from the street.
SIR REG, "FOOL (Fight Of Our Lives)" - Celtic punk rock.
TWIN PIGS, "Scandinavian Nightmare" - Punk.
All bands will have new albums out soon (before the year is over)..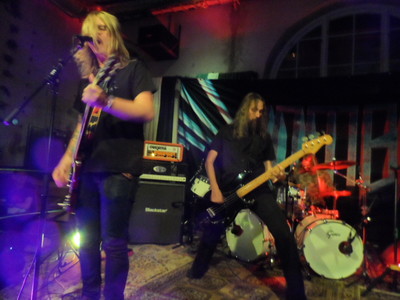 VOKONIS SIGNS WITH THE SIGN
Swedish sludge band VOKONIS has signed to The Sign Records. The band will enter the studio in August to record their 3rd album.
Ripple Music will re-release the band's debut album, "Olde One Ascending", on July 28. In 2019 they will appear in the movie "Planet Of Doom" with their song "Runa".
facebook.com/OfficialVokonis thesignrecords.com NEW ALBUM WITH CAULDRON IN SEPTEMBER
Canadian heavy metal trio CAULDRON will release its new album, "New Gods", on September 7 via The End Records (North America) and Dissonance Productions (Europe). METALLSVENSKAN HAS BEEN CANCELED
Swedish metal and football festival Metallsvenskan has been canceled due to poor ticket sales. Only 20% of the tickets has been sold.
The event was supposed to happen in Norrköping on June 15-16.
More info at metallsvenskan.net QUEEN MOVIE BOHEMIAN RHAPSODY AT CINEMAS IN THE FALL
The QUEEN film "Bohemian Rhapsody - The Movie" will be released to cinemas on October 24 in the UK and November 2 in the U.S.
Release dates for other territories to be announced soon..
queenonline.com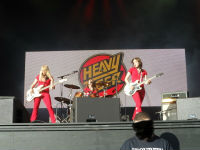 HEAVY TIGER TAKE A BREAK
Swedish female glam rock trio HEAVY TIGER let us know that they will take a break for a while.
facebook.com/heavytigermusic BOOK ABOUT BEASTIE BOYS IN OCTOBER
For a few years, BEASTIE BOYS have been stating that they were working on a history of the band. They have now released details about the book. It is simply called "Beastie Boys Book", and will be out October 30. It's almost 600 pages and is out via Spiegel & Grau.
In addition to the band's history, the book also includes rare photos, original illustrations, a cookbook by chef Roy Choi, a graphic novel, a map of BEASTIE BOYS' New York, mixtape playlists, and pieces by guest contributors.
You can pre-order the book today at: beastieboysbook.com
beastieboys.com DEF LEPPARD BEER FOR TOUR WITH JOURNEY
Def Leppard Pale is a co-operation between rock giants DEF LEPPARD and the American brewery Elysian Brewing. The beer will be unleashed for the massive co-headlining DEF LEPPARD and JOURNEY tour in North America this summer. The beer will be on sale starting May 23 (the second tour stop at Times Union Center in Albany, New York) and is available in 16oz cans and on draught at most concert venues and select restaurants, bars and pubs near the venue. The can was designed in tribute to the 30th anniversary of DEF LEPPARD's landmark album "Hysteria".
For more information, go to elysianbrewing.com/defleppardpale
DefLeppard.com
---
May 26, 2018 - Årrefest at Insikten/Kulturhuset, Jönköping, Sweden
ABNORM, RAJOITUS, SVAVELDIOXID, ÅTERFALL, GENERAL GENOCIDE, BOTTLE KIDS, HARÄKIRI and WELTSCHMERZ
More info at facebook.com/events/1843363722342026
---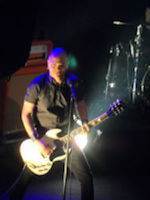 DANKO JONES ANNOUNCES EUROPEAN TOUR
Canadian rock trio DANKO JONES will be touring in Europe in November/December. Tickets go on sale today (May 14), and the dates can be found at dankojones.com ZEKE COMES BACK TO EUROPE IN NOVEMBER
American punk band ZEKE are coming back to Europe in November for a few shows in Finland, Germany, Hungary and Austria. The dates are:
14.11.2018 FI, Tampere, Klubi Tampere
15.11.2018 FI, Helsinki, Tavastia-klubi
16.11.2018 DE, Frankfurt, Das Bett
19.11.2018 DE, Dortmund, Hafenschänke subrosa
20.11.2018 DE, Dresden, Chemiefabrik Dresden (Chemo)
21.11.2018 DE, Nürnberg, Z-Bau
22.11.2018 DE, Regensburg, Kulturzentrum Alte Mälzerei
23.11.2018 HU, Budapest, Robot
25.11.2018 AT, Wien, Arena Wien
zekeband.com METALLICA TO EMBARK ON EUROPEAN TOUR IN 2019
METALLICA will embark on a European stadium tour in May 2019. The trek, which will run through August 2019, is expected to be officially announced in September.
metallica.com THERAPY? SIGNS WITH MARSHALL RECORDS
Irish rock veterans THERAPY? have announced a worldwide deal with Marshall Records, the label launched in 2016 by the legendary amplification company. The first release for their new label will be their 15th full length, titled "Cleave", and the first single, "Callow", is due to drop on May 25.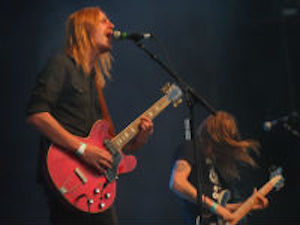 GRAVEYARD ANNOUNCES EUROPEAN TOUR WITH BOMBUS
Swedish retro rockers GRAVEYARD are going on a European tour in September/October with special guests BOMBUS.
There will also be a UK tour in November/December.
Check for dates at facebook.com/graveyardofficial or facebook.com/bombusmusic TAD MOROSE SIGNS WITH GMR MUSIC
Swedish metal veterans TAD MOROSE has signed a new record deal with GMR Music, who will release the band's 10th studio album, "Chapter X", on June 15.
tadmorose.se SLAYER ANNOUNCES DATES FOR THEIR LAST EUROPEAN TOUR
The dates for SLAYER's last European tour with LAMB OF GOD, ANTHRAX and OBITUARY in November/December are up now at slayer.net/tour NEW ALBUM WITH GRAHAM BONNET BAND IN JULY
Meldoic hard rockers GRAHAM BONNET BAND will release a new album, "Meanwhile, Back In The Garage", on July 13 via Frontiers Music Srl.
grahambonnetband.com frontiers.it NEW ALBUM WITH STEPHEN PEARCY LATER THIS YEAR
RATT singer Stephen Pearcy has set "View To A Thrill" as the tite of his 5th solo album, due later in the year via Frontiers Music Srl.
facebook.com/SEPearcy frontiers.it DEE SNIDER TO PLAY IN TEL AVIV
TWISTED SISTER frontman Dee Snider are coming to Tel Aviv, Israel for the first time ever on July 2.
Tickets available here: tixwise.co.il/he/deesnider FORMER MURDERDOLLS DRUMMER BEN GRAVES IS DEAD
Rock drummer Ben Graves (MURDERDOLLS, DOPE, PRETTY BOY FLOYD) passed away yesterday (Wednesday, May 9) after a year-long battle with cancer. He was only 46 years old.
---
May 26, 2018 - Årrefest at Insikten/Kulturhuset, Jönköping, Sweden - with ABNORM, RAJOITUS, SVAVELDIOXID, ÅTERFALL, GENERAL GENOCIDE, BOTTLE KIDS, HARÄKIRI and WELTSCHMERZ.
More info at facebook.com/events/1843363722342026
---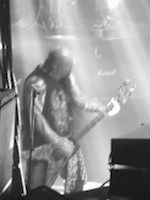 SLAYER TO TOUR EUROPE WITH LAMB OF GOD, ANTHRAX AND OBITUARY
SLAYER will embark on the European leg of its "farewell" tour in the fall. Support on the trek will come from LAMB OF GOD, ANTHRAX and OBITUARY.
So far the following dates have been leaked:
Nov. 14 - Dortmund, Germany
Nov. 15 - IJsselhallen, Zwolle, The Netherlands
Nov. 24 - Freiburg, Germany
Nov. 26 - Hamburg, Germany
Nov. 29 - München, Germany
Nov. 30 - Erfurt, Germany
Dec. 02 - Berlin, Germany
The full European tour is expected to be announced later this week..
slayer.net KIX CELEBRATES 30TH ANNIVERSARY OF "BLOW MY FUSE" ALBUM
Maryland hard rock veterans KIX will release "Fuse 30 Reblown" on September 21, exactly 30 years after "Blow My Fuse"'s original September 19, 1988 release date. NEW ALBUM WITH DEE SNIDER IN JULY
TWISTED SISTER frontman Dee Snider has inked a deal with Napalm Records for his upcoming solo album, titled "For The Love Of Metal", which will be released on July 27.
The effort features contributions from Howard Jones (ex-KILLSWITCH ENGAGE), Mark Morton (LAMB OF GOD), Alissa White-Gluz (ARCH ENEMY), Joel Grind and Nick Bellmore (TOXIC HOLOCAUST), and Charlie Bellmore (KINGDOM OF SORROW).
deesnider.com QUEEN + ADAM LAMBERT TO PLAY 10 SHOWS IN LAS VEGAS
QUEEN + ADAM LAMBERT will rock the Las Vegas Strip this fall with a 10-date limited engagement, "The Crown Jewels", at Park Theater at Park MGM in Las Vegas. Shows will be held September 1, 2, 5, 7, 8, 14, 15, 19, 21 and 22 at 8 p.m. Tickets will go on sale Friday, May 11.
queenonline.com L.A. GUNS ANNOUNCES UK/EUROPEAN TOUR
American hard rock veterans L.A. GUNS are coming to the UK and Europe in August/September. Special guests will be Jared James Nichols and STONE TRIGGER.
The dates are:
Fri 31 Aug - London, UK - Islington Academy
Sat 01 Sep - Sheffield, UK - HRH Sleaze
Sun 02 Sep - Newcastle, UK - Riverside
Tue 04 Sep - Bilston, UK - The Robin 2
Wed 05 Sep- Milton Keynes, UK - Craufurd Arms
Thu 06 Sep - Manchester, UK - Rebllion
Sat 08 Sep - Buckley, UK - Tivoli
Tue 11 Sep - Essen, Geramny - Turock
Wed 12 Sep - Aschaffenburg, Germany - Colos Saal
Fri 14 Sep - Paris, France - Savigny L'empreint
Sat 15 Sep - Raismes, France - Raismes Fest
Sun 16 Sep - Hull, UK - Hair Metal Heaven
lagunsmusic.com NEW ALBUM WITH KRISIUN IN SEPTEMBER
South American death metal trio KRISIUN will release their new album, "Scourge of the Enthroned", on September 7 via Century Media Records.
krisiun.com.br centurymedia.com MORE NEWS Take Me To The Top


This site has been online since 2001.
All reviews and photos/images by Jimmy Blom.