ROCK FOREVER! 10 LATEST REVIEWS
F.K.Ü.: Nightmares In A Damaged Brain - Single (Thrash metal)
GODHEAD MACHINERY: Ouroboros - Album (Extreme metal)
UFO: The Salentino Cuts - Album (Rock/Blues covers)
UNREAL TERROR: The New Chapter - Album (Heavy metal)
SPARZANZA: Announcing The End - Single (Hard rock/Metal)
SKARLETT RIOT: Break - Single (Modern metal)
CARDINALS FOLLY: Deranged Pagan Sons - Album (Doom metal)
BREAKING SAMSARA: Light Of A New Beginning - Album (Classic rock)
AUDIOREHAB: Keep Me Coming - Single (Hard rock)
TURBOCHARGED: Apocalyptic - Album (Deathpunk Metal)
MORE REVIEWS »
NEW MISFITS SHOW ADDED IN LAS VEGAS
The MISFITS show - with original members Glenn Danzig and Jerry Only, plus Doyle Wolfgang Von Frankenstein - at The Forum in Los Angeles on December 30 sold out in less than a minute when the tickets was released. So due to "unprecedented demand", they have added another show on December 28 at MGM Grand Garden Arena in Las Vegas. Support acts will be ALKALINE TRIO and FEAR.
Dave Lombardo (SUICIDAL TENDENCIES, ex-SLAYER) will once again be playing drums with the band. Acey Slade (ex-JOAN JETT AND THE BLACKHEARTS) will play second rythm guitar.
misfits.com NEW SINGLE WITH BLITZKRIEG IN DECEMBER
NWOBHM veterans BLITZKRIEG will release a new 7" vinyl single, "Reign Of Fire", on December 8 in a limited edition of 500 copies.
The band have just signed with Mighty Music, and plan to release a new album in 2018.
"Reign Of Fire" can be pre-ordered at the official BLITZKRIEG bandshop: targetshop.dk/blitzkrieg
blitzkriegmusic.com AUSTRALIAN ROCK LEGENDS UNITE FOR BON SCOTT TRIBUTE TOUR
Featuring a lineup that includes 2 former AC/DC members (Simon Wright and Mark Evans), late AC/DC singer Bon Scott's son (Dave Stevens), Aussie rock stalwarts from The ANGELS and The POOR (James Morley and Skeenie) and rounded off with YouTube tone maven Fil "SoloDallas" Olivieri, "Bon But Not Forgotten" brings together some of the world's finest rockers to pay tribute to Bon Scott.
Confirmed dates are:
Nov. 02 - Hamilton Hotel - Brisbane, Australia
Nov. 04 - Racehorse Hotel - Ipswich, Australia
Nov. 06 - Shoppingtown Hotel - Doncaster, Australia
Nov. 10 - The Grand Hotel - Mornington, Australia
Nov. 11 - The ESPY Gershwin Room - Melbourne, Australia SORROWS PATH GOT A NEW DRUMMER
Greek heavy/doom metal band SORROWS PATH are happy to announce that their new drummer is Thodoris Christodoulou.
My review of their latest album, "Touching Infinity", can be found here.
facebook.com/sorrowspath EX-CORROSION OF CONFORMITY VOCALIST ERIC EYCKE HAS DIED
Eric Eycke, who sang on CORROSION OF CONFORMITY's 1984 debut album, "Eye For An Eye", has passed away. Just prior to his death, Eycke had reportedly been in hospice with various maladies.
coc.com CHEAP TRICK TO RELEASE CHRISTMAS ALBUM
American rock veterans CHEAP TRICK will release their first holiday-themed album, "Christmas Christmas", on October 20 via Big Machine Records.
CHEAP TRICK delivers a sleigh full of rock and roll Christmas classics and festive favourites by WIZZARD, SLADE, Chuck Berry, RAMONES and The KINKS, as well as newly penned offerings.
cheaptrick.com 5 TESTAMENT CLASSICS TO BE REISSUED IN NOVEMBER
5 classic albums from San Francisco Bay Area thrashers TESTAMENT will be re-released on November 17 via Nuclear Blast. The albums are: "Live At The Fillmore" (1995), "Demonic" (1997), "The Gathering" (1999), "First Strike Still Deadly" (2001) and "Live At Eindhoven '87" (2009).
All 5 albums will feature new artwork. They will be available as digipak CD and on black vinyl.
testamentlegions.com nuclearblast.de NEW RECORD WITH HEADONS IN NOVEMBER
It looks like Swedish punk band HEADONS are going to release a new 10" vinyl, titled "...av Ingenting", sometime in November via AMTY Records.
They plan to have a release party (if they can find a new drummer in time) on November 25, so the record should be out arond that date.
headons.bandcamp.com TARJA TO RELEASE CHRISTMAS ALBUM
Former NIGHTWISH singer Tarja Turunen are going to release a Christmas album, "From Spirits And Ghosts (Score For A Dark Christmas)", on November 17 through earMUSIC.
The album includes 11 Christmas classics, and brings them to a never-before-seen level, uniquely blending Tarja's classically trained voice with darker gothic influences. Besides covering classic carols, the album also features a 12th track, the brand new original song "Together".
tarjaturunen.com BOSS IS DEAD
Börje "Boss" Forsberg - owner of Black Mark Records and father of late BATHORY mainman Thomas "Quorthon" Forsberg - passed away in the early morning hours of Thursday, September 14. After many years of serious illness, his heart gave up. JOAN JETT AND THE BLACKHEARTS, CHEAP TRICK AND LYNYRD SKYNYRD CONFIRMED FOR ROCKFEST 80'S
The second annual RockFest 80's is set to take place Saturday, November 4 and Sunday, November 5, at C.B. Smith Park in Pembroke Pines, Florida, U.S.A. Among the confirmed artists are JOAN JETT AND THE BLACKHEARTS, CHEAP TRICK, Sebastian Bach, DOKKEN, QUIET RIOT, STEELHEART, LYNYRD SKYNYRD, FOGHAT, Lita Ford etc.
More info at rockfest80s.com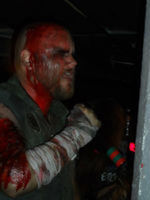 NEW SINGLE WITH F.K.Ü.
Swedish horror thrash metal band F.K.Ü. will release the first single, "Nightmares in a Damaged Brain", from their upcoming album, "1981", on Friday (Sep. 22) via Despotz Records. It will be available on most digital platforms.
F.K.Ü. are going to Japan for 2 shows at Assault Fest in Tokyo on November 4 and 5. There will also be a Scandinavian tour in January/February.
facebook.com/moshoholics POWERMAN 5000 ANNOUNCES U.S. TOUR
Hybrid rock band POWERMAN 5000 has announced the first leg of a worldwide tour in support of its new album, "New Wave", which will be released on October 27 via Pavement Entertainment.
The tour will start in U.S.A. in October, and the dates are:
Oct. 20 - Portland, OR - Hawthorne Theater
Oct. 22 - Seattle, WA - El Corozon
Oct. 24 - Sacramento, CA - Holy Diver
Oct. 26 - Los Angeles, CA – Whisky A Go Go
Oct. 28 - San Diego, CA - Brick By Brick
Oct. 29 - Phoenix, AZ - Pub Rock Live
Oct. 31 - Lubbock, TX - Jakes
Nov. 02 - Dallas, TX - Canton Hall
Nov. 04 - Austin, TX - Scout Bar
Nov. 05 - Houston, TX - Dirty Dog
Nov. 08 - St. Louis, MO - Firebird
Nov. 10 - Flint, MI - Machine Shop
Nov. 11 - Bloomington, IL - Castle Theater
Nov. 12 - Joliet, IL - The Forge
Nov. 14 - Dundee, IL - Rochaus
Nov. 15 - Omaha, NE - Lookout Lounge 40TH ANNIVERSARY DELUXE EDITION OF "NEVER MIND THE BOLLOCKS HERE'S THE SEX PISTOLS" DUE IN OCTOBER
It is now almost 40 years to the day since SEX PISTOLS classic album "Never Mind The Bollocks, Here's The Sex Pistols" was released, and to mark this significant anniversary USM/UMC will revisit the out-of-print super deluxe edition of the album, which was originally issued in 2012.
Released in limited numbers at the time, this set is widely considered to be the definitive collection. This new, budget priced smaller-sized edition still boasts 3CDs which include the original studio album with 1977 B-sides, a disc of outtakes and 1 disc of 1977 live material. Additionally, there is a DVD featuring 1977 footage of the band playing live from the infamous boat party held on the River Thames, London, the Winter Gardens, Penzance in Cornwall and the Happy House, Stockholm, Sweden.
Bringing it all together is a 48-page hardback book with narrative from music journalist Pat Gilbert, plus rare photos from Bob Gruen, Barry Plummer, John Tiberi and Dave Wainwright.
"Never Mind The Bollocks – 40th Anniversary Deluxe Edition" will be released on October 27.
sexpistolsofficial.com
NEW LIVE RECORDING WITH IRON MAIDEN IN NOVEMBER
Warner Music will release IRON MAIDEN's "The Book Of Souls: Live Chapter" on November 17 worldwide (through BMG in the USA). This live recording comprises 15 songs captured during "The Book Of Souls World Tour", which covered 39 countries across 6 continents during 2016 and 2017, and was seen by over 2 million fans.
"The Book Of Souls: Live Chapter" will be released physically in CD, deluxe CD and vinyl audio formats, with the concert film available to stream free online or as a digital download.
ironmaiden.com PHIL RUDD CANCELS EUROPEAN TOUR
Former AC/DC drummer Phil Rudd and his solo band have canceled their previously announced European tour.
The trek, which was scheduled to run from September 14 through November 6, was called off because of a combination of "a key bandmember" coming down with a virus and "unforeseen key logistical and technical issues", according to a statement released by Rudd's management, Wave 365 Media Limited.
philruddmusic.com NEW KISS BOOK IN OCTOBER
"Kiss Klassified: War Stories From A Kiss Army General" will be released on October 26 via Gain Production. The book features over 750 never-before-seen photos as well as several unpublished interviews with KISS.
The story is centered around Johan Kihlberg, who was the president of Kiss Army Sweden for 10 years. He hung out in the studio with Gene Simmons and Paul Stanley, got drunk with Eric Carr, performed with Vinnie Vincent and was tour manager for Bruce Kulick. And he scolded Ace Frehley.
It all started in the early 80s when Johan began stalking the members every time they were in Stockholm. Together with principal photographer Mats Vassfjord, he continued to follow and document KISS around the world. This is his own incomparable Kisstory told to Sweden Rock Magazine journalist Carl Linnaeus.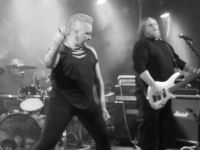 NEW SINGLE WITH ZEPHYRA
Local (Borås, Sweden) melodic death metallers ZEPHYRA has released a new single, "The Darkest Black", today (Sep. 20). It's available on most digital platforms, like YouTube, Spotify, iTunes etc.
ZEPHYRA are currently working on their 3rd album.
​zephyra.se NEW SOLO ALBUM WITH WARREL DANE NEXT YEAR
Warrel Dane, vocalist of SANCTUARY and NEVERMORE, will record his second solo album during the fall/autumn. The album is expected to be released in the first half of 2018 via Century Media Records.
warreldane.net centurymedia.com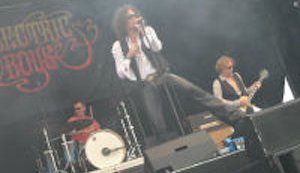 ELECTRIC BOYS ANNOUNCES UK TOUR
Swedish hard rockers ELECTRIC BOYS are going on a UK tour in November/December. And if I got it right, they will continue to celebrate the 25-year anniversary of their "Groovus Maximus" album.
The dates are these:
26 November – Corporation, Sheffield
27 November – The Cluny, Newcastle Upon Tyne
28 November – O2 ABC Glasgow, Glasgow
29 November – The Slade Rooms – Wolverhampton
30 November – The Live Rooms, Chester
2 December – Planet Rockstock – Trecco Bay
3 December – Rescue Rooms, Nottingham
4 December – The Underworld Camden, London
electricboys.com
MORE NEWS


This site has been online since 2001.
All reviews and photos/images by Jimmy Blom.