HAPPY BIRTHDAY!
Keith Richards (ROLLING STONES) - Born on Dec. 18, 1943
Knut "Euroboy" Schreiner (TURBONEGRO) - Born on Dec. 18, 1974
Victor Brandt (ENTOMBED A.D., FIRESPAWN, SATYRICON, etc.) - Born on Dec. 18, 1983 10 LATEST REVIEWS
RAINTIMES: Raintimes - Album (Melodic "hard" rock)
PSYCHOCIDE: Alcohol & Bad Decisions - Album (Party rock?)
PRETTY BOY FLOYD: Public Enemies - Album (Sleaze rock)
POISON PILL: Poison Pill - Album (Heavy metal)
EISLEY/GOLDY: Blood, Guts And Games - Album (Melodic hard rock)
ENHAILER: Dumb Enough To Care - EP (Progressive doom/stoner)
ESTERTOR: Buried In Morningside - Album (Thrash metal)
ARVIDSON & BUTTERFLIES: Blank Season - 7" EP (Power pop)
The WHY OH WHY'S: Without You I'm Nothing - Single (Garage rock)
UR: Black Vortex - Album (Black metal)
MORE REVIEWS »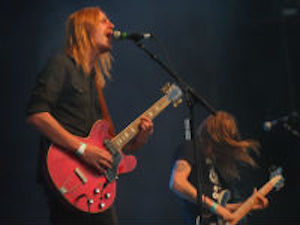 GRAVEYARD IN THE STUDIO
Swedish retro rockers GRAVEYARD are currently in Park Studios in Stockholm to record their as-yet-untitled new album for a late spring/early summer release.
The disc is being produced by Chips Kiesbye (The HELLACOPTERS, Michael Monroe, The NOMADS) and engineered by Stefan Boman (BURT BACHARACH, Alice Cooper, DEF LEPPARD, KENT).
facebook.com/graveyardofficial MONSTER MAGNET ANNOUNCES EUROPEAN TOUR
MONSTER MAGNET are coming to Europe for a tour in May/June 2018. Dates can probably be found at monstermagnet.net
Their new album, "Mindfucker", will be released on March 23 via Napalm Records.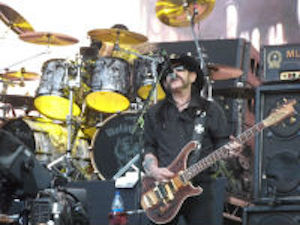 PREVIOUSLY UNRELEASED LIVE RECORDING WITH MOTÖRHEAD TO BE RELEASED ON DEC. 23
MOTÖRHEAD are going to release a previously unreleased live show recorded in Bonn, Germany on December 23, 1996. It will be available for free at imotorhead.com on December 23. NEBULA BACK IN 2018
The influential Los Angeles-based heavy psych trio NEBULA will end its 8-year hiatus in 2018 and return to action with a new studio album and a series of European tour dates.
Confirmed dates are:
Apr. 25 - Effenaar, Eindhoven, Holland
Apr. 26 - Baroeg, Rotterdam, Holland
May 02 - Arena, Vienna, Austria
May 04 - Desertfest, Berlin, Germany
May 05-06 - Desertfest, London, England
Jun. 22-23 - Azkena Rock Festival, Vitoria-Gasteiz, Spain CLASSIC ALBUMS WITH DIMMU BORGIR TO BE REISSUED ON VINYL
Before the symphonic black metal legends DIMMU BORGIR return to the spotlight with their highly anticipated 9th studio album in spring 2018, the Norwegians now unleash the re-releases of their early classics on vinyl.
The following LPs will be released on December 22:
"Death Cult Armageddon"
"For All Tid"
"Enthrone Darkness Triumphant"
These LPs will see the light of day on February 23:
"Spiritual Black Dimensions"
"Puritanical Euphoric Misanthropia"
"Stormblåst"
You can currently pre-order them all here: nblast.de/DimmuBorgirReRelease
facebook.com/dimmuborgir STATUS QUO CANCEL REMANING DATES IN GERMANY
Further to the cancellation of shows in Berlin, Frankfurt and Baden Baden, it is with great regret that STATUS QUO are forced to announce that the remaining dates in the German Aquostic tour will also be cancelled due to Francis Rossi's ongoing illness.
Francis is currently receiving medical attention in Germany for a severe upper respiratory infection. It was hoped that he would be able to recover enough to perform the rest of the dates of the tour from Friday December 15, but unfortunately that has not been the case.
Ticket holders should apply for refunds from their original point of purchase.
statusquo.co.uk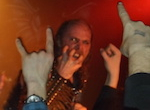 NIFELHEIM ANNOUNCES ITALIAN TOUR
Swedish black metal veterans NIFELHEIM are going to Italy for a short tour in January. Support act will be VIOLENTOR.
The dates are:
Jan. 11 - Traffic Live, Roma
Jan. 12 - Circus Club, Scandicci
Jan. 13 - Circolo Colony, Brescia
facebook.com/Nifelheim.Official



NEW EP WITH VENOM NEXT WEEK
VENOM will digitally release a new 3-track EP, titled "100 Miles To Hell", through Spinefarm Records on December 22. It will be available via D2C basis on January 19 in the U.S.
"100 Miles To Hell" features 3 brand new studio recordings: "We The Loud", "Beaten To A Pulp" and the title track. It marks the first new VENOM material since the "From The Very Depths" studio album, which arrived in 2015.
It seems like this limited-edition EP will be available on 3 different formats: 12" vinyl (complete with giant poster); cassette and download; and an exclusive T-shirt, which can also be acquired as part of the bundle, while supplies last.
venomslegions.com NO CELL PHONE IF YOU WANT TO SEE MISFITS LIVE
The classic-era lineup of the horror punk outfit MISFITS — Glenn Danzig, Jerry Only and Doyle Wolfgang Von Frankenstein — is planning to enforce a strict no-cellphone policy at its upcoming reunion shows in Los Angeles and Las Vegas in the end of this month.
The AXS and Ticketmaster ticketing web sites have released an updated "phone policy" regarding the concerts, saying that: "No cellphones, smart watches, cameras or recording devices will be permitted during The Original Misfits reunion shows. These exclusive one-off performances will be completely phone-free.
Upon arrival at the venue, all phones and smart watches will be secured in Yondr cases that will be unlocked at the end of the show. Guests maintain possession of their phones throughout the night, and if needed, may access their phones at designated Yondr unlocking stations in the lobby. Anyone caught using a cellphone during the performance will be removed from the venue. We appreciate your cooperation in creating a phone-free viewing experience."
misfits.com CANNIBAL CORPSE CONFIRMED FOR GEFLE METAL FESTIVAL
CANNIBAL CORPSE have been confirmed for Gefle Metal Festival at Gasklockorna in Gävle, Sweden on July 13-14, 2017.
Confirmed since earlier are WATAIN, VENOM, AT THE GATES, SODOM, GRAVE DIGGER, LACUNA COIL, The LURKING FEAR, F.K.Ü. etc.
More info at geflemetalfestival.se MANOWAR FORCED TO POSTPONE SHOWS IN STUTTGART
Due to food poisoning and dehydration MANOWAR bassist Joey DeMaio is under doctor's care and has been ordered not to travel or perform at this time. Therefore the last 2 shows of the "Final Battle" World Tour 2017 will be rescheduled.
Joey is expected to make a full recovery, and with proper rest and treatment he will be back to lead the battle once again.
Fans with tickets for the Stuttgart shows on December 15 and 16, 2017 please be patient and hold on to your tickets while they work to reschedule these shows as soon as possible.
manowar.com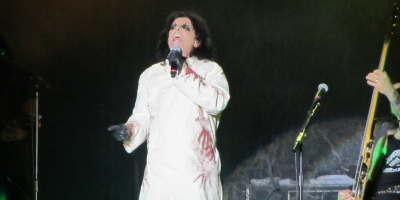 NEW SINGLE WITH ALICE COOPER IN FEBRUARY
Alice Cooper will release a new single, "The Sound Of A", on February 23, 2018. The song is taken from his latest album, "Paranormal", which was released earlier this year. And in addition to the title track, the single also includes 4 previously unreleased live songs recorded in Columbus, OH, on May 6, 2017.
The official video for "The Sound Of A" is already released, and can be seen here: youtu.be/cxADIGl7Fxw
alicecooper.com NOCTURNAL RITES CONFIRMED FOR SABATON OPEN AIR
NOCTURNAL RITES have been confirmed for Sabaton Open Air in Falun, Sweden on August 15-18, 2018.
Confirmed since earlier are SABATON, SEPULTURA, BATTLEBEAST, PRIMAL FEAR, HULKOFF, POWERWOLF, THUNDERMOTHER, BOMBUS, WARBRINGER etc.
More info at sabaton.net/sabaton-open-air-festival
STRYPER, JORN AND QUIET RIOT CONFIRMED FOR FRONTIERS ROCK FESTIVAL
The artists for next year's Frontiers Rock Festival has been announced. And among the acts are STRYPER, JORN, QUIET RIOT, PRETTY BOY FLOYD, FM, AMMUNITION, BIGFOOT, JACK RUSSELL'S GREAT WHITE etc.
The festival take place in Trezzo (Milano), Italy on April 28-29, and is arranged by Italian record label Frontiers Music srl. Tickets are available now.
More info at frontiersrockfestival.com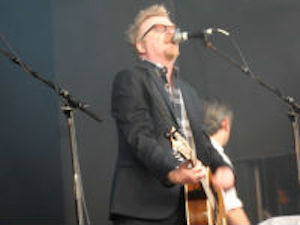 FLOGGING MOLLY ANNOUNCES NORTH AMERICAN SPRING TOUR
American Celtic punk rock veterans FLOGGING MOLLY are going on a U.S. tour in March 2018. Tickets go on sale Friday, December 15. Find the dates at floggingmolly.com SANCTUARY/NEVERMORE FRONTMAN WARREL DANE IS DEAD
Warrel Dane, frontman for American heavy metal bands NEVERMORE and SANCTUARY, has unfortunately passed away this morning (Dec. 13).
According to Dane's guitarist Johnny Moraes in an interview with Brazil's UOL, Dane died overnight from a heart attack and could not be revived. He was only 48 years old.
Dane was currently in São Paulo, Brazil to work on his first solo album in 10 years. BUTCHER BABIES ANNOUNCES EUROPEAN TOUR
American metal band BUTCHER BABIES will return to Europe in February/March 2018. For dates, check out butcherbabiesofficial.com BON JOVI AND DIRE STRAITS TO JOIN ROCK AND ROLL HALL OF FAME
The Rock And Roll Hall Of Fame has officially announced next year's inductees: BON JOVI, DIRE STRAITS, The MOODY BLUES, The CARS and Nina Simone will all join the class of 2018. Sister Rosetta Tharpe will be given an Early Influence award.
Among the artists that were nominated but did not make the cut are Kate Bush, DEPECHE MODE, EURYTHMICS, J. GEILS BAND, JUDAS PRIEST, LL Cool J, MC5, The METERS, RADIOHEAD, RAGE AGAINST THE MACHINE, Rufus featuring CHAKA KHAN, Link Wray and The ZOMBIES.
The 33rd annual Rock And Roll Hall Of Fame induction ceremony will be held at Cleveland's Public Hall on April 14, 2018.
rockhall.com NEW ALBUM WITH W.E.T. IN MARCH
The Swedish/American melodic hard rock supergroup W.E.T. - which features vocalist Jeff Scott Soto (SONS OF APOLLO, TRANS-SIBERIAN ORCHESTRA, TALISMAN), guitarist/vocalist Erik Mårtensson (ECLIPSE, NORDIC UNION, AMMUNITION) and guitarist Robert Säll (WORK OF ART) - will release its 3rd studio album, "Earthrage", on March 23 via Frontiers Records Srl.
frontiers.it POWERWOLF ANNOUNCES EUROPEAN TOUR
German heavy metal band POWERWOLF have announced the first dates of their European "Wolfsnächte Tour 2018". The wolves are celebrating their outstanding heavy metal masses across Europe starting in October, stopping in most major cities, and concluding November 17 at Saarlandhalle Saarbrücken. Swedish melodic metal band AMARANTHE and Germany's heavy/glam high flyers KISSIN' DYNAMITE will be joining in as special guests.
Go to powerwolf.net for the dates.
POWERWOLF will enter Fascination Street Studios in Örebro, Sweden in January to begin recording its 7th studio album, which will be released in 2018 on Napalm Records. THE AMORETTES SIGNS WITH SPV/STEAMHAMMER
Scottish female hard rock n roll band The AMORETTES have signed a worldwide record deal with SPV/Steamhammer, and will release a new album in early 2018.
facebook.com/theamorettes NEW ALBUM WITH MONSTER MAGNET IN MARCH
MONSTER MAGNET will release a new album, "Mindfucker", on March 23, 2018 via Napalm Records.
monstermagnet.net napalmrecords.com SKID ROW ANNOUNCES SPANISH SHOWS
American hard rock veterans SKID ROW are going to Spain for 3 shows in May 2018:
25th May - Santana27 - Bilbao
26th May - Salamandra1 - Barcelona
27th May - But - Madrid
For more dates, check out skidrow.com MINISTRY ANNOUNCES NORTH AMERICAN TOUR
Industrial metal veterans MINISTRY will embark on a 5-week North American tour in the spring. The trek, which kicks off on March 22 in Anaheim, California, will feature support from CHELSEA WOLFE. Tickets go on sale Friday, December 15. Dates can be found at ministryband.com
MINISTRY's new album, "AmeriKKKant", will be released on March 9, 2018 via Nuclear Blast Records. STATUS QUO CANCEL 2 MORE SHOWS IN GERMANY
Further to the cancellation of the Berlin show, STATUS QUO are forced to announce that both tonight (Dec. 12) and tomorrow's (Dec. 13) show at the Jahrhunderthalle in Frankfurt and the Festspielhaus in Baden Baden are also cancelled due to Francis Rossi's illness.
Francis has a chest infection which has left him incapacitated and unable to sing. He is currently receiving medical attention in Germany and had hoped that he would be able to recover enough to perform at these shows, but unfortunately that has not been the case.
statusquo.co.uk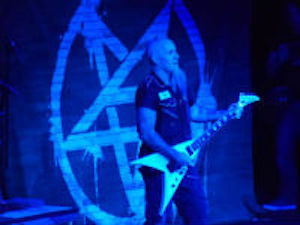 NEW LIVE DVD WITH ANTHRAX IN APRIL
New York thrash legends ANTHRAX will release their new live DVD, "Kings Among Scotland", on April 27, 2018 via Megaforce. It was recorded at a sold out show at Barrowland Ballroom in Glasgow, Scotland on February 15, 2017, and will also include interviews, behind-the-scenes footage etc.
anthrax.com BILLY IDOL ANNOUNCES EUROPEAN SUMMER TOUR
Old rocker Billy Idol will be touring in Europe next summer. You can find the dates at billyidol.net/tour DE LYCKLIGA KOMPISARNA TO PLAY IN JAPAN?
It seems like Swedish trallpunk legends DE LYCKLIGA KOMPISARNA are going to Japan for 4 shows in September 2018.
The dates are supposed to be:
Sep. 23 - Tokyo
Sep. 24 - Nagoya
Sep. 25 - Kobe
Sep. 26 - Tokyo
facebook.com/delyckligakompisarna ALICE IN CHAINS ANNOUNCES NORTH AMERICAN TOUR
ALICE IN CHAINS has announced a North American headline tour next spring. Confirmed shows are:
Apr. 28 - Boston, MA - House of Blues
Apr. 30 - Syracuse, NY - Landmark Theatre
May 01 - Toronto, ON - Massey Hall
May 03 - Washington DC - Anthem
May 04 - Charlotte, NC - Carolina Rebellion
May 07 - New York, NY - Hammerstein Ballroom
May 10 - Atlanta, GA - Coca-Cola Roxy
May 13 - Somerset, WI - Northern Invasion
May 15 - Chicago, IL - Riviera Theatre
May 16 - South Bend, IN - Morris Performing Arts Center
May 18 - Columbus, OH - Rock On The Range
May 19 - Philadelphia, PA - WMMR BBQ
aliceinchains.com STATUS QUO CANCEL TONIGHT'S SHOW IN BERLIN
STATUS QUO are forced to announce that tonight's (Dec. 11) show at the Friedrichstadtpalast in Berlin has had to be cancelled due to Francis Rossi being taken ill.
He appears to have picked up a chest infection which has left him incapacitated and unable to sing. He is currently receiving medical attention in Germany and has left it to the last possible moment to cancel in the hope that he would be able to recover enough to perform, but unfortunately that has not been the case.
statusquo.co.uk



NEW ALBUM WITH HION MARTELL IN JANUARY
Swedish rock n roll band HION MARTELL will release their new album, "Trust Me On This One", on January 12, 2018.
hionmartell.com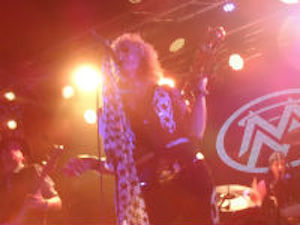 MICHAEL MONROE TO ENTER THE STUDIO IN MARCH
Former HANOI ROCKS frontman Michael Monroe plan to enter the studio in March 2018 to record a new solo album.
michaelmonroe.com NEW ALBUM WITH JIMI HENDRIX IN MARCH
On March 9, Experience Hendrix and Legacy Recordings, the catalog division of Sony Music Entertainment, proudly release "Both Sides Of The Sky", a dynamic new Jimi Hendrix album featuring 13 studio recordings made between 1968 and 1970 — 10 of which have never before been released. The album will be released on multiple formats including CD, digital, and as a numbered 180-gram audiophile vinyl 2LP.
jimihendrix.com CRASHDÏET GOT A NEW SINGER
Swedish sleaze rockers CRASHDÏET have recruited Gabriel Keyes as their new vocalist.
A new single, "We Are The Legion", will be released on New Year's Eve, and the first show with Gabriel will take place at Kägelbanan in Stockholm, Sweden on March 30, 2018.
crashdiet.org NEW BAND WITH MEMBERS FROM IN FLAMES, HIM AND FIREWIND
There's a new Swedish metal band called WE SELL THE DEAD, featuring Niclas Engelin (IN FLAMES, ENGEL), DRÖMRIKET's Jonas Slättung, Gas Lipstick (former HIM drummer) and the voice of Apollo Papathanasio (SPIRITUAL BEGGARS, FIREWIND).
The band will release its debut album, "Heaven Doesn't Want You And Hell Is Full", on February 23, 2018 via earMUSIC.
facebook.com/WeSellTheDead TURBONEGRO, GBH, STEVE IGNORANT'S PARANOID VISIONS AND THE PARTISANS CONFIRMED FOR PUNK ROCK BOWLING
TURBONEGRO, GBH, STEVE IGNORANT'S PARANOID VISIONS, The PARTISANS, L7, RISE AGAINST, NOFX and ANGELIC UPSTARTS are some of the bands that have been confirmed for Punk Rock Bowling in Las Vegas on May 25-28, 2018.
More info at punkrockbowling.com BUZZCOCKS CONFIRMED FOR REBELLION
BUZZCOCKS have been confirmed for the Rebellion punk festival in Blackpool, UK on August 2-5, 2018.
Confirmed since earlier are The EXPLOITED, COCKNEY REJECTS, ANGELIC UPSTARTS, SLAUGHTER & THE DOGS, DISCHARGE, UK SUBS, RUTS DC, G.B.H., ANTI NOWHERE LEAGUE, D.R.I., The BOYS, PETER AND THE TEST TUBE BABIES, 999, SUBHUMANS, VICE SQUAD, M.D.C., RAW POWER, CITY SAINTS, The LIPTONES, 4 PAST MIDNIGHT etc. etc.
More info at rebellionfestivals.com
MORE NEWS Take Me To The Top


This site has been online since 2001.
All reviews and photos/images by Jimmy Blom.