10 LATEST REVIEWS
MÄBE: När Rösten I Radion Sa Hans Namn - EP (Dark rock)
WATAIN: Trident Wolf Eclipse - Album (Black metal)
RAPTURE: Paroxysm Of Hatred - Album (Death/Thrash metal)
APOPHYS: Devoratis - Album (Death metal)
THUNDERMOTHER: Whatever - Single (Hard rock n roll)
STARCRAWLER: Starcrawler - Album (L.A. Rock)
Jack White: Connected By Love - Single (Rock)
VARVARA: Identical - Single (Rock)
RISE OF AVERNUS: Eigengrau - Album (Orchestral death/doom metal)
REXORIA: Queen Of Light - Album (Melodic metal)
MORE REVIEWS »
NEW ALBUM WITH THE AMORETTES IN APRIL
Scottish female hard rock n roll band The AMORETTES will release their new album, "Born To Break", on April 6 via SPV/Steamhammer. And you can pre-order it now at theamorettes.tmstor.es
theamorettes.com spv.de BLITZKRIEG AND DREAM EVIL CONFIRMED FOR NORDIC NOISE
Nordic Noise have announced the full lineup for this year's festival. And among the bands are BLITZKRIEG, DREAM EVIL, IRON ANGEL, PORTRAIT, TRANSPORT LEAGUE etc.
The festival happens on May 11-12 at Halmtorvet 9 in Copenhagen, Denmark.
More info at nordicnoise.dk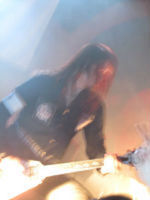 EUROPE AND ARCH ENEMY NOMINATEED FOR GRAMMIS AWARD
The nominees for the Grammis award (Swedish Grammy) has been announced. And in the category "Hard Rock/Metal of the Year" we can find: EUROPE, ARCH ENEMY, H.E.AT., The NIGHT FLIGHT ORCHESTRA and VAMPIRE.
The winners will be announced at Grand Hôtel in Stockholm, Sweden on February 8.
grammis.se NEW ALBUM WITH SKINDRED IN APRIL
Welsh "ragga metal" band SKINDRED will release its new album, "Big Tings", on April 27 via Napalm Records. On the same day, a single, "Machine", will be made available, featuring vocals by REEF frontman Gary Stringer and guitar by Phil Campbell of MOTÖRHEAD. The track was previously used as both the intro and outro theme to AC/DC frontman Brian Johnson's TV show "Cars That Rock". NEW ALBUM WITH MEMORIAM IN MARCH
MEMORIAM - the Birmingham, UK-based death/grind metal band featuring Karl Willets (BOLT THROWER) on vocals, Frank Healy (BENEDICTION, CEREBRAL FIX) on bass, Scott Fairfax (CEREBRAL FIX) on guitar and Andy Whale (BOLT THROWER) on drums - will release its second album, "The Silent Vigil", on March 23 via Nuclear Blast. NEW BAND WITH EX-MEMBERS OF DIO, AC/DC AND QUIET RIOT
Frontiers Music Srl has announced the formation of DREAM CHILD, a brand new band featuring former members of DIO, AC/DC and QUIET RIOT.
DREAM CHILD is: Craig Goldy (DIO, GIUFFRIA) - Guitar, Wayne Findlay (MSG) - Guitar/Keyboards, Simon Wright (AC/DC, DIO, OPERATION: MINDCRIME) - Drums, Rudy Sarzo (QUIET RIOT, Ozzy Osbourne, WHITESNAKE, DIO) - Bass, Diego Valdez (HELKER) - Vocals. ZOMBIEKRIEG TO REUNITE AT SCORCHED TUNDRA IX
Swedish thrash metal band ZOMBIEKRIEG are going to do a reunion show at SCORCHED TUNDRA IX, which will take place at Pustervik in their hometown Göteborg on May 5. EYEHATEGOD and MAMMOTH STORM, plus 1 more band (to be announced) will also play there.
facebook.com/zombiekrig scorchedtundra.com NEW ALBUM WITH DORO IN AUGUST
German metal queen Doro Pesch will release her long-awaited new studio album on August 3. And that's all I know right now..
For tour dates, try facebook.com/DoroPeschOfficial BILLY IDOL ANNOUNCES 4 NEW LIVE DATES
Billy Idol have announced 4 new U.S. tour dates this spring. They are:
Apr. 28 - Beau Rivage, Biloxi, MS
May 1 - Coca-Cola Roxy, Atlanta, GA
May 24 - Harrah's Resort, Valley Center, CA
May 27 - Fantasy Springs, Indio, CA
For more dates and tickets, check out billyidol.net




NEW EP WITH ABYSSUS IN MARCH
Greek death metallers ABYSSUS will release a new EP, "Unleash The Storm", in March via Mexican label Death In Pieces Records. The EP will include 2 new songs and 3 covers (BATHORY, VENOM, MANILLA ROAD).
facebook.com/Abyssus-144338552349700 facebook.com/deathinpiecesrecs THUNDERSTICK RECRUITS NEW SINGER
British drummer Barry Graham Purkis, better known as Thunderstick, who played with a developing IRON MAIDEN in the 70s and then moved on to SAMSON (being instrumental in finding a very youthful Bruce Dickinson), has revealed his new-look live touring band. Viixen is the rock n roll wildchild vocalist who will be fronting up the new version of THUNDERSTICK and sparring with the crazed, masked drummer.
Also new to the band is guitarist Baz Rose, who has played in popular gigging bands since the early 90s, such as FINAL SUNSET, BLACK RAIN and BLACK ROZE.
The full THUNDERSTICK lineup is: Vocals - Viixen, Guitar - Dave "Kandy" Kilford, Guitar - Baz Roze, Bass - Rex Thunderbolt, Drums - Thunderstick. VIXEN SINGER RECOVERING FROM BRAIN SURGERY
VIXEN frontwoman Janet Gardner is recovering from surgery to remove blood clots in her brain, a condition known as a subdural hematoma.
Subdural hematomas result from bleeding on the surface of the brain, and the condition is most often due to a serious fall or head injury. According to Healthline, the condition can be very serious, as blood filling up the space around the brain can put pressure on vital brain tissue. The severity of a subdural hematoma is related to how extreme and rapid the bleeding is.
On Friday, January 12 — the day after playing a successful show with her solo band at the Whisky A Go Go in West Holywood, California — Janet was rushed to the hospital where she had to have a hole drilled into her skull to relieve the hematoma and put a titanium plate to cover the hole.
facebook.com/JanetGardnerofficial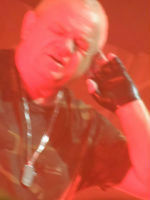 DIRKSCHNEIDER AND STEEL PANTHER CONFIRMED FOR SKOGSRÖJET
DIRKSCHNEIDER and STEEL PANTHER have been confirmed for the Skogsröjet festival in Rejmyre, Sweden on August 3-4.
Confirmed since earlier are DOKKEN, DRAGONFORCE, The QUIREBOYS, FREEDOM CALL, MR. BIG, RECKLESS LOVE and EVERGREY.
More info at skogsrojet.se THE BOYS, PETER AND THE TEST TUBE BABIES AND THE EXPLOITED CONFIRMED FOR PUNK & DISORDERLY
The BOYS, PETER AND THE TEST TUBE BABIES, The EXPLOITED, ANGELIC UPSTARTS, VARUKERS, TOTAL CHAOS and CHRON GEN are some of the bands that have been confirmed for the Punk & Disorderly festival in Berlin, Germany on April 20-22.
More info at punk-disorderly.de THE KRISTET UTSEENDE WILL DO THEIR LAST SHOW
Swedish sex, drugs and hallelujah punk/metal cult band The KRISTET UTSEENDE are going to split up again. They will do their last show at the Metallsvenskan festival, which take place in Norrköping, Sweden on June 15-16. But before that they will do as many shows as possible, and they even plan to release a new album this year.
facebook.com/thekristetutseende metallsvenskan.net TOTAL CHAOS CONFIRMED FOR DRENCHED IN BEER
TOTAL CHAOS, ON TRIAL, SHEMALES and COMMINOR have been confirmed for the Drenched In Beer punk festival in Stockholm, Sweden on April 27-28.
Confirmed since earlier are TOY DOLLS, The HIP PRIESTS, "DEMONS", BITCH QUEENS, SCUMBAG MILLIONAIRE and The HAWKINS. More bands will be announced soon..
facebook.com/DIBSTHLM SANCTUARY TO TOUR WITH ICED EARTH AS FAREWELL TO WARREL DANE, GUEST VOCALIST ANNOUNCED
Following the unfortunate loss of metal vocalist Warrel Dane (SANCTUARY, NEVERMORE), prior to SANCTUARY's upcoming dates supporting ICED EARTH across North America, the band has announced the tour will go forth as planned. The shows will act as a farewell tour in tribute to the life and memory of Dane with guest vocals for SANCTUARY to be performed by Joseph Michael (WITHERFALL).
Find the dates at facebook.com/sanctuaryfans or icedearth.com BON JOVI ANNOUNCES NORTH AMERICAN TOUR
BON JOVI have announced the spring leg of their North American "This House Is Not For Sale" tour. The run will kick off in Denver, Colorado on March 14 and conclude May 14 at Capital One Arena in Washington, D.C. General public tickets will be available for purchase starting January 19.
The Grammy-winning band will also celebrate its return to the road with the re-release of "This House Is Not For Sale" as a new version, containing 2 brand new songs, "When We Were Us" and "Walls", available via all download and streaming partners on February 23.
For the dates, visit bonjovi.com SURVIVING MOTÖRHEAD MEMBERS TO BE JOINED BY SPECIAL GUESTS FOR SELECT TRIBUTE CONCERTS
Phil Campbell has confirmed that there are plans for the surviving members of MOTÖRHEAD to perform several concerts with as-yet-undisclosed special guests as a tribute to the band's late leader Ian "Lemmy" Kilmister. It will probably just be a few select shows and not a whole tour.
Phil Campbell also plan to release a solo record during 2018.
NEW 12" EP WITH ASTA KASK IN MARCH
Swedish punk legends ASTA KASK will release a new 12" vinyl EP, "Historien Dömer Oss Alla", on March 2. It will be a limited edition of 1000 copies.
Their old albums "En För Alla Ingen För Nån", "Med Is I Magen" and "Aldrig En LP" will be re-released on colored vinyl on the same date (if I got it right).
All albums will be released through their own label Kloakens Alternativa Anti-Produktion together with Gaphals. You can pre-order them from freighttrain.se
For upcoming tour dates, go to astakask.se KÖTTGROTTORNA ANNOUNCES NEW TOUR DATES
Swedish punk rock veterans KÖTTGROTTORNA are going on a Swedish 4-date tour in March. And in October they are going to New York.
Here's the info:
Mar. 28 - Melodybox, Stockholm (w/ DERBY STHLM)
Mar. 29 - Lorient, Linköping (w/ GRÅ VARDAG)
Mar. 30 - Hillstreet 1, Lindesberg
Mar. 31 - Påskpunk, Örebro (w/ ASTA KASK, The KRISTET UTSEENDE, The LIPTONES, TROUBLEMAKERS etc.)
Oct. 4-7 - Lycklig Produktion showcase at Mondo Festival, New York
More dates will be announced soon..
facebook.com/kottgrottorna NEW YORK DOLLS ANNOUNCES NEW LINEUP AND JAPANESE TOUR
Glam rock legends NEW YORK DOLLS are back again, and the latest lineup features Sylvain Sylvain, Steve Conte, Sami Yaffa (HANOI ROCKS) and Robert Eriksson (The HELLACOPTERS). At least 3 of them have been playing with NEW YORK DOLLS before.
These guys will do 3 shows in Japan already next month. And the dates are:
Feb. 11 - Shinjuku Marz, Tokyo
Feb. 12 - Shimokitazawa, Tokyo
Feb. 14 - Fukuoka CB, Fukuoka
nydolls.org NO MORE UTANFÖRSKAPET
Swedish hardcore/punk band UTANFÖRSKAPET have decided to go seperate ways.
facebook.com/utanforskapet FAST EDDIE CLARKE HAS PASSED AWAY
Former MOTÖRHEAD guitarist Fast Eddie Clarke (real name Edward Allan Clarke) passed away peacefully in hospital (where he was being treated for pneumonia) yesterday (Jan. 10). EDDIE & THE HOT RODS TO STOP PERFORMING LIVE
British pub rock/punk rock veterans EDDIE & THE HOT RODS announce that 2018 will be their last year of performing live.
eddieandthehotrods.com NEW ALBUM WITH MAIDAVALE IN MARCH
Swedish retro rockers MAIDAVALE will release their second album, "Madness Is Too Pure", on March 23 via The Sign Records.
The album can be pre-ordered right now from: freighttrain.se
For upcoming tour dates, check out facebook.com/maidavaleswe MIMIKRY ANNOUNCES SWEDISH TOUR DATES
Swedish trallpunk veterans MIMIKRY will do some shows here in Sweden this Spring. The dates are:
Apr. 13 - MX Rockbar, Alingsås
Apr. 14 - Hell Yeah Rock Club, Linköping
May 11 - Idrottsparken, Edsbyn
May 12 - Lilla Helfvetet, Mora
May 24-25 - Close-Up Båten 22
May 26 - Sticky Fingers, Göteborg
A new album, "GRIT", will be released on March 2.
facebook.com/mimikrysverige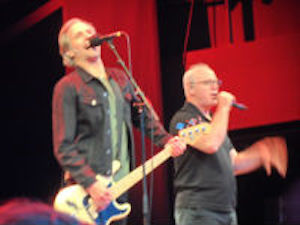 BAD RELIGION TO PLAY ENTIRE "SUFFER" ALBUM IN SPAIN
To commemorate the 30th anniversary of the release of their "Suffer" album, BAD RELIGION will be playing all of the tunes from the album in their entirety at the Tsunami Xixon festival this summer in Gijon, Spain.
"Suffer" was the 3rd album released by the legendary southern California punk band and was released in 1988 on Epitaph Records.
badreligion.com IRON MAIDEN LAUNCHES LIGHT BRIGADE ALE
IRON MAIDEN and independent family brewers Robinsons announce the creation of Light Brigade, a unique golden English ale with a 4.1% ABV.
Available in the U.K., Light Brigade has been developed in support of Help For Heroes, the British charity that provides recovery and support for the armed forces community whose lives are affected by their service. 6p of each pint and 5p of each bottle sold will be donated to help the thousands of servicemen and women who live with complex wounds and injuries — both physical and mental — and are looking to regain their purpose in life.
Light Brigade is available to pre-order online now at robinsonsbrewery.com for delivery from February 1. It will be stocked in supermarkets nationwide and selected pubs from February 19 onwards. QUEEN TO RECEIVE GRAMMY LIFETIME ACHIEVEMENT AWARD
QUEEN is among the artists who will receive the Recording Academy's Lifetime Achievement Award in 2018. This year's honorees — a list which also includes drummer Hal Blaine, Neil Diamond, Emmylou Harris, The METERS, bandleader Louis Jordan, and Tina Turner — will be celebrated at a ceremony and concert set to take place this summer. Additional details will be announced in the coming weeks.. KITTIE DOCUMENTARY TO ARRIVE IN MARCH
Canadian all-female metal band KITTIE will release its long-awaited career-spanning documentary, "Origins/Evolutions", on March 30 via Lightyear Entertainment in North America. The 3-disc set, which was directed by Rob McCallum, includes a Blu-ray and DVD of the documentary as well as a new live album on CD. OLD FRIEND OF KURT COBAIN POSTS AUDIO FROM NIRVANA REHEARSAL TAPES
According to The Pulse Of Radio, an old friend of late NIRVANA frontman Kurt Cobain named John Purkey, who runs a YouTube account called The Observer, recently uploaded 4 videos containing cassette audio of NIRVANA demos from the late 80s. Purkey claims that the tapes were given to him by Cobain himself. They include early recordings of songs that would eventually make up the band's debut LP "Bleach", as well as material recorded with MELVINS drummer Dale Crover and audio of early, pre-Dave Grohl "Nevermind" recordings featuring Chad Channing on drums. Purkey has also offered comments on each tape.
The tapes amount to about 2 hours of material, some of which has been heard by fans before, with much of it sounding raw and unpolished.
Here's the links: Tape 1, Tape 2, Tape 3, Tape 4.

MORE NEWS
Take Me To The Top
This site has been online since 2001.
All reviews and photos/images by Jimmy Blom.