SEPT. 22, 2018
DANKO JONES ANNOUNCES U.S. TOUR WITH NASHVILLE PUSSY AND PRIMA DONNA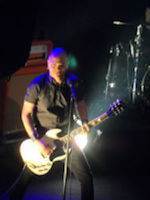 Canadian rock trio DANKO JONES are going on tour in western USA in February together with American rockers NASHVILLE PUSSY and PRIMA DONNA. Tickets on sale September 25, and the dates are:
Feb. 6 Las Vegas, NV – Club172
Feb. 7 Mesa (Phoenix), AZ – The Nile
Feb. 8 West Hollywood, CA – Whisky A Go Go
Feb. 9 Tustin, CA – Marty's On Newport
Feb. 10 San Diego, CA – Observatory North Park
Feb. 13 Long Beach, CA – Alex's Bar
Feb. 14 Ventura, CA – Discovery Ventura
Feb. 15 San Jose, CA – The Ritz
Feb. 16 San Francisco, CA – Slim's
Feb. 17 Sacramento, CA – Harlow's
Feb. 19 Bellingham, WA – Wild Buffalo House of Music
Feb. 20 Portland, OR – Dante's
Feb. 21 Seattle, WA – El Corazon
dankojones.com nashvillepussy.com primadonnarocks.com
SEPT. 21, 2018
NEW ALBUM AND BOX SET WITH CHRIS CORNELL
On November 16, fans can celebrate the recorded legacy of musical icon and singer/songwriter Chris Cornell with the 17-track self-titled album, "Chris Cornell", and a 64-track limited-edition deluxe box set. The first release since his passing in 2017, the album will be made available by Cornell's wife, Vicky Cornell, on behalf of the Chris Cornell estate through UMe.
The breadth of all 17 selections on "Chris Cornell" display the full span of his artistic achievements, from the full-on kick of SOUNDGARDEN's seminal "Black Hole Sun" to the mournful yearning of TEMPLE OF THE DOG"s "Hunger Strike" to the sensitive depth of AUDIOSLAVE's "Like A Stone" to his spot-on solo theme to the 2006 James Bond film Casino Royale, "You Know My Name". This collection also contains a pair of previously unreleased recordings: a touching cover of Prince's "Nothing Compares 2 U" that was cut live at SiriusXM, and "When Bad Does Good". You can listen to the last song here: youtu.be/WuUZy5B205E
The November 16 release will also include a limited-edition 4CD deluxe box set of the same name, consisting of 64 tracks (11 of them previously unreleased).
Additionally, a limited-edition super deluxe 4CD, 1DVD, and 180-gram 7LP box set is set for release on November 16. The super deluxe edition holds 88 tracks — 64 songs plus 24 videos, with 13 entries (11 audio + 2 video) previously unreleased overall. Also included in the super deluxe box are a 66-page hardcover photo book wrapped in linen with a red foil signature cover, 3 artist lithos, 3 photochromatic lithos inspired by Cornell's lyrical fascination about the sun (images are brought to life by holding under direct sunlight), a turntable mat, a microfiber vinyl cleaning cloth, and a 36x48-inch wall poster.
You can see the full track listing at: chriscornellmerchandise.com/collections/box-set-collections/products/chris-cornell-super-deluxe-box-set-1
ALL ALBUMS WITH RAGE AGAINST THE MACHINE TO BE RE-RELEASED ON VINYL
It has been announced that the entire RAGE AGAINST THE MACHINE discography will be reissued on vinyl. This includes remastered versions of 1992's "Rage Against the Machine", 1996's "Evil Empire", 1999's "The Battle of Los Angeles", 2000's "Renegades", and 2003's "Live At the Grand Auditorium". The release date for the records is September 28.
---
TOTALLY FFRUK'ED - Sept. 22
We would like to invite you to join us for the MS Benefit Gig where we are raising funds for MS charities we believe in and in support of Andy Thierum from The Duel as he copes with living with his MS.
We have special line-up of performances by bands such as The Bleach Boys, Diablo Furs, The London Sewage Company, Thee Creapfreaks, Phil Black's 3some, Black Powder Merchants, The Rum & Reggae Boys with a special once-off acoustic set by Segs Ruts/Ruts DC. This will truly be a memorable event and we hope to see you there.
Entry to this event is free with a donation to the MS Society.
More info at: facebook.com/events/2093295680921549
---
SEPT. 20, 2018
VANDENBERG'S MOONKINGS TO RELEASE "RUGGED AND UNPLUGGED" IN NOVEMBER
VANDENBERG'S MOONKINGS and Mascot Records/Mascot Label Group will release "Rugged and Unplugged" globally on November 23. The album is a stripped back acoustic album which features songs from across Adrian Vandenberg's career (Adrian has been a member of VANDENBERG and WHITESNAKE for example).
A pre-order is now live here: smarturl.it/VDBMK-DSP
vandenbergsmoonkings.com mascotlabelgroup.com
U.D.O. ANNOUNCES SWEDISH TOUR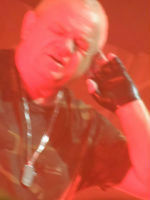 German heavy metal band U.D.O. (with ex-ACCEPT singer Udo Dirkschneider) are coming to Sweden for a short tour in March 2019. The dates are these:
Mar. 13: Malmö, KB
Mar. 14: Göteborg, Trädgårn
Mar. 15: Karlstad, Nöjesfabriken
Mar. 16: Huskvarna, Folkets Park
Mar. 17: Stockholm, Fryshuset Klubben
Get your tickets at: tickster.com
In related news, bassist Fitty Wienhold, who joined U.D.O. in 1996, has announced his departure from the band. Wienhold's final performance will take place next month in Palma de Mallorca, Spain.
U.D.O.'s new album, "Steelfactory", was released on August 31 via AFM.
More tour dates at: udo-online.com
THE ADICTS ANNOUNCES SHORT CALIFORNIA TOUR
Punk rock veternas The ADICTS have announced a very short tour of California that is scheduled for late October. The DROOGETTES will be opening for the band on all of the dates.
..and the 4 dates are:
Oct 28 - House of Blues, Anaheim, CA (w/ GALMSKANKS)
Oct 29 - The Novo, Los Angeles, CA (w/ GALMSKANKS)
Oct 30 - House of Blues, San Diego, CA (w/ LOWER CLASS BRATS)
Oct 31 - Riverside Municipal Auditorium, Riverside, CA (w/ NARCOLEPTIC YOUTH)
Before that they are going on a European tour that will kick off next week. Check out theadicts.net for all dates.
NEW ALBUM WITH LEGION OF THE DAMNED IN JANUARY
Dutch death/thrash outfit LEGION OF THE DAMNED returns after a hiatus of 5 years. Their new album, "Slaves Of The Shadow Realm", will be released on January 4 via Napalm Records.
facebook.com/LOTDOfficial napalmrecords.com
KISS ANNOUNCES FINAL TOUR (AGAIN)
KISS announced exclusively on NBC's "America's Got Talent" on September 19 that they are hanging up their 9" tall touring boots. The news was delivered in trademark larger-than-life KISS style with a blistering performance of "Detroit Rock City".
KISS will play their final shows as part of the multi-year "End Of The Road World Tour". Dates have yet to be announced, but kissonline.com will have all the updates in the weeks to come.
SEPT. 19, 2018
NEW SINGLE WITH DANKO JONES ON FRIDAY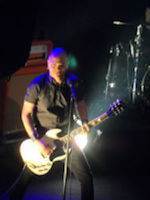 Canadian hard rocking trio DANKO JONES will release a new single, "We're Crazy", on all digital platforms this Friday, September 21.
dankojones.com
EXCITER PARTS WAYS WITH GUITARIST JOHN RICCI AGAIN
Canadian thrash metal pioneers EXCITER have once again parted ways with guitarist John Ricci. Dan Beehler (drums, vocals) and bassist Allan Johnson are going to forge on with their songwriting and recording. However, live shows will be postponed until such a time that they can find a suitable guitarist.
longlivetheloud.com
RONNIE JAMES DIO PHOTO BOOK DUE IN DECEMBER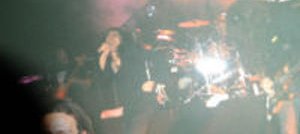 "A Life In Vision" is a photographic journey of one of the most admired and respected rock vocalists of all time — Ronnie James Dio.
Due on December 7, this collection of photos was taken by New Jersey photographer Frank White. They capture Dio from his first-ever U.S. show with RAINBOW in 1975 through to 2009, just a few months before he lost his fight with cancer in May 2010. This collection also covers Dio's career with BLACK SABBATH, his own band DIO and HEAVEN & HELL.
This unique item is limited to 500 copies worldwide. Order by October 30 and have your name printed in the book on a dedicated page. Order here: wymeruk.co.uk/webshop/collector-s-items/ronnie-james-dio-a-life-in-vision-1975-2009-by-frank-white
KISS SOLO ALBUMS COME TOGETHER IN LIMITED-EDITION VINYL BOX SET
40 years ago (on Sept. 18) the 4 founding members of KISS — Gene Simmons, Paul Stanley, Ace Frehley and Peter Criss — released their respective solo albums all on the same day to much fanfare, chart success, and platinum sales. And now, 4 decades later, all 4 of these pioneering albums are celebrated in "The Solo Albums - 40th Anniversary Collection", a limited-edition 180-gram 4LP box set by Casablanca/UMe that will be released on October 19.
Preorders for the limited run of 2,500 vinyl box sets are now available exclusively through KISS's artist webstore and The Sound Of Vinyl. Each heavyweight 180-gram LP features a unique color to match its associated cover art; "Gene Simmons" appears in red vinyl, "Paul Stanley" sports purple vinyl, "Ace Frehley" contains blue vinyl, and "Peter Criss" is in green vinyl. All 4 albums are housed together in a deluxe black-matte slipcase that features glossy black images of the 4 artists' faces surrounding a silver-foil print of the infamous KISS logo.
Also included in this set are 4 12-by-12-inch posters of each album cover, plus an exclusive turntable slipmat that shows all 4 of artist Eraldo Carugati's iconic, painted album-cover face images all connected together.
kissonline.com
OZZY, SLAYER AND JUDAS PRIEST CONFIRMED FOR DOWNLOAD FESTIVAL AUSTRALIA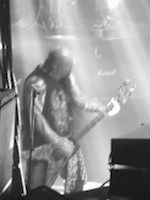 Download Festival are going "down under" in March 2019. The festival will take place in Sydney on March 9 and Melbourne on March 11. Tickets go on sale Wednesday, September 26. Among the confirmed artists are Ozzy Osbourne, SLAYER, JUDAS PRIEST, ALICE IN CHAINS, ANTHRAX, GHOST, HALESTORM, BEHEMOTH etc.
More details at: downloadfestival.com.au
SEPT. 18, 2018
BILLY IDOL ANNOUNCES LAS VEGAS SHOWS
Rock legend Billy Idol have announced a 10-show run at Palms Casino Resort in Las Vegas. The first 5 shows begins on January 18, 19, 23, 25 and 26, and continue on October 4, 5, 9, 11 and 12. Pre-sale begins on Wednesday, September 19, and general tickets go on sale Friday, September 21.
billyidol.net
KISS TO PERFORM ON AMERICA'S GOT TALENT SEASON FINALE
KISS will perform at the "America's Got Talent" season 13 finale on Wednesday. The band will open the 2-hour program, which will air in the States at 8 p.m. ET on NBC.
kissonline.com
NEW DVD/BLU-RAY WITH AMON AMARTH IN NOVEMBER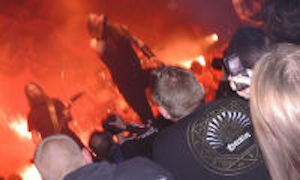 Swedish death metallers AMON AMARTH will release a new DVD and Blu-Ray, "The Pursuit Of Vikings: 25 Years In The Eye Of The Storm", in November. The set will include a documentary as well as footage of the band's 2017 performance at the Summer Breeze festival in Dinkelsbühl, Germany.
AMON AMARTH is working on material for its next album, tentatively due in early 2019.
amonamarth.com
SEPT. 17, 2018
THE STRANGLERS ANNOUNCES UK/IRELAND TOUR
British rock veterans The STRANGLERS have announced a tour of the UK and Ireland in March 2019. Under the title "Back On The Tracks", the tour features a total of 19 gigs covering Northern Ireland, Republic of Ireland, Scotland and England. Special guests for all dates are DR FEELGOOD.
Exact dates and ticket information can be found at: stranglers.net
BLACK STAR RIDERS PARTS WAYS WITH DAMON JOHNSON AND ANNOUNCE NEW GUITARIST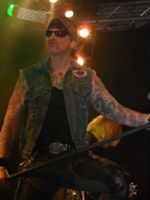 Hard rockers BLACK STAR RIDERS announce that their new lead guitar player from January 1, 2019 will be Christian Martucci (STONE SOUR).
Christian will replace founding BLACK STAR RIDERS member Damon Johnson, who has decided to part company with the band at the end of the year to concentrate on a solo career and session work.
BLACK STAR RIDERS will head down for the first time to South America in November, joining JUDAS PRIEST (with ALICE IN CHAINS on some dates) for shows in Chile, Argentina and Brazil. Damon will not be with the band for this run, but his temporary replacement is long time friend of the band, THUNDER guitarist Luke Morley.
They will finish off the year with some dates in the United Kingdom, which will be Damon's last shows with the band.
The band will then enter the studio in early 2019 to record their 4th studio album for Nuclear Blast Entertainment.
blackstarriders.com
SEPT. 16, 2018
MISFITS TO PLAY IN CHICAGO
MISFITS (with Glenn Danzig on vocals) will play at Allstate Arena in Chicago, IL, USA on April 27. Special guests will be FEAR, VENOM INC. and POWER TRIP. Tickets go on sale Friday, September 21.
misfits.com
SEPT. 14, 2018
MÖTLEY CRÜE RECORDING NEW SONGS
MÖTLEY CRÜE bassist Nikki Sixx has confirmed that the band is recording 4 new songs for the film adaptation of the group's biography, "The Dirt - Confessions Of The World's Most Notorious Rock Band". The movie, which is being helmed by "Jackass Presents: Bad Grandpa" director Jeff Tremaine, was picked up by Netflix after being previously developed at Focus Features and before that at Paramount.
motley.com
50TH ANNIVERSARY DELUXE BOX SET OF JIMI HENDRIX EXPERIENCE'S "ELECTRIC LADYLAND"
In celebration of the 50th anniversary of the release of the JIMI HENDRIX EXPERIENCE masterpiece "Electric Ladyland", Experience Hendrix, L.L.C. and Legacy Recordings, the catalog division of Sony Music Entertainment, are releasing the deluxe edition box set on November 9. Available as either a 3CD/1 Blu-ray set or a 6LP/1 Blu-ray set, both packages include the original double album, now newly remastered by Bernie Grundman from the original analog tapes. For the LP set, Grundman prepared an all-analog direct-to-disc vinyl transfer of the album, preserving the authenticity. Also included is "Electric Ladyland: The Early Takes", which presents demos and studio outtakes from this period in Hendrix's career, plus a new 5.1 Surround Sound mix of the entire original album by Hendrix's original engineer Eddie Kramer. This marks the first and only time this has been done with a Hendrix studio album, and gives listeners the original stereo mixes in uncompressed 24 bit/96 kz high-resolution audio.
"Jimi Hendrix Experience: Live At the Hollywood Bowl 9/14/68", part of Experience Hendrix's Dagger Records official bootleg series, is another exclusive component. The never before released recording captures the band and the mounting excitement that took place just weeks before the release of "Electric Ladyland". The Blu-ray also includes the acclaimed, feature length documentary "At Last... The Beginning: The Making Of Electric Ladyland".
Lastly, "Electric Ladyland Deluxe Edition" includes a full-color, 48-page book containing Jimi's handwritten lyrics, poem and instructions to his record label, as well as never before published photos from the recording sessions that were shot by Eddie Kramer himself.
The new cover art — a Linda (McCartney) Eastman photograph of the band and children at the statue of Alice In Wonderland in New York's Central Park — was Hendrix's own choice of imagery for the album's cover image. The shot was relegated to the inside of the U.S. version on Reprise Records, printed in black and white. The U.K. version of the album released by Track Records didn't include the photo at all, and instead featured a gatefold photo of 19 naked women, which Hendrix famously abhorred. For the first time ever, the Linda Eastman photo, in full color, will grace the cover of "Electric Ladyland", true to Jimi Hendrix's original vision.
Learn more about this new release at: bit.ly/2NJJXHs and/or youtu.be/RkOdjMXMc40
jimihendrix.com
LIVE ALBUM WITH KADAVAR IN OCTOBER
Berlin-based heavy/psych rockers KADAVAR have announced the release of a brand new live album, called "Live in Copenhagen", featuring their infamous show at Pumpehuset in Denmark"s capitol in November 2017 during the band's tour in support of the most recent album, "Rough Times". The live album will be released on October 12 via Nuclear Blast, and you can pre-order it here: nblast.de/KadavarCopenhagen
kadavar.com nuclearblast.de
SEPT. 13, 2018
DEADHEADS ANNOUNCES GERMAN TOUR
Swedish high-energy rockers DEADHEADS are going to Germany in February for a few shows. The dates are these:
Feb. 5 - Stellwerk, Hamburg
Feb. 6 - Toast Hawaii, Berlin
Feb. 7 - Black Label, Leipzig
Feb. 8 - Paunchy Cats, Lichtenfels
Feb. 9 - MTS, Oldenburg
facebook.com/deadheadsband
COCK SPARRER CONFIRMED FOR REBELLION
COCK SPARRER have been confirmed for the English punk festival Rebellion, which will take place in Blackpool on August 1-4, 2019.
rebellionfestivals.com
RE-ISSUES WITH THE QUILL IN OCTOBER
On October 26 the first 2 of a total of 4 re-releases from Swedish hard rockers The QUILL will be released by Metalville.
The first ones are "Hooray! It's a Deathtrip" and "Voodoo Caravan". Both albums have been remastered from the original tapes, and contain extended liner notes as well as previously unreleased bonus tracks.
metalville.de
HEART SISTERS TO DISCUSS THE FUTURE OF THE BAND
Ann Wilson says that she is planning to reconnect with her sister Nancy to discuss a possible HEART comeback in 2019.
Ann and Nancy had a falling out during HEART's 2016 tour, when Ann's husband Dean Welter was arrested for assaulting Nancy's then-16-year-old twin sons in a backstage altercation at a gig near their hometown of Seattle. He pleaded guilty to 2 lesser assault charges to avoid jail time, but the damage to HEART had been done.
Ann has just completed a tour with Jeff Beck and Paul Rodgers where she sang mostly covers, including a few from her forthcoming album "Immortal", a collection of songs by deceased friends and heroes like Tom Petty and Chris Cornell.
After completing HEART's last tour, Nancy formed a new band called ROADCASE ROYALE and released an album, "First Things First".
UK SUBS ANNOUNCES EUROPEAN TOUR
Old British punk legends UK SUBS are going on a European tour in January/February 2019. Before that they will do some shows in Stockholm (Sweden), Helsinki (Finland) and Herentals (Belgium) this month.
The European tour kicks off in Paris, France on January 16, and will end in Aalst, Belgium on February 16.
All dates can be found here: facebook.com/UKSubs
SEPT. 12, 2018
LIVE CD/DVD WITH STEELHEART IN DECEMBER
On December 7, Frontiers Music Srl will release "Rock'n Milan", a live album and long-form video of STEELHEART's 2017 performance at Milan, Italy's Frontiers Rock Festival IV. The show is a fitting tribute to the loving memory of STEELHEART guitarist Kenny Kanowski, who passed away just a couple of months after this last concert with the band.
A performance video of the song "My Dirty Girl", taken from "Rock'n Milan", can be seen here: youtu.be/7ZJQeI33j7E
You can pre-order the CD/DVD here: radi.al/RocknMilan
steelheart.com frontiers.it
NEW BOOK ABOUT BON SCOTT ERA AC/DC
"AC/DC 1973-1980: The Bon Scott Years", a richly illustrated guide to the glory years of Australia's finest musical export, will be published on November 14 by Jawbone Press.
NEW MUSIC WITH THE DISTILLERS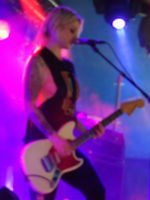 Reunited American punk band The DISTILLERS have released their first new music in 15 years. The band has released a digital single with the tracks "Man vs. Magnet" and "Blood in the Gutters". Those tracks are available now via digital platforms.
"Blood in the Gutters" was orignal released as a solo track by vocalist Brody Dalle.
ANOTHER SWEDISH TOUR WITH THE QUIREBOYS AND THE GLORIA STORY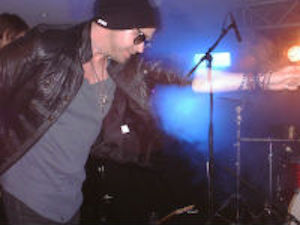 British rock veterans The QUIREBOYS are once again going on a short unplugged tour in Sweden with support from Swedish rockers The GLORIA STORY. The dates are just 4, and take place in the end of January.
January 24th Vinyl Bar, Halmstad
January 25th Backstage Rockbar, Trollhättan
January 26th Saga Salongen, Torshälla
January 27th Brooklyn Bar, Stockholm
quireboys.com thegloriastory.com
SEPT. 11, 2018
SAXON TO RE-RELEASE "THE EAGLE HAS LANDED" IN OCTOBER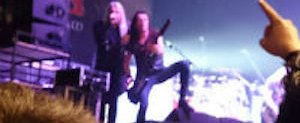 "The Eagle Has Landed" was SAXON's first live album. It was recorded on the European leg of their "Denim And Leather" tour during 1981, and it was originally released in May 1982. This classic live album will now be re-issued on October 19, and will also feature bonus tracks recorded live at Hammersmith Odeon in 1981-1982.
You can pre-order "The Eagle Has Landed" here: saxonband.lnk.to/TheEagleHasLanded
For live dates and other info, go to: saxon747.com
NEW SINGLE WITH JOAN JETT AND THE BLACKHEARTS
"Fresh Start" is a brand new song from Joan Jett. The track is included in the Jett documentary "Bad Reputation", which will be released in theaters and on demand on September 28. Listen here: youtu.be/8fQFSBJlhLc
store.joanjett.com
LIVE RELEASE WITH ALCATRAZZ IN DECEMBER
As part of the GRAHAM BONNET BAND's 2017 "The Book" tour in Japan, a 3-night special engagement and reunion of ALCATRAZZ was presented, much to the delight of the Japanese hard rock faithful.
On December 7, Frontiers Music Srl will release "Parole Denied - Tokyo 2017", a special documentation of these special shows, on 2CD/DVD and digital formats.
Additionally, the GRAHAM BONNET BAND has announced a U.S. tour where it will perform the first ALCATRAZZ album, "No Parole From Rock 'N' Roll", from front to back along with the other hits from the band's and Graham's catalog.
grahambonnetband.com
NEW EP WITH SODOM IN NOVEMBER
German thrash metal veterans SODOM will release a new EP, "Partisan", on November 23 via SPV/Steamhammer. The effort will be made available as a CD digipak, 10" clear vinyl, download and stream.
Live dates at: sodomized.info
MORE NEWS
Take Me To The Top
This site has been online since 2001.
All reviews and photos/images by Jimmy Blom.