AUGUST 17, 2018
NEW BLOODBATH ALBUM IN OCTOBER
Death metal supergroup BLOODBATH - with members from bands like PARADISE LOST, KATATONIA, OPETH and CRAFT — will return with their fifth album, "The Arrow Of Satan Is Drawn", on October 26 via Peaceville.
peaceville.com bloodbath.biz
NEW ALBUM WITH SICK OF IT ALL IN NOVEMBER
New York hardcore legends SICK OF IT ALL will release their 12th studio album, "Wake The Sleeping Dragon!", on November 2 via Century Media Records.
centurymedia.com sickofitall.com
NEW SINGLE WITH DJÄVULEN MÖBLERAR OM
Swedish punk rockers DJÄVULEN MÖBLERAR OM will release their new single, "Hela Vägen Ner", on both vinyl and digitally on August 25 through Jerry Kobra Records.
Pre-order starts on August 20 at: punkrecords.se
facebook.com/DjavulenMoblerarOm
HUNTRESS SINGER JILL JANUS IS DEAD
Jill Janus, frontwoman for the California heavy metal band HUNTRESS, passed away on Tuesday, August 14. She was only 42 years old.
A long-time sufferer of mental illness, she took her own life outside of Portland, Oregon. Janus spoke publicly about these challenges in hopes of guiding others to address and overcome their mental illness.
huntresskills.com
NEW ALBUM WITH STRÄNGEN
Swedish guitarist/singer Robert "Strängen" Dahlqvist (The HELLACOPTERS, DUNDERTÅGET, THUNDER EXPRESS etc.) died when he took a bath and got an epileptic seizure in February last year. He was working on a new solo album at the time, and it has now been confirmed that the album will finally be released. The title is "Rock På Svenska" (Rock in Swedish), and the release date is September 28.
More info (in Swedish) and pre-order here: mailchi.mp/soundpollution/rock-pa-svenska
facebook.com/Robert.Dahlqvist.official
NEW LIVE RELEASE WITH OPETH IN NOVEMBER
Swedish progressive rock/metal act OPETH will release "Garden of the Titans: Live at Red Rocks Amphitheatre" on November 2 via Moderbolaget Records/Nuclear Blast Entertainment. This event was captured for the DVD, Blu-Ray and Vinyl formats during their performance on May 11, 2017 at the Red Rocks Park and Amphitheatre in Denver, CO, U.S.A. Both the DVD and Blu-ray formats include CDs containing the audio as well.
Pre-order in various formats at: nblast.de/OpethGarden
Or stream and download "Sorceress (live)" at: nblast.de/OpethSorceressLive
AUGUST 16, 2018
JUDAS PRIEST, HELLOWEEN, KREATOR AND ARCH ENEMY SET FOR FIRST-EVER KNOTFEST COLOMBIA
JUDAS PRIEST will headline the first-ever Colombian edition of Knotfest, the music festival launched by the American metal band SLIPKNOT, on October 26 at Hipódromo de los Andes in Bogotá.
The festival billing is shaping up as follows: JUDAS PRIEST, HELLOWEEN, KREATOR, ARCH ENEMY, MASSACRE, KILKROPS, UNDERTHREAT, IRON REAGAN, GOATWHORE, REVOCATION and PITBULL.
For more information, visit: knotfestcolombia.com
GROOVIE GHOULIES TO RE-RELEASE EARLY MATERIAL ON CASSETTE
American horror pop punks GROOVIE GHOULIES are going to reissue some of their earliest recordings on a 2-for-1 cassette. "The '80s Collection" will be out this fall via Burger Records, and will include their 7" compilation "Flying Saucer Rock n Roll" and the full "Appetite for Adrenochrome" album.
Meanwhile frontman Kepi Ghoulie is also re-recording "Reanimation Festival" with The COPYRIGHTS.
50TH-ANNIVERSARY EDITION OF THE KINKS' "THE KINKS ARE THE VILLAGE GREEN PRESERVATION SOCIETY"
British rock legends The KINKS will release a 50th-anniversary edition of their album "The Kinks Are The Village Green Preservation Society", on October 26 via BMG.
thekinks.info
AUGUST 15, 2018
NATIONALTEATERN ANNOUNCES WINTER DATES


Legendary Swedish cult rock band NATIONALTEATERN (aka NATIONALTEATERNS ROCKORKESTER) are going to do their last shows here in Sweden in December. Tickets on sale now. The dates are these:
Dec. 14 - Lokomotivet, Eskilstuna
Dec. 15 - Konserthuset, Växjö
Dec. 17 - Konserthuset, Göteborg
Dec. 19 - Cirkus, Stockholm
Dec. 20 - Malmö Live, Malmö
Dec. 22 - Åhaga, Borås
Tickets at: nationalteaternsrockorkester.se
RANDY RAMPAGE, FORMER MEMBER OF ANNIHILATOR AND D.O.A., IS DEAD
Former ANNIHILATOR frontman Randy Rampage passed away on August 14 at the age of 58. The singer, whose real name was Randall Desmond Archibald, was also a founding member, bass player and occasional vocalist of the Canadian hardcore band D.O.A.
Rampage appeared on ANNIHILATOR's debut album, 1988's "Alice In Hell", before leaving the band. In 1999, he returned to the group and recorded 1 more album called "Criteria For A Black Widow" after which he left once again to rejoin D.O.A.
The news of Randy's passing was confirmed by the Facebook page of the documentary "Bloodied But UnBowed", a historical look at the evolution of punk rock on the West coast of North America during the 1978-1983 timeframe. Randy made an appearance in the documentary, which was narrated by Billy Hopeless (formerly of The BLACK HALOS) and released in 2010.
AT THE GATES ADDS EXTRA HOMETOWN SHOW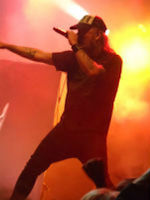 The show with Swedish death metal legends AT THE GATES at Pustervik in Göteborg, Sweden on October 6 is sold out. They have now added a extra show on October 7 at the same dark venue, and tickets go on sale Friday, August 17.
Support acts on both shows will be NIFELHEIM and VAMPIRE.
atthegates.se
AEROSMITH GOING TO LAS VEGAS
AEROSMITH is bringing the heat to the Las Vegas Strip with their headlining residency, "Aerosmith: Deuces Are Wild". Shows begin Saturday, April 6, 2019 at Park Theater at the new Park MGM resort.
More information at: aerosmith.com
OZ FOX TO UNDERGO BRAIN BIOPSY
STRYPER guitarist Oz Fox will undergo a brain biopsy after he reportedly fell down during a concert last weekend.
As reported here earlier, Fox suffered a seizure while performing with SIN CITY SINNERS Saturday night (August 11) at Harrah's in Las Vegas, Nevada. He was immediately transported to a local hospital, where medical personnel ran extensive tests to determine the cause of the seizure.
AUGUST 13, 2018
TIM "RIPPER" OWENS, SEAN PECK AND HARRY CONKLIN ARE THE THREE TREMORS
Acclaimed heavy metal singers Tim "The Ripper" Owens (JUDAS PRIEST, ICED EARTH, Yngwie Malmsteen), Harry "The Tyrant" Conklin (JAG PANZER) and Sean "The Hell Destroyer" Peck (CAGE, DEATH DEALER, DENNER/SHERMANN) have joined forces in a new project called The THREE TREMORS.
Their self-titled debut LP is due on September 20. Check out audio samples on The THREE TREMORS' PledgeMusic page.
THE CROWN ANNOUNCES EUROPEAN TOUR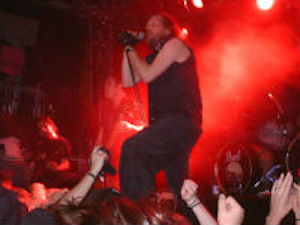 Swedish death metal veterans The CROWN are going on a short European tour in December. Support comes from SVART CROWN, BLEEDING GODS, TEMNEIN and BLEEDING UTOPIA.
The exclusive dates are:
Dec. 10 DK – Aarhus – Voxhall
Dec. 11 DE – Hamburg – Bambi Galore
Dec. 12 DE – Erfurt – From Hell
Dec. 13 DE – Mannheim – MS Connexion
Dec. 14 CH – Sursee – Kulturwerk 118
Dec. 15 BE – Chapelle-Lez-Herlaimont – Le Cercle
thecrownofficial.com facebook.com/SVARTCROWN bleedinggods.net temnein.net facebook.com/BleedingUtopia
MC50 ANNOUNCES UK DATES WITH MICHAEL MONROE
MC50 - featuring Wayne Kramer (MC5), Brendan Canty (FUGAZI), Marcus Durant (ZEN GUERRILLA), Billy Gould (FAITH NO MORE) and Kim Thayil (SOUNDGARDEN) - will do 4 shows in UK, with special guest Michael Monroe (ex-HANOI ROCKS), in November.
MC50 celebrate that it's 50 years since MC5's debut album, "Kick Out The Jams", was released. They play the whole album and some other stuff.
The UK dates are:
Nov 9: Bristol, O2 Academy (without Michael Monroe)
Nov 10: Glasgow, Academy
Nov 11: Manchester, Albert Hall
Nov 12: London, Shepherd's Bush Empire
michaelmonroe.com
OFFICIAL STATEMENT FROM STRYPER REGARDING OZ FOX
News began circulating this morning (Sunday, Aug. 12) that STRYPER's Oz Fox suffered a medical emergency on stage in Las Vegas overnight. In order to provide accurate information and dispel any rumors, the band has issued an official statement:
"Our dear friend and lead-guitarist Oz Fox fell ill Saturday night while performing in Las Vegas with a side project that he sometimes plays in when not touring with STRYPER. Oz suffered a seizure causing a fall on stage. After performing an MRI, doctors discovered an area of concern near his brain which they are now running a biopsy on. The doctors have instructed him not to drive or fly for 90 days. No additional information is available at this time. We appreciate your thoughts and prayers and we will communicate additional information as it becomes available.
The logistics and options for current tour dates are being discussed with the respective promoters. U.S. tour dates will play as scheduled and in anticipation of a full recovery will include Oz Fox. The upcoming Australian tour will be performed as a trio (with the blessing of Oz), and will include Michael Sweet, Robert Sweet, and Perry Richardson. For our fans in Japan, please await an announcement from the concert promoter there as to the plans for the Japan tour.
New information will first be communicated via Stryper.com and STRYPER's official Facebook page."
AUGUST 12, 2018
STRYPER GUITARIST OZ FOX HOSPITALIZED IN LAS VEGAS
STRYPER guitarist Oz Fox has been hospitalized after reportedly "falling down due to a medical condition" during his guest appearance at SIN CITY SINNERS concert Saturday night (August 11) at Harrah's in Las Vegas, Nevada.
NEW MINI-LP WITH THE DAHLMANNS LATER THIS MONTH
Power pop band The DAHLMANNS will release a new mini-LP (12" vinyl EP), titled "American Heartbeat", on August 31 via Beluga Records and Ghost Highway Recordings.
You can pre-order it from: punkrecords.se
youtube.com/watch?v=Mwf6uFZiFto
AUGUST 11, 2018
IN FLAMES TO SUPPORT DEEP PURPLE IN MEXICO
Swedish metal band IN FLAMES will be support act for DEEP PURPLE when they go on tour in Mexico in November. Tickets are on sale now, and the dates are:
November 3 - Tijuana
November 7 - Chihuahua
November 9 - Monterrey
November 11 - San Luis Potosi
November 13 - León
November 15 - Guadalajara
November 17 - Mexico City
November 21 - Merida
November 23 & 24 - Cancún
inflames.com deeppurple-infinite.com
AUGUST 10, 2018
GLENN DANZIG SIGNS FEATURE FILM DEAL WITH CLEOPATRA ENTERTAINMENT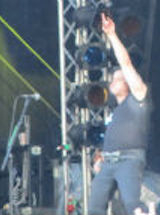 This week, legendary musician, Glenn Danzig of MISFITS and DANZIG fame, has signed a feature film agreement with Cleopatra Entertainment, a division of the Los Angeles independent record label, Cleopatra Records. Danzig will pen, direct and compose music for the feature film which will be structured as an anthology splitting its running time between 3 individual characters/storylines based on Danzig's own popular Verotik comic book characters.
Verotik is Danzig's long-running brand of mature horror comic books and related material. The comics, featuring mostly deadly femme fatales, have been in print since 1994. Principal photography for the anthology film will begin fall of 2018.
cleopatrarecords.com
NEW ALBUM WITH AMARANTHE IN OCTOBER
Swedish melodic/electro metal act AMARANTHE will release their fifth album, "Helix", on October 19 through Spinefarm Records.
NEW SOULFLY RECORD IN OCTOBER
SOULFLY will release its 11th album, "Ritual", on October 19 via Nuclear Blast Entertainment.
AUGUST 9, 2018
NEW ALBUM WITH ACE FREHLEY IN OCTOBER
Former KISS guitarist Ace Frehley will release his new album, "Spaceman", on October 19 via Entertainment One (eOne).
Check out 2 of the songs: youtu.be/GA2I_HpoA7I, youtu.be/2bHsXP0EJck
acefrehley.com
FEAR ANNOUNCES 4 NEW SHOWS
Reunited American punk band FEAR will do 4 shows on the American east coast next month. The dates are:
September 19 - Asbury, NJ at House Of Independents
September 20 - Baltimore, MD at Baltimore Soundstage
September 21 - New York, NY at Gramercy Theatre
September 23 - Cambridge, MA at Middle East Downstairs
fearleeving.com
THE EXPLOITED FORCED TO CANCEL UPCOMING SHOWS, WATTIE STILL AT HOSPITAL
Unfortunately Scottish punk legends The EXPLOITED's frontman Wattie Buchan has been having more issues with his heart, and faces further surgery. Doctors have advised that he can not perform any upcoming gigs. Therefore all upcoming gigs have been cancelled. The band are trying to reschedule for next year sometime.
the-exploited.net
PYRAMIDO TO RECORD NEW ALBUM
Swedish heavy rockers PYRAMIDO plan to enter the studio in mid-October to record their fifth full length.
facebook.com/Pyramidodoom
AUGUST 8, 2018
AC/DC WORKING IN VANCOUVER?
It seems like AC/DC members Stevie Young, Phil Rudd and Brian Johnson has been seen outside Warehouse Studios in downtown Vancouver, Canada, where the band's last 3 albums were recorded. What they are up to, and if Phil and Brian is back in the band is still a question though..
CLOVEN HOOF TO RELESE "THE BBC SESSIONS"
NWOBHM veterans CLOVEN HOOF recorded 2 BBC Sessions in 1983 and 1989. Now these recordings will finally be released on LP and digitally as "The BBC Sessions" on August 24 via High Roller Records.
hrrecords.de clovenhoof.net
BLITZKRIEG ANNOUNCES EUROPEAN TOUR
NWOBHM legends BLITZKRIEG are going on a European tour in November/December. The dates are these:
Nov. 09 – Hard Rock Hell, Pwllheli, Wales, UK
Nov. 11 – MonstersFest, The Ironworks, Inverness, UK
Nov. 28 – Trillians Newcastle, Newcastle, UK (w/ PARIS DANCER)
Nov. 29 – New Cross Inn, London, UK (w/ The DEEP and BlackMayne)
Dec. 01 – Le Klub, Paris, FR (w/ BEGGARS)
Dec. 02 – Het Debuut, Westerlo, BE (w/ BEGGARS)
Dec. 04 – Der Cult - nightclub & more, Nuremberg, DE (w/ BEGGARS)
Dec. 05 – Chemiefabrik Dresden (Chemo), Dresden, DE (w/ BEGGARS)
Dec. 06 – Bambi galore, Hamburg, DE (w/ BEGGARS)
Dec. 07 – Muziekcentrum De Bosuil, Weert, NL (w/ BEGGARS)
Dec. 09 – Musicon, Den Haag, NL (w/ BEGGARS)
More dates will be added soon..
blitzkriegmusic.com
DEAD KENNEDYS ANNOUNCES AUSTRALIAN/NEW ZEALAND DATES
American punk legends DEAD KENNEDYS will travel to Australia and New Zealand in November for 6 shows. Tickets go on sale Friday, August 10, and the dates are:
2nd November - Sydney, Metro
3rd November – Melbourne, Croxton
6th November – Adelaide, The Gov
7th November - Brisbane, The Triffid
9th November – Christchurch, The Foundry
10th November – Auckland, Powerstation
Get your tickets at: davidroywilliams.com/tours/dead-kennedys
deadkennedys.com
AUGUST 7, 2018
NEW ALBUM WITH TWIN PIGS IN SEPTEMBER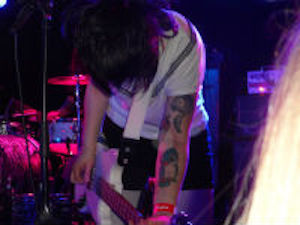 Swedish punk band TWIN PIGS will release their second album, "Scandinavian Nightmare", on September 7 via Luftslott Records.
facebook.com/twinpigspunk luftslottrecords.com
MUNICIPAL WASTE AND HIGH ON FIRE ANNOUNCES CO-HEADLINE U.S. TOUR
Richmond thrashers MUNICIPAL WASTE will embark on a co-headlining U.S. trek with California heavy rockers HIGH ON FIRE. Direct support on "The Speed Of The Wizard tour" will be Portland thrash metallers TOXIC HOLOCAUST and Fresno's HAUNT.
For more information take a look at one of these sites: municipalwaste.net highonfire.net toxicholocaust.com hauntthenation.bandcamp.com
WARREL DANE'S FINAL RECORDINGS TO BE RELEASED IN OCTOBER
On December 13, 2017, Warrel Dane (singer for SANCTUARY and NEVERMORE) died of a heart attack during the recordings of his second solo album in São Paulo, Brazil.
In 2014 Warrel had teamed up with Brazilian musicians Johnny Moraes (guitar), Thiago Oliveira (guitar), Fabio Carito (bass) and Marcus Dotta (drums) as his touring band and ultimately this successful collaboration led to plans for a new studio album. Recordings for "Shadow Work", the follow-up to 2008's "Praises To The War Machine", started in fall 2017 at Orra Meu Studio, São Paulo, and Travis Smith commenced to create the artwork following a concept and ideas previously discussed with Warrel.
Then he passed away, left his fellow musicians, fans, friends and family as well as his label in shock putting the status of the new album in limbo for a while. But after reviewing the material that could actually be completed using vocals from various studio and pre-production sessions with Warrel, the decision was made to release his final recordings as "Shadow Work".
The album will now be release on October 26 via Century Media Records. A first song and pre-sales will be available from August 31.
centurymedia.com
AUGUST 6, 2018
BOOK ABOUT THE FINAL YEAR OF THE CLASSIC DEEP PURPLE MKII LINEUP
"Time To Kill" is a new publication from Wymer Publishing that focuses on the final tumultuous year for the classic DEEP PURPLE MKII lineup. Written by DEEP PURPLE biographer Jerry Bloom, who has already written several books on the band, this is an in-depth look at the the appropriately named "The Battle Rages On..." album and the tour that followed its release during this much-overlooked period in the band's career.
The book will be published on November 17 this year, 25 years to the day that MKII played its last-ever concert together.
"Time To Kill" can be ordered here: wymeruk.co.uk/webshop/books/rock/deep-purple/time-to-kill-deep-purple
ENTOMBED A.D. TO SUPPORT VADER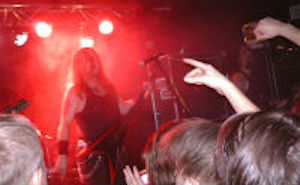 Polish death metal veterans VADER are going on a Western European tour in October/November, with very special guests ENTOMBED A.D.
This will be VADER's last tour before they enter the studio in early 2019 to record a new album. There will be what they call a super special set list and some limited merchandise. Exact dates will be announced soon..
vadernews.pl entombedad.com

MANOWAR CONFIRM DENMARK DATE
MANOWAR will do 1 exclusive show in Denmark at Valby Hallen in Copenhagen on April 1, 2019.
This will be MANOWAR's only show in Denmark. General Admission tickets will go on sale on August 8.
More tour dates at: manowar.com

AUGUST 5, 2018
SABATON, PARKWAY DRIVE, POWERWOLF AND ROSE TATTOO CONFIRMED FOR WACKEN OPEN AIR 2019
Wacken Open Air have already confirmed the first acts for next year's festival. And they are: SABATON, PARKWAY DRIVE, DEMONS & WIZARDS, POWERWOLF, AIRBOURNE, ROSE TATTOO, WITHIN TEMPTATION, MESHUGGAH, KROKUS, DARK FUNERAL and AVATAR.
The festival take place in Wacken, Germany on August 1-3, 2019. Tickets will go on sale in the night of Monday, August 6, 12 AM CET.
wacken.com SKITSYSTEM TO DO EXCLUSIVE ONE-OFF SHOW IN 2019
Swedish crust punks SKITSYSTEM let us know that they will do an exclusive one-off show next year with yet another lineup. More information later I suppose?
facebook.com/Skitsystem AUGUST 4, 2018
BOX SET WITH MAYHEM IN NOVEMBER
On November 16, Peaceville will release a comprehensive limited-edition deluxe set covering the influential Dead era of Norwegian black metal pioneers MAYHEM. The package will contain 6 picture disc LPs, a 7" single, 92-page book, posters, and DVD featuring the never-before-seen Jessheim and Sarpsborg live shows plus Henhouse rehearsals.
For more information, go to: burningshed.com/store/peaceville/mayhem_cursed-in-eternity_deluxe-boxset WHITESNAKE TO RELEASE BOX SET WITH ACOUSTIC RECORDINGS
After WHITESNAKE finishes its current summer tour with FOREIGNER, the band will revisit some of its best acoustic performances with "Unzipped: Super Deluxe Edition". This 5 CD/DVD collection brings together unplugged and acoustic-based performances recorded over the past 20-plus years, including rare and unreleased studio and live recordings, acoustic demos, concert videos, interviews and more. The extensive set will be available on October 19. On the same day, Rhino will also release "Unzipped" in 3 other formats: single-CD, double-CD, and double-LP. All of the music will also be available digitally and via streaming services.
More info at: whitesnake.com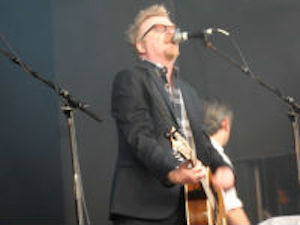 FLOGGING MOLLY ANNOUNCES LATIN AMERICAN TOUR
American celtic punk/folk rock band FLOGGING MOLLY are going to Latin America for 6 shows in October. Tickets go on sale Monday, August 6, and the dates are:
Oct. 5 - Hermes Bar, Curitiba, Brazil
Oct. 6 - Carioca Club, Sao Paulo, Brazil
Oct. 9 - Palermo Club, Buenos Aires, Argentina
Oct. 10 - Blondie, Santiago, Chile
Oct. 12 - Auditorio Lumiere, Bogota, Colombia
Oct. 14 - Lunario, Mexico City, Mexico
More tour dates at: floggingmolly.com AUGUST 3, 2018
THE EXPLOITED FRONTMAN WATTIE IS BACK IN HOSPITAL
Scottish punk legends The EXPLOITED have been forced to cancel their apperance at Rebellion Festival in Blackpool, UK this weekend. Their legendary singer, Wattie Buchan, is back at the hospital. Wattie has struggled with health/heart issues during the last years.
the-exploited.net rebellionfestivals.com AUGUST 2, 2018
INTO ETERNITY SIGN WITH M-THEORY AUDIO
Canadian extreme/progressive metal quintet INTO ETERNITY have signed with M-Theory Audio, and will release their 6th album, "The Sirens", on October 26. It will be available on both LP and CD, as well as digital.
Originally, INTO ETERNITY intended to self-release "The Sirens" (on August 3) after a planned release through a European label fell through. But that won't happen now.
Physical pre-order: m-theoryaudio.com/store
Digital pre-order: intoeternitysk.bandcamp.com/releases
My review of "The Sirens" m-theoryaudio.com intoeternity.net EX-DEICIDE MEMBERS ERIC AND BRIAN HOFFMAN SIGN WITH HAMMERHEART RECORDS
Hammerheart Records has entered into an agreement with former DEICIDE members Eric and Brian Hoffman to work together on AMON and the classic DEICIDE catalog.
AMON was the band that changed its name to DEICIDE in 1989. When Eric and Brian left DEICIDE, they resurrected AMON and released an album called "Liar In Wait" in 2012. Hammerheart will now reissue "Liar In Wait", and also the legendary AMON demos from 1987 and 1989. It looks like there will be a new album with AMON as well.
Hammerheart will also reissue all the DEICIDE albums that were released between 1990 and 2001. All albums will get a deluxe treatment, remastering, 2-CD editions, bonus tracks (tons of never-released recordings), LP editions (first time for some), digital, MC, merchandise.
After releasing its second full-length album, AMON will tour worldwide and play a full set of only old-school songs, taken from the first 4 DEICIDE albums. This will happen in 2019.
hammerheart.com AUGUST 1, 2018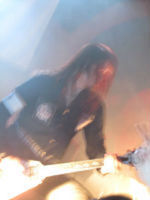 ARCH ENEMY POSTPONES NORTH AMERICAN TOUR
International metal band ARCH ENEMY has postponed its previously announced North American tour until 2019, due to reasons beyond their control. The 22-city tour was scheduled to kick off on September 28 in Providence, Rhode Island and run through October 27 at the Starland Ballroom in Sayreville, New Jersey.
Ticket and VIP refunds are available at point of purchase.
archenemy.net JOAN JETT DOCUMENTARY TO BE RELEASED IN SEPTEMBER
The Joan Jett documentary "Bad Reputation" will be released in theaters and on demand on September 28 (probably just in the States).
joanjett.com DEBUT ALBUM WITH BLACK INK RIVER LATER THIS YEAR
Swedish vintage rock band BLACK INK RIVER - featuring members of WOLF, GRANDEXIT, MONACO BLUES BAND and UNCLE DOGHOUSE - will release its debut album, "Headstrong", later this year via GMR Music Group.
youtu.be/7I5Y6bGC6QU PICTURE SIGNS WITH PURE STEEL RECORDS
Dutch heavy metal veterans PICTURE have signed a worldwide deal with Pure Steel Records. The deal will be for the bands all new live album, titled "PICTURE LIVE: 40 Years Heavy Metal Ears, 1978-2018".
As part of the deal, PICTURE have also announced the release, for the first time on vinyl, of "Old Dog New Tricks" from 2009 and "War Horse" from 2012.
More details will be announced later..
pictureband.nl puresteel-records.com MORE NEWS Take Me To The Top


This site has been online since 2001.
All reviews and photos/images by Jimmy Blom.